Archive for the 'Immediately available to public' Category
by ValueWalk - February 19th, 2017 6:09 pm
By The Acquirer's Multiple. Originally published at ValueWalk.
One of our favorite investors here at The Acquirer's Multiple is Warren Buffett.
Lat week I provided and excerpt from Buffett's 'Owner's Manual' – In June 1996, Berkshire's Chairman, Warren E. Buffett, issued a booklet entitled "An Owner's Manual" to Berkshire's Class A and Class B shareholders. The purpose of the manual was to explain Berkshire's broad economic principles of operation.
Today, I provide another excerpt from the same Owner's Manual in which Buffett explains the principles that he and Munger use to calculate Intrinsic Value. It's a must read for all investors.
Here's another excerpt from Buffett's Owner's Manual:
Now let's focus on a term that I mentioned earlier and that you will encounter in future annual reports.
Intrinsic value is an all-important concept that offers the only logical approach to evaluating the relative attractiveness of investments and businesses. Intrinsic value can be defined simply: It is the discounted value of the cash that can be taken out of a business during its remaining life.
The calculation of intrinsic value, though, is not so simple. As our definition suggests, intrinsic value is an estimate rather than a precise figure, and it is additionally an estimate that must be changed if interest rates move or forecasts of future cash flows are revised. Two people looking at the same set of facts, moreover – and this would apply even to Charlie and me – will almost inevitably come up with at least slightly different intrinsic value figures. That is one reason we never give you our estimates of intrinsic value.
What our annual reports do supply, though, are the facts that we ourselves use to calculate this value.…

by ValueWalk - February 19th, 2017 6:00 pm
By PeakProsperity. Originally published at ValueWalk.
Dr. Nafeez Ahmed
is an award winning 15 year investigative journalist, noted international security scholar, best-selling author and film-maker.  He authored The Guardian's Earth Insight blog and has twice won the prestigious Project Censored Award for outstanding investigative journalism.
In his new book Failing States, Collapsing Systems, Nafeez points out, as we often do here at PeakProsperity.com, that everything in our modern society is connected to energy, and that our pursuit of ever more, ever higher growth is finally colliding with planetary limits. Scarcity and strife will be the dominant trends from here, unless we, as a species, start looking for different ways of living better-suited for a finite world:
Angelo_Giordano / Pixabay

The most fascinating thing for me is how so much of what we take for granted becomes questionable as a result of the breakdown we're seeing. When we begin questioning the exponential growth model then we begin questioning the value system driving our material production/consumption. It's not that it hasn't produced amazing knowledge of our environment and our place in the universe. It's not that there haven't been a huge amount of amazing technological developments, like the internet which has enabled people to be interconnected in ways that they never were able to before. In a way has paved the way for us to be able to think globally in a way that centuries ago would have never happened.

It's not that everything about this paradigm is bad. It's just that it has very clearly outlasted its usefulness and is now fundamentally responsible for escalating the biophysical rupture that we see happening and manifesting in so many different ways. What that tells me is that we have to grow up as a species. It's an evolutionary moment.

When we apply systems theory to this, when we apply our knowledge of complex adaptive systems and the history of evolution, it does seem to me that it is absolutely clear really that we're at an unprecedented moment. For the first time in human history, we are standing at a point where we need to basically undergo fundamental systemic adaptation. Exactly what that looks like we're still trying to work out. But what is very clear is what it doesn't look like. It doesn't look like seeing each other as separate material entities that just fend for
…

by Zero Hedge - February 19th, 2017 5:50 pm
Courtesy of ZeroHedge. View original post here.
Two years after sacrificing one robot, TEPCO officials have aborted their latest robot mission inside the Fukushima reactor after the 'scorpion' became unresponsive as it investigated the previously discovered hole where the core is believed to have melted.
A "scorpion" robot sent into a Japanese nuclear reactor to learn about the damage suffered in a tsunami-induced meltdown had its mission aborted after the probe ran into trouble, Tokyo Electric Power company said Thursday. As Phys.org reports, TEPCO, the operator of the Fukushima nuclear plant, sent the remote-controlled device into the No. 2 reactor where radiation levels have recently hit record highs.
The "scorpion" robot, so-called because it can lift up its camera-mounted tail to achieve better viewing angles, is also designed to crawl over rubble inside the damaged facility.

But it could not reach its target destination beneath a pressure vessel through which nuclear fuel is believed to have melted because the robot had difficulty moving, a company spokeswoman said.

"It's not immediately clear if that's because of radiation or obstacles," she said, adding that TEPCO is checking what data the robot was able to obtain, including images.

…

The robot, 60 centimetres (24 inches) long, is made by Toshiba and equipped with two cameras and sensors to gauge radiation levels and temperatures.

"Scorpion's mission is to take images of the situation and collect data inside the containment vessel," TEPCO spokesman Shinichi Nakakuki said earlier.

"Challenges include enduring high levels of radiation and moving on the rough surface," he said.

Radiation levels inside the reactor were estimated last week at 650 sieverts per hour at one spot, which can effectively shut down robots in hours.
This is not the first robot to become disoriented under the extreme stress of the Fukushima environment…
The robot sent to inspect a reactor' containment vessel at the Fukushima Daiichi nuclear power plant stopped responding three hours into the operation.

TEPCO hoped to take a look inside the vessel containing one of the three reactors, which underwent a meltdown in the 2011 nuclear disaster.

A group of approximately 40 workers sent the remotely-controlled device, allegedly capable of withstanding high levels of radiation, into the vessel at 11:20 a.m. The robot stopped functioning after
…

by Zero Hedge - February 19th, 2017 5:20 pm
Courtesy of ZeroHedge. View original post here.
Victory by the 'Russia scare' coalition will limit America's ability to fight ISIL, complicate efforts to win UNSC support for tough enforcement of the Iran nuclear deal and give China more leverage over both Moscow and Washington.
The turmoil surrounding Lt. Gen. Michael Flynn's resignation and wider allegations of links between President Donald Trump, his campaign and Russia seems to have made a strong impression in Moscow. Many there had already calibrated initially unrealistic expectations after Mr. Trump's initial weeks in office; recent events have tempered even these more limited ambitions. Hopes have long faded that Washington would become a Russian ally in Syria, pursue cooperative military action against ISIL, or delink the conflict in Ukraine from the wider U.S.-Russia relationship.
Still, until recently, sober voices on Russia's television talk shows were a clear minority. Arguing that Russia would have to demonstrate its commitment to working with the United States through concrete actions, and that Moscow could not seek a new beginning while continuing to deny its involvement in the fighting in the Donbas and to engage in dangerous close encounters in the air and at sea, was unpopular. In the last few days, however, the optimistic view that Trump will simply "deliver the goods" to Russia has largely disappeared.
As Soviet media used to say, this is not accidental. According to Western news reports, the Kremlin has encouraged Russian media to scale back their coverage of America's new president and his administration. While President Putin's press spokesman Dmitry Peskov has denied any such instruction, Russia's media have in fact redirected their attention to other issues, giving scant air time to Mr. Trump's comments about Russia during his latest press conference and to separate meetings between Secretary of State Rex Tillerson and Chairman of the Joint Chiefs of Staff General Joseph Dunford with their Russian counterparts. That said, Mr. Peskov may not have been involved in issuing directions like this—though such a directive could come only from Russia's presidential administration.
Since Russian President Vladimir Putin has been more pragmatic than euphoric in his personal statements about Mr. Trump and U.S.-Russia relations, diminished enthusiasm in the Russian media may serve primarily to manage expectations more carefully. Nevertheless, if reduced enthusiasm slides into suspicion and belligerence—which can easily become mutually
…

by Zero Hedge - February 19th, 2017 4:48 pm
Courtesy of ZeroHedge. View original post here.
With concerns rising that the market has gotten well ahead of itself over the practical reality of Trump tax cuts – most recently voiced by Goldman which over the weekend said that "we are approaching the point of maximum optimism and S&P 500 will give back recent gains as investors embrace the reality that tax reform is likely to provide a smaller, later tailwind to corporate earnings than originally expected" – Barclays decided to look at one of recent history's most notable tax regime changes: the Reagan tax cuts.
What it found was interesting.
First, the market wastes no time in factoring in any to corporate taxes and according to Barclays calculations, corporate tax cuts get 85-90% priced in very short order. As an example, Barclays points out that the Reagan 1986 tax cuts showed that equities price in the benefits quickly. Perhaps too quickly.
There were some other notable similarities between the current tax-regime transition and 1986, namely "the oil collapse and growth cycle were also issues in 1986." In any case, a harbinger of the current market rally driven by Trump tax cut hopes, "the S&P 500 rallied 40% pricing in the tax plan before it was really even implemented in July 1987."
The S&P then infamously crashed in October of 1987, for a variety of reasons, one of which, Barclays suggests, was the rapid pricing in of the Reagan tax cuts. In fact, seen this way, the infamous Black Monday crash may have been – in addition to all the other noted catalysts – a very vivid example of "sell the news."
There was also good news: for those who survived the 30% drawdown, though the post-1987 period was marred by the crash, S&P 500 EPS actually rose 55% compared to 1986 levels. Barclays foresee a similar dynamic likely playing out whereby the market multiple prices in the first order effects of a tax plan very quickly, once known.
One could perhaps add that the market has already priced most of the tax cut without even knowing the details. On the other hand, Barclays notes, second order effects such as rates and growth will also affect the multiple. Two notable difference between the Reagan and Trump tax cuts, as the level of government indebtedness – far greater
…

by Zero Hedge - February 19th, 2017 4:35 pm
Courtesy of ZeroHedge. View original post here.
The "Russia hacked the US election" is getting its second wind.
One day after Reuters provided further details of the ongoing FBI probes – of which there are now reportedly three – into activities that are generally classified as the Kremlin's hacking of the US presidential election, the Senate Intelligence Committee has likewise escalated its probe into Russian interference, and is requesting that agencies preserve all materials that could tie into the committee's investigation into Russian interference in the 2016 presidential election.
The Associated Press reported Sunday, citing a congressional aide, that the committee had sent formal requests to more than a dozen organizations, agencies and individuals, including at the White House, requesting the materials related to the probe into the Russian meddling be preserved. The intelligence panel's chairman, Richard Burr (R-N.C.), and vice chairman Mark Warner (D-Va.) sent letters out Friday, according to the AP.
On Thursday, Senate Democrats wrote the White House and law enforcement agencies seeking assurances that they were preserving all materials related to contacts individuals associated with President Donald Trump had with Russians. Those letters asked for confirmation that the White House, FBI and Justice Department had instructed their employees to preserve all materials related to any contacts Trump's administration, campaign, transition team — or anyone acting on their behalf — have had with Russian government officials or its associates.
"I think they're going to do their job. And they have to do that. Those are things that Richard Burr and that team have to do," White House chief of staff Reince Priebus said Sunday, a day after the disclosure by the congressional aide.
"That doesn't mean that there's anything there. It just means they need to do some things that satisfy their committee, that they've looked into something. And then they can have meetings behind closed doors that they always do in the Intel Committee, and then they'll issue a report," Priebus told NBC's "Meet the Press."
Also on Sunday, Priebus denied that members of President Trump's campaign had contact with Russia before Trump's victory.
"We don't know of any contacts with Russian agents," Priebus said on NBC's "Meet the Press" on Sunday, one of three appearances on Sunday political shows by the White House chief of staff.
"The New York
…

by Zero Hedge - February 19th, 2017 4:20 pm
Courtesy of ZeroHedge. View original post here.
Following Trump Chief of Staff Priebus' comments earlier, it is clear, as Axios notes, President Trump's biggest problem has quickly become a leaking administration.
The real scandal here is that classified information is illegally given out by "intelligence" like candy. Very un-American!

— Donald J. Trump (@realDonaldTrump) February 15, 2017
Here are The Top 10 Leaks so far…
The "National Guard roundup": The AP published a story this week on a draft Homeland Security memo that would call up National Guard units to round up illegal immigrants. The administration quickly denied it was considering the idea, but someone leaked that memo.
That dossier: CNN reported that Trump and Obama were briefed on documents that included scandalous allegations about Trump and his connections with Russia. BuzzFeed then published the unverified dossier.
Torture executive order draft: Only days after the inauguration, a draft of an executive order started circulating detailing plans to reinstate the CIA's "black site" prisons and using Gitmo for detainees. It's uncertain where this came from, and nothing has come of it since.
Religious freedom executive order draft: Another draft executive order was leaked by an unknown source. The order would let private companies choose not to cover contraceptives for their employees and to speak out "on moral or political issues from a religious perspective," without losing their tax-exemption. Many feared an order like that would lead to discrimination of the LGBT community. Turns out, Ivanka and Jared helped keep Obama's LGBT orders in place.
His conversation with Australia: An official told the NYT that the call between Trump and Australia Prime Minister Malcolm Turnbull was heated and had an abrupt end.
His conversation with Mexico: Dolia Estevez from Forbes reported that sources from both sides told her that Trump threatened to send U.S. military to Mexico during his "friendly" phone call with President Nieto.
The raid in Yemen: Military personnel leaked information about the raid in Yemen, which led to the death of a Navy SEAL. They accused Trump of not having the proper intelligence before signing off on the raid.
Gen. Flynn's phone call: Weeks after the FBI warned the Trump administration that then-National Security Advisor Michael Flynn talked about Obama's sanctions
…

by Zero Hedge - February 19th, 2017 3:50 pm
Courtesy of ZeroHedge. View original post here.
Amid implicit acknowledgement of turmoil in The White House, Trump's Defense Secretary Jim Mattis reassured the world that the US military was "not in disarray", but was "holding the line" as government "sorts out the way ahead."
After shrugging off President Trump's 'media as enemy' narrative:
"[I've had] some rather contentious times with the press [but the press is] a constituency that we deal with…. I don't have any issues with the press myself."
The Defense Secretary said Sunday, according to The Washington Post, that he has been talking with a "fair number of military commanders around the world" and acknowledged the chaotic nature of Trump's administration so far.
"Welcome to democracy," Mattis said.

"It's at times wildly contentious. It's at times quite sporting. But the bottom line is this is the best form of government that we can come up with. So, the military's job is to hold the line, and to hold the line, and to hold the line while our government sorts out the way ahead and our people speak. We don't have any disarray inside the military, and that's where my responsibility resides."
General Mattis' comments come shortly after Munich Security Conference Chairman Wolfgang Ischinger delivers some choice commentary regarding President Trump's praise of Brexit.
It would be a "non-military declaration of war" should Trump continue to advocate against the EU, #MSC2017 head Ischinger tells DW. pic.twitter.com/FTjrOe66ep

— dwnews (@dwnews) February 17, 2017
"Is President Trump going to continue a tradition of half of century of being supportive of the project of European integration or is he going to continue to advocate EU member countries to follow the Brexit example?

If he did that, it would amount to a kind of non-military declaration of war. It would mean conflict between Europe and the United States. is that what the U.S. wants? Is that how he wishes to make America great again?"
Last month, Trump welcomed the British decision on leaving the bloc, which caused negative reaction in the European Union with then French presidential candidate Manuel Valls also calling Trump's statements a declaration of war on Europe.
Finally,
…

by ValueWalk - February 19th, 2017 3:43 pm
By VintageValueinvesting. Originally published at ValueWalk.
Almost everybody knows about Warren Buffett's house in Omaha, Nebraska.
Warren Buffett bought that house – which he still lives in today – for $31,500 in 1958 (about $265,000 in 2017 dollars).
According to Realtor.com, Warren Buffett's house is valued at $652,619 today… which isn't even the most expensive house on the block! The house next door is actually valued at $826,870.
The house, which Warren Buffett has lived in for nearly 60 years now, is pretty modest with only 6,000 square-feet (the definition of a mansion is generally 10,000 square-feet) and no gate and no security guard. The house sits on a corner and was built in 1921 and does appear to have had some additions added over the past 60 years.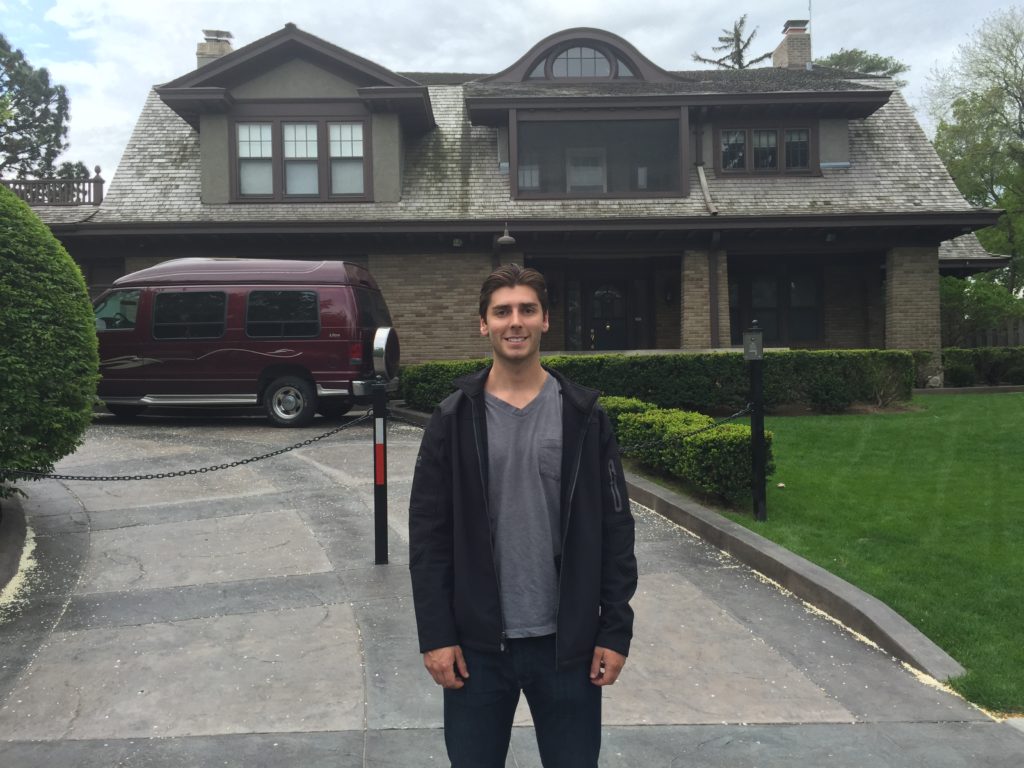 Why hasn't Warren Buffett, with a net worth of $75 billion, traded up to a more luxurious house over the years? It's simple:
"I'm happy there. I'd move if I thought I'd be happier someplace else," Buffett said in The World's Greatest Moneymaker, a documentary about Buffett's investing strategy and lifestyle.
"How would I improve my life by having 10 houses around the globe? If I wanted to become a superintendent of housing, I could have as a profession, but I don't want to manage 10 houses and I don't want somebody else doing it for me and I don't know why the hell I'd be happier.I'm warm in the winter, I'm cool in the summer, it's convenient for me. I couldn't imagine having a better house."
Warren Buffett's house is definitely convenient for him – his house is actually just a 5 minute drive from Berkshire's office (it's literally a straight shot down Omaha's Dodge Street).
Plus there's some history there too: in the 1950s, Buffett's neighbor was Donald Keough – Buffett's long-time friend who eventually became President of COO of Coca-Cola in the 1980s (Buffett started investing in Coke in the late '80s and today Berkshire owns about 9% of the company… Buffett says that since he drinks 700 calories of Coke a day, he's about one quarter Coca-Cola).
And of course, the house just fits in with Buffett's frugal personality (one time when Buffett and his friend Bill Gates where visiting China, Buffett bought Gates a meal at…

by Zero Hedge - February 19th, 2017 3:25 pm
Courtesy of ZeroHedge. View original post here.
After the premature resignation of Michael Flynn over his alleged conversations with the Russian ambassador, the Trump administration has made it clear it will not tolerate any dissent within the ranks. Case in point: Craig Deare, who was recently appointed the U.S. National Security Council's senior director for Western Hemisphere Affairs, was removed from the agency days after criticizing President Trump and senior White House officials, including son-in-law Jared Kushner and daughter Ivanka Trump at a private event hosted by a Washington think tank, Politico reported.
What makes the Deare resignation notable is that he is not a holdover from the Obama administration, but came to the NSC after Trump's inauguration from National Defense University, where he had served as the dean of administration and was selected for the role by Michael Flynn, who resigned as Trump's national security adviser on Feb. 13, resulting a state of "controlled chaos" among Trump's top security advisors, and leading in a scramble to find a replacement.
According to Politico, at a private, off-the-record roundtable hosted by the Woodrow Wilson Center for a group of about two dozen scholars earlier in the week, Deare harshly criticized the president and his chief strategist Steve Bannon and railed against the dysfunction paralyzing the Trump White House, according to a source familiar with the situation.
"He complained in particular that senior national security aides do not have access to the president – and gave a detailed and embarrassing readout of Trump's call with Mexican president Enrique Pena Nieto." Some have speculated that he may have been the source of the leaked conversation between Trump and the Mexican president which led to a media furore several weeks ago.
According to Bloomberg, a second official familiar with the situation said Deare was released from his NSC position but not removed from the U.S. government. He was recruited to the security council, part of the president's executive office, from the National Defense University and will return to his post there, the official said.
Deare's biography shows he's been on the faculty of the professional military university since 2001. He joined the university's College of International Security Affairs in 2010 and most recently served as dean of administration.