Archive for August, 2012
by Chart School - August 31st, 2012 10:35 pm
Courtesy of Doug Short.
Valid until the market close on September 28, 2012
The S&P 500 closed August with a monthly gain of 1.98%. There were two signals triggered today for the Ivy Portfolio: VEU and DBC finished the day as "Invested", which we also saw in this morning's preview.
The Ivy Portfolio
The table below shows the current 10-month simple moving average (SMA) signal for each of the five ETFs featured in The Ivy Portfolio. I've also included a table of 12-month SMAs for the same ETFs for this popular alternative strategy.
Backtesting Moving Averages
Over the past few years I've used Excel to track the performance of various moving-average timing strategies. But now I use the backtesting tools available on the ETFReplay.com website. Anyone who is interested in market timing with ETFs should have a look at this website. Here are the two tools I most frequently use:
Background on Moving Averages
Buying and selling based on a moving average of monthly closes can be an effective strategy for managing the risk of severe loss from major bear markets. In essence, when the monthly close of the index is above the moving average value, you hold the index. When the index closes below, you move to cash. The disadvantage is that it never gets you out at the top or back in at the bottom. Also, it can produce the occasional whipsaw (short-term buy or sell signal), such as we've occasionally experienced over the past year.
Nevertheless, a chart of the S&P 500 monthly closes since 1995 shows that a 10- or 12-month simple moving average (SMA) strategy would have insured participation in most of the upside price movement while dramatically reducing losses.
The 10-month exponential moving average (EMA) is a slight variant on the simple moving average. This version mathematically increases the weighting of newer data in the 10-month sequence. Since 1995 it has produced fewer whipsaws than the equivalent simple moving average, although it was a month slower to signal a sell after these two market tops.
A look back at the 10- and 12-month moving averages in the Dow during the …

by ilene - August 31st, 2012 9:53 pm
Courtesy of ZeroHedge. View original post here.
Submitted by Tyler Durden.
Iron Ore inventories to the roof; steel production still ramping; food and energy prices soaring; economy deteriorating rapidly. So why no major stimulus from the PBoC? Too busy in-fighting or perhaps waiting on The Fed or The ECB to rescue us all; we suspect neither of the above. This chart, via Goldman Sachs, indicates the relative looseness of financial conditions (easing / tightening) compared to China's current activity. These two proprietary indicators provide a 'cleaner' view of the various aspects of China's monetary/fiscal policies (from fiscal stimulus to RRR hikes or reverse repos) and its 'real' level of economic growth (unbiased by political need). As is extremely evident, since the initial collapse and huge stimulus in 2008/09, the PBoC has become less and less capable of generating any additional economic activity. Whether this is due to the same shadow-banking effect Europe and the US suffer from in their transmission channels; or more simply that the Chinese may have also hit their bubble-created balance-sheet-recession debt-minimization limit (no matter how mandated from the top-down that spending is).
Goldman Sachs' China Financial Conditions Index vs. China Current Activity Index…
One lesson seems clear – as the impact of easing was also failing into the crash of 08/09 – for China, it's go big or go home as nuanced management of liquidity is just not cutting it (and never did); and we remind readers that 'going big' is very unlikely given the already-inflationary environment and bubbly real estate market they find themselves lumbered (pun intended) with.
Source: Goldman Sachs
by Chart School - August 31st, 2012 9:35 pm
Courtesy of Doug Short.
Here's the latest weekend update from Serge Perreault, a Chartered Professional Accountant and market technician located near Montreal, Canada. Serge has been following the U.S. market in a series of weekly charts. Here is his update on the S&P 500.
---
For the last 4 weeks, the S&P 500 has been moving sideways, below a 3 year high. This week, its volume was 18% below-average and its momentum indicators kept falling (RSI broke a support and ROC is now testing one). The divergence of RSI from last October should also be noted (uptrend at 1 versus downtrend at 2).
The index is only 18 points or 1.3% away from its EMA10, a break of which would confirm a correction inside an uptrend from the summer of 2010.
Note: For newcomers to technical analysis, here are brief explanations for the two key indicators that Serge features:
---
(c) Serge Perreault CPA Inc.
by ilene - August 31st, 2012 9:15 pm
Courtesy of ZeroHedge. View original post here.
Submitted by testosteronepit.
Wolf Richter www.testosteronepit.com
Why would France suddenly prohibit shale gas exploration? Sure, there are environmental issues with horizontal drilling and hydraulic fracturing, the methods used to extract gas from porous shale deep underground: flammable drinking water, earth quakes, cows that die, radioactive sludge in sewage treatment plants…. But French governments have had, let's say, an uneasy relationship with environmentalists. Its spy service DGSE, for example, sank Greenpeace's flagship, the Rainbow Warrior, in the port of Auckland, New Zealand, killing one person.
No, there must have been another reason why the government of Nicholas Sarkozy prohibited shale gas exploration in 2011, after having already issued permits in 2010. A mini hullabaloo had broken out, stirred up by the European Ecologists and The Greens (EELV), the fringe on the French left. And Sarkozy caved! Without a fight! Enthusiastically. The government of François Hollande just confirmed the prohibition when Environment Minister Delphine Batho declared: "Hydraulic fracturing remains and will remain prohibited."
The clue: Sarkozy suddenly visited Japan on March 31, 2011, a couple of weeks after the horrific earthquake and tsunami, and the subsequent nuclear accident at Fukushima, to declare in front of shell-shocked Japanese that there was "no alternative" to nuclear power.
He'd been dispatched by the almighty state-owned nuclear industry to tamp down on the growing anti-nuclear sentiment at home. Owned by the government, nuclear power plants produce 75% of France's electricity and export some of it. No one who wants to be politically viable is allowed to hamper the industry. If someone strays off the reservation, he or she is dragged back soon. While Hollande campaigned on a vague promise to reduce dependency on nuclear power to 50%, it was understood as one of the bones he had to toss to environmentalists. Nothing would come of it.
So when Batho, who wants to add more renewables to the portfolio, toed the party line by saying, "Nuclear power is an industry with future," then qualified it with a "but," it caused an outcry even among the Socialists. That's the power the nuclear industry has over the political machines.
But now another powerful entity turned up: Russia's Gazprom. It's the world's largest gas producer, gas exporter, and gas distribution company with nearly 100,000 miles of gas trunk lines and branches. The Russian government owns…

by Zero Hedge - August 31st, 2012 8:59 pm
Courtesy of ZeroHedge. View original post here.
Submitted by Tyler Durden.
While attending a private college and being trained in the mystical art of CTRL->C / CTRL->P might leave you strangled by a debt-load larger than Spain's, it is empirically true that salary-upside remains (almost $10,000 per year more); the following infographic lays out why the public vs private college debate continues.

Brought to you by: OnlineColleges.net
by Zero Hedge - August 31st, 2012 8:22 pm
Courtesy of ZeroHedge. View original post here.
Submitted by dottjt.
It probably crushes your little heart, that I defaced the one man you oh-so-love. "NO, Julius! Not that guy! He means everything to me!" But when it comes to Romney or Obama, any amount of defamation is perfectly fine and even acceptable. Fortunately for me, humor doesn't discriminate. All you need is an open mind. Anything else, and you're a sheep. This is the Zero Hedge Daily Round Up.
1. Ron Paul: Both parties Keynesian. I'm badass. 2. Euro unemployment diverges with U.S. employment. The stagflation beast. 3. Bernanke: Jackson Hole. 4. Housing prices: $3.2 trillion hurdle. 5. Bankia FOBR, says capital inject needed imminently. 6. European stock market takes acid. 7. Facebook shares at $18.
Alternatively, you can download the show as a podcast on iTunes or any RSS capable device.
RSS Feed: http://thefinancialreality.podomatic.com/rss2.xml
Julius Reade
by Zero Hedge - August 31st, 2012 8:16 pm
Courtesy of ZeroHedge. View original post here.
Submitted by Tyler Durden.
We noted earlier that something looked fishy into the close today – our so-called 'tickle-algo' appeared evident – but without the superlative HFT data that Nanex has, we had no way to know just how berserk things were. Here, for your viewing pleasure (with a hidden message) is the last 1 millisecond of trading in SPY today – a period in which as much trading data (quotes and trades) that would fit in two seconds of 'pipe' was blasted through the exchange networks. Nanex's 'Whac-a-mole' algo in all its glory – as they note "this has the strong odor of manipulation."
Nanex ~ 31-Aug-2012 ~ Whac-A-Mole in SPY
Whac-a-mole in SPY at the close on August 31, 2012. About as much trading data (quotes and trades) that would fit in 2 seconds of pipe, was blasted through the exchange networks in the last millisecond of the day. We estimate about $1 billion of SPY and 75,000 eMini contracts traded. The wild oscillations that are shown on the chart between 16:00:00 and 16:00:02 actually happened in the last millisecond of the trading session. Why the trades oscillate like that, we'll never know, but it has the strong odor of manipulation. And this event has happened before.
Charts below show the bid/ask spread (shaded) and trades (dots) color coded by exchange. For clarity, not all charts show all exchanges.
1. Dear
---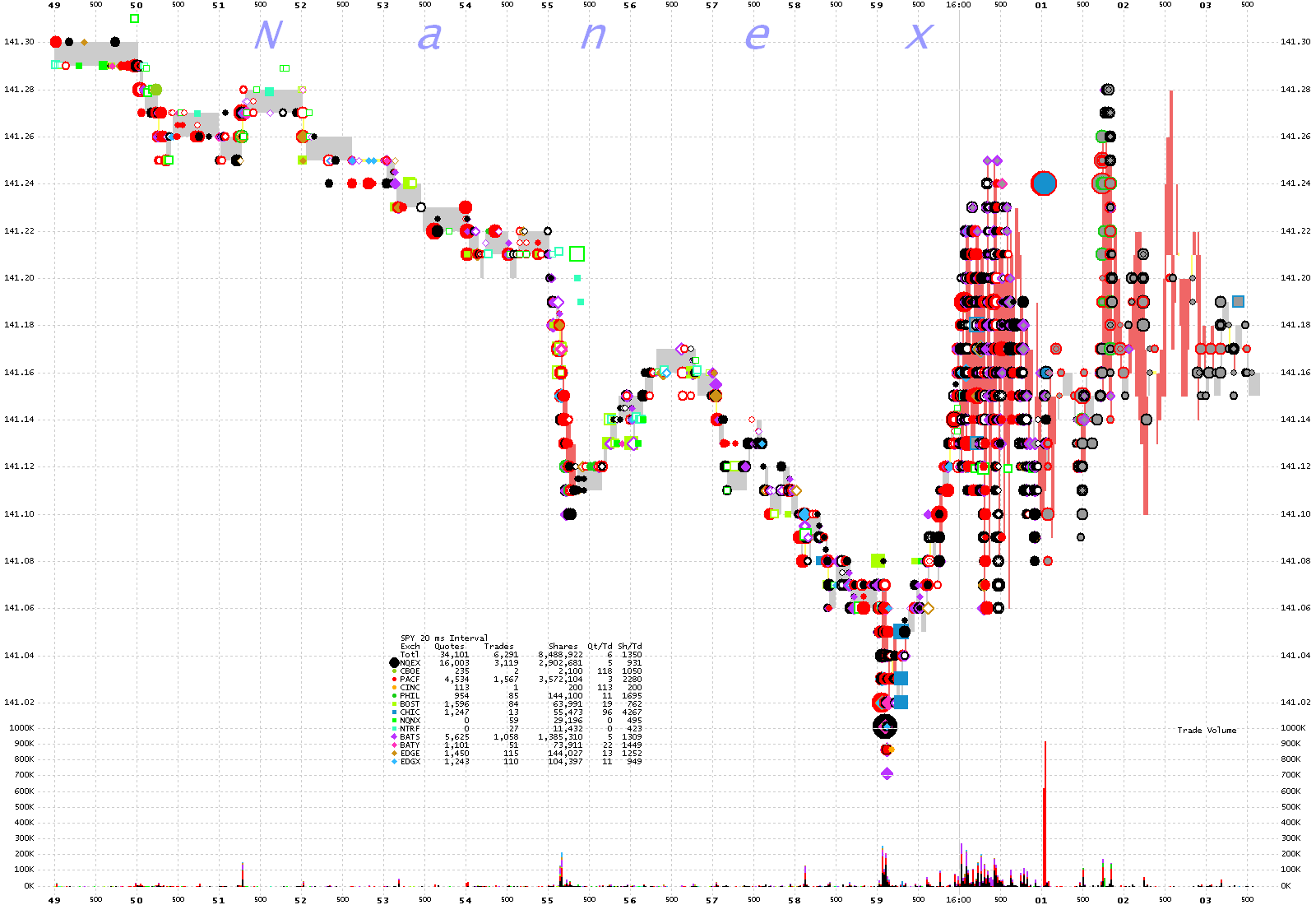 ---
2. SEC
---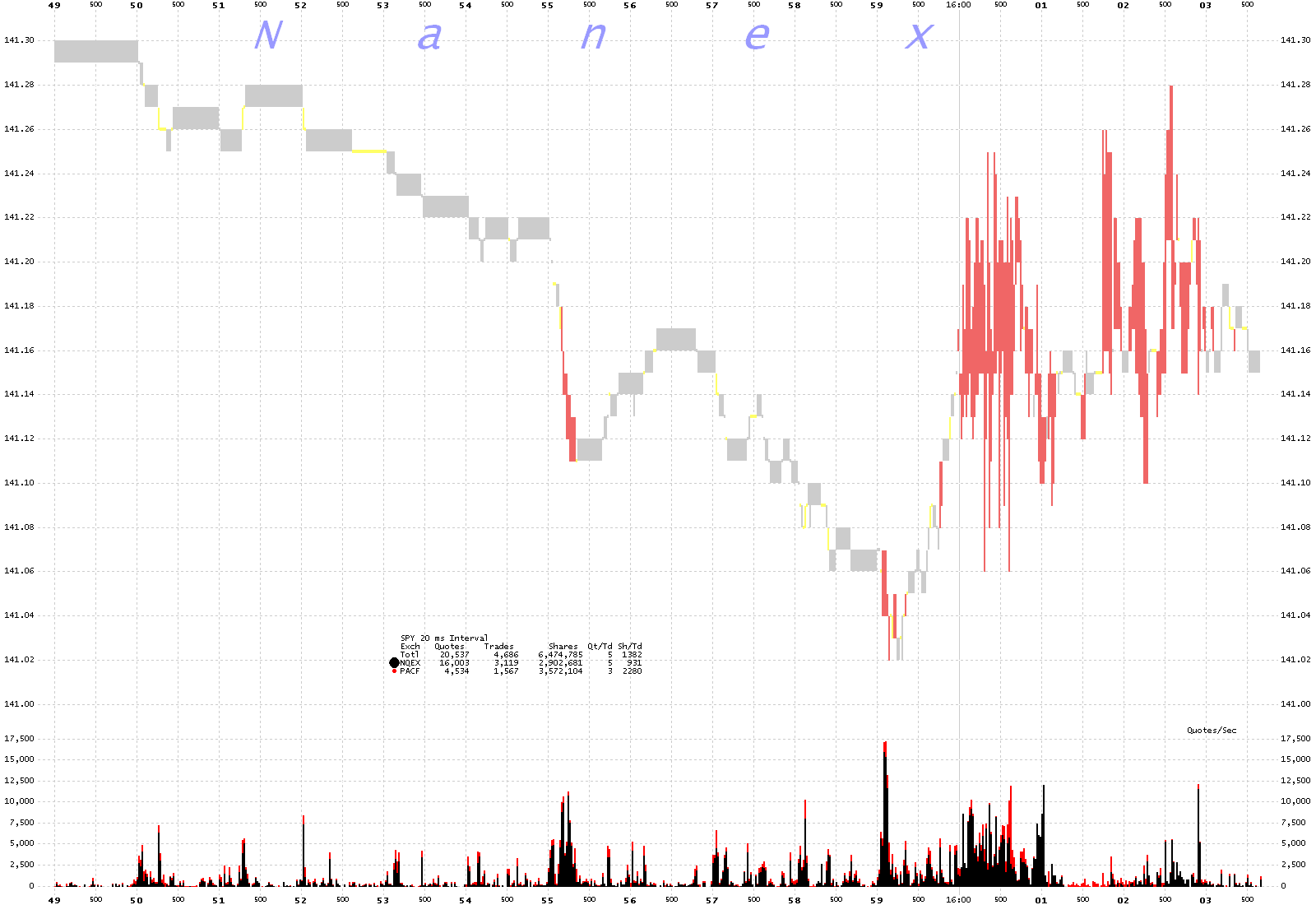 ---
3. Please
---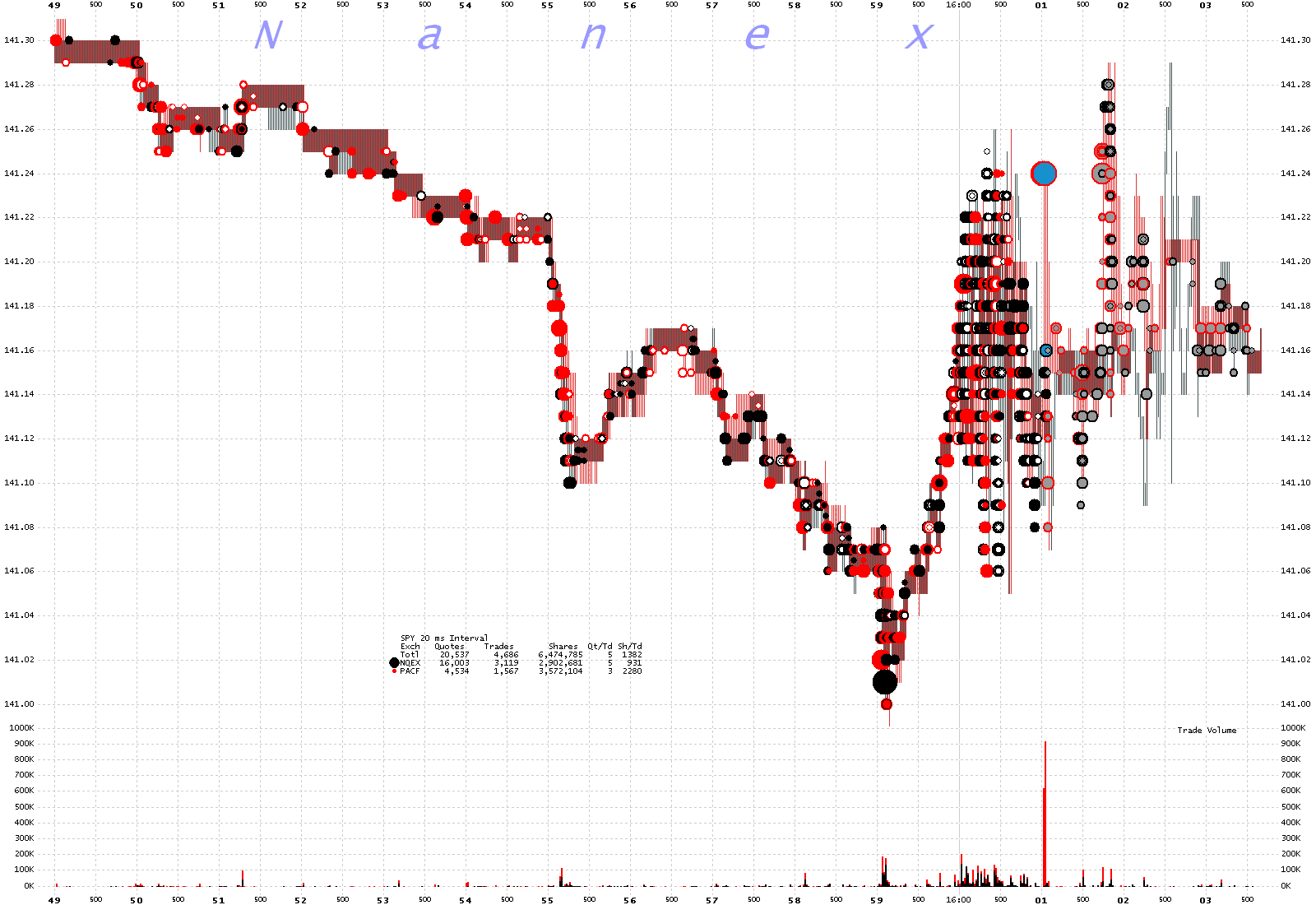 ---
4. do
---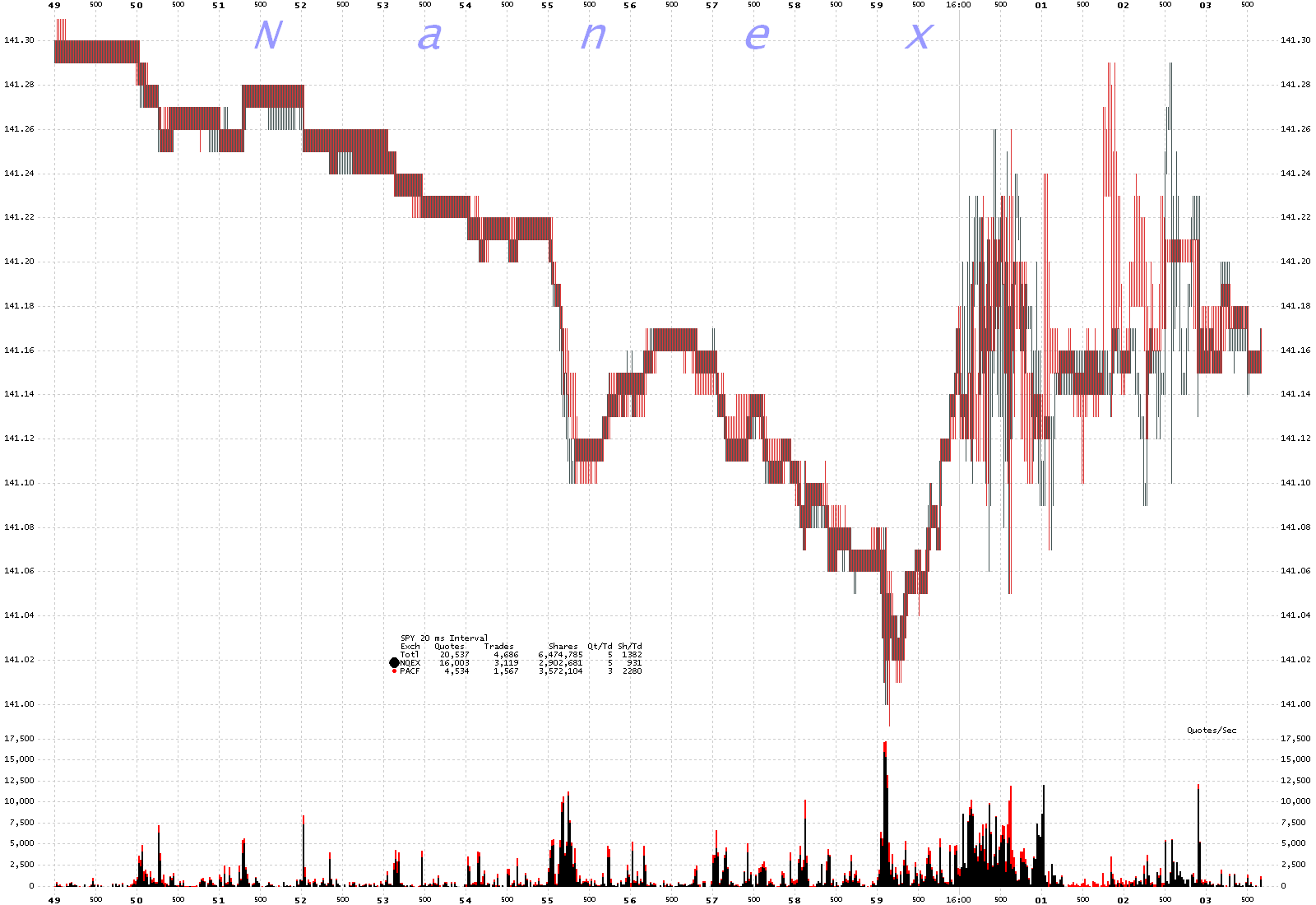 ---
5. your
---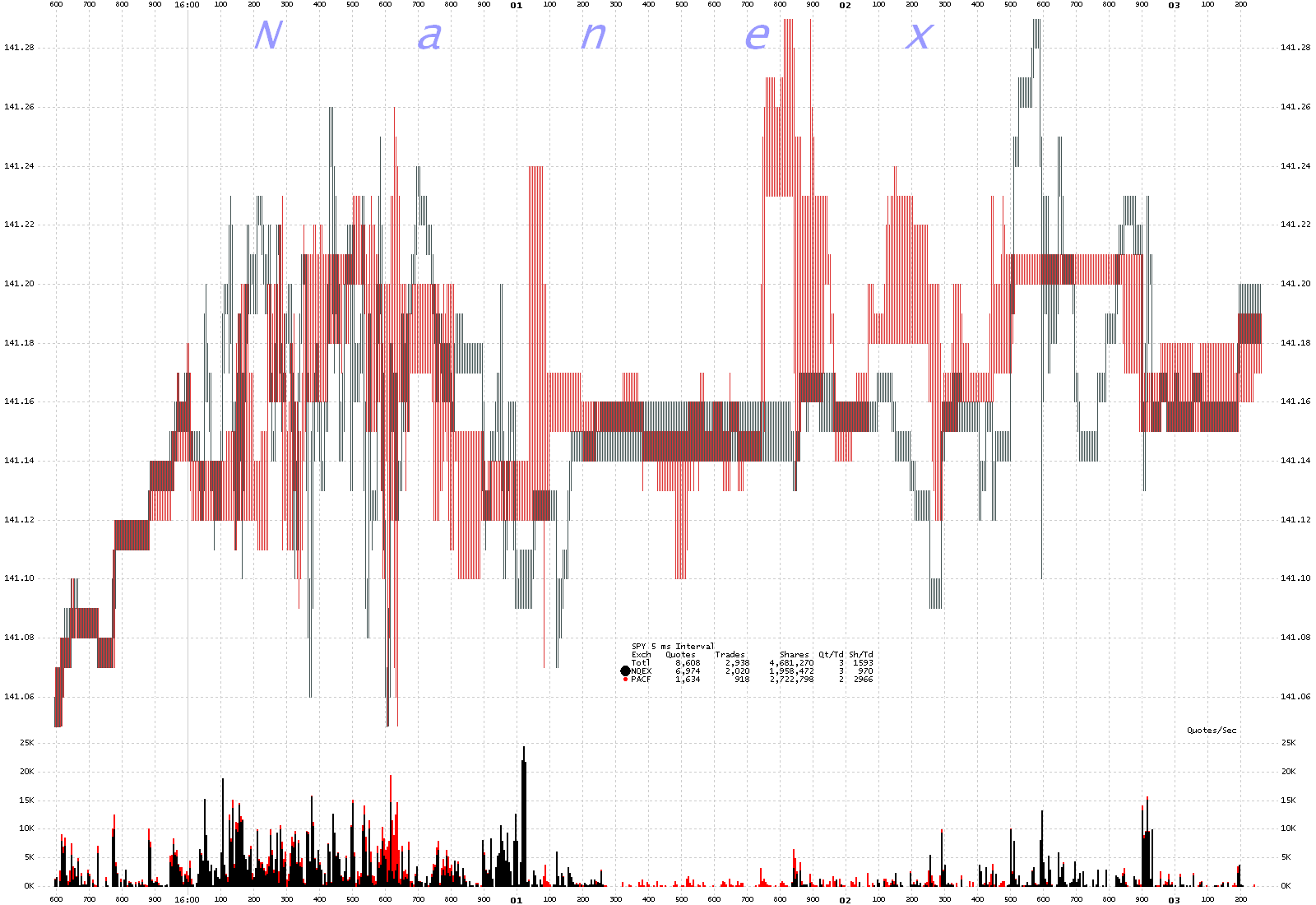 ---
6. job
---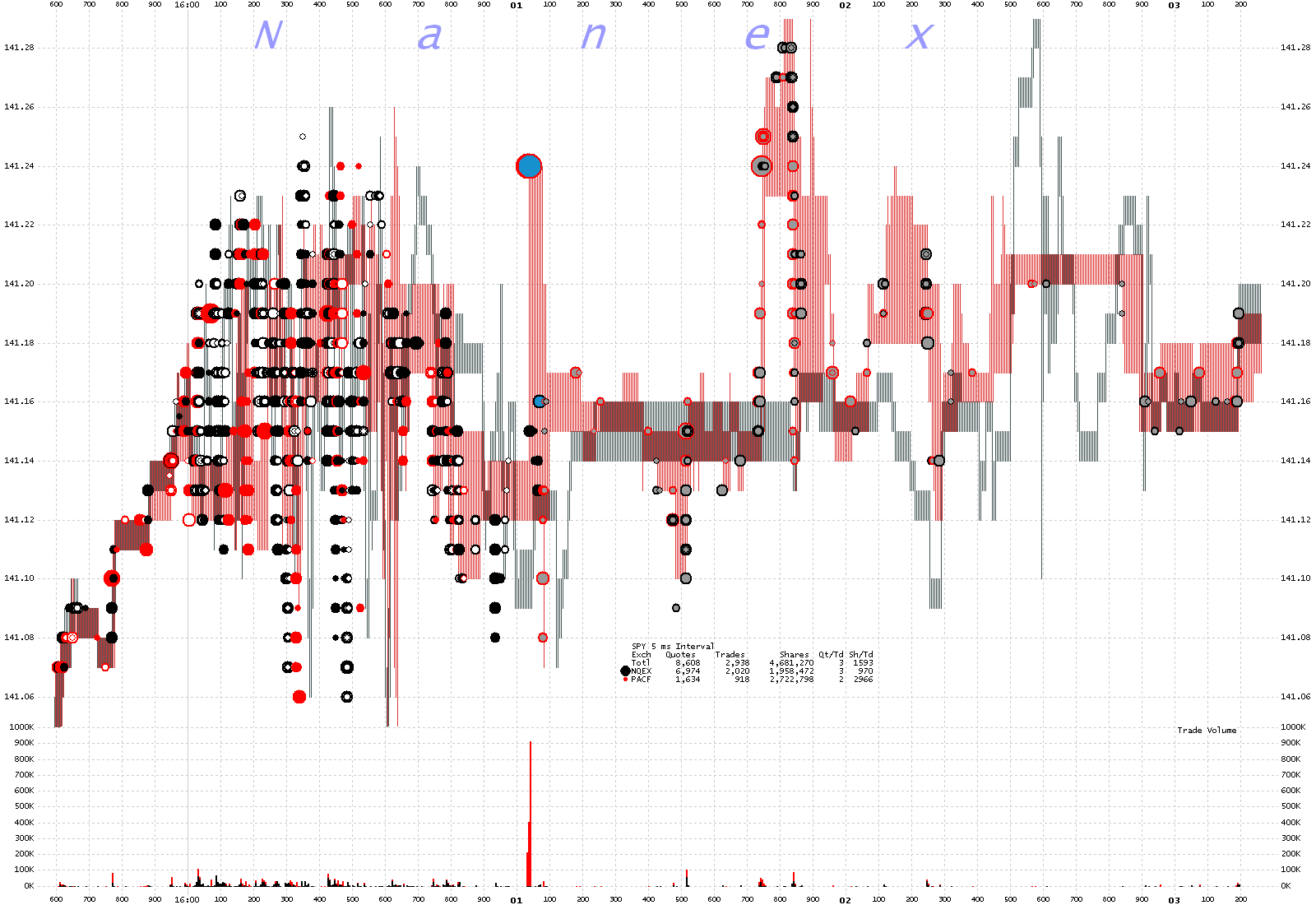 ---
7. so
---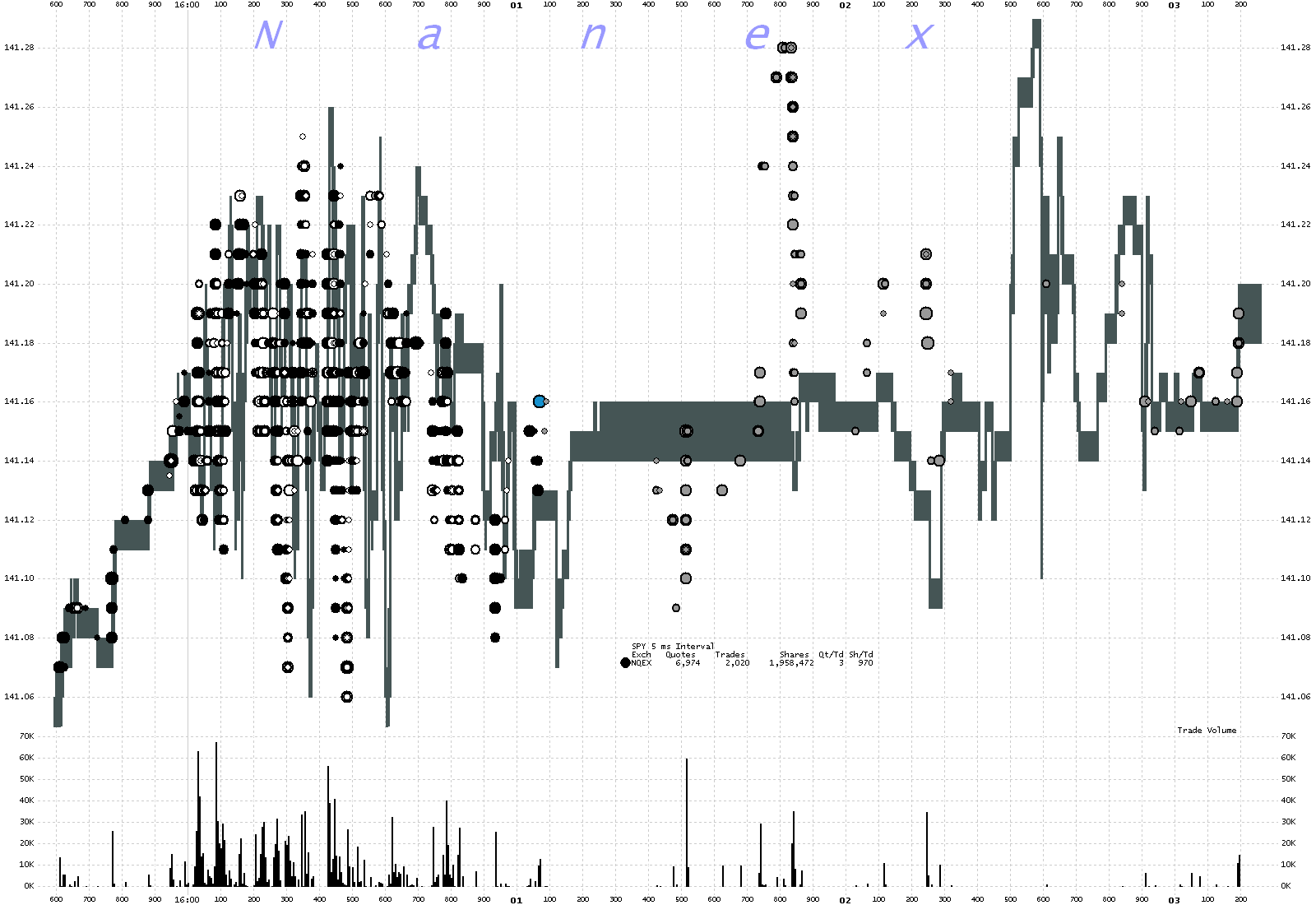 ---
8. we
---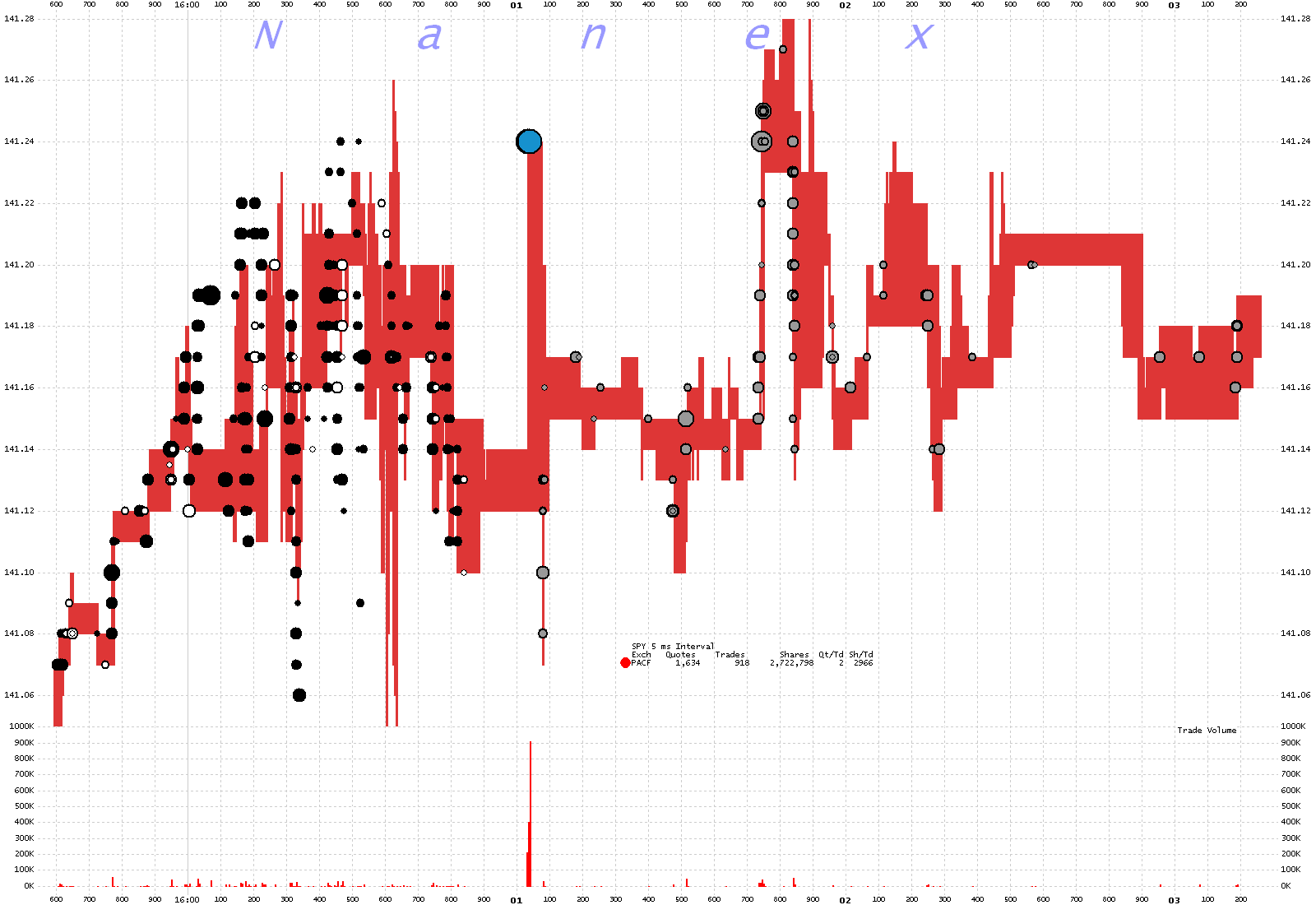 ---
9. don't
---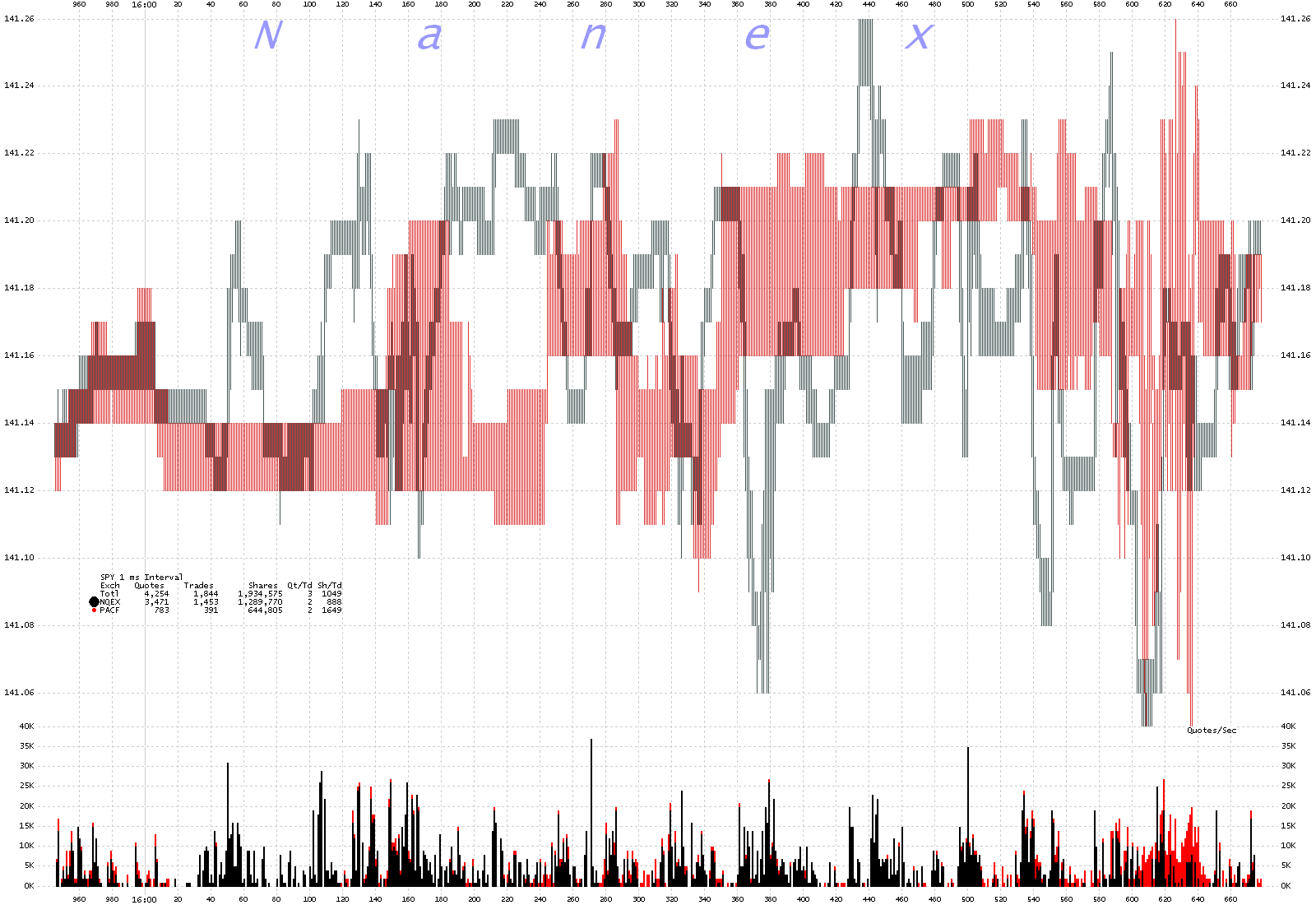 ---
10. have
---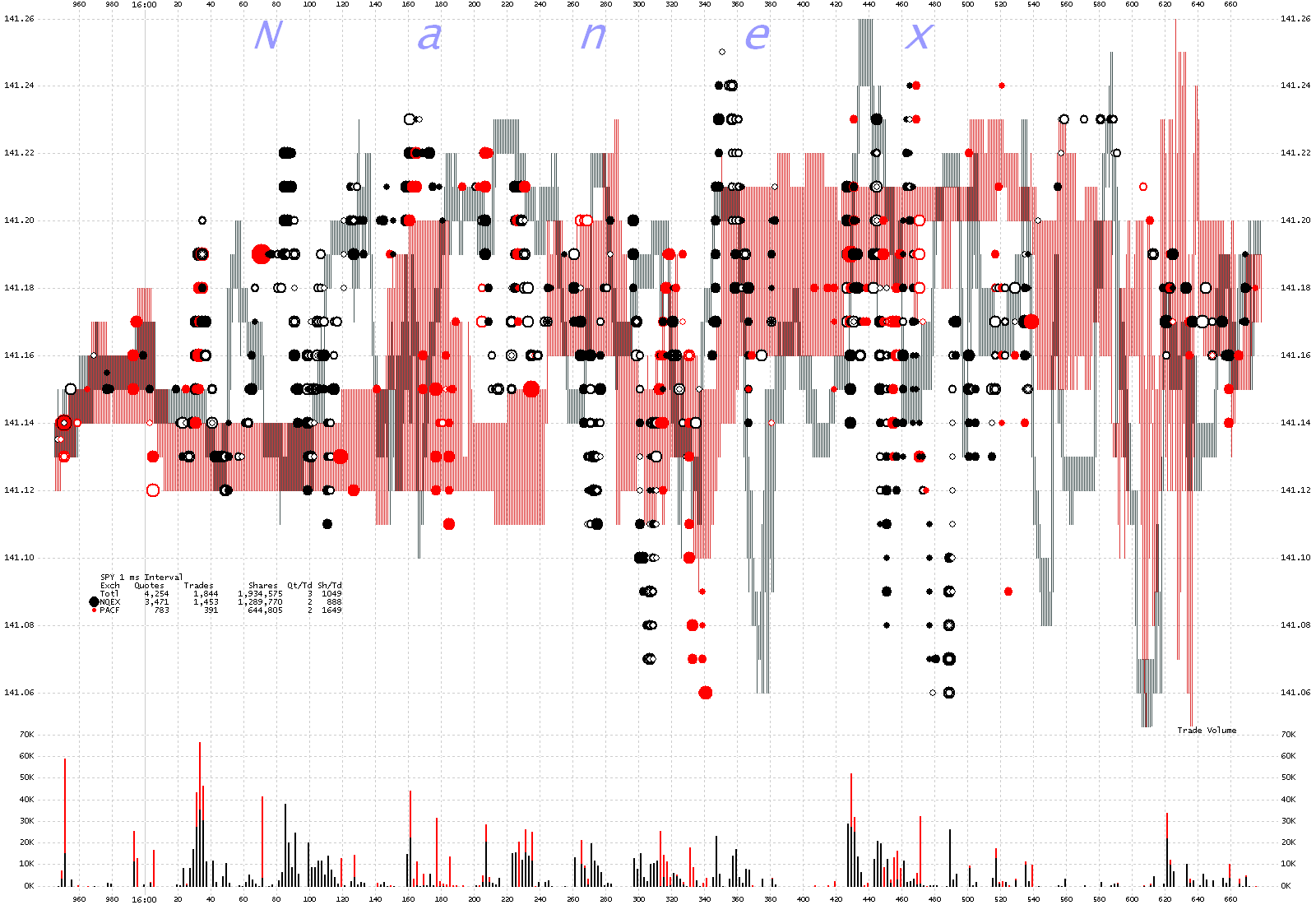 ---
11. to
---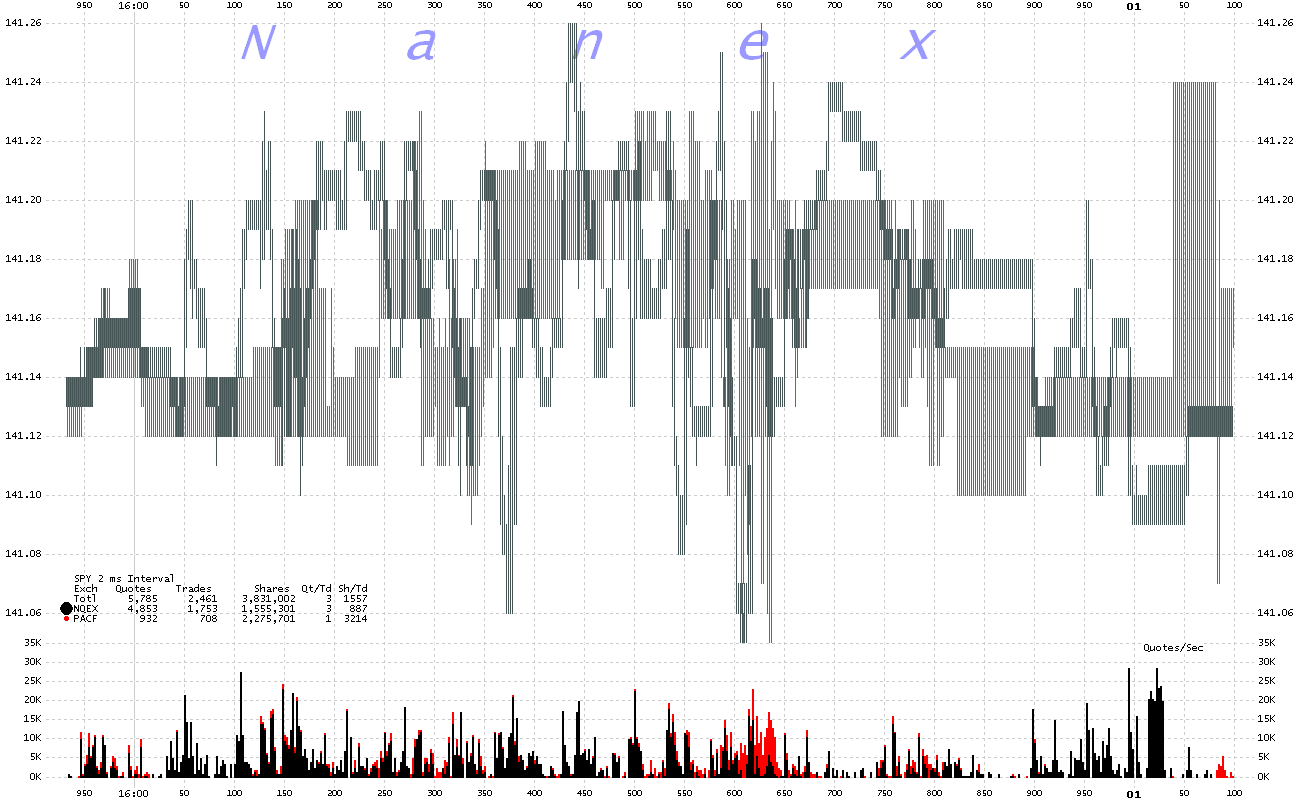 ---
12.
---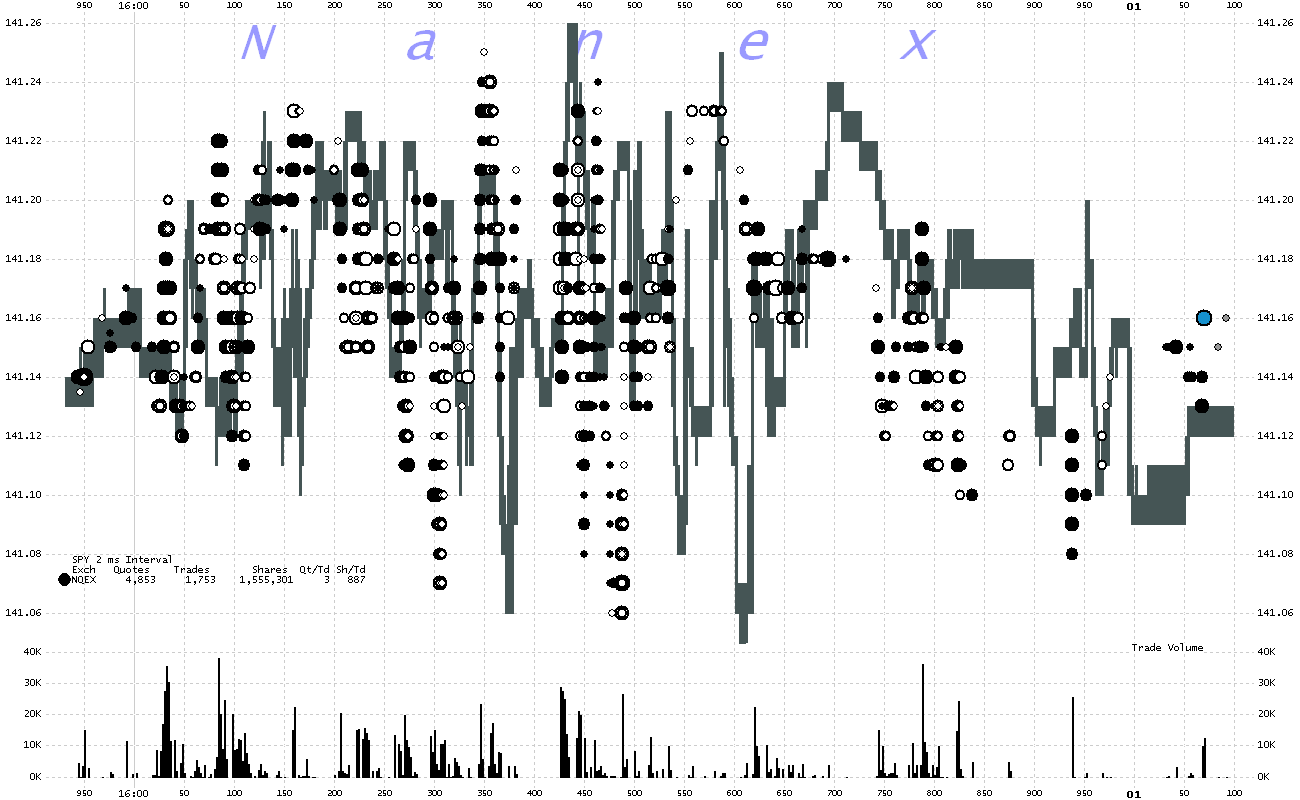 ---
13.
---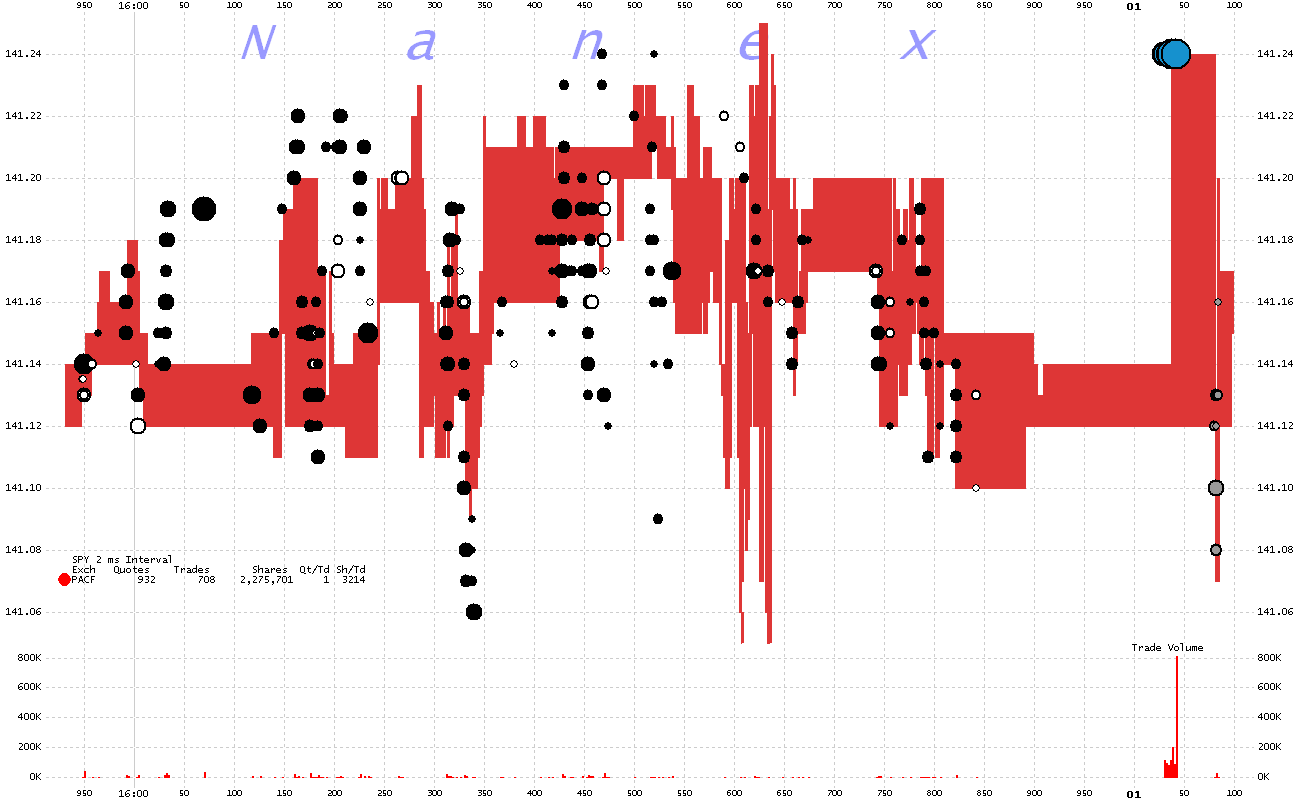 ---
18. Here you can see the stellar progress being made on past events by our dear leader.
---
by ilene - August 31st, 2012 7:31 pm
Courtesy of ZeroHedge. View original post here.
Submitted by Tyler Durden.
While the general level of unemployment in Europe is rising in a scary enough way (more detail here), the one really concerning data point has gone from bad to worse. When we last looked at youth unemployment in Europe, things were stabilizing a little, though at extremely lofty levels. With the release of July's data, the situation has deteriorated rapidly; Euro-Zone youth unemployment hs now ticked back up to its euro-era record-high of 22.6% (18-year highs). Only Portugal saw an improvement is the rate of unemployment among the Under-25 age group (from 37.6% to 36.4%) though it remains anarchically high. Italy was the hardest hit, back above 35% with its largest rise in youth joblessness in 5 months, Ireland rose back above 30% for its biggest rise in 11 months as France jumped to two-year highs and Spain and Greece are practically deadlocked with ~53% of their younger-generation out of work – new all-time records. Why do we worry? Why is this so scary? Two reasons – this and this.
Data: Bloomberg
by Zero Hedge - August 31st, 2012 6:47 pm
Courtesy of ZeroHedge. View original post here.
Submitted by Tyler Durden.
Submitted by Jeff Clark of Casey Research,
Even the hardiest investors have been lamenting that gold prices have been stuck in a rut for a long time. Others with less experience have watched the market waiting for something to happen….
And as always, many bailed out of the market entirely, licking their wounds.
But some, including me, have been stocking up.
We're convinced prices won't stay down forever.
In fact, I think there's a good reason to buy gold if you can, and as soon as possible.
Here's why:
Based on the data I chart below, I believe the window of time to buy gold for less than $1,700 an ounce is very limited.
I examined gold's three largest corrections since the bull market began in 2001, including how long it took to recover from those corrections and establish new highs.
The conclusion that emerged is that the current lull in gold prices will almost certainly end soon, if it hasn't already.
Gold set a record on September 5, 2011 at $1,895 an ounce (London PM Fix) and to date has fallen as low as $1,531 (December 29, 2011), a decline of 19.2%. Gold has tested that level several times since but never broke below it.
In order to determine how long it might take to breach $1,895 again, I measured the time it took to mount new highs after big corrections in the past.
The following chart details the three largest corrections since 2001, and calculates how many weeks it took the gold price to a) breach the old high, and b) stay above that level.
(Click on image to enlarge)
In 2006, after a total decline of 22.6%, it took a year and four months for gold to surpass its old high. After the 2008 meltdown, it was a year and six months later before the metal hit a new record. The 16.2% drop in 2003 lasted seven months, and another two months before the price stayed above it.
You can see that our correction has lasted just shy of a year. If we matched the recovery time of 2006, gold would hit a new high on Christmas Eve (Merry Christmas!).
But here's the thing: that's how long it would take gold to…

by Chart School - August 31st, 2012 6:16 pm
Courtesy of Blain.
Stocks finished off a mostly quiet month of August, with one of the most volatile sessions of the month.  The market gapped up to begin the day, upon arrival of the widely anticipated speech from Ben Bernanke at 10 AM at Jackson Hole, and upon release of the headlines from the speech sold off to fill the morning gap.  The market then did a complete U-turn in the following 60 minutes to run to highs of the day, before selling off sharply between noon and 1:30 PM.  However a new low was not created and the rest of the day was the normal chop we have become used to in August as many traders left early for the long weekend.  The bottom line from the speech was the Fed stands ready, able, with many options yada yada.  Nothing new here.  One misconception of the 2010 Jackson Hole speech was Bernanke said nothing akin to "we're going to do a new round of easing" – he simply laid out a very similar framework as was outlined in the FOMC minutes released last week.  So anyone expecting more was out of line – this is not a speech to dictate policy.
Over to the charts – the S&P 500 held yesterday's lows with a 0.5% gain on the day.  It continues to hover in the middle of the ascending channel and more sideways action in a non volatile fashion would be a positive.
The NASDAQ had a bit more of a scare than the S&P 500 as Apple had another quiet session, and this index did break yesterday's lows briefly but came back to finish in good fashion with a 0.6% gain.
The stars of the days were precious metals as both gold and silver ran on debasement of the currency prospects.  Please note the potentially very bullish technical condition in gold; a breakout from a descending channel.  When these follow through they are sometimes the most powerful moves you will see within a chart.   Both metals bounced smartly off their 200 day moving averages after clearing them last week on the announcement of the FOMC minutes.
Oil actually has a similar set up to gold in terms of a descending channel breakout but has some overhead resistance ahead in the name of the 200 day moving average.
PIMCO…