By Gabriel Thoumi, CFA, FRM. Originally published at ValueWalk.
As reported by Chain Reaction Research, the palm oil industry's transformation towards sustainability gained traction in 2013 when major purchaser Unilever engaged SE Asian refiners and traders to embrace 'No Deforestation' policies. As a result, in 2013, Wilmar was the first SE Asian refiner or trader to adopt a No Deforestation, No Peat, No Exploitation (NDPE) policy. Many other trading companies in SE Asia, Europe, U.S., and Latin America followed suit. Currently, most large international palm oil traders and refiners have NDPE policies.
However, a segment of the market continues to produce or purchase palm oil from recently deforested plantations and cleared peatlands, creating a 'leakage market' for unsustainable palm oil. Leakage is defined as any activity in the palm oil industry, production, trade and/or consumption, that is not compliant with NDPE policy requirements. Leakage creates an unlevel playing field and slows and dilutes industry transformation, thereby incurring various financial and reputational risks. The history of Sawit Sumbermas Sarana (SSMS) is instructive.
Key Findings
Due to non-compliance with its buyers' NDPE policies, Sawit Sumbermas Sarana (SSMS) lost 81 percent of its customer base in 2014 to 2015. Nonetheless, it has been able to continue operations and marginal profitability. SSMS restructured contested land bank assets while securing new clients in the 'leakage market'.
Unilever is among SSMS' new buyers, and its importance has grown in Q1 2017. Unilever awaits the outcomes of an independent review on sourcing policy compliance to decide on next steps following SSMS's alleged continuing deforestation and peatland. Next steps could include suspension of sourcing, posing further material risks to SSMS. Unilever's trading relationship with SSMS commenced after large SE Asian palm oil traders suspended SSMS for non-compliance with their NDPE policies. Notwithstanding the outcomes of the independent review, Unilever's trading relation might damage its sustainability reputation.
SSMS transition to supplying the 'leakage market' resulted in substantial losses for its shareholders. Chain Reaction Research analysis points to a 17 to 20 percent underperformance versus peers from May 2015 to April 2017. Although SSMS has been able to recover the loss in sales and EBIT from buyers' suspensions, this recovery was substantially exceeded by the negative impact from SSMS resulting higher net debt due to portfolio changes and increasing capex to finance the 'leakage market'.
SSMS' valuation premium versus peers has declined, but remains above its peers. If SSMS lose Unilever as a customer, further underperformance of SSMS shares might occur. Risks to shareholders remain high.
| | |
| --- | --- |
| Related plantation companies | Land bank (NASDAQ:HA) |
| PT Sawit Mandiri Lestari (PT SML) | 27,000 |
| PT Ahmad Saleh Perkasa (PT ASP) | 10,700 |
| PT Citra Borneo Indah (PT CBI) | 1,000 |
| Total | 38,700 |
| | |
| --- | --- |
| SSMS Directly Owned Plantation Companies | Land Bank |
| PT Sawit Sumbermas Sarana (SSMS) | 22,700 |
| PT Kalimantan Sawit Abadi (PT KSA) | 7,300 |
| PT Tanjung Sawit Abadi (PT TSA) | 14,900 |
| PT Sawit Multi Utama (PT SMU) | 17,400 |
| PT Mitra Mendawai Sejati (PT MMS) | 10,400 |
| PT Mirza Pratama Putra (PT MPP) | 6,400 |
| PT Menteng Kencana Mas (PT MKM) | 15,600 |
| Total | 94,700 |
Sawit Sumbermas Sarana: December 2016 USD 450 Million Loan from Bank Negara Indonesia to refinance debt
PT Sawit Sumbermas Sarana (SSMS) is a medium market cap Indonesian palm oil company with 19 oil palm estates, six palm oil mills, and one palm kernel mill. Through seven concession companies, it operates a total area of 95,770 hectares in Central Kalimantan. 73 percent of their concession area has been planted. SSMS has been listed on the Indonesian Stock Exchange since its December 12, 2013 IPO. SSMS is controlled through parent company Citra Borneo Indah Group (NYSE:CBI). CBI's ultimate owners include Jemmy Adriyanor and Jery Borneo Putra, both sons of Abdul Rasyid. SSMS has a 26.7% free float.
On December 14, 2016, SSMS announced its aim to expand its landbank to 150,000 ha within five years. January 16, 2017 SSMS received a USD 450 million (IDR 6 trillion) loan from Bank Negara Indonesia to refinance its debt. The loan might also be used for land bank expansion as SSMS wants to expand by 10,000 ha in 2017.
SSMS and Affiliated Companies: Material Deforestation Risks
In December 2013 when initiating coverage, Chain Reaction Research reported that over 95 percent of SSMS land bank was contested because SSMS lacked Government of Indonesia regulatory approvals for forestland development. While some SSMS subsidiaries had applied for Government of Indonesia permits based on Regulation No. 60/2012 but as of May 15, 2017, the matter has yet to be resolved. Subsequent assessments showed that SSMS subsidiaries continued to also deforest land and clear peatland despite SSMS' downstream buyers suspending purchases from SSMS because of SSMS deforestation and peatland practices.
Chain Reaction Research initial coverage also showed that SSMS was investing SSMS assets in associated companies. In Q4 2016, SSMS restructured two subsidiaries with contested land. While these two subsidiaries no longer form part of the SSMS, they continue to be owned and operated by SSMS affiliated individuals. These two SSMS affiliated companies are:
PT Sawit Mandiri Lamandau (PT SML) – 27,700 ha. PT SML's land cover comprises mature lowland tropical forest. PT SML concession includes orangutan habitat.
PT Ahmad Salleh Perkasa (PT ASP) – 10,700 ha. PT ASP's land cover includes undeveloped peat land with remnant forests. PT ASP concession also includes orangutan habitat.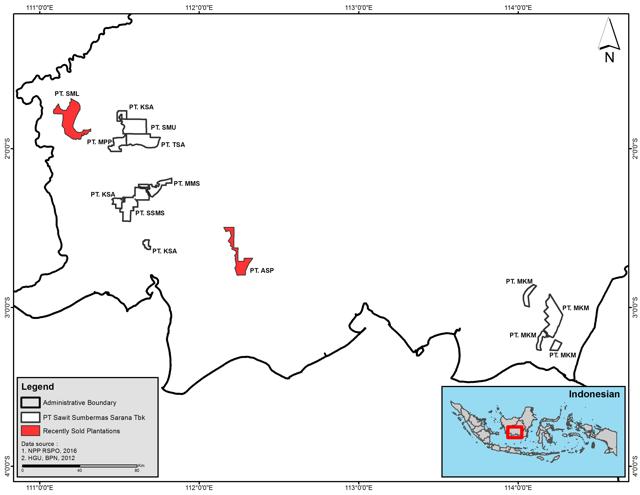 Figure 1: SSMS plantation companies in Central Kalimantan, Indonesia.
Previously, in 2015, SSMS acquired land held by four other companies. As shown in Figure 1 (above), these companies are:
PT Mirza Pratama Putra (PT MPP) – 6,400 ha.
PT Menteng Kencana Mas (PT MKM) – 15,600 ha.
PT Tanjung Sawit Abadi (PT TSA) – 14,900 ha.
PT Sawit Multi Utama (PT SMU) – 17,400 ha.
Currently, two of SSMS' palm oil mills are RSPO certified. SSMS RSPO-certified land bank totals 19,843 ha., or 21 percent of the company's land bank. Its RSPO-certified land bank includes PT Mitra Mendawai Sejati (10,400 ha).
But SSMS has done little to diminish its buyers' material concerns about the company's deforestation practices. To the contrary, as shown in Figures 2, 3, 4, and 5 (below), as of April, 2017, SSMS continued to be associated with deforestation and peatland clearance.
To explain in detail, previously, in December 2015, SSMS spun off its subsidiary PT SML to PT Metro Jaya Lestari. Before the spin-off, both this subsidiary and SSMS were subject to an RSPO complaint filed in 2015. After the spin-off, the RSPO complaint was closed due to ' the transition process of PT SML to the new owner (non-RSPO member)'.
However, PT SML corporate filings shows that PT SML is still owned by companies and individuals affiliated with SSMS.
For example, PT SML corporate filings lists the same company address as PT SSMS and PT CBI. PT SML director is Ramzi Sastra. Sastra is also a PT SSMS director.
PT SML continued to deforest after the RSPO complaint was filed, as shown in Figures 2, 3, 4, and 5 (below). PT SML deforested 3,425 ha from June 2015 to April 2017.
Figure 2: PT SML's deforestation, June 2015.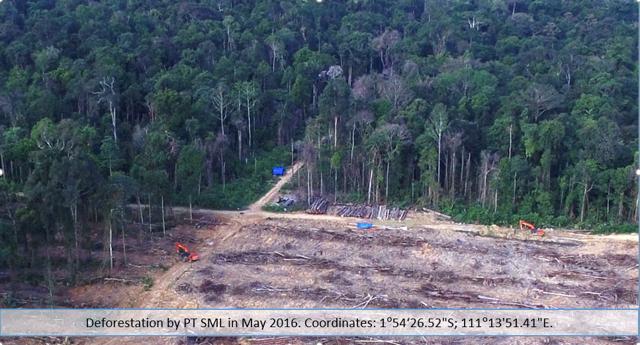 Figure 3: PT SML's deforestation, May 2016.
Figure 4: PT SML's deforestation, February 2017.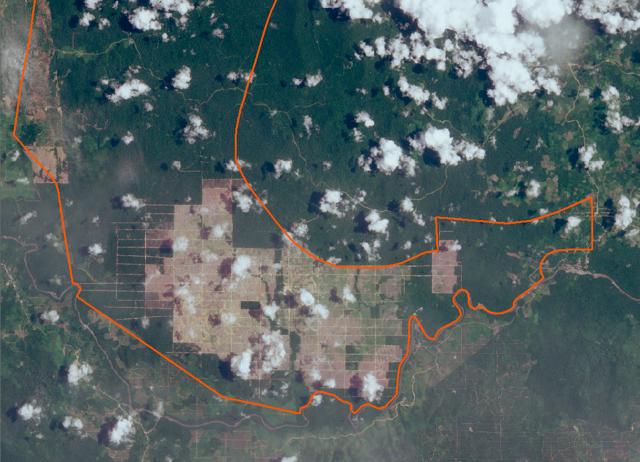 Figure 5: PT SML's deforestation, April 2017.
Furthermore, in 2016, other SSMS' subsidiaries also continued SSMS deforestation and
The post Sawit Sumbermas Sarana: Supplying The Palm Oil Leakage Market, Risks For Purchasers appeared first on ValueWalk.
Sign up for ValueWalk's free newsletter here.
Do you know someone who would benefit from this information? We can send your friend a strictly confidential, one-time email telling them about this information. Your privacy and your friend's privacy is your business... no spam!
Click here and tell a friend!