Courtesy of ZeroHedge. View original post here.
Never one to stray off message, DoubleLine Capital's Jeff Gundlach sat down for a mid-day interview with CNBC's Scott Wapner on Tuesday, where he elaborated on many of his talking points from his headlining appearance at Sohn.
As one of the few speakers at Sohn whose pitches have actually generated alpha for anybody willing to heed his advice (at last year's conference, Gundlach recommended traders short Facebook and buy oil companies), the audience and the financial press listened attentively on Monday as he recommended shorting the lowest polling Democratic contenders (presumably on PredictIt or some other online betting platform), and touched on a familiar topic: The risks posed by the surging US debt interest.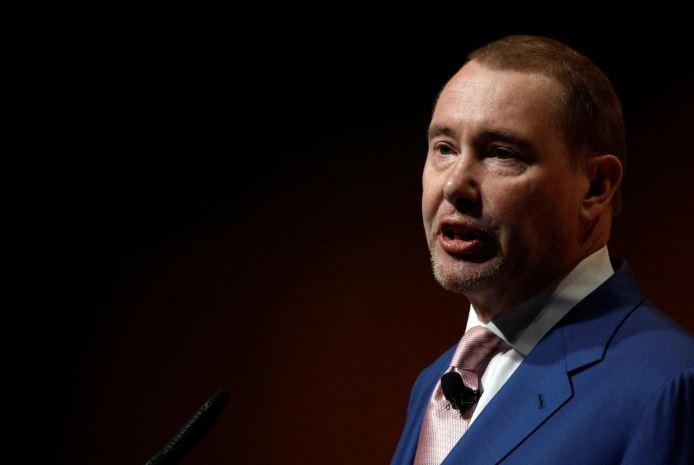 In keeping with his preternatural talent for sniffing out contrarian positions that eventually triumph over the consensus, Gundlach pitched the Sohn crowd on a long-rates volatility play that pits him against that most insurmountable of market adversaries: The now uber-dovish Feb.
As equities spiraled toward their lows of the day on Tuesday, Gundlach, who offended Jim Cramer late last year when he sent stocks reeling after he declared equities to be in a bear market during a brief interview with CNBC, doubled down on that view during his interview with Wapner.
Equity bulls can repeat stats about the market's Q1 rebound – admittedly, one of the best in decades – until they are red in the face, but, Gundlach argued, until the NYSE Composite surpasses its highs from January 2018, the US will remain in a cyclical bull market.
"People keep acting like this is some sort of locomotive that's chugging along but the New York Stock Exchange Composite Index – which to me is the most important one because it's the biggest – it peaked in January of 2018 and then couldn't quite make it back to that peak in October and now it couldn't quite get back to that October level and now it's rolling over again," Gundlach said.

"A bear market is really more about cycles and manias and then things one by one rolling over and the market getting narrower and narrower, and I think all of that has been happening over about an 18-month time period," Gundlach said.
But lest readers are left with the impression that Gundlach's bearish view is based purely on technicals, the DoubleLine founder explained that, in the near term, he expects stocks to power lower as trade talks between the US and China collapse, a process that has already started to unravel. As of now, he sees a 50% chance that Trump moves ahead with new tariffs.
"I think we're going to keep seeing more tension and I think the 25% tariff bump is better than 50% chance" Gundlach told Wapner. "Both the premier of China and the president of the United States want to come across that they prevailed and didn't give in."

"I think you've got an irresistible force meeting an immovable object," Gundlach said.
"I think that you've got an irresistible force meeting an immovable object," @DLineCap CEO @TruthGundlach says on U.S.-China trade talks. He says it's more than likely that new tariffs will happen. https://t.co/3NKMBDXoMC pic.twitter.com/6k7loScA7h

— CNBC (@CNBC) May 7, 2019
If the White House follows through with its threats to raise tariffs on Friday, Gundlach believes stocks will move even lower.
"It's already happening, I think. The market obviously doesn't want increased tariffs, so it's been kind of reacting to that," Gundlach said.

"I think that we're in a late cycle and I think the market can only be termed by the way I look at evolution of market prices as a bear market," Gundlach said. "The market hasn't gone anywhere in 15 months and its down in many parts of the world."

So, I don't know – I'm going to flip the question. If anybody wants to say how can I say it's a bear market, how can I say it's a bull market? I mean it's been a good year to date, yes I agree. But to characterize the last 15 months as a bull market is just wrong."
Moving on, the conversation soon turned to a discussion of the cognitive dissonance between Trump's celebration of economic data that confirms his market narrative, and his insistence that the Fed must cut rates to keep the party going. Gundlach said he doesn't think Trump can "get away with it…blaming it on" the Fed.
Trump is wrong on both counts, according to Gundlach: Not only has the labor market picture actually deteriorated under Trump, but if the Fed keeps policy easy and the economy still prints a negative, then Trump "can't brag about the economy any more."
"It's unbelievable the Twilight Zone that we're sort of living in, where people just say things and it gets repeated," Gundlach says. "I think probably we're numb to that because of social media." pic.twitter.com/oFffkDEg6C

— CNBC (@CNBC) May 7, 2019
He also took a jab at Americans' passive acceptance of what Trump has been saying as fact, blaming social media for turning everyone in Lemmings. In reality, the economy is incredibly vulnerable, and the US would be in serious trouble if a down turn hits.
"The economy is in such bad shape to withstand a downturn. Again, the national debt is exploding while we're having some of the best GDP year-over-year that we've had in recent years. Right? So the economy is not in any kind of condition for the government to come to the rescue other than really wickedly extraordinary policies a la the ECB and the BOJ."

"That's what he's about: bragging about the economy," Gundlach said. "He keeps talking about how the jobs have never been created so much ever in history. Except for one little fact: If you take the number of months Trump's been in office and take the average nonfarm payrolls and compare it to the same number of months at the end of the Obama president, there were more under Obama!"

"It's unbelievable the twilight zone that we're sort of living in, where people just say things and it gets repeated. I think probably we're numb to that because of social media," Gundlach added.
Though like Trump, Gundlach didn't shy away from bashing the Fed and Chairman Jay Powell.
"Well, frankly, Jay Powell's most recent press conference looked lost to me. Or maybe the right word is scared. Scared to say anything. So, we're kind of rudderless now I think in terms of the Fed. They just want things to be okay and to hold together and they don't want to say anything or change their rhetoric or scare anybody."
Moving away from markets – at least for the moment – Gundlach railed against the national debt, calling it "totally out of control," and again warned about the simmering risks in the corporate debt market.
"Bond King" Jeffrey Gundlach says the national debt is "totally out of control." https://t.co/mg5DCJoPt6 pic.twitter.com/hakrVyPc2E

— CNBC (@CNBC) May 7, 2019
He blamed the ballooning deficit and national debt (something we've also discussed at length) as the "main reasons" the 3s5s curve has steepened. He also warned that blowing out the deficit, as Trump did, would leave the US incredibly vulnerable during the next down turn.
"People are starting to realize that the deficit and debt are totally out of control," Gundlach said.

"The economy is in such bad shape to withstand a downturn again," Gundlach said. "The national debt is exploding while we're having some of the best GDP year over year that we've had in recent years."
The corporate bond market, meanwhile, are "so much worse today than it was in 2006." The corporate bond market has tripled in size, and a BBB rated bond market that is now bigger than the junk-bond market. Using leverage ratios alone, "45%, not just of the BBB but the entire corporate bond market would be junk right now," he said, citing figures from Morgan Stanley.
A recession or downturn could "spark" a wave of downgrades from investment grade bonds into junk bonds (another issue that we've discussed at length).
Finally, Gundlach discussed his Sohn trade reco, advising Wapner that investors could get rich on interest-rate volatility, which has sunk to multi-year lows since the beginning year, leaving options incredibly cheap.
The Fed has been all over the place, Gundlach argued, and the level of the volatility probably won't stay this low for another year, especially with the Treasury floating so many new bonds. Even if the Fed goes all in on MMT, sine volatility is so cheap, an options straddle should yield immense profits even if there's only a short-term increase in rates.
At @SohnConf, Gundlach said investors can get rich off interest rate volatility ahead. He explains his #Sohn2019 picks: https://t.co/6OkHNYVeMb pic.twitter.com/rpsCSE1lQ0

— CNBC (@CNBC) May 7, 2019
While a 30-40 basis point move would make the straddle profitable, Gundlach says he believes traders could profit on both sides when rates climb and the Fed ultimately comes to the rescue.
Do you know someone who would benefit from this information? We can send your friend a strictly confidential, one-time email telling them about this information. Your privacy and your friend's privacy is your business... no spam!
Click here and tell a friend!