Courtesy of ZeroHedge View original post here.
Summary:
Kudlow says moving back toward lockdown would be "a mistake"
US reports 60k+ new cases on Tuesday
NJ orders mandatory mask wearing outside
US coronavirus cases top 3 million
US reports ~44k new cases Tuesday
56 Florida ICUs hit full capacity
Texas hospital occupancy at more than 90%
World reports 5k new deaths
US sees highest daily death toll since June 9
Brazil president says he's taking hydroxychloroquine
Trump demands schools reopen in the fall
* * *
Update (0900ET): As Trump's push to reopen schools in the fall elicits the inevitable blowback from the left-leaning press, Larry Kudlow took to CNBC Wednesday morning to defend the policy, and reiterate that 'the data' continues to point to a V-shaped recovery, and that taking more steps back toward another lockdown would be "a big mistake."
NEC Director Larry Kudlow says implementing a national shutdown "would be worse than the disease." https://t.co/H4FBRGEs6j pic.twitter.com/8RzHwphZTK

— CNBC (@CNBC) July 8, 2020
* * *
Update (0840ET): Following yesterday's news that the state's "R" rate had ticked north of 1, the threshold above which the virus is said to be expanding, New Jersey Gov Phil Murphy is reportedly planning to sign an executive order mandating mask wearing even when outdoors, where the benefits of wearing a mask are marginal, at best.
New Jerseyans may soon be required to wear face coverings outdoors, too, to help prevent the spread of the coronavirus, NJ.com reports.
Shorely, you jest

MURPHY TO ORDER NEW JERSEYANS TO WEAR MASKS OUTDOORS

— Tom Flatten The Curve Hearden (@followtheh) July 8, 2020
Meanwhile, according to the latest updated figures released this morning, JHU has actually counted more than 60k new cases on Thursday, a new single day record. That's more than the roughly 43k we noted earlier. The updated numbers were released just minutes ago.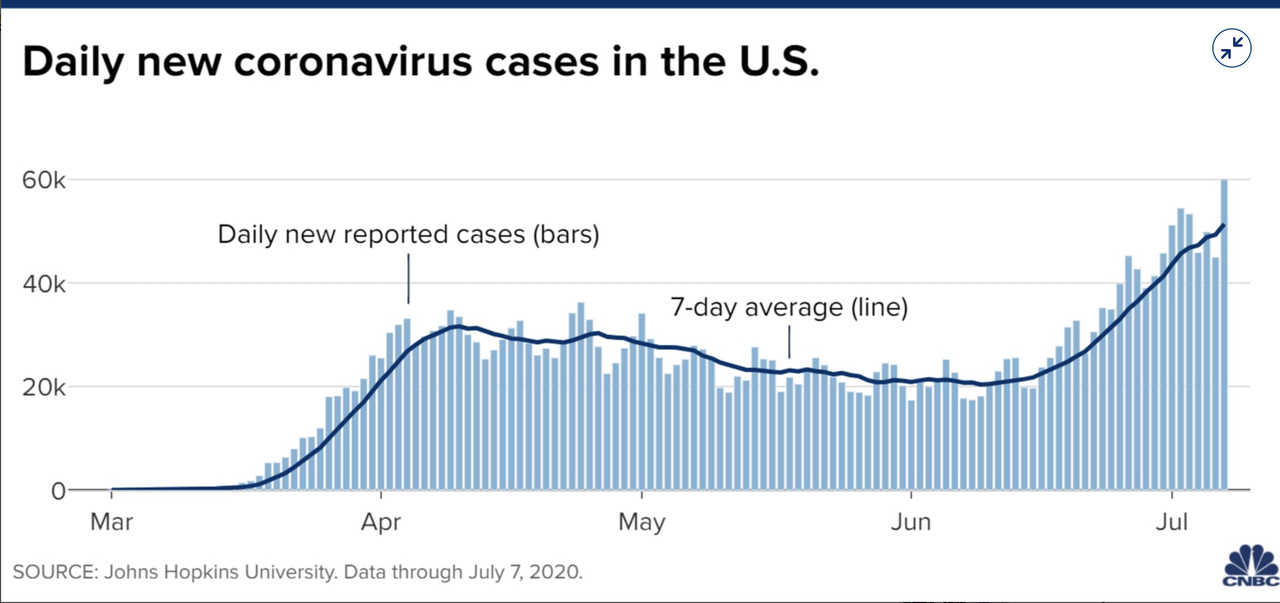 The US reported exactly 60,021 new coronavirus cases on Tuesday, according to JHU data cited by CNBC.
In a graphic produced by a team of BAML analysts, the bank breaks down how the states with the worst outbreaks – Texas, Florida, California and Arizona – are contributing to the bulk of the countrywide outbreak, while the northeastern states that have seen the most effective results have continued to see their numbers dwindle as a percentage of the total cases being counted each day.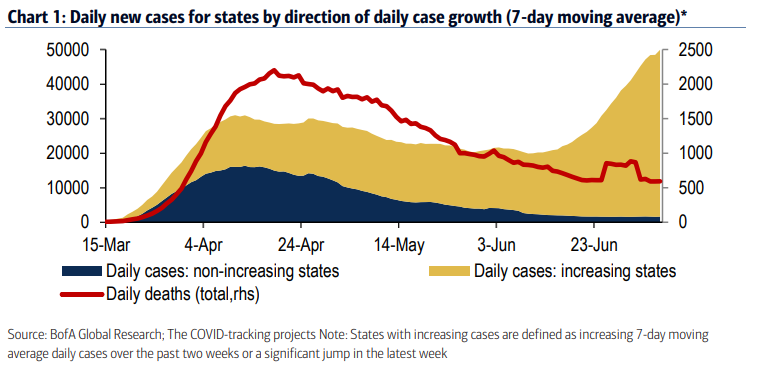 * * *
The US coronavirus outbreak crossed a grim milestone of over 3 million confirmed cases on Tuesday as more states reported record numbers of new infections, while dozens of hospitals in Florida are facing a shortage of ICU beds.
Meanwhile, the US reported 44,953 new cases on Tuesday (remember, these numbers are reported with a 24-hour delay).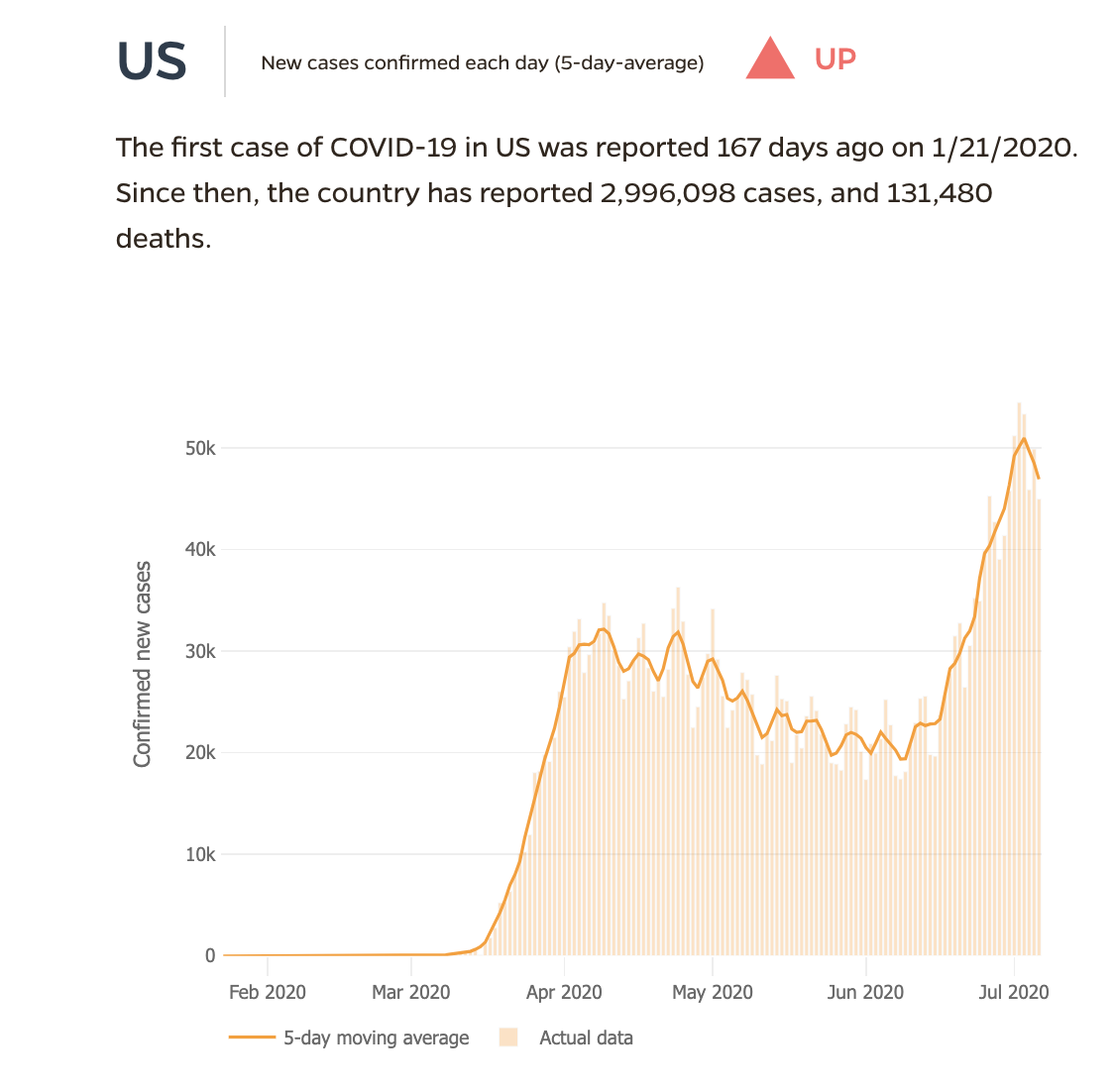 Globally, the world reported roughly 5k new deaths yesterday as the US saw its death toll top 130k.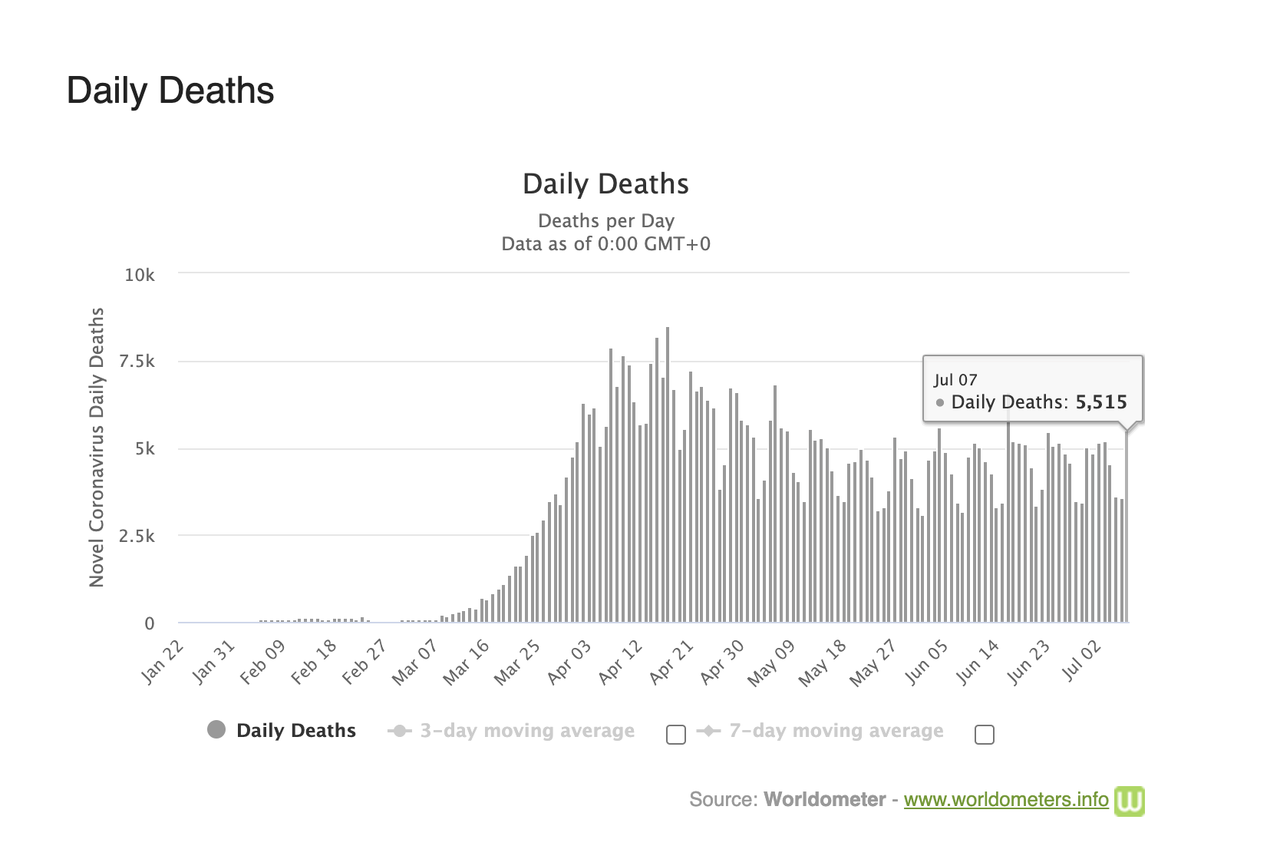 Roughly 20% of new deaths yesterday were recorded in the US as it suffered the biggest jump in deaths in a month.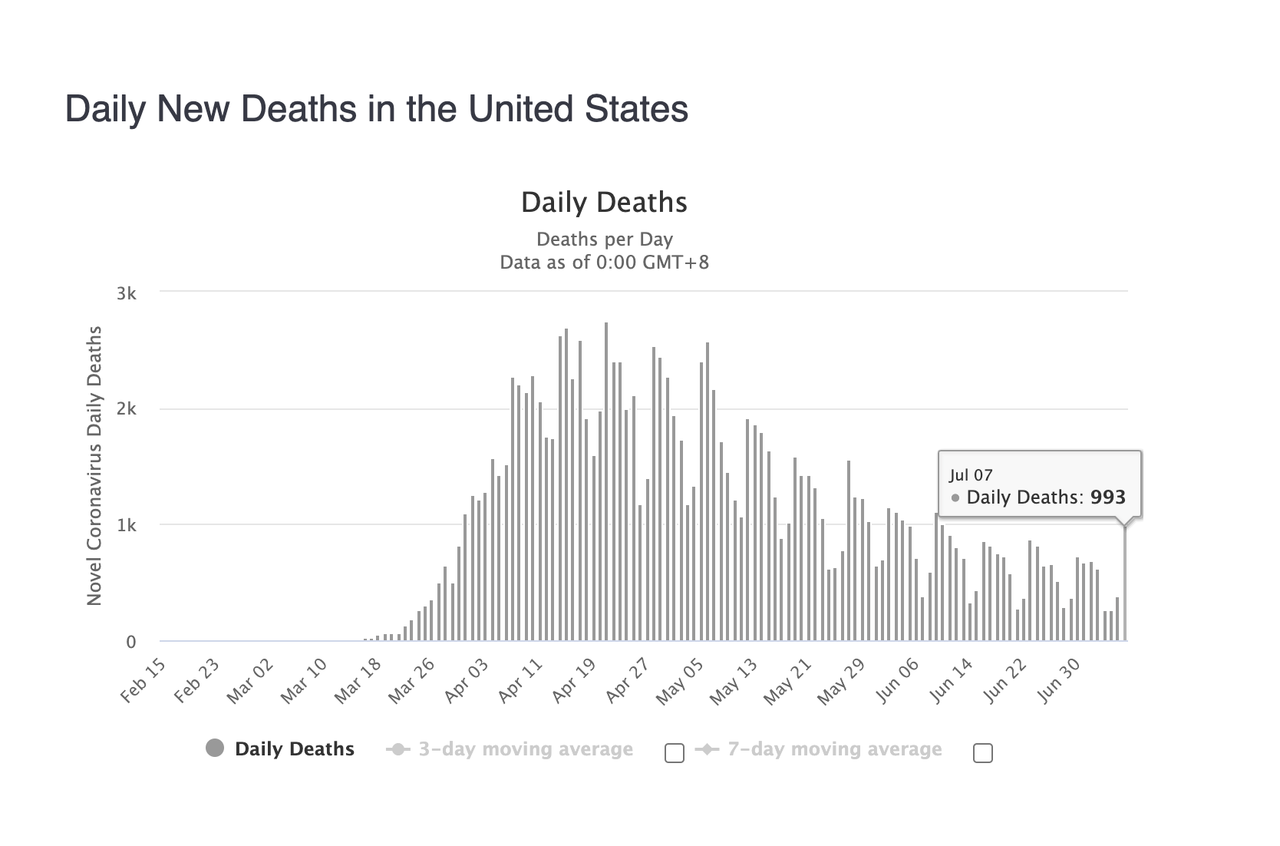 When we left off last night, 43 ICUs in the state of Florida had reached full capacity.
The number of patients in ICU beds has climbed from 180 on June 25 to 343 as of July 7, according to the data. There were 1,656 Covid-19 patients in hospital as of July 7, with 175 on ventilators, up from 885 patients in hospital on June 25, when there were 84 on ventilators.
At last count, 56 ICUs across Florida have reached capacity, according to CNN.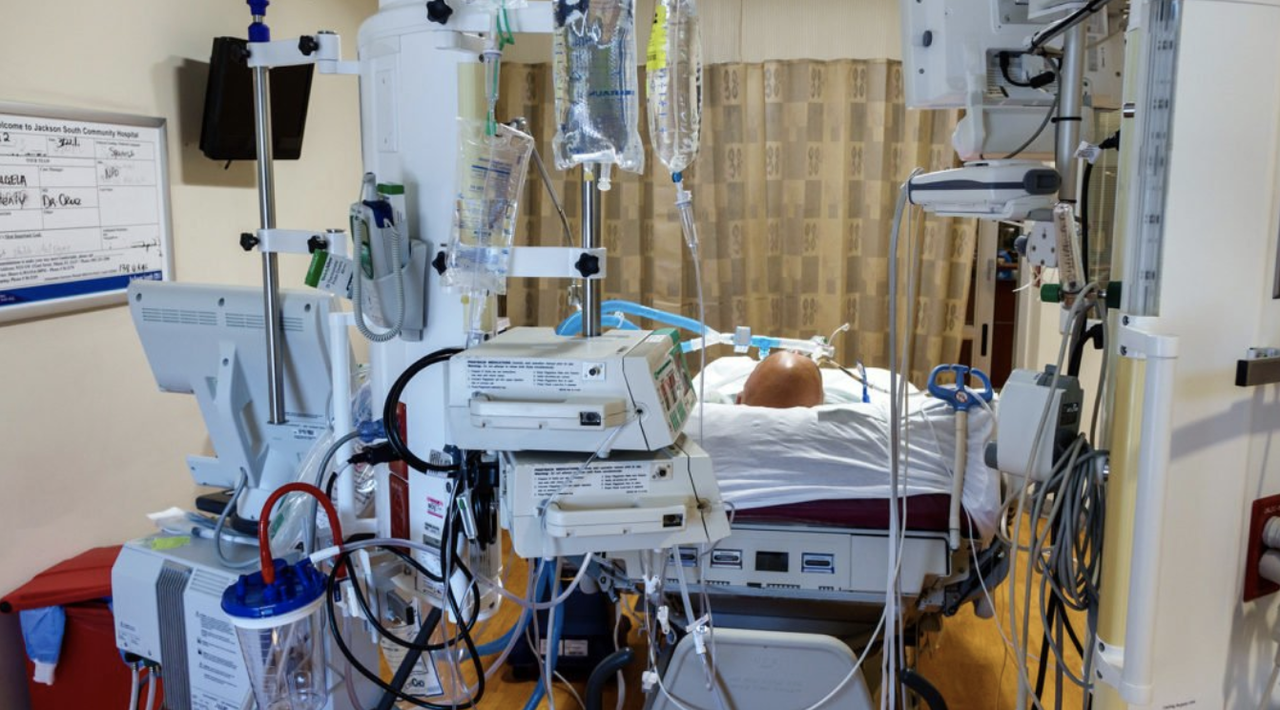 While Florida's hospitals appear to be seeing the most problems with capacity, Texas isn't far behind. Nearly 80% of the state's hospital beds are in use, and ICUs are filling up in San Antonio and Houston, which are some of the biggest cities in the entire US. As the AP reports, leaders are warning their health facilities could become overwhelmed in the coming days.
While rising cases have reflected rising tests, and while deaths have continued to trend lower despite yesterday's spike, Texas has a positive test rate of 13.5%, more than double the share from a month prior, even as the number of tests being carried out each day have increased substantially.
In North Houston, one hospital, United Memorial has been rapidly dedicating more and more space to virus care. Now, 88 of 117 beds are devoted to such patients, and it's weighing the possibility of going 'all-COVID-19′.
Finally, Brazilian President Jair Bolsonaro said Wednesday, one day after confirming he had tested positive for the virus, that he was taking hydroxychloroquine as part of his treatment regimen, and that he was feeling fine.
As the White House ratchets up pressure on Hong Kong, which reported 24 new COVID cases, with 19 of them locally transmitted infections, and 5 imported cases.
President Trump, meanwhile, is doubling down on his demands that schools across the US prepare to reopen in the fall, while accusing local officials (who have total control over education since education is handled at the local level in the US) of putting politics before the best interests of the community, according to the NYT.
Do you know someone who would benefit from this information? We can send your friend a strictly confidential, one-time email telling them about this information. Your privacy and your friend's privacy is your business... no spam!
Click here and tell a friend!