Courtesy of ZeroHedge View original post here.
Until a proven vaccine, one that has to be mass-produced and handed out to the population, but then again, recent polling data show only half of Americans are willing to take the vaccine once commercially available, the restaurant industry will remain absolutely crushed in a depression.
The exact figure on restaurant failures is dependent on the source, OpenTable recently said 25% of all US restaurants are set to go out of businesses due to shifts in consumer habits linked to the public health crisis, resulting in collapsing foot traffic with weakest eateries closing first. Imagine, if foot traffic stays low through late summer into fall, it would eventually lead to restaurants with high cash buffers depleting funds and trigger another round of closures through winter.
So far, restaurants with carryout and outdoor seating have been the winners through the midpoint of summer. Early in the pandemic, consumers stayed home and ordered takeout, via popular delivery apps, such as DoorDash, Grubhub, and Uber Eats.
Consumers who gather up the courage to hop in their automobiles and drive to their favorite eatery are now demanding outdoor seating more than ever. This has posed a significant challenge for restaurant, first not every eatery has the space to expand or even have outdoor dining; and second, operators serving food must contend with rainstorms.
Dale Talde, owner of Goosefeather restaurant in Tarrytown, New York, told Bloomberg his top concern today is the weather, with about 90% of seating now located outside, his staff must be conscious of storms.
"We have to move thousands of pounds a day based on these crazy weather patterns," Talde said, referring to staff shifting tables inside and out, depending on the weather. He said a Phase 3 region had limited his indoor dining operations, which is the reason why he has a majority of tables outside.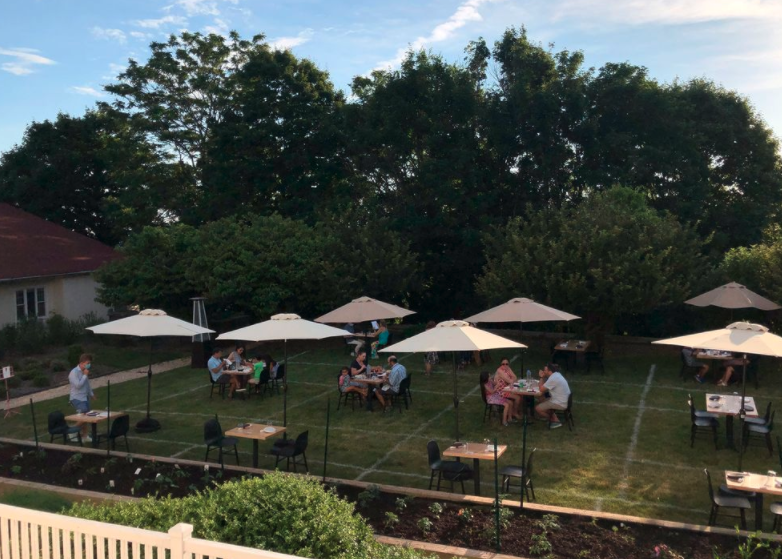 Talde's restaurant isn't the only one in New York battling evolving weather trends. Public health orders countrywide have limited indoor capacity at restaurants that has pushed operators outside. Besides the pandemic, the weather has become a significant factor for operators in 2020.
Talde said the pandemic has led to a decline in average checks, falling from $100 in pre-corona times to $70, or about a 30% reduction in several months. He said total sales on a typical Saturday would fetch upwards of $20,000, and now the number is halved.
At Le Crocodile in Brooklyn's Wythe Hotel, owner Jon Neidich said most of his sales are from his newly created outdoor dining area. He said profitability is not on his mind, instead just trying to "break-even" and survive the virus pandemic.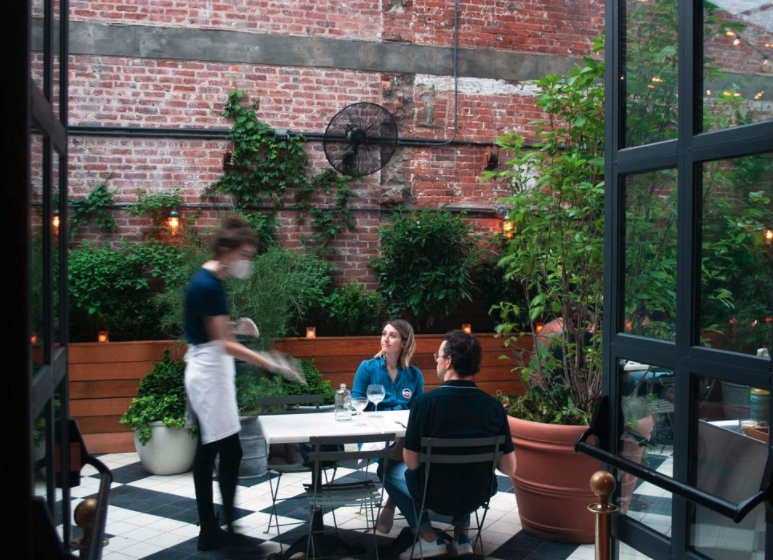 Neidich was another operator who said the weather had become a major challenge since many tables are now outside. "With rain, you can go from 80 seats to 40 seats. If you have a storm with wind, business is gone."
At Philadelphia's Sunset Social restaurant, a massive rooftop space outfitted with restaurant seats is prone to rainy afternoons.
"We have to send our entire team home," owner Branden McRill said. "If it seems like a passing shower, we'll keep a few team members on and try to ride it out, but it's usually a wash."
Bloomberg notes insurers could get into the weather game and start offering policies to restaurants for weather-related losses.
"Weather is definitely the X-factor for us," Sean Fowler, the owner of Mandolin, in Raleigh, North Carolina. He said heat lamps for the fall would be considered shortly if indoor dining capacity continues to be limited.
Bob Giaimo, CEO of the Silver Diner chain, said his company quadrupled outdoor dining at 18 retro diners across the mid-Atlantic. He said outdoor dining contributes to about half of the restaurant's dine-in business, and the weather has become a challenging problem.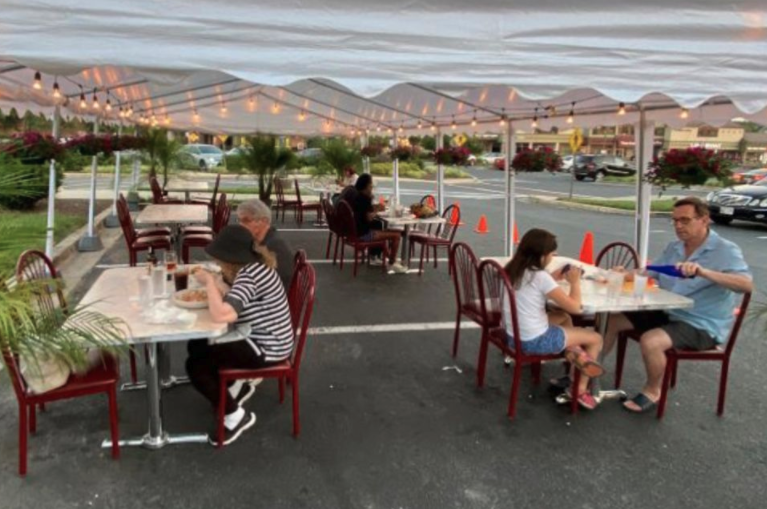 "Heat has been challenging, but now we're getting fans and misters," Giaimo said. "We recognize these outdoor cafes are going to be a fixture."
With many states pausing or reversing reopenings, current figures from Goldman Sachs has about 80% of the US population are in areas where the recovery has reversed. On top of that, seasonal shifts from summer into fall/winter will force restaurants who have outdoor seating to purchase tents and heating devices.
What a mess it must be for restaurant operators, who've been crushed by the pandemic, now easily susceptible to Mother Nature's wrath.
Do you know someone who would benefit from this information? We can send your friend a strictly confidential, one-time email telling them about this information. Your privacy and your friend's privacy is your business... no spam!
Click here and tell a friend!