Courtesy of ZeroHedge View original post here.
Addressing one of the more pressing topics to emerge from the current wave of covid infections, in a report published this morning Goldman's John Marshall says that fears of overcrowded hospitals are overblown and predicts that "the first wave of vaccinations has the potential to have a significant impact on total US COVID-19 related hospitalizations." More importantly, after modeling the impact of the vaccine rollout, he expects that covid hospitalizations in the next month will tumble and drop to near zero by the end of January.
As the Goldman analyst notes, "while vaccination of the broad population will have important implications for the overall number of cases and limiting ongoing community spread, the targeted roll-out of vaccinations to high-risk individuals is likely to have a rapid effect on key hospitalization metrics."
According to Goldman, hospital utilization has been a key factor driving reopening sentiment, with campaigns to "flatten the curve" in March/April having the stated goal of reducing the potential for the pandemic to overwhelm the hospital system. As such, "the rise in hospitalizations in recent weeks has increased discussions of whether additional restrictions/closures are appropriate and has coincided with sideways trading in stocks levered to the reopening of the economy over the past nine trading days."
However, this is about to change and in the next few weeks, Goldman believes "a rapid decline in hospitalizations driven by the first phase of the vaccine distribution has the potential to be a key inflection point in investor sentiment on the reopening of the economy." These reduced hospitalizations are likely to lead to reduced COVID-19 deaths, "which will boost sentiment even more broadly."
Here are some details on why hospitals will likely see the fastest benefits from the vaccine rollout:
Long-term Care Facilities (LTCFs) are among the first to receive vaccinations: On Sunday, the United States Secretary of Health and Human Services, Alex Azar, noted that he expects "all" residents and staff of LTCFs to be vaccinated "before Christmas". While the 2-3 million residents and staff in LTCFs are only a small fraction of the 20 million vaccines expected to be administered before year-end, our analysis suggests they have the potential to huge impact on overall hospitalizations.
This is important because such long-term care facilities represent a high proportion of the most vulnerable population and hospitalizations: early in the pandemic, residents of LTCFs represented 18% of all COVID-19 cases despite being less than 1% of the population. To date, Goldman calculates that LTCFs account for about 40% of COVID-19 related deaths.
While over time the development of strict controls and frequent testing has reduced the proportion of cases from LTCFs, the frequency of hospitalization remains high, and according to Goldman around 25% of all US hospitalizations are still attributable to LTCFs, down from 30-40% earlier in the pandemic. While the bank's model considers a variety of other factors to estimate the timing of the impact, it notes that "it's easy to see that eliminating the source of 25% of hospitalizations by vaccinating this group in just a few days can have a profound impact on the burden on the health care system."
Taking a step back from LTCFs, Goldman notes that hospitalizations among the general population related to COVID-19 have grown 1.1% per day over the past month to 115,000. So, if one assumes that 25% of total hospitalizations are from LTCFs and 75% are from other sources, there is still a large and growing number of hospitalizations that are unrelated to LTCFs – needless to say, there is little that a covid vaccine will do for those (which is why Goldman assumes that 75% of the total hospitalizations will continue to grow unabated at 1.1% per day.)
As to why Goldman is so optimistic, it goes to the vaccine effectiveness: as Goldman points out, according to recent studies the Pfizer/BioNTech COVID-19 vaccine was 82% effective after the first dose and 95% effective seven or more days after the second dose. For the purposes of modeling hospitalizations, the bank assumed that the vaccine is 82% effective in preventing infections starting 14 days after the first dose. It then found that its timing estimate is not particularly sensitive to changes in the vaccine effectiveness; hospitalizations decline one day later if you assume the vaccine is only 50% effective after the first dose. Therefore, the timing estimate is directly related to the number of days before the vaccine provides protection.
Bottom line: when Goldman ran its model, it found that hospitalizations due to covid begin to decline around January 9th. In other words, for overall hospitalizations to begin to decline, it would take just a 3.3% reduction in daily net hospitalizations from LTCFs (25% of total) to counteract the 1.1% daily growth in "other net hospitalizations" (75% of total). Marshall estimates this occurs after 14 days after 30% of LTCF residents and staff have received one dose of the PFE/BNTX COVID-19 vaccine. Assuming that vaccinations of 30% of LTCF residents and staff occurs by 26-Dec, Goldman expects total US hospitalizations to begin to decline around Jan 9 and drop to nearly zero by the end of the month.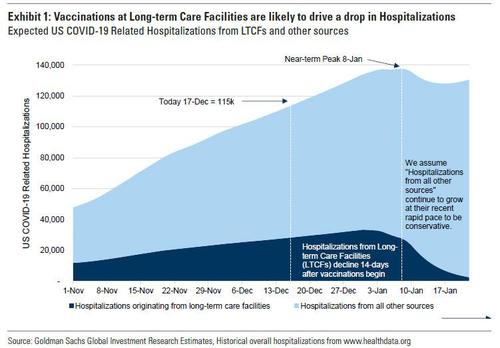 Finally, this being Goldman, the bank lists 11 stocks that are poised to benefit the most from this sharp drop in hospitalizations.
Cedar Fair (FUN). Recovery at parks has been choppy relative to other leisure activities as the pandemic continues, but in a post-pandemic world, we look for demand for experiences to resume once consumers feel confident and safe to return. FUN has shown strong expense discipline through the recent uncertainty,plus reiterated expectations to achieve long-term FCF targets and could outline additional cost-cutting measures similar to those of peers.
Exxon Mobil (XOM). The oil major remains under-owned due to historical challenges (capital discipline, room for a de-carbonization strategy, unfavorable dividend and earnings execution) ahead of what we believe will be a recovery in crude oil prices. We believe higher energy prices, lower capital spending, growth in Guyana/Chemicals and major cost reductions will drive improved free cash flow vs history.
Fleetcor Technologies (FLT). The fleet card provider should benefit from the broader macro recovery given its leverage to SMBs that should begin to spend more in a recovery as well as large businesses that will increase activity.
HCA Healthcare (HCA). As patients who have deferred elective procedures visit nhospitals following the pandemic, HCA stands to disproportionately benefit given its exposure to attractive end-markets, and significant investment in high-end service lines that drive market share, revenue and profitability.
Hilton Grand Vacations (HGV). 2021 should see a sharp revival in travel and leisure spending following the roll-out of a vaccine. HGV is a risk-adjusted play on arecovery, in our opinion, given higher end exposure and a proven ability to managecash flows — thus adding stability.
Hudson Pacific Properties (HPP). The West-coast office REIT remains well npositioned as demonstrated by its strong 3Q results which showed robust leasing spreads and occupancy rates. A return to the office should drive improved ancillary revenues (e.g. arking, street retail – restaurants) for the company as well, and we believe its development pipeline will likely drive superior growth relative to peers.
Kilroy Realty (KRC). West coast office REITs have witnessed similar struggles as their East-coast peers, but KRC's development pipeline is 90% pre-leased, which mitigates significant development risk. Additionally, the company largely caters to tech and life science tenants which have been relatively resilient and are well-positioned for a recovery.
Ralph Lauren (RL). Apparel retailers have been caught in the cross hairs since the nonset of the pandemic, but we believe RL is well positioned to ride the recovery asit has proactively pulled out of low quality wholesale distribution, while its direct-to-consumer e-commerce channel has inflected to profitability.
SL Green Realty (SLG). Concerns about working from home continue to be an noverhang on the New York-based office owner, but with 95% of their propertyleased and the expected opening of One Vanderbilt in 4Q2020 (~70% leased), we continue to see the potential for an inflection in core FFOPS.
Ulta Beauty (ULTA). The beauty retailer and salon continues to navigate a nchallenging environment amidst the pandemic. However, longer term, expect the company to benefit from a better make-up cycle, a stronger digital presence, and market share gains as others struggle even more in the current environment.
Zimmer Biomet (ZBH). The medical device maker ranks the highest on our recovery index, with its exposure to Knees, Hips, Spine and Dental (combined 69%of sales) suggesting much of the revenue lost in 2020 relative to pre-COVID trendscould be recaptured over the next 2-3 years.
Do you know someone who would benefit from this information? We can send your friend a strictly confidential, one-time email telling them about this information. Your privacy and your friend's privacy is your business... no spam!
Click here and tell a friend!