Courtesy of ZeroHedge View original post here.
Between the fiscal stimulus deal agreed over the weekend, and the first day of Tesla trading in the S&P (where for every $11.11 dollar move in TSLA stock, the S&P changes 1 point), there was some hope that futures would be even higher record-er today… and they were for about 10 seconds after they reopened for trading at 6pm on Sunday when the Emini briefly spiked to 3,724 just after Senate majority leader Mitch McConnell confirmed congressional leaders had agreed a roughly $900 billion COVID-19 relief bill.
It wasn't meant to be, however, and just a few hours later, S&P futs had plunged as much as 125 points, or down 2.5%, sliding briefly below 3,600 before rebounding modestly to 3,640 with risk assets were crushed as markets digested newsflow that focused on virus mutations in the UK which sparked a new round of UK lockdowns (as well as a panicked attempt by Londonders to flee), coupled with continued lack of clear progress on Brexit.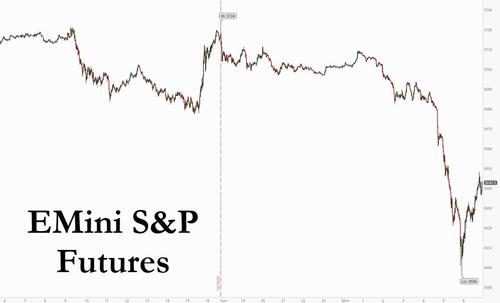 Oil & gas, banks and auto names drop over 4% and are the worst hit sectors in a sea of red, with oil tumbling in response to fresh airline travel fears while the dollar soared and VIX exploded 40% (!) rising above 30 after trading near 20 last week.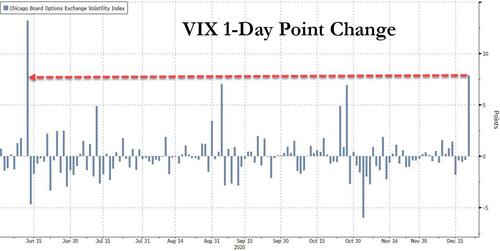 What sparked the panic were reports of a fast-spreading new coronavirus strain in Britain which threatened to torpedo markets' optimism over a vaccine-fuelled rebound in economic growth. The strain, said to be up to 70% more transmissible than the original, has put some 16 million Britons under tougher lockdowns and prompted several countries to shut their borders to the UK, effectively overshadowing positive U.S. news on a much-needed stimulus bill. The shutdown of international travel and the flow of freight in and out of Britain threatens chaos for British households and businesses, and sent oil prices plummeting as traders feared demand for oil would plunge as a result of the latest lockdowns.
"The U.K. virus mutation is raising concern that the central assumption in all of next year's forecasts and views could actually turn out wrong," said Christoph Rieger, head of fixed-rate strategy at Commerzbank AG. "That is quite a scary thought indeed."
The UK's last-minute lockdown covering the Christmas break was just the tip of the iceberg of a chaotic weekend: Europe and Canada blocked movement from Britain as fears mounted about a faster-spreading mutation of the virus; at the same time, the U.K.'s biggest port stopped traffic, triggering delays to food supplies and sparking worries about panic buying. And if a mutant virus and ruined holiday wasn't enough, Brexit rumbled on in the background. The U.K. and EU missed another deadline for getting a trade agreement done, leaving Boris Johnson looking down the barrel of no-deal.
As a result, European markets tumbled with the Eurostoxx 50 sliding over 3%, finding support near 3,400. The Stoxx Europe 600 declined as much as 3.5%, the lowest level in Monday's session, as several major countries moved to suspend travel from the U.K. amid concerns about a new strain of Covid-19. U.S. futures extend losses. Adding to pessimism, the U.K. and the European Union failed to make progress on Brexit talks (this is hardly a surprise). Energy shares led decline among sectors, followed by banks and automakers; travel and leisure stocks lost around 5%. Germany's DAX was the marginal underperformer. Losses of more than 3% on UK equities were led by bigger tumbles at UK banks Lloyds and Barclays which were both down more than 6% at one stage.
"Our main concern for the next few months in Europe would be that the UK (COVID-19) variant is already out of control on the continent, which would add to the pressure on the healthcare systems, forcing even stricter lockdowns at a growing economic cost," wrote Gilles Moëc, chief economist at AXA Investment Managers.
Asian stocks were also hit on concerns over the latest coronavirus outbreaks and related lockdowns across the region, as well as a rampant new strain in the U.K. The MSCI Asia Pacific Index traded 0.5% lower even after the U.S. Congress reached a deal on a roughly $900 billion stimulus package to bolster the world's largest economy. Thailand's equity benchmark led losses, sinking as much as 5.1%, the most since March 23. The nation may expand a lockdown as health authorities search for over 10,000 people with ties to a record cluster of coronavirus cases found in a coastal province near Bangkok. Stocks in India, where virus infections crossed the 10 million mark, and the Philippines were among the other major losers. Utilities was the worst-performing sector in Asia on Monday, followed by energy shares as oil fell toward $47 a barrel.
It wasn't all bad news: Congress is set to vote today on a $900 billion relief package after Democrats and Republicans struck a compromise over Fed emergency lending programs, and the bill includes help for small businesses and direct payments of $600 to most Americans. Lawmakers also passed a one-day funding measure to keep government doors open today.
Still, having read countless Wall Street research reports predicting a correction before year-end, traders sold first and didnt even bother to ask questions.
In FX, the Bloomberg Dollar Spot Index rose the most since March and the Treasury curve bull flattened as concern about a new variant of the coronavirus found in the U.K. fueled haven bids; the dollar rose against all its G-10 peers while risk-sensitive currencies plunged. Speculators' dollar positioning remains broadly bearish, meaning the long-awaited short squeeze may finally come. The dollar index rose as high as 90.8, up more than half a percent and well off last week's 89.723 level that marked the lowest since April 2018. The new round of UK chaos sent the pound 2.5% lower below $1.32 putting it on track for its biggest daily fall since March.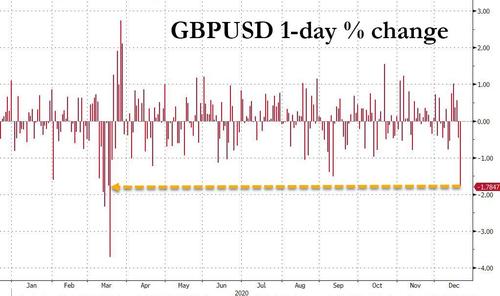 Norway's krone fell even more, and posted the biggest slump since June as oil prices plunged on fears that the outbreak would hurt demand. The Japanese yen lost half a percent at 103.8 per dollar while the euro fell 1% at $1.216.
In rates, U.S. and German bond yields slipped, with 10-year U.S. yields down six basis points. British two-year borrowing costs hit record lows. Treasury yields were off the richest levels of the day, although remain lower in a sharp bull flattening move spurred by effects of fresh European curbs following a new coronavirus strain found in the U.K. European stocks subsequently under downside pressure along with S&P 500 e-minis, leaving Treasury yields lower by up to 5.5bp across long-end of the curve. Treasury 10-year yields around 0.90%, richer by 5bp vs Friday's close and outperforming bunds by 2bp; 10-year gilt yields down by 7bp following tighter restrictions on the U.K., while pound drops 1.9% The U.S. two-year/10-year Treasury yield curve, another gauge of growth expectations, flattened after rising to its steepest level in almost three years on Friday amid optimism about the stimulus bill..
The flattening will be epic pic.twitter.com/57EjsbTOAL

— zerohedge (@zerohedge) December 15, 2020
2%. Gilt lead a broad-based richening move. Bunds and treasuries bull flatten, trading cheaper to gilts by ~4-5bps at the long end. Semi-core and peripheral spreads are wider with core markets doing most of the work as BTPs are little changed. In FX, Bloomberg dollar index rallies ~1%, trading just off best levels. NOK lags G-10 peers. GBP drops over 2%, eventually finding support around a 1.32-handle. MEX and RUB are the worst hit in EM FX. Crude futures slump with WTI down 5.5% near $46.50, Brent trading down 5%, off lows of $49.20. After a brief look above $1,900, spot gold drops to lows of $1,855/oz before recovering. Base metals trade poorly, with LME lead down ~3.3%.
In commodities, Brent crude futures dropped more than 5% while copper fell off the $8000-per-tonne mark it recently scaled for the first time since 2013. "The message is clear: oil prices are still very much and will continue to be at the mercy of the pandemic," said Stephen Brennock of oil broker PVM. Alternative assets such bitcoin as gold reversed, with cryptos tumbling and the precious metal reversing an earlier gain to $1,900 and dropping 0.6% to $1,868. Gold's weakness on a day of a big equity selloff will rekindle memories of the market slump of March when investors sold assets en masse in a rush for the dollar.
Looking at the day ahead now, data releases will include UK retail sales for November, the Ifo business climate indicator from Germany for December, and the November leading index from the US. We'll also get a monetary policy decision from the Central Bank of Russia.
Market Snapshot
S&P 500 futures down 1.8% to 3,639.00
MXAP down 0.5% to 195.48
MXAPJ down 0.6% to 645.05
Nikkei down 0.2% to 26,714.42
Topix down 0.2% to 1,789.05
Hang Seng Index down 0.7% to 26,306.68
Shanghai Composite up 0.8% to 3,420.57
Sensex down 2.7% to 45,681.32
Australia S&P/ASX 200 down 0.08% to 6,669.89
Kospi up 0.2% to 2,778.65
Stoxx Europe 600 down 2% to 388.14
German 10Y yield fell 3.1 bps to -0.602%
Euro down 0.4% to $1.2205
Italian 10Y yield rose 2.5 bps to 0.454%
Spanish 10Y yield fell 1.6 bps to 0.029%
Brent futures down 5.5% to $49.37/bbl
Gold spot down 0.5% to $1,872.86
U.S. Dollar Index up 0.5% to 90.51
Top Overnight News from Bloomberg
Congress reached a deal on a roughly $900 billion spending package to aid the U.S. economy. House passes a one-day stopgap bill to keep the government open
European countries suspended travel to the U.K., as a full lockdown came into force in London and southeast England. Sydney's 5 million residents are being asked to curb activities over the next few days amid a growing outbreak, while Thai authorities closed a seaside province near Bangkok following a record spike in new cases
Japan's cabinet approved a record budget for next fiscal year that tops $1 trillion and adds to the developed world's heaviest debt burden
Oil fell below $48 a barrel in Asian trading — after posting a seventh weekly gain — on concern about a mutation of Covid-19 discovered in the U.K.
Japan will issue a record 221.4 trillion yen ($2.1 trillion) of debt next fiscal year, including a boost to 40-year bonds to meet investor demand for long-dated securities
Janet Yellen once touted the benefits of a weaker greenback for exports, but as the incoming Treasury secretary, she faces pressure to return the U.S. to a "strong-dollar" policy — and may cause trembles on Wall Street if she doesn't
A quick look at global markets courtesy of Newsquawk
Asia-Pac equities traded mostly lower following a similar downbeat lead from Wall St where US equities pulled back from fresh record intraday highs in what was a volatile Friday session ahead of Tesla's S&P debut today. State-side, futures opened firmer but thereafter trimmed gains upon Senate Majority Leader McConnell's announcement of a bipartisan COVID relief bill, with some participants citing "sell the news" play. Meanwhile, equity futures across Europe saw more pronounced losses as a Brexit trade deal is yet to be reached whilst the region tackles the new COVID-19 variant seemingly emanating from Britain – with DAX Mar'21 futures extending downside after falling below 13,500. Back to APAC, the ASX 200 (-0.1%) was pressured by its financial and travel & leisure sectors as COVID-related restrictions were tightened for the Greater Sydney area, whilst Nikkei 225 (-0.2%) initially traded with gains and rose to the highest since April 1991 before pulling back from best levels just shy of 27,000 as it conformed to the broader losses across the region. South Korea's KOSPI (+0.2) was initially hampered by the rising COVID-cases with the country reporting over 1,000 cases for a fifth consecutive day, but the index later pared losses. Elsewhere, Shanghai Comp (+0.8%) outperformed despite the PBoC maintaining its LPR setting as expected, as China said it will continue to implement proactive fiscal policy and maintain the sustainability, stability and continuity of macro policies, whilst sources suggested China's leadership plans to set its real economic growth target at about 8% for 2021. Conversely, the Hang Seng (-0.7%) saw a lacklustre session as heavyweight oil and banking names traded with losses, with Alibaba also pressured by source reports that Jack Ma in early November offered to hand over parts of Ant Group to the Chinese government. Finally, 10yr JGB futures traded with modest gains in tandem with the broader gains across the fixed-income complex amidst the downbeat risk tone, whilst the long-end of the curve saw some pressure as the Japanese Ministry of Finance announced that 40yr JGB issuance is poised to increase by JPY 100bln per auction starting April.
Top Asian News
Thailand May Widen Lockdowns as Food Workers Hit; Shares Drop
Taiwan Export Orders Surge Most Since 2010 on Demand for Tech
Asian Stocks Drop for Second Day as Virus Concerns Hit Sentiment
Indonesia Sees Up to 2.2% GDP Drop in 2020, 5% Growth 2021
European equities trade notably lower (Eurostoxx 50 -3.9%) as the twin threats of a more transmissible COVID strain and increasing likelihood of a no deal Brexit weighs on prices. On the former, various European nations have imposed travel bans on the UK after PM Johnson imposed tighter lockdown restrictions on London and parts of the South East amid fears over a more transmissible strain of COVID; accordingly the travel & leisure sector is getting hit hard today with IAG (-12.0%), easyJet (-11.3%), Carnival (-11.4%) and Ryanair (-6.8%) all suffering. Furthermore, from a UK perspective, the passing of another Brexit "deadline" yesterday after MEPs demands for a deal by Sunday (in order to have enough time to vote on the matter) were not met has made the prospect of a no deal outcome more likely. The subsequent softening of the GBP has provided some mild reprieve for the less-domestically-focused FTSE 100 (-3.0%) and is actually outperforming peers; albeit, still substantially pressured. Stateside, losses were initially less pronounced as participants took some solace from the stimulus updates in which Congress is expected to vote on a COVID relief package today after a compromise was struck in discussions. However, as the session progressed, the selling contagion spread to the US with the e-mini S&P lower by 2.5% and heading towards 3600 with the e-mini Russell lower by 3.7% and e-mini Nasdaq down 1.7%. An anti-cyclical bias can be seen in Europe with heavy losses seen in oil & gas, travel & leisure, banks and auto names as part of a typical lockdown play. Within the oil & gas space, Shell (-6.7%) are a noteworthy laggard alongside softer oil price and announcing that it will have to write down the value of some of its assets by USD 3.5-4.5bln after a series of impairments. With a bulk of the price action being swayed by broader macro themes, rather than stock specific developments, individual movers that fall outside of this category are on the light side. That said, against the trend of the market, Danske Bank (+0.4%) are firmer on the session after the US Treasury Department's Office of Foreign Asset Control has closed the investigation regarding the Co. and Estonia with no action to be taken.
Top European News
Shell Points to a Another Bleak Quarter for Big Oil
Ruble Drops Most in Nine Months on Tumbling Oil, Sanctions Woes
Travel Pain Spreads as Europe Blocks U.K. Flights on Virus Fears: U.K. Travel, Retail Stocks Tumble on New Virus Curbs
In FX, the Pound was already back pedalling before reports about a fresh and more fast-spreading form of the coronavirus that has subsequently forced PM Johnson into tightening restrictions in London and the South East to Tier 4, while also prompting a change in the more relaxed rules for Xmas. However, Sterling has subsequently retreated further as other nations take preventative action by closing borders with Britain in an attempt stop the aggressive mutation entering, all while the UK and EU remain at loggerheads over fisheries beyond the deadline set by Brussels to get a deal ratified. Cable has now fallen through 10 and 21 DMAs on the way down to circa 1.3190 from around 1.3478 and 1.3625 or so last Thursday when a trade pact seemed close if not quite imminent, while Eur/Gbp is probing 0.9200 compared to sub-0.8900 at one stage. Technically, the 50 DMA at 1.3209 has now given way, so further declines in Cable cannot be ruled out.
DXY – Cable collapse aside, the Dollar is also benefiting from broader demand on safe-haven grounds as risk sentiment sours markedly on heightened fears over COVID-19 contagion and the fallout from no Brexit deal that will counter some of the positivity or relief if US fiscal stimulus is finally delivered later today. Hence, the index has rebounded firmly from recent deep lows to establish a considerably firmer base on the 90.000 handle and revisit 90.500+ between 90.187-91.022 parameters vs 89.723 last week.
NZD/AUD/CAD – No surprise to see the high beta currencies suffer most after the pro-cyclical Pound as the Kiwi and Aussie recoil towards or just beneath 0.7000 and 0.7500 respectively, while the Loonie is trying to contain losses near 1.2900 against the backdrop of plunging crude prices. Back down under, the Aud also has pandemic issues of its own to contend with given the outbreak in Sydney that has resulted in a return to more stringent measures.
JPY/EUR/CHF – Even the Yen is yielding to Greenback advances, albeit also wary perhaps that Japanese PM Suga has apparently drawn a line in the sand at 100.00 after rolling out a supplementary budget, as Usd/Jpy trades close to the upper end of a 103.25-85 band. Elsewhere, the Euro is eyeing any stops below 1.2130 after triggering enough at 1.2164 to take out the 10 DMA (1.2160) and the Franc is holding around 0.8900 following mixed Swiss sight deposit balances post-SNB and the US Treasury designating the country as a currency manipulator.
SCANDI/EM – Not much solace for the Nok via Norges Bank Governor Olsen downplaying the likelihood of reverting to NIRP as the aforementioned reversal in oil along with increasingly bearish risk undermines the Crown more than the Sek, while EMs are floundering across the board and even GOLD is underperforming having had a brief look above Usd 1900/oz..
In commodities, WTI and Brent have succumbed to the drop in broader sentiment this morning given negative COVID-19 developments out of the UK and the associated impact on demand via travel and other components alongside the undertone of no breakthrough in Brexit discussions. Currently, WTI and Brent are lower by over 5.0% with the benchmarks having moved below the USD 47/bbl and USD 50/bbl marks respectively in European hours; in a continuation of APAC performance. The aforementioned negative factors have served to overshadow, thus far at least, US fiscal progress with the US House rules committee to meet from 13:00GMT/08:00 to begin preparation for a vote (timing TBC). Returning to the crude complex and as Brent has dropped below the USD 50/bbl mark, a figure it only recently reclaimed on the 10th of December, if the pressure exacerbates throughout the day participants will be mindful of the 50-DMA at USD 44.98/bbl before the 100-DMA at USD 44.05/bbl. Fundamentally, newsflow explicitly for the complex has been sparse in European hours but overnight/weekend we did see updates from Saudi's Energy Minister that themselves and Russia are on the same page regarding market management alongside renewed tensions around Iran after the US Secretary of State attributed rocket attacks in Baghdad to the nation. Moving away from crude and to metals spot gold has, in-spite of the broader tone, not received much in the way of haven-allure with the precious metal down by just shy of USD 10/oz at present compare to earlier losses of as much as USD 25/oz. Such downside is in-light of the USD's performance with the DXY in proximity to highs ~91.00 largely because of GBP being significantly hampered regarding Brexit and COVID-19 updates in the region.
US Event Calendar
8:30am: Chicago Fed Nat Activity Index, prior 0.8
Do you know someone who would benefit from this information? We can send your friend a strictly confidential, one-time email telling them about this information. Your privacy and your friend's privacy is your business... no spam!
Click here and tell a friend!