Courtesy of ZeroHedge View original post here.
Summary:
NYC orders all travelers international travelers to quarantine
Swedish Parliament to vote on COVID lockdown
Argentina approves emergency use of COVID vaccine
More countries bar travelers from UK
City sees most hospitalizations since May
Sheriffs will check up on travelers from Britain
UK reports new daily case record
UK sees biggest one-day jump in new cases
2nd highly infectious strain discovered in UK
Dr. Fauci warns US trying to get hands on new strain
40% of England now under "Tier 4" lockdown
More Asian countries block travel with UK
France, Bulgaria drop restrictions
US hospitalizations hit new record
Germany reports record deaths
Mexico to start vaccination
Tokyo reports nearly 750 new infections
Taiwan president urges calm after country snaps longest streak with no cases
India cases bounce back after 6 month low
Houston area ICU see 11% spike
COVID hospitalizations climbing across the country
California's new cases are compensating for decline in Midwest
* * *
Update (1200ET): We were so caught up with the UK mutation craziness an hour ago, we didn't manage to get to this: Sweden and Denmark are considering tightening restrictions.
Sweden's government decided to extend the ban on inbound travel from the UK to Dec. 31, with a handful of exceptions. Denmark, meanwhile, extended its ban on flights from the UK until midnight, Dec. 24, according to Transport Minister Benny Engelbrecht.
In other news, Sweden's parliament will be called in from Jan. 4 to debate and vote on the government's proposal for a pandemic law that would give the government the right to close businesses and public transit. In other words, lawmakers in a country now infamous for refusing to impose mandatory restrictions on its people, will soon decide whether to abandon this approach as Sweden's hospitals become overwhelmed by COVID for the first time. The country has already taken other steps, like banning all non-essential treatments and surgeries and visits to Stockholm's hospitals.
Additionally, the WHO has declared that the new British COVID-19 strain "appears more transmissible in young people and children," per the WHO.
Argentina, meanwhile, has just approved emergency use of Russia's "Sputnik 5" vacine.
* * *
Update (1100ET): It's been a crazy hour for virus-related news flow. First, UK Health Secretary Matt Hancock revealed that another mutated form of COVID that's believed to be far more infectious than the "classic" iteration (which of course includes hundreds of documented mutations, few, if any, of which been shown to have a different effect.
To be sure, scientists posited earlier this year that certain strains might be more deadly than others. But this is the first time that public health officials have taken such serious action.
As UK Health Secretary Matt Hancock noted just under an hour ago, 40% of England is now under "Tier 4" lockdown restrictions because another "variant" (a popular euphemism for "mutation") originally linked to South Africa has been discovered in two patients in England.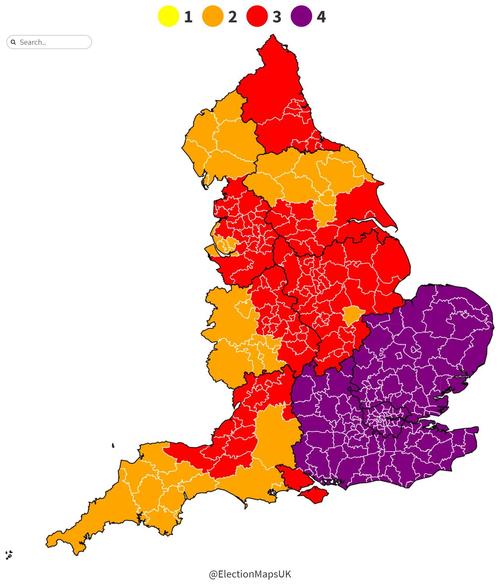 On top of everything, the UK reported 39,237 newly confirmed cases on Wednesday, the highest single-day number since the pandemic began.
Israel, which like the UK has been aggressively sequencing samples of the virus taken from patients, says it has found 4 examples of the UK mutation in Israel (which was one of a small group of countries to crack down on international travel more broadly earlier this week as most European countries simply blocked travel/trade with Britain). Dr. Fauci, speaking to the press on Wednesday, said he wouldn't be surprised if the new strain was already in the US. He also – get this – acknowledged that he felt ill after being inoculated with a first dose of the Moderna vaccine.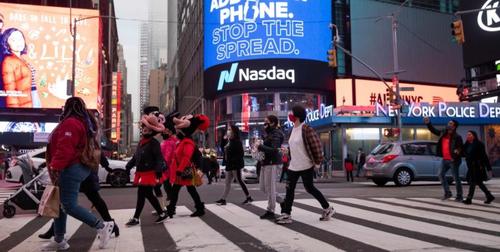 Dr. Fauci added that the US is trying to get its hands on "isolates" of a new COVID strain, though so far, he said, there's no sign that the Pfizer and Moderna vaccines might not work against the new strains. The good doctor also said that Americans need to "increase acceptance" of the vaccine. Those silly "conspiracy theorists" – whyever might they be so ignorant as to be skeptical of big pharma and its miracle cure?
Expressing more frustration with the vaccine rollout, Dr. Fauci warned that the US public health system needs to be "rebuilt". He also reassured the public that he felt only "mild soreness" at the injection site the day after his first dose, while adding that most Americans should be vaccinated by the summer.
In NYC, where Mayor Bill de Blasio and Gov. Andrew Cuomo have been ratcheting up restrictions as case numbers worsen, Mayor de Blasio warned that the NYC Sheriff's Office (which has handled a lot of the social distancing-related enforcement) will be paying "home visits" to travelers from the UK (travelers and tourists alike) to see if they are complying with a 14-day quarantine order (keep in mind: the CDC is only asking people to quarantine for up to 10 days based on a known exposure).
And it's not just the Brits: Mayor de Blasio has ordered all international travelers visiting the city will be ordered to quarantine, according to a new health department order. If they're caught in violation, they could get hit with thousands of dollars in fines.
The number of patients admitted to NYC hospitals increased to 224 on Thursday, above the city's early-warning marker of 200, from 196 the prior day. The city's seven-day average hospitalization rate also is climbing, to 3.19 per 100K. During the height of the outbreak earlier this year, New York had an average of 13 new admissions per 100K a day and more than 12K hospitalized at one time. As of Monday, about 2.2K were in city hospitals for Covid illness.
* * *
Three days have passed since anxieties about the new "variant" of COVID-19 (known to scientists as "B.1.1.7.") have elicited a slight disturbance in markets, the biggest since late October, just before Halloween.
But as of Wednesday morning, US futures have shifted back into the green, as France and Bulgaria heeded the EU's pleas to restore passenger and/or freight. However, a handful of Asian nations (including the Philippines and South Korea) have tightened restrictions on British travelers, While Japan adopted a suite of new restrictions. Japan will strengthen its entry regulations for travelers from Britain starting Thursday. New entry by foreigners traveling from the country won't be allowed. Foreign nationals returning from the U.K. who are residents of Japan will be required to isolate for two weeks. Returning Japanese citizens will need to provide proof of a negative virus test conducted 72 hours before departure. Those who fail to do so will be asked to quarantine for two weeks at a facility indicated by the government.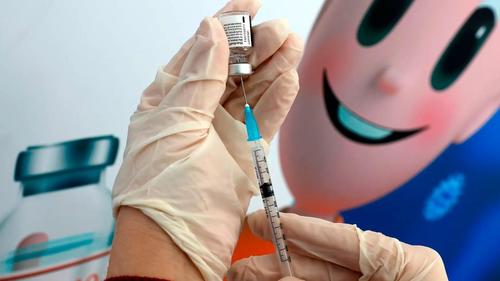 Back in the US, COVID hospitalizations climbed to a new record high, as reporters trumpeted the fact that the White House had secured a commitment from Pfizer to deliver an additional 100MM doses of its coronavirus vaccine. Notably, this comes after Pfizer cut its 2021 delivery target in half, prompting the military to step in and volunteer to help the company secure the "raw materials" it had claimed were in short supply. The additional 100MM doses will reportedly be delivered no later than July 31. Under terms of the agreement, 70MM doses will be delivered by June 30. Washington has now secured 200MM doses of the vaccine, enough to vaccinate 100MM Americans with the Pfizer jab, while also securing another 200MM doses (expected to be used mostly on senior citizens and health-care workers) of the Moderna vaccine, the only other company whose vaccine has received emergency authorization from the FDA, has agreed to supply the U.S. government with 200 million doses by June 2021.
As the world wonders whether the UK's conclusions about the effects of this viral "variation" (which health officials purport to be 70% more infections than other strains) are even real (as Moncef Slaoui recently said, there's no "hard evidence", the conclusion is the result of extrapolating data), Moderna, Germany's CureVac and British drugmaker AstraZeneca.
South of the border, Mexico will receive an initial batch of Pfizer's vaccine on Wednesday as Mexico races with Chile to become the first Latin American nation to use the vaccine. Pfizer will send more than 1.4MM vaccines to Mexico by the end of January, Foreign Minister Marcelo Ebrard said at a press briefing in Mexico City. The first vaccinations will start on Thursday, Deputy Health Minister Hugo Lopez-Gatell said.
Hospitalizations in the US have reached their highest levels yet, even as the number of new cases reported daily continued to drop off.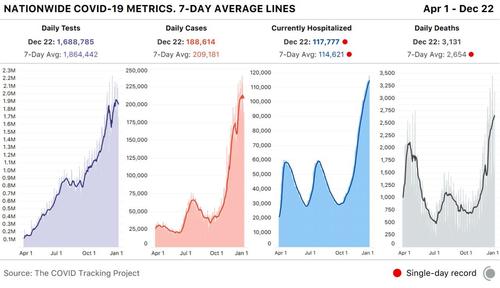 California is now reported so many new cases, that the state is making up for the decline in the midwest.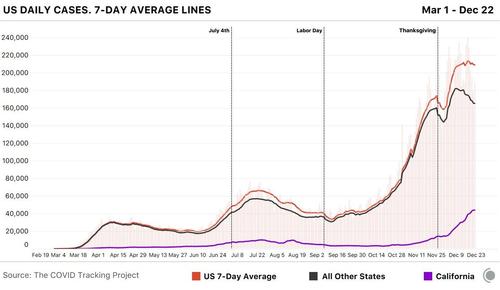 Hospitalizations are climbing across the South, with Florida and Texas leading the way.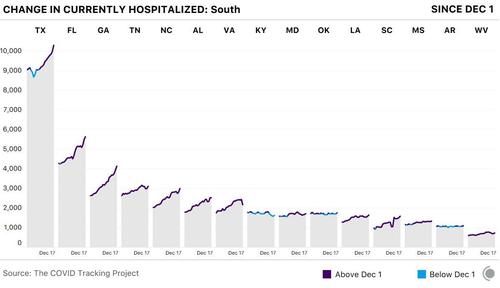 Despite the decline in cases in the MIdwest, the rising number of cases in California is more than offsetting it.
* * *
Offering another glimpse at "vaccine diplomacy" being exercised by the be biggest producers (the US, the UK, China, Russia etc), Malaysia is reportedly in talks with Russia to secure 6.4MM doses of "Sputnik 5". Malaysia, which has been hit hard relative to nearby countries like Thailand and Vietnam, has already secured 12.8MM doses from Pfizer under a deal signed last month, and earlier this week agreed to buy 6.4MM doses from AstraZeneca.
Here's some more COVID-19 news from overnight and Wednesday morning:
The cluster of Covid-19 infections in Sydney's Northern Beaches has grown to 97, and a lockdown will be extended over Christmas to prevent the virus from spreading across the city, authorities announced Wednesday (Source: Bloomberg).
The Houston area's intensive-care wards saw an 11% spike in virus patients during the past 24 hours that swelled the tally of the most acutely ill Covid-19 cases to a four-month high of 505. The number of ICU beds occupied by virus patients in the fourth-largest U.S. city and surrounding counties has more than doubled since the start of November, according to the SouthEast Texas Regional Advisory Council (Source: Bloomberg).
Singapore may provide more details on its vaccination program as early as January, the Straits Times reported, citing Education Minister Lawrence Wong (Source: Nikkei).
Tokyo reports 748 new infections, up from 563 a day earlier and the second-highest total, after 821 last week. The number of patients in serious condition rises by five to 69 (Source: Nikkei).
Taiwanese President Tsai Ing-wen called on people to keep calm, one day after the island confirmed its first locally transmitted case of COVID-19 since April 12. The government announced negative tests so far for the person's contacts (Source: Nikkei).
India confirms 23,950 new cases in the last 24 hours, a day after recording the nearly six-month low of 19,556, pushing the country's total to about 10.1 million. The death toll rose by 333 to 146,444 (Source: Nikkei).
* * *
Finally, down in Sydney, the cluster of collections along the Northern Beaches has grown to 97 as officials extend a lockdown over Christmas to prevent the virus from spreading across the city, authorities announced Wednesday. Meanwhile, in Germany, a record number of daily deaths (986) were reported.
Do you know someone who would benefit from this information? We can send your friend a strictly confidential, one-time email telling them about this information. Your privacy and your friend's privacy is your business... no spam!
Click here and tell a friend!