Courtesy of ZeroHedge View original post here.
Back in late November, and well before the current explosive phase in bitcoin's price was a reality, we tweeted a very simple argument for why we thought the cryptocurrency would surge: following in the footsteps of MicroStrategy, which took the innovative route of converting most if not all of its spare cash into bitcoin, we predicted that many more companies would follow suit in doing just that, leading to torrent of new cash chasing after bitcoin (which is precisely what happened).
MicroStrategy Hits 20-Year High After Citron Call, Bitcoin Jump

Here comes the new "blockchain" bandwagon: Which company will convert its cash into bitcoin next?

— zerohedge (@zerohedge) November 25, 2020
We bring that up because this morning, none other than momo chaser extraordinaire investing legend Bill Miller said the surge of attention generated by Bitcoin's frenzied rally could lead to far greater gains by – drumroll – encouraging corporate treasurers to use the cryptocurrency for diversification, or precisely what we tweeted nearly two months ago.
"If inflation picks up, or even if it doesn't, and more companies decide to diversify some small portion of their cash balances into Bitcoin instead of cash, then the current relative trickle into Bitcoin would become a torrent," the iconic head of Miller Value Partners LLC wrote in a blog post published Jan. 5.
A few thoughts on bitcoin, the best performing asset category in 2020. At this writing, it is trading at over $31,000, up more than 50% since the middle of December. It has outperformed all major asset classes over the past 1, 3, 5, and 10 years.

Its market capitalization is greater than JP Morgan and greater than Berkshire Hathaway and yet it is still very early in its adoption cycle. The Fed is pursuing a policy whose objective is to have investments in cash lose money in real terms for the foreseeable future.

Companies such as Square, MassMutual, and MicroStrategy have moved cash into bitcoin rather than have guaranteed losses on cash held on their balance sheet. Paypal and Square alone are estimated to be buying on behalf of their customers all of the 900 new bitcoins mined each day. Bitcoin at this stage is best thought of as digital gold yet has many advantages over the yellow metal. If inflation picks up, or even if it doesn't, and more companies decide to diversify some small portion of their cash balances into bitcoin instead of cash, then the current relative trickle into bitcoin would become a torrent.
As Bloomberg notes, picking up on what we said last week, "Miller joins a growing but still small chorus of names suggesting Bitcoin could be a part of corporate treasuries, something a handful of companies have already taken up. MicroStrategy's Michael Saylor set the trend off last year when he said the Federal Reserve's relaxing of its inflation policy helped convince him to invest the enterprise-software maker's cash into Bitcoin. Long-time crypto advocate Jack Dorsey's Square Inc. has put about $50 million in Bitcoin."
To be sure, Miller's has been a fan of bitcoin since 2014, saying back then that he owned the coin through his personal investments. He concluded his essay by directly challenging Warren Buffett, who in the aftermath of the whole Dave Portnoy fiasco, has become a whipping boy for a new generation of trader: "Warren Buffett famously called bitcoin "rat poison." He may well be right. Bitcoin could be rat poison, and the rat could be cash."
Where bitcoin goes next is anyone's guess: In a stealthy hitpiece which we mocked on Monday, JPMorgan tried to spark a selloff by listing all the reasons why bitcoin should tumble even though it may hit $100,000. A few hours later, it surged another $3,000, hitting a record high on Wednesday, crossing above $35,000 for the first time. The coin gained more than 300% last year and is up about 20% since the start of 2021. It was up 3.7% to around $35,049 as of 8:03 a.m. in New York.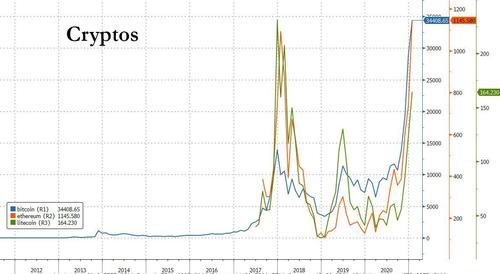 One possibility where bitcoin could go comes from legendary trader Paul Tudor Jones, who last May proposed a gold-parity valuation, according to which there is some $42 trillion in cash sloshing around, the value of above ground gold at $12 trillion is about 20x greater than the market cap of bitcoin today, which at its all time high is still just $640 billion.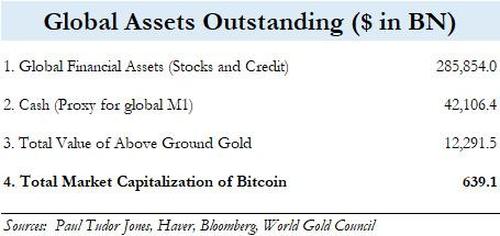 In short, if the value of bitcoin were to reach parity with gold, the price of one bitcoin would have to increase to $$650,000 from its current price of $34,000.
Do you know someone who would benefit from this information? We can send your friend a strictly confidential, one-time email telling them about this information. Your privacy and your friend's privacy is your business... no spam!
Click here and tell a friend!