Courtesy of ZeroHedge View original post here.
By Bas van Geffen of Rabobank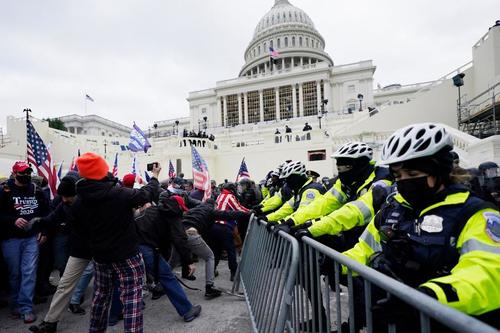 As my colleague Mike Every noted in yesterday's Global Daily, it was anyone's guess what would happen during the Congressional reading and approval of the Electoral College vote, but that related to the political process. I doubt even the writers for House of Cards would have come up with the events that transpired yesterday.
Ahead of what is supposed to be just a formality, President Trump had still Pencelled in a win, claiming that "Our Vice President has several options under the US Constitution. He can decertify the results or send them back to the states for change and certification. He can also decertify the illegal and corrupt results and send them to the House of Representatives for the one vote for one state tabulation." And even though Pence had already told Trump that he does not support this interpretation of the Vice President's constitutional powers and duties, the President still insisted that "if Vice President @Mike_Pence comes through for us, we will win the Presidency […]" while also, again, contesting the validity of the election results.
The President didn't just stick to Twitter: he also addressed an audience at a Save America rally of pro-Trump protesters in Washington D.C., saying that "we will never take back our country with weakness." Whether it was his intention or not, that speech may have been the spark for what followed: the demonstrations turned ugly later in the day and a group of protesters breached the US Capitol, where Congress was in the process of debating the certification of the election results. What ensued was a lockdown of the Capitol and the deployment of the national guard. Honestly, where does one draw the line between demonstrations and a coup or civil war? Save America, indeed.
By now, peace –or at least interbellum– has returned to the capital and the process of approving the Electoral College votes has restarted. Republicans have distanced themselves from Trump, with some outright accusing him of inciting yesterday's events. Several US media outlets are speculating that Cabinet may invoke the 25th Amendment to oust President Trump and to avoid further unrest in the final two weeks before President-elect Biden is sworn in. Whether this will actually happen –and whether it would be a wise decision– remains to be seen. After all, such a move could in fact make matters worse, and give Trump's followers another reason to protest, or worse. Social media aren't taking the risk, suspending Trump's accounts and requiring the removal of several violence-inciting posts.
With Washington D.C. in such disarray it must surely have been a risk-off day right? Wrong! Even as the protesters marched to the Capitol building, stock markets stoically marched higher, with the S&P 500 up 0.6% and the Dow 1.4% after hitting a new all-time high(!). The rationalization of these moves is a focus on the longer term: with the Democrats now looking set for majority in both the House and the Senate, President-elect Biden will have the Congressional support to implement a new fiscal stimulus package, including new stimulus checks. But of course, that does require that there is still a country left for him to govern. Biden has his work cut out for him trying to reunite the American people.
Turning to the more mundane world of economics, the minutes of the December FOMC meeting confirmed a consensus in the Committee to maintain a dovish bias to policy setting. The entire Committee agreed to hold the pace of asset purchases unchanged, but some members of the FOMC were open adjustments: "nearly all [participants] favored maintaining the current composition of purchases", while a couple of participants "indicated that they were open to weighting purchases of Treasury securities toward longer maturities." However, these deliberations took place before the Georgia run-off elections, which are turning blue. With a Democratic majority –albeit by the slimmest margin possible– and more room for fiscal policy, there may be less immediate pressure on the Federal Reserve to increase their asset purchases or to extend the maturity profile. But, this is conditional upon several other factors as well, and in particular the near-term economic outlook, which has been deteriorating, as Philip Marey writes in his note.
In Europe, the dose of optimism (Eurostoxx +1.4%) came from the EMA's approval of Moderna's vaccine, as well as some upbeat data despite the entire continent being in lockdown again.
Strong German retail sales (out on Monday) and unexpectedly strong factory orders for November (order intake up 6.3% y/y after an upwardly revised 2.3% y/y in October), published this morning, show that despite a host of fresh virus containment measures since early November (such as the closure of bars, restaurants and leisure centres), the economy continued to operate on a number of cylinders that were not greatly inhibited by these measures.
To some extent, this surprising strength in activity may reflect forward-looking behaviour on the part of households and businesses, as the government intensified its lockdown measures on 15 December, closing down all but essential shops for example. The rise in factory orders was driven particularly by strong foreign orders from Eurozone member states.
Despite this positive development in activity, which is arguably a driver of euro strength as well, inflation data continued to support the 'deflationist' view of the Covid-19 shock. Although headline inflation stayed put at -0.3% y/y, that was largely 'thanks' to transport and energy costs which are being pushed higher on the back of oil market developments. Yet food prices and particularly prices of clothing and footwear came in significantly lower. Giving your old jeans a second life seems to be the adage as people work from home. Core inflation fell to just 0.2%, from 0.5% in November, according to Bundesbank preliminary calculations. No need to emphasize that this only increases the pressure on the ECB to keep walking its path of monetary easing.
Do you know someone who would benefit from this information? We can send your friend a strictly confidential, one-time email telling them about this information. Your privacy and your friend's privacy is your business... no spam!
Click here and tell a friend!