Courtesy of ZeroHedge View original post here.
In its preview of tomorrow's December payrolls report, Newsquawk reminds us that while further fiscal support for Americans has now been rubber-stamped by lawmakers, it was done so after the payroll survey period and will therefore not be reflected in the employment situation report. Which is why nobody should expect any upside surprises in tomorrow's report, and if anything, it may well be the Trump admin's "kitchen sink" as "finely-tuned government data" is finally allowed to catch up to reality, potentially resulting in a catastrophically bad number.
To be sure, labor market metrics have generally erred on the weaker side in the month: initial jobless claims jumped in the BLS reference week, and PUA assistance also rose, though continuing claims data fell. ADP's gauge of private payrolls disappointed to the downside on the back of weakness in services employment, auguring poorly for the official BLS data (it is worth noting that the ADP has tended to report weaker numbers than the BLS of late).
Manufacturing and services sectors are also diverging at the employment level: ISM reported a rise in manufacturing employment in the month, but a fall into contractionary territory for services jobs. Meanwhile, Challenger reported that US employers' planned job cuts also rose in the month.
In its unusually downbeat forecast, Goldman estimates a -50,000 print, after +245k in November and +610k in October, and also 150,000 below consensus As Goldman writes, the broad-based resurgence of the coronavirus and related business restrictions are consistent with a further deceleration in job growth, and most of the Big Data employment signals we track indicate an outright decline in December. Additionally, while continuing jobless claims declined during the payroll month, much of the drop reflected the expiration of program eligibility (as opposed to reemployment). Taken together, layoffs in leisure and hospitality and other virus-sensitive services categories temporarily halted the employment recovery that began in May, and as a result private payrolls tumbled by 100k in December according to Goldman; the worst month since the covid crisis first broke out.
That's the bad news. The good news is that President-elect Biden has pledged further fiscal support for Americans after Democrats managed to secure control of Congress, and this might limit downside for markets if Friday's data disappoints. Conversely, as Newsquawk accurately points out, Fed talk about tapering asset purchases has picked-up recently, and this may only get louder in the event of a big beat (which however won't happen).
Here is what Wall Street expects:
Nonfarm Payrolls exp. +100k (range: -400k to +530k, prev. +245k);
Unemployment Rate exp. 6.7% (range: 6.5-7.2%, prev. 6.7%);
U6 Unemployment (prev. 12.0%);
Participation Rate (prev. 61.5%);
Private Payrolls exp. +100k (prev. +344k);
Manufacturing Payrolls exp. +20k (prev. +27k);
Government Payrolls (prev. -99k);
Average Earnings M/M exp. +0.2% (prev. +0.3%);
Average Earnings Y/Y exp. +4.4% (prev. +4.4%);
Average Workweek Hours exp. 34.8hrs (prev. 34.8hrs).
Some more observations from Newsquawk:
ADP: The December data from payroll processor ADP disappointed expectations, printing -123k against an expected +88k; it was the first decline since April. The report noted that as the impact of the pandemic on the labor market intensified, job losses were concentrated in retail and leisure and hospitality. Analysts at Pantheon Macroeconomics observed that the Homebase employment data for small firms always hinted that the ADP consensus might have been on the optimistic side, though the numbers were ultimately a bit stronger than the Homebase numbers for October and November. "That gap has now closed," Pantheon writes, "the underlying story here is the impact on the services sector from the patchwork of anti-COVID measures imposed across the country in Q4, alongside people choosing to reduce their social interactions in the face of soaring infections." The consultancy also points out that ADP's data has been weaker than the official BLS numbers in every month since April, though the size of the errors has diminished. "Still, we see good reasons to think that Friday's official payroll number will be better than ADP, and above zero," it said, reminding us that ADP's model includes lagged official payroll numbers as well as information from firms using ADP's services, and accordingly, the cooling of the NFP data in November will have weighed on the December ADP; "that doesn't rule out further downward pressure on the official data in December after COVID restrictions tightened further, but we still think it likely that Friday's private sector jobs number will be about +150K," it adds.
JOBLESS CLAIMS: Initial jobless claims data that coincides with the BLS employment report survey period saw weekly claims rise to 892k from 862k, and the four-week moving average to 814k from 778k the previous week. However, continuing claims data fell in the survey week to 5.32mln from 5.51mln. Wells Fargo said the rise was a bad omen for the December jobs report; the bank said that renewed restrictions and individual efforts to stem the spread of COVID were bearing down on the labour market. It was the second straight weekly rise, during a week where claims usually drop; however, the non-seasonally adjusted Pandemic Unemployment Assistance rose by 40K. Since then, however, the situation appears to have brightened, after lawmakers struck a deal on stimulus ¬– but still too late to be reflected in the December payrolls data, however.
MANUFACTURING SURVEYS: The manufacturing ISM report for December saw the employment sub-index rise back into expansionary territory (above 50.0), printing 51.5 from 48.4. ISM said that only three industries (Fabricated Metal Products, Computer & Electronic Products, Chemical Products) of the six big sectors expanded. That said, it noted that continued strong new-order levels and an expanding backlog indicate potential employment strength for the first quarter of 2021, and panellist comments indicated that significantly more companies are hiring or attempting to hire than those reducing labour forces. (NOTE: ISM says that an employment index above 50.8 percent, over time, is generally consistent with an increase in the Bureau of Labor Statistics data on manufacturing employment).
SERVICES SURVEYS: The employment sub-index within the December services ISM disappointed to the downside, printing 48.2 and entering contractionary territory (from the prior 51.5) following a run of three months in expansion. The outcome was not entirely unexpected, given the ADP's payrolls report hinted at weakness in the services sector (the ADP reported that services sector payrolls declined by 105k in the month), with the resurgence of the pandemic towards the end of the year weighing. The services sector job losses primarily stemmed from the arts, entertainment, rental, mining, accommodation, food services sectors; four industries, however, reported employment growth (management of Companies and support services, wholesale trade, utilities, finance/insurance). The ISM report noted that respondents said "less staff needed in restaurants due to restrictions" and "we had to reduce our workforce even further." Analysts note, however, that this sub-index too has tended to understante the BLS data recently.
JOB CUTS: Challenger reported that US-based companies were planning 77,030 job cuts in December, rising from the 64,797 mark in November, and significantly above the 32,843 reported in December 2020. The consultancy said that the jump in Q4 saw the fewest job cuts of the year (222,493, down from the 497,215 in Q3), though that is a lot higher than the 127,687 reported in Q4 2020. Challenger said that in the final months of the year, companies that may have survived the initial impact of the pandemic in March and April determined staffing adjustments based on increasingly difficult market conditions: "while some segments were up, such as warehousing, shipping, financial, and some manufacturing segments, many others were hurt considerably, chief among them Hospitality, Entertainment, and Leisure." According to the Bureau of Economic Analysis, disposable personal income decreased by $218 billion in November and consumer spending decreased 0.4%, and Challenger said that "as the economy continues to shed jobs with hundreds of thousands of initial jobless claims each week, consumer spending will continue to drop. Retail and leisure activities will suffer further, especially before widespread vaccinations give Americans confidence to spend money, and companies the ability to create more jobs."
ARGUING FOR A WEAKER-THAN-EXPECTED REPORT:
The third wave of Covid. The public health situation deteriorated further in December, with the pace of new coronavirus infections and hospitalizations both elevated and rising. As shown in Exhibit 1, by the December survey week, restaurant seatings on Opentable had fallen back to July levels—a time when leisure and hospitality payrolls were 0.85mn lower than in November. Business restrictions and lower demand for these and other services categories also will weigh heavily on tomorrow's report, more than offsetting gains in less-sensitive categories.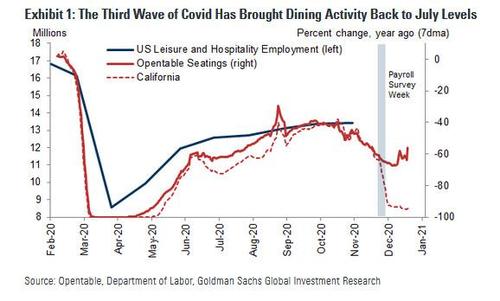 Big Data. High-frequency data on the labor market is generally consistent with a decline in payrolls in December, with a median decline of 160k across seven measures. Of those that Goldman tracks, only the Google Mobility measure is consistent with an above- consensus report (and admittedly, it has been one of the more accurate measures during the crisis).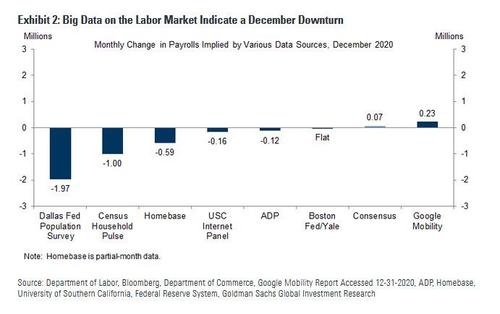 ADP. Private sector employment in the ADP report fell by 123k in December, below consensus expectations and consistent with a decline in the official measure. The report text highlighted weakness in the leisure and hospitality sector, consistent with virus effects.
Job availability. The Conference Board labor differential—the difference between the percent of respondents saying jobs are plentiful and those saying jobs are hard to get — fell into contractionary territory (to -0.2 in December from +6.9 in November and +7.1 in October).
Job cuts. Announced layoffs reported by Challenger, Gray & Christmas rose by 49% in December after falling by 6% in November. They remain 143% above their December 2019 levels.
ARGUING FOR A STRONGER THAN-EXPECTED REPORT:
Education seasonality. A rise in education employment (public and private) is expected, as virtual schooling reduces the scope for seasonal downtime for support staff. Some of the janitors and support staff who normally stop working in December had already left the workforce due to school closures. Reflecting this, education payrolls are expected to decline by less than the BLS seasonal factors anticipate, resulting in a 50-100k reported rise across private, state, and local education categories.
NEUTRAL/MIXED FACTORS:
Employer surveys. Business activity surveys declined on net in December, and the employment components of survey trackers declined but are still in narrowly-expansionary territory (non-manufacturing -1.0pt to 50.1; manufacturing -0.1pt to 54.2).
Census hiring. The 2020 Census has already wound down, with only 6k temporary workers left on payroll during the November report. Accordingly, only a modest decline in this category is expected in tomorrow's report (around -3k).
Do you know someone who would benefit from this information? We can send your friend a strictly confidential, one-time email telling them about this information. Your privacy and your friend's privacy is your business... no spam!
Click here and tell a friend!