Courtesy of ZeroHedge View original post here.
US equity futures and world stocks dropped from Friday's record highs on Monday as a mood of caution swept across trading desks as faltering economic indicators tripped a solid run on hopes of more fiscal stimulus. Anxiety ahead of Trump's second impeachment process was also palpable coupled with concerns over rising coronavirus cases, while elevated Treasury yields helped the dollar hit its highest levels in over two and a half weeks, in a reversal of the most consensus trade of 2021 which as we predicted would happen last week.
S&P 500 E-minis were down 22.5 points, or 0.60% after rising 1.8% last week; Dow E-minis were down 223 points, or 0.7% and Nasdaq 100 E-minis were down 81.25 points, or 0.7%.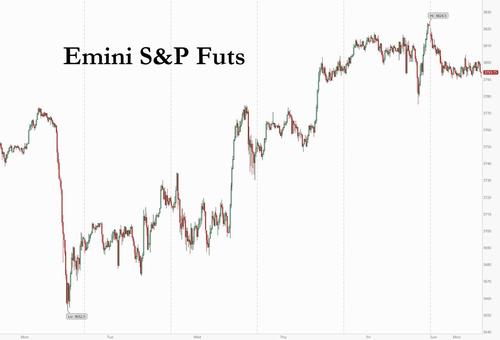 Twitter's shares plunged 6% premarket after it permanently suspended U.S. President Donald Trump's account late on Friday. Tesla stock was also down despite the latest Wall Street upgrade, this time from BofA which raised its price target from $500 to $900. Boeing was down 3% after a Boeing 737 plane crashed shortly after take off in Indonesia, killing everyone on board.
As Bloomberg notes, weighing on the minds of investors are worries that equities are running too hot and valuations are stretched at a time when major parts of the world are grappling with the worst of the pandemic. In Germany, the health minister called on citizens to drastically curtail social contact after the death toll from the virus climbed above 40,000. "Risky assets have come a long way and they are now in a pause or profit taking territory," said Mohit Kumar, a strategist at Jefferies International. "Investors are getting worried about a rise in yields."
"There was an awful lot of optimism about prospects for stimulus with the Biden administration winning those two Georgia Senate seats," said Michael Hewson, chief markets analyst at CMC Markets in London, noting Friday's record highs that followed the Democrats winning control of the U.S. Senate. "Friday's (U.S.) payrolls report was disappointing, underscoring the need for more significant fiscal response. But as we head into week two (of the new year), I think some of that optimism has been tempered a little bit with profit-taking."
Bets on a rebound in business activity in 2021 fueled by vaccine rollouts, larger checks and infrastructure spending under U.S. President-elect Joe Biden have underpinned Wall Street's rise to recent peaks. However, last week Wall Street bankers warned of toppy stock markets and a looming retreat after exuberance from unprecedented economic stimulus had led to "frothy" asset prices and surging bond yields.
"I think there's a perception perhaps markets are getting slightly ahead of themselves," Hewson said.
He may have been on to something: European shares dipped in early trading but were off worst levels, with the pan-European STOXX 600 index down 0.3% (after dropping 0.6% earlier) as rising coronavirus cases across the continent and China dragged down commodity stocks. Germany's DAX lost 0.55%, Britain's FTSE 100, Italy's FTSE MIB, and France's CAC 40 fell about half a percent each, and Spain's IBEX fell 0.2%. Autos, utilities down the most, sliding 1.2% or more, while banks are only industry group to rise. Stoxx 600 on Friday had rallied to highest since February 2020 on bets of more stimulus under Democrat-controlled Congress, vaccine rollouts.
Earlier in the session, Asia's MSCI index of Asia-Pacific shares ex-Japan dipped 0.2%, having surged 5% last week to record highs, its best weekly gains in two months last week. Japan's Nikkei was closed for a holiday after ending at a 30-year high on Friday. China's stock benchmark fell 1% as investors questioned whether the highest valuations in 13 years for the CSI 300 Index make sense. Malaysia's stock gauge dropped 1% as investors awaited new coronavirus measures. Australia and New Zealand were also among laggards. South Korea stocks closed 0.1% lower after rising as much as 3.6% earlier led by Samsung Electronics. The nation's retail investors bought a record amount of Kospi shares on Monday. Shares of EV-related companies enjoyed a strong start to the new week. Hyundai Motor rallied another 8.7% to highest since 2012 after a positive sector research note from Credit Suisse. Hong Kong-listed BYD jumped 6.7%, extending gains to a new peak, as the company said it won orders from Colombia. India IT outsourcing companies jumped, boosted by strong results from Tata Consultancy Services. Japan is shut for a holiday
In the latest covid news, global infections surpassed 90 million and several health experts said the rollout of vaccines in many countries will not provide herd immunity from the pandemic this year, citing limited access for poor countries, community trust problems and potential virus mutations.
In FX, as we warned last week, the dollar surged against all its major peers, with demand supported by elevated Treasury yields as Traders unwound record short positions and weighed the implications of higher Treasury yields amid President-elect Joe Biden's push for huge fiscal aid; the dollar's haven appeal got a boost after Speaker Nancy Pelosi said the House planned to impeach President Donald Trump unless Vice President Mike Pence and the cabinet act to remove him.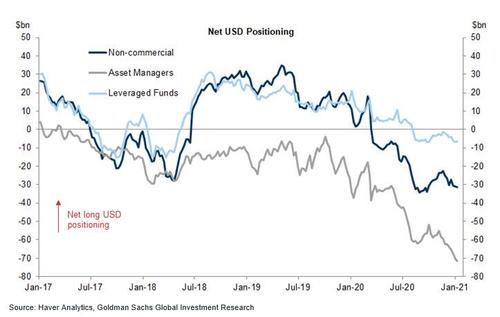 The euro fell to its lowest since Dec. 23 at $1.2155, from a recent higher of $1.2349, breaking support around $1.2190. The dollar also gained to 104.18 yen from a trough of 102.57 hit last week. The pound declined as much as 0.6% after the Telegraph reported that the U.K. may tighten lockdown restrictions. Norway's krone led G-10 losses followed by New Zealand and Australian dollars. The Japanese yen held up best versus the dollar, but still slipped to its lowest in a month. Baidu shares rose 6% after the Chinese search engine giant said it will set up a company to partner with carmaker Zhejiang Geely Holding Group to make smart electric vehicles
"Risky assets have come a long way and they are now in a pause or profit taking territory," said Mohit Kumar, a strategist at Jefferies International. "Investors are getting worried about a rise in yields."
And speaking of yields, Treasury yields were at their highest since March after Friday's weak jobs report fanned speculation of more U.S. fiscal stimulus now that the Democrats have control of the government. President-elect Joe Biden is due to announce plans for "trillions" in new relief bills this week, much of which will be paid for by increased borrowing. At the same time, the Federal Reserve is sounding content to put the onus on fiscal policy. Vice Chair Richard Clarida said there would be no change soon to the $120 billion of debt the Fed is buying each month.
With the Fed reluctant to purchase more longer-dated bonds, 10-year Treasury yields jumped almost 20 basis points last week to 1.12%, the biggest weekly rise since June. On Monday, yields dipped after outperforming bunds and gilts during European morning, leaving yields richer by ~2bp at long end. Treasury 10-year was richer by ~1.5bp on the day at ~1.10%, outperforming bunds, gilts by ~1bp. The auction cycle begins with 3-year note sale at 1pm ET; 10- and 30-year follow Tuesday and Wednesday.
BofA rates strategist Mark Cabana warned stimulus could further pressure the dollar and cause Fed tapering to begin later this year. "An early Fed taper creates upside risks to our year-end 1.5% 10-year Treasury target and supports our longer-term expectations for neutral rates moving towards 3%," he said in a note to clients.
In commodities, gold was flat at $1,843 an ounce after skidding as low as $1,816. Brent crude oil prices fell, hit by renewed concerns about global fuel demand amid tough coronavirus lockdowns across the globe, as well as the stronger dollar. Brent crude futures fell 1.3% to $55.25. U.S. crude futures lost 0.7% to $51.84 a barrel. In crypto, Bitcoin plunged as much as 21% over Sunday and Monday to as low as $32,389.
Looking at the week ahead, Q4 results from JP Morgan, Citi and Wells Fargo on Friday will kick-off the earnings season, which could offer more clues on if company executives reflect the enthusiasm of a rebound in 2021 earnings and the economy. After official data pointed to a significant slowdown in labor market recovery on Friday, investors will focus on inflation, retail sales and consumer sentiment indicators this week to gauge the extent of economic damage.
On today's calendar, no major economic data is expected. Carnival is reporting earnings; later in the day the House of Representatives Democrats plan a vote to urge Vice President Mike Pence to take steps to remove President Donald Trump from office after his supporters' deadly storming of the Capitol, before attempting to impeach him again.
Market Snapshot
S&P 500 futures down 0.6% to 3,795.00
MXAP down 0.2% to 207.91
MXAPJ down 0.1% to 694.83
Nikkei up 2.4% to 28,139.03
Topix up 1.6% to 1,854.94
Hang Seng Index up 0.1% to 27,908.22
Shanghai Composite down 1.1% to 3,531.50
Sensex up 1% to 49,262.71
Australia S&P/ASX 200 down 0.9% to 6,697.16
Kospi down 0.1% to 3,148.45
STOXX Europe 600 down 0.4% to 409.36
German 10Y yield fell 0.6 bps to -0.525%
Euro down 0.3% to $1.2186
Italian 10Y yield fell 2.8 bps to 0.42%
Spanish 10Y yield unchanged at 0.04%
Brent futures down 1.3% to $55.29/bbl
Gold spot up 0.1% to $1,851.55
U.S. Dollar Index up 0.3% to 90.34
Top Overnight News from Bloomberg
Trump is confident Pence and members of his cabinet won't attempt to remove him under the 25th Amendment
Biden is set to release his proposals for an economic stimulus package on Thursday
Traders are reporting strong demand from leveraged funds for the dollar
The fallout from U.S. sanctions on Chinese military-linked companies widened as banks and money managers raced to comply with an executive order that bans new investments from Monday
China's state-run media called for retaliation after the Trump administration removed decades-old restrictions on interactions with Taiwan officials
A quick look at global markets courtesy of Newsquawk
Asian equity markets began the week indecisive amid tentativeness following the US NFP jobs data and with Japanese participants away for Coming of Age Day, while ongoing COVID-19 concerns and US-China tensions also contributed to the cautious overnight mood. ASX 200 (-0.9%) traded negative with better-than-expected Retail Sales and the lifting of the 3-day lockdown in Brisbane failing to lift the index which was pressured as tech and miners led the broad declines across sectors, while NZX 50 (-1.8%) was the worst hit after the RBNZ announced an illegal breach of one of its data systems. KOSPI (-0.1%) initially extended on record levels boosted by continued gains in Samsung Electronics which also notched fresh all-time highs after last week's preliminary results and Hyundai Motor briefly surged by another 10% on the Apple EV tie-up reports, although the index then fluctuated between gains and losses with the latest trade figures providing headwinds after South Korean exports declined 15.4% Y/Y during the first 10-days of the 2021. Hang Seng (+0.1%) and Shanghai Comp. (-1.0%) were choppy as optimism from firmer than expected inflation data was offset by increased tensions after US Secretary of State Pompeo announced the US is to remove all self-imposed restrictions on executive branch agencies' interactions with their counterparts from Taiwan ahead of the US Ambassador visit which China have already warned against. Furthermore, the White House is said to be examining additional options to respond to China regarding the virus and Hong Kong, while it was also reported that MOFCOM issued new rules which prevent companies from complying with foreign laws that prohibit transactions with Chinese companies
Top Asian News
China Is Said to Let Banks Sell Bad Personal Loans to Ease Risks
WHO Gets Access to China After Virus Origins Experts Delayed
China Telcos Rally as Mainland Funds Buy Record Hong Kong Stocks
China Traders Net Buy Record Stocks Through China-H.K. Connect
European bourses trade with modest losses across the board (Euro Stoxx 50 -0.3%), albeit off worst levels following on from a similarly downbeat APAC handover where Japan was away and the Hang Seng remained the only gainer, albeit modest, with some reports citing Chinese traders purchasing a record amount of HK stocks via links. News-flow for the session thus far has been light in what feels like cautious trade, with the ramp-up in US-Sino rhetoric and COVID-19 variants weighing on investors' minds after Japan found a new strain distinct from the UK and South African types. Further, some have also suggested the vaccine rollout to provide headwinds for stocks in the form of an earlier-than-expected unwind in loose policy. US equity futures meanwhile succumb to the losses across the stock markets whilst Twitter (-7.5%) sees substantial pre-market losses after permanently suspending the outgoing US president on the platform. Back to Europe, bourses see broad-based losses with the AEX (-0.1%) narrowly faring better amid gains across some of its larger constituents. Sectors are mostly lower with Banks, Financials and Telecoms eking mild gains with the former two aiding by a similar outperformance in Hong Kong and against the backdrop of the recent rise in yields. Meanwhile, the other end of the spectrum sees Travel & Leisure pressured amid ongoing COVID-woes, whilst Auto names reside as the laggard amid a string of production halts amid semiconductor scarcity. Furthermore, Chinese EV-maker NIO (+4.8% pre-mkt) has partnered with NVIDIA (+0.8%) to develop a new generation of automated driving electric vehicles whilst Geely and Baidu (+5% pre-mkt) confirmed EV ambitions. In terms of some individual movers, Airbus (+0.7%) trades with gains as the Co's CEO said he is cautiously optimistic for 2021. Additionally, EU's VP/Trade Commissioner Dombrovskis said he is ready to end the Boeing/Airbus dispute and he hopes the incoming US government will be more cooperative. Roche (+0.5%) meanwhile is firmer after announcing that Xofluza approved by the European Commission for the treatment of influenza, the first new influenza antiviral for patients in almost 20 years.
Top European News
Sanofi to Buy Antibody Maker Kymab in $1.45 Billion Deal
Total Buys French Biogas Producer Fonroche Biogaz in Green Push
Brexit Drags U.K. Below U.S. in Business Location Ranking
CD Projekt Jumps as Morgan Stanley Reports Stake
In FX, the Buck is regrouping after backing off broadly with the DXY edging just over 90.500 after holding above overnight lows. Hence, the Greenback remains firm and in recovery mode against the backdrop of waning risk sentiment following a bullish start to the new year that has boosted global stocks and US benchmarks to fresh record highs. Perhaps, Friday's sobering drop in non-farm payrolls has prompted some retrenchment, while the ongoing spread of COVID-19 and lag before vaccines can make some in-roads along with restrictive measures is also reining in some exuberance, as the index extends its parameters to 90.520-238 parameters ahead of employment trends and a couple of Fed speakers.
AUD/NZD/CAD – No retail therapy for the Aussie even though final consumption figures for November were revised a tad higher, or relief that Brisbane has come out of its 3-day lockdown, as Aud/Usd hovers just over 0.7700 and also feels the weight of weaker iron ore prices and a softer Yuan. Similarly, the Kiwi is struggling to keep sight of 0.7200 and Loonie contain losses through 1.2750 as the crude complex also falls victim to the US Dollar revival in the run up to Canada's Q4 business outlook for future sales. Back down under, the Aussie may also be capped by decent option expiry interest at the 0.7725 strike (1.3 bn) into the NY cut.
CHF/GBP/EUR/JPY – All giving way to the Buck, with the Franc near the base of a 0.8850-0.9000 range after another decline in weekly Swiss sight deposits, Cable hovering just below 1.3500 awaiting comments from BoE's Tenreyro and a statement on the economy from UK Chancellor Sunak amidst speculation about even tighter pandemic restrictions. Elsewhere, the Euro is sub-1.2200 and eyeing 1.2150, while the Yen is back under 104.00 in thinner volumes due to Japan's Coming of Age market holiday, with ECB President Lagarde looming before the latest Japanese Economic Watchers survey on Tuesday.
In commodities, WTI and Brent front month futures experience a soft start to the week in lockstep with overall sentiment and alongside a firmer Dollar. Complex-specific newsflow has remained light. Over the weekend, Japan found a new COVID-19 variant which differs from the one found in the UK and South Africa, although specifics around the variant remain scarce. Elsewhere, Iraq said it has raised their OSP for all its crude grades into Asia in a similar move seen by Saudi Aramco. WTI Feb trades sub-52/bbl after declining from an overnight peak at USD 52.70/bbl, whilst Brent Mar eyes USD 55/bbl to the downside vs. high ~56.40/bbl. Turning to metals, spot gold and spot silver see gains despite the firmer Buck with some citing outflows from bitcoin into the traditional safe-haven metals whilst others also cite the inflationary playbook. In terms of base metals, Dalian iron ore future fell almost 2% overnight as the Dollar firmed and Australia's Port Hedland iron ore shipments to China jumped 16% in December. LME copper also trades on the backfoot today amid similar dynamics. Finally, something to be aware of – the outgoing US president's admin is reportedly moving to loosen some mining regulations and give the go-ahead for some mineral projects before leaving office, with some stated that the incoming administration may be unable to reverse some of the moves.
US Event Calendar
DB's Jim Reid concludes the overnight wrap
After being back from holiday less than a week this year, many interesting themes are developing and I'm increasingly thinking that this is not going to be a low vol dull year. Let me stress that I think economic growth could increasingly get revised up once we hit Q2 onwards and that we could see some pretty major pent up demand once we get into the summer months. So it's difficult to get too concerned about the economy. However a combination of the melt-up in risk, bubbles blowing everywhere, more likely stimulus from the Democrats and what are already elevated inflation breakevens in the US means that we have a number of high octane moving parts that are going to be very difficult to calibrate in 2021.
So for me I think the probability of a smooth year for markets is rescinding. For now it feels that risk on is very hard to argue against but the biggest risks that I outlined in my 2021 outlook have probably intensified in the first week of the year. They were there being a yield shock/taper tantrum at some point and there being a tech bubble that bursts. So far this year US 10yr USTs are up +20bps and US 10 year breakevens are already up +8.5bps to 2.07% from 0.55% in March and only just over 10bps off 6 year highs. It would be difficult to go too much higher without serious talk of tapering and the more immediate pricing in of the first hike of the cycle. With regards to a bubble, so far this year Bitcoin is up +22.8%, Tesla +24.7% (already added $165.3 bn market cap), with my favourite story being small-cap Texas healthcare company Signal Advance (with no full time employees other than the CEO as of a March 2019 filing) surging nearly 1500% at one point on Thursday after Elon Musk tweeted "use Signal". He was referring to a rival messaging app to WhatsApp but instead fuelled a frenzy in a company that surged from low millions to nearly a $100m company on that one misinterpreted tweet. It was still up c.1100% over Thursday and Friday even including Friday trading when the error should have been known. These are not normal markets!! Ride the liquidity for now but this does not feel like the ingredients for a low vol market year.
This week isn't the busiest in terms of planned events with the data highlights including the US CPI (Wednesday) and retail sales (Friday) data for December, while there'll also be the release of the ECB's account of its December meeting (Thursday) and the Federal Reserve's Beige Book (Friday). Perhaps the highlight will be Biden outlining more details on his new administrations priorities on Thursday. This may give us some clues on the direction of travel for stimulus that he aims to get through Congress. Outside of that they'll be lots of attention on whether the Democrats try to impeach President Trump with less than 10 days left in office but it will be more of a curiosity than a market moving event. Overnight, the House speaker Pelosi has said that Democratic leaders will move to impeach this week unless VP Mike Pence and the cabinet invoke the 25th Amendment. So a busy few days ahead in the Capitol.
Finally, there are a limited number of earnings releases, ahead of a much busier earnings calendar over the coming weeks. Blackrock (Thursday), JPM, Citigroup and Wells Fargo (Friday) are the highest profile companies kicking things off. The full day by day week ahead is at the end of the piece today.
Asian markets are trading mixed this morning with the Hang Seng (+0.81%) up while the Kospi (-0.20%) and Shanghai Comp (-0.10%) are down. Japanese markets are closed for a holiday. Meanwhile, futures on the S&P are down -0.55% and the US dollar index is up +0.36% overnight. Elsewhere, gold prices are down -0.78% while bitcoin is trading down -6.36% this morning after declining by -6.88% on Sunday. To highlight the continued volatility we nearly touched $41,500 earlier Sunday morning yet sunk just above $33,500 at the lows this morning. A wild ride. In terms of data releases, China's December PPI came in at -0.4% yoy (vs. -0.7% yoy expected) while CPI stood at +0.2% yoy (vs. 0.0% expected).
Last week was a bullish start to the year across the world. In the US, the anticipation of further fiscal stimulus gave the cyclical and reflation trade another push forward. The S&P 500 gained +1.83% on the week (+0.55% Friday), while the NASDAQ composite rose +2.43% (+1.03% Friday). Bank stocks on both sides of the Atlantic gained as core rates rose, with US banks rallying +7.65% while European Banks were up a slightly less +6.01%. European equities outperformed overall as the STOXX 600 ended the week +3.04% higher (+0.66% Friday) while the FTSE (+6.39%) and IBEX (+4.14%) notably outperformed. Energy stocks also outperformed as Brent crude rose +8.09%, with OPEC+ coming to an agreement on oil output with an eye toward more economic restrictions through the next quarter.
The Senate runoff results midweek mean that the 'Blue Wave' scenario has finally come about resulting in a slim Democratic majority in both chambers of Congress. The main implication being the prospect of a substantially larger US stimulus package in the near future. In anticipation there was a substantial selloff in US Treasuries, with 10yr yields up +20.2bps to 1.12%. 10yr yields are now above the 1% barrier for the first time since mid-March, when yields sunk to all-time intra-day lows in the early days of the coronavirus pandemic. There was a sizeable steepening in the yield curve, with the 2s10s curve up +18.6bps to 97.6bps, which is the steepest level in 3 years, while the 5s30s hit its steepest in 4 years. Yields in Europe rose as well, but not to the same degree. 10Yr Bund yields were +5.0bps (+0.3bps Friday) higher to -0.52% and 10yr Gilt yields rose +9.1bps (+0.4bps Friday) to 0.29%.
On the data front the highlight from Friday was the US payrolls data, which showed the US labour market losing jobs month-over-month for the first time since April. Nonfarm payrolls (+50k expected) fell -140k from the November print, with the unemployment rate staying steady at 6.7%, breaking a 7-month streak of improvement. The majority of the weakness was in service industries like restaurants, bars and other businesses hindered by pandemic restrictions. On the other hand, Euro area unemployment showed continued improvement, falling to 8.3% (8.5% expected) but it is more backward looking (referencing November data) and does not take into account the renewed lockdowns.
Do you know someone who would benefit from this information? We can send your friend a strictly confidential, one-time email telling them about this information. Your privacy and your friend's privacy is your business... no spam!
Click here and tell a friend!