Courtesy of ZeroHedge View original post here.
In July of last year, a frustrated-sounding Seth Klarman exclaimed that "surreal doesn't even begin to describe this moment," in his hedge fund, Baupost, latest letter to investors.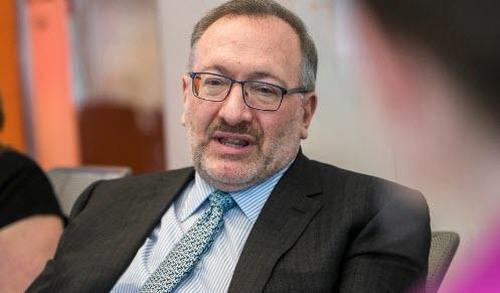 Since then, things have become surreal-er and surreal-er, and we sense the level of frustration for Klarman – among many other highly-paid, experience, and process-oriented hedge fund managers – is growing exponentially.
In his latest letter to investors, The Financial Times reports that the billionaire manager blasts the world's central banks (focusing mostly on The Fed) for flooding the financial system with money since the onset of the coronavirus pandemic, arguing that the central bank's moves have made it difficult to gauge the health of the US economy.
"With so much stimulus being deployed, trying to figure out if the economy is in recession is like trying to assess if you had a fever after you just took a large dose of aspirin," he wrote.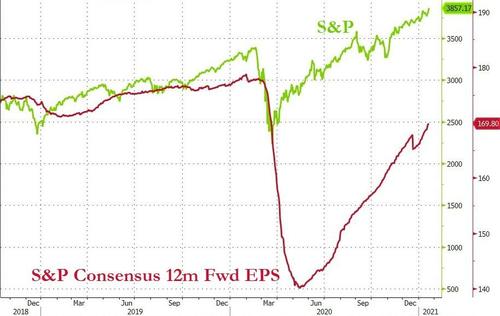 Source: Bloomberg
"But as with frogs in water that is slowly being heated to a boil, investors are being conditioned not to recognise the danger."
Klarman's main fund, with $30 billion under management, underpeformed the market last year, blames the "800-pound gorilla" Fed for removing all price discovery…
"The biggest problem with these unprecedented and sustained government and central bank interventions is that risks to capital become masked even as they mount," he said.
Mocking "barely profitable" companies like Tesla (or not profitable at all), as soaring "seemingly beyond all reason."
"The more distant the eventual pay-off, the more the present value rises," he wrote.
He may be on to something!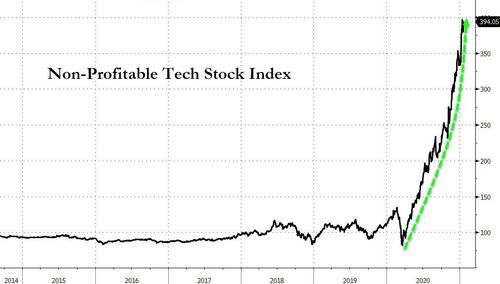 Source: Bloomberg
And valuations reach extremes, far above historic norms…
"When it comes to the value of cash flows, the vast and limitless future, yet to unfold, has gained considerable ground on the more firmly anchored present."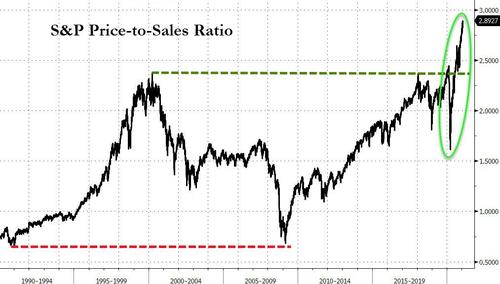 Source: Bloomberg
And it's clear where Klarman foots the blame…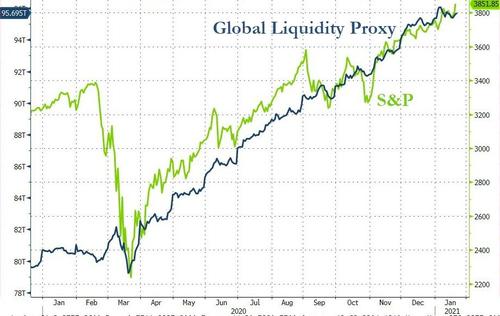 The Fed's policies and programmes "have directly contributed to exceptionally benign market conditions where nearly everything is bid up while downside volatility is truncated", he added.
While The Fed's drastic measures have arguably helped to boost economic activity and rescue ailing businesses (or more correctly, raise stock prices enabling issuance and collapse yields and spreads enabling issuance), Klarman warns:
"they have also kindled two dangerous ideas: that fiscal deficits don't matter, and that no matter how much debt is outstanding, we can effortlessly, safely, and reliably pile on more."
Crucially, Klarman warns that:
"The market's usual role in price discovery has effectively been suspended."
And we are reminded of his rhetorical question from last year:
"As with the 30-year-olds still living in their parents' basements, we can only wonder whether the markets will ever be expected to make it on their own."
When indeed?
Do you know someone who would benefit from this information? We can send your friend a strictly confidential, one-time email telling them about this information. Your privacy and your friend's privacy is your business... no spam!
Click here and tell a friend!