Courtesy of ZeroHedge View original post here.
Update (1455ET): As we explained earlier, the CDC has decided to backtrack on its guidance from two months ago and kindly ask that even fully vaccinated Americans resume wearing masks indoors, including in school and at the gym, due to the "highly transmissible" delta variant.
Specifically, the agency is asking that people who live in "high-transmission areas" wear masks indoors in certain circumstances, citing the highly transmissible delta variant. Additionally, the CDC is recommending mask-wearing for all teachers, school staff and students regardless of their vaccination status. They're also recommending that any immuno-compromised individuals wear masks when in public.
The new guidance will officially be announced at a 1500ET news briefing, the first major CDC news briefing since they announced that vaccinated people could abandon their masks indoors two months ago.
Readers can watch live below:
While the delta variant is said to be 2x as infectious as the "alpha" strain, a sudden drop in cases in the UK and Europe suggests that the flareup in the US will likely follow suit, since the UK and European outbreaks are seen as sort of a leading indicator for the US.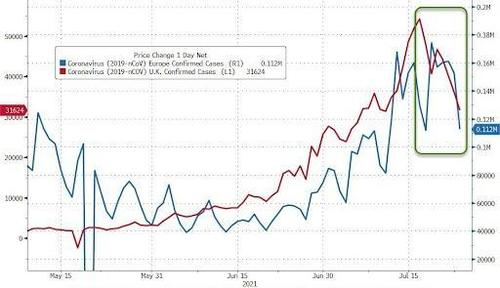 But it's not just Europe: India also saw it's Delta-driven wave subside within weeks.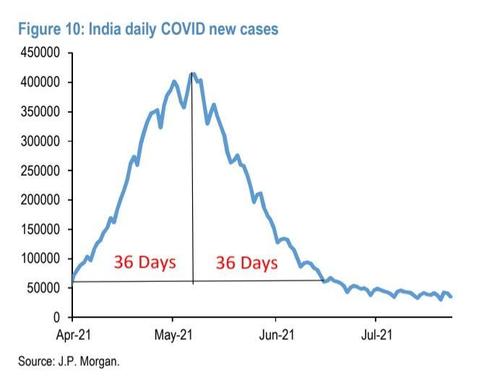 But now that LA, NYC and a host of deep-blue states have issued restrictive new guidance of their own surrounding vaccinations and masking, the Biden Administration can't be seen to simply sit on its hands (even after Dr. Anthony Fauci himself said that any future mask mandates would come from local authorities, not the federal government).
Of course, while the CDC would like us to believe otherwise, there's plenty of evidence to suggest that mask-wearing has little or no correlation with the number of cases confirmed in a given area.
While new cases have climbed, the number of deaths and hospitalizations has barely budged. Masking didn't do much good the first time around, but we suspect that probably doesn't matter much to the Biden Administration. They're probably more concerned with being in a position to take the credit once case numbers drop in a few weeks.
* * *
Update (1015ET): The New York Times has confirmed (with its sources) that the CDC is expected to recommend on Tuesday that people vaccinated for the coronavirus resume wearing masks indoors under certain circumstances, reversing a decision made just two months ago.
As recently as last week, an agency spokesman said that the C.D.C. had no plans to change its guidance, unless there were a significant change in the science. The CDC plans to provide a media update on the pandemic at 3pmET.
"I think that's great," said Dr. Celine Gounder, an infectious disease specialist at Bellevue Hospital Center in New York.

Based on what scientists are learning about the Delta's variant's ability to cause breakthrough infections, she said, "this is a move in the right direction."
Well, we are happy someone is pleased that the nation is taking a step back towards Einsteinian insanity.
Maybe this time it will work?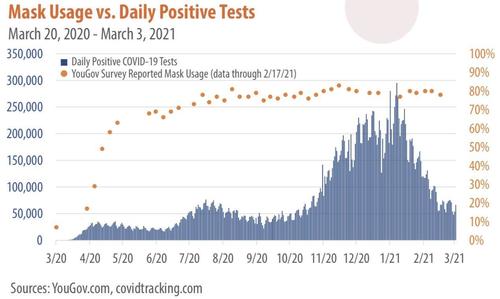 Cases in Thailand are up 696,400% since National Geographic said that they had done an amazing job preventing COVID from "gaining a foothold" due to a commitment to masking & public health

Nailed it again, The Science™! pic.twitter.com/0DgUfZ0SWG

— IM (@ianmSC) July 27, 2021
Babylon Bee summed things up perfectly…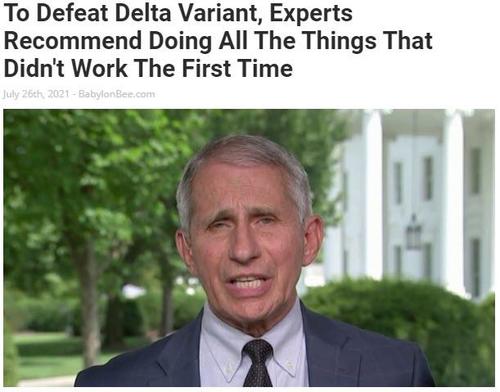 *  *  *
Despite Dr. Anthony Fauci's claim that the federal government wouldn't adopt any new confusing and unscientific mask or vaccine guidance, CNN reports that federal officials are preparing to announce new nation-wide masking guidance after NYC and California ordered public workers to either provide proof of their vaccination status or mask up, while LA has ordered people to wear masks in public once again. According to CNN, the decision is "imminent", and could arrive as soon as Tuesday.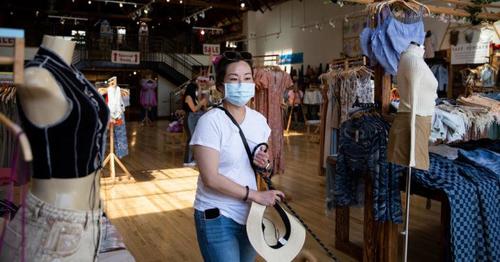 What's more, as the delta variant continues to spread, a drop in new cases seen in the UK and Europe may be signaling a coming "inflection point" in the US.
Alex Berenson pointed to the trend on Twitter on Tuesday.
Delta come, Delta go. Just like in India.

You know what doesn't get the credit? Give you a hint, it's what you'll try to give the credit. https://t.co/pVoXuBu9pv

— Alex Berenson (@AlexBerenson) July 26, 2021
Yet, despite this, CNN says top US health officials gathered Sunday night to review the new data and evidence on delta's transmissibility. An announcement could land as soon as Tuesday, while others told CNN that it likely won't arrive until later in the week.
This isn't the first hint we have received about a possible revision: Dr. Fauci clarified on Sunday that updating mask guidance is under "active consideration." Dr. Fauci also warned that the US government is going in "the wrong direction" as the number of new COVID cases remains stubbornly high.
Last time the CDC updated its mask guidance was two months ago when they first said people could go without masks outdoors and inside if they have been fully vaccinated. Since then, people have been working out at gyms without masks in most of the US. A reversal of these types of privilege would almost certainly outrage all those adults who got the vaccine solely so they could avoid the restrictions.
As more super-liberal cities and states adopt what he described as "unscientific" regulations, Fox News' Sean Hannity slammed Dems for breaking their promise that the vaccine would mean individuals no longer need to wear masks in public or take other precautions
"The mask-obsessed 'Left' isn't following the science…and they're trying to blame conservatives for it," Hannity said. Berenson has also ridiculed certain local officials for their almost mystical justifications of the mask guidance.
4 Reasons I'm Wearing a Mask Again:

1) I'm scared

2) I believe in magic

3) I work for the Atlantic

4) I love public virtue signals@KatherineJWu pic.twitter.com/OLqHK9uImT

— Alex Berenson (@AlexBerenson) July 22, 2021
Meanwhile, the White House told CNN that it would be "up to the CDC" to change regulations and guidance surrounding mask use.
Earlier this month, LA County adopted new mandatory masking requirements calling for masks to be worn when in public (despite President Biden's claim that "you can't get COVID" if you've been vaccinated).
PRES. BIDEN: "You're not gonna get COVID if you have these vaccinations." pic.twitter.com/5x1xfQryIX

— Breaking911 (@Breaking911) July 22, 2021
That is, unless you're in Israel.
Do you know someone who would benefit from this information? We can send your friend a strictly confidential, one-time email telling them about this information. Your privacy and your friend's privacy is your business... no spam!
Click here and tell a friend!