Courtesy of ZeroHedge View original post here.
One of the main reasons sophisticated, wealthy investors would pick hedge funds over private equity firms to manage their wealth – despite variances in fee schedules of course – is access to near immediate liquidity: unlike PE funds which lock up capital for years, hedge funds provide clients with the option to cash out just days or weeks after sending in their redemption request – after all, the money is in "public" equities which can be sold with the flick of a switch. However, as a result of the unprecedented bifurcation of the hedge fund market, where the vast majority of hedge funds continue to underperform their benchmarks and are bleeding AUM while a handful of giant multi-strat funds are swimming in profits, have long lines of willing investors and can therefore change the rules at will without fear of losing clients, access to liquidity at the best performing hedge funds is about to become a thing of the past.
Take multi-strat giants Millennium and Citadel. Starting with the former, Bloomberg reports that Izzy Englander's $57 billion hedge fund told investors last month that it had raised a record $10 billion for a fund that takes a minimum of five years to exit. That means that if you send in your redemption notice now, you may get your money some time in 2026, if you are lucky.
Ken Griffin's $43 billion Citadel also updated its liquidity terms this year for all investors, reverting to a formula that under certain circumstances limits quarterly withdrawals to 6.25% – meaning it would take 16 quarters (four years) to fully pull out - unless the client is willing to pay a fee. Citadel's funds are currently closed to new investors, so if one quits, returning later could prove difficult.
Not surprisingly, both Millennium and Citadel are two of the world's most levered hedge funds, with regulator assets orders of magnitude higher than their AUM. As such they are extremely sensitive to any change in underlying liquidity – as a reminder the repo crisis of 2019 was the result of repo funding stress at the world's biggest hedge funds. As such it is easy to grasp why these extremely levered hedge funds will do everything in their power to avoid a "run on the fund" during times of market stress which could lead to an overnight collapse in the fund if it takes place during a market crash.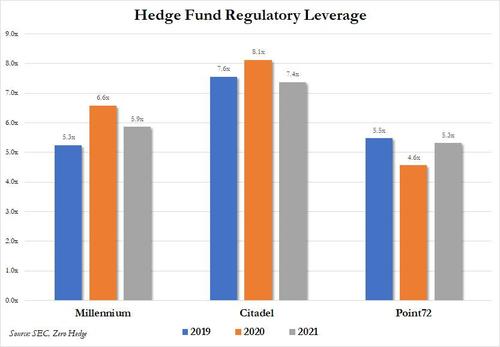 Millennium and Citadel are not the only ones that can impose whatever terms they want on their naive clients, who are willing to accept never again seeing their money because if there is a crash and either of these funds is impaired or worse, has an LTCM moment, the probability that the money will be there in 5 years is nil. According to Bloomberg, at least four other large multi-manager funds have changed their terms or started new share classes this year, all extending the time it takes for investors to get out.
But while it is obvious why funds would seek such long lock ups, why are clients agreeing to this format? Well, as Bloomberg explains, investors are complying because, in an industry where many funds have underperformed, these managers produce the steadiest returns and to the winner go the spoils.
"Part of it is just because they can," said Rishabh Bhandari, a senior portfolio manager at Capstone Investment Advisors, which runs multi-strategy funds as part of its $9.4 billion portfolio. Bhandari added that investments on average have become riskier and less liquid.
"As a result, investors are comfortable and willing to exchange longer lock-ups and illiquidity for returns and alpha," he said, and he is spot on. The problem is that few of the current breed of investors has any idea just how great the need for liquidity is when there is a crash, and just how painful it will be to remember that you have signed away your rights to recover your money when you need it most.
The manner in which firms are steering clients varies, ranging from unilaterally changing terms to offering lower fees as an incentive to switch. According to Bloomberg, for the past three years, Millennium has returned cash to clients from its shorter-term fund – which now accounts for about one quarter of assets – with a record $15 billion being sent back in 2021. Investors have the option to put that money in the longer-term structure. Alternatively, they can just buy meme stonks on their own (or cryptos, and make much more money in the long run without paying the 2 and 20 fees).
Another fund, Schonfeld Strategic Advisors which manages $10.5 billion in external capital, is still offering a shorter-term share class, but it will give clients a fee break if they opt for one that takes three years to exit. The fund's fees range from 12% to 20%, according to the firm's most recent regulatory filing.
New clients at the $12.4 billion Hudson Bay Capital Management can only invest in multi-year share classes, the longest of which offers a fee break of 0.25 percentage point. The firm told clients in a recent report that existing investors will be grandfathered under the current terms, and any new money they put in will have those terms through March 1.
Other large multi-manager firms haven't followed suit just yet, but they will. They include Steve Cohen's Point72 Asset Management, which has collected much of its assets through banks that cater to wealthy individuals, and is still allowing investors to pull 25% a quarter. That means it can take them as little as a year to get all their money back.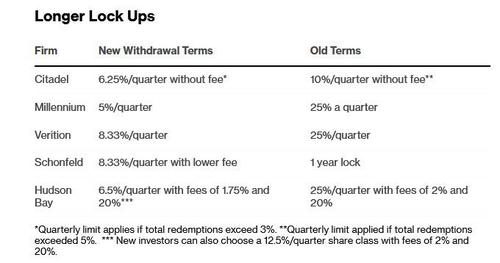 Do you know someone who would benefit from this information? We can send your friend a strictly confidential, one-time email telling them about this information. Your privacy and your friend's privacy is your business... no spam!
Click here and tell a friend!