Courtesy of ZeroHedge View original post here.
Authored by RealClearInvestigations Editors,
Revised 1/4/2022, originally published 11/9/2021
The one-year anniversary of the Jan. 6 Capitol riot arrives this week with Americans still sharply divided over the afternoon-long episode's significance and severity as Democrats, hemorrhaging support and facing the loss of Congress in this year's midterms, sternly present a media spectacle of public events to emphasize what they see as the threat posed to democracy by Donald Trump and his party, as represented by that day.
There is no comparable scrutiny of the nationwide summer 2020 riots over George Floyd's murder, protests endorsed by many on the left amid a virulent pandemic — although polling has shown that a large majority of Americans support examining the circumstances of both events.
RealClearInvestigations has developed the comparison database below allowing readers to draw their own conclusions — including the all-but-forgotten riot in Washington on Inauguration Day 2017, as protesters challenged Trump's election and legitimacy.
Highlights:
The summer 2020 riots resulted in some 15 times more injured police officers, 23 times as many arrests, and estimated damages in dollar terms up to 1,300 times more costly than those of the Capitol riot.

Authorities have pursued the largely Trump-supporting Capitol rioters with substantially more vigor than suspected wrongdoers in the earlier two cases, and prosecutors and judges alike have weighed Capitol riot defendants' political views in adjudicating their cases.

Dozens of accused Capitol rioters have been held in pretrial detention for months, where they have allegedly been mistreated.

In the summer 2020 riots, the vast majority of charges were dismissed, as they were in the Inauguration 2017 unrest. Prosecutors have dropped a single Capitol riot case.
A Resource on Violent Political Unrest, Continually Updated



Click to expand: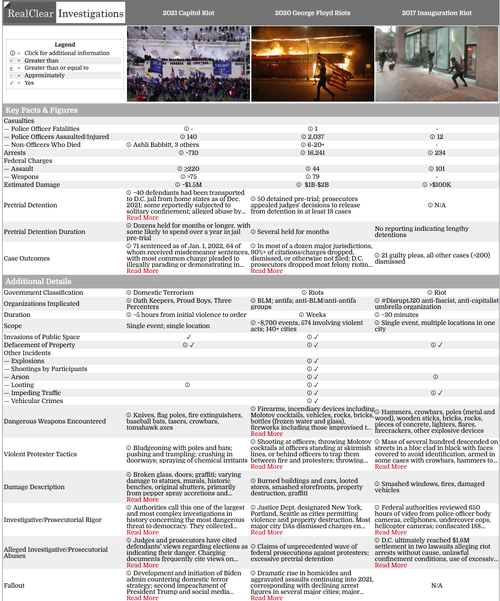 Update Log
Dec. 23, 2021
(2021 Capitol Riot updates exclusively)
Refreshed Key Facts & Figures — Arrests, Assault, and Weapons charges with updated Department of Justice data

Provided updated detail on Key Facts & Figures — Arrests regarding nature of charges

Refreshed Key Facts & Figures — Pretrial Detention to incorporate revelations regarding allegedly inhumane treatment of Jan. 6 defendants in D.C. jail

Refreshed Key Facts & Figures — Pretrial Detention Duration data

Refreshed Key Facts & Figures — Case Outcomes with updated Department of Justice data; provided additional detail regarding judges' treatment of cases and length of sentences handed down

Provided additional detail on Investigative/Prosecutorial Rigor, noting the federal government's posture that crimes of Jan. 6 "defy statutorily appropriate comparisons to conduct in other cases that occurred before" that day

Provided updated detail on Alleged Investigative/Prosecutorial Abuses demonstrating political nature of certain prosecutions; federal government's withholding of footage allegedly demonstrating police misconduct, allegations of mistreatment of and retaliation against at least one prisoner by judge overseeing case; judges' questioning of leniency in prosecutions and handing down of stiffer sentences than those called for by the federal government

Provided updated detail on Additional Details — Fallout with respect to the Jan. 6 Select Committee's activities and the responses of those being probed by it, including contempt charges leveled at Steve Bannon and Mark Meadows; lawsuits filed by Meadows, Gen. Mike Flynn, John Eastman and others; attempts to interview sitting congressmen Republican Reps. Scott Perry and Jim Jordan; and former President Donald Trump's pending litigation concerning withholding documents requested by the committee on executive privilege grounds
Oct. 26, 2021
(2021 Capitol Riot updates exclusively)
Do you know someone who would benefit from this information? We can send your friend a strictly confidential, one-time email telling them about this information. Your privacy and your friend's privacy is your business... no spam!
Click here and tell a friend!