Courtesy of ZeroHedge View original post here.
In the weeks before Microsoft made the surprise announcement it was acquiring the troubled Activision, the market was rife with speculation that Berkshire itself could make a play – no pun intended – for the foundering video game company whose stock had tumbled so much in the fourth quarter amid poor earnings and sexual harassment scandals, many viewed it as a deep value play suitable even for Warren Buffett. In retrospect, that didn't pan out, but as we learned today after the quarterly 13F bonanza hit, Berkshire was buying Activision in Q4 when the stock was tumbling, and as of Dec 31, Berkshire owned 14.658 million shares of Activision stock, representing 1.9% of the shares outstanding. Assuming Buffett bought around the average price for the quarter, or $65, Berkshire made around $250 million on that purchase alone which is not a bad payout for a few weeks worth of work (one wonders if the information that Buffett was buying somehow leaked, and prompted Microsoft's unexpected acquisition of ATVI).
Besides Activision, Berkshire had just one other new stake in Q4 according to the 13F: it purchased 107.1 million shares of Nubank Class A stock valued at $1 billion, representing 3.1% of shares outstanding.
As Berkshire was entering new stakes in Activision and Nubank, it was also exiting two legacy holdings: Teva, where Berkshire sold its remaining 42.8 million shares valued at $416.8 million, and Sirius XM Holdings, where it liquidated 43.7 million valued at $266.3 million.
Besides the new and exited positions, here are some other notable changes in the quarter:
Added to its holdings in Chevron Corp.
Decreased its stake in AbbVie Inc.
Apple Inc. was the biggest holding, representing 48% of disclosed assets
Berkshire added to its holdings in four names, including:
Chevron: 9.54 million shares, up 33% to 38.2 million valued at $4.49 billion, representing 2% of shares outstanding
RH: 24,580, up 1.4% to 1.82 million valued at $973.6 million, representing 8.5% of shares outstanding
Floor & Decor Holdings Inc.: 26,846, up 3.3% to 843,709 valued at $109.7 million
Liberty Media: 7.466 million shares, up 12.9% to 65.535 million, valued at $3.358 billion.
Buffett cut his holdings in eight names, most notably card processors Visa and Mastercard and his recently acquired pharma positions (Abbvie, Royalty Pharma and Bristol-Meyers):
AbbVie: 11.4 million shares, down 79% to 3.03 million valued at $410.7 million
Bristol-Myers Squibb Co.: 16.8 million, down 76% to 5.2 million valued at $324.4 million
Royalty Pharma Plc Class A, Mastercard Inc. Class A, Kroger Co.
Visa Class A: 1.27 million, down 13% to 8.3 million valued at $1.8 billion
Mastercard: 302,000, down 7% to 3.987 million valued at $1.43 billion
Charter Communications Inc. Class A: 371,685, down 8.8% to 3.83 million valued at $2.5 billion, representing 2.1% of shares outstanding
Marsh & McLennan: 2.34 million, down 85% to 404,911 valued at $70.4 million
There were no changes among Berkshire's top five holdings:
Apple: unchanged at 887.1 million shares valued at $157.5 billion
Bank of America Corp.: unchanged at 1.01 billion valued at $44.9 billion
American Express Co.: unchanged at 151.6 million valued at $24.8 billion
Coca-Cola Co.: unchanged at 400 million valued at $23.7 billion
Kraft Heinz Co.: unchanged at 325.6 million valued at $11.7 billion
While the most notable changes in the top 10 is that Chevron is now Berkshire's 9th largest holding, worth $4.5 billion as of Dec 31.
Here is the full summary of Berkshire's stock holdings as of Dec. 31: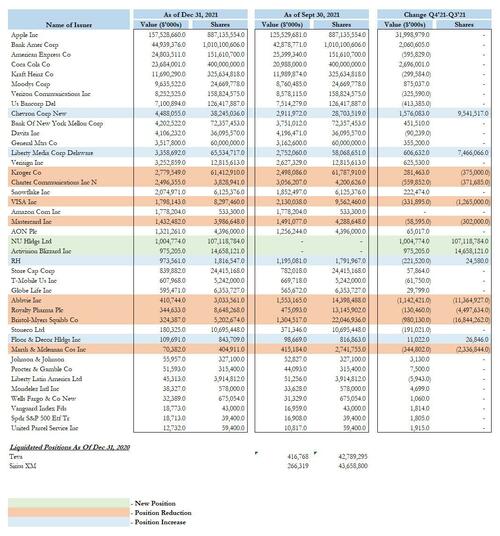 Do you know someone who would benefit from this information? We can send your friend a strictly confidential, one-time email telling them about this information. Your privacy and your friend's privacy is your business... no spam!
Click here and tell a friend!