Courtesy of ZeroHedge View original post here.
While the core drivers of (very negative) risk sentiment today have been the re-escalation of the geopolitical tensions in Ukraine coupled with Goldman's unexpected admission that "the economy may be slowing more than expected", it is quite likely that all this could flip with just one headline out of the White House as we have observed on several occasions in recent weeks, when geopolitical sentiment reversed on a dime (although as Zoltan Poszar today suggested, a crash may be precisely what Powell and Biden both want to cap inflation, even though all a stock market crash would achieve is sending the economy into a recession).
But below the barrage of conflicting headlines, a just as fierce tug of war emerges when looking at the sharply polarized technicals, flows and dealer "greek" positioning, which are far more powerful and persistent than geopolitical newsflow.
A good recap of many of these forces comes courtesy of Nomura's Charlie McElligott who, in his usual florid style, first looks at events earlier this week, writing that the rally which we have seen off the Monday lows was largely from the "squeeze fodder" of Dealer "short hedges" around the "biblical demand" for Index downside over the past few months (iVol absolutely collapsed by mid-week) as well as hedge fund dynamic covering in their recently grossed-up "short books" – as a reminder last week we noted that according to Goldman Prime the cumulative short flow within the hedge fund sector since 12/31 has been the largest in more than 10 years…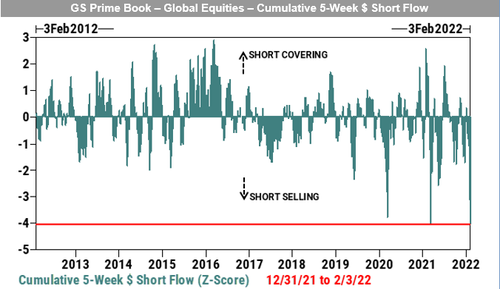 … which has been more mechanical, like virtually everything else in this flow and positioning driven market, than anything else (and certainly not about any sort of "sentiment upgrade").
So coming into today, equities continue to grind everybody in both directions, according to McElligott who notes that "a full "Resevoir Dogs" standoff between the bleeding deleveraging vs occasional multi-day bursts higher (which have continued to be sold into). Why?  Because as the Nomura strategist answers, "Holy cow we have a ton of "push / pull".
Major US Index / ETF options continue showing Dealers remain in "Short Gamma" territory vs spot, which means "chasey" momentum-igniting accelerant flows from Dealer hedging into moves and creating overshoots in both directions (buying rips, selling dips)
Deltas associated with said options positioning remains historically negative (short), which means that by-and-large, the ongoing concerns and downside hedging demand from clients keeps Dealers Net sellers of futures as they maintain their own hedges…but then this too provides massive "covering fodder" on rallies away from those OTM Put strikes.
As we are "holding"/"coiling" here around the 200DMA (4440) in the eminis, we are also seeing the gradual approach of the "Gamma Neutral / Zero Gamma" line for SPX at 4504 in the same approx location, just a sneeze away and closer to more "stabilization."
More importantly, CTA "cover" triggers remain 3 to 5% overhead (suggesting a ramp could accelerate fast) while Vol Control is so de-allocated, that the natural reset lower/mean-reversion in smaller daily SPX ranges will drive mechanical buying too as both are then set to act as synthetic "Short Gamma" and buy into rallies.
Multi-month systematic deleveraging/shorting has massively weighed – CTA Net Exposure at just 4%ile, Vol Control at current historically "extreme low" allocation of 15%ile, off the back of SPX 1m rVol 98.8%ile and 3m rVol at 99.8%ile
All this it taking place alongside Hedge Fund multi-month bleeding "Net Down" to just single-digit percentiles and at the lows of the past year and only 45ish percentiles over the past 5 yrs, while "pressed" Short books have "Grosses" back up a bit around 70%ile the past 5Y and 90%ile since 2010 (translation: most hedge funds are still largely short).
Paradoxically, as discussed yesterday, this HF net shorting is taking place versus ongoing record institutional and retail inflows into Equities funds (and out of Cash and Fixed-Income as "source of funds"), because as McElligott notes, investors are aware of the generic "what works/ what doesn't back-test into an inflation overshoot regime" (see Global Equities inflows per EPFR @ 1w chg 99%ile; 1m chg 98 %ile; 3m chg 97%ile; 1y chg 98%ile, while US Equities Fund flows are 1w 99%ile, 1m 97%ile, 3m 98%ile and 1y 99%ile).
But the biggest challenge according to the Nomura strategist  is that the Fed is "shorting a Strangle" themselves (a point underscored by Zoltan Pozsar earlier today), at least out the next 2-4 months as more inflation data comes-in and sets the "tightening" trajectory/lift-off path, because the data won't just set the magnitude of the "front-loaded" hiking and BS run-off, but also too sets market sentiment based upon a view of whether we are "hiking into a slowdown" (and cries of "Policy Error") something even Goldman admitted today, or a more manageable, if increasingly unlikely, "Fed hiking into a boom" outlook.
It is this Tarantino-esque standoff that keeps stocks in a purely tactical "range trading" environment in the near-term, with 4,100 on the downside and 4,500 on the upside.
McElligott also touches on an increasingly sensitive topic – the location ofthe Fed put – and echoes what we said yesterday, that the Fed Put still does exist, although as the FOMC Minutes hinted yesterday, it is substantially lower, somewhere below 4000 SPX, "hence plenty of room to still fall with no FOMC policy shift."
But more importantly, the Fed is also selling Calls ~ 4700 / 4800 (figuratively, one imagines), because any rally back to those levels would see an impulse easing in Financial Conditions that is outrageously counterproductive for their "hawkish" efforts; thus any rally back towards prior S&P500 highs would "absolutely force the Fed to take what the market is then "gifting" them and increase their "hawkish rhetoric" to tamp back down on financial conditions again" resetting this entire sequence again (and especially if Zoltan is right, and the Fed now is hoping to crash stocks into the mid-term election just to contain inflation).
So with all that in mind, what does one do?  Well, according to McElligott, stay light, and dynamically trade Gamma around very short-dated options, or just sell that medium term ~2m-3m (wide strike) Strangle (3700-4700) alongside the Fed.
Finally, for those wondering, here is the latest dealer gamma and delta exposure in spoos, Qs, the Russell and junk bonds…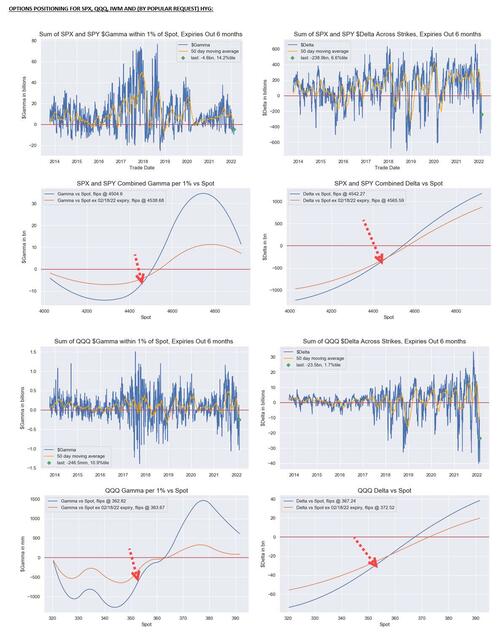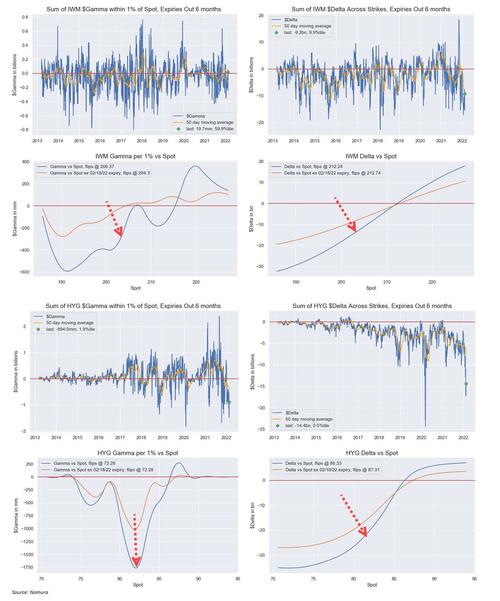 Do you know someone who would benefit from this information? We can send your friend a strictly confidential, one-time email telling them about this information. Your privacy and your friend's privacy is your business... no spam!
Click here and tell a friend!