Courtesy of ZeroHedge View original post here.
Update(9:48amET): Separatist leader Denis Pushilin has issued a formal request to President Vladimir Putin calling on Russia to recognize the Donetsk People's Republic. The Luhansk republic has simultaneously published the same request, at a moment Putin is holding an urgent session of the Russian Security Council. This followed quickly on the heels of what Russia's southern command said was a serious attempt of Ukrainian armored vehicles to breach its border, that resulted in five Ukrainians killed.
However, the Ukrainian government and army rejected the entirety of the allegations as "fake news" – rejecting that its forces are even in the area where it's said to have occurred (though without addressing the possibility that they could have been irregular forces). But Russia's FSB Director Bortnikov Russian responding by saying the Russian military "destroyed Ukrainian forces that tried to infiltrate the border and took one Ukrainian POW" – thus doubling down on the claims.
Russia now says it captured one Ukrainian soldier after repelling cross-border incursion by *two* Ukrainian military units. Kyiv denies any of this happened.

— Yaroslav Trofimov (@yarotrof) February 21, 2022
That a captured Ukrainian soldier could be in Russian custody would obviously provide verification, if true. But it would also be seen by the West as a massive escalation possibly leading to more direct NATO involvement.
Currently Putin is speaking at a live televised meeting of the council, where he started by staying Ukraine is planning not to uphold its end of the Minsk accords.
The question is also reportedly on the table of whether or in what way the Donbas region could achieve independence, even with at one point in the security council session an official raising the possibility of direct annexation. Putin said "we need to consider if we recognize the independence of the two breakaway Ukrainian regions," according to a rush translation of his words.
PUTIN: WE MUST DECIDE ON RECOGNIZING SEPARATISTS
PUTIN: WEST IS MAKING `THREATS, BLACKMAIL'
RUSSIA'S MEDVEDEV: WE KNOW WHAT WILL HAPPEN WHEN WE RECOGNIZE DONBASS INDEPENDENCE, THE PRESSURE WILL BE UNPRECEDENTED, BUT WE KNOW HOW TO FACE IT
Denis Pushilin, the head of the Donetsk People's Republic, just went on Russian TV to ask Putin to recognize it as an independent state. Looks like Georgia 2008 all over again pic.twitter.com/tm00PkRvkQ

— max seddon (@maxseddon) February 21, 2022
Putin further repeated while addressing the forum that "if Russia faces the danger of Ukraine joining NATO, the threat for our country will increase substantially." He was perhaps addressing a hugely provocative statement made by Ukrainian Foreign Minister Dmytro Kuleba to "60 Minutes" which aired Sunday.
Kuleba on a major American television show reaffirmed Ukraine's desire to enter NATO, which without doubt inflamed tensions further from Moscow's point of view…
Ukrainian Foreign Minister Dmytro Kuleba told Lesley Stahl Ukraine is not willing to abandon its goal of entering NATO to please Russian President Vladimir Putin and that he still sees "room for diplomacy." https://t.co/hqlcp4iQ5h pic.twitter.com/8CxR9PqvV1

— 60 Minutes (@60Minutes) February 21, 2022
In response to the rapidly escalating crisis, the ruble has tumbled as much as 3%, extending its worst 3-day slump since March 2020…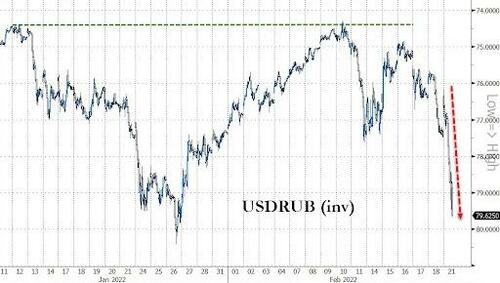 … while the Moscow Exchange tumbled as much as 10%, its biggest drop since 2008…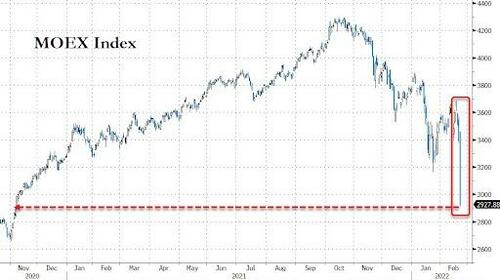 … amid a bloodbath of most Russian stocks.
* * *
Earlier:
In what provides Russia an 'opportunity' to pull the trigger on overt intervention in eastern Ukraine (assuming it's actually desiring to do so), rebel leaders in the breakaway Donetsk region on Monday urged Moscow's urgent military help amid worsening shelling from Ukrainian national forces, and as fighting escalates along the line of contact.
This as Interfax in a breaking report cites Russian defense officials who say five "saboteurs" were killed by border guards as they attempted to enter Russia's territory. Though details are as yet unconfirmed at this early point, Russia's military says Ukrainian army vehicles attempted to breach sovereign Russian territory. Ukraine is disputing the entire narrative, however, calling it fake news and that its forces are not in the Rostov area.
RUSSIA SAYS KILLED FIVE PEOPLE WHO TRIED TO VIOLATE BORDER: IFX
The spokesperson's office of #Russia Southern Military District said two infantry fighting vehicles of the Ukrainian Armed forces entered Russian territory.

— Michael A. Horowitz (@michaelh992) February 21, 2022
And Bloomberg details of the breaking report:
Russian forces killed five "saboteurs" and destroyed 2 armored personnel carriers of the Ukrainian forces who tried to violate Russian border, Russian army's Southern Military District says, according to Interfax report
The Russian MoD statement said the alleged "attack occurred in the Mityakinskaya area at 6 am this morning. Infantry fighting vehicles were destroyed by anti-tank missiles."
The separatists are now formally asking Moscow for military and financial assistance against the "Ukrainian attacks"; however, Ukraine's army is currently denying that it's conducting offensive operations in the Donbas, according to RT and regional correspondents.
Further the Kremlin is citing what it says is a major escalation, after reports that a Ukrainian shell hit and destroyed a Russian border checkpoint in the Rostov region. The Russian side now says Ukrainian munitions are landing on its sovereign soil, which some say could be used as a casus belli if Putin so chooses.
According to Russian state sources, Donbas officials and separatist commanders are intensifying their plea for Russian help, which if initiated could crucially in turn trigger heightened NATO intervention in the conflict:
Speaking to the Solovyov Live YouTube channel on Monday, Eduard Basurin, the spokesman for the Donetsk People's Militia said that Moscow should provide moral support "first of all," but that "I would not refuse any – military assistance is also needed, in different forms."

The official also claimed that there is a war taking place in Donbass, adding, "the situation isn't just difficult, it is genuinely critical."
Both breakaway republics began evacuating citizens to Russian territory, announced on Feb.18, citing fears of reprisal attacks by Ukrainian forces, with at this point a believed tens of thousands of civilians having been transferred, mostly via large passenger buses.
Russia's RIA says the alleged Ukrainian she'll hit the Neklinovsky district of Rostov. The nearest Ukrainian positions are some 20 km away, and Russian-installed Donetsk People's Republic controls the other side of that border. https://t.co/jP4S9osBNh

— Yaroslav Trofimov (@yarotrof) February 21, 2022
One Russian media report cites that about "61,000 residents of the LPR and DPR have crossed the border into Russia as part of evacuation amid escalation in eastern Ukraine."
If true this would suggest a major logistical operation still in progress amid the rapidly deteriorating security situation in the war-torn Donbas, and still with unprecedented numbers of Russian troops mustered near the border in Russia's southern regions.