Courtesy of ZeroHedge View original post here.
The main pain felt in the world from Putin's actions so far has been in Russian stocks and the Ruble, but a lack ofr substance to Biden's sanctions offered some respite late on to the risk-off day…
MOEX is down around 30% from its highs, the biggest drawdown since 2014 (but we note MOEX rallied late on after Biden's speech)…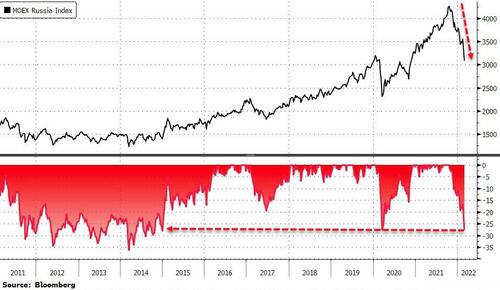 Source: Bloomberg
And the Ruble is down, but interestingly rallied late on today as Biden spoke prompting markets to unwind some geopolitical risk premium on the damp-squid Biden release (No major banks targeted, No energy sanction beyond NS2, No SWIFT payment system threats/action)…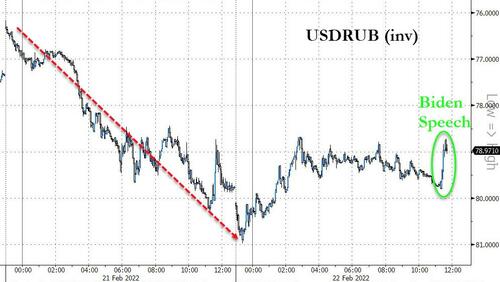 Source: Bloomberg
Gold pushed back above $1900, but is off yesterday's highs…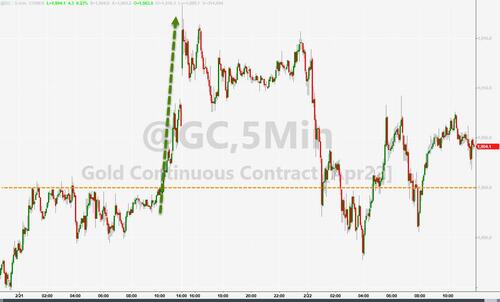 "Investors are looking for a geopolitical hedge," Matt Miskin, co-chief investment strategist at John Hancock Investment Management, told The Wall Street Journal. "The stars are aligning in essence for a gold breakout."
And options traders are piling into bets that Gold tops $1950 by March…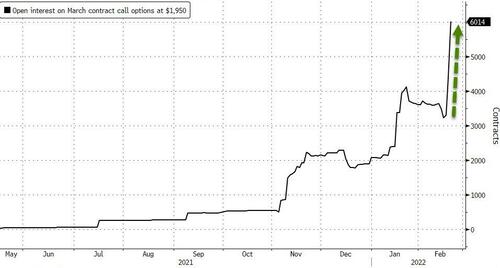 Source: Bloomberg
Oil prices shot higher on Putin's speech then faded back all day (The Russia push higher vs Iran pull lower battle continued)…
Brent neared $100…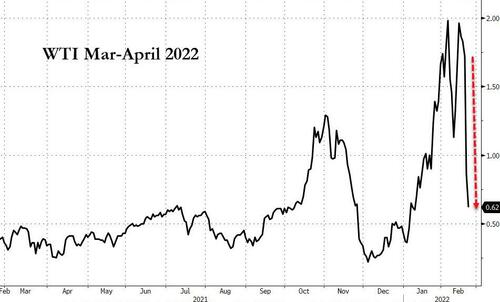 WTI neared $95…
The prompt spread collapsed in WTI…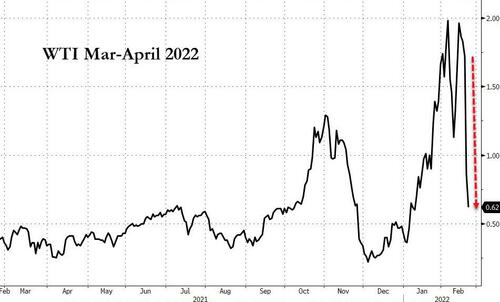 Russia Sovereign Risk spiked to its highest since Feb 2016…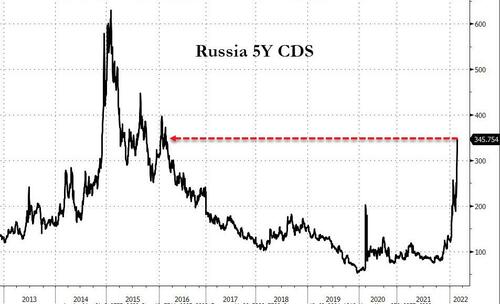 Source: Bloomberg
US Stocks plunged overnight (futs) on Putin's speech, did the normal BTFD bounce all the way back to unchanged but as Europe closed the selling reaccelerated, taking stocks to the lows of the day. Then Biden spoke, said nothing of note, and stocks rebounded all the way back to unchanged. But then headlines of Zelensky calling up reservists and Biden moving a infantry, tanks, and F-35s to NATO's eastern flank and stocks tumbled. The Dow ended near the lows of the day but all the majors were down around 1-1.5% only after all that…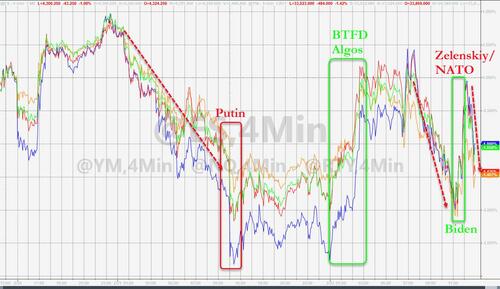 The S&P dropped (briefly) into correction (-10%)…
Source: Bloomberg
Credit Spreads continued to blow out…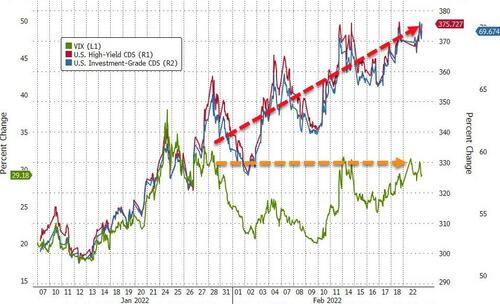 Source: Bloomberg
Treasuries were sold across the board (despite the apparent need for a safe-haven and equity weakness) with the short-end hammered (2Y +9bps, 30Y +1bps)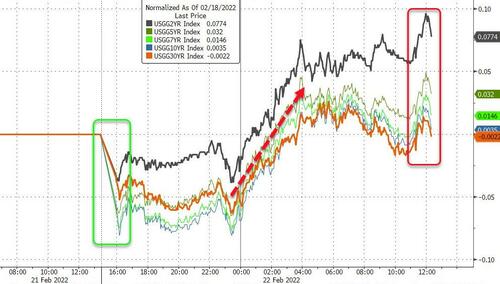 Source: Bloomberg
A solid 2Y auction did not help (2Y yields were 14bps off their lows)…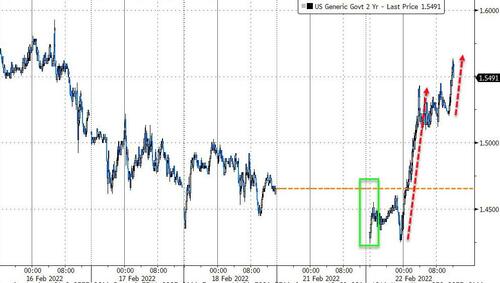 Source: Bloomberg
The dollar chopped around all day but basically went nowhere…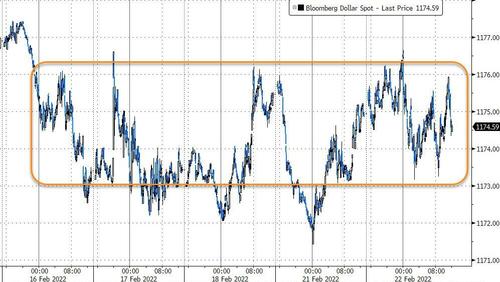 Source: Bloomberg
After losing $40k late last week, this weekend's malarkey did nothing to help Bitcoin, which ended lower over the weekend but popped notably today…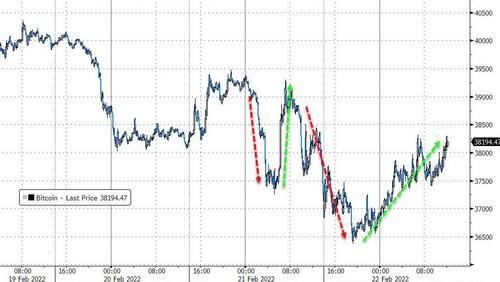 Source: Bloomberg
Additionally, nickel and Aluminum prices soared with the latter nearing record highs (Russia is responsible for 6% of global aluminum supply and 7% of mined nickel)…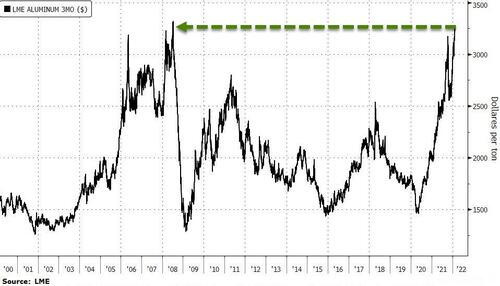 Source: Bloomberg
Finally, we would note that amid all this increased geopolitical tension, the market priced in an even more hawkish Fed with Dec odds of 7 hikes back up at around 40%. March is now pricing in a 40% chance of a 50bps hike (from 20% Friday)…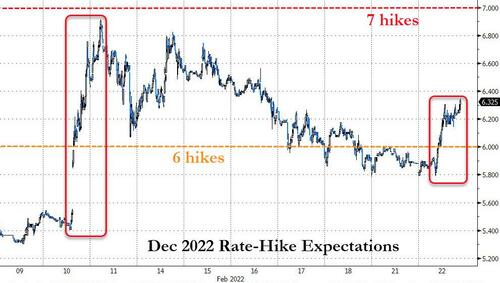 Source: Bloomberg
So don't expect the Powell Put anytime soon.
And brace for $4-$5 gas at the pump…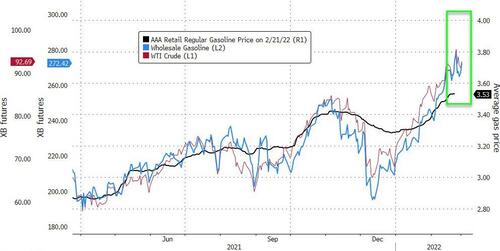 Source: Bloomberg
That won't help Biden's ratings.