Courtesy of ZeroHedge View original post here.
In the bottom-up hierarchy of retailers catering to the lowest rungs of US society, there is Dollar Tree and Dollar General, and somewhere in their immediate orbit, is Rent-a-Center, which caters to those Americans who can't afford to purchase outright, and whose credit is too low to finance, and are thus stuck renting out any certain "aspirational" product – like, say, a microwave. In short, its captive audience is America's lower and lower-middle classes.
And unfortunately for the US, it is this lowest ring on the social ladder that is now getting decimated.
After the close Rent-a-center reported earnings that were simply horrendous: the company said that in Q4 it generated adjusted EPS $1.08 which badly missed estimates of $1.61 on revenue of $1.17 billion, which also missed the estimate of $1.2 billion. But it was the company's forecast that was catastrophic: the company now sees adjusted EPS of $4.50 to $5.00, far below the consensus estimate of $7.04; its revenue guidance of $4.45 billion to $4.60 billion was likewise a disaster compared to the estimate of $5.27 billion, with adjusted Ebitda in the $515 million to $565 million range, far below the estimate of $747.4 million.
What caused this collapse? The following commentary from the earnings call explains it:
"In the fourth quarter, the combined effect of significantly reduced government pandemic relief, decades-high rates of inflation, and supply chain disruptions impacted our target customers' ability to access and afford durable goods, which negatively impacted our results. We anticipate these external headwinds will continue for the foreseeable future, resulting in year-over-year declines in revenue and earnings for 2022, on a pro forma basis, while free cash flow should increase for the year."
Translation: after a year sustained by seemingly endless "stimmies" the US consumer is now hitting a brick wall, with the poorest getting hit first and hardest. This is precisely what both we, and Morgan Stanley's Michael Wilson have been saying for months, and it is this sharp and unexpected hit to consumption that is behind the sharp slowdown in the US economy which has little to do with the Omicron hiccup in December and January.
But how is that possible – after all recent retail sales have been soaring and trending much higher than they were before covid, which to most economists has been a confirmation of just how durable US consumption is. Well, no: one look at the trendline comparison in retail sales and real disposable personal income shows just how unsustainable and artificial the bubble in retail sales has been.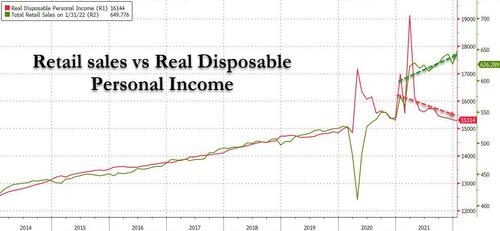 And now that stimmies are gone, disposable income is collapsing. As for retail sales, the reason why they have been red hot is simple: with US consumers expecting even higher prices in just a few months, they are buying now to avoid paying even more in the future.
More ominously, the Rent-a-Center commentary confirms what Morgan Stanley's Michael Wilson noted last week when he predicted a sharp slowdown in the economy when he noted that "whether it's the payback in demand, or sharp decline in real personal disposable income, the rate of consumption is likely to disappoint expectations in the first half of 2022. Furthermore, this weaker consumption is arriving just as supply chains are finally loosening up, something that is likely to be aided by the end of Omicron and the labor shortages it has created in the transportation and logistics industries."
And while we wait to see the market to finally realize just how serious the coming slowdown is, the 40% collapse in RCII stock price after hours will serve as an ominous harbinger of just how big and painful the "repricing" of the US consumer, and economy, will be in the coming months.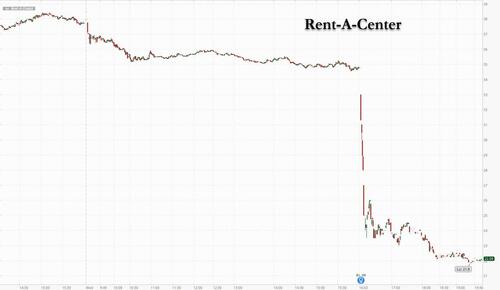 Do you know someone who would benefit from this information? We can send your friend a strictly confidential, one-time email telling them about this information. Your privacy and your friend's privacy is your business... no spam!
Click here and tell a friend!