Courtesy of ZeroHedge View original post here.
After yesterday's epic rollercoaster in rates, where we first a dual VaR shock, first in the front-end of the curve as eurodollar exploded higher sending rate hike expectations plunging, and then moved to the long end with coupon bond yields crashing, especially in Germany, where the 10Y bund saw the biggest one day drop in yields in a decade…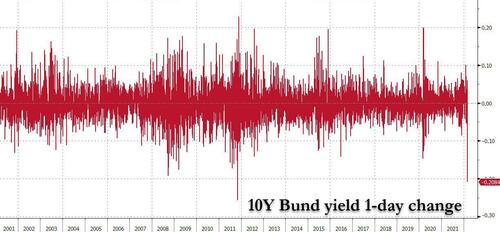 … today we are seeing a sharp reversal in much of yesterday's move – to be expected after Biden's SOTU address yesterday when he again tasked Powell with easing inflation (even if it means an even sharper economic slowdown, although Biden's speechwriter was unfamiliar with the trade-offs of monetary policy and so this particular part wasn't mentioned) with Dec 22 Eurodollars sinking, and leading to one of the sharpest one day drops in the past year, although we are still nowhere near where we were just last week when absolutely everyone on Wall Street was convinced the Fed would hike as much as 7 times this year alone, and who knows how much in 2023.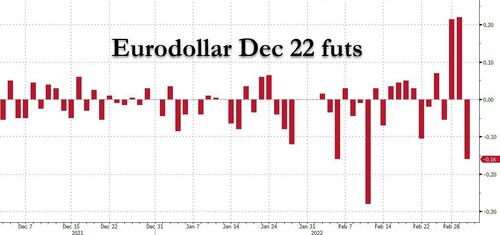 As Charlie McElligott, who correctly called yesterday's dual VaR shock, writes, the highly stagflationary – and obvious risk-off- implications of the next phase of the Russian invasion of Ukraine – has "effectively then seen the market aggressively pricing-OUT the prior implied "front-loaded" policy tightening across global CBs (e.g. March Fed now pricing firm 25bps, as 50bps having been entirely erased…while full year '22 is now down to ~5 hikes from touching 6.8 intraday back on Feb 14)."
That said, as McElligott notes, with DM breakevens continuing to push higher alongside with gapping Commodities (European Nat Gas to new record highs, while Crude and broad Ags are ripping yet again), the stunning move lower of Real Yields into more negative territory, which we noted yesterday and which today has persisted with the 10Y real trading just around -1%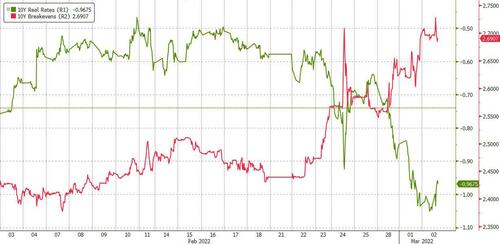 … has perversely only increased the need for CB hiking, "as their already brutal "inflation problem" is set to go exponential."
To be sure the Fed is aware of this, and is why both Powell and Bullard made the case for staying the course on a March rate hike (and much more tightening), a case made even more pressing by the latest fresh "beat" in Eurozone Flash Inflation this morning (core "catching up" with headline): where headline CPI soared to 5.8% yoy, up from 5.1% yoy in January and smashing expectations of 0.6% (EU Feb Core CPI 2.7% yoy vs 2.3% yoy).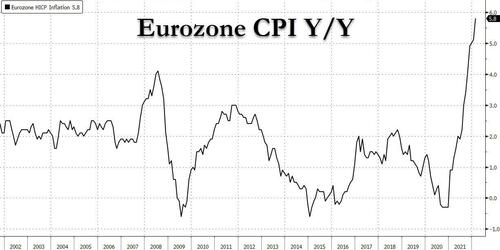 It is this divergence between soaring inflation and the threat of sharply slower growth that Jerome Powell steps into the spotlight with his Humphrey Hawkins Congressional testimony today, where according to McElligott he can attempt to "thread the needle" between the two purported "policy error" narratives:
Powell can reset the conversation back on the US Labor- and Inflation- realities which necessitate liftoff and BS run-off and get the "animal spirits" working again for hawkish trades (particularly with NFP and CPI looming over the next 1w)—as this is the "Fed behind the curve on inflation" policy-error which has to be addressed domestically
While at the same time, Powell can acknowledge that the geopolitical ramifications of Ukraine / Russia ("higher uncertainty") could in-fact alter the distribution of the Fed's tightening path into something that may help him "thread the needle" for risk assets, tamping-down on the worst of the "tightening into a slowdown / recession" or "tighten until it breaks" left tail narrative in the market
Of course, both of these options are equally as bad, and have diametrically opposed "policy error" potentials and as the Nomura x-asset strategist notes, "really just describe a chicken-or-egg worldview dynamic—the reality is, recession / slowdown risks emerge because the Fed has to address their primary focus on their inflation mandate, which continues to over-realize and is creating negative pressures in the economy…. especially where IF growth were to slow precipitously in the future, the Committee would need higher interest rates to cut from it comes time to loosen policy from again."
Needless to say, this has been our main point for the past 6 months, and one way or another it will soon get resolved, although there may be a handicap: as McElligott reminds us, the Fed does NOT have a "growth" mandate (although Powell will hardly be happy when Powell is accused to sending the US into a recession, hence "lose lose") and easing financial conditions have actually counter-productively been easing vs Biden's raging inflation problem, so the Fed will have to get back in hawk mode soon into the seeming "peak inflation" window of 1Q22, which in-light of the current Commodities pain, could again be extended further-out into 2022.
In the meantime, Charlie asks readers to imagine the following scenario:
"based on the above rationale, it is an entirely plausable scenario that we see a "still tilted hawkish" message from Powell today, which could then be followed by "upside beats" in both NFP (Friday) and CPI (next Weds) and which could see Rates zooming higher again, especially with such a cleaner positioning profile in the trade—which of course would be "pure pain" for Macro PMs who were just tapped-out of the "correct" position and thesis over the first two days of this week, before crowding and the geopolitical deterioration saw their PNL get wiped."
Indeed, more pain all around.
So what does all this mean for stocks? Well, between the direct causal links and the market's endogenous reflexivity, McElligott is close to throwing up his hands in trying to predict short-term moves, voicing what everyone else thinks, namely that "equities are exhausting, I hate to even write about them now, as I'm largely repeating myself." So what does he think?
We are seeing client "range- / day- trading" via very short-dated / highly convex options which keep us lunging around, as Dealers remain embedded in "short Gamma, short Delta" dynamic: customers buying 0 day-to-expiry or weekly type downside optionality because of the tightening and risk-off environment which presses into down days, but then are quick to monetize if hedges go ITM and then turn to actual short-dated Upside / Call buying playing "Long Delta" for a bounce…which sees other hedgers quick to cover / unwind into spot rallies, as downside Puts "bleed" and Dealers cover their hedges, while Calls are then monetized and pivoted away from, with "Short Delta" trades then re-engaged.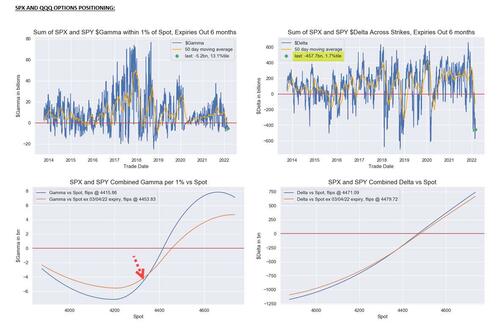 That is exactly what Nomura has seen the past few days: Thursday and Friday were huge "Long Delta" days (sell Puts / buy Call), but then as we rallied / stalled-out, traders yesterday were quick to go "Short Delta" (sell Calls / buy Puts)…rinse, repeat.
This is driven not just Geopol headlines, but also too the realization that the Fed is de facto "short strangles": the "Fed Put" likely still exists, but according to CME it is "struck waaaaay down from spot" (somewhere around 3800- 3900 according to BofA) because of the inflation issue and a policy tightening / BS reduction cycle which has-yet to even begin; but this then too sees the Fed effectively "selling OTM Calls" if the market were to push back anywhere close to prior highs, as any time we rally back, financial conditions ease and forces the Fed to increase their "hawkish inflation" rhetoric to tighten FCI and push Real Yields higher / less negative
This macro chop drives the intraday volatility chop when then creates a dynamic where traders are left with no choice but to "de-gross / VaR-down" as both long- and short- books push through risk limits continually…so within Equities, it's why Nomura is seeing its "1m Reversal Factor" strategy +4.3% over the past 5 days, while our "HF L/S" proxy (Crowded Longs vs High Short Interest) is -1.7%, as everyone is whipsawed out of legacy positions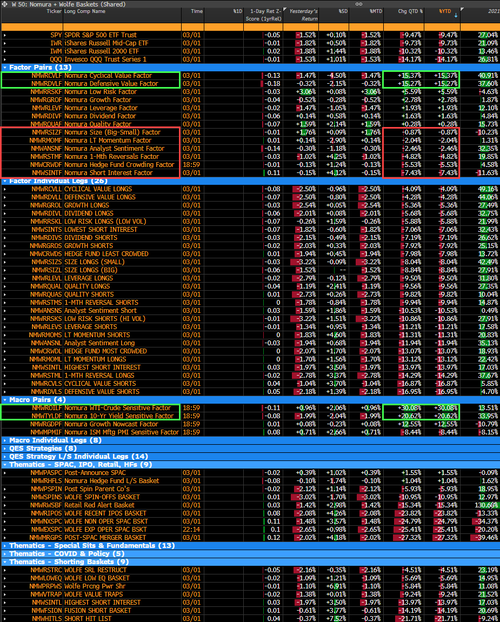 Meanwhile, brutally high absolute levels of Vol (SPX ATM rank, VIX strip out into 30s as its everybody's "convexity" hedge) have increasingly made "dynamic hedging" with futures a preferred play that everybody is seemingly doing—but by nature, this is a form of "synthetic short Gamma" as traders short into down trades, and covering into rallies
Meanwhile, adding to the confusion, the market is seeing heavy support in the form of large corporate buyback flows being seen around Street repurchase desks running HIGH 2x's recent activity, a risk backstop further boosted by the utterly de-allocated "Vol Control" segment, which has now bought +$9.8B of US Equities over the past two sessions (89.4%ile 2d chg), as trailing 1m rVol has rolled-over from > 25 to now 22.5 (still 98.1%ile), and still with further buying expected by the end of the week.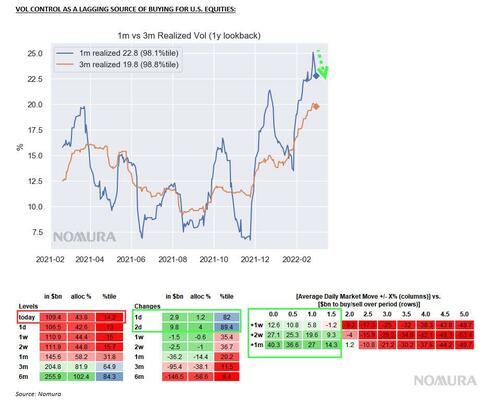 Finally, those wondering what the trend-followers are doing after the recent chaos, here is the latest CTA position estimates from McElligott.
Do you know someone who would benefit from this information? We can send your friend a strictly confidential, one-time email telling them about this information. Your privacy and your friend's privacy is your business... no spam!
Click here and tell a friend!