Courtesy of ZeroHedge View original post here.
It has been another rollercoaster session, which saw futures tumble around 7pm ET following news that a Ukrainian nuclear power, Europe's largest, had caught fire after alleged Russian shelling, and even though it largely turned out to be a false alarm with no damage to the NPP reactors or any radiation leaking, futures still have failed to recover much of the loss and were trading about 1.1% lower on concerns that the escalation of the war in Ukraine could have a stronger economic impact than anticipated. Contracts on the Nasdaq dropped 0.8% and Dow futures were 0.93% lower. As futures sold off, treasuries and gold climbed amid haven demand, while oil headed for its biggest weekly surge in almost two years. A dollar gauge rose to its highest level since July 2020, while the euro extended its decline below $1.10 for the first time since May 2020.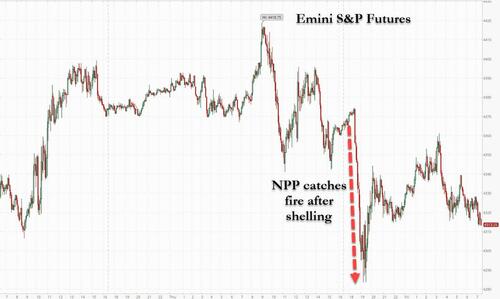 "The market mood is deep red," said Ipek Ozkardeskaya, senior analyst at Swissquote. "European stocks continue feeling the pinch of an escalating war, as the U.S. major indices remain under a decent selling pressure. Investors are unlikely to open or to hold a long position without putting a hedge on it."
While it is of far lower importance today when geopolitics is all the rage, investors are also awaiting the latest job data due at 830am , which may give clues about the next move from the Federal Reserve. The February jobs report at 8:30am ET is forecast to show nonfarm payrolls increase of 423k vs 467k in January; Bloomberg crowd- sourced whisper number is 401k; pace of hiring is expected to confirm Fed's assessment that the labor market is strong enough to withstand rate hikes.
"While the Fed may prove eventually more hawkish than expected on rates, it is likely to prove more prudent now on balance sheet reduction given the large impact the announcement had on the equity market," said Nordea Investment Funds S.A. senior macro strategist Sebastien Galy.
In premarket trading, Gap gained 7.4% after the clothing retailer reported 4Q results and provided an FY adjusted EPS forecast that topped the average analyst estimate. Other notable premarket movers:
Splunk (SPLK US) shares rise 1.8% in U.S. premarket trading after Dow Jones reports that Hellman & Friedman has taken a 7.5% stake.
Sweetgreen (SG US) beat estimates and the salad chain's guidance eased concerns about the Omicron variant's impact on trading. Shares up 18% premarket.
Duolingo's (DUOL US) quarterly results and guidance topped estimates, analysts say, adding they were impressed with the improvements seen in key metrics across the board for the language-learning platform. Shares rose 10% in afterhours trading.
Consolidated Communications (CNSL US) downgraded to sell at Citi following results, with 4Q "mixed" and 2022 Ebitda guidance significantly below expectations.
There was also a lot of Ukraine war overnight news:
A fire was reported at Ukraine's Zaporizhzhia nuclear power plant which is the largest in Europe amid an attack by Russian troops. Ukraine's Foreign Minister Kuleba also confirmed the nuclear power plant caught fire and said the Russian army is firing from all sides upon the nuclear plant, while he warned that if it blows up, it will be 10 times larger than Chernobyl.
Ukraine's state emergency service later stated that the fire outside the Ukrainian nuclear power plant broke out outside the perimeter and at a training building, while it was also announced that safety of the nuclear power plant was now secured and that plant fire didn't affect essential equipment.
US Energy Secretary Granholm said the department activated its nuclear incidence team and is monitoring events at the Ukraine nuclear plant. Granholm added the plant's reactors are being protected by robust containment structures and they saw no elevated radiation readings near the facility.
However, since then it was reported that the Zaporizhzhia nuclear power plant has been seized by Russian military forces, according to the regional authority.
Ukraine Presidential advisor says they will not say the date/time of the next round of discussions with Russia in advance, via Reuters.
UK PM Johnson spoke to Ukrainian President Zelensky about the situation at the power plant and said that Russia must immediately cease its attack on the plant, while he added that reckless actions of Russian President Putin could directly threaten the safety of all Europe.
Ukraine's armed forces have said it is possible that Russia may attempt to create a provocation at the Ukrainian border with Belarus to give the Belarusian regime a pretext to send its troops to join Russia's invasion, according to a military update; subsequently, Belarus Leader Lukashenko says Belarus' army is not taking part and is not going to take part in the military operation in Ukraine.
US Senator Graham called for Russian President Putin's assassination.
S&P lowered Russia's sovereign rating to 'CCC-' and kept on CreditWatch negative on increasing risk of default.
Moscow exchange has imposed a ban on the short-selling of Euro instruments; trading on the money and bond market is to commence at 09:00GMT/04:00EST on Friday.
SGH Macro notes that Chinese companies will be told to give priority to purchasing Russian products, which are "basically the same in quality and price" as those from Western countries.
In Europe, losses were more pronounced, with the Stoxx Europe 600 Index slumping 2.9% to its lowest level in almost a year, and poised for its worst week since March 2020. Euro Stoxx 50 drops as much as 3.9% while Italy's FTSE MIB underperformed losing over 4.5%.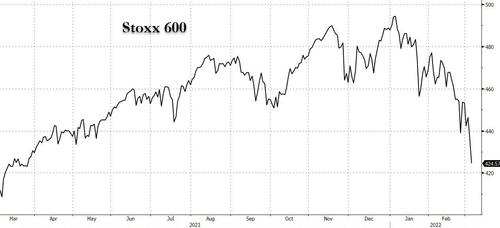 All European sectors were in the red, with autos and banks underperforming heavily. Defensive sectors such as health care and utilities outperformed. European banks extend their drop, falling to the lowest level since July, as the war in Ukraine intensifies; the Stoxx 600 Banks Index dropped 4.3%, the second-worst performing sector in Europe. The gauge is set for its worst weekly drop since March 2020, while the SX7P now 12% lower YTD. All 39 members on the index are declining: UniCredit -8.3%, Erste Group Bank -7%, Deutsche Bank -6.7%. Adding insult to injury, European stocks just suffered their largest outflows on record in the week to March 2, according to Bank of America Corp strategists citing EPFR data.
The cost of protection against default from a basket of high-grade European companies rose above 80 basis points for the first time since May 2020.
Separately, the Russian stock market will be closed to trading until at least next Wednesday, marking a record in the country's modern history, in a bid to stave off the impact of global sanctions for domestic investors.
Havens are modestly bid; bund, Treasury and gilt curves all bull-steepen, with the 10-year Treasury yield falling as much as 14bps in a knee-jerk flight to quality before halving the drop to about -7bps near 1.77%. German short end outperforms, trading ~ 6bps richer. Belly of the Treasury curve leads ahead of today's payrolls release. European benchmark bonds rallied, led by the front end, with the core outperforming the periphery as semi-core and peripheral spreads widen to core with 10y BTP/Bund near 155bps. In FX, Bloomberg dollar spot index rises 0.3% to best levels of the week. NZD and AUD are the strongest performers in G-10. Czech and Polish central banks intervene to protect their currencies, which are among the hardest hit by the market impact of Russia's invasion of Ukraine.
In FX, the Bloomberg Dollar Spot Index advanced 0.3% as the greenback gained versus all of its Group-of-10 peers apart from the New Zealand and Australian dollars and the yen. The euro fell to a day low of $1.0999; options traders went short the euro through options, mainly versus the dollar, earlier this week and now turn to the yen and the Swiss franc to hedge further weakness. The pound declined versus the dollar amid broad-based greenback strength. Prime Minister Boris Johnson said that he was seeking an emergency UN Security Council meeting and would raise the issue with Russia and close partners. Australia's dollar strengthened for a third day as rising commodity prices due to the war in Ukraine bolster demand for the currency. The zloty briefly fell as much as 1.5%, to touch the weakest level since 2001, before paring losses. Poland's central bank intervened in the foreign exchange market to support the zloty on Friday, according to people familiar with transactions. The Czech central bank said it started intervening on the FX market to support the koruna.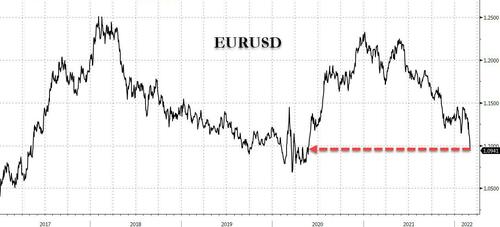 Rates, along with all havens, were heavily bid, as Treasury futures held gains after pulling back from highs reached during Asia session, when report of fire caused by shelling of Ukraine nuclear plant, Europe's largest, caused a flight-to-quality spike. Yields remain richer by up to 7bp across intermediates while front-end of the curve lags, flattening 2s10s spread by ~2.5bp; 10-year yields around 1.77% after dropping as low as 1.697%. Bunds, gilts lag Treasuries by 2.2bp and 4.5bp cheaper in the sector. Treasury and gilt curves all bull-steepen. German short end outperforms, trading ~ 6bps richer.
In commodities, crude futures advance but trade off Asia's best levels. WTI adds over 2% to trade back above $110, Brent near $112.50. Base metals trade well, LME nickel rises as much as 6% before fading. Spot gold rises roughly $9 to trade near $1,945/oz. Bitcoin continues to wane but remains at the mid-point of the week's range and well-off the week's sub-40k trough.
Looking to the day ahead now, and the main highlight will be the aforementioned February jobs report from the US. Otherwise, we'll get French industrial production for January, the German construction PMI for February and Euro Area retail sales for January.
Market Snapshot
S&P 500 futures down 0.7% to 4,330.25
MXAP down 1.7% to 178.61
MXAPJ down 1.6% to 585.27
Nikkei down 2.2% to 25,985.47
Topix down 2.0% to 1,844.94
Hang Seng Index down 2.5% to 21,905.29
Shanghai Composite down 1.0% to 3,447.65
Sensex down 1.3% to 54,380.94
Australia S&P/ASX 200 down 0.6% to 7,110.83
Kospi down 1.2% to 2,713.43
STOXX Europe 600 down 2.2% to 427.53
German 10Y yield little changed at -0.01%
Euro down 0.4% to $1.1018
Brent Futures up 0.8% to $111.38/bbl
Gold spot up 0.3% to $1,941.60
U.S. Dollar Index up 0.25% to 98.03
Top Overnight News from Bloomberg
Key gauges of money-market risk increased after Ukraine said Russia had attacked Europe's largest nuclear power plant. Interbank dollar rates jumped again relative to the overnight lending benchmark. The FRA/OIS spread — a key signal of banking-sector risk — expanded to 29.7 basis points, the widest since May 2020, after rising almost 10 basis points Thursday. A similar gauge in Australia also advanced, while dollar funding costs for yen investors surged
Ukrainian President Volodymyr Zelenskiy is stepping up his calls for a no-fly zone as his country faces escalating Russian bombardment of key cities and strategic sites, but the NATO military alliance remains highly unlikely to support one
The ECB is ready for whatever measures are needed to ensure price and financial stability, Governing Council member Olli Rehn says, reiterating his prior stance also shared by ECB President Christine Lagarde
While economists surveyed by Bloomberg continue to predict an ECB rate hike in 2022, they expect no firm commitments on withdrawing stimulus when the Governing Council convenes on March 9-10 — a meeting that was earlier billed as a crucial juncture for removing support. Come June, however, respondents see the ECB setting September as the end-date for net bond-buying, with only one predicting they'll continue in 2023
What seemed almost impossible a few months ago, is now growing into an appreciable risk: the euro may sink to parity with the dollar this year. That's what strategists are warning as the Russian invasion of Ukraine threatens to derail the European economic recovery from the pandemic and delay even further the European Central Bank's glacial progress toward policy normalization
The escalation of the war in Ukraine is pushing investors to exit European stocks like never before amid rising inflation risks, according to Bank of America Corp. strategists
Goldman Sachs Group Inc. and JPMorgan Chase & Co. have been purchasing beaten-down company bonds tied to Russia in recent days, as hedge funds that specialize in buying cheap credit look to load up on the assets, according to people with knowledge of the private transactions. Banks routinely scoop up debt because clients asked them to, or because they expect to find ready buyers
The Russian stock market will be closed to trading until at least next Wednesday, marking a record in the country's modern history, in a continuing bid to stave off the impact of global sanctions for domestic investors. Russia is banning short selling in the euro on its currency and stock markets, MOEX says on its website
Bond traders are delivering a swift, punishing verdict on the expected hit to Russian corporations from the Ukraine war. In short, it's turning the country into a nation of junk bonds
A more detailed look at global markets courtesy of Newsquawk
Asia-Pac stocks declined amid nuclear catastrophe fears after a fire broke out at the Zaporizhzhia nuclear power plant in Ukraine which is the largest in Europe and was hit by Russian shelling. ASX 200 was dragged lower by cyclicals but moved off worse levels on relief as the safety of the nuclear power plant in Ukraine was eventually reported to be secured. Nikkei 225 fell beneath 26,000 on geopolitical concerns and the extension of quasi-emergency measures. Hang Seng and Shanghai Comp. weakened with losses in Hong Kong exacerbated by a tech rout but the mainland was somewhat cushioned as Chinese press speculated potential lowering of MLF rates this month.
Top Asian News
Hong Kong Retail Slows to 6-Month Low as 'Immense' Stress Looms
BOJ Is Said to See Oil Surge Pushing Prices Beyond Forecast
Singapore Overhauls Expat Visas With Nationality Among Criteria
Asia Stocks Slump to 16-Month Low as Ukraine Tensions Grow
European bourses are hampered, Euro Stoxx 50 -3.7%, after sentiment was hit on the escalating Zaporizhzhia nuclear situation, with Russia now having control of the area. Stateside, US futures, ES -0.8%, are pressured but remain modestly above overnight lows as participants look to today's Labour Market Report. Within Europe, sectors are all in the red with defensives faring better while Banking and Insurance names come under pronounced pressure once more.
Top European News
Nuclear's Rescue Mission in Northern Europe Faces Further Delays
U.K.'s Johnson to Seek Emergency UN Security Council Meeting
LSE Suspends More Instruments: The London Rush
NATO Won't Risk Broader Russia War With a Ukraine No-Fly Zone
In FX, DXY tops 98.000 (98.272 best) as risk aversion ramps up again on Russia's seizure of the largest European nuclear plant in Ukraine. EUR/USD loses 1.1000 and touted support in proximity while Cable succumbs to rampant pressure and abandons 1.3300. Aussie and Kiwi continue to outperform with assistance from strength in commodities and technical momentum as Aud/Usd extends beyond the 200 DMA to probe Fib resistance at 0.7365 and NZD/USD clears 0.6800 convincingly. Zloty and Koruna cushioned by coordinated intervention. Rouble pivots 110.0000 pending further developments as mission Ukraine rages on. CNB is intervening against a weakening CZK, a step that is in-accordance with prior measures. NBP intervening in FX markets according to Reuters citing sources. NBH says it is not commenting on questions over concrete FX market interventions, according to a response to Reuters
In commodities, crude benchmarks are firmer intraday but are consolidating around Thursday's trough as we await a potential third round of Russia-Ukraine talks next week and possible developments re. Iranian negotiations over the weekend. Specifically, Brent May meanders around USD 112/bbl (vs weekly low of around USD 97/bbl). Japan will release 7.5mln bbls of oil from private reserves in coordination with the IEA to cool rising prices. Spot Gold/Silver are firmer in-fitting with core debt benchmarks, but spot gold is yet to convincingly surpass the USD 1950/oz mark. China's Industry Ministry (MIIT) summoned rare earth groups regarding high prices of rare earths; to fight against speculations and hoarding; asks companies to guide prices to reasonable ranges.
US Event Calendar
8:30am: Feb. Change in Nonfarm Payrolls, est. 422,000, prior 467,000
8:30am: Feb. Change in Private Payrolls, est. 400,000, prior 444,000
8:30am: Feb. Change in Manufact. Payrolls, est. 24,000, prior 13,000
8:30am: Feb. Unemployment Rate, est. 3.9%, prior 4.0%
8:30am: Feb. Underemployment Rate, prior 7.1%
8:30am: Feb. Labor Force Participation Rate, est. 62.2%, prior 62.2%
8:30am: Feb. Average Hourly Earnings YoY, est. 5.8%, prior 5.7%
8:30am: Feb. Average Hourly Earnings MoM, est. 0.5%, prior 0.7%
8:30am: Feb. Average Weekly Hours All Emplo, est. 34.6, prior 34.5
DB's Jim Reid concludes the overnight wrap
The key story overnight, which is still developing, is the apparent attack on the Zaporizhzhia nuclear power plant in eastern Ukraine, Europe's largest nuclear power plant. The initial reports drew a sharp risk off reaction, which reversed when the worst feared outcomes didn't materialise. In particular, news that radiation levels in the area were normal, that the plant should automatically shut off reactors upon shelling, and that the fire was in an administrative building tempered the reaction. Though the wider implications of this story are a little more ominous.
The risk-off appetite led to 10yr Treasuries initially rallying from 1.85% to just under 1.70%. We are now at around 1.78% as I type. S&P futures have bounced from c.-1.6% to c.-0.6% but Stoxx 50 futures remain down c.-2.5%. Oil did spike around +3% initially but has reversed over half of this after tremendous vol yesterday as we'll see below. Elsewhere in Asia the Nikkei (-2.36%), Hang Seng (-2.71%), Shanghai Composite (-0.66%), CSI (-0.92%) and Kospi (-1.30%) are all lower.
So a challenging end to a week of dislocations and unpredictable market swings. Before the weekend we have payrolls today as the next event outside of Ukraine to watch. Outside of the Zaporizhzhia story, peace talks were held yesterday, but without real progress. The two sides reportedly reached an understanding on humanitarian corridors for evacuating civilians and a possible ceasefire during said evacuation. Unfortunately this almost by definition implies they expect fighting to continue, and the rhetoric from President Putin was not optimistic. Nevertheless, the two sides agreed to hold a third round of talks soon which at least offers hope.
Many markets still managed to be all over the place yesterday with big intraday swings across a number of major assets. Take the oil price for example: we went to press yesterday with Brent crude just shy of $117/bbl, before it then hit an intraday high of $119.84/bbl around the European open. But it then went onto swing more than $10 lower to hit an intraday bottom of $109.40/bbl, before then closing almost -2.19% at $110.46. We're around $111.20/bbl as we go to print. And it was a similar story for European natural gas futures too, which hit a record intraday high (+20.53% at the session highs) before closing down on the day by -10.90% and trading in a range of €135-200. Nevertheless, even with that pullback in a number of key energy prices, commodities in the aggregate continued to power forward, with Bloomberg's Commodity Spot Index (+0.68%) hitting another all-time high. That came as wheat futures (+21.78%) rocketed to another post-2008 high, whilst corn futures (+1.66%) very nearly surpassed their recent closing high in May last year.
That volatility was also evident in equities, which had been on track to advance before turning sharply lower just before the European close. Indeed, the STOXX 600's -2.01% decline left it at a 9-month low, and also means that the index is now down by more than -10% on a YTD basis again, as every sector in the index lost ground on the day. Over in the US meanwhile, the S&P 500 shed -0.53%, after spending much of the day in the green, and the NASDAQ lost -1.56%. Unlike the STOXX 600 both are still above their closing lows of recent days. Despite declining -0.26ppts, the Vix remains elevated at +30.48ppts. This is the first time it's closed above 30ppts for four straight days since February 2021.
Chair Powell reiterated his testimony from the day before. He has more or less confirmed his preference to hike rates by +25bps in March, while maintaining the option to hike rates by larger magnitudes as circumstances call for in the future. He noted that the full fallout from the Ukraine war remains to be seen, but that it isn't yet enough to derail the start of the tightening cycle.
In rates, US 2yr Treasury yields were fairly flat, but the 10yr yield declined -3.6bps to 1.84%, sending the 2s10s curve down to a new closing low for the cycle of 30.6bps, which is something we haven't seen since March 2020 during Covid. The curve flattening continued overnight with the nuclear plant story and is now at +27.5bps. Bear in mind the curve started the year at 77bps, so we've seen it lose more than half its steepness over the last couple of months. Over in Europe there was also turnaround in sovereign bond yields over the day, which joined equities in moving lower towards the session's end amidst the risk-off tone. Yields on 10yr bunds closed -0.7bps lower, albeit still in positive territory at 0.01% (unlikely to be there this morning though), and with markets pushing back the odds of ECB hikes given the Ukraine conflict, we also saw the spread between the US and German 2yr yields widen to 215bps, which is their biggest gap since January 2020, around the time that news of the pandemic started to spread widely.
Aside from the conflict in Ukraine, investor attention today will also be on the US jobs report for February, which is coming out at 13:30 London time. That's one of the last big pieces of data we'll get before the Fed's decision a week on Wednesday, and comes after last month's bumper report that led to growing weight placed on the chances of a 50bp rate hike (before the Ukraine conflict sent the chances lower again). In terms of what to expect this time round, our US economists are looking for growth of +300k in nonfarm payrolls, which if realised would actually be the slowest since last April given the positive upward revisions we've seen to previous months. Consensus is at +423k. In turn, our economists see the unemployment rate coming down to a post-pandemic low of 3.8% (consensus 3.9%). As ever there'll also be focus on average earnings and hours worked etc.
On the inflation front, our European economists actually published their latest forecast update yesterday (link here) following the flash CPI estimate and the Ukraine conflict. Their forecasts now see HICP at +6.1% for the full year 2022 with risks on the upside, and 2023's figure is also upgraded to +2.5%. Furthermore, their monthly projections see inflation remaining above the ECB's 2% target until November 2023, which if realised would mean that the total period of above-target inflation is set to be more than 2 years long since it last moved above target in July 2021.
Otherwise yesterday, there were a few releases to digest on the data front. First, Euro Area unemployment fell to 6.8% in January (vs. 6.9% expected), which is a record low since the single currency's formation. That points to the tightness in the labour market right now, and comes as inflation is also at a record high. Meanwhile, the weekly initial jobless claims from the US fell to an 8-week low of 215k in the week through February 26 (vs. 225k expected), although the ISM services index for February unexpectedly fell to a one-year low of 56.5 (vs. 61.1 expected). The other releases were the final services and composite PMIs, where the Euro Area composite PMI was revised down three-tenths from the flash reading to 55.5. Others saw larger downward revisions, including Germany's composite PMI at 55.6 (vs. flash 56.2) and France at 55.5 (vs. flash 57.3).
To the day ahead now, and the main highlight will be the aforementioned February jobs report from the US. Otherwise, we'll get French industrial production for January, the German construction PMI for February and Euro Area retail sales for January.
Do you know someone who would benefit from this information? We can send your friend a strictly confidential, one-time email telling them about this information. Your privacy and your friend's privacy is your business... no spam!
Click here and tell a friend!