Courtesy of ZeroHedge View original post here.
Update (0800ET): Oil prices have stabilized, down around 5% after last night's leaked rumors of the Biden admin's latest plan to save the world – and his approval rating – from soaring gas prices by releasing a gargantuan amount of reserv7es from the SPR.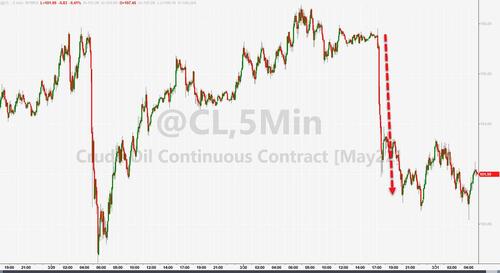 However, as we noted overnight, this is not a solution that provides anything other than a short-term fillip, and as Goldman's Damien Courvalin confirms, this SPR release would remain, however, a release of oil inventories, not a persistent source of supply for coming years.
Such a release would therefore not resolve the structural supply deficit, years in the making.
Worse still, Courvalin warns that in fact, lower prices in 2022 would support oil demand while slowing the acceleration in shale production, leaving for now a deficit in 2023 as well as the likely requirement to refill the SPR.
The net supply increase would be more modest, since we had already assumed a 0.3/0.6/0.9 mb/d SPR release under our Mild/Moderate/Severe Russian export scenarios.
In fact, the bank sees three potential bullish (higher oil price) risks:

(1) potential logistical bottlenecks to such an unprecedentedly large and long US SPR discharge, reducing its flow. In particular, congestion on the Gulf Coast could crowd out shale's expected production growth this year.

(2) We assume that OPEC+ would still accelerate its planned quota increase if Russian and Kazakhstan exports fall by 2 mb/d, which may not occur in the face of an SPR release.

(3) We now see increasingly symmetrical probabilities to our Mild and Moderate disruption scenarios (of 1 and 2 mb/d respectively), implying a larger loss of supply in our weighted mean outcome than previously. Adjusting for these probabilities would, for example, bring our 2H22 forecast back to $125/bbl.

And looking forward to 2023, the bank says on balance would point to prices $5/bbl above our current $110/bbl forecast, reflecting higher demand and lower shale supply exiting 2022, as well as the likely requirement to restock the SPR (we assume this is done proportionally over 2023-2025, similar to last year's release).
Goldman has refrained from adjusting any of oits crude price forecasts until details of the SPR release are reportedly revealed this afternoon at 1330ET, but the bank notes that additional measures could be announced, with a potential increase to the amount of ethanol blended into gasoline, a measure that in turn would exacerbate the already very tight outlook for grain markets. There will also be an IEA organized emergency meeting on Friday at 8:00am ET, for a potential global coordination of such a large reserve release.
Additionally, OPEC+ has agreed on a 432k b/d output hike in May – as expected.
Following the conclusion of the 27th OPEC and non-OPEC Ministerial Meeting, held via videoconference on March 31, it was noted that continuing oil market fundamentals and the consensus on the outlook pointed to a well-balanced market, and that current volatility is not caused by fundamentals, but by ongoing geopolitical developments.

The OPEC and participating non-OPEC oil-producing countries decided to:

Reaffirm the decision of the 10th OPEC and non-OPEC Ministerial meeting on 12th April 2020 and further endorsed in subsequent meetings including the 19th OPEC and non-OPEC Ministerial meeting on the 18th July 2021.

Reconfirm the baseline adjustment, the production adjustment plan and the monthly production adjustment mechanism approved at the 19th OPEC and non-OPEC Ministerial Meeting and the decision to adjust upward the monthly overall production by 0.432 mb/d for the month of May 2022, as per the attached schedule.

Reiterate the critical importance of adhering to full conformity and to the compensation mechanism taking advantage of the extension of the compensation period until the end of June 2022. Compensation plans should be submitted in accordance with the statement of the 15th OPEC and non-OPEC Ministerial Meeting.

Hold the 28th OPEC and non-OPEC Ministerial Meeting on 5 May 2022.
Delegates say the meeting wrapped up in 12 minutes, beating last month's record for brevity.
The opec plus meeting just ended it lasted 12 mins. No change in policy. #OOTT

— Amena Bakr (@Amena__Bakr) March 31, 2022
That won't please Biden at all.
* * *
As we detailed last night, for those keeping score, we believe this is the third time in the last month that the Biden administration has tried to jawbone crude oil prices lower with an ever-increasing 'threat' of releases from the Strategic Petroleum Reserve.
This time is different though as Bloomberg reports that, according to people familiar with the matter, the Biden administration is weighing a plan to release roughly one million barrels of oil a day for several months. The total release may be as much as 180 million barrels, the people said, which is quite a step up from the 30mm barrel release 'mulled' on March 25th (yes 5 days ago).
The instant reaction from the algos was to sell, knocking WTI down around 4%…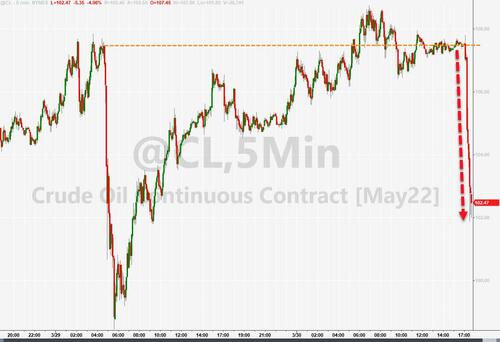 However… as much as we want lower gas prices, these actions by the administration are bordering on the insane.
Of course, just like last year's SPR release, which actually sent oil prices higher as the strategy backfired spectacularly, another shot of supplies from the reserve would probably be futile.
To further illustrate this point, the chart below shows that a release of 180M barrels from the reserve (which is supposed to be reserved for emergencies) would take the Strategic Petroleum Reserve to its lowest since 1984…and so far has done absolutely nothing to slow the surge in prices…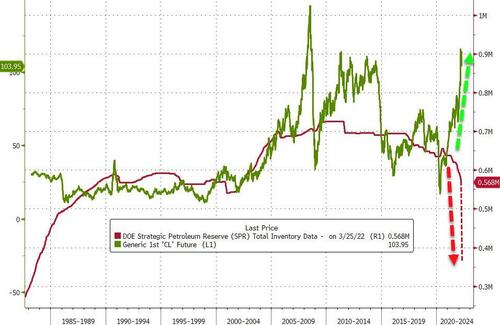 In fact, this time around, it's possible – even likely – that the backlash could be even more punishing, since, when adjusted for the present level of implied demand, SPR levels are already at their lowest levels since 2002, with just 33 days of supply.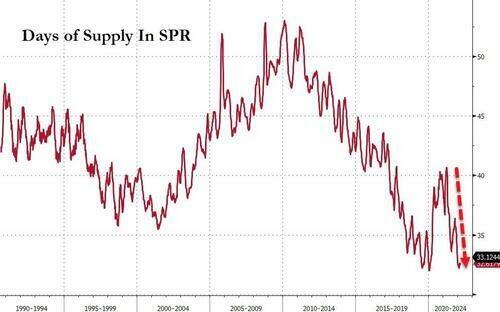 But like the old saying goes: if at first you don't succeed, then try, try again. In all likelihood, President Biden and his team probably aren't all that concerned with the short-term market impact, since political decisions like these are all about optics anyway.
Of course, Einstein seems to have been right: "insanity is doing the same thing over and over again and expecting different results."
And when this SPR release (should it ever actually happen) fails to do much of anything to drive prices lower, how much longer until the administration resorts to the next logical steps, being 1) gas stimmies (like our European allies) before 2) price controls?
Bear in mind that OPEC+ is still shunning any demands from Biden to increase production 'for the sake of global democracy….or his approval ratings or some such…' and the cartel is widely expected to ratify a production increase of 432,000 barrels a day for May.
Simply put, as old saying goes, the cure for high oil (gas) prices, is high oil (gas prices), and notably, there is some evidence of demand destruction starting to happen as gas prices soar to record highs.
And as we noted earlier today, the decline in implied gasoline demand is fairly concrete proof that record high prices are dampening consumption across the country.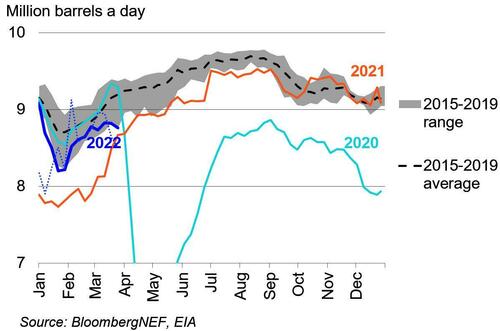 On a four-week moving average basis, demand appeared to have stalled out around 8.8 million barrels a day as levels fell behind seasonal trends. Now, it appears to have fully turned around, falling 61,000 barrels a day week on week.
However, of course there is government intervention to consider, consumer subsidies may actually worsen the situation by limiting demand destruction, with California, France, Brazil and Mexico being the latest to enact policies to cut prices at the pump.
We give the last words to @RufusXavierSar2 who succinctly summed up the real farce of all this desperation…
OIL FALLS ALMOST 3% AS U.S. WEIGHS RELEASE OF CRUDE RESERVES

Weekly SPR headline jawboning

— zerohedge (@zerohedge) March 31, 2022
And don't expect any short-term help from this modest drop in oil…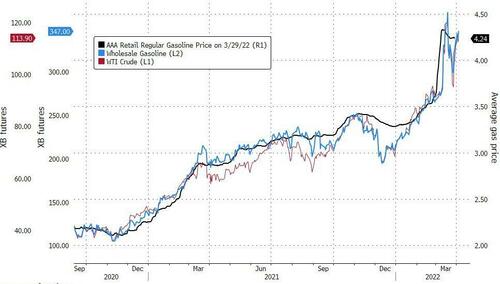 Sadly for Biden's approval rating (and drivers across the country), the recent resurgence in crude prices suggest pump prices will soon be on the rise again.
Do you know someone who would benefit from this information? We can send your friend a strictly confidential, one-time email telling them about this information. Your privacy and your friend's privacy is your business... no spam!
Click here and tell a friend!