Courtesy of ZeroHedge View original post here.
Billionaire Elon Musk tweeted early Tuesday morning that he won't proceed with his $44 billion purchase of Twitter until the social media platform can prove bots are less than 5% of all users, yet another twist.
Twitter estimated in a recent SEC filing that fewer than 5% of monetizable daily active users (or mDAUs) in the first quarter were bots. Musk didn't believe that figure and said, "Twitter's CEO publicly refused to show proof of
Musk estimates about "20% fake/spam accounts, while 4 times what Twitter claims, could be *much* higher."
"My offer was based on Twitter's SEC filings being accurate," Musk tweeted. adding, "this deal cannot move forward until he does."
Elon Musk may be looking for a better Twitter deal as $44 billion seems too high with 20% of users being fake or spam accounts.https://t.co/rZ9Jsn60Mh pic.twitter.com/dQDVva3klZ

— TESLARATI (@Teslarati) May 17, 2022
Twitter shares fell 2.5% premarket on Tuesday. Shares have tumbled into a bear market since the start of May as traders cast doubts on the deal.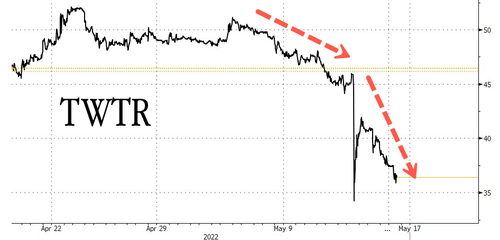 Musk's tweet comes after Twitter chief Parag Agrawal posted a lengthy thread about the company's bot methodology. Musk replied with a poop emoji, followed by a tweet that asked: "So how do advertisers know what they're getting for their money?"
So how do advertisers know what they're getting for their money? This is fundamental to the financial health of Twitter.

— Elon Musk (@elonmusk) May 16, 2022
Meanwhile, Twitter filed a preliminary proxy statement with the SEC that said it's "committed to completing the transaction on the agreed price [$54.20 per share in cash] and terms as promptly as practicable."
At yesterday's "All In" summit, Musk said that a viable deal for Twitter is "not out of the question," but at a lower price.
Maybe Trump was right?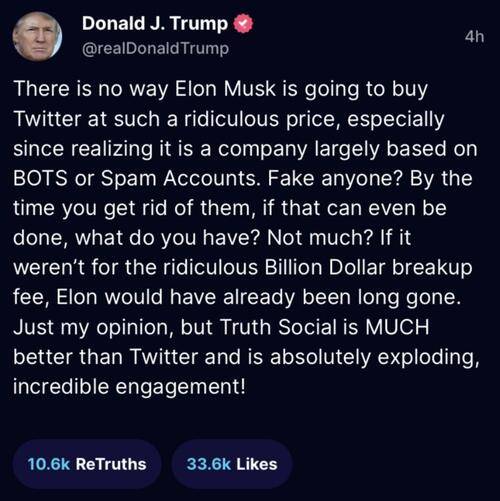 The fate of Elon Musk's Twitter deal – or at least the price he'll end up paying – may hinge on just how many 'bot' accounts are active on the social media platform.