Courtesy of ZeroHedge View original post here.
Heading into today's OPEC+ meeting, what was supposed to be a boring affair where oil producers were to boost output by the now accepted 432K, has become modestly exciting following i) an overnight report from the FT that Saudi Arabia has reportedly hinted that it is prepared to pump more oil if Russia's output declines substantially due to sanctions according to sources (the sources added that Riyadh would "eventually" respond "should" a supply crunch hit) and ii) a Reuters headline that OPEC+ is likely to agree an output hike in the range of 600kbpd for July, up from the 432K expected, and bring up the timetable for cuts easing, currently due to the end by September. The news has depressed Brent, which traded north of $120 yesterday and has since slumped briefly below $112.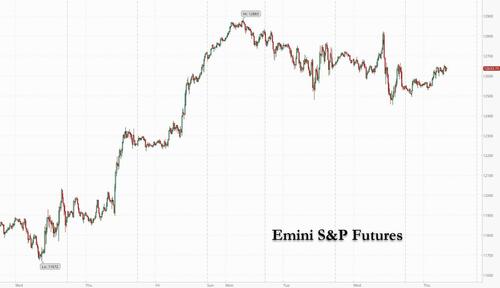 Courtesy of NewsSquawk here are some of the other key news heading into today's JMMC and OPEC+ meeting.
ENERGY INTEL SOURCES: Energy Intel sources said Moscow has made no request for a quota suspension and this is unlikely to gain traction. The desk suggests that an alternative to a continuation of the usual pact would be to increase the monthly increment. This would allow some extra supply in the near term, mainly from Saudi Arabia and the UAE but importantly would also serve to accelerate the process of unwinding Opec-plus production cuts, which is currently scheduled to end in September." The piece adds As this unwinding process comes to an end. this could open the door for Opec-plus members to reassess overall policy and baselines for individual countries — potentially paving the way for bigger supply increases.
REUTERS SOURCES: Reuters sources said Russia may agree to OPEC+ compensating its current sanctions-induced decline in production. Russian compensation could be approved gradually, and there is no guarantee it will be approved in full on Thursday, but a decision is highly likely.
WSJ SOURCES: Reports said OPEC members are mulling suspending Russia's participation in the OPEC+ pact (DoC) amid sanctions According to the article exempting Russia from the quotas could pave the way for Saudi and the UAE. alongside other producers to ramp up output in the face of Western pressure Desks have been sceptical about this speculation and have highlighted that the chances of such an exclusion are low given the limited spare capacity (see below) and the political stability between OPEC and Russia That being said. OPEC has previously affirmed a flexible stance and thus there is scope for a surprise on this front Note, the JTC did not discuss an exemption at their meeting.