Archive for the 'Permissions' Category
by ilene - October 16th, 2021 1:28 am
How Netflix affects what we watch and who we are – and it's not just the algorithm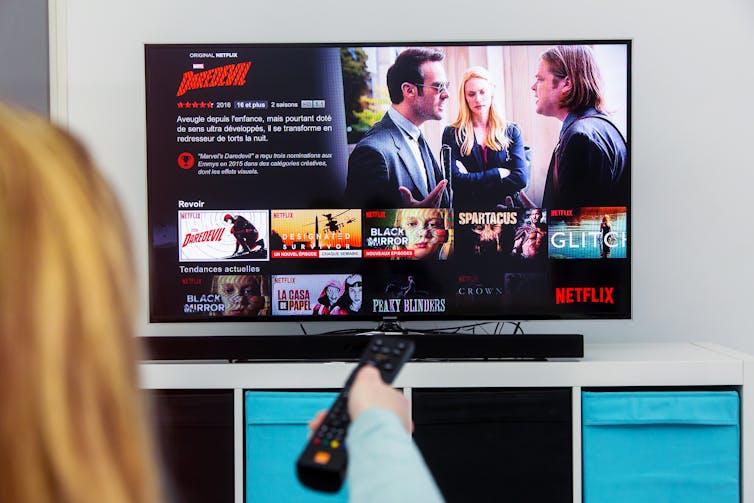 Courtesy of David Beer, University of York
Netflix's dystopian Korean drama Squid Game has become the streaming platform's biggest-ever series launch, with 111 million viewers watching at least two minutes of an episode.
Out of the thousands of programmes available on Netflix globally, how did so many people end up watching the same show? The easy answer is an algorithm – a computer program that offers us personalised recommendations on a platform based on our data and that of other users.
Streaming platforms like Netflix, Spotify and Amazon Prime have undoubtedly reshaped the way we consume media, primarily by massively increasing the film, music and TV available to viewers.
How do we cope with so many options? Services like Netflix use algorithms to guide our attention in certain directions, organising content and keeping us active on the platform. As soon as we open the app the personalisation processes begin.
Our cultural landscape is now automated rather than simply being a product of our previous experiences, background and social circles. These algorithms don't just respond to our tastes, they also shape and influence them.
But focusing too much on the algorithm misses another important cultural transformation that has happened. To make all this content manageable, streaming platforms have introduced new ways of organising culture for us. The categories used to label culture into genres have always been important, but they took on new forms and power with streaming.
Classifying our tastes

The possibilities of streaming have inspired a new "classificatory imagination". I coined this term to describe how viewing the world through genres, labels and categories helps shape our own identities and sense of place in the world.
While 50 years ago, you might have discovered a handful of music genres through friends or by going to the record shop, the advent of streaming has brought classification and genre to our media consumption on a grand scale. Spotify alone has over five thousand music genres. Listeners also come up…

by phil - October 15th, 2021 8:55 am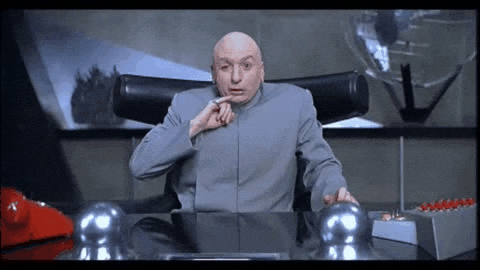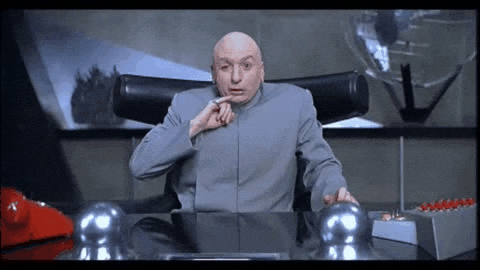 $2,234,532!
That is up a whopping $66,833 in our paired portfolios, thanks to yesterday's market surge and that's even including this week's STP losses, since we did that review on Tuesday, and have dropped about $25,000 since. That means the gains in the LTP were stunning – and we only made 2 adjustments last month! Best of all, we are swimming in CASH!!! We have $1,778,583 (83.5%) of it - up thanks to a lot of new puts that were sold in the past month, while the market was lower.
And that's our cycle – we buy low and then we sell high and we sold back in August – cutting about half of our positions and leaving us with cash to go shopping with and, what is the first thing we do when we add new positions? We sell puts. That puts even more cash into our portfolio and THEN, if we like the test drive, we establish an initial position by scaling in with a long spread (hedged, of course).
I know it seems like a slow, tedious process but it protects our positions so we can ride out the dips and you can see the results as we started with a combined $600,000 in the LTP/STP back on October 1st of 2019 (arguably a bad time to start – just ahead of an epic crash) and now we're up $1,634,532 (272%).
Since mid August, we added short puts on AAPL, AAWW, COIN, FDX, LEVI, MRNA, MT, VALE and XRX, putting an additional $86,600 into the portfolio in exchange for simply promising to buy those value stocks if they get significantly cheaper (net $98 for AAPL, net $175 for MRNA) – those would become our base entry if we do get an entry and THEN we lower the basis further by selling more puts and calls (assuming we still like the stock).
This is a simple strategy to follow but it requires PATIENCE for the long-term investor as it takes several quarters just to establish a position – BUT IT'S WORTH IT!!!
Short Puts – As noted above, we get paid to make a
…

by Zero Hedge - October 15th, 2021 8:20 am
Courtesy of Jesse Felder, TheFelderReport.com
(The following blog post was adapted from a recent Market Comment featured on The Felder Report PREMIUM, as published at ZeroHedge)
Lately, I've started to notice many signs suggesting we are now well past the peak in risk appetites. To begin with, Citi's panic/euphoria model, developed by Tobias Levkovich (and renamed in his honor after he sadly passed away last weekend), is a terrific visual representation of this phenomenon. In the early part of this year, it soared to a new high, taking out the high put in just over 20 years ago, at the height of the Dotcom Mania. It has since rolled over from that peak although it remains in extreme territory.
"Panic/Euphoria declined but remained in euphoria territory this week, and is generating a 96% historical probability of down markets in the next 12 months at current levels." https://t.co/dzcN0TVMHX pic.twitter.com/Rc2OobQn2N

— Jesse Felder (@jessefelder) October 5, 2021
The popularity of Robinhood's trading app is another important indicator. Bloomberg reports, "Robinhood's app downloads, a proxy for account openings, fell 78% in the third quarter compared with the second, said JPMorgan analysts, citing tracking data from Apptopia… Daily active users plunged 40% during the period." Animal spirits have clearly sustained a damaging blow in recent months; whether that blow proves fatal, though, will be revealed in time.
'Robinhood's metrics of active users and app downloads plunged during the third quarter, according to analysts at JPMorgan Chase & Co. While the company has previously flagged that activity would weaken, the drop seems far worse than expected.' https://t.co/MbDPYsMbrI

— Jesse Felder (@jessefelder) September 30, 2021
The fact that interest in day trading is plummeting stands in direct contrast to the fact that interest in getting help for stock market gambling addiction is soaring. The Financial Times reports, "Felicia Grondin, acting executive director of the Council on Compulsive Gambling of New Jersey, said… her group's 1-800-Gambler helpline has received an almost 50 per cent increase in calls related to day trading since the start of the pandemic." This would seem to suggest we have moved from the party stage to the
…

by Zero Hedge - October 15th, 2021 8:05 am
Courtesy of ZeroHedge View original post here.
Nearly a month after the Evergrande crisis went to 10, sending property sector bonds crashing to near record lows and sparking a sharp swoon in China's property sector, the country's central bank finally broke its silence on the crisis at Evergrande , saying risks to the financial system stemming from the developer's struggles are "controllable" and unlikely to spread.
Speaking at a news briefing on Friday, PBOC official Zou Lan – head of the financial market department. – said that authorities and local governments are resolving the situation based on "market-oriented and rule-of-law principles" Bloomberg reported. Additionally, the central bank has asked lenders to keep credit to the real estate sector "stable and orderly," said Zou.
"In recent years, the company failed to manage its business well and to operate prudently amid changing market conditions," Zou said of Evergrande, which has more than $300 billion of liabilities. "Instead it blindly expanded and diversified." The rhetoric was reminiscent of China's commentary preceding the demise of HNA and Anbang, which subsequently failed.
On one hand China's admission that something is happening in the property sector was a welcome change from the persistent radiosilence until now; on the other, the jawboning is unlikely to ease fears amid investors who are clamoring for more PBOC easing which however is looking unlikely at a time when China's PPI has hit multi-decade highs amid soaring commodity inflation. Furthermore, concerns are growing that the cash crunch at Evergrande is spilling over to other developers, sending a shockwave among China's property sector – which accounts for roughly 70% of local household wealth and directly impacts about 30% of China's GDP. Contagion fears intensified over the past two weeks after a surprise default by Fantasia Holdings Group Co. and a warning from Sinic Holdings Group Co. that its default was imminent.
The central bank is urging property firms and their shareholders to fulfill their debt obligations, Zou said. A slump in developers' offshore dollar bonds is a natural market response to defaults, he added.
Some other comments from the central banker:
China's government has insisted that property not be used as a short-term stimulus for the economy
Cities have
…

by Zero Hedge - October 15th, 2021 7:50 am
Courtesy of ZeroHedge View original post here.
One day after the S&P posted its biggest one-day surge since March, index futures extended this week's gains, helped by a stellar bank earnings, while the latest labor market data and inflation eased stagflation fears for the time being. . The 10-year Treasury yield rose and the dollar was steady. Goldman Sachs reports on Friday. At 715 a.m. ET, Dow e-minis were up 147 points, or 0.42%, S&P 500 e-minis were up 16.5 points, or 0.37%, and Nasdaq 100 e-minis were up 42.75 points, or 0.28%.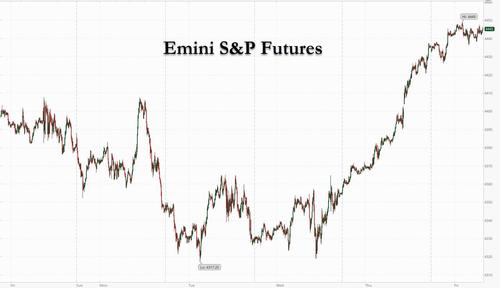 Oil futures topped $85/bbl, jumping to their highest in three years amid an energy crunch that's stoking inflationary pressures and prices for raw materials. A gauge of six industrial metals hit a record high on the London Metal Exchange. Energy firms including Chevron and Exxon gained about half a percent each, tracking Brent crude prices that scaled the 3 year high.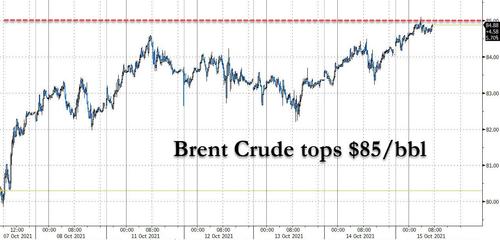 Solid earnings in the reporting season are tempering fears that rising costs and supply-chain snarls will hit corporate balance sheets and growth. At the same time, the wider debate about whether a stagflation-like backdrop looms remains unresolved.
"We don't sign up to the stagflation narrative that is doing the rounds," said Hugh Gimber, global strategist at the perpetually optimistic J.P. Morgan Asset Management. "The economy is being supported by robust consumer balance sheets, rebounding business investment and a healthy labor market."
"After a choppy start to the week, equity markets appear to be leaning towards a narrative that companies can continue to grow profits, despite the combined pressures of higher energy prices and supply chain disruptions," said Michael Hewson, chief market analyst at CMC Markets in London.
Bitcoin and the crypto sector jumped after Bloomberg reported late on Thursday that the Securities and Exchange Commission is poised to allow the first U.S. Bitcoin futures exchange-traded fund to begin trading in a watershed moment for the cryptocurrency industry. Bitcoin traded off session highs having tested $60k during Asian hours, but will likely rise to new all time highs shortly.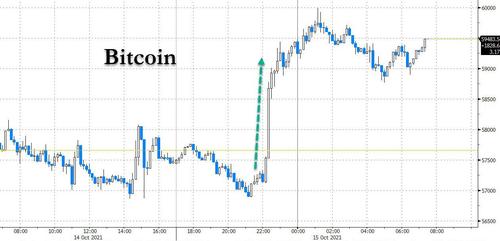 Also overnight, Joe Biden signed a bill providing a short-term increase in
…

by Zero Hedge - October 15th, 2021 7:08 am
Courtesy of ZeroHedge View original post here.
Former President Bill Clinton was admitted to a Southern California hospital earlier this week for a non-COVID-related infection, according to CNN.
"On Tuesday evening, President Clinton was admitted to UCI Medical Center to receive treatment for a non-Covid-related infection," Clinton's spokesman, Angel Urena, said in a statement.
"He is on the mend, in good spirits, and is incredibly thankful to the doctors, nurses, and staff providing him with excellent care," Urena continued.
Doctors said Clinton, 75, has a urinary tract infection that spread to his bloodstream.
"After two days of treatment, his white blood cell count is trending down and he is responding to antibiotics well," the doctors said. "The California-based medical team has been in constant communication with the President's New York-based medical team, including his cardiologist. We hope to have him go home soon."
Earlier this week, Clinton was in California for a private event for his foundation. On Tuesday, he felt fatigued and was admitted to the hospital later that day.
This is not Clinton's first health issue. After he left the White House, he underwent quadruple bypass heart surgery in 2004. In 2005, he returned to the hospital with a collapsed lung. Then in 2010, he had pair of stents implanted in a coronary artery.
The former president's doctors said urinary tract infections are common in older people and are easily treated with antibiotics. Still, there's a risk that it could spread into the bloodstream, which is what happened to Clinton.
by ilene - October 15th, 2021 6:58 am
Courtesy of Pam Martens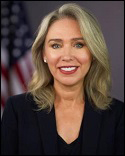 By Pam Martens and Russ Martens
On Tuesday, SEC Commissioner Allison Herren Lee delivered an exceptionally well-researched speech on the rising dangers to the broader U.S. economy from the burgeoning dark private markets for non-publicly traded stocks. She makes many important points.
However, there is a far larger and more dangerous dark market: the Dark Pools owned by the serially-charged mega banks on Wall Street that are trading, on a daily basis in darkness, the publicly-traded stocks that reside in public pension funds and the mutual funds that make up the bulk of retirement funds for tens of millions of Americans.
According to an April 2021 report from McKinsey & Company, "global private equity AUM [Assets Under Management] reached $4.5 trillion in the first half of 2020." That's the dark market that SEC Commissioner Lee is worried about.
The publicly-traded market in the U.S. stood at $54.768 trillion as of June 30, according to data from the Federal Reserve. That's 12 times the size of the global private equity market. Which one do you think represents a greater threat to financial stability in the U.S.?
The SEC has admitted to being understaffed and underfunded. Shouldn't it focus its limited resources on the biggest threats?
It's not that the SEC hasn't been put on notice for a long time now that what is going on in Wall Street's Dark Pools is nefarious, and, highly likely, illegal.
In 2012, Crown Business published the book, Dark Pools: The Rise of the Machine Traders and the Rigging of the U.S. Stock Market, by Wall Street Journal investigative reporter, Scott Patterson. Patterson described the situation in 2012 as follows:
"…pools within pools, all connected electronically, forming a single sloshing pool of dark electronic liquidity. By 2012, the amount of stock trading that took place in dark pools and internalizers [Wall Street banks trading stocks in-house without the oversight of a stock exchange] was a whopping 40 percent of all trading volume – and it was growing every month.

"Even the lit markets were unfathomably complex, run by giant computers that processed secret trading strategies
…

by Zero Hedge - October 15th, 2021 5:45 am
Courtesy of ZeroHedge View original post here.
At least someone is honest when it comes to soaring food inflation:
"Food is too cheap," Ranjit Boparan, who is known as the "Chicken King" in the UK, was quoted by Reuters
"In relative terms, a chicken today is cheaper to buy than it was 20 years ago. How can it be right that a whole chicken costs less than a pint of beer? You're looking at a different world from now on where the shopper pays more," Boparan said, who produces 33% of all poultry products in the country.
"The days when you could feed a family of four with an STG3 ($A5.55) chicken are coming to an end," he said, adding that the twin crises of Brexit and COVID are pushing prices higher amid snarled supply chains in the world's fifth-largest economy. The shortage of truckers to butchers to warehouse workers has exacerbated supply chain pressure. An energy crisis and power crunch have disrupted the food supply chain and added additional inflationary pressures.
He outlined how labor shortages would pressure wage inflation higher that would force him to automate:
"Less labor means less choice, core ranges, empty shelves, and wage inflation, and this isn't going to change," he said.

"Right now, I need to be honest about what this means for the consumer as inflation could reach double digits."
A winter of discontent could be nearing for millions of Brits as soaring food, energy, and power prices hamper the country's economic recovery.
by Zero Hedge - October 15th, 2021 4:15 am
Courtesy of ZeroHedge View original post here.
The energy crisis is bleeding into other parts of the commodity space, such as industrial metals, as smelters from Asia to Europe are knocked offline, resulting in a tightening supply with prices for zinc at 14-year highs.
Zinc jumped as much as 7% on the London Metal Exchange to the highest levels since 2007 after producer Nyrstar announced plans to halve output at three European smelters due to soaring energy prices.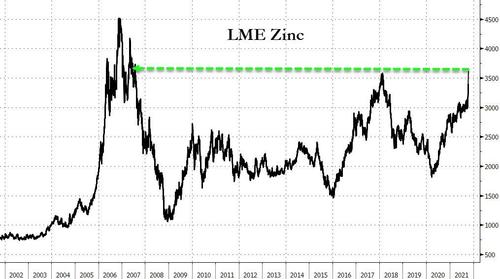 "It is zinc's turn" to surge as the energy crisis spreads through Europe and forces large-scale shutdowns or production cuts at smelters, said Jia Zheng, a trader with Shanghai Dongwu Jiuying Investment Management Co. She said soaring coal and natural gas prices have made power prices astronomically high and uneconomical for energy-intensive smelting plants to produce the industrial metal.
China has already curbed power to energy-intensive zinc and aluminum smelting plants amid an energy crunch fueled by record-high coal prices. In total, 20 Chinese provinces and regions making up more than 66% of the country's GDP have announced some form of power cuts.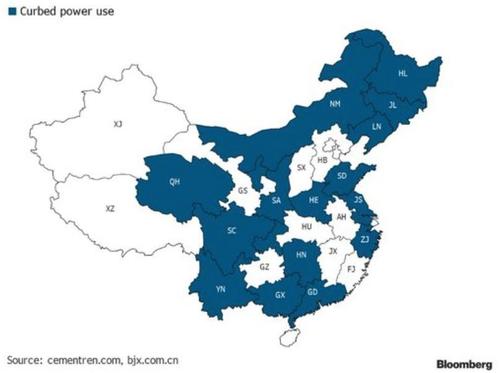 Industrial metal prices may stay high as the energy crisis continues to ravage Asia and Europe, researcher Shanghai Metals Market told clients in a note. According to the International Lead and Zinc Study Group, a surplus in global zinc will be whittled down in 2022 due to the latest production cuts.
"If production were to be reduced for any prolonged period, this would presumably have a massive impact on the zinc market, which would then no doubt be seriously undersupplied," Daniel Briesemman, an analyst at Commerzbank, wrote in a note. "The price response certainly makes sense against this backdrop."
The market is concerned about the industrial metal supply, reflected in a record high for the CRB BLS U.S. raw industrials spot index.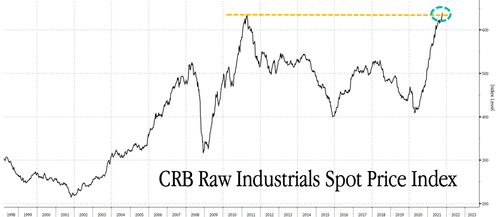 Industrial metal prices have historically held strong correlations with inflation.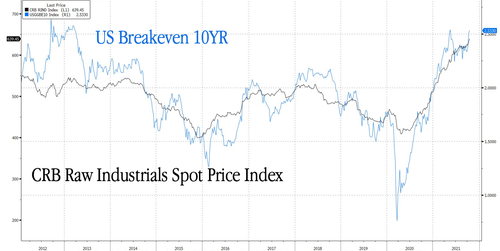 The latest price surge only suggests this is another loss for "team transitory" as inflation is set to stick around through the winter and into early 2022.
by Zero Hedge - October 15th, 2021 3:30 am
Courtesy of ZeroHedge View original post here.
Authored by Ben Norton via TheGrayZone.com,
Western governments in the NATO military alliance are developing tactics of "cognitive warfare," using the supposed threats of China and Russia to justify waging a "battle for your brain" in the "human domain," to "make everyone a weapon."

NATO is developing new forms of warfare to wage a "battle for the brain," as the military alliance put it.
The US-led NATO military cartel has tested novel modes of hybrid warfare against its self-declared adversaries, including economic warfare, cyber warfare, information warfare, and psychological warfare.
Now, NATO is spinning out an entirely new kind of combat it has branded cognitive warfare. Described as the "weaponization of brain sciences," the new method involves "hacking the individual" by exploiting "the vulnerabilities of the human brain" in order to implement more sophisticated "social engineering."
Until recently, NATO had divided war into five different operational domains: air, land, sea, space, and cyber. But with its development of cognitive warfare strategies, the military alliance is discussing a new, sixth level: the "human domain."
A 2020 NATO-sponsored study of this new form of warfare clearly explained, "While actions taken in the five domains are executed in order to have an effect on the human domain, cognitive warfare's objective is to make everyone a weapon."
"The brain will be the battlefield of the 21st century," the report stressed. "Humans are the contested domain," and "future conflicts will likely occur amongst the people digitally first and physically thereafter in proximity to hubs of political and economic power."
While the NATO-backed study insisted that much of its research on cognitive warfare is designed for defensive purposes, it also conceded that the military alliance is developing offensive tactics, stating, "The human is very often the main vulnerability and it should be acknowledged in order to protect NATO's human capital but also to be able to benefit from our adversaries's vulnerabilities."
In a chilling disclosure, the report said explicitly that "the objective of Cognitive Warfare is to harm societies and not only the military."
With entire civilian populations in NATO's crosshairs, the report emphasized that Western militaries must work more closely with academia to weaponize social
…