Archive for the 'Appears on main page' Category
by ilene - August 14th, 2018 7:31 pm
We are guinea pigs in a worldwide experiment on microplastics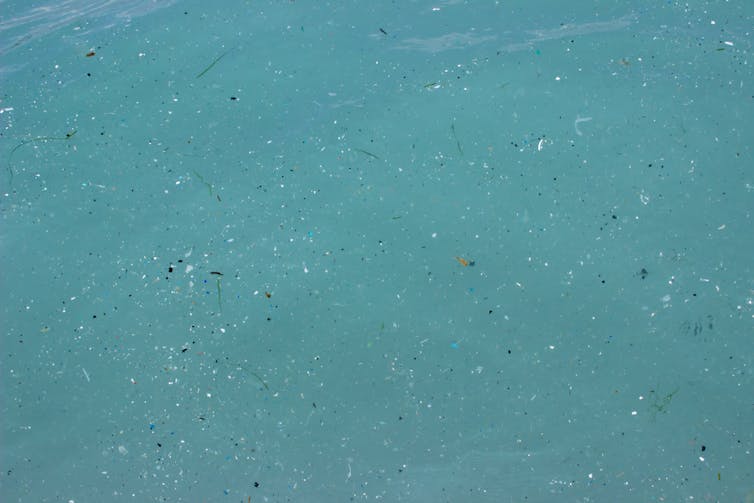 Courtesy of John Meeker, University of Michigan
One of the main problems with plastics is that although we may only need them fleetingly – seconds in the case of microbeads in personal care products, or minutes as in plastic grocery bags – they stick around for hundreds of years. Unfortunately, much of this plastic ends up as environmental pollution. We've all seen the gruesome images of a sea turtle killed by a plastic bag, or the array of bottle caps, toothbrush fragments, and other plastic items found in the stomach of an albatross carcass. But what about the tiny microplastics that aren't as readily visible?
Much of the hundreds of millions of tons of plastic waste in our oceans is made up of microplastics. These are defined as plastic beads, fibers or fragments with a diameter of less than five thousand micrometers (μm), equal to one-half centimeter. Nanoplastics are thousands of times tinier, with a diameter of less than 0.1 μm, and are also likely to be widely present. By comparison, a human hair ranges from about 15 to 180 μm across. Some of these microplastics are deliberately engineered like microbeads in a facial scrub. Others result from the break down of larger plastic items.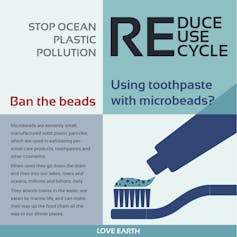 I'm an environmental epidemiologist with a research group that studies exposure to chemicals commonly found in consumer products, including plastics, and…

by phil - August 14th, 2018 8:21 am
Yet another meaningless Monday erased from history.
After all of yesterday's excitement, the Futures have taken us right back to where we finished on Friday, 2,832 on the S&P 500 and 25,300 on the Dow – as if yesterday never happened. I'm not sure it will last as Europe is flat, not up and China was down yet again this morning so there's nothing really to get too excited about and 25,300 is a good shorting line on the Dow Futures (/YM) with tight stops above – if you feel like playing.
We felt like playing yesterday as Gasoline (/RB) dipped down to the $2 line and Oil (/CL) fell to $66 and I said to our Members at 1:48 in our Live Chat Room:
Wow, Oil etc went down hard and fast, good chance to get back in for the bounce off $66 on /CL and $1.99 on /RB (tight stops below).
I know, so complicated, right? How will you ever learn the jargon? Well, I would think our results would motivated you as those Gasoline contracts made a quick $1,000 each at $2.02 (and back to $2.05 this morning for another $1,260 per contract since) while Oil Futures (/CL) blasted back over $68 for a $2,000 per contract gain ($67.50 in yesterday's close was $1,500 per contract – also very nice!
Futures trading is the only kind of day trading I like to do as it's a nice quick way to take advantage of market stupidity without incurring a lot of trading fees and, more importantly, without consuming your attention. As Fundamental Investors, we KNEW $2 was too low for /RB (that did not stop it from hitting $1.98, of course) and we KNEW $66 was too low for oil with 2 weeks until a holiday weekend so it made good sense to take a chance at those levels and notice we waited until AFTER it bottomed – you don't get rich trying to call exact bottoms or tops in the Futures!
As I was saying in last week's webinar,…

by ilene - August 13th, 2018 9:08 pm
Cheri Jacobus talks about the GOP, Russia, the media and taking back Congress.
Interview with Ilene at Phil's Stock World
Cheri Jacobus is a widely known political consultant, pundit, writer and outspoken former Republican. She has been a guest on CNN, MSNBC, FOX News, CBS.com, CNBC and C-Span. After many years working with the GOP, she has a unique view of the party and politics. Cheri shares her insights on today's political environment with us.
Ilene: What are the main factors that have transformed the Republican Party into what it is today?
Cheri: Right-wing media and evangelicals softened the GOP, making it quick to sell out to Trump. I witnessed the change in FOX as it morphed from being a fresh, scrappy effort with what was then a needed voice in a sea of liberal media, to a completely dishonest, manipulative, corrupt enterprise both on and off the air. And right-wing evangelicals (not to be confused with legitimate Christians) drowning in Trump-backing hypocrisy stems from ignoring the line between church and state, spouting propaganda from the pulpit.
Ilene: What do you mean by "softened"?
Cheri: Methodically dumbing down, requiring little fact-checking or thoughtful debate, so that the Machiavellian establishment was quick to sell out – no questions asked. It was made easy for them.
Ilene: It seems to me that Trump supporters and Trump critics live in different worlds. How did this happen?
Cheri. While Trump supporters know about some of Trump's tweets, they learn about them through the filter of right-wing Trumpian media, and never hear the fact-checking or push-back. Trump supporters live in an information vacuum but don't know it. They are not on Twitter, by and large (although we know there are millions of fake Trumpkins on Twitter as trolls and bots). The "fix" is having real media be consistent, clear, repetitive and never let up reporting the truth about Trump.
Ilene: What are the Democrats' odds of winning the House and/or Senate in 2018?
Cheri: Very good, but not the slam dunk many believe, unless Mueller comes down heavy before that. And, given the media blackout of all negative news on Trump in some corners, many voters will not get the full picture. A daily diet of FOX, Trump right-wing radio and disinformation from the pro-Putin Breitbart, Daily Caller and the mysteriously-funded…

by phil - August 13th, 2018 8:29 am
Trade War – so what?
Despite Friday's sell-off, which was more a result of Turkey's currency issues than the escalating Trade Wars, the markets are still generally shrugging off any and all bad news as they continue to march into uncharted territories. Nothing has changed today – the Turkish Lira is still collapsing only now it's taking other currencies with it and the Trade War talk is heating up between the US and China, the US and Japan, the US and Russia, the US and Europe, the US and Canada and the US and Mexico and I THINK that's all the countries we're fighting with at the momen- all I know is I'm on a cruise with people from all over the World and they all ask me "What the f*ck is wrong with your President?"
So far, we're only scratching the surface of Trump's actions compared to Trump's threats. About $700Bn worth of tariffs have been threatened which would tax the American consumers $175Bn at 25% but, so far, "only" $63Bn worth of tariffs have been enacted so 1/10th of the way there and look at all the chaos it's already causing. Want to stay for rounds 2-10?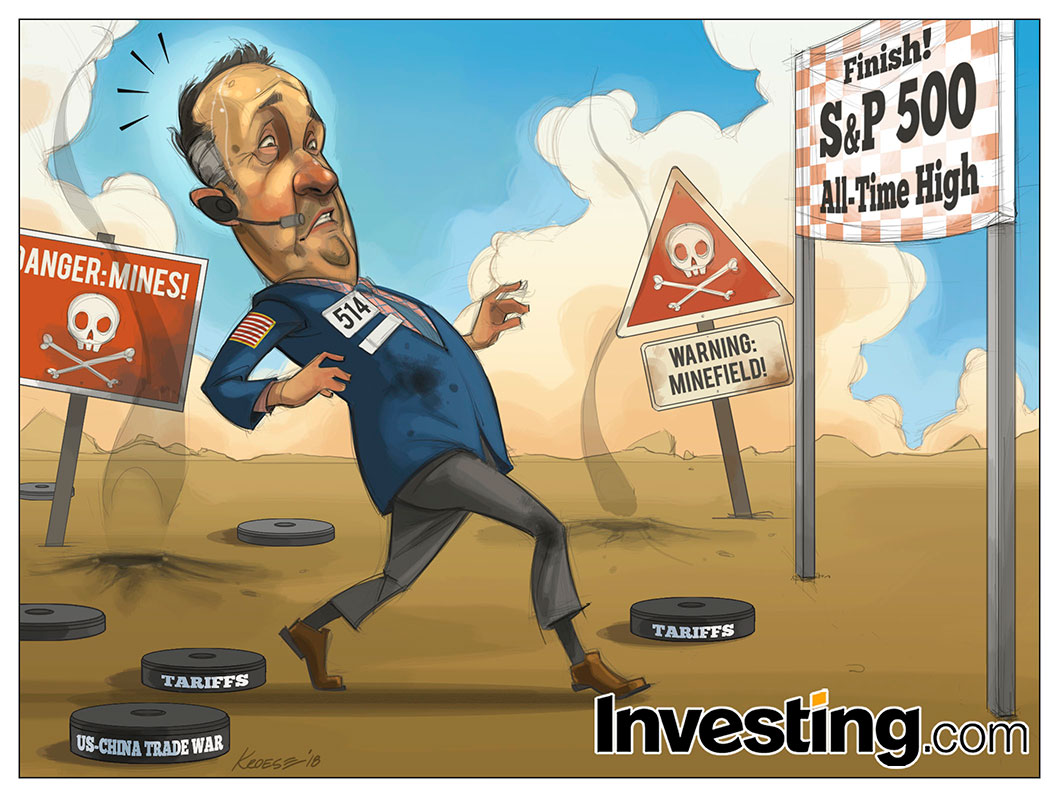 Yet traders seem perfectly happy to ignore the multiple elephants in the room as we party like it's 1999 and now we'll see if last week's dip was the start of a correction or yet another pullback we bounce right back from. Bounce lines to watch are:
Dow (

/YM

) 25,650 to 25,175 is a 475 drop so we'll call it 100-point bounces to 25,275 (weak) and 25,375 (strong)
S&P (

/ES

) 2,860 to 2,820 is a 40-point drop so call them 10-point bounces to 2,830 (weak) and 2,840 (strong)
Nasdaq (

/NQ

) 7,500 to 7,375 is 125 so we get 25-point bounces to 7,400 (weak) and 7,425 (strong)
Russell (

/RTY

) 1,700 to 1,675 is 25 points so 5-point bounces to 1,680 (weak) and 1,685 (strong)
We're certainly going to get our weak bounces and probably strong bounces into the open but what matters is what holds for the day…

by clarisezoleta - August 11th, 2018 6:02 am
The PhilStockWorld.com Weekly Webinar – 08-08-18

For LIVE access on Wednesday afternoons, join us at Phil's Stock World – click here*
Major Topics:
00:01:52 Checking on the Markets
00:06:23 Indexes
00:11:11 DJI
00:12:16 DIS
00:19:47 Portfolio Reviews
00:21:53 TSLA $500 Calls
00:27:30 Active Trader
00:31:05 NWL
00:51:11 PZZA
01:02:05 DXD
01:04:12 L Brands
01:09:47 Active Trader
01:21:21 IMAX
01:37:52 Gasoline RBOB
01:41:07 Trade Ideas
01:45:11 Trading Approach
01:52:54 CMG
Phil's Weekly Trading Webinars provide a great opportunity to learn what we do at PSW. Subscribe to our YouTube channel and view past webinars, here. For LIVE access to PSW's Weekly Webinars – demonstrating trading strategies in real time – join us at PSW — click here!
by ilene - August 11th, 2018 4:47 am
Courtesy of Joshua M Brown
My comments here refer to private businesses and not the publicly-traded stock market.
I've never seen a seller's market quite like the one we're in now for privately held companies. In almost any industry, especially if it's white collar, professional services and has a recurring revenue stream. There are thirty buyers for every business and they're paying record-breaking multiples. There are opportunities to sell and stay on to manage, or sell to cash out (and bro down). There are rollups rolling up all the things that can be rolled up.
Please don't take this as personalized investment advice, your own situation will be unique. I'm just thinking out loud and speaking generally here.
I've got anecdotes pouring out of my ears from the last few months. I won't relay them all. In my own industry, private equity firms have come in to both make acquisitions as well as to back existing strategic acquirers. This isn't brand new, but the pace is furious and the deal size is going up. I'm hearing and seeing similar things happening with medical practices and accounting firms and insurance agencies.
Anything that can be harvested for its cash flows and turned into a bond is getting bought. The competition for these "assets" is incredible, by all accounts I've heard. Money is no object.
Here's why – low interest rates (yes they're still low) for a decade now have pushed huge pools of capital further out onto the risk curve. They've also made companies that rely upon borrowing look way more profitable than they'd ordinarily be.
At the same time, pensions and insurance companies and corporate treasurers and family offices are all in the private equity game. They're either allocating to funds or trying to do deals directly, by themselves or with the help of consultants. The historical returns of the private equity "asset class" are eye-poppingly good and now everyone wants an allocation. Trillions of dollars have come pouring in to both enormous funds and tiny funds.
Now here's where the incentives part kicks in (it always…

by phil - August 10th, 2018 8:23 am
Economic War!
That's what Russian Prime Minister, Dmitry Medvedev called US sanctions early this morning and he threatened "other means" of retaliation so Congresspeople better invite some Food Tasters to their barbeques this summer as this whole thing started over Russias use of nerve agents (allegedly) to murder former spys in the UK, which recently killed a bystander who thought a bottle of poison was perfume.
These sanctions are not coming from the White House – Trump says Russia denies it and that's good enough for him. The Senate and the House are not convinced though, and they have proposed sweeping sanctions against Russia on August 2nd, which are slated to go into effect on August 22nd and get much worse 90 days later if Rusia does not provide "reliable assurances" it will no longer use chemical weapons, allow on-site inspections by the UN or other international observer groups, and respond to other U.S. demands.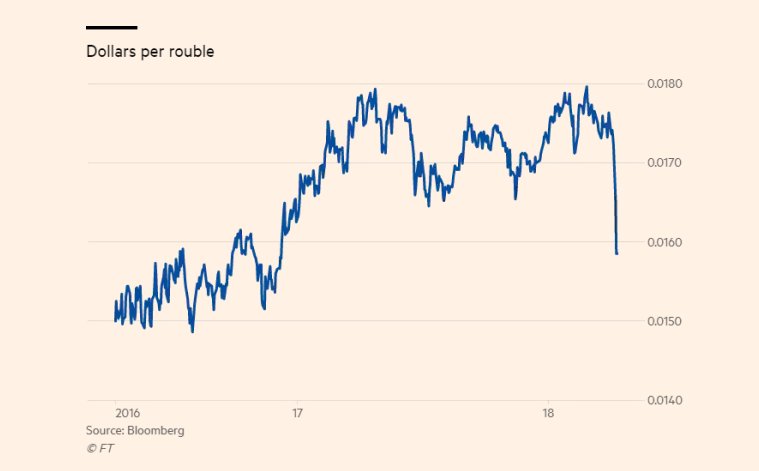 The Ruble crashed yesterday and Medvedev said this morning that Moscow would consider it a "declaration of economic war" and would retaliate "economically, politically, or, if needed, by other means" if the United States imposes bans on Russian banks or their use of a particular currency. While he did not go into detail, Medvedev's reference to "other means" appeared to have been aimed to raise the prospect that Russia could respond with military force or some other form of warfare, such as a cyberattack or even more nerve gas.
In other Cyrillic news, Turkey's Lira is also crashing as negotiations bread down over the jailing of an American Pastor, Craig Brunson, who has been held there for two years on terrorism charges for his involvement in an attempted coup in July of 2016. Turkish officials have accused Mr. Brunson of aiding the group accused of orchestrating the coup and another Kurdish separatist movement, charges that the American pastor and U.S. officials have denied.
Last week, the Trump administration accused Turkey's justice and interior ministers of human rights abuses and imposed economic sanctions on both men. The crisis sent Turkey's lira plunging to record lows. Publicly, Mr. Erdogan was defiant. Privately, his government was trying to secure a face-saving way to end the standoff. On Monday, Turkey's currency plunged…

by ilene - August 10th, 2018 12:30 am
Courtesy of Joshua M Brown
(Originally published Aug. 8, 18)
This morning I stopped by 30 Rock to do a hit with Stephanie Ruhle about the big commotion over Elon Musk's announcement yesterday. I talk to bulls and bears about the company all the time and I don't have a strong opinion on what is going to happen with the stock or the company. One thing I'm pretty sure of is that what went down yesterday is one of the most bizarre things I've ever seen.
[Click here or on image to watch video.]
Want to weigh on this? Comment here on my Facebook page.
by ilene - August 9th, 2018 10:37 pm
Courtesy of Michael Batnick
Does it really matter when a bull market begins? Whether you measure it from the low in 2009 or when new highs were made in 2013, isn't this just semantics?
Bull markets are in the eye of the beholder, and when we mark the beginning is of little importance, unlike things like earnings and valuation and interest rates. Subjective and unimportant as it may be, I do think it can affect investor psychology, if only at the margin.
The other day a friend of mine texted me thats he keeps reading that we're due for a pullback because of the length of this bull market. Unfortunately, we're going to be seeing a lot more of this talk in the next few weeks.
Bank of America's Chief Investment Officer Michael Hartnett writes to "Get the champagne out For US stocks", because we are now just 14 trading days to go until the S&P 500 bull market becomes the longest of all-time, at 3,543 days, on August 22, 2018 (via Zerohedge). Well then in this case, how we talk about this current bull market will absolutely affect what certain investors do, even if it doesn't directly affect the market as a whole.
I've long been of the opinion that a bull market begins not when a bear market ends, but rather once the previous bull market highs are broken. Let's use The Great Depression as an example. Did the bull market start at the bottom in 1932 or when new highs were made in 1954? And what do we call the period from the bottom to the previous high?
From the low in '42 until the Dow finally passed its '29 high in the end of 1954, the Dow gained 285%. It's hard to call this anything other than a massive bull market, even if it took place within the confines of a high made years earlier. Do these labels matter? No, I guess not, but sometimes it's okay to argue about trivial details.
These things are not black and white, and I had something of an internal struggle when Adam…

by phil - August 9th, 2018 8:32 am
Another $16Bn in tariffs.
Or, should I say, another $4Bn in taxes against the American Consumer placed by Trump causes another $4Bn of Import Duties to be place on US goods we are trying to sell to China. That's the real impact of the announced "$16Bn in tariffs" that Trump gleefully announced on Tuesday, which was immediately followed by an exact retailiation by China yesterday.
"This is very unreasonable," China's Ministry of Commerce said, "In order to defend China's rightful interests and the multilateral trade system, China has to retaliate as necessary."
This brings our cross-tariffs with China up to $50Bn and we already know there were painful effects from the first $20Bn so this is 150% more pain for US companies and 150% more taxes on US Consumers but still a drop in the bucket compared to the $500Bn in taxes Trump has threatened to place on US Consumers who buy Chinese goods. That's all a tariff is, it's a tax that punishes consumers for buying certain items from certain countries – the behavior they are trying to change is yours – not China's!
Now, who do you think will be more successful in getting their people to change their habits? If it were Japan, we would have already lost this trade war as the Japanese people tend to obey Government edicts but Chinese people are a bit more like Americans, making independent choices though, on the whole, they tend not to fight the Government unless it's important while Americans generally ignore the Government and do whatever they want.
We're not there yet but if the Chinese Government declares it "unpatriotic" to buy American goods – our exports to China can ground to a very quick halt. China can also hit us where it hurts on Rare Earth Materials, which China makes 90% of for the Planet Earth, not because they are actually rare but because producing them causes levels of pollution that most countries find unacceptable.
Now, you can say that Trump can lift restrictions on strip-mining and lift all enviromental protections "for the sake of the economy"…