Archive for the 'Immediately available to public' Category
by ilene - March 21st, 2018 6:15 pm
Facebook is killing democracy with its personality profiling data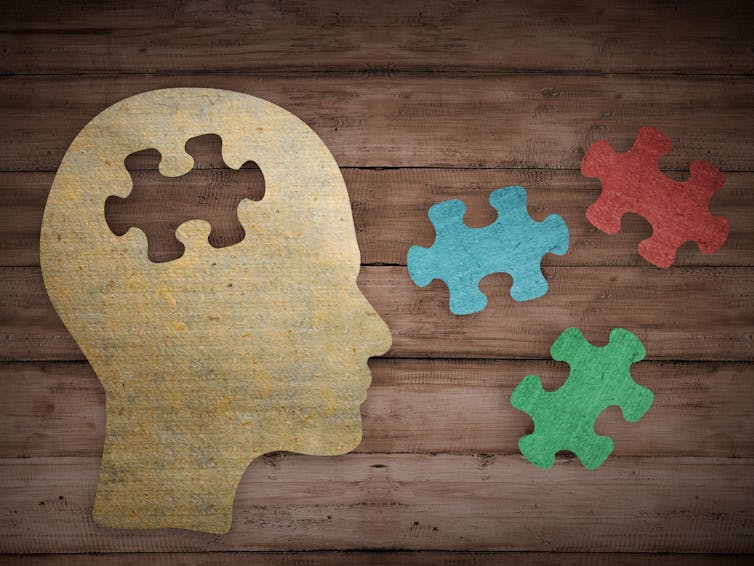 Courtesy of Timothy Summers, University of Maryland
What state should you move to based on your personality? What character on "Downton Abbey" would you be? What breed of dog is best for you? Some enormous percentage of Facebook's 2.13 billion users must have seen Facebook friends sharing results of various online quizzes. They are sometimes annoying, senseless and a total waste of time. But they are irresistible. Besides, you're only sharing the results with your family and friends. There's nothing more innocent, right?
Wrong.
Facebook is in the business of exploiting your data. The company is worth billions of dollars because it harvests your data and sells it to advertisers. Users are encouraged to like, share and comment their lives away in the name of staying connected to family and friends. However, as an ethical hacker, security researcher and data analyst, I know that there is a lot more to the story. The bedrock of modern democracy is at stake.
You are being psychographically profiled

Most people have heard of demographics – the term used by advertisers to slice up a market by age, gender, ethnicity and other variables to help them understand customers. In contrast, psychographics measure people's personality, values, opinions, attitudes, interests and lifestyles. They help advertisers understand the way you act and who you are.
Historically, psychographic data were much harder to collect and act on than demographics. Today, Facebook is the world's largest treasure trove of this data. Every day billions of people give the company huge amounts of information about their lives and dreams.
This isn't a problem when the data are used ethically – like when a company shows you an ad for a pair of sunglasses you recently searched for.
However, it matters a lot when the data are used maliciously – segmenting society into disconnected echo chambers, and custom-crafting misleading messages to manipulate individuals' opinions and actions.
That's exactly what Facebook allowed to happen.
Quizzes, reading your mind and predicting your
…

by ilene - March 21st, 2018 4:19 pm
Courtesy of Pam Martens
Last evening, the Washington Post reported that Steve Bannon was the individual overseeing the earliest collection of Facebook data for Cambridge Analytica in 2014. The company is under investigation in both the U.S. and U.K. for data mining private information on more than 50 million Facebook users to target voters for the 2016 Trump presidential campaign.
Bannon, with funding from billionaire hedge fund manager, Robert Mercer, was involved in the launch of Cambridge Analytica in 2013. Both Bannon and Mercer served on the Cambridge Analytica Board after its founding.
Bannon is the former executive chairman of Breitbart News which also received funding from Mercer. Bannon also served as CEO of Donald Trump's 2016 presidential campaign and as senior counselor to the 45th president for the first seven months of his term until a falling out last year. Robert Mercer was a large donor to the Trump campaign.
Essentially, whatever Bannon has been connected to since at least 2013, Mercer money has been involved in the effort. Take, for example, the Government Accountability Institute (GAI). It was founded in 2012 by Peter Schweizer and Steve Bannon. Schweitzer is currently listed on its website as its President and Rebekah Mercer, daughter of Robert, is listed as its Chair. Rebekah Mercer played a major role in the Trump campaign and served on the Trump Transition Team's Executive Committee, which played a major role in selecting cabinet appointees.
According to publicly available records of the Mercer Family Foundation filed with the IRS, GAI received $5,750,000 from the Mercer Family Foundation from 2013 through 2016. Schweizer, the co-founder and current President of GAI, authored the book, Clinton Cash: The Untold Story of How Foreign Governments and Businesses made Bill and Hillary Rich. The book was released in 2015 and dogged Hillary Clinton throughout her presidential run. A documentary, based on the book, was released in 2016 and lists Bannon as a Producer, with Schweizer and Rebekah Mercer as Executive Producers.
…
by Zero Hedge - March 21st, 2018 11:11 am
Courtesy of Zero Hedge
Today, according to Politico, the White House will unveil its plan to hit China with tariffs and other trade restrictions, one day ahead of schedule as President Trump is slated to outline the results of U.S. Trade Representative Robert Lighthizer's investigation into allegations that China violates U.S. intellectual property rights by forcing American companies to transfer valuable technology to Beijing.
Lighthizer's office has determined that the US loses at least $30BN a year to China's alleged forced technology transfers, and the administration is weighing a package of tariffs equivalent to that amount of Chinese imports; according to Reuters it could be as high as $60Bn.
While it is still unclear what Chinese imports might be targeted, Goldman notes that unlike the steel and aluminum tariffs, which were 25% and 10%, respectively, the affected categories of imports from China are likely to face a much higher level of tariffs, potentially approaching 100%.
In advance of Trump's announcement, China hinted that its countertariffs will be aimed at Trump's support base, including levies targeting U.S. agricultural exports from farmbelt states in retaliation to the mounting trade offensive from Washington. This confirms what has been widely suggested, namely that Chinese retaliation is virtually assured, with Goldman adding that in some recent cases China has announced its own protective actions within days of a US action but usually covering a fraction of the value of products targeted by the US. With China-focused investment and visa restrictions still on the horizon, it is possible that the announcement of those measures several weeks from now could prompt a further counter-response from China.
The launch of trade war with China does have a silver lining: it suggests that trade policy risks might soon reach a near-term peak. According to Goldman, while NAFTA renegotiation remains a risk and adverse headlines are a clear possibility, a US withdrawal from NAFTA looks unlikely. There are additional trade remedy cases in the pipeline in the US, but these cover only a few billion in imports in total and are in line with similar cases considered by other administrations.
And now the bad news: Goldman also notes that with the economy…

by Zero Hedge - March 21st, 2018 10:33 am
Courtesy of Zero Hedge
We previously laid out some of the key expectations and questions ahead of Wednesday's hawkish FOMC decision, when new Fed chair Jay Powell is virtually guaranteed to raise rates by 25bps, with the only question being whether the FOMC "dots" will rise enough to indicate 4 rate hikes in 2018, or stay at 3, and whether the Fed will change the FOMC day format to add a press conference after every meeting.
Here, for those who missed it, or are still unsure what to expect, here is a preview of tomorrow's main event with the help of RanSquawk:
RATE PATH: A 25bps hike to 1.50-1.75% is priced in with over 90% certainty by money markets. More interest will be on how many hikes the FOMC projects in 2018 (currently three), and over its forecast horizon (seven; federal funds futures barely price five over that horizon).
Unlike December 2017, where Kashkari and Evans dissented to lifting rates, BoAML expects the decision to be unanimous in March, given the hawkish rotation of FOMC voters.
HOW MANY HIKES: Consensus is split whether there will be three or four hikes in 2018. Goldman Sachs says recent hawkish remarks by Fed officials suggest a broad shift in the Committee's outlook towards a faster pace of tightening, and it sees the Fed signalling four rate rises this year, although not in later in the year. Even so, UBS posits the theory that the doves' forecasts may simply play catch-up – the hawks were always shooting for three/+ hikes – and, accordingly, the dots could just be narrowed at the lower-end of the spectrum, with the median remaining three. Additionally, the impact of fiscal stimulus will filter through later along the forecast horizon. By maintaining the three hikes view, the Fed would have more flexibility to better assess inflation trends and the likely impact of fiscal stimulus in later meetings, leaving the option to add the 'fourth dot' in June or September. And even if the Fed kept 'three dots' in 2018, it could still play a hawkish card by adding another rate rise to the 2019 profile, where it currently has two hikes pencilled in.
Morgan Stanley is far more lukewarm, and it expects that…

by ilene - March 21st, 2018 10:21 am
Courtesy of The Automatic Earth
Hildegard von Bingen (1098-1179) German artist, philosopher, composer, mystic Cosmic Tree
All of a sudden, politicians in the EU, UK, and USA all want to talk to Mark Zuckerberg. That's a bad enough sign all by itself. It means they all either have been asleep, complicit, or they're not very bright. The media tries to convince us the Facebook 'scandal' is about Trump, Russia (yawn..) and elections. It's not. Not even close.
If Zuckerberg ever shows up for any of these meetings with 'worried' politicians, he'll come with a cabal of lawyers in tow, and they'll put the blame on anyone but Facebook and say the company was tricked by devious parties who didn't live up to their legal agreements.
After that, the argument won't be whether Facebook broke any laws for allowing data breaches, but whether their data use policy itself is, and always was, illegal. Now, Facebook has been around for a few years, with their policies, and nobody ever raised their voices. Not really, that is.
And then it'll all fizzle out, amid some additional grandstanding from all involved, face-saving galore, and more blame for Trump and Russia.
The new European Parliament chief Antonio Tajani said yesterday: "We've invited Mark Zuckerberg to the European Parliament. Facebook needs to clarify before the representatives of 500 million Europeans that personal data is not being used to manipulate democracy."
That's all you need to know, really. Personal data can be used to manipulate anything as long as it's not democracy. Or at least democracy as the Brussels elite choose to define it.
First: this is not about Cambridge Analytica, it's about Facebook. Or rather, it's about the entire social media and search industry, as well as its connections to the intelligence community. Don't ever again see Google or Facebook as not being part of that.
What Facebook enabled Cambridge Analytica to do, it will do ten times bigger itself. And it sells licences to do it to probably thousands of other 'developers'. The CIA and NSA may have unlimited powers, but prior to Alphabet and Facebook, they never had the databases. They do now, and they're using them. 'Manipulate democracy'? What democracy?
Then: 50 million is…

by phil - March 21st, 2018 8:49 am
Yawn, are we there yet?
This is the same chart we were using since the beginning of February and, in March, the markets have been full of sound and fury which has signified nothing as all that bluster has us right back where we started, with the S&P 500 finishing yesterday's session at 2,716 – exactly 3 points higher than we were 30 days ago.
When we did finally break out over the Strong Bounce Line at 2,728, the S&P flew all the way up to 2,800 (3/12 and 3/13) when I said we were going to short the S&P (/ES Futures) back to 2,400 and we hit 2,700 (up $5,000 per contract) on Monday and 2,720 is a weak bounce from that. My comment on the overall market was:
"I said we plan on deploying more cash when the S&P drops to 2,400, which is 15% down from the current 2,800 but that includes people paying $1,600 for a share of Amazon (AMZN) that generated $4.56 in profit last year for a return of 0.285% – Japanese bond investors laugh at Amazon shareholders! Come on folks, this is ridiculous – markets can't sustain these kinds of gains."
Now you know what I meant by that comment – markets can't go up just because – there needs to be real money flowing in and a real economy to sustain it – we have neither of those things. Yes, the economy is growing, but not fast enough to justify those kinds of market moves and that's why we have our 5% Lines™, especially our Must Hold Levels™ – to remind us where the REAL value is in the markets and that keeps us from losing our heads and chasing ridiculous valuations.
It also tells us when things are too cheap and, just like there was a mania to buy stocks at sky-high valuations, there's a mania to sell perfectly good stocks like GE (GE), L Brands (LB) or Chipotle (CMG) at fire-sale prices – surprisingly in the midst of the same rally (see our March 12th Top Trade Review for those trade ideas).
Even now, Amazon (AMZN) added back $41.50 (2.7%) yesterday as it retests $1,600,…

by Zero Hedge - March 21st, 2018 7:12 am
Courtesy of ZeroHedge. View original post here.
The Canadian Loonie and Mexican Peso jumped late on Tuesday after a report by the Globe and Mail that the U.S. government has dropped a demand that all vehicles made in Canada and Mexico for export to the United States contain at least 50% U.S. content.
President Donald Trump's administration dropped the demand during the North American Free Trade Agreement negotiations in Washington last week, which included talks between Canada's Foreign Minister Chrystia Freeland and U.S. Trade Representative Robert Lighthizer, the Canadian newspaper reported.
Autos have been one of the biggest sticking points in the talks, and Washington had originally demanded both the 50% U.S. content requirement and jacking up an existing requirement for North American content from 62.5% to 85% . Canada and Mexico flatly rejected the U.S. content demand, since it would give the United States a guaranteed economic advantage over its North American trading partners.
Canada's ambassador to Washington, David MacNaughton, said on Tuesday that meetings over the past two weeks "have been more positive than I've seen them before.
"I can say in all honesty that there has been substantive progress made, certainly on the auto side," he told a conference of the American Association of Port Authorities at a Washington hotel. "I am confident that we are going to move forward. I hope we can do so as quickly as possible."
Freeland's chief spokesman declined to comment on the report and said Canada and United States continued to work well together, while Canada's Prime Minister Justin Trudeau said earlier this week that Trump appeared to be "enthusiastic" about coming to an agreement on NAFTA.
At the conclusion of the last formal round of negotiations, in Mexico City earlier this month, Mr. Lighthizer said he wanted an agreement in principle in four to six weeks. One source with knowledge of the talks said the three sides are rushing to reach a deal by the end of April, before Mexico's presidential election campaign begins in earnest.

Prime Minister Justin Trudeau hinted earlier this week that talks were speeding up.

"We're renegotiating NAFTA, we've seen from the President he's enthusiastic about getting to a deal," he said.

The United States backing off its harshest demand would make the path to a deal much easier. "If true, that would be a
…

by Zero Hedge - March 21st, 2018 7:00 am
Courtesy of ZeroHedge. View original post here.
Global shares traded in the red, and the dollar slumped before a hike in US interest rates, while awaiting key guidance on how many more to expect for this year. S&P futures were little changed, while markets in Europe and Asia dropped; Japan's Nikkei was closed for holiday.
MSCI's all-country equity index flatlined and is now 6 percent off record highs hit at the end of January, pressured by fears of a global trade war ignited by President Trump and the possibility that the Fed could end up raising interest rates more than three times this year. Markets are also on edge because of the selloff in U.S. tech shares, which has wiped almost $50 billion off the value of Facebook this week amid uproar over the alleged misuse of users' data. The Facebook losses have filtered through other tech shares in the United States and overseas, with shares in Twitter falling more than 10%.
The losses are likely to have hit investors hard, with Bank of America Merrill Lynch's monthly survey showing global funds heavily positioned in tech shares just before the rout began.
"There are tensions between potential bad news and good news in the market. The bad news is the problem facing the tech sector, which has been the leading light of U.S. and Asian equity markets for over a year," said Andrew Milligan, head of global strategy at Aberdeen Standard Investments. "The good news is we must recall why the Fed is tightening policy. It's because of the underlying strength of the U.S. and global economy."
Europe slumped in early trading after Asian shares dropped into the close and copper sagged again. Adding to Europe's uncertainty was the report in La Repubblica that Italian ex-premier Silvio Berlusconi is open to possible center-right coalition pact with anti-establishment Five Star Movement which is spooking markets. The Stoxx 600 fell 0.2%, led lower by travel and leisure sector with airlines hurt by a surge in oil prices: the SXTP was down 0.7%, with Air France-KLM down 2%, easyJet down 1.7%, Lufthansa down 1.2%.
Earlier, Asia stocks followed the US example where the major indices rebounded from the recent tech sell-off. ASX 200 (+0.2%) and KOSPI (+0.1%) were marginally positive as Australia's energy sector tracked the outperformance seen in its US counterparts, although gains were…

by Zero Hedge - March 21st, 2018 6:05 am
Courtesy of ZeroHedge. View original post here.
The Austin serial bomber suspected of delivering six homemade bombs to locations around Austin this month, killing two people, has died after blowing himself up. Less than an hour after CBS Austin  released photographs of the suspect at a Fed-X facility, media reported of an officer-involved shooting on I-35 in Round Rock.
Police have identified the dead suspected bomber as a 24-year-old white male, according to the Associated Press.
BREAKING: APD sources tell us that the #AustinBombings suspect is dead after this officer-involved shooting in Round Rock https://t.co/fmePDy2tkY https://t.co/FS1WMsLmHy

— CBS Austin (@cbsaustin) March 21, 2018
As CBS Austin reported, police were closing in on the suspect when he killed himself by detonating some sort of explosive device, according to CBS Austin's source.
According to KVUE, the FBI and police tracked the bomber to the Round Rock area using cell phone technology, security video, store receipts before 'engaging him' around 3am on Wednesday. Then, as officers pursued the suspect a device was detonated, before a volley of gunfire.
The shooting came just hours after CBS published CCTV showing images from a surveillance video from the FedEx Office store on Brodie Lane in South Austin which helped investigators zero in on the suspect.
According to the Daily Mail, the images show a man – possibly wearing a wig and gloves – delivering two packages around 7.30pm on Sunday. One of the packages subsequently exploded on a conveyor belt at a FedEx sorting facility outside of San Antonio in Schertz.
The other was intercepted at a facility near Austin airport and was later confirmed to contain a bomb.
BREAKING: ATF is with @Austin_Police and @FBISanAntonio on I-35 at the scene of the individual suspected in the #packagebombmurders pic.twitter.com/JAZssOclMI

— ATF HQ (@ATFHQ) March 21, 2018
Authorities believe the same person is connected to the two packages that surfaced Tuesday is also responsible for the four other explosions that began on March 2nd, killing two people and injuring six.
Austin Police Department tweeted that they were working on an officer-involved shooting near the highway, but gave no further details.…

by Zero Hedge - March 21st, 2018 5:00 am
Courtesy of Mike Shedlock, MishTalk
US steel and aluminum tariffs start Friday. Germany's economy minister is in D.C. But Trump has stringent demands.
No one wins trade wars. The notion is ludicrous.
I have more on the "meaning of win" in a moment. But first let's consider the Eurointelligence view.
This is not a trade war the EU can ever win, as Wolfgang Munchau points out in his FT column. If the EU were to put up a big fight over this, with a long list of sanctions on Friday, the US would immediately respond with a tariff on car imports. It would be the equivalent of the Fool's Mate in chess, Munchau argues. Donald Trump is right in his assertion that trade wars are easy to win – if your opponent is sufficiently desperate and addicted to the export of manufactured goods, like Germany is. When we said that a current account surplus of 8% (or probably higher) is not sustainable, it was not meant as a statement of right or wrong. Unsustainable means that it will end at some point – through either adjustment or force.

Spiegel magazine had a story over the weekend that there is a glimmer of hope. It was one of those short Spiegel news stories, something they picked up from a single source, but not quite worthy of a full-length article. The story says the US will make three specific demands as a pre-condition for exempting the EU from the steel and aluminium tariffs. The first is that the EU caps steel output at 2017 levels. The story did not reveal the metric, whether in volume or value. The second is that the EU take anti-dumping measures against China, and agrees to cooperate with the US in questions of international trade policy. And, to top it all, the Europeans will have to deliver proof that they are on the way to meeting their Nato commitments on defence spending. The latter is an impossible demand to meet since no such proof can exist. The German grand coalition, for example, is making no efforts to increase defence spending. The priority of the new finance minister, Olaf Scholz, is to maintain the fiscal surplus.
OK, Where's the Win?

Eurointelligence never…