Archive for the 'Crypto Corner – Bitcoin, ETC' Category
by ilene - August 17th, 2018 11:04 pm
Bitcoin's rollercoaster ride reflects the biggest issue facing cryptocurrencies: regulation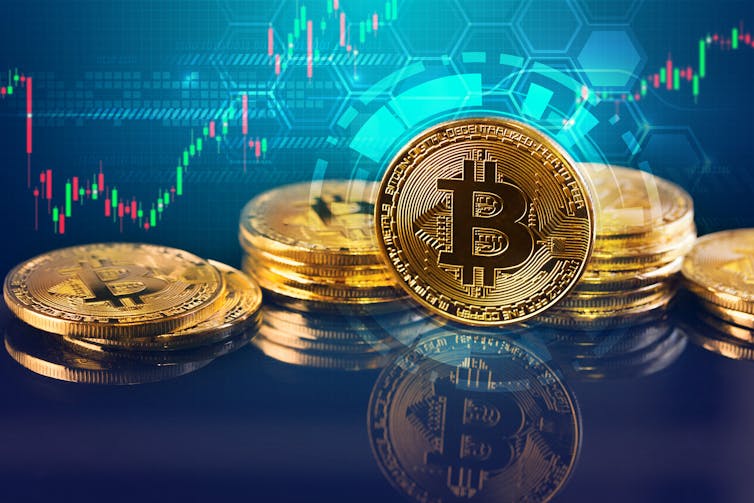 Courtesy of Brian Lucey, Trinity College Dublin and Shaen Corbet, Dublin City University
The rollercoaster of cryptocurrency pricing is on the downward slope again. Bitcoin has fallen by a quarter in the past month, with other large currencies such as Ethereum and Ripple down more than 40%. So where does this latest bout of losses leave cryptocurrencies?
Sceptics point to the multitude of regulatory issues and avenues for fraud and outright theft. Advocates continue to insist that these are the "future of finance".
One of the reasons for the latest sell-off is that investors are selling their crypto to pay off the capital gains tax they are required to pay on their gains. It has been estimated that US$25 billion is owed in the US alone.
But there is a more fundamental issue at play of investors rushing to convert their profits from initial coin offerings (or ICOs) into fiat currency like dollars. This is where a new crypto token is created in exchange for existing cryptocurrencies like bitcoin.
The lack of regulation to protect the profits made from ICOs reflects the wider issue facing the future of crypto. If cryptocurrencies are to become a more mainstream asset, they will require regulation – but this will be unpopular with much of its existing fan base which is inherently libertarian.
ICO trouble

The transfer of crypto gains from an ICO to fiat currency can generate quite the scrummage as cryptocurrency investors attempt to exit the market with the largest amount of value possible. In early 2018, it was reported that almost 46% of 2017 ICOs had already failed.
The pressure to exit in a timely manner has been exacerbated by the substantial number of ICO scams that have taken place. Crypto analysis site Diar estimates that, since 2017, nearly US$100m had been lost to ICO exit scams where organisers have little or no intention of developing a…

by ilene - August 3rd, 2018 12:03 pm
What is a blockchain token?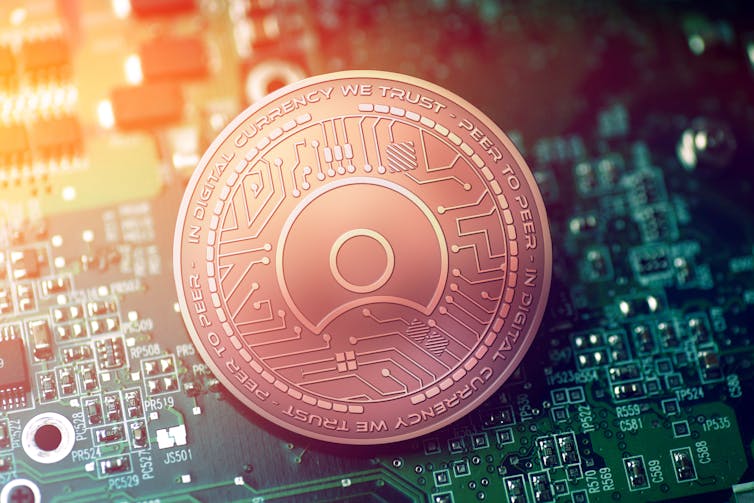 Courtesy of Stephen McKeon, University of Oregon
People are just becoming acquainted with the idea of digital money in the form of cryptocurrencies like bitcoin, where transactions are recorded on a secure distributed database called a blockchain. And now along comes a new concept: the blockchain-based token, which I've been following as a blockchain researcher and teacher of courses about cryptocurrency and blockchain tokens.
In the last 18 months, digital developers have raised more than US$20 billion through a funding process called "initial coin offering" – many of which use tokens. There are two common categories of them: "utility" tokens and "security" tokens.
Utility tokens

Utility tokens are essentially cryptocurrencies that are used for a specific purpose, like buying a particular good or service. For example, if you want to store information online, the most common way today is to become a customer of a hosting service like Google Drive, Dropbox or Amazon Web Services. You reserve a certain amount of storage space on those companies' servers and pay for it with dollars, euros, yen or other national currencies.
But there is another way. The Filecoin network, for instance, expects to provide similar cloud storage services without itself operating buildings full of massive servers. Instead, its users will store their data, in encrypted form, on the spare hard drive space of other regular people. This needs a different form of tracking of how much space a person uses, and a new way to pay all the people whose hard drives host the data. Enter the utility token, in this case called Filecoin.
As a customer stores more data, the network will deduct from their balance of Filecoin tokens and will send those tokens to each storage provider based on how much data they're hosting. Customers can buy more tokens with whatever currency they wish, and hosts can exchange them for any currency they choose – or keep them to spend on storage of their own data.
In addition to automating the data use and payments, Filecoin tokens offer another advantage over regular currencies:…

by Zero Hedge - July 25th, 2018 5:55 pm
Courtesy of ZeroHedge. View original post here.
By Chrisjan Pauw via CoinTelegraph.com
1. How do cryptocurrency prices compare to fiat currencies?

Neither is backed by a commodity like gold or anything with an underlying value.
The biggest difference between cryptocurrency values and fiat money is that fiat currencies are backed by central governments and declared as legal tender. Its value is basically derived from the fact that the central government has stated that it has value and two parties in a transaction put their trust in that value.
Most countries today operate in a fiat currency system, where central banks and monetary reserves control the supply of money and, as such, indirectly control inflation.
Cryptocurrencies, on the other hand, are not controlled by a central government or authority, and most regions do not accept them as legal tender. Cryptocurrencies will also generally have a fixed supply and, therefore, the devaluation of cryptocurrencies through inflation is mostly nonexistent.
Other than that, both fiat and cryptocurrency values are supported by similar characteristics. Both methods can be used as a medium of exchange to buy products and services, and both methods have a relative store of value.
2. Why do we see so much fluctuation in cryptocurrency prices?

It's still a nascent market.
The cryptocurrency market is still considered very new and, beyond hearing the term "cryptocurrency," most people are still very much unfamiliar with the industry.
Nascent markets have a number of qualities that make them inherently volatile.
Limited liquidity exists within the market if you compare it to more established markets like traditional economies, including the foreign exchange market. To put it into perspective, the total value of all the money in the world is more than $90 trillion, while the total cryptocurrency market cap is hovering around $250 billion — a 36,000 percent difference.
Daily cryptocurrency trading volumes are around the $14 billion mark, while daily forex trades are closer to $5 trillion. The spread — the difference between the buy and sell price — on foreign…

by Zero Hedge - July 24th, 2018 8:02 am
Courtesy of ZeroHedge. View original post here.
Bitcoin is now up over 40% from its June lows, breaking above $8,200 for the first time in over two months this morning and dragging the rest of the crypto space with it.
Bitcoin has broken above numerous key technical levels (4-month downtrend, 50DMA, 100DMA)…
"We've been in depressed levels for the last six months, so it's really one way from here, which is up," said Timothy Tam, chief executive officer with CoinFi, a cryptocurrency data analysis company, in a phone interview from Hong Kong. "The timing is always difficult to predict but I think we're at the start of a secular bull market."
The rest of the crypto space is also rallying…
No specific catalyst for the overnight move but generally positive news recently about impending approval in the United States for a cryptocurrency exchange traded fund (ETF) have helped bolster demand recently, as have comments by BlackRock last week that the world's biggest investment firm was looking at building a cryptocurrencies team sparked notice that institutional investors are perhaps on their way.
As Bitcoinist reports, popular cryptocurrency trader and CEO of investment firm BKCM LLC, Brian Kelly spoke to CNBC's Fast Money, outlining three reasons for which the recent Bitcoin price rally is real.
1. ETF Speculation

Kelly noted that "the chances of an ETF in 2018 are relatively low." With that said, he also goes on to share that "this doesn't stop speculation" as a prominent factor for the current rally.
On June 26th, the US Securities and Exchange Commission (SEC) received an application for a Bitcoin ETF. It was filed by Cboe Global Markets who've proposed to partner with SolidX and Van Eyck Investment. While this is not the first time Cboe has filed for a Bitcoin ETF, Bitcoinist outlined three reasons why its chances of getting approved are higher than ever.
Building on the ETF hype, the SEC has received and influx of comments on behalf of cryptocurrency enthusiasts, most of which are overly positive and…

by ilene - July 23rd, 2018 2:34 pm
Courtesy of Joshua M Brown
Lots of financial advisors are hesitant to even have the crypto currency conversation with their clients because the language is so foreign and the concept of profitless ventures is so far from their expertise in evaluating investment ideas.
Some look at Bitcoin and its rival digital assets as though they're most similar to commodities, and as such, worth whatever the next person is willing to pay for them. Others see them as a medium of exchange and still others believe the entire thing is just a scam that will soon disappear. My own take is that the blockchain is more interesting than the price of a "coin" that may or may not serve as the compensation for those willing to build out the distributed ledger's infrastructure.
My friend Tyrone Ross came by to share his views. Tyrone is a wealth manager at Noble Bridge Partners and had previously been a financial advisor at UBS. He's one of the only advisors in traditional wealth management who can actually speak intelligently on the subject, having been deeply involved with many of the players within crypto for many years. I also put him on the spot and asked him about his top Notorious B.I.G. joints.
Hope this is interesting and helpful for you – Josh
by Zero Hedge - July 18th, 2018 12:50 pm
Courtesy of ZeroHedge. View original post here.
Ken Griffin, the CEO and founder of the Citadel hedge fund, has reiterated his negative stance on Bitcoin (BTC) in an interview with CNBC this morning.
Speaking at the Delivering Alpha Conference in New York, CoinTelegraph's Helen Partz reports that Griffin admitted that he "still scratch[es] [his] head" about Bitcoin, claiming that the younger generation should "do something more productive than invest in digital currencies."
image courtesy of CoinTelegraph
To prove his point of view, the billionaire pointed out that none of his clients have ever suggested investing in cryptocurrencies:
"I don't have a single portfolio manager who has told me we should buy crypto, not a single portfolio manager."
Griffin further declared that his company is having a "hard time" deciding whether it should be a liquidity provider for a product that he "[does not] believe in," adding
"There's no need for cryptocurrencies. They're a solution in search of a problem."
In late 2017, Citadel's Griffin had made a similar statement about Bitcoin, comparing the top cryptocurrency with the "Dutch tulip bulb mania" in the 1600s and noting that "these bubbles tend to end in tears. And I worry about how this bubble might end."
Founded by Griffin in 1990, the Citadel hedge fund manages over $30 billion of assets. The global financial institution is one of the oldest hedge funds in the world, being only one of three percentof hedge funds that have been working for more than 20 years.
Others on Wall Street have embraced cryptocurrencies in their turn. Earlier this week, the world's largest largest asset manager BlackRock announced it is setting up a working group to estimate the benefits of involvement in Bitcoin, a turn away from the company's previous critical stance on cryptocurrency.
And last week, billionaire Steven Cohen's Point72 Asset Management hedge fund reportedly invested in the Autonomous Partners crypto and blockchain-focused hedge fund.
And, as CoinTelegraph's William Suberg notes, Avenue Capital Group…

by Zero Hedge - July 17th, 2018 2:12 pm
Courtesy of ZeroHedge. View original post here.
Bitcoin has suddenly exploded over 10% higher, smashing through its 50-day moving average, above $7000 for the first time since early June…
BTC is now testing up towards its 100DMA, ramping over $600 in 30 minutes…
And breaking its longer-term downtrend too…
The rest of the crypto space has gone along for the ride…
No immediate news catalyst jumps out though we note that gold was tumbling earlier, and tech stocks have been melting up all day – as well as the slow burn realization that if the world's largest asset manager puts even a fraction of a percent to work in crypto, things will get intense fast.
We note that the surge started around 1335ET, and it appears some major shorts liquidated at the same time…
by ilene - July 16th, 2018 1:50 pm
Picture via Pixabay
Think carefully before buying Bitcoin – and don't buy the 'safe haven' claims

Courtesy of Lee Smales, University of Western Australia
The sharp rise and subsequent fall in Bitcoin's value places it among the greatest market bubbles in history. It has outpaced the 17th-century tulip mania, the South Sea bubble of 1720, and the more recent Japanese asset price and dot-com bubbles.
---
---
The rapid price rise garnered attention from an increasing number of academics and investment advisers. Some have suggested that Bitcoin improves portfolio performance and can even be used as a potential "safe haven" asset in place of gold.
Our work finds that much of this research is flawed and overlooks some important attributes that any investor should consider before allocating funds to such a speculative investment.
This is particularly relevant if investing in Bitcoin is rationalised as a prospective safe haven in times of market turmoil.
Hard to value

The first attribute investors consider is how to value Bitcoin. Typically, assets are valued based on the cash flows they produce. Bitcoin lacks this property.
This leads to ongoing debate as to the true value of Bitcoin and other cryptocurrencies. Some, such as the Winklevoss twins and other Bitcoin entrepreneurs, believe the price will soar far higher. Others, including Nobel prize winner Eugene Fama and esteemed investor Warren Buffett, believe the real value is closer to zero. Another Nobel winner, Robert Shiller, suggests the correct answer is "ambiguous".
There is even wide variation in price across the various Bitcoin exchanges. This is common in fragmented markets and makes it difficult for an investor to find the best market price at any point in time – a process called price discovery.
High price volatility

Bitcoin prices also have a high level of variation (volatility) when compared to other possible investments including bonds, stocks and gold. Even tech stocks such as Twitter, which are considered relatively volatile, are found to…

by Zero Hedge - July 16th, 2018 7:10 am
Courtesy of ZeroHedge. View original post here.
Following new last week that billionaire investor Steven Cohen was said to have put money into a hedge fund focusing on crypto, Bitcoin et al. are extending gains today following headlines that BlackRock has formed a team to look into ways to take advantage of the cryptocurrency market and blockchain.
In the last week we have seen the owner of Switzerland's securities exchange in Zurich say it's creating a platform for trading digital assets.
Then, according to Fortune, none other than billionaire Steve Cohen has decided to join the bitcoin party and has invested in a Autonomous Partners, a relatively new hedge fund that is acquiring both cryptocurrencies and blockchain-related companies.
And now, as Financial News reports, the world's largest asset manager will examine whether the manager of $6.3 trillion of assets should invest in Bitcoin futures. It is also reportedly reviewing what competitors are doing with cryptocurrencies and how it would affect its business.
Notably, the formation of the team marks a change for the company after CEO Larry Fink said in October cryptocurrencies are a speculative platform in Asia and heavily used for money laundering. He has also said Bitcoin and other cryptocurrencies were "far from" being an opportunity for institutional investors, and none of BlackRock's clients wanted to invest in it, according to Financial News.
And all of this comes after JPMorgan, Fidelity, and CME among others have stepped into the crypto mix.
Bitcoin has spiked back above $6500, back at one-week highs…
And the rest of the crypto space is rising also – led by Bitcoin Cash…
So the big question is – Is the institutional investor finally ready to join the crypto party?
by Zero Hedge - July 3rd, 2018 5:50 pm
Courtesy of ZeroHedge. View original post here.
Authored by Darryn Pollock via CoinTelegraph.com,
Bitcoin's polarizing effect has people on both ends of the scale either proclaiming it is going to the moon or it is going to zero. The volatile, unprecedented, and revolutionary monetary system that is cryptocurrency has a future that not many can accurately predict, but as time has gone on, the idea that Bitcoin is going to zero seems more and more far fetched.
Image courtesy of CoinTelegraph
A number of commentators, just recently — when Bitcoin has been booming — have come forward with predictions of doom and gloom, warning investors that this new system of money — and investment opportunities — will fall to complete worthlessness.
Bitcoin is barely 10 years old, and has gone from being worth zero to being worth $20,000. So, as we sit with the price lower than many would have hoped, is it feeble to think it can reach as low as zero?
'It's going down'

It doesn't matter if it is skeptical friends around a dinner table, or Dr. Doom himself Nouriel Roubini, the prediction that Bitcoin will go to zero often comes up as a counter punch to all the positive strides that cryptocurrencies are making.
Being a new and unprecedented ecosystem, which operates in such established ecosystems as finance and money, it is fascinating to watch how the volatile asset advances. One day it is up, and one day it is down — but what makes people think it will fail all together?
In early February, when Bitcoin was crashing down toward $6,000, the chairman of Roubini Macro Associates, Nouriel Roubini — also known as "Dr Doom" for his pessimistic economic outlooks — made a bold claim:
As expected Bitcoin now crashes below $6000. Now the $5K handle is reached. And the US Congressional Hearing on Crypto-Scams is still a day away. HODL nuts will hold their melting Bitcoins all the way down to ZERO while scammers and whales dump and run…

— Nouriel Roubini (@Nouriel) February 6, 2018
…