Archive for the 'Crypto Corner – Bitcoin, ETC' Category
by ilene - March 20th, 2018 10:09 pm
Why accountants of the future will need to speak blockchain and cryptocurrency if they want your money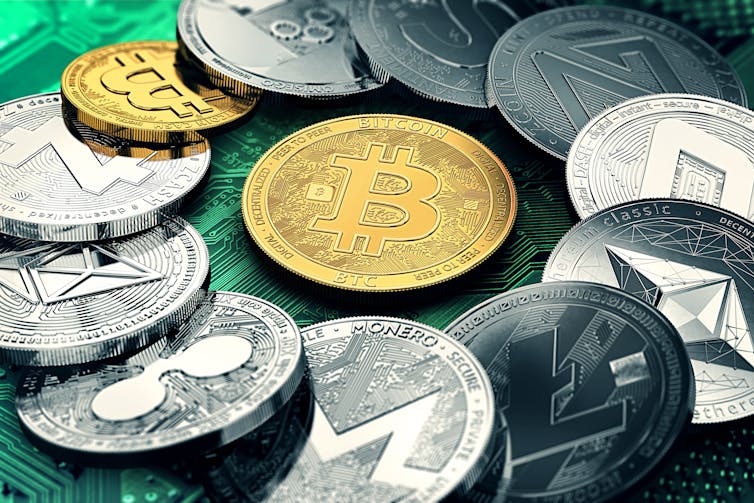 Courtesy of Anwar Halari, The Open University
If you haven't already heard of Bitcoin, you either haven't been paying attention or you're a time traveller who just touched down in 2018. Because by now, most of us will have heard of Bitcoin and some of us have even jumped on the bandwagon, investing in cryptocurrencies.
But despite its popularity, many people still don't understand the technology that underlines it: blockchain. In very simple terms, blockchain technology is an open access shared ledger that keeps a record of all the transactions between parties and allows all users to agree on its contents. New information is added in blocks linked to the previous blocks, resulting in a chain of blocks being built.
This ledger is verified by "miners" to make sure it's true – and so creating an audit trail. Past records can be viewed but not altered without the consent of the majority. And it is this technology that is behind cryptocurrencies such as Bitcoin – the value of which rose almost 1400% in the past year, but has at times, also fallen massively too.
Crypto is here to stay

It can certainly be anticipated that this evolutionary technology is set to spark a huge revolution in the business world. It's already being trialled at governmental level, from the Sweden Land Registry, to the Big Four accountancy firm such as E&Y – who accept Bitcoin as payment for its consultancy services.
The Australian Securities Exchange is also considering the use of blockchain technology to replace the current clearing and settlement system of share trading. And even the Bank of England is planning its own Bitcoin-style virtual currency.
Listen to The Conversation's Anthill podcast episode: Bursting the Bitcoin bubble
…

by Zero Hedge - March 18th, 2018 8:37 pm
Courtesy of ZeroHedge. View original post here.
While advertising bans and Mt.Gox Trustee overhangs remain, the FUD of a possible global regulatory crackdown in the G-20 Communique was a major driver of this weekend's weakness… until Les Echos confirms FSB has rejected calls for regulation.
After headlines suggesting a global crackdown on cryptocurrencies spooked the markets on Friday, Reuters reports that the global watchdog will pivot more toward reviewing existing rules and away from designing new ones, resisting calls from some G20 members to regulate cryptocurrencies like bitcoin.
The reaction was immediate as a relief rally – on heavy volume – sent Bitcoin $1000 higher, erasing Friday's losses…
Interest in cryptocurrencies surged last year as prices rocketed only to tumble in recent months, triggering warnings from regulators. But in a sign of too little consensus for radical action, Reuters reports that the FSB said more international coordination was needed to plug data gaps in monitoring the rapidly evolving but still tiny sector worth less than 1 percent of global GDP at its peak.
"The FSB's initial assessment is that crypto-assets do not pose risks to global financial stability at this time," FSB Chair Mark Carney said in a letter to G20 central bankers and finance ministers who will meet in Buenos Aires on Monday and Tuesday.
All major cryptocurrencies are rallying on the news…
by Zero Hedge - March 18th, 2018 2:15 pm
Courtesy of Nicholas Colas of DataTrek Research
The recent news that Google will not allow advertising of cryptocurrencies is a good reason to revisit the fundamental drivers that predict bitcoin price trends. Google searches and bitcoin wallet growth continue to slow in 2018, which is all you need to know about the near term direction of the asset. But while Google's move may slow future adoption rates, plenty of other banned items (drugs, hacking software, counterfeit goods, etc.) still manage to flourish. An imperfect set of comps, to be sure, but still relevant to the discussion.
There are only 4 things Google doesn't allow you to advertise on its search engine platform:
Counterfeit goods.
Dangerous products or services, like recreational drugs, weapons, ammunition, explosives and fireworks, and tobacco products.
Anything that enables dishonest behavior, such as hacking software, services to artificially inflate web or ad traffic, fake documents or academic cheating.
Inappropriate content, like hate speech or ads that use profane language
As of June of this year, you can add one more: anything about cryptocurrencies like bitcoin. The prohibition is actually quite broad: "Cryptocurrencies and related content (including but not limited to initial coin offerings, cryptocurrency exchanges, cryptocurrency wallets, and cryptocurrency trading advice)." Frankly it is hard to blame Google, or Facebook (which put a similar ban into place recently), for the move given the level of fraud and deception in the space. The phrase "Goat rodeo" comes to mind except goats are, at least, cute.
Bitcoin's price has been hit on the news, and for good reason: its value correlates well with the growth in the number of wallets that store the crypto online. Less advertising for bitcoin-related services may slow new wallet growth, which has already declined from its peak last year. A few numbers:
Bitcoin wallet growth in Q4 (the peak quarter for its price): an average of 7.7%/month
January 2018 wallet growth: 3.5%
February 2018 wallet growth: 2.9%
March 2018 run rate: 2.5%
Google search trends for "bitcoin" – our preferred leading indicator for wallet growth – shows a similar decline in 2018. Our…

by Zero Hedge - March 18th, 2018 11:29 am
Courtesy of Zero Hedge
Facebook started it – banning crypto/ICO ads on Jan 30th, then came Google – copying Facebook's ban on March 14; and now, less than a week later, Twitter is virtue-signalling support for the crypto-crackdown, planning its own ban on ads.
image courtesy of CoinTelegraph
Sky news reports that Twitter is preparing to prohibit a range of cryptocurrency advertisements amid looming regulatory intervention in the sector.
The microblogging platform is following similar moves by Facebook and Google which have restricted financial advertisements due to concerns about illicit activities.
Sky News understands that the new advertising policy will be implemented in two weeks and currently stands to prohibit advertisements for initial coin offerings (ICOs), token sales, and cryptocurrency wallets globally.
The reaction was swift, just as we have seen to the other crypto ad bans… smashing Bitcoin back below $7500 (into mystery-dip-buyer territory)…
But Ethereum and Ripple have been the worst performers since the crypto ad bans began…
Reportedly, Twitter has experienced an influx of fake accounts pretending to advertise cryptocurrency giveaways, often by users posing as famous crypto sphere personas like Litecoin's Charlie Lee.
by Zero Hedge - March 16th, 2018 11:47 pm
Courtesy of Zere Hedge
In sleepy upstate New York, one small post-industrial city has adopted what's widely believed to be the first bitcoin mining ban in the US. On Thursday evening, the city council in Plattsburgh New York voted unanimously to impose an 18-month moratorium on bitcoin mining, per Motherboard.
As we pointed out earlier this month, two large-scale bitcoin mining operations in the town had become a tremendous drain on the local utilities. This is a problem because, according to the Municipal Electric Utility Association, since the 1950s, the city is allotted a certain amount of inexpensive hydropower generated on the St. Lawrence River. Bitcoin miners are often drawn to areas with inexpensive hydro-power, like the Columbia River basin in the Pacific Northwest.
Mining is the extremely energy-intensive computational process that secures the Bitcoin blockchain and rewards miners with bitcoins, and increasingly, environmentalists are worried that the tremendous amount of energy required to power the bitcoin network could adversely impact the environment. Already, the bitcoin network uses more energy on a daily basis than many countries, including the Republic of Ireland…
The Bitcoin moratorium was proposed by Plattsburgh's Mayor Colin Read earlier this month after local residents began reporting wildly inflated electricity bills. But unfortunately for residents, the moratorium affects only new commercial Bitcoin operations and will not affect companies that are already mining in the city.
"I've been hearing a lot of complaints that electric bills have gone up by $100 or $200," Read said. "You can understand why people are upset."
Thanks to a hydroelectric dam on the St. Lawrence River, Plattsburgh has some of the cheapest energy in the US – its mayor claims it's among the cheapest electricity in the world.
Residents pay only 4.5 cents per kilowatt-hour (the US average is a little over 10 cents). Industrial enterprises, including Bitcoin mines, pay even less, often just 2 cents per kilowatt-hour.
But there's a catch: The problem is that Plattsburgh only has an allotment of 104 megawatt-hours of electricity per month. The biggest Bitcoin mining operation in Plattsburgh, operated by a Puerto Rican company called Coinmint, uses roughly 10% of the city's…

by Zero Hedge - March 16th, 2018 7:25 pm
Courtesy of ZeroHedge. View original post here.
Bitcoin flew too close to the sun. Now the eyes of the world are upon the crypto market, with all the consequences that follow…
"30th anniversary of Black Monday, when markets dropped 23% in a day. In crypto we just call that Monday."

- Alexander Tapscott
But, as Incrementum's Demelza Hays and Mark J. Valek show in their latest magnificent Crypto Research report, it all happened as it always has.
Bitcoin reached an all-time high and then predictably it fell again. All common stages of the classic bubble were accounted for: euphoria, infatuation, denial, fear, desperation.
When Bitcoin fell under $7000 and the market capitalization of the whole sector halved, the funeral preparations by nay-sayers were already underway. The fact that cryptocurrencies have already survived five such bubbles, as the brilliant analysis by Michael B. Casey shows, is dutifully ignored by said grave diggers…
In general, we are talking about old-school economists who said it from the start: Bitcoin is a scam.
We strongly disagree: This initial scam phase is part of the Wild West stage of any new unregulated market, and Bitcoin and the blockchain have simply a maturing process ahead of them to weed out the bad seeds. In this respect, the crash of the past months is to a certain extent desirable because it is cleansing the market of criminal, half-baked ideas. That is how free market economy works. But it might be a tall order to expect mainstream economists to recall this after more than a decade of bail-outs and quantitative easing.
All of which leaves the question of what happens next. The question appears to be, as Hays and Valek ask (and answer below), is Bitcoin a bursting bubble or the only exit path on the world's first hyperdeflation…
Since December, Bitcoin's price dropped 69 % from a high of $19,224 to a low of $5,920 in early February. The last time Bitcoin's price plummeted this much was after the 2013 rally when it reached $1,000 per coin for the first time. During a 411-day correction, Bitcoin's price dropped 87 % from $1,163 on November 30, 2013 to $152 on…

by ilene - March 16th, 2018 2:05 am
Anthill 23: Bursting the Bitcoin bubble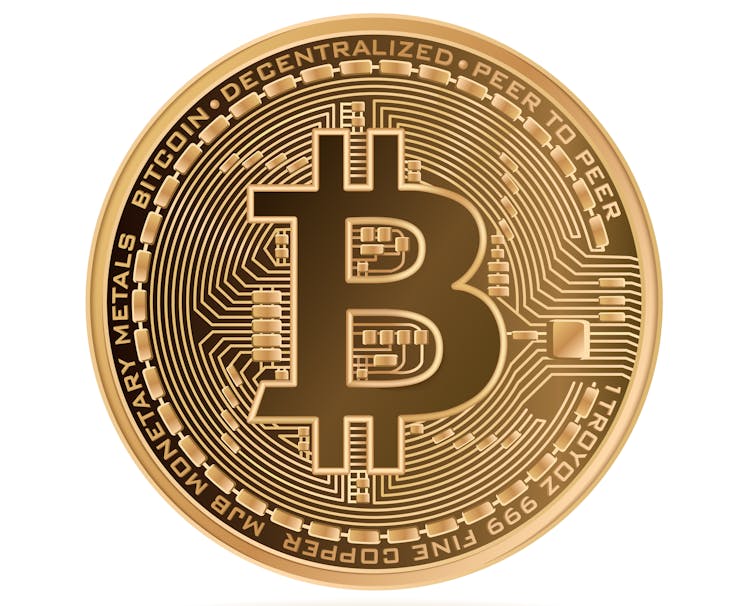 Courtesy of Annabel Bligh, The Conversation; Gemma Ware, The Conversation; Kelly Fiveash, The Conversation, and Will de Freitas, The Conversation
In this episode of The Anthill podcast from The Conversation, we're delving into the world of Bitcoin. The cryptocurrency has come a long way since its launch by the mysterious person (or persons) Satoshi Nakamoto in 2008. The price of one Bitcoin hit a peak of more than US$19,000 in December 2017. It has since fallen below US$9,000.
Bitcoin has made a lot of headlines over the last year, but will it be the currency of the future? To find out, we spoke to professor of business history at Bangor University, Bernardo Batiz-Lazo, about what makes money money. He shared his doubts about Bitcoin – or any other cryptocurrency – going mainstream anytime soon.
And Larisa Yarovaya, lecturer in accounting and finance at Anglia Ruskin University, explains some of her recent research into the effect of US policy announcements on different cryptocurrencies. Her findings give some insights into whether or not they make good assets for investment. She also tells us how cryptocurrencies respond in different ways to the US dollar and gold.
For many, one of the big appeals of cryptocurrencies is the fact that they are not regulated by any governments. But different countries have responded in wildly different ways to the rise in popularity of Bitcoin. Initial coin offerings have been banned in South Korea, where regulators are considering shutting down local cryptocurrency exchanges. Meanwhile, the threat of regulation in China and elsewhere recently triggered a significant slide in Bitcoin's value.
Russia, however, has been a hotbed of cryptocurrency innovation, where President Vladimir Putin wants to create infrastructure for the national adoption of virtual coins. And in Sweden there's talk of releasing a national cryptocurrency.
The Conversation's technology editor Kelly Fiveash spoke to lawyer Iwa Salami at the University of East London and Brian Lucey, finance expert at Trinity College Dublin, to take a closer look…

by Zero Hedge - March 15th, 2018 4:15 am
Courtesy of Zero Hedge
Since garnering more mainstream attention, the rise of Bitcoin has been debated openly by government officials, financial institutions, and mass media outlets. A segment on Bitcoin was even recently broadcast to millions of viewers on the popular The Ellen DeGeneres Show.
But as Visual Capitalist's Jeff Desjardins notes, while Bitcoin remains the undisputed bellwether for digital currencies, it's also fair to say that the entire crypto landscape has been changing dramatically over the last year. New coin and token offerings have raised billions of dollars, innovative ideas are capturing the attention of investors, and there are now 20+ cryptocurrencies that have at least $1B in market capitalization.
Bitcoin may be in the public spotlight, but there's a lot happening behind the scenes.
MOST NOTABLE CRYPTOCURRENCIES

Today's visualization comes to us from Nick Young, and it shows the 25 most notable cryptocurrencies on the market using data from March 5, 2018.
Courtesy of: Visual Capitalist
In the graphic, the 25 cryptocurrencies are organized by market capitalization, inception date, 30-day trade volume, and also the type of function that each coin or token has. It's also worth noting that relative comparisons are done on a log scale for easier viewing.
Here are the top five cryptocurrencies by market capitalization, according to the graphic:
Note: Cryptocurrencies are volatile and have large swings in value, so these numbers can change quickly.
And here is the top five cryptocurrencies by 30-day volume, as well:
Bitcoin's journey to $10,000 in late 2017 caught the attention of many people in the media and investing world, catapulting the currency into the mainstream. At the same time, however, it's also clear that the rest of the cryptocurrency landscape is flourishing as a strong supporting cast, making for a more diverse, interesting, and efficient ecosystem overall.
Exactly a year ago, Bitcoin made up over 80% of the market capitalization of the cryptocurrency space. Today, with many altcoins gaining traction (and the Bitcoin hard forks taking place), the share held by Bitcoin is closer to 42%.
by Zero Hedge - March 15th, 2018 12:15 am
Courtesy of Zero Hedge
Today's weakness in cryptos, driven initially by concerns over Google's looming ad-ban, is accelerating overnight…
Hanging over the market still are concerns about next week's G-20 meetings (and the possibility of a more global standard for cracking down on cryptos) as well as the massive Mt.Gox sale overhang.
Nobuaki Kobayashi, bankruptcy trustee for Mt. Gox, the largest bitcoin exchange in the world before hackers absconded with tens of thousands of customers' bitcoins worth billions at recent prices, said he started selling in late September, meaning it's quite possible he sold at least some of the coins at the highs reached toward the end of last year.
This is what Kobayashi's "sells" look like on the chart of Bitcoin…
Still, Bloomberg reported that Kobayashi is sitting on another approximately $1.9 billion, which he says he plans to offload soon…
However, with Bitcoin battered back below $8,000, it has entered the "Mystery Dip-Buyer" Zone.
As a reminder, according to BitInfoCharts, a mysterious buyer with a Bitcoin address of 3Cbq7aT1tY8kMxWLbitaG7yT6bPbKChq64 purchased an astronomical amount of bitcoins worth $344,000,000 at a blended cost basis around $8,400 from 02-09-18 through 02-12-18.
In total, this Bitcoin whale doubled down adding nearly 41,000 coins for a new total of 96,000 coins worth somewhere around $900,000,000 at today's price ($9,400).
Bitcoin address 3Cbq7aT1tY8kMxWLbitaG7yT6bPbKChq64 is number three on the top 100 richest Bitcoin address in the world.
So will "Mystery Dip-Buyer" come back in or will Kobayashi win?
by Zero Hedge - March 14th, 2018 12:19 am
Courtesy of ZeroHedge. View original post here.
Mimicking its biggest rival for ad dollars – Facebook – Google will ban online advertisements promoting cryptocurrencies and initial coin offerings, and "other speculative financial instruments" starting in June.
Some aggressive businesses found a loophole: purposely misspelling words like "bitcoin" in their ads. A Google spokeswoman said the company's policies will try to anticipate workarounds like this.
The reaction was immediate across the crypto space but for now is somewhat subdued…
Alphabet's Google said the new policy will become effective in June across ads bought on its search and display-advertising network, as well as its YouTube unit.
But, as The Wall Street Journal reports, the policy also will restrict ads for nontraditional methods of wagering on the future movements of stock prices and foreign-exchange, such as binary options and financial spread-betting, Google said.

Google said last year it removed more than 130 million ads that were used by hackers to mine for cryptocurrency. That is a very small percentage of the ads run on Google's ad network.

The company's director of sustainable ads, Scott Spencer, declined to comment on how much potential ad revenue the company would be turning away by enacting the new policy, saying the decision was made to prevent consumer harm.
One wonders when the crackdown will start on inverse VIX ETFs, or just S&P ETFs, or brokerages? Aren't they all capable of doing consumers "harm"?
As a reminder, here is Facebook's justification:
We want people to continue to discover and learn about new products and services through Facebook ads without fear of scams or deception. That said, there are many companies who are advertising binary options, ICOs and cryptocurrencies that are not currently operating in good faith.

This policy is intentionally broad while we work to better detect deceptive and misleading advertising practices, and enforcement will begin to ramp up across our platforms including Facebook, Audience Network and Instagram. We will revisit this policy and how we enforce it as our signals improve.

We also understand that we may not catch every ad that should be removed under this new policy, and encourage
…