Archive for the 'Crypto Corner – Bitcoin, ETC' Category
by Zero Hedge - October 15th, 2018 10:50 pm
Courtesy of ZeroHedge. View original post here.
Update: Careful to quickly assuage any potential loss of the narrative and 'full faith and credit' of the 'stablecoin', Tether released a statement on USDT drop:
"We would like to reiterate that although markets have shown temporary fluctuations in price, all USDT in circulation are sufficiently backed by U.S. dollars (USD) and that assets have always exceeded liabilities."
See, nothing to panic about.
* * *
The only cryptocurrency not rallying right now is the one pegged to the U.S. dollar.
The week started off green for cryptocurrencies like Bitcoin, Ripple, and Ethereum. Collectively, the three of them rose by about 7% according to a CNBC article out early Monday morning. Bitcoin came close to topping $7,000 again, but digital currencies remain in the midst of a longer-term downtrend that has continued over the last year.
This downtrend among all cryptos was exacerbated by the sharp moves lower in equity markets last week, which prompted billions of dollars of digital currency market cap to be wiped away. But Monday kicked off a new week and cryptos are all trying to bounce or pare their losses from last week (for now, at least).
Interestingly enough, the only crypto not participating in the early week rally is Tether, a digital currency that is pegged to the US dollar. Tether was trading 2.5% lower, down to $0.965, after falling much lower earlier in the morning.
This chart of the carnage, as it happened on the Kraken exchange, was posted at about 2AM EST on Monday morning by Twitter user @Bitfinexed. It shows Tether printing as low as $0.85:
The firm that runs the digital currency, Tether, Ltd., has recently been questioned about whether or not it holds enough "reserves" to match the amount of tokens in circulation. The company claims that it does.
Charles Hayter, the chief executive of comparison site CryptoCompare, told CNBC: "There is concern about Tether and whether it is truly backed by dollars and rumors about USDT (tether) being delisted from various exchanges."
These delisting rumors probably aren't helping quell volatility, either.…

by ilene - October 10th, 2018 10:25 pm
Courtesy of Joshua M Brown
I really had a great time discussing the blockchain, my Bitcoin Maximalism, fear and greed, the future of cryptocurrencies and more with the one and only Anthony Pompliano on his Off The Chain podcast. He's super sharp and we went into so many great topics – I do regret the thing I said about ghosts and aliens though, that sounded dumb in hindsight.
I think you're going to like this a lot, listen below or download it wherever fine podcasts are streamed.
by Zero Hedge - October 4th, 2018 4:45 pm
Courtesy of Tsvetana Paraskova, Oilprice.com
Venezuela has officially launched what its President Nicolas Maduro claims is a first state-backed oil-backed cryptocurrency, El Petro, which analysts and experts see as nothing but a scam and another effort to skirt sanctions and mask the inability to overhaul the ailing domestic economy.
Over the past months, Maduro has been touting a new plan for economic recovery, which includes a new policy on gasoline pricing that would raise Venezuela's ultra-cheap gas pricesfor the first time in two decades. The plan to ease the severe economic crisis also featured a devaluation of the currency and pegging the new bolivars to the Petro.
Maduro claims that the Petro is strengthening his recently announced economic overhaul plan and will "revolutionize" the global crypto economy with a new form of trade, finance, and monetary exchange.
The official public sale of the Petro – which Venezuela say is backed by oil, natural gas, diamonds, and gold—will begin on November 5, Maduro has said.
According to authorities in Venezuela, the "Petro is an instrument to consolidate Venezuela's economic stability and financial independence, coupled with an ambitious and global vision for the creation of a freer, more balanced and fairer international financial system."
Just a few months after Maduro first announced the idea of the oil-backed Petro, the U.S. prohibited in March U.S. dealings with any digital currency, coin, or token issued by Venezuela.
Experts and analysts are skeptical that the Venezuelan cryptocurrency is really backed by oil assets and minerals.
"Reaction from the cryptocurrency community has been a mixture of dumbfoundedness and anger," Alex Tapscott from the Blockchain Research Institute told the BBC.
According to Tapscott, there isn't any proof at all to back up Venezuela's claim that each unit of the Petro is backed by oil.
"There is very little technical information about it," he told the BBC, adding that the launch of the Petro is eclipsing a more significant development in Venezuelan economy – the trade of Bitcoins in bolivars has soared since the start of the year as people are trying to keep the value of their money amid inflation currently running at 13,860 percent, as per IMF estimates.
by ilene - October 3rd, 2018 9:54 pm
Charities take digital money now – and the risks that go with it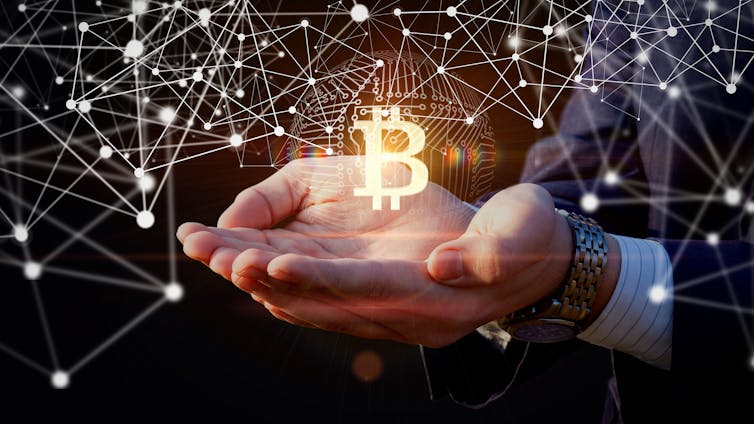 Courtesy of Philip Hackney, University of Pittsburgh and Brian Mittendorf, The Ohio State University
Many large charities, despite being entrusted with accepting and managing funds that benefit the public, are accepting bitcoin and other cryptocurrencies – volatile forms of digital money – as donations.
Take, for example, the Silicon Valley Community Foundation, one of the country's largest charities. It held a third of its US$13.5 billion investments – nearly $4.5 billion – in digital assets according to its annual financial statement.
As experts in the tax and financial issues charities face, we have spent considerable time examining what got nonprofits dabbling in digital currencies in the first place and what could go wrong as a result.
Volatile juncture

While the Silicon Valley Community Foundation probably holds more cryptocurrency than any other charity, it is not unique. Fidelity Charitable, the top U.S. charity in terms of the donations it amasses annually, said digital money was its fastest-growing category in 2017.
Smaller charities are also accepting donations in bitcoin, as are new charities focused solely on cryptocurrency. The giving of digital money surged in 2017, just as the market for these newfangled assets boomed.
Bitcoin, the most common cryptocurrency, rose by 1,318 percent against the U.S. dollar in 2017.
XRP, the second-most popular kind of digital money, gained 36,018 percent over the course of the year.
These gains gave way to massive losses in the first eight months of 2018, when digital currencies plunged more sharply than the dot-coms crashed in the early 2000s.
Some charities that received massive cryptocurrency donations in 2017 may not have been able to convert them into regular money before they lost much of their value the next year. Silicon Valley Community Foundation, for example, disclosed in its 2017…

by ilene - September 28th, 2018 10:59 am
Cryptocurrencies, blockchains and their dark side: 4 essential reads

Courtesy of Bryan Keogh, The Conversation; Jeff Inglis, The Conversation, and Nicole Zelniker, The Conversation
Crytocurrencies, after a wild ride, may be at a tipping point.
Bitcoin and other digital currencies exploded in 2017 only to spend much of 2018 losing a large chunk of those gains. A unit of bitcoin, the most popular cryptocurrency, climbed from under US$900 at the end of 2016 to a high of almost $20,000 in December 2017 and has since plunged to a little over $6,000.
The intense volatility and potential for hefty profits are catching the gaze of both hackers and regulators, either of which could jeopardize the future of cryptocurrencies.
Here are five stories from our archives that will help readers better understand cryptocurrencies and their dark underbellies.
What is money in age of bitcoin?

Before we talk about digital money, we should define what money is in the first place.
The answer is actually more complicated than you would think, according to University at Buffalo professor and philosopher David Koepsell. Money has changed so much recently that it has morphed into "forms that are barely understandable."
And so, Koepsell asks, as the blocks of zeros and ones that represent digital currencies replace the colorful pieces of paper and coins, does money still exist and if so what is its value?
"Without government insurance or contractual guarantees, only mutual trust maintains the value and integrity of the system," he writes. "What bitcoin owners own is the debt, just as those who own money in banks own debts that are recorded in bits. They do not own the bits that comprise the information representing that debt, nor the information itself, they own the social object – the money – that those bits represent."
The value of blockchain

What makes bitcoin and other digital currencies work is the underlying transaction system known as a blockchain. Essentially, it uses a decentralized database to track and store information in a potentially reliable and secure way.
Beyond safeguarding money, however, blockchains may solve a "stunning array of problems, such…

by ilene - September 19th, 2018 2:35 am
Courtesy of Michael Batnick
"Russell rarely played the stock market and had little investing experience when he put around $120,000 into bitcoin in November 2017."
This comes from a CNN money article, Bitcoin crash: This man lost his savings when cryptocurrencies plunged. From January 2017 through the peak in early 2018, Ethereum gained 16,915%.
Any time you have something go vertical, you just know that some people are going to get swept up in the mania.
This is how the markets have always and will forever function. Jamie Catherwood, writing on the same subject today, said "Repeatedly, and assuredly, investors move from mania to mania, sacrificing long-term gains for short-term speculations."
Ethereum is now nearly 90% off its peak in February (remarkably still up 2,000%) since beginning of 2017.
Today's Ethereum is Tilray, a Canadian Cannabis company, which went public in July, and is already up close to 500%. This is sure to attract the same type of people looking to get in on the next big move.
Tilray recently reported that quarterly revenues doubled y/o/y to $9.7 million. 100% revenue growth is great, but the thing is, it now has a market cap of $11 billion with $28 million in sales over the last twelve months. Macy's also has a market cap of $11 billion, and it does $70 million in sales a day. I know this is comparing apples to marijuanas but still, you get the point. Animal spirits has clearly taken over in this example.
There's nothing wrong with wanting to get in on the action, but if you're going to invest recklessly and just fling money into something you know nothing about, don't be Russell. Only invest money you are willing to light on fire.
The unfortunate reality is that people are going to be people. Nothing can teach you the dangers of getting caught up in a frenzy like experience, and some people have to just learn these lessons the hard way.
by ilene - September 11th, 2018 9:40 pm
A history of Bitcoin – told through the five different groups who bought it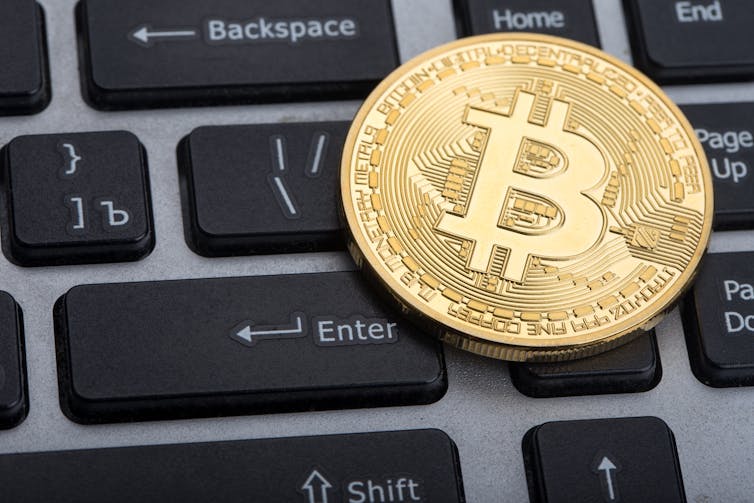 Courtesy of Dave Elder-Vass, Loughborough University
The recent fluctuations in Bitcoin's value are just the latest in a series of spectacular peaks and troughs since it was created in 2009. (Though its price has been falling recently, it remains five times higher than last April, before the latest major peak began.)
Commentators are often dismissive of Bitcoin buyers, writing them off as naive victims of a fraudulent bubble. But if we look more carefully, we can trace the history of Bitcoin through five key narratives. Each has drawn in a different group of buyers and in doing so contributed to its long-term growth in value.
The idealists

Bitcoin arose from a tiny group of cryptographers who were trying to solve the "double spend" problem facing digital money: "cash" held as a digital file could easily be copied and then used multiple times. The problem is easily solved by financial institutions, who use a secure central ledger to record how much everyone has in their accounts, but the cryptographers wanted a solution that was more akin to physical cash: private, untraceable, and independent of third parties like the banks.
Satoshi Nakamoto's solution was the Bitcoin blockchain, a cryptographically secured public ledger that records transactions anonymously and is kept as multiple copies on many different users' computers. The first narrative of Bitcoin's value was built into Nakamoto's original "white paper". This claimed that Bitcoin would be superior to existing forms of electronic money such as credit cards, providing benefits like eliminating chargebacks to merchants and reducing transaction fees.
The libertarians

But from an early stage, Nakamoto also marketed Bitcoin to a libertarian audience. He did so by stressing the absence of any central authority and particularly Bitcoin's independence from both states and existing financial institutions.
Nakamoto criticised central banks for debasing money by issuing increasing amounts of it and designed Bitcoin to have a hard limit on the amount that could be issued. And he stressed the anonymity of Bitcoin transactions:…

by ilene - September 5th, 2018 1:18 pm
US health care companies begin exploring blockchain technologies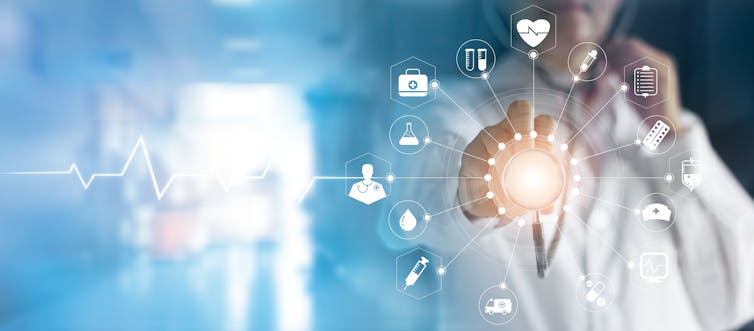 Courtesy of Ana Santos Rutschman, Saint Louis University
The sprawling U.S. health care industry has trouble managing patient information: Every doctor, medical office, hospital, pharmacy, therapist and insurance company needs different pieces of data to properly care for patients. These records are scattered all over on each business's computers – and some no doubt in filing cabinets too. They're not all kept up to date with current information, as a person's prescriptions change or new X-rays are taken, and they're not easily shared from one provider to another.
For instance, in Boston alone, medical offices use more than two dozen different systems for keeping electronic health records. None of them can directly communicate with any of the others, and all of them present opportunities for hackers to steal, delete or modify records either individually or en masse. In an emergency, doctors may not be able to get crucial medical information because it's stored somewhere else. That can result in direct harm to patients.
There might be a way out, toward a health care system where patients have accurate and updated records that are secure against tampering or snooping, and with data that can be shared quickly and easily with any provider who needs it. In my work on health care innovation at the Center for Health Law Studies, at Saint Louis University School of Law, I have been following the rise of a technology that may help us address the weaknesses in today's health care record-keeping: blockchain.
A secure system to store private information

Blockchain systems, best known in connection with cryptocurrencies like Bitcoin, are networks of databases stored in different places that use securely encrypted messages to connect with each other over the internet. Information can't be deleted, but it can be updated – though only by authorized users, whose identities are recorded along with their actions.
That would keep years of patient data secure and make any human errors in data entry easy to track down and correct. Patients themselves could review…

by Zero Hedge - September 5th, 2018 8:08 am
Courtesy of ZeroHedge. View original post here.
Bitcoin is back below $7000, and Ethereum is tumbling back near its lowest since Nov 2017 as reports that Goldman Sachs is putting its plans to build a crypto trading desk on hold has sparked 'what do they know' anxiety in the virtual currency space.
Headlines from Business Insider reporting that the bank is ditching plans to open a desk for trading cryptocurrencies in the foreseeable future, according to people familiar with the matter, as the regulatory framework for crypto remains unclear, sparked an instant selling rampage across the entire crypto space.
Bashing Bitcoin back below $7000…
And pushing Ethereum back towards 2018 lows (and its lowest since Nov 2017)…
However, today's move in the context of crypto's annus horribilis is nothing…
While the reaction seems a little overdone for the headlines, we note that it was just one month ago that Goldman was reportedly creating crypto custody services and seemed gung ho towards this new space.
by Zero Hedge - August 28th, 2018 11:15 am
Courtesy of Zero Hedge
Bitcoin and the entire crypto space has caught a solid bid this morning, pushing the cryptocurrency back over $7,000 without any apparent catalyst or major news behind the move.
However, according to Andrew Zatlin of Moneyball Economics, one possible explanation is emerging as likely: Bitcoin is becoming the new safe trade.
As Zatlin explains, echoing what we first said in September 2015, emerging markets are continuously using bitcoin (BTC) as a way to get their money of their respective countries.
Crypto currencies are attractive to individuals in less developed economies for a few reasons:
Transaction costs are the same as gold. BTC's higher price volatility is offset by gold's higher conversion fees
Liquidity favors BTC
BTC only requires access to the internet
Easier to transport and hide $20,000 of BTC offsets gold's bulkiness
As recent events in Turkey and Iran show, hard currency and precious metal confiscation is a very real threat. Crypto is now a very real alternative.
Turkish citizens flocked to bitcoin as the Turkish lira continues to plummet. The lira is down nearly 40% this year alone. An insane drop for a currency.
In dollar terms, gold continues to trade lower as bitcoin catches a bid.
Here's a chart of bitcoin demand from within Venezuela
The Emerging Markets can be grouped into two categories: those that are adopting BTC and those that are panic buying. Russia is an example of a late adopter.
Examples of panic buying: Argentina, Chile, Columbia, Hungary, India, Mexico, Peru, Philippines, Russia, Venezuela.
Here's Chile:
Here's Columbia:
Here's Hungary:
Here's India:
Here's Mexico:
Here's Peru:
And here's the Philippines:
One signal coming from BTC: indication of underlying economic/capital strength.
It's still a bit too early to assign a definitive value for regional BTC demand. But the fact that millions of people around the world are flocking to bitcoin is a sure sign there is a value of it. [Is that logical?... ~ Ilene]