Archive for the 'Crypto Corner – Bitcoin, ETC' Category
by Zero Hedge - January 14th, 2019 2:28 pm
Courtesy of Zero Hedge
While the market has been increasingly focused on the rising headwinds in the global economy in general, and China's economic slowdown in particular, while the media is obsessing over daily revelations that Trump may or may not have colluded with Russia to get elected, a far more critical, if underreported, shift has been taking place over the past year.
As we reported in June, whether due to concerns over draconian western sanctions and asset confiscations following the poisoning of former Russian military officer Sergei Skripal, or simply because it wanted to diversify away from the dollar, Russia liquidated virtually all of its Treasury holdings in the late spring and early summer, in the process sparking a major repricing of the 10Y US Treasury, whose yield jumped from 2.70% at the start of April to a high of 3.10% in May, a move which economists were struggling to explain at the time.
The obvious next question is what did Russia do with the proceeds, and it came as little surprise that, as we wrote back in July, as Russia was selling nearly $100BN worth of Treasurys, it was aggressively buying gold.
In addition to gold, the Kremlin also instructed the Russian finance ministry to load up on Yuan, something which we noted at the end of September, when we showed the surge in reserves allocated to the Chinese Yuan.
As part of its reallocation away from the dollar, Russia also bought a substantial amount of other non-USD currencies, and according to a recent report, the money pulled from the dollar reserves was redistributed to increase the share of…

by ilene - January 3rd, 2019 3:07 pm
Five reasons Bitcoin could enter a more extreme death spiral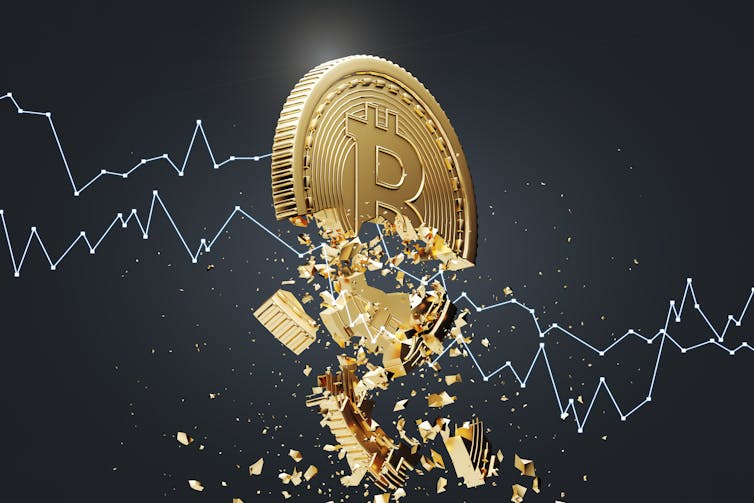 Courtesy of Daniele Bianchi, Warwick Business School, University of Warwick
Back in December 2017, when its price reached close to US$20,000, Bitcoin looked like it had finally disrupted financial markets with the potential to enter the mainstream. A year later and things looked quite different. Bitcoin is now steadily trading below US$4,000 and has been constantly on a downward ride over the last year, losing more than half of its market capitalisation.
And yet cryptocurrency enthusiasts seem to ignore the fact that Bitcoin could yet enter an even more extreme death spiral. Bitcoin is not the only cryptocurrency whose market capitalisation has been hammered. Sell offs have happened across the board, with the price of major alternative coins such as Ripple and Ethereum falling in the past year.
It is not clear what the catalyst was for these price drops and selling. But what is clear is that cryptocurrency prices struggle to find a floor for a number of reasons. These range from the rising cost of mining, regulatory concerns, market manipulation, speculative trading, sky high power consumption, and the increasing scepticism from both the public and the world's established financial industry.
1. Rising cost of mining

If its price continues to drop and the mining costs do not fall to the same extent, the incentives to update the public ledger and validate transactions can quickly disappear, threatening the very existence of Bitcoin as a viable payment system.
Bitcoin is dependent on a system of miners that verify transactions and record them on a digital ledger called the blockchain. This prevents copies being made of the digital tokens. As a reward for the energy and time involved, miners are rewarded in Bitcoin.
But the amount of work involved in mining keeps increasing (making it more costly), as the mining process was always designed to get more and more difficult, to limit the number of new Bitcoin that get issued. Seeing as mining requires vast amounts of energy, a number of miners have shut down their operations, as Bitcoin's declining value has made mining less profitable.
…

by Zero Hedge - December 25th, 2018 3:35 pm
Courtesy of Zero Hedge
2018 was the year the bitcoin bubble burst… again.
One year after Bitcoin, or BTC, exploded from below $1000 to nearly $20,000 last December 2017, the cryptocurrency has lost about 80% of its value. The dramatic fall tops the dot-com bust, when the NASDAQ Composite fell 78% over the course of two years (that said, it is still about 4x higher than where it was 2 years ago). Meanwhile, the rest of the crypto market has largely followed BTC's lead: the market capitalization of all digital currencies is now hovering around $134bn versus $800bn earlier this year.
For veteran cryptotraders, the following intro from Goldman will be redundant but here it for those who may have slept through the bitcoin mania days of late 2017 and early 2018: BTC remains the largest cryptocurrency, commanding more than half of crypto's total value. Ripple (XRP)—which is meant to facilitate digital payments—and Ethereum (ETH)—the unit of value on a platform that allows for the creation of "smart contracts"—are the second- and third-largest players, respectively. While the cryptocurrency sell-off was broad-based, those intended to function as a store of value (e.g., BTC) appeared to fare better than "utility tokens," such as those operating on the Ethereum platform.
Negative headlines likely contributed to crypto declines. While it's difficult to pinpoint a single driver of crypto's struggles, a number of negative developments surfaced this year according to Goldman, among which were a series of high-profile hacks of cryptocurrency exchanges, including Japan's Coincheck and South Korea's Coinrail. The Wall Street Journal reported that nearly one in five initial coin offerings (ICOs) showed potential signs of fraud. And questions surfaced about the reliability of Tether, a so-called "stablecoin" meant to be backed one-to-one by US dollars.
Regulators also stepped up scrutiny, and no crypto ETF made it to market despite an aggressive push. At the same time, the US government took an active role in the crypto space throughout 2018. For example, the SEC initiated a broad inquiry into the structure of sales and pre-sales of digital tokens beginning in February. Months later, the Commodity Futures Trading Commission demanded more transparency from BTC exchanges, while contributing to a criminal probe into price manipulation among crypto traders. All…

by Zero Hedge - December 14th, 2018 2:04 pm
Courtesy of ZeroHedge. View original post here.
Listening to the crypto bulls of yesteryear continue to defend their case for new new all-time highs, despite a growing mountain of evidence to suggest that last year's rally was spurred by the blind greed of gullible marginal buyers (not to mention outright manipulation), one can't help but feel a twinge of pity for Mike Novogratz and Wall Street's original crypto uber-bull, Fundstrat's Tom Lee.
Lee achieved rock star status thanks to his prescient calls for a stunning rally in bitcoin months before crypto went parabolic. But as prices plunged this year, he has carried on with his appearances on CNBC and in the financial press, making the structural bull case for bitcoin to anybody who is still willing to listen. We imagine most of Lee's audience is in the same boat as he is: Refusing to let go in the face of heavy losses, according to Bloomberg.
Apparently ignoring the fact that bitcoin has crashed through every support level so far with little regard for financial models projecting fair value at $6,000 (or $5,000 or $4,000), Lee has published another categorically bullish research note explaining why his model suggests that bitcoin's true "fair value" is somewhere between $13,800 and $14,800.
Bitcoin's present value "doesn't make sense", Lee argues, because, working backwards, one would expect the number of "active" crypto wallets to fall to 17 million from 50 million. Ergo, since the number of crypto wallets hasn't declined, the "fair value" level of crypto must be much higher than it is currently (though how Lee justifies the wallet metric as anything other than an arbitrary benchmark remains a mystery).
"Fair value is significantly higher than the current price of Bitcoin," he wrote.

"In fact, working backwards, to solve for the current price of Bitcoin, this implies crypto wallets should fall to 17 million from 50 million currently."
This latest call comes after Lee lowered his year-end projection for bitcoin from $25,000 to $15,000.
According to Lee's calculations, bitcoin wallets climb to around 7% of the total number of VISA account holders (some 4.5 billion) BTC could be worth $150,000.…

by ilene - December 10th, 2018 7:33 pm
How low will Bitcoin now go? The history of price bubbles provides some clues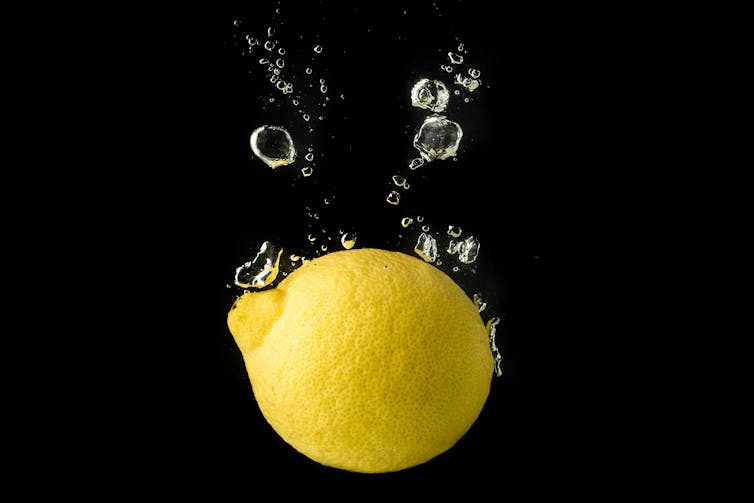 Courtesy of Lee Smales, University of Western Australia
Nearly 170 years before the invention of Bitcoin, the journalist Charles Mackay noted the way whole communities could "fix their minds upon one object and go mad in its pursuit". Millions of people, he wrote, "become simultaneously impressed with one delusion, and run after it, till their attention is caught by some new folly more captivating than the first".
His book Extraordinary Popular Delusions and the Madness of Crowds, published in 1841, identifies a series of speculative bubbles – where people bought and sold objects for increasingly steep prices until suddenly they didn't. The best-known example he cites is the tulip mania that gripped the Netherlands in the early 17th century. Tulip bulbs soared in value to sell for up to 25,000 florins each (close to A$45,000 in today's money) before their price collapsed.
The Bitcoin bubble surpasses this and all other cases identified by Mackay. It is perhaps the most extreme bubble since the late 19th century. In four years its price surged almost 2,800%, reaching a peak of US$19,783 in December 2017. It has since fallen by 80%. A month ago it was trading at more than US$6,000; it is now down to US$3,500.
That's still a fantastic gain for anyone who bought Bitcoin before May 2017, when it was worth less than US$2,000, or before May 2016, when it was worth less than $500.
But will it simply keep dropping? What makes Bitcoin worth anything?
To begin to answer this question, we need to understand what creates the values that drive speculative price bubbles, and then what causes prices to plunge.
The above chart shows the magnitude of the Bitcoin bubble compared with the price movement of Japanese property and dot-com bubble from four years prior to their peak until four years after.
When asset values diverge

We typically think about…

by Zero Hedge - December 7th, 2018 8:36 am
Courtesy of ZeroHedge. View original post here.
Crypto markets have accelerated their losses again overnight with Bitcoin crashing to new 2018 lows, Ethereum back into double-digits, and Bitcoin Cash utterly devastated as lawsuits fly.
Once again a sea of red across the crypto space…
Bitcoin Cash is down 40% this week alone…
Bitcoin has puked back below last month's lows…
Second-largest crypto by market cap Ripple (XRP) is down by around 12 percent on the day, trading at almost $0.30 as of press time, according to Cointelegraph's Ripple Price Index. Ripple's weekly and monthly charts are also blisteringly red, with losses of around 23.5 and 40 percent respectively.
Third-ranked crypto, Ethereum is back into double-digits….
As CoinTelegraph notes, virtually all of the remaining top ten coins on CoinMarketCap are seeing deep red; Stellar (XLM) and Bitcoin Cash (BCH) are both down almost 18 percent, at $0.11 and $102.3 respectively; eighth largest ranked crypto Litecoin (LTC) is down close to 15 percent, trading at $25.3, and EOS (EOS) is the hardest hit, down almost 23 percent on the day at $1.68.
image courtesy of CoinTelegraph
Newly-forked "Bitcoin SV" (BSV) is the only exception among the top ten, soaring 20 percent on the day to trade at around $109, sealing the ranking of 5th largest crypto. With a market cap of around $1.94 billion as of press time, BSV is holding a slim margin ahead of BCH; the latter, ranked 7th, currently has a market cap of about $1.77 billion.
Just yesterday, news broke of a new lawsuit from tech development firm UnitedCorp against Bitmain, Bitcoin.com, Roger Ver, and the Kraken Bitcoin Exchange, which alleges the defendants engaged in manipulation and unfair practices during the immediate aftermath of the BCH-BSV hard fork.
The remaining coins in the top twenty by market cap are all seeing losses of between a 8 and 22 percent range.
…

by Zero Hedge - December 6th, 2018 7:40 pm
Courtesy of Zero Hedge
One year ago, as bitcoin prices were in free fall just after peaking above $20,000 (a peak that, as fate would have it, ended up marking the end of one of the most frenzied asset bubbles since the financial crisis) we reported that one "mystery trader" (later revealed to be BlockTower Capital) had dropped $1 million on a batch of one-year call options that would only pay off if bitcoin traded above $50,000 before their expiration date.
[BlockTower Capital is among the best known crypto hedge funds in a booming space that now includes over 175 such firms, according to fintech analytics firm Autonomous NEXT. BlockTower was founded by Ari Paul, formerly of trading firm Susquehanna, and Matthew Goetz, a former VP at Goldman Sachs. ~ ZH]
Now, with the knowledge of hindsight, we can safely say that this "moonshot" bet may be remembered as one of the most spectacularly wrong-headed wagers placed by an "institutional" crypto trader in the history of the nascent virtual currency market. And considering that a not-insignificant number of buyers paid $20,000 for a bitcoin (which was trading below $4,000 on Thursday), there has been quite a bit of competition for that dubious distinction.
Because as Bloomberg reminded us on Thursday, these options will expire worthless in about two weeks (barring a stunning recovery rally of 2,000% which…never say never).
Fortunately for Paul, the losses from this trade aren't quite as disastrous as 100% derivative loss would suggest. That's because, as Paul revealed during an interview with CNBC one year ago, BlockTower offset the risk from its OTM options bet by selling some of its bitcoin holdings in the spot market. Paul said the trade allowed him to hedge against losses while locking in some upside from bitcoin's torrid rally, with the added bonus of winning a big payout should bitcoin rocket higher.
One bitcoin was trading at roughly $16,200 when Paul purchased the options on LedgerX (the exchange said the trade remains the largest ever placed on its platform).
"These calls let me capture upside while reducing my downside risk," Paul told CNBC. He later tweeted that the trade – selling some of his Bitcoin holdings while buying the call options – was profitable.
Listen to Paul's interview from December 2017 in full below:
Man behind massive bet that bitcoin could hit $50,000 from CNBC.
by ilene - December 2nd, 2018 2:22 pm
Courtesy of Joshua M Brown
Josh here…
I was honored to have moderated a panel at the 2018 Consensus: Invest conference this week in Times Square in which we discussed whether or not crypto currencies and Bitcoin will ever become a wealth management topic.
My panel, three gentlemen I invited personally:
Tyrone Ross of Noble Bridge Wealth Management, Mark Casady of Vestigo Ventures and the former CEO of LPL Financial and Ari Paul, founder and CIO of BlockTower Capital.
We tackle all of the most important crypto related topics as they pertain to wealth management – from trust to custody to ETFs to price. Join us and let and me know what you think in the comments below!
Be sure to subscribe to our channel, The Compound, so you never miss an update!
by ilene - November 30th, 2018 7:35 pm
Courtesy of Joshua M Brown
Last night I had the pleasure of attending a talk put on by Andrew Ross Sorkin and the New York Times in their auditorium on 41st Street. Andrew's special guest was Securities and Exchange Commission Chairman Jay Clayton and the conversation was about blockchain technology, crypto currencies, distributed ledgers, initial coin offerings and a lot more.
I want to say a couple of things about what I saw and heard at the event…
We are in good hands with both of our Jays. As regular readers know, I'm not a Trump fan. However, between his Fed Chairman pick, Jay Powell, and his choice for SEC Chairman, Jay Clayton, I feel that the investor class and market participants in general are in good hands. Jay Clayton is an accomplished securities and corporate attorney and genuinely has an affection for our capital markets and an appreciation for the rules he's been sworn to uphold.
Clayton is open-minded…: We have a commissioner who is open to the idea of new technologies being used within our markets to make trading more efficient, and who has taken his time to learn about all of the optimism and skepticism surrounding crypto currencies. He's done the research himself and is completely engaged in the subject matter.
…but he's also a constructionist: In one of my favorite exchanges of the night, when asked about whether or not our regulatory capabilities were up to snuff in the age of blockchain, Jay shared his view that the people who created our current securities laws in the 1930's were geniuses. These rules have withstood the test of time and have been in place to foster the growth of our economy to more than $20 trillion. "I think the new technologies ought to be able to adapt to our rules, we shouldn't change our rules every time there's new technology." He's speaking generally about the two main types of rules the SEC enforces: Those dealing with the offering and sale of securities to the public and those dealing with the secondary markets that securities trade in.
Bitcoin is a currency, not a security or a commodity: His view of what Bitcoin actually…

by Zero Hedge - November 28th, 2018 8:15 am
Courtesy of ZeroHedge. View original post here.
While it is certainly premature to say 'the bottom is in', buying pressure across cryptos has been strong in the last 24 hours – raising total market cap by over $11 billion for the biggest jump since July.
Down, but not out…
image courtesy of CoinTelegraph
Bitcoin is back above $4000…
But it's not just Bitcoin – the cryptospace is a sea of green this morning…
Notably, Litecoin has erased the weekend's carnage and the rest of the cryptospace is getting close…
In news for institutional crypto exposure, CoinTelegraph reports the world's second largest stock exchange Nasdaq and U.S. investment firm VanEck yesterday announced a partnership to jointly launch a set of "transparent, regulated and surveilled" digital assets products. The announcement echoes yesterday's report from Bloomberg, citing "two people familiar with the matter," that Nasdaq would be rolling out a Bitcoin (BTC) futures contract as early as Q1 2019.
The chairman of the world's largest stock exchange, New York Stock Exchange (NYSE)'s Jeffrey Sprecher has also this week said he believes the survival of digital currencies as an asset class is "unequivocal."
It appears – for now – that Michael Moro was right.
The CEO of cryptocurrency trading companies Genesis Trading and Genesis Capital Trading, said that the Bitcoin (BTC) price could bottom at $3,000 in an interview with CNBC Nov. 23. Speaking on CNBC's "Squawk Box," Moro suggested that the leading cryptocurrency will lose another 30 percent before bottoming at $3,000. Moro said, "You really won't find [the floor] until you kind of hit the 3K-flat level."
Moro addressed small resistance levels, saying that he does not think the BTC price can stabilize in "the mid-3s," also noting that the $4,000 level was tested twice in the previous days. Moro dispelled fears of bitcoin trading bots amoung some of the other rumors that are running rampant in…