Archive for the 'Phil's Favorites' Category
by ilene - March 18th, 2018 4:33 pm
Low-carbon computing is needed to avoid a technological collapse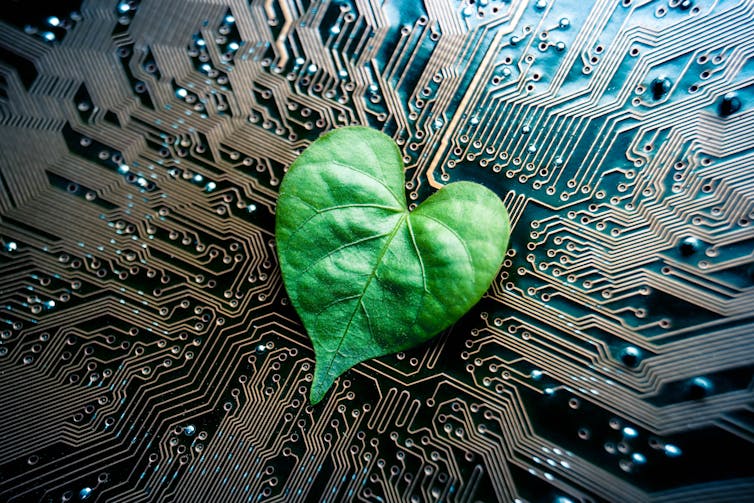 Courtesy of Oscar Céspedes, University of Leeds
Human society has come to rely on superior gadgets being produced every year. Each year, new phones or laptops are faster, sleeker and have even more capabilities. However, electronics are rarely recycled, and the carbon footprint of the internet already exceeds that of air travel. The internet also relies on "rare earths" and heavy and noble metals, leading to pollution and socio-economic problems associated with mining these scarce and often noxious materials.
Maintaining this information network across the world requires more energy than the whole of the UK – and energy demand from data centres is expected to treble over the next decade. Three google searches are equivalent to a 60 watt bulb being switched on for a minute and produce 0.6g of CO?. And computers already generate so much wasted heat that companies like Facebook are now placing new data centres in the Arctic to keep them cool.
Facebook's data center near arctic circle. 150 is total staff and 1 person per 25,000 servers.#amazed pic.twitter.com/DsHmGdj6nL

— Singha (@heisenjit) September 28, 2016
Given all this, the capability to fulfil our computing needs while producing negligible heat waste and reducing our power needs would have momentous consequences. Indeed, to avoid a technological and societal collapse, we'll need a massive shift towards low-carbon computing.
Even if we ignore the environmental impact, we are still faced with the problem that current computing technologies are inching closer to their fundamental limits in size and processing speed. More transistors are being packed on to computer chips and they will eventually, within the next decade or so, reach the smallest possible size at which we can reliably transmit charge or information. This is why progress depends on developing new fabrics using eco-friendly materials and low power electronics.
To justify the huge industrial and public investment associated with replacing production lines, infrastructure and working methods, this new technology would have to be not only better for the environment, but simply much better in all aspects. Imagine computers that operate orders of magnitude…

by Zero Hedge - March 18th, 2018 2:15 pm
Courtesy of Nicholas Colas of DataTrek Research
The recent news that Google will not allow advertising of cryptocurrencies is a good reason to revisit the fundamental drivers that predict bitcoin price trends. Google searches and bitcoin wallet growth continue to slow in 2018, which is all you need to know about the near term direction of the asset. But while Google's move may slow future adoption rates, plenty of other banned items (drugs, hacking software, counterfeit goods, etc.) still manage to flourish. An imperfect set of comps, to be sure, but still relevant to the discussion.
There are only 4 things Google doesn't allow you to advertise on its search engine platform:
Counterfeit goods.
Dangerous products or services, like recreational drugs, weapons, ammunition, explosives and fireworks, and tobacco products.
Anything that enables dishonest behavior, such as hacking software, services to artificially inflate web or ad traffic, fake documents or academic cheating.
Inappropriate content, like hate speech or ads that use profane language
As of June of this year, you can add one more: anything about cryptocurrencies like bitcoin. The prohibition is actually quite broad: "Cryptocurrencies and related content (including but not limited to initial coin offerings, cryptocurrency exchanges, cryptocurrency wallets, and cryptocurrency trading advice)." Frankly it is hard to blame Google, or Facebook (which put a similar ban into place recently), for the move given the level of fraud and deception in the space. The phrase "Goat rodeo" comes to mind except goats are, at least, cute.
Bitcoin's price has been hit on the news, and for good reason: its value correlates well with the growth in the number of wallets that store the crypto online. Less advertising for bitcoin-related services may slow new wallet growth, which has already declined from its peak last year. A few numbers:
Bitcoin wallet growth in Q4 (the peak quarter for its price): an average of 7.7%/month
January 2018 wallet growth: 3.5%
February 2018 wallet growth: 2.9%
March 2018 run rate: 2.5%
Google search trends for "bitcoin" – our preferred leading indicator for wallet growth – shows a similar decline in 2018. Our…

by Zero Hedge - March 18th, 2018 11:29 am
Courtesy of Zero Hedge
Facebook started it – banning crypto/ICO ads on Jan 30th, then came Google – copying Facebook's ban on March 14; and now, less than a week later, Twitter is virtue-signalling support for the crypto-crackdown, planning its own ban on ads.
image courtesy of CoinTelegraph
Sky news reports that Twitter is preparing to prohibit a range of cryptocurrency advertisements amid looming regulatory intervention in the sector.
The microblogging platform is following similar moves by Facebook and Google which have restricted financial advertisements due to concerns about illicit activities.
Sky News understands that the new advertising policy will be implemented in two weeks and currently stands to prohibit advertisements for initial coin offerings (ICOs), token sales, and cryptocurrency wallets globally.
The reaction was swift, just as we have seen to the other crypto ad bans… smashing Bitcoin back below $7500 (into mystery-dip-buyer territory)…
But Ethereum and Ripple have been the worst performers since the crypto ad bans began…
Reportedly, Twitter has experienced an influx of fake accounts pretending to advertise cryptocurrency giveaways, often by users posing as famous crypto sphere personas like Litecoin's Charlie Lee.
by Zero Hedge - March 18th, 2018 11:10 am
Courtesy of John Rubino, DollarCollapse.com
So many patterns that have held for decades seem to have broken down, leading to one of two conclusions: Either this time really is different in ways that appear to violate what used to be seen as iron-clad laws of finance, or those laws have been bent but will reassert themselves with a vengeance sometime in the future.
The latest example is the relationship between corporate debt and default rates on that debt. Historically they've moved in the same direction, with higher debt levels leading to higher default rates. That makes intuitive sense because rising debt implies that borrowing is easier for less creditworthy companies who should be expected to default at a higher rate.
But not this time:
(MarketWatch) – U.S. corporate debt levels stand above crisis highs even as default rates among the most leveraged firms remain subdued.

With an economy hitting its stride, it's perhaps no surprise that the high-yield bond market is placid. The extent of the divergence between debt levels and defaults, however, is worrying to some analysts who feel rising corporate indebtedness will eventually catch out unwary investors and deflate the junk-bond market.

But beyond complacency John Lonski, chief economist at Moody's Capital Market Research, argued that globalization and the tendency of U.S. businesses to hoard cash as reasons why corporate debt levels may no longer move in sync with default rates and credit spreads.

The high-yield default rate in the fourth-quarter of 2017 fell to 3.3%, even as U.S. nonfinancial-corporate debt ended in 2017 at 45.4% of GDP. This compares with a much higher default rate of 11.1% in the second quarter of 2009, with corporate debt levels at 45% of GDP. Granted, the current levels come with the economy in the eighth year of an expansion, while the second quarter of 2009 marked the final quarter of the longest and deepest U.S. recession since the Great Depression.

The yield spread between high-yield bonds and safe government paper, as represented by the 10-year Treasury note narrowed to an average 3.63 percentage points in the fourth quarter of 2017, from an average 12.02 percentage
…

by ilene - March 18th, 2018 8:14 am
Courtesy of The Automatic Earth

Gordon Parks Daytona Beach, Florida. Bethune-Cookman College. Football practice 1943
Here's a delicious little rant from Dr. D., by now a regular contributor at the Automatic Earth.
Dr. D: The schizophrenia surrounding the tariff plan is really startling. But then I could just say, "the level of insanity everywhere is startling."
Self-avowed schmartz-guys are all "doesn't the U.S. know their empire is failing and everybody is cutting them off? What are they thinking starting trade wars with allies and raising prices???" Stop. So your argument is the U.S. is losing its influence, other nations are about to cut it off and end the trade deficit, and thereby basically halt imports? While the U.S. has no internal manufacturing? And your argument here is that, not if but when the world cuts us off we a) would like to have some steel and aluminum to build factories, washing machines and tanks or b) do NOT want to have access to the basic raw materials of society? Whiskey Tango Foxtrot.
I'm sorry that this generation burned down the factory, then retreated to the mansion, sold off and burned all the furniture there too, then ran up the credit card with cocaine and heroin parties while yelling "I'm a rock star! I'm a Contender!", but they did. Now there are only bad decisions, like the ones real adults have.
And there's nothing but work to put that factory back up, and that's going to cost something, in this case, money and higher prices, using the thousand-year method of protective tariffs. Why not? Europe has 25% tariffs. China has a virtual lockout. If the U.S. machine then also has higher real wages for U.S. workers they can afford the tariffs. I mean, what's their counterargument? If it's better to not have steel and aluminum, perhaps we should shut down the few remaining foundries and have NO materials? I mean, if a little is bad, surely none is way better.
Mish for example thinks this way: if China is willing to give us cheap, under-market steel we should take it. No, not if you want to have a country, you don't. Isn't it a matter of national security to be able…

by ilene - March 18th, 2018 2:16 am
"If you want to fundamentally reshape society, you first have to break it." ~ Chistopher Wylie
[Cambridge Analytica whistleblower: 'We spent $1m harvesting millions of Facebook profiles' – video]
Here are a number of disturbing, overlapping articles discussing an enormous socio-political experiment in thought-manipulation that took place leading up to and during the US 2016 presidential election. Key players include: Cambridge Analytica (voter-profiling company with "an arsenal of weapons" to fight a culture war), SCL Group (London-based political and defense contractor), Robert Mercer (US hedge-fund billionaire and Republican donor who wants to reshape society), Rebekah Mercer (Mercer's daughter, board member of Cambridge Analytica), Stephen Bannon (former executive chairman of Breitbart News, Trump campaign and White House adviser), the Trump campaign, Facebook, Algorithms, Christopher Wylie (whistleblower who worked at Cambridge Analytica), Alexander Nix (CEO of Cambridge Analytica), Aleksandr Kogan (set up Global Science Research to carry out CA's data research, took Russian government grants for research), Thisisyourdigitallife (an app built by Aleksandr Kogan to collect data from Facebook), and Lukoil (Russian oil giant).
How Trump Consultants Exploited the Facebook Data of Millions (NY Times)
LONDON — As the upstart voter-profiling company Cambridge Analytica prepared to wade into the 2014 American midterm elections, it had a problem.

The firm had secured a $15 million investment from Robert Mercer, the wealthy Republican donor, and wooed his political adviser, Stephen K. Bannon, with the promise of tools that could identify the personalities of American voters and influence their behavior. But it did not have the data to make its new products work.

So the firm harvested private information from the Facebook profiles of more than 50 million users without their permission, according to former Cambridge employees, associates and documents, making it one of the largest data leaks in the social network's history. The breach allowed the company to exploit the private social media activity of a huge swath of the American electorate, developing techniques that underpinned its work on President Trump's campaign in 2016.

An examination by The New York Times and The
…

by Zero Hedge - March 17th, 2018 9:00 pm
Courtesy of Nicholas Colas of DataTrek Research
Today we highlight the most interesting investment firm on Earth: In-Q-Tel, the US Central Intelligence Agency's venture capital arm. The "Q" in the name is an homage to James Bond's quartermaster. The rest of the story is even cooler than that, and what they own is a useful signpost for the direction of many disruptive technologies.
The US Central Intelligence Agency runs a venture capital fund called In-Q-Tel, based in Arlington, Virginia. A few quick facts, courtesy of LinkedIn and the company's website:
IQT has 186 active employees, with operations in the Bay Area as well as DC.
Its mission is "To identify and partner with startup companies developing innovative technologies that protect and preserve our nation's security."
The current CEO and President is Chris Darby, an Intel Corp alum. The lead partner is Steve Bowsher, who is based in San Francisco and has the usual Harvard/Stanford educational credentials common in the VC community.
Why you should care: IQT knows how to pick winners and isn't afraid to go it alone.
It was, for example, the only outside firm that would invest in Palantir's first round. That company, founded by Peter Thiel, uses advanced software and big data analysis to solve cyber espionage and other 21st century problems. The rest of the VC community passed, with some outright telling Thiel the idea would never work.
IQT plunked in $2 million back in 2004 and got Palantir the connections to work with the US government on several serious cyber security problems. Which they solved.
Fast forward to now, and Palantir's value may be as high as $20 billion and there is talk of an IPO. Even if IQT's original $2 million investment only gave them 1% of the company, they have a 100-bagger on this trade.
So what is IQT invested in now? The juiciest ideas are secret, but here are some of the public ones:
SnapDNA. Portable chip-based DNA analysis. Identify anyone on Earth in real time by their genetic fingerprint.
Magnet Forensics. Digital forensic analysis of evidence from computers, phones and tablets to fight crime
…

by Zero Hedge - March 17th, 2018 6:00 pm
Courtesy of Irina Slav, OilPrice.com
Two trillion dollars: this was the price tag Riyadh put on the jewel in its crown, state oil and gas giant Aramco.
This is how much the company was worth, officials said, if you multiplied its proven reserves by a factor of US$8, which is the figure used to value oil and gas reserves.
There were doubts about that valuation from the start, and now these are deepening as the company crawls closer to the initial public offering.
For starters Aramco's opacity was very likely to make potential investors suspicious.
Aramco has never published financial reports. Although there were assurances that it will start doing so ahead of the IPO, to date the latest entry on Aramco's Corporate Reports page is from July 20 last year, and includes production figures for 2016. Last year, sources had told Reuters the company was planning to start publishing financial reports early this year, but this has not happened yet.
Leaving these concerns aside, there is the bigger problem of the valuation methodology itself. In a blunt but very informative story for Bloomberg Gadfly, Liam Denning suggests that Aramco may need crude oil at US$80 a barrel to get the US$2-trillion valuation it claims it has. That's in addition to making several wild assumptions along the way.
The oil world today is different from what it was just five years ago. The oil price collapse taught oil producers to be more economical and to pick their projects more carefully to keep cash flows coming in and sharing them with shareholders. Yes, they had to sell additional stock, and some suspended dividends, but the lesson was learned, and the moment prices started perking up, dividends returned, and stock was bought back.
Yields are what investors want when they consider whether to invest in a company, Denning says. They don't care about proven reserves and production costs as such. Instead, they care about how these can turn into dividends. It's as simple as that, but this is where it stops being simple.
The average free cash flow yield of the global…

by ilene - March 17th, 2018 5:24 pm
Stephen Hawking warned about the perils of artificial intelligence – yet AI gave him a voice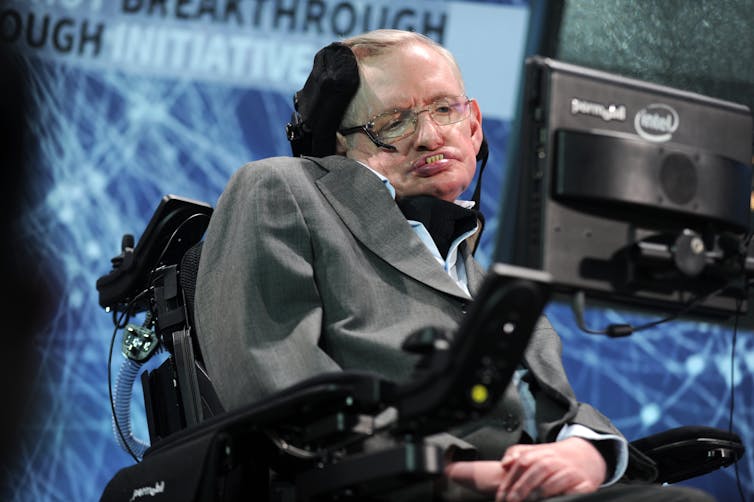 Ana Santos Rutschman, DePaul University
The late Stephen Hawking was a major voice in the debate about how humanity can benefit from artificial intelligence. Hawking made no secret of his fears that thinking machines could one day take charge. He went as far as predicting that future developments in AI "could spell the end of the human race."
But Hawking's relationship with AI was far more complex than this often-cited soundbite. The deep concerns he expressed were about superhuman AI, the point at which AI systems not only replicate human intelligence processes, but also keep expanding them, without our support – a stage that is at best decades away, if it ever happens at all. And yet Hawking's very ability to communicate those fears, and all his other ideas, came to depend on basic AI technology.
Hawking's conflicted relationship with AI

At the intellectual property and health law centers at DePaul University, my colleagues and I study the effects of emerging technologies like the ones Stephen Hawking worried about. At its core, the concept of AI involves computational technology designed to make machines function with foresight that mimics, and ultimately surpasses, human thinking processes.
Hawking cautioned against an extreme form of AI, in which thinking machines would "take off" on their own, modifying themselves and independently designing and building ever more capable systems. Humans, bound by the slow pace of biological evolution, would be tragically outwitted.
AI as a threat to humanity?

Well before it gets to the point of superhuman technology, AI can be put to terrible uses. Already, scholars and commentators worry that self-flying drones may be precursors to lethal autonomous robots.
Today's early stage AI raises several other ethical and practical problems, too. AI systems are largely based on opaque algorithms that make decisions even their own designers may be unable to explain. The underlying mathematical models can be biased, and computational errors may…

by ilene - March 17th, 2018 5:20 pm
Black holes aren't totally black, and other insights from Stephen Hawking's groundbreaking work

Courtesy of Christoph Adami, Michigan State University
Mathematical physicist and cosmologist Stephen Hawking was best known for his work exploring the relationship between black holes and quantum physics. A black hole is the remnant of a dying supermassive star that's fallen into itself; these remnants contract to such a small size that gravity is so strong even light cannot escape from them. Black holes loom large in the popular imagination – schoolchildren ponder why the whole universe doesn't collapse into one. But Hawking's careful theoretical work filled in some of the holes in physicists' knowledge about black holes.
Why do black holes exist?

The short answer is: Because gravity exists, and the speed of light is not infinite.
Imagine you stand on Earth's surface, and fire a bullet into the air at an angle. Your standard bullet will come back down, someplace farther away. Suppose you have a very powerful rifle. Then you may be able to shoot the bullet at such a speed that, rather than coming down far away, it will instead "miss" the Earth. Continually falling, and continually missing the surface, the bullet will actually be in an orbit around Earth. If your rifle is even stronger, the bullet may be so fast that it leaves Earth's gravity altogether. This is essentially what happens when we send rockets to Mars, for example.
Now imagine that gravity is much, much stronger. No rifle could accelerate bullets enough to leave that planet, so instead you decide to shoot light. While photons (the particles of light) do not have mass, they are still influenced by gravity, bending their path just as a bullet's trajectory is bent by gravity. Even the heaviest of planets won't have gravity strong enough to bend the photon's path enough to prevent it from escaping.
But black holes are not like planets or stars, they are the remnants of stars, packed into the smallest of spheres, say, just a few kilometers in radius. Imagine you could stand on the surface of a black hole, armed…