Archive for the 'Phil's Favorites' Category
by ilene - November 16th, 2018 2:57 pm
Theresa May's deal is almost exactly the Brexit the UK voted for

Courtesy of Craig Berry, Manchester Metropolitan University
Forgive me, I may have missed something. There has of course been a lot to take in over the last few days. But, despite what the latest former Brexit secretary believes, it seems to me that the Brexit withdrawal agreement delivers almost exactly what the UK voted for in June 2016.
The reasons 17.4m people voted to leave the EU were multiple, complex and, in part, contradictory. But it is beyond doubt that a desire to control immigration was the most important reason. The evidence in this regard is overwhelming.
There is of course a need to understand why immigration became such an important concern for many voters (I blame austerity, in terms of both its material impact and the conservative ideas it normalised). Nevertheless, for the moment, the Brexit deal delivers on this agenda.
Yet Dominic Raab and Esther McVey's resignation letters make no specific reference to immigration. They note more vaguely that the Brexit deal betrays "the promises we made to the country", or "does not honour the result of the referendum".
Today, I have resigned as Brexit Secretary. I cannot in good conscience support the terms proposed for our deal with the EU. Here is my letter to the PM explaining my reasons, and my enduring respect for her. pic.twitter.com/tf5CUZnnUz

— Dominic Raab (@DominicRaab) November 15, 2018
There is some evidence to suggest that the slippery notion of sovereignty mattered for many voters, after immigration. "Take back control" was, after all, the key mantra of Vote Leave. But few people think in such abstract terms. The control people wanted to take back – the sovereignty that mattered – was over the UK's borders.
May's deal

The great irony of Theresa May's current predicament is that only she, on the government benches, really seems to grasp this basic political reality. May is far closer to the core of public opinion – or at least the 2016 snapshot – than either the hard Brexiteers or the Tory remainers, as the deal she has agreed with the EU clearly demonstrates.
Although May supported Remain,…

by ilene - November 16th, 2018 2:50 pm
May government's Brexit aims were never achievable – we've been hunting a fantastical beast all along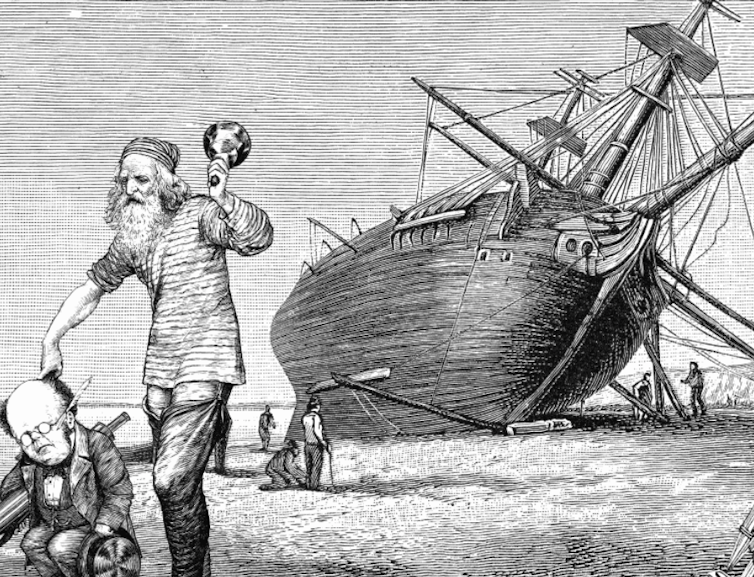 Courtesy of Michael Keating, University of Aberdeen
The Brexit process started in March 2017 with the triggering of Article 50, allowing two years to complete the process. The main story since then has been of postponing difficult decisions in the hope that something would turn up. Ministers have insisted they have a mandate from the people but have struggled to agree on what it entails in practice. Negotiations within the UK government have been as difficult as those with the EU.
It might have been expected that, before March 2019, we would have a clear idea of what Brexit would look like. Instead, we have a 20-month "transition period", which the UK government has been calling an "implementation" period. It is neither a transition nor an implementation phase, but the period in which the real negotiation of what Brexit means will take place; it can be extended once by agreement of both parties.
What has been achieved now is the minimum required for the formalities of withdrawal: the financial settlement; an agreement on citizens' rights; and an ambiguous commitment on the Irish border question. The talk in recent months has suggested that the Irish border is the last remaining obstacle to a deal. This is misleading, as the Irish border stands in for a much larger set of issues on which discussions have barely begun – from the single market to trade to regulations.
Red, red lines …

At the beginning of the process, the UK government laid down a series of red lines. These included withdrawal from the single market, the customs union and the jurisdiction of the Court of Justice of the European Union, and no differentiated Brexit for the different parts of the United Kingdom. These have all been breached.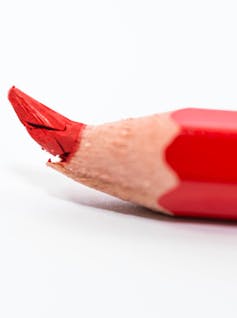 The Chequers agreement in July 2018, which formed the basis of the UK…

by ilene - November 16th, 2018 2:20 pm
What is augmented reality, anyway?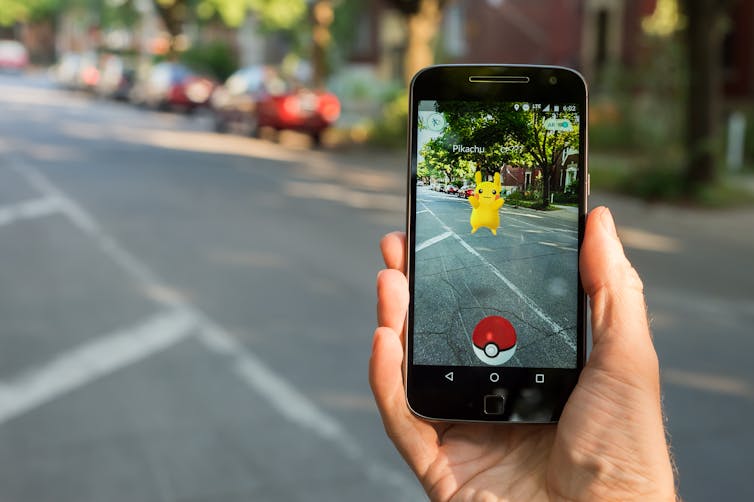 Courtesy of Maximilian Speicher, University of Michigan
Augmented reality systems show virtual objects in the real world – like cat ears and whiskers on a Snapchat selfie, or how well a particular chair might fit in a room. The first big break for AR was the "Pokémon GO" game, released in 2016 with a feature that let players see virtual Pokémon standing in front of them, ready to be captured and played with. Now, technology companies like Microsoft and Mozilla – the company behind the Firefox browser – and even retail businesses like IKEA and Lego are exploring the potential of AR.
Where I do research, an AR lab at the University of Michigan School of Information, it seems everyone knows about AR and is excited about the technology becoming popular among the general public. My colleagues and I watch videos of impressive AR demonstrations, try out new applications and play with new devices. The research community's enthusiasm may be why several experts – including some I talk with – say they expect AR to be commonplace in five years, or envision AR glasses replacing smartphones within a decade.
But as an AR researcher with expertise in both industry and academia, I disagree with those optimistic views. Most people in the U.S. haven't heard of AR – and most of those who have don't really know what it is. And that's just one barrier between augmented reality today and a future where it is everywhere. Overall, there are three major challenges to be overcome.
Hardware difficulties

When I first tried AR glasses three years ago, they quickly overheated and shut down – even when trying to do something fairly basic, like placing two virtual objects in a room. While there has been a lot of improvement in this respect, other problems have emerged. The HoloLens system…

by ilene - November 16th, 2018 2:01 pm
An economist talks turkey: 5 facts about Thanksgiving pricing

Courtesy of Jay L. Zagorsky, Boston University
Few foods are tied as closely to one holiday as turkey is to Thanksgiving. At almost every Thanksgiving feast an enormous turkey is one of the central attractions.
In fact, the typical whole turkey sold in the U.S. weighs about 15 pounds, is 70 percent white meat and has more protein than chicken or beef. But the more important question is how much will it cost?
So before shelling out your hard-earned money for a large bird, there are five fast financial facts I think you should know.
Your're getting a bargain if you buy frozen

Frozen turkeys do not provide much, if any, profit for your local store.
The U.S. Department of Agriculture monitors both the wholesale and retail price of turkeys throughout the year. The wholesale price – what grocery stores have to pay for an item – during the first full week of November was about 81 cents per pound for a frozen turkey. The USDA found the national retail price was about 83 cents per pound a week later, which is about the time needed to get the bird from a wholesaler to your store.
This means the typical store in the U.S. is selling a frozen turkey about two cents over its cost. In other words, that 15-pound bird earns the retailer just 30 cents, which doesn't begin to cover the cost of taking it from the delivery truck to the shelf, ringing it up for sale or keeping it frozen through the whole process.
Why are stores willing to make so little money on such a big seller?
Stores know that people coming in to buy turkeys are likely to purchase other items, too, such as seasonings, disposable roasting pans and soda. The other items are where stores make their money since the profit margins on these items are much higher than on frozen turkeys.
Fresh turkeys are a lot more profitable

While stores do not make money on frozen turkeys, fresh turkeys are a different bird altogether.
The USDA…

by ilene - November 16th, 2018 1:56 pm
Dozens of migrants disappear in Mexico as Central American caravan pushes northward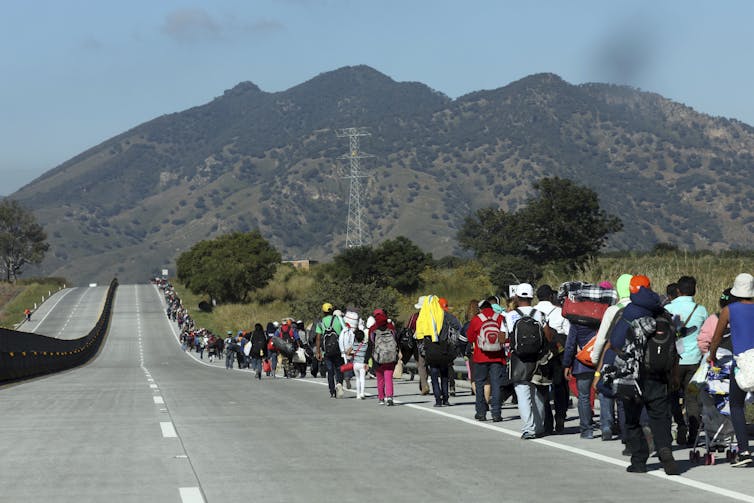 Courtesy of Luis Gómez Romero, University of Wollongong
The Hondurans who banded together last month to travel northward to the United States, fleeing gangs, corruption and poverty, were joined by other Central Americans hoping to find safety in numbers on this perilous journey.
But group travel couldn't save everyone.
Earlier this month, two trucks from the caravan disappeared in the state of Veracruz, Mexico. One person who escaped told officials that about "65 children and seven women were sold" by the driver to a group of armed men.
Mexican authorities are searching for the migrants, but history shows that people missing for more than 24 hours are rarely found in Mexico – alive or at all.
Mexico's ambiguous welcome

An average of 12 people disappear each day in Mexico. Most are victims of a raging three-way war among the Mexican armed forces, organized crime and drug cartels.
The military crackdown on criminal activity has actually escalated violence in Mexico since operations began in 2006, my research and other security studies show.
Nearly 22,000 people were murdered in Mexico in the first eight months of this year, a dismal record in one of the world's deadliest places.
Central Americans fleeing similarly rampant violence back home confront those risks and others on their journey to the United States. Doctors Without Borders found that over two-thirds of migrants surveyed in Mexico in 2014 experienced violence en route. One-third of women had been sexually abused.
Mexico's security crisis may explain why so few caravan members want to stay there.
In response to President Donald Trump's demands that Mexico "stop this onslaught," Mexican President Enrique Peña Nieto announced that migrants who applied for asylum at Mexico's southern border would be given shelter, medical attention, schooling and jobs.
About 1,700 of the estimated 5,000 caravan…

by Zero Hedge - November 16th, 2018 2:45 am
Courtesy of Zero Hedge
The outlook for the global automobile market has been increasingly dire lately, especially after a third quarter that saw sales drop in many major markets across the globe, including China. Now, the latest data from Europe suggests that the difficulties may be nowhere close to over despite optimistic fourth quarter guidance by companies like Volkswagen and Daimler AG.
Deliveries of new passenger cars were down 7.4% in the EU and the European Free Trade Association in October from the year prior. This adds to a 23% drop that occurred during September according to data from the European Automobile Manufacturers Association, and which was so acute it led to the first negative GDP print for Germany since 2015.
Despite the ongoing sales weakness, which many attribute to one-time events, some analysts – like those at EY Consultancy - still expect the market to turn around in the fourth quarter. They argue that new emissions testing cited by many companies as the reason for disappointing sales, will only have a temporary effect.
At the same time, Citigroup analyst Angus Tweedie thinks the downside is not over for companies like BMW and Daimler AG, according to Bloomberg. In a note titled "The Golden Age Ends With a Crash", Tweedie wrote that "Heading into 2019 we see few remaining avenues of maneuver, and with volume growth slowing in most markets believe the scale of pressures will become obvious."
Meanwhile, ongoing challenges like the slowdown in China have been exacerbated by trade wars, casting a cloud over the industry. However, one of the main potential threats, tariffs on imports from the EU, has been alleviated for now, as we wrote yesterday. Following the data release, European automakers like Daimler, VM, and BMW were all trading lower between 1% and 2%.
The new emissions standards (dubbed "WLTP"), a remnant of German automakers' emissions test cheating days, continue to be a cause for profit warnings for companies like Daimler and BMW. The rush to get cars ready for new regulations has put pressure on auto sales this quarter. And while BMW made the deadline, it reportedly couldn't escape pricing pressure from competitors entering the market at the same time.
…

by ilene - November 15th, 2018 5:10 pm
Life in South Africa's economic hub is improving — but big challenges remain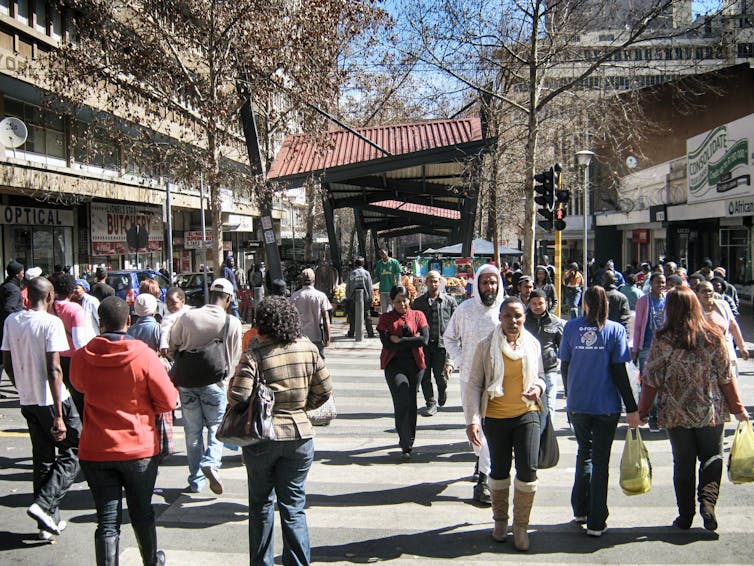 Courtesy of Julia de Kadt, Gauteng City-Region Observatory and Alexandra Parker, Gauteng City-Region Observatory
More than 14 million people live in South Africa's economic hub, the Gauteng City-Region. That's 25% of the country's population.
A lot of media reporting and public discussion about Gauteng is negative. Service delivery protests are common, high crime rates worry residents and the province's economy is under pressure.
These challenges are real, and play a big role in people's lives. But new research from the Gauteng City-Region Observatory (GCRO) suggests there's a more nuanced story to tell about Gauteng. Data collected for the observatory's fifth Quality of Life survey (2017/18) reveal that, in many ways, Gauteng residents' lives are improving.
Overall quality of life in Gauteng is getting better. An index based on the data, measuring quality of life out of 10, has climbed slowly but steadily since 2011. In addition, in this survey people showed greater tolerance, as well as a much stronger sense of community.
The research

The GCRO is an independent research organisation, which generates data and analysis to help inform development and decision making in the Gauteng City-Region. It is a partnership between the provincial government, organised local government, the University of the Witwatersrand, and the University of Johannesburg.
The survey involved 24 889 adult residents of Gauteng, with a minimum of 30 respondents in each of the province's 529 wards.
The latest survey collected a wealth of complex data. Respondents answered more than 240 questions, about a third of which were unchanged from previous iterations of the survey. In this way, we are able to gain insights into how the province has changed over time – and can see that there have been significant, often positive shifts in how people view the quality of their lives.
Of course, problems remain: more respondents report experiencing crime, and a growing proportion don't believe that trust is possible across race groups.
The latest data offer a vital…

by ilene - November 15th, 2018 4:57 pm
Trump's tariffs don't apply to American flag imports from China – but they should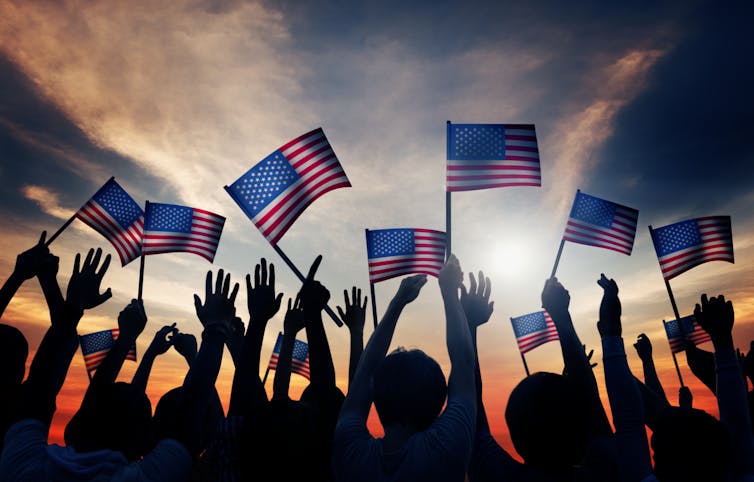 Courtesy of Jay L. Zagorsky, Boston University
On Veterans Day, many Americans drape the Stars and Stripes around their neighborhoods, businesses promote U.S. flags alongside their holiday discounts, and officials display them in government buildings.
The holiday started off as a day to honor those who fought in the "war to end all wars" and marked the armistice that ended hostilities on Nov. 11 exactly a century ago. And today Americans wave flags to commemorate all veterans and active-duty members of the U.S. armed forces.
Recently, while walking by a VFW Post dutifully displaying a U.S. flag, I read a newspaper headline about the president's latest round of tariffs on Chinese goods. The juxtaposition of seeing the flag and the headline made me wonder, how many of those star-spangled banners actually come from China? And if so, are they being hit with the tariffs too?
You may be surprised at the answers – I certainly was.
Made in China

Every shipment of imports brought into the U.S includes a detailed invoice that shows the price, quantity and category of goods being imported, as well as any tariff that's been applied. The national flag of the United States even gets its own code: 6307909825.
The Harmonized Tariff Schedule shows imported flags must pay a 7 percent tariff unless the country of origin has signed a free trade agreement with the U.S.
The invoices show that in 2017 the U.S. imported 10 million American flags. Of those, all but 50,000 came from China.
These imports represent just a tiny fraction of the estimated 150 million U.S. flags Americans buy each year. Nevertheless, 10 million is still a large number for a national symbol.
The typical flag made in China is not the giant banner waving over car dealerships, town halls and fast-food…

by ilene - November 15th, 2018 4:46 pm
Why politicians are the real winners in Amazon's HQ2 bidding war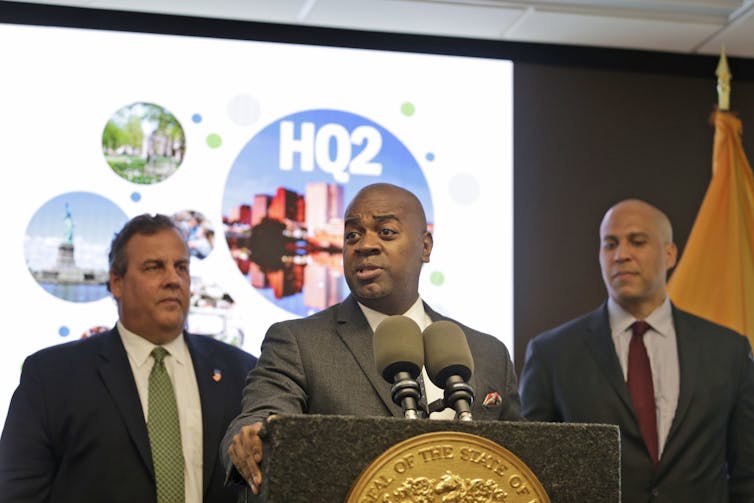 Courtesy of Nathan Jensen, University of Texas at Austin and Edmund Malesky, Duke University
Now that Amazon has announced the winners of its competition to host its second headquarters, a question on many minds is whether it'll be worth the incentives offered.
We have a different question: Why did so many cities play Amazon's billion-dollar bidding game in the first place?
One media narrative has portrayed the leaders of losing locations as simply fooled by Amazon's ingenious scheme. Most of the 238 cities that made bids – offering lucrative tax and other incentives – really didn't have a shot because they didn't fulfill the basic requirements, such as access to skilled human capital, sufficient infrastructure and population density.
According to this view, their role was to provide competition, driving down the tax bill Amazon would eventually pay in the locations it had already selected for its own business reasons. They also provided Amazon with valuable data about what types of incentives they would need to provide in the future as it expands.
There is certainly merit to this narrative. Where we disagree is the notion that the politicians were simple dupes in a game they didn't fully understand. Rather, our research suggests it is far more likely they were willing participants.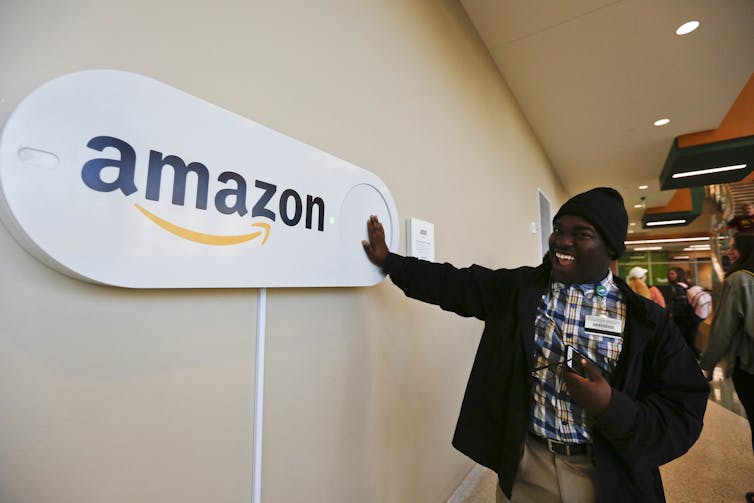 A game of incentives

Amazon first unveiled its public competition for what has been dubbed "HQ2" last September.
The retailer gave interested city and state governments only two months to put together proposals for the opportunity to attract what Amazon described as a US$5 billion investment that would employ 50,000 workers.
Most states, and dozens of cities, jumped at the opportunity to put in proposals. Of the 238…

by ilene - November 15th, 2018 11:27 am
Courtesy of Joshua M Brown
This might be one of the most important conversations we've done at The Compound this year. It's every investor's worst nightmare and we get people asking us about this scenario all the time.
Ben Carlson looked at what every retiree's worst nightmare would look like under a range of stock market crash scenarios. Taking a hypothetical 60% stocks / 40% fixed income portfolio, assuming a steady annual withdrawal rate, Ben discusses what that might have been like, and what investors should take away from the exercise.
Josh Brown and Michael Batnick add their own two cents to the conversation. Let us know what you think in the comments below!
Be sure to subscribe to our channel so you never miss an update.