Archive for the 'Phil's Favorites' Category
by ilene - May 31st, 2020 7:20 pm
Does nicotine protect us against coronavirus?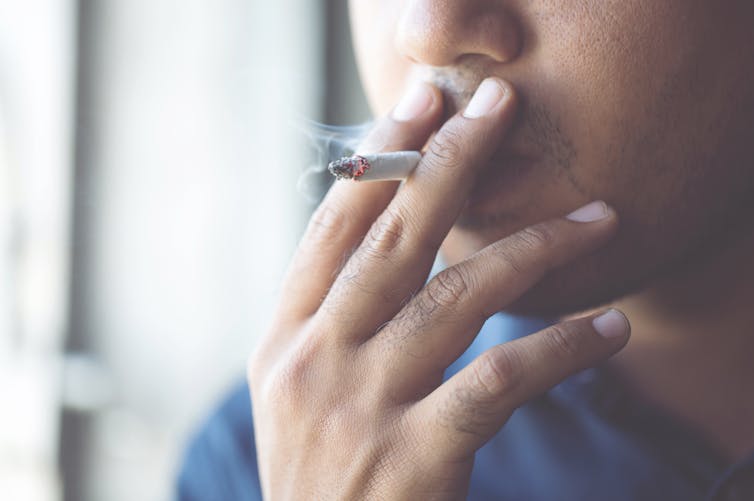 Courtesy of Adrian Bauman, University of Sydney; Leah Shepherd, University of Sydney, and Melody Ding, University of Sydney
If you noticed headlines recently suggesting smoking could protect against COVID-19, you might have been surprised.
Smokers seem less likely than non-smokers to fall ill with coronavirus — Nicotine may play an indirect role that makes it harder for the virus to gain to access cells https://t.co/Psx0uMjy6g

— Alfons López Tena (@alfonslopeztena) May 4, 2020
After all, we know smoking is bad for our health. It's a leading risk factor for heart disease, lung disease and many cancers. Smoking also reduces our immunity, and makes us more susceptible to respiratory infections including pneumonia.
And smokers touch their mouth and face more, a risk for COVID-19 infection.
Initial observational findings suggested a history of smoking increased the risk of poor outcomes in COVID-19 patients, as the World Health Organisation and other bodies have identified.
But a recent paper which examined smoking rates among COVID-19 patients in a French hospital hypothesised smoking might make people less susceptible to COVID-19 infection.
So what can we make of this?
What the study did

This study was a cross-sectional survey where the researchers assessed the exposure (smoking) and the outcome (COVID-19) at the same time. This type of research design can't prove the exposure causes the outcome – only that there may be an association.
There were two groups included in the study – 343 inpatients treated for COVID-19 from February 28 to March 30, and 139 outpatients treated from March 23 to April 9. Among other data collected, participants were asked whether they were current smokers.
The researchers compared smoking rates in both groups with smoking rates in the general French population.
The results

The study found 4.4% of inpatients and 5.3% of outpatients with COVID-19 were smokers, after adjusting for differences in age and sex.
This was only a fraction of the prevalence…

by ilene - May 31st, 2020 5:54 pm
Worth reading, the theory presented here is strongly supported by the evidence.
by ilene - May 31st, 2020 4:36 am
Courtesy of Charles Hugh Smith, OfTwoMinds blog
The conventional view is the Federal Reserve creating trillions of dollars out of thin air will trigger inflation. Not so fast. Yes, creating trillions of dollars out of thin air will eventually devalue the purchasing power of each dollar--what we call inflation--but first all the unprecedented asset bubbles will pop and valuations will crash.
Let's call this a deflationary deluge as unsustainable asset prices are eroded by a hard rain of reality. To understand the enormity of the current bubbles, please glance at the charts below. The first chart depicts recent stock market bubbles; note the extreme height of the current bubble.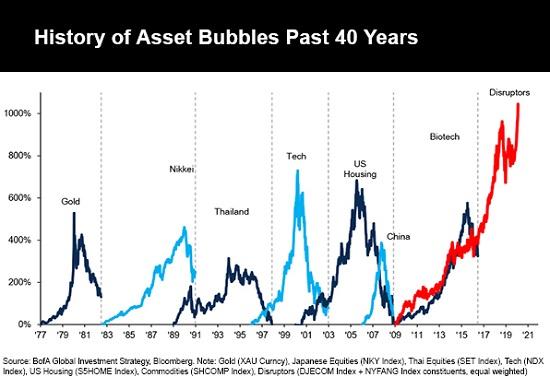 The next chart shows the S&P 500, and the extraordinary amplification of the bubble that reached its apex in February 2020. Note that each ramp higher takes less time to reach its peak. The most recent snapback rally gained about 870 points in a mere two months--a move that took roughly 5 years in the early 2000s.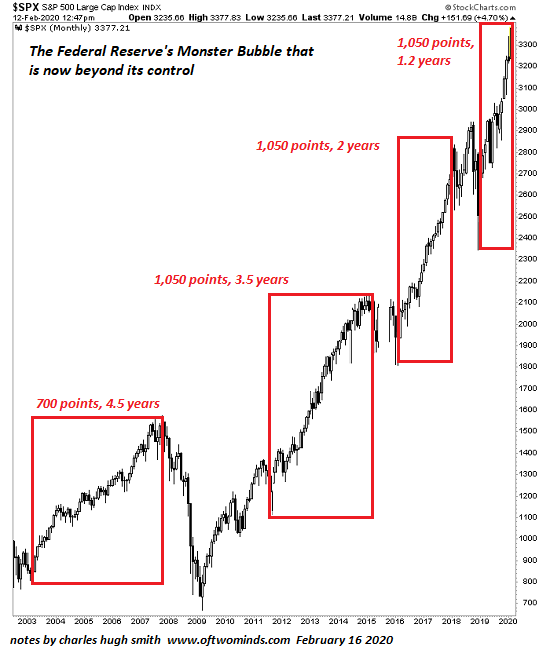 Real estate and other assets have also soared in unprecedented bubbles. Old bungalows that sold for $150,000 less than 20 years ago are now supposedly worth over $1 million.
What made this possible? An equivalent bubble in debt. Every sector--household, corporate and government--has borrowed astronomical sums of money to keep the bubble economy glued together. In this rising tide of currency and capital, whatever had scarcity value--real estate, art, stocks--was purchased with the borrowed money as a store of value and / or as a source of income in a world starved of low-risk yields by central banks that dropped interest rates to near zero.
Assets don't have to rise, but the interest and principal on debt has to be paid. That's the rub with buying assets with borrowed money.
The price of assets is set on the margins. In a neighborhood of 100 houses, the price of all the houses is set by the most recent handful of sales. If each house was valued at $1 million, and three houses sell for $800,000, the value of the
…

by ilene - May 30th, 2020 5:07 pm
Riot or resistance? How media frames unrest in Minneapolis will shape public's view of protest

Courtesy of Danielle K. Kilgo, Indiana University
A teenager held her phone steady enough to capture the final moments of George Perry Floyd's life as he apparently suffocated under the weight of a Minneapolis police officer's knee on his neck. The video went viral.
What happened next has played out time and again in American cities after high-profile cases of alleged police brutality.
Vigils and protests were organized in Minneapolis and around the United States to demand police accountability. But while investigators and officials called for patience, unrest boiled over. News reports soon carried images of property destruction and police in riot gear.
The general public's opinions about protests and the social movements behind them are formed in large part by what they read or see in the media. This gives journalists a lot of power when it comes to driving the narrative of a demonstration.
They can emphasize the disruption protests cause or echo the dog whistles of politicians that label protesters as "thugs." But they can also remind the public that at the heart of the protests is the unjust killing of another black person. This would take the emphasis away from the destruction of the protests and toward the issues of police impunity and the effects of racism in its many forms.
The role journalists play can be indispensable if movements are to gain legitimacy and make progress. And that puts a lot of pressure on journalists to get things right.
My research has found that some protest movements have more trouble than others getting legitimacy. My co-author Summer Harlow and I have studied how local and metropolitan newspapers cover protests. We found that narratives about the Women's March and anti-Trump protests gave voice to protesters and significantly explored their grievances. On the other end of the spectrum, protests about anti-black racism and indigenous people's rights received the least legitimizing coverage, with them more often seen as threatening and violent.
Forming
…

by ilene - May 30th, 2020 3:13 am
President Trump has signed an executive order which aims to remove some of the legal protection given to social media companies, though it is expected to face significant legal hurdles. In a nutshell, it sets out to clarify the Communications Decency Act, handing regulators the power to file legal proceedings against social media companies for the way they police content on their platforms. Trump's decision to take action comes two days after Twitter attached a fact check to one of his tweets lambasting mail-in voting. He then threatened to close Twitter down, saying that "if it were legal, if it could be legally shut down, I would do it". He also accused social media companies of censoring conservative voices, having unchecked power and of election interference.
The spat is still ongoing and it escalated early this morning when Twitter placed a violent content warning on one of Trump's tweets when he referenced the situation in Minneapolis, tweeting that "once the looting starts, the shooting starts". Trump's stance and threats to close down Twitter are ironic given that he has 80 million followers and has arguably never been more reliant on the platform. Even in the Oval Office during the signing of his executive order, Trump was asked by a journalist why he doesn't just delete his account and walk away from Twitter. He replied that he would do that in a heartbeat if it wasn't for his unfair treatment at the hands of fake news. He said he can rely on his combined social media channels of Twitter, Facebook and Instagram to bypass traditional media channels, refute fake news and reach a combined total of 186 million people.
Trump's reliance on communicating via Twitter has become more evident over the past year as he has ratcheted up his activity on the platform. According to the Trump Twitter Archive, he tweeted or retweeted 3,578 times in 2018 and that grew drastically to 6,934 in 2019. So far, 2020 has proven hugely turbulent given tensions with Iran at the beginning of the year and the spread of the coronavirus in the months since. So far in May, Trump has tweeted or retweeted more than 800 times and his total for the year
…

by ilene - May 29th, 2020 5:54 pm
President rages as Twitter labels White House disinformation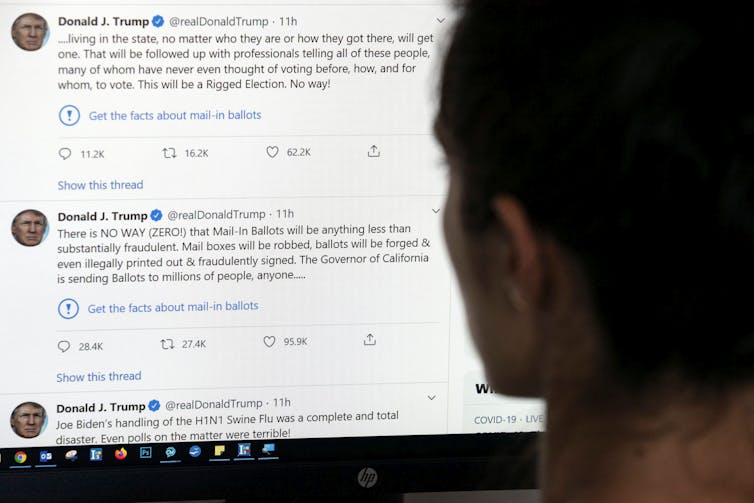 Courtesy of Jennifer Grygiel, Syracuse University
In a landmark action, Twitter has for the first time attached independent fact-checking information directly to two tweets from President Donald Trump. The president's tweets make false claims alleging that wider use of mail in ballots will result in an increase in voter fraud.
This is far from the first time Trump has posted falsehoods on Twitter. But it is the first time the social media company has taken action against his account.
Twitter has removed tweets from other politicians and world leaders, including Brazilian President Jair Bolsonaro. It frequently removes accounts that are deceptive and spread disinformation. The company has also suspended notable accounts, such as the controversial and hyperpartisan ZeroHedge blog, for posting misinformation.
As a scholar who studies social media, it's clear to me that the reason Twitter acted this time is that public outcry finally reached a level where the company had enough backing to check a president – but it still doesn't have enough public support to delete a presidential tweet.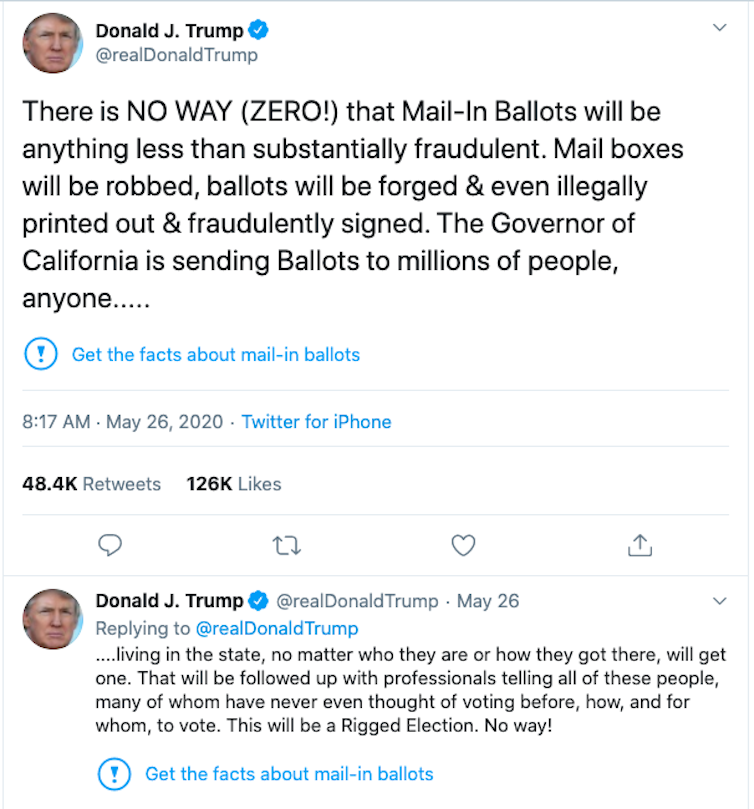 Setting some rules online

Twitter has corporate policies laying out what it will and won't do about elected officials posting misinformation, including showing warning information before displaying the tweet and posting accompanying notices. Those apply in this case, but it's important to remember that the rules are written by the company.
Twitter was not forced into this situation: The company chose to allow governments and elected officials on its platform where there is inconsistent enforcement of the few rules that exist to prevent government abuse.
I see Twitter's latest action as a signal that the company fears public opinion more than it fears the president and his bully pulpit.
In response, Trump has taken aim at Twitter and is threatening to…

by ilene - May 29th, 2020 12:16 pm
Antigen tests for COVID-19 are fast and easy – and could solve the coronavirus testing problem despite being somewhat inaccurate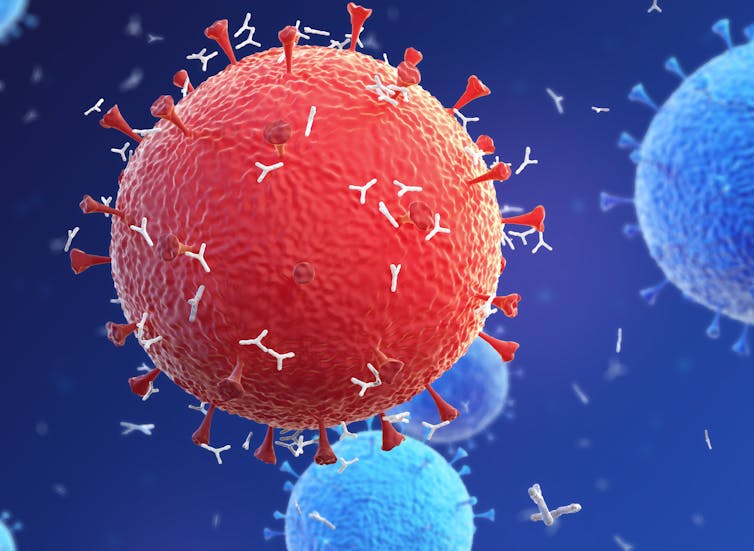 Courtesy of Eugene Wu, University of Richmond
In late February, I fell ill with a fever and a cough. As a biochemist who teaches a class on viruses, I'd been tracking the outbreak of COVID-19 in China. Inevitably I wondered: Did I have COVID-19, or did I have the flu?
At the time, COVID-19 testing was very restricted but I knew I could get quickly tested for the flu. I drove myself to an urgent care clinic, the nurse easily checked my temperature and took a throat swab and 30 minutes later I got the results: positive for influenza.
The flu test I took is a type of viral screening called a rapid antigen test that looks for viral proteins. For the flu, these antigen tests are easy to administer, decently accurate and give results almost immediately.
Widespread testing for SARS–CoV–2, the virus that causes COVID-19, is critical to knowing if, when and how people can start to return to their normal lives. An antigen test for the coronavirus could be a huge help in expanding testing.
On May 9, the U.S. Food and Drug Administration approved the first antigen test for emergency use in the U.S. These tests are starting to be available across the country and could dramatically change the COVID-19 testing landscape when they become widely available.
What is an antigen?

The human immune system, and in fact the immune systems of most vertebrates, work on a simple idea: Any protein in your body that isn't encoded by your own genes is probably from a pathogen and should be captured and destroyed.
When the immune system detects a foreign protein, your white blood cells, specifically your B-cells, create antibodies to trap and destroy these proteins. Antibodies are Y-shaped proteins that use their arms as grabbers for foreign proteins. The first round of antibodies aren't particularly well matched to the shape of…

by ilene - May 29th, 2020 10:03 am
Courtesy of Pam Martens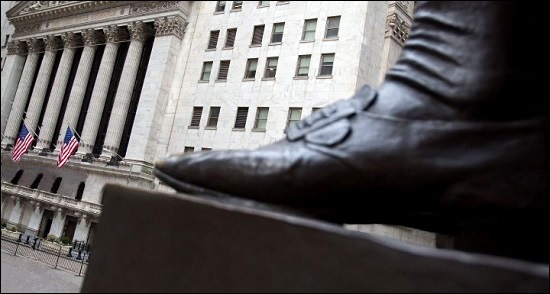 By Pam Martens and Russ Martens
On May 29, 2019, the Federal Reserve's balance sheet stood at $3.9 trillion. As of this past Wednesday, May 27, 2020, the Fed's balance sheet had skyrocketed to $7.145 trillion, an increase of 83 percent in one year's time.
But the explosion in the Fed's balance sheet cannot be attributed solely to the economic downturn caused by the COVID-19 pandemic. The math and the timeline simply do not support that argument. According to the timeline at the World Health Organization, on December 31, 2019, China first reported a cluster of cases of pneumonia which were identified in early January to be the coronavirus now known as COVID-19. These were the first known cases anywhere in the world.
But on December 31, 2019, the Federal Reserve was already deep into a debt crisis in the United States. We know that from the minutes of the Federal Reserve's Open Market Committee. The Fed minutes for the meetings on December 10-11, 2019 state that the Fed's emergency repo loans (that it had started making on September 17, 2019 for the first time since the financial crisis of 2008) had "totaled roughly $215 billion per day" as of the date of that meeting.
Using the Fed's own Excel spread sheet data for its emergency repo loans, Wall Street On Parade reported on January 27 that the Fed had made $6.6 trillion cumulatively in emergency revolving repo loans to Wall Street since September 17. The first death in the U.S. from COVID-19 did not come until February 28 and was reported by CNN one day later.
…
by Zero Hedge - May 29th, 2020 9:23 am
Courtesy of ZeroHedge View original post here.
Update (1005ET): Jimenez went right back to reporting after being let go.
And we're back pic.twitter.com/dkYHYxe0u7

— Omar Jimenez (@OmarJimenez) May 29, 2020
* * *
Update (0900ET): After releasing the three CNN employees arrested earlier, the Minnesota State Police have tweeted a statement declaring that the reporters were released once they were confirmed to be CNN reporters…which is clearly not what happened.
In the course of clearing the streets and restoring order at Lake Street and Snelling Avenue, four people were arrested by State Patrol troopers, including three members of a CNN crew. The three were released once they were confirmed to be members of the media.

— MN State Patrol (@MnDPS_MSP) May 29, 2020
The reporter who was arrested was interviewed about the experience by a colleague.
CNN's @OmarJimenez and his crew have been released from police custody. He recounts getting arrested and what happened while they were in custody. https://t.co/v3kMq77Oro pic.twitter.com/JoqmwlTc5i

— CNN (@CNN) May 29, 2020
There's probably a playbook for how police departments can start to restore the public's trust at moments like this…but this isn't it.
* * *
Millions of Americans feel like the country is drifting precariously close to the point where social cohesion unravels. What's the Minneapolis PD's solution? Arrest a team of journalists live on air…
The same police department that hired the officer who cruelly and arbitrarily murdered George Floyd has responded to the intensifying media coverage of the riots that are now beginning to spread across the US with what some might describe as 'Stalinist' tactics.
CNN tweeted a photo of reporter Omar Jimenez being taken into custody in the middle of the live report.
— CNN (@CNN) May 29, 2020
This video was captured by the crew while they were being
…

by Zero Hedge - May 28th, 2020 7:45 pm
Courtesy of ZeroHedge
For the second night in a row, peaceful protests over the in-custody death of George Floyd quickly turned violent Wednesday night, with multiple building structures set ablaze, widespread looting, and continued rioting.
Minneapolis Mayor Jacob Frey requested Minnesota Governor Tim Walz to deploy the Minnesota National Guard following the social unrest. Demonstrators torched multiple building structures, including an apartment complex and surrounding buildings, an AutoZone, and other retail stores. At least a dozen stores were looted and or damaged.
"That's like five buildings on fire," one demonstrator said while talking to Unicorn Riot News.
LIVE VIDEO: The fire alarms just went off at the third precinct. There are fires everywhere. Ammunition is exploding. #minneapolisriots #BlackLivesMatter pic.twitter.com/kcTcFvsFSD

— Minneapolis Updates (@EgyptianWeeknd) May 29, 2020
A reporter from the Minneapolis Star Tribune tweeted images of the apartment building engulfed in flames.
Housing complex construction site on 29th/26th is on the verge of collapse. Heat is so intense you can feel blocks away. pic.twitter.com/sXbmQyzHCz

— Liz Sawyer (@ByLizSawyer) May 28, 2020
Apparently, the apartment building was new construction with no one inside (that has yet to be confirmed).
Minneapolis is burning #minneapolisriots pic.twitter.com/VnExGgjVOB

— Dr Richard Matthews ???????????????? (@rhematt) May 28, 2020
The fire quickly spread to other structures nearby.
Fires are spreading. Another building engulfed #Minneapolisriots pic.twitter.com/99eJPhmMqp

— Dr Richard Matthews ???????????????? (@rhematt) May 28, 2020
Here are several unbelievable scenes around the apartment complex.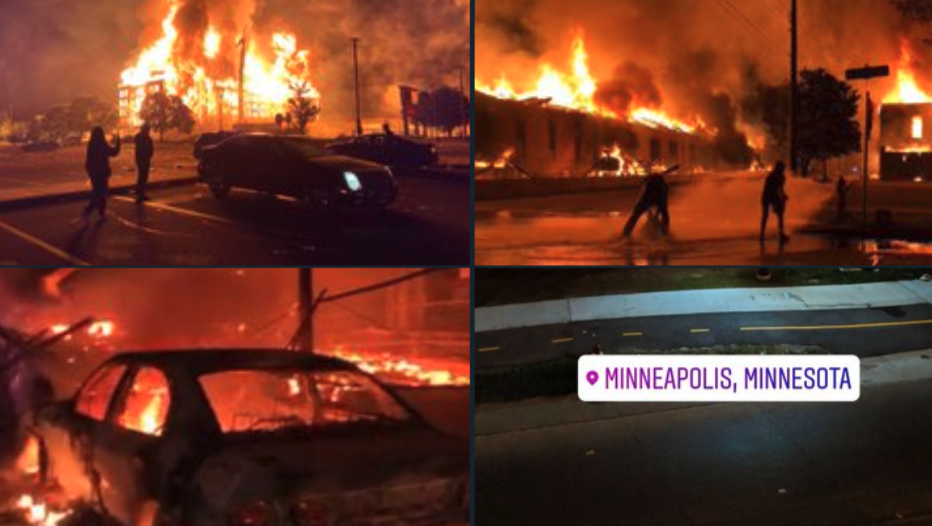 "2020 is really going to go down in the books. This is the typa shit out future kids will read about. This is history in the making," said one Twitter user while referring to the fires.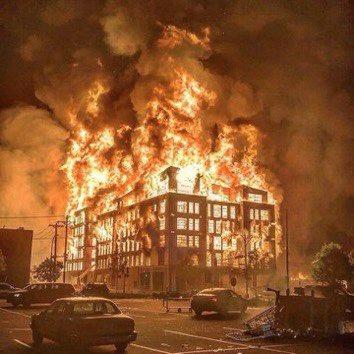 Looks like an entire block is on fire.
Home safe. Can't believe what I witnessed tonight.
…