Archive for the 'Uncategorized' Category
by phil - May 25th, 2018 8:31 am
What a waste!
It's a low-volume pre-holiday week but it looks like we could have taken the whole thing off as we're drifting back to 2,712 on the S&P, which is right where we closed last Friday and not too far off the Friday before that either. As I've been saying for the past two weeks, I don't think we're consolidating for a move over our strong bounce line at 2,728 – I think we're simply in a prolonged fail of that level and that means we'll be heading back to the S&P's 20% line at 2,640.
That's still 10% over the fair value for the S&P (we raised it 10% due to tax cuts – even though the tax cuts are ultimately bad for the broad economy). Speaking of fair value, oil is realizing a bit of its fair value and has fallen 2.5%, back below the $69 and that's going to be great for Wednesday's Live Trading Webinar play on the Ultra-Short Oil ETF (SCO) where we picked up the June $14/17 bull call spread for net $1.45.
That put our break-even at $15.45 and today SCO will be well over $16 for a 40%+ gain in 2 days - you're welcome! We didnt play the oil Futures (/CL) because it was too iffy with the holiday weekend and the Global tensions but putting, for example, $1,450 into the spread limits your loss to no more than $1,450 and it's very unlikely we wouldn't be able to stop out below $1,000 if it went the wrong way, going the right way, we will be making $1.55 (106%) in 60 days on a trade that requires no margin at all (so it's good for IRAs).
Gasoline (/RB) has fallen to $2.19 and I like those Futures long off that line (with tight stops below) as I expect a pop back to $2.20 at least today as "THEY" try to jam prices up at the pump into the holiday weekend. Natural Gas (/NG), on the other hand, is testing the $3 mark (we're long).
What's taking oil down today (aside from basic fundamentals) is a…

by ilene - May 24th, 2018 11:19 pm
The US overtakes Hong Kong to rank first among world's most competitive economies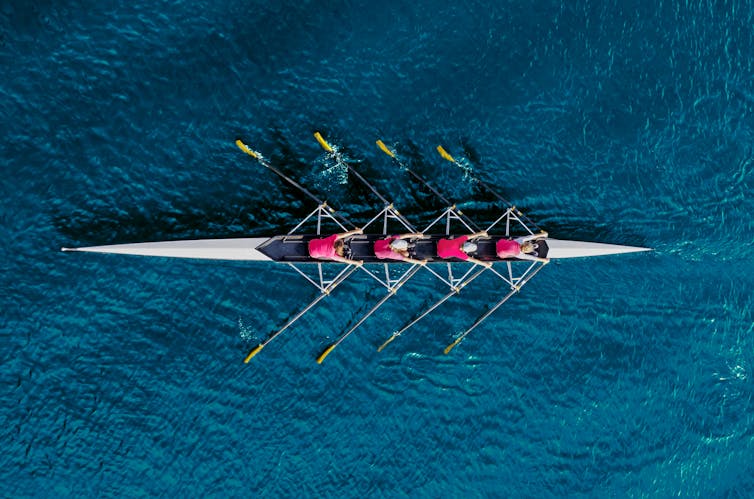 Courtesy of Arturo Bris, IMD Business School
The US has leapfrogged Singapore and Hong Kong to top IMD's latest World Competitiveness Rankings. The top five most competitive economies in the world remain the same since 2016, but their order has changed. With the US at the top, Hong Kong has dropped one spot to second and Singapore remains third. Germany has fallen two spots to 15th and the UK has slipped one position to 20th.
We compile the rankings using 258 indicators. Hard data such as national employment and trade statistics are weighted twice as much as the soft data from a survey of business executive opinions, which measures the business perception of issues like corruption, environmental concerns and quality of life.
The return of the US to the top is driven by its strength in economic performance and infrastructure. Many will wonder if Trump is responsible for this return to the top spot in the rankings. The answer is a mixed bag. Hard data still reflects the results of policies from the Obama administration which boosted employment and output, like the American Recovery and Reinvestment Act of 2009. Meanwhile, the survey of business executives element of the rankings indicates that the Trump administration is perceived as business friendly.
But in the category of how attractive the country remains to business executives, the US ranked very low in perceptions of government competency and the risk of political instability. The country also ranked number one in the rankings in 2013-15, which shows that any recent policy decisions have not miraculously catapulted the country to the top.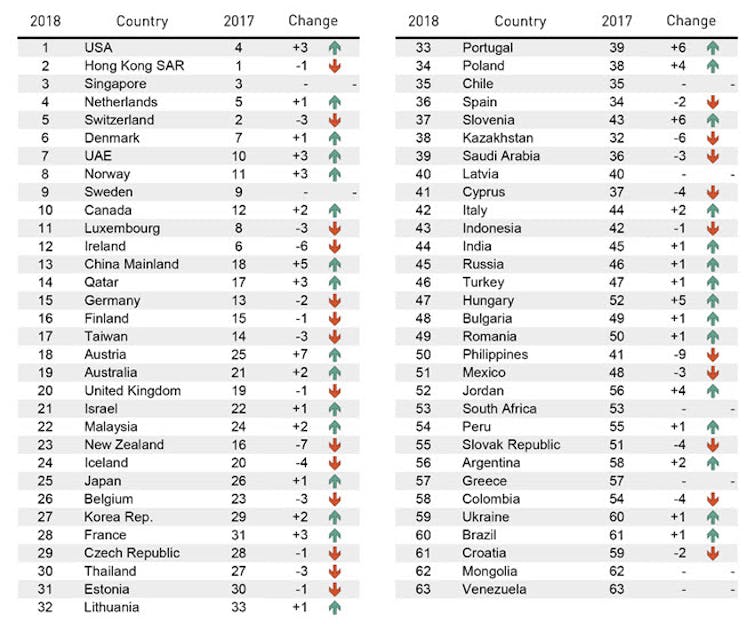 Hong Kong comes in at second but with different strengths to the US. It scored especially high in terms of government efficiency and business efficiency. This reflects the fact that there is no template to becoming the most competitive country in the world; each has its unique…

by ilene - May 24th, 2018 11:04 pm
Courtesy of Joshua M Brown
One of the most aggravating things I'm forced to listen to from time to time is people citing widely available valuation ratios as though their very existence has some sort of meaning for the future price of a particular stock. Such and such company is selling for only 15x earnings, therefore it's cheap and you should buy it.
This ignores the fact that any information available to the masses is already priced in and that markets, which are made up of hundreds of millions of participants, have settled on buying and selling a given security at its current price or valuation for a reason. Markets are very smart, which is not the same as saying they're always right.
Such and such stock sells at 15 times earnings because, at the current moment, this is the equilibrium price at which sellers and buyers have reached a tacit agreement.
Citing a PE ratio is like remarking on the fact that it's cold in Antarctica and hot in Africa.
What investors are really doing is attempting to divine the future prospects of a company and what they think it could someday be worth, and then placing their bets accordingly. Current valuations are useful in this endeavor only insofar as they present buyers and sellers with a an approximate baseline or a starting point.
And then from there, literally anything can happen.
Netflix has just become the largest publicly traded media company in the country today, surpassing both content giant Disney and distribution giant Comcast in one shot. These securities are not being traded at their current levels because of ratio of price to current earnings. Rather investors and traders in both securities are making a bet on what the future looks like, incorporating possible risks to their forward-looking assessments and then either buying or selling depending on how far away prevailing prices are from their own individual guesses.
And then there are some other tangential considerations that go into this stew – optics (do I want to show my fund's shareholders that I am in this name?), benchmarks (should…

by ilene - May 24th, 2018 5:23 pm
What are these 'levels' of autonomous vehicles?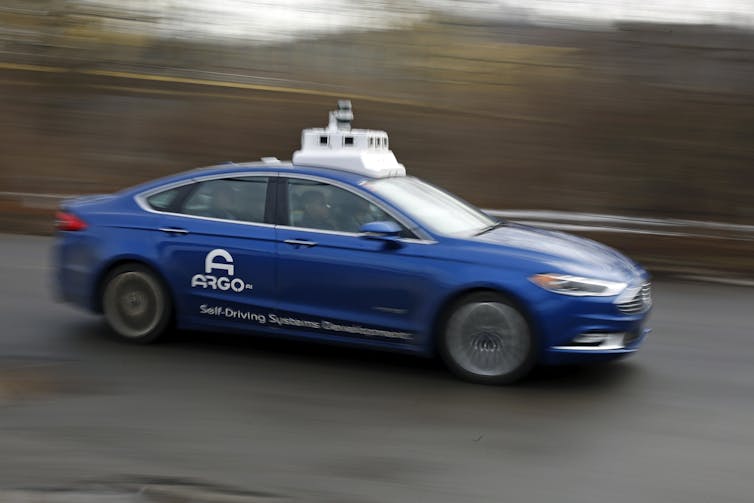 Courtesy of Huei Peng, University of Michigan
As automated and autonomous vehicles become more common on U.S. roads, it's worth a look at what these machines can – and can't – do. At the University of Michigan's Mcity, where I serve as director, we're working to advance connected and automated vehicle technologies, to make cars safer, save energy, and make transportation more accessible to more people.
In 2014, the professional society SAE International, originally founded as the Society of Automotive Engineers, described six levels of autonomous vehicles, which it updated in 2016. Also in 2016, the U.S. Department of Transportation used that description as part of its official policy on automated vehicles on U.S. roads. What are those levels?
Level 0 is where most cars are right now, with a human driver responsible for every aspect of driving. The car may have some systems that notify the driver of certain hazards, like lane departure warnings, but the car does not do anything on its own.
Level 1 sees the beginning of automation, when the car's computer and mechanical systems control one aspect of vehicle motion – such as its speed or steering. Cruise control is a type of Level 1 automation, in which onboard systems regulate speed, but traditional cruise control is far less safe because it only involves acceleration, not braking – and doesn't involve any monitoring of surroundings. With adaptive cruise control, by contrast, on-board systems regulate both acceleration and braking to stay a safe distance behind a lead vehicle, and to react safely and smoothly when another vehicle merges in front or leaves the lane. All other aspects of driving, including steering and detecting and avoiding hazards, are still human-controlled. Another Level 1 technology is lane-keeping assistance, in which the car steers itself to stay in a particular lane on the roadway, while the human driver controls the speed and all other driving tasks.
A Level 2 autonomous vehicle can control both the steering and the speed at the…

by ilene - May 24th, 2018 5:16 pm
What's at stake in the tariff negotiations between the US and China

Courtesy of Yixiao Zhou, Curtin University and Rod Tyers, University of Western Australia
The United States and China have put on hold plans to place tariffs on exports, in an effort to avoid a trade war. Our analysis shows just how important these negotiations are, with the impact of trade wars adversely affecting both economies and others like Australia.
The threat of a trade war started when US President Donald Trump announced 25% tariffs on Chinese imported electronics, aerospace products, and machinery. China retaliated hours later and announced 25% tariffs on US exports to China.
Now both sides are agreeing to take "measures to substantially reduce the United States trade deficit in goods with China" and to work on expanding trade and protecting intellectual property.
We modelled a number of scenarios showing all increases in US or Chinese protection would cause international trade, and the global economy more generally, to shrink. We also find interest rates would rise everywhere and the Australian dollar would depreciate.
China and US trade would then fall by between a quarter and a third, depending on whether the tariffs are hiked unilaterally or bilaterally. Australia's lucrative exports to China would also fall as US demand for China's goods fall and China requires smaller quantities of Australian goods to produce them.
Because Australia is a small, open economy that is strongly influenced by developments abroad, the impacts of rising protectionism can be as large here as they are in the US and China.
We found if US imposed tariffs but there was no retaliation abroad, the rise in tariff revenue would provide relief for the US economy and that this would raise the after-tax incomes of Americans even though US GDP would fall. However, we found after-tax incomes would fall everywhere else.
If China retaliated to the tariffs, all countries and regions would suffer losses, with Australia's net loss among the largest, in per capita terms. The effects on China would be the largest, relative to their current disposable income. Because China would suffer the largest…

by ilene - May 24th, 2018 5:12 pm
Wall Street regulations need a facelift, not a minor Dodd-Frank makeover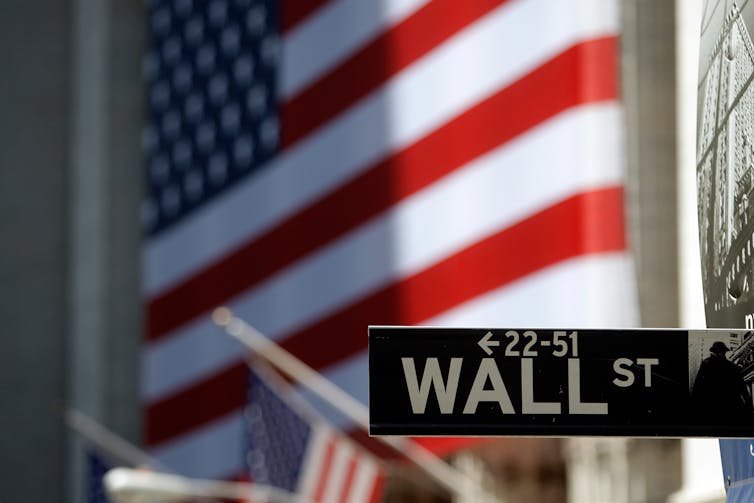 Courtesy of Jena Martin, West Virginia University and Karen Kunz, West Virginia University
Republicans finally managed to roll back some of the Wall Street regulations passed by Congress in the wake of the 2008 financial crisis after years of trying.
While it wasn't a full repeal as some had hoped, it's the first legislative overhaul since the Dodd-Frank Act became law in 2010.
This debate has primarily been framed as a fight over regulation. Democrats generally want more to protect taxpayers and investors from the next crisis; Republicans want less because they argue it stifles economic growth.
So who's right?
Based on our combined 35 years of experience with securities markets and the research we've done for our book, "When the Levees Break: Re-visioning Regulation of the Securities Markets," we think both sides are wrong. The issue isn't about more or less regulation but about the need for a streamlined system that supports 21st-century investing.
If we had our way, the whole system of financial regulation would be burned to the ground and replaced with something entirely different.
Of bonds and banks

When we think of financial markets, we tend to jumble securities markets like stocks, bonds and commodities with conventional bank lending such as checking accounts and lines of credit.
Dodd-Frank, for example, was ostensibly focused on regulation of securities markets, but the rules that got the most attention were those that affect the "too big to fail" banks. That those banks straddled both worlds – securities trading and traditional banking – is what made the 2008 financial crisis life-threatening.
But only securities trading, and in particular derivatives, was at the root of the crisis. So for our purposes, when we talk about financial regulation, our focus is on the securities markets.
How did we get here?

The financial markets meltdown in the fall of 2008 devastated the U.S. economy, but it wasn't nearly as bad as the stock market rout…

by ilene - May 24th, 2018 5:09 pm
Federal judge rules Trump's Twitter account is a public forum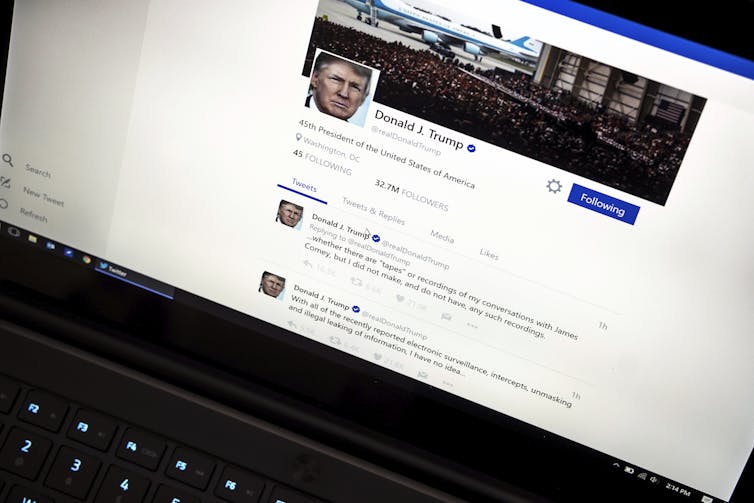 Courtesy of Clay Calvert, University of Florida
A federal judge in New York has ruled that President Donald Trump cannot block people from following or viewing his @realDonaldTrump Twitter account. While the case will likely be appealed and could reach the U.S. Supreme Court, the decision is a resounding victory for the First Amendment right of citizens to speak to and disagree with government officials in the social media era.
The judge's ruling is not a surprise to me, as director of the Marion B. Brechner First Amendment Project at the University of Florida. That's because it is grounded in the well-established principles of protecting political speech and barring government discrimination against people engaged in public discourse based on their viewpoints.
Sure enough, the judge found that Trump blocked Twitter followers from his account "indisputably … [as] a result of viewpoint discrimination." In other words, Trump cannot block people simply because they criticize him or his policies.
The Commander in Chief can block @VoteVets, the voice of 500k military veterans and families, but we will NOT be silenced. pic.twitter.com/SaCN5hKU9R

— VoteVets (@votevets) June 13, 2017
That issue was never really in question in this case, though. The main debate was whether the president's personal Twitter account was a public forum governed by the First Amendment. More traditional public forums are physical places owned by the government, such as sidewalks, parks and auditoriums. Peaceful public speech and demonstrations in those venues cannot be stopped based on what is being said without a compelling government interest. Twitter, however, is not a real-world space. And it's run by a private company.
The judge's ruling found, however, that the company has less control over the @realDonaldTrump account than Trump himself and White House social media director Dan Scavino – also a public official. Their power includes the ability to block people from seeing the account's tweets, and…

by Single Comment - May 24th, 2018 11:00 am
View Single Comment
stjeanluc

May 24th, 2018 at 9:16 am
by phil - May 24th, 2018 8:30 am
"Down in the pleasure centre,
hell bent or heaven sent,
listen to the propaganda,
listen to the latest slander.

Pump it up until you can feel it.
Pump it up when you don't really need it." – Elvis
S&P 2,728 again – they can't keep us over it but they won't let us go under it either.
Today marks two weeks at the strong bounce line and an optimist would say we're consolidating for a move up but a pragmatist would say this is all being done on low-volume BS pump jobs that are faking market highs by holding up the headline stocks while the broad market sells off – leaving the retail suckers holding the bag when the bottom ultimately falls out.
Notice how, nearly every day, we hit a high early in the day and then sell off? That's how you catch big game fish, you give them a little line and then you reel them in and then give them a little line and reel them in again – over and over until they are exhaused and you can haul them onto the boat and gut them and have them for dinner. That's what's happening to Retail Investors at the moment and the Top 1% are baiting the hooks.
Yesterday the market blasted higher on the release of the Fed Minutes, which didn't really say much other than the addition of the word "symmetric" but it was used in regards to INFLATION, not rates. Here's the context of the statement that got the market "so excited" yesterday afternoon:
"Participants generally expected that further gradual increases in the target range for the federal funds rate would be consistent with solid expansion of economic activity, strong labor market conditions, and inflation near the Committee's symmetric 2 percent objective over the medium term. Participants generally viewed the risks to the economic outlook to be roughly balanced."
Now, keep in mind this a 5-minute chart so it took less than 5 minutes of reading the minutes for traders (bots) to decide that the minutes were doveish and blast…