Archive for the 'Uncategorized' Category
by ilene - November 14th, 2019 5:37 pm
Companies promoting causes can be accused of 'wokewashing' – allying themselves only for good PR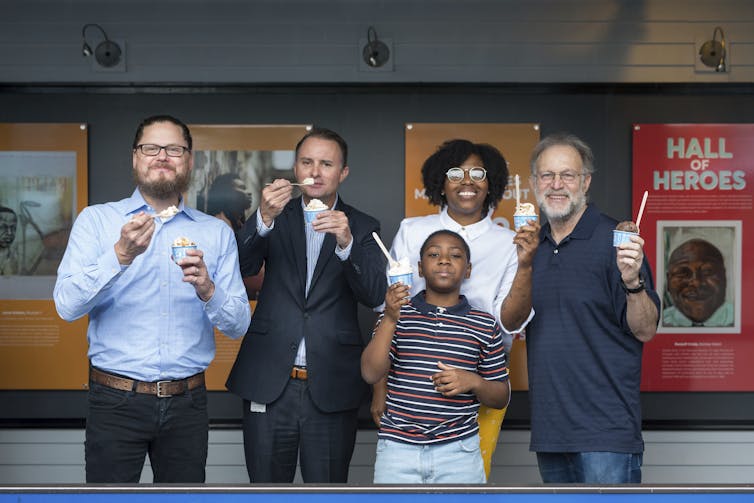 Courtesy of Kim Sheehan, University of Oregon
More consumers want companies to address societal problems, including climate change and crumbling infrastructure.
Additionally, more than half want to buy from brands that take stands on social issues.
At the same time, consumers are increasingly skeptical about these partnerships, seeing them as marketing stunts. It's called wokewashing.
I'm a professor of brand responsibility, and my forthcoming research investigates brands and their relationships with social issues, including the importance of both allies and advocates.
Allies or advocates

In marketing terms, allies are members of a dominant social group that bring attention to important social issues.
A company can serve as an ally when it works to increase awareness about issues affecting marginalized groups.
Advocates take a more active role, working to change political, economic and social systems.
Companies can be advocates when they create campaigns to promote institutional change and provide financial support for groups engaged in creating social change.
Yoplait's campaign to address patronizing attitudes toward moms is an example of corporate advocacy.
Another is Stella Artois' partnership with Water.org to end the global water crisis. This partnership has already raised more than US$3 million in donations to bring almost a million people access to clean water, according to a spokesperson from Water.org.
Pride month

However, corporate adventures into social issues aren't always well thought out or received.
For example, consider this year's Pride celebrations. The number of brands participating in Pride was at an all-time high in 2019. Brands, including T-Mobile, Alaska Airlines and MasterCard, featured supportive messages and announced donations to support…

by phil - November 14th, 2019 8:12 am
And now there's no trade deal – again.
Keep in mind that, a month ago, we were told the deal was ready to sign and it amazes me that, almost every day, the Financial Media carries articles that say "President Trump Says Great Progress Being Made" as that's like running headlines saying "Boy Who Cried "Wolf" Says There's a Wolf". Are we seriously that dumb? Apparently, you can fool some of the people ALL of the time because someone is that dumb and the market rallies EVERY SINGLE TIME on the same news it rallied about last time.
Remember, all Trump even promised was a LIMITED deal, a part one of 5 or whatever because there was no way they could even pretend to be close on an overall deal. In fact, 100 Economists polled by Reuters don't expect a real trade truce until 2021 - let alone next week. While the median probability of a Recession for the coming year fell to 25% from 35% last month, the Economic Growth outlook remained modest.
Over 80% of 52 respondents to an additional question said the Fed had done enough to delay the next recession but that already-modest growth forecasts were largely left unchanged. "I think in terms of the risks, they are probably still tilted towards the Fed maybe cutting rates once more at some point in the coming months if growth slows further, certainly if there is some renewed breakdown in trade talks," said Andrew Hunter, senior U.S. economist at Capital Economics. "But barring that, it does look like they have done enough to avert a recession. In our baseline forecast, there is growth slowing a little bit further over the next couple of quarters but starting to recover next year."
I gave my own Economic Forecast last night on Money Talk, embracing the uncertainty:
As you can see, the NYSE has indeed been drifting along under the 13,500 line for two years after breaching it early in 2018. The NYSE is the…

by phil - November 12th, 2019 8:34 am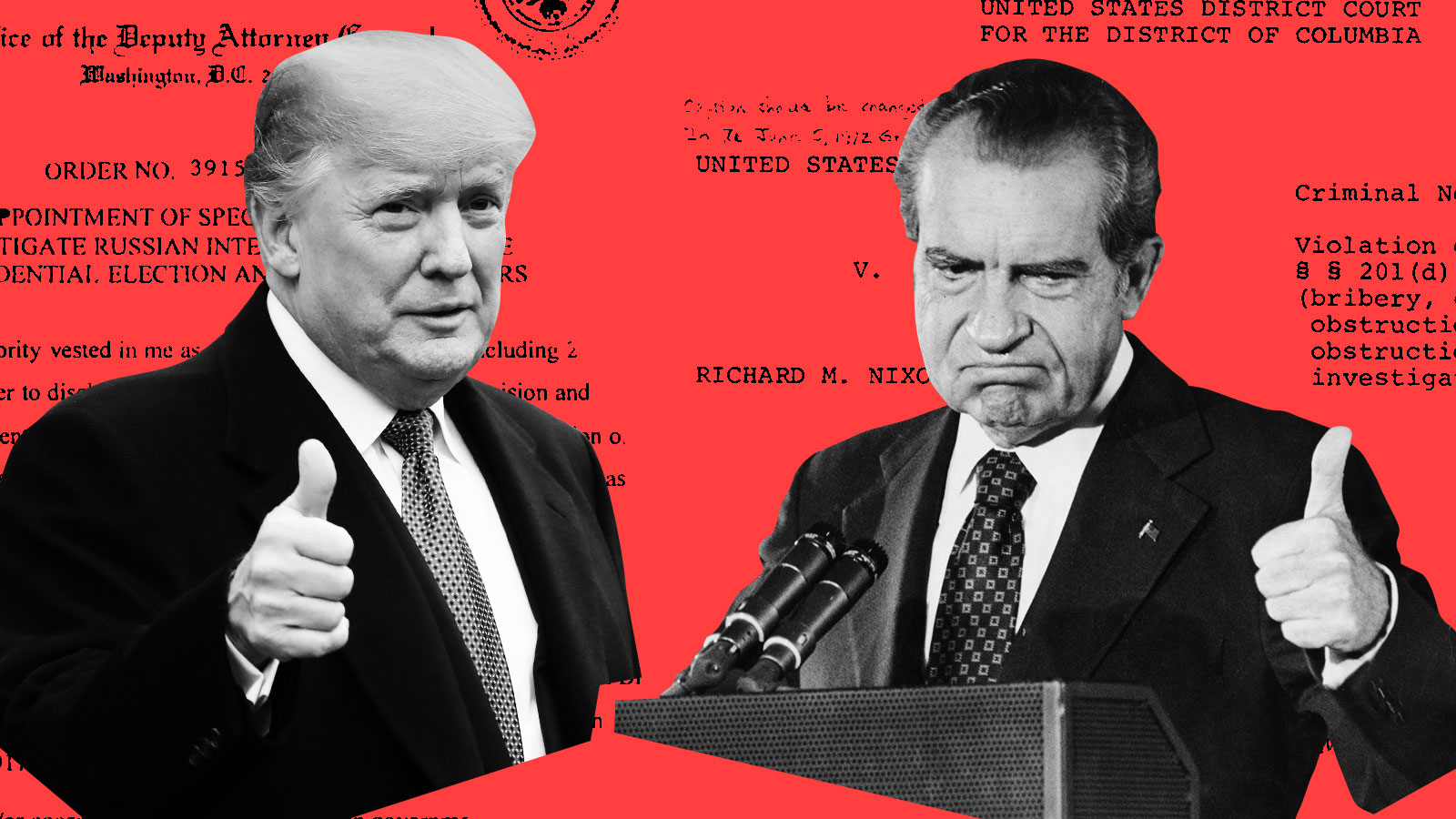 Here we go!
After months of nonsense, the public Impeachment Hearings finally begin next week and, just to be clear, this is just a show for the public because the witnesses have, for the most part, already testified in closed-door meetings and will now be asked to repeat the highlights of their testimony for public consumption. That's not a knock on the Democrats – that's just how these things work.
Later on, there will be fresh testimony from people closer to the top of the Trump Food Chain – as well as from people who are, even now, attempting to block being forced to testify so they can (hopefully) avoid being charged as co-conspiritors, enablers or traitors. During Nixon's impeachment, we had testimony from:
James McCord: One of the Watergate burglers who used to be in the CIA and the FBI. Security officer for the Committe to RE-Elect the President (CREEP). McCord wrote a letter to Judge Sirica claiming the defendents had pled guilty under pressrue and committed purjury. In January 1973, WH Security Liaison Caulfield had told McCord the White House would grant him clemency, money and a job if he accepted his prison sentence and didn't testify against members of the administration. When McCord relayed he had been offered clemency "from the highest levels of the White House" before the Senate Watergate committee on May 18, 1973, Nixon's ties to the efforts of the White House to break into Democratic National Committee Headquarters finally surfaced.
John Dean: Former WH Counsel pled guilty to obstruction of justice in Oct, 1973. Spent 4 months in jail. Barred from practicing law (as Guilianni will be), Dean became an author and does well as a guest and speaker post-Watergate.
HR Halerman: Nixon's Chief of Staff. A tape revealed the President discussing with Haldeman a plan to have the CIA divert the FBI from the probe because it involved national security. Haldeman resigned in April 1973 and was jailed for 18 months. Halderman went to work for David Murdock's Real Estate Company.
Alexander Butterfield: Nixon's Deputy Chief of Staff who revealed the existence of the taping system in the first place saying "When Don Sanders, the deputy…

by Single Comment - November 11th, 2019 8:55 am
View Single Comment
phil

November 8th, 2019 at 9:54 am

Good morning!

BKNG on a wild ride, back to $1,950!

Booking Holdings (NASDAQ:BKNG) reports gross bookings were up 4.1% in Q2 to top the consensus estimate for a 3.8% increase. On a constant currency basis, bookings rose 7% during the quarter.

Room nights sold were up 11.0%, while rental car days were 8.5% higher. Airline tickets were down 2.5% on an unit basis.

The company reported adjusted EBITDA rose 5% during the quarter to $2.50B vs. $2.45B consensus. Adjusted EBITDA is expected to fall in a range of $1.21B to $1.235B for Q4.

BKNG +3.73% AH to $1,918.99.

Previously: Booking Holdings EPS beats by $0.93, misses on revenue (Nov. 7)

Bottom line seems to be they are hurting their competition and holding up well as others decline. Right in the range for us now.

NDLS did well but a slight revenue miss. No worries

Noodles & Company (NASDAQ:NDLS): Q3 Non-GAAP EPS of $0.09 beats by $0.02; GAAP EPS of $0.09 beats by $0.01.

Revenue of $118.3M (+1.3% Y/Y) misses by $2.4M.

DIS was fantastic but not over $140 fantastic.

Walt Disney (NYSE:DIS) is up 3.8% postmarket after easily clearing the Street's profit bar in fiscal Q4 earnings, paced by strong gains in its TV networks and film studio juiced by its Fox acquisitions.

Revenues grew 34% Y/Y to $19.1B for the quarter. For the fiscal year, revenues were up 17% to $69.57B.

Total segment operating income rose 5% to $3.44B. Net income from continuing operations was $785M.

Revenue by segment: Media Networks, $6.51B (up 22%); Parks, Experiences and Products, $6.66B (up 8%); Studio Entertainment, $3.31B (up 52%); Direct-to-Consumer and International, $3.43B (up 316%).

Broadcast was an unexpected strength in Media Networks revenues, coming in well ahead of schedule at $2.27B.

Cash from continuing operations was $1.72B, and free cash
…

by phil - November 11th, 2019 8:33 am
Trade off!
Over the weekend we had a little setback in the trade negotiations as Trump said he has NOT agreed to remove tariffs on Chinese goods and that news came after Chinese markets had closed on Friday so this morning, the Shanghai Composite wwas down 1.8% and Hong Kong's Hang Seng dropped 2.6%.
Also in Hong Kong, tensions escalated even further this morning as the police opened fire on protesters while Hong Kong's Governor said the Govevernment won't "yield to violence." A man was also "set on fire" – apparently by the protesters. Around midday, crowds of office workers were seen fleeing clouds of tear gas filling the streets. Some rushed into the lobbies of buildings to seek shelter and poured water over their eyes to relieve the pain. Police made a number of arrests as people chanted abuse at them.
Combine that level of chaos in a densely packed city AND have the market start to collapse – that's a recipe for disaster and one of the main reasons we've been leary about re-committing our capital to the market. Chinese protests, however, also gave us our shorting premise on Booking.com (BKNG), as we discussed last week in our Short-Term Portfolio Review. We felt the earnings would be impacted by the protests – which have been going on all quarter and we got a nice dip in BKNG on earnings, leading to a massive $18,872 (19%) portfolio gain in just two days – your welcome!
Our BKNG spread is now up $34,600 out of $40,000 potential in just two months but the way we've set it up is to generate quarterly premium income selling puts and calls – and it's right on track to make us $40,490 this quarter alone so no, we're not going to be cashing in this one early – despite the massive gains. This is why I started Phil's Stock WORLD 15 years ago – Global Events matter, Politics matter – and most investing sites ignore them or only pay them lip service at best and ignore them at worst, while we find ways to profit from them instead!
We will be starting a brand new…

by ilene - November 10th, 2019 5:45 am
Courtesy of John Mauldin, Thoughts from the Frontline
If you are a computer (other than the newest experimental quantum ones), your world is entirely binary. Everything is some combination of zeroes and ones. The machines can do marvelous things with those two digits but they have limits.
We humans don't have to think in either/or terms, yet we often do. I see it in the economic outlooks that cross my screen. Some forecast imminent doom, others endless boom. But in reality, there is lots of room between the extremes.
I'm known as the "Muddle Through" guy, which is another way of saying I think "both/and" instead of "either/or." We can have both a successful outcome and difficulty getting there. And that's been my economic outlook for a long time. We are entering a rough period and eventually recession will come, but it will be survivable.
The real damage will come in the "echo" recession that I think will follow. Policy changes, mostly of the political backlash type, will ensure the mid-2020s won't be fun. Ray Dalio just wrote another piece that I will excerpt and link to below, but I was struck by how similar our worries and concerns are. We are approaching a crisis unlike anything we have ever seen, what I term The Great Reset, without any kind of realistic plan.
But that is more than a few years down the road. Today I want to focus on that "entering a rough period" part that comes first. The signs are growing clearer and the bumps bigger.
For now, the global slowdown is less visible in the United States. That doesn't mean it will never reach us. It just means others are further down the road we are all traveling.
Germany, for instance, may already be in recession. GDP there dropped 0.1% in this year's second quarter, with little reason to expect better from Q3 which we will learn next week. (Two consecutive quarters of negative GDP growth constitutes recession, by some definitions.)
Whatever you call it, Germany is certainly not in a good spot. It is highly dependent on exports which, for various reasons, are weakening, particularly in…

by ilene - November 9th, 2019 3:22 am
Will Netflix eventually monetize its user data?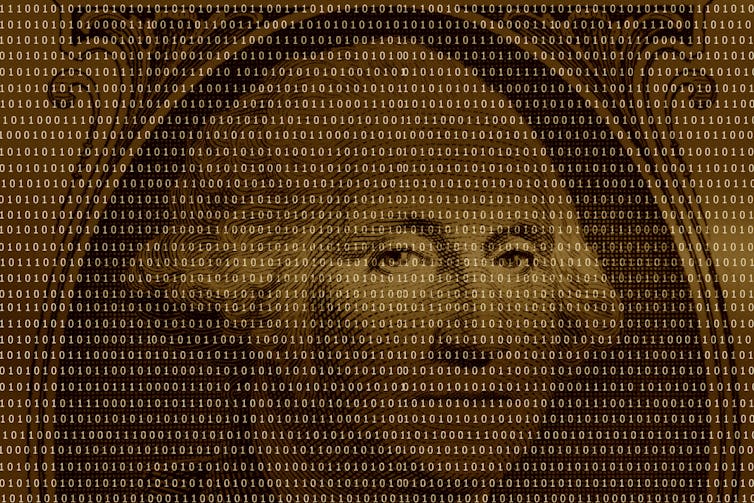 Courtesy of Jason Mittell, Middlebury
Even in the wake of a recent mixed earning report and volatile stock prices, Netflix remains the media success story of the decade. The company, whose user base has grown rapidly, now boasts almost 150 million global subscribers.
But as someone who studies the television industry, I've always wondered how Netflix can provide so much unlimited ad-free content for such a low monthly rate, which currently averages around US$14.
After all, didn't MoviePass just fall apart using a similar model of offering ad-free content for a monthly subscription fee? And Netflix is burning through cash, with negative cash flow of $3 billion in 2018 alone.
What if we're looking at Netflix through the wrong lens? What if its primary long-term business model is not as a media content or distribution company, but as a data aggregation company?
Seeing Netflix this way might better explain its current strategy and clue us into the company's future plans, while raising red flags about ethics and privacy.
Spending more and charging less

For a century of screen entertainment, there were only a few ways for Americans to pay for media:
You could purchase a book, album or DVD, "lease" a movie theater seat or rent a tape at a video store;

You could pay with your attention by consuming ads alongside "free" radio or television programming;

Or you could subscribe to cable TV, and pay a large monthly fee to access an array of scheduled programming.
Netflix doesn't follow any of these three models. Instead it most resembles HBO's subscription service, which similarly provides ad-free original programming alongside a library of older content for a monthly fee.
While they may seem analogous, there are key differences. HBO is part of a larger media company, which gives it access to vast content libraries. And even though HBO charges…

by phil - November 8th, 2019 8:20 am
Wow.
I mean WOW! Check out the headline on the front page of today's Wall Street Journal. Is it really "news" to say the same thing, over and over again for month after month? I guess it is news to traders because, once again, we're up in pre-market trading. This is just what we were talking about yesterday, MADNESS!
I guess it helps distract Conservative readers from the headline in the NY Times that says: "Impeachment Inquiry Tests Ties Between Barr and Trump" as it turns out Trump put pressure on Barr to make an official statement that his Ukraine call was "perfect" but Barr refused to say the President did not commit a crime when Trump demanded the Ukraine launch an investigation of Joe Biden and his son in exchange for the military aid Congress had already approved for our NATO allies in the Ukraine.
Mr. Trump on Thursday angrily denied a report in The Washington Post, which was confirmed by The New York Times, that he wanted Mr. Barr to hold a news conference to say that the president had broken no laws, only to be rebuffed by the attorney general. In a Twitter post, Mr. Trump called The Post's article "pure fiction," adding: "We both deny this story, which they knew before they wrote it. A garbage newspaper!" Mr. Barr, however, did not publicly deny the account.
Perhaps if Trump hadn't already had Barr make a fool of himself attempting to exhonerate the President in the Meuller Report, Trump would still have some political capital to spend but the sheer volume of scandals surrounding the President makes it hard for Barr to be the point man defending every crime – lest he himself become an impeachable obstructor.
Barr is getting into hot water as he's been in the loop as half the witnesses called by the House Committee investigating the matter have refused to testify. Failure to answer a Congressional subpeona is a jailable offense but, so far, the House is just skipping ahead to the next witness and will re-call the dodgers next week in the public hearings so they can publically defy Congress and then there will be…

by phil - November 7th, 2019 8:11 am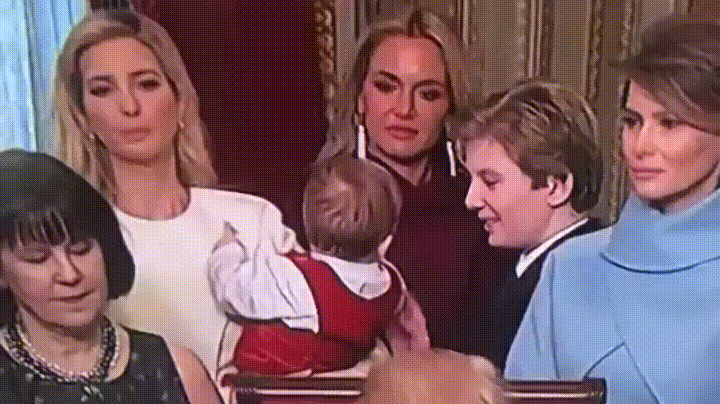 I feel like we're playing Peek-a-Boo!
You know, the game in which you are able to surprise a baby over and over again with the same simple trick? Yeah, "peek-a-boo" – whose got a trade deal? You have a trade deal! Good boy. Where's the trade deal? Peek-a-boo! There it is? Look, it's a trade deal. Where's the trade deal? Where is it? Peek-a-Boo! There it is! Who's a good boy? Where's the trade deal? Do you see a trade deal? Peek-a-Boo! There it is!
Isn't that fun? I could play that game for months and, apparently, every time I play the market goes higher – no matter how many times I show some small amount of progress towards a trade deal WE FRIGGING HAD TWO YEARS AGO! There is no imagined scenario in which the US is actually getting a "better" deal than the free trade deal we had BEFORE Trump began messing around. Trump has forced China to make other trading alliances – and China is not going to throw that away just to please the unreliable US.
Today's big reveal, that's good for a 150-point (0.5%) gain on the Dow is because Beijing, WITHOUT saying there will be a deal, laid our a framework for phasing out tariffs over time. Officially, according to the WSJ:
BEIJING—China's Commerce Ministry said China and the U.S. have agreed to lift some tariffs on one another in stages if the two countries reach a partial trade deal, a goal both have been building toward since October.

"If the phase-one deal is signed, China and the U.S. should remove the same proportion of tariffs simultaneously based on the content of the deal," spokesman Gao Feng said at a regular press
…

by phil - November 6th, 2019 7:26 am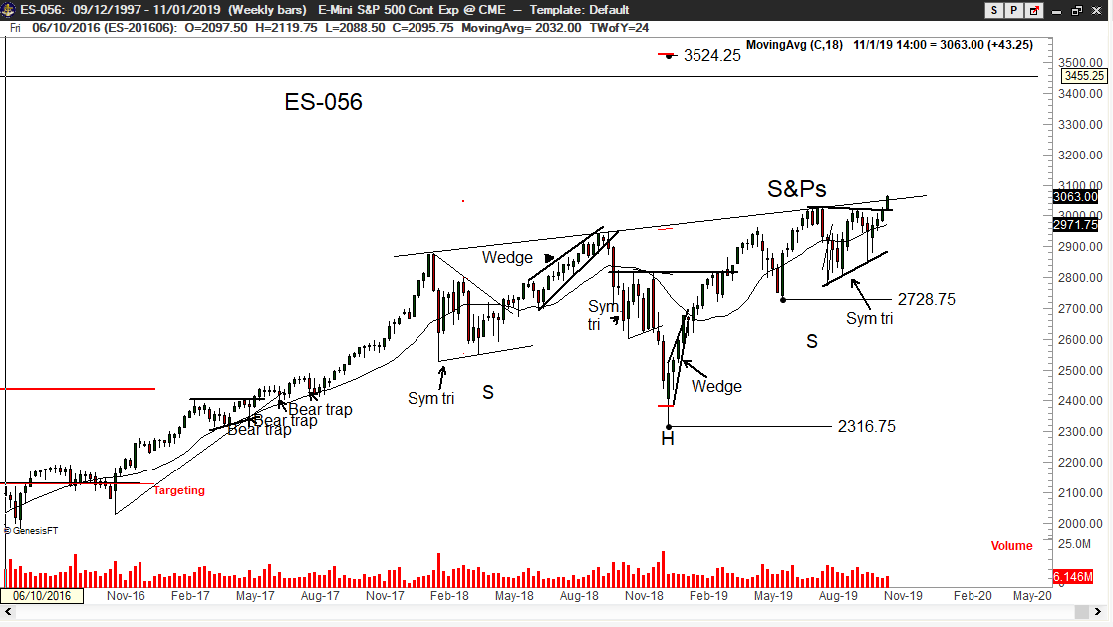 Another day near 3,100 on the S&P.
Kentucky seems to have voted Democrat Andy Bshaear to be the new Governor but current Governor, Matt Bevin refuses to concede, so that will drag on all day and maybe longer. In Virginia, however, Democrats completely flipped the state blue, taking over the Senate and the House in a state that had been dependably Republican. These are not good signs for the GOP in November or Trump now as Bevin was a huge Trump supporter and Trump personally flew down there and campaigned hard for him Monday night.
If GOP Senators, Congresspeople and Governors find no use for Trump's support – it's not a great leap to imagining they will find no use for Trump and his unbreakable wall of GOP impeachment blockers may begin to crumble. Kentucky is Mitch McConnell's home state and "Moscow Mitch" only won 2014 56% to 40% against a throw-away candidate for the Dems (Alison Grimes). Bevin won in 2015 52.5% to 43.8% and is out on his ass today – Mitch is getting nervous to say the least – as he hasn't had a real job since 1985.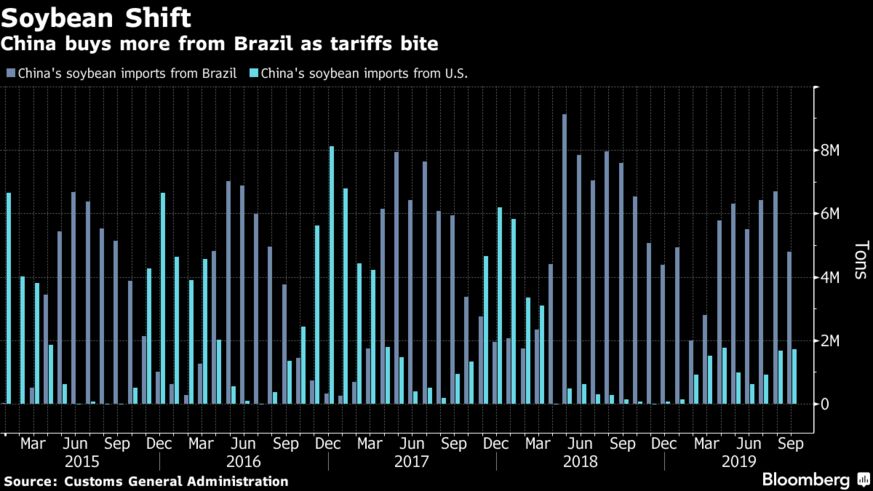 Meanwhile, according to Bloomberg's excellent new "Terms of Trade" section (and according to me yesterday), China is insisting Trump drop all tariffs in order to move forward with the signing Trump is promising on Nov 17th. In other words, there is no actual deal and Trump's lying to the American People and claiming there is one has now painted the US into a corner where Trump will be forced to concede to China in order to cover up his lies – that's why these things matter!
From the Chinese perspective, the argument is that if they are going to remove one big point of leverage and resume purchases of American farm goods and make new commitments to crack down on intellectual property theft — the key elements of the interim deal — then they want to see equivalent moves to remove tariffs by the U.S. rather than the simple lifting of the threat of future duties.
Also according to Bloomberg, the risk of a US…