From our Morning Report:  
One of the stocks we are keeping is Barrick Gold (GOLD), who are back down to $28.5Bn at $16 – even though they are net debt-free with $636M in the bank and dropping close to $2Bn to the bottom line so less than 15x earnings for the World's largest gold miner is SILLY – especially when you consider what a great inflation hedge GOLD is. 
Notice any correlations?  See – trading isn't hard – you just have to pay attention…  Now HERE comes the magic trick – this is Gold priced in Euros since last August (2 years, actually):  
Since last August, Gold is up from below 15 to 17.56 (17%) while for us it has seemed flat due to our very strong Dollar.   That's why, to the rest of the World, Gold is still a very hot investment – even while US traders are getting turned off to it.  Not to be unpatriotic but Barrick Gold doesn't care WHO they are selling their gold to – as long as there are buyers, they are happy.  
Barrick's cost of production is $1,200 all-in (including the cost of acquiring the Gold) and $700 AISC (All In Sustaining Costs) for their 70M ounces of proven reserves.  Since they have already acquired the Gold – their acquisition costs are not your problem and new investors should care about that AISC and, at $700/ounce.  Even if Gold were $1,200 (now $1,750) – they would make $35Bn pulling it out of the ground at a rate of roughly 4M ounces ($2Bn profit) per year for 17 years.  THAT is what you are buying when you invest in GOLD.  
Not only that but Barrick also mines Copper (it's there with the Gold) and Copper production was up 25% to 120M pounds last quarter at about $3.40 per pound so that's a bonus $408M in Revenues (at about 50% gross profit) – nothing to sneeze at.  
Another positive note is Barrick has conservatively estimated their costs for Q3 and Q4 with oil at $110/barrel – to avoid any nasty surprises.  This should lead to some positive surprised if oil remains under $100 ($90 this morning).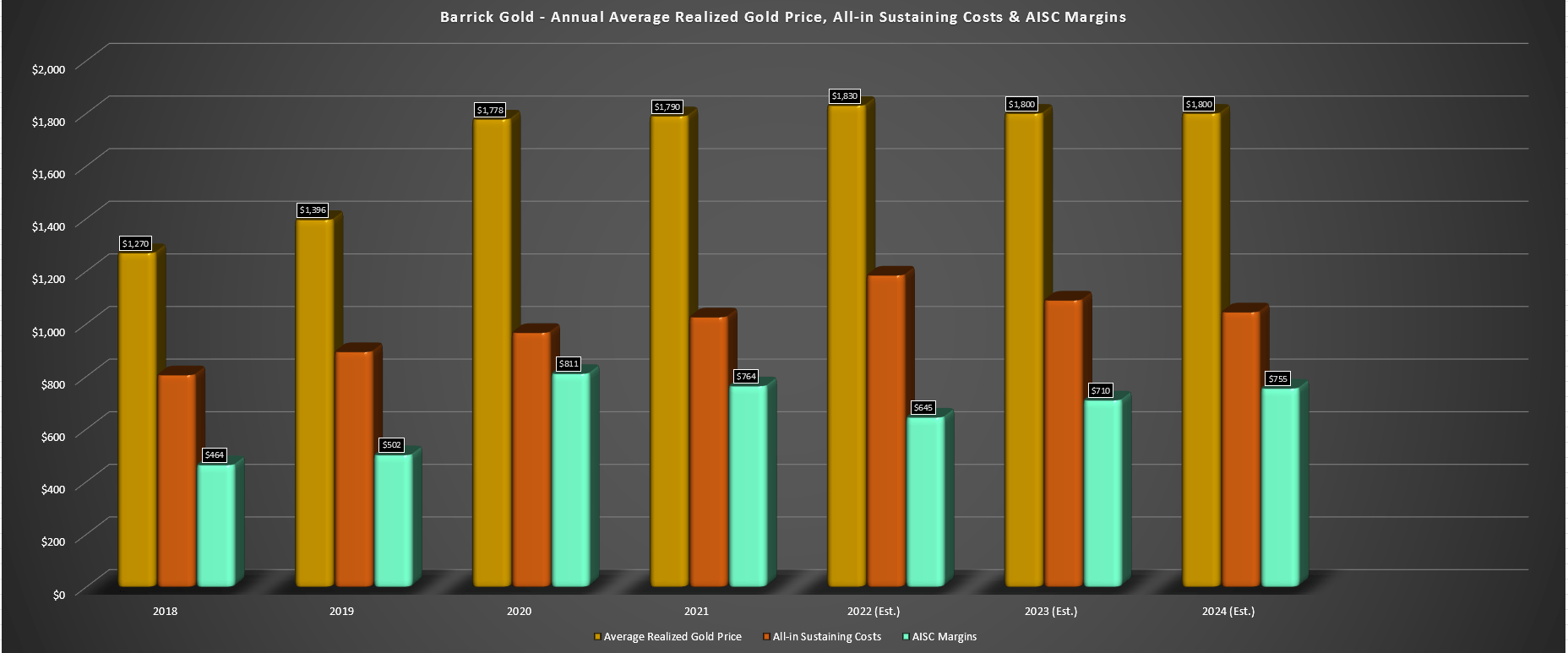 GOLD was our Stock of the Year in 2021, so I'm a little biased.  We took our profits and ran when they were much higher but we like them now for all the same reasons we liked them last time they were at $15/share.  In fact, in our Long-Term Portfolio, we have 50 of the 2024 $15 calls we bought for $5.50 back on October of last year (averaged on a recent double down) and, in our recent review – I told our Members I would rather double down than cover them at the moment. 
In our Money Talk Portfolio (and I'll be on the show Wednesday to adjust), it's one of the 5 stocks we're keeping, as I noted in Wednesday's review, and we have the 2024 $10/20 bull call spread there with short Jan calls – so we're in perfect shape there.  In our Butterfly Portfolio, we bought back the short calls – getting more aggressive there as well and, in our Earnings Portfolio, we also got much more aggressive last week.  
As a new trade (and I guess you can tell how much I like them at this point), I would go with:  
Sell 10 GOLD 2024 $17 puts at $3.50 ($3,500)
Buy 25 GOLD 2024 $15 calls at $3.20 ($8,000)
Sell 25 GOLD 2024 $22 calls at $1.20 ($3,000) 
That's net $1,500 for the $17,500 spread and it is aggressive with the sale of the $17 puts, which obligate you to own 1,000 shares for $17 if GOLD goes lower plus, assuming you lose all $1,500 on the spread, another $1.50 per share so the risk is owning 1,000 shares for $18.50, $2.50 over the current price.   The upside potential is $16,000 (1,066%) – so I think it's worth the risk.
If you want to be more conservative, you can sell 10 of the 2024 $15 puts at $2.40 ($2,400) and buy just 15 of the spreads for $3,000 and the net on that spread would be just $600 out of pocket on the $10,500 spread so the upside potential is $9,900 (1,650%) and the worst case would be owning 1,000 shares for net $15.60 – also not a bad trade but I have too much faith to leave $6,000 potential Dollars on the table.