/NG/Albo – There's a glut now as production came on-line faster than they built export terminals but it will even out at some point. Even now, we're a bit below the 5-year average but we've been trending closer to the line so people are worried we'll drift into the high end.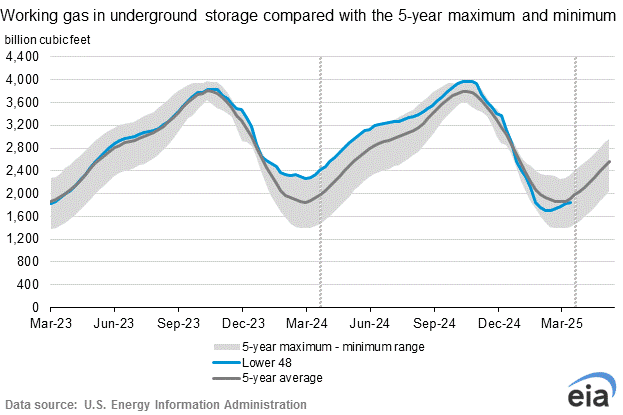 Last summer, /NG was $2.75-$3 and now it's $2.12 so a lot of damage done but I just want to be in it for hurricane season as I doubt it would take much of a supply shut-down to spike us higher though there are now new factors no one can be an expert in, which are: 1) We now produce 2/3 of our Nat Gas from shale – not in the Gulf and B) What if a hurricane shuts down an export terminal but not the shale? Will we then get a massive build in /NG?
So, overall, it's a tricky market and, since this is all new to us, people are staying away until they can see how the new patterns play out.
To me, this is the most important chart regarding /NG – Last year, we exported 3.5Bcf/day, which is 105Bcf/month and last year we had 2,346Bcf in storage and this year we have 2,689Bf so we're up 343Bcf but, over the course of the next 24 months, we will be exporting 9.5Bcf/day or 285Bcf/day so we would work off our excess in just two months. This month's build was just 55Bcf, and we have 2Bcf/day (60Bcf/month) coming on-line in the 2nd half.
Shale production doesn't grow as fast as export terminals – especially not at these prices so, between now and next summer – we should see things swing the other way so all I'm trying to do is to be there when it happens with at least 2-4 contracts!
/NGV20 (Oct) takes you into next year's hurricane season and through the big export build-outs and it's currently at $2.37 while /NG is at $2.13 so it's an 0.24 premium not to have to bother rolling every month between now and then.
And of course, as an options play, you can:

Sell 10 UNG 2021 $16 puts for $2 ($2,000)
Buy 20 UNG 2021 $17 calls for $4.10 ($8,200)
Sell 20 UNG 2021 $25 calls for $1.65 ($3,300)

That's net $2,900 on the $16,000 spread so it has $13,100 (451%) upside potential in 18 months if UNG can get back over $25, which is where it started the year with /NG at $3. Of course, at $3, a single /NG futures contract, which gains $100 per penny would be up 0.63 for $6,300 with the advantage that it's easier to take quick profits in the Futures – so I prefer that play and the margin requirement is only $2,475 per contract.