How crappy is our economy?
We find out this morning as we get our Q4 GDP Revision but don't worry, I already have the results (preliminary) and I thought it would be fun to post these up ahead of the actual so don't look if you want to be surprised later:
Contribution to Percent Change In Real GDP
Contribution to Percent Change In Real GDP

Q4-07

Q3-07

Q2-07

Q1-07

Q4-06

2007

Gross domestic product
0.60
4.90
3.80
0.60
2.10
2.20
Personal Consumption Expenditures
1.37
2.01
1.00
2.56
2.68
2.01

Durable Goods
0.32
0.35
0.14
0.67
0.30
0.37

Nondurable Goods
0.38
0.46
-0.10
0.61
0.86
0.49

Services
0.67
1.20
0.96
1.28
1.52
1.15
Domestic Investment
-1.64
0.77
0.71
-1.36
-2.50
-0.77

Fixed Investment
-0.39
-0.11
0.49
-0.70
-1.19
-0.47

Nonresidential
0.79
0.96
1.12
0.22
-0.15
0.50
Exports
0.46
2.10
0.85
0.13
1.51
0.89
Imports
-0.06
-0.72
0.47
-0.63
-0.26
-0.33
Government Consumption Expenditures
0.50
0.74
0.79
-0.09
0.66
0.40

Federal
0.02
0.50
0.41
-0.46
0.50
0.12

National defense
-0.03
0.47
0.39
-0.54
0.74
0.13

Nondefense
0.05
0.03
0.02
0.08
-0.24
-0.01

State and local
0.49
0.24
0.37
0.36
0.16
0.28
So we're going to blame personal consumption for the decline, even though personal consumption was, in fact lower in Q2-07 by 30%. In fact, our total GDP was just 0.6% in Q1-07 and, surprisingly, we're still alive. In fact, the rest of '07 gave us quite a rally! Unless we get a downside surprise that's really out of whack, we can consider a sell-off to be a possible overreaction but, like Q1, it's a trough in defense spending that knocks down the GDP. Notice also the predicted low export number, that has our best chance of being an upside surprise.
Another surprise that has been ruined for us is the result of the 2008 election. According to The Onion, which has a lot of good videos, Diebold accidentally leaked the planned results of the November election and it turns out McCain will win with 48% of the vote… Don't laugh, that one may be true! I love the guy they interview who says "I don't even know if I can enjoy the sham election now that I know who's going to win." According the their apologetic Diebold Spokesman: "This country is based on the fantasy that the government is the voice of the people and going through the motions of voting and keeping the kingmaker's dealings secret is central to our culture."
In other shenanigan news, Cramer is on the attack regarding the SIRI/XMSR merger and devoted an entire segment of Mad Money to it the other day.
We had a conversation in member chat the other day about how shockingly cheap it was to bribe a Congressman and Cramer is claiming that the National Association of Broadcasters bought the votes of Gener Green (D-TX) for $16,000, Louise Slaugher (D-NY) who apparently can be had for just $1,000, John Spratt (D-SC) for $8,000, Roy Blunt (R-MO and minority whip) for $5,000 and Tom Cole (R-AZ) for $3,500. Cramer has vowed to keep digging into these and other representatives until they explain why they are blocking this deal, which has had 4 days of Congressional hearings in over a year – we invade people with far less discussion than this!
Speaking of countries we invade – Congratulations to Iraq, who's Dinar has gained 40% against the dollar in the past 3 years. That's right, our economy is rapidly losing ground to a war zone! I especially love the line in the article that says: "Inflation has been brought under control, thanks to the tightening of monetary policy and the appreciation of the dinar-along with the maintenance of fiscal discipline and measures to reduce fuel shortages." Kind of makes you want to cry doesn't it?
We talked about China's measures to reign in growth last night and the Hang Seng still managed to gain 107 points this morning, which is fairly subdued for that index. Japan gave back 105 points and fell back below 14,000 as the rising Yen spooked people out of exporters but it's a minor pullback off 7-week highs. Industrial output was down 2% in Japan, 1.4% lower than expected. We will probably be lucky to get another shot at TM for $110 and I'm going to start an entry today on the Jan $110s, hopefully for $12.50, which was yesterday's low. The March $115s were selling for as much as $3 yesterday so if we time this right we can give ourselves a very nice spread.
Europe is trading down about a point despite a 22% increase in net profit from RBS (no wonder they can afford all those ads) and a $4Bn merger involving BTI, who posted a 12% rise in profits for Q4. Miners sold off on profit taking and AA is being taken to court by a rival in Bahrain who is accusing the company of: "A 15-year conspiracy involving overcharging, fraud and bribery." A suit in federal court in Pittsburgh by Aluminum Bahrain BSC alleged that Alcoa steered payments for an aluminum precursor ingredient to a group of tiny companies abroad, in order to pay kickbacks to a Bahraini "senior government official."
Oil stalled again at $100 on yet another inventory build with gasoline supplies at the highest level in 14 years so the phones at Rent-A-Rebel must have been ringing off the hook and they are indeed getting good at this as they timed this morning's attack on an oil terminal right for the NYMEX open at 8:30, saving oil from slipping below $98 in morning trading. Unlike previous attacks, this one only took out a very small 50,000 barrels a day because, at $100 a barrel, nobody would agree to take a bigger cut at last Friday's poker game.
8:30 Update: The actual GDP numbers are in and, surprise, they are the same. The market turned sharply down on the news as I suppose they were rooting for the Government to have no clue as to how to measure the Jan 30th readings I posted above as if somehow and upward revision would have been better than accuracy. As is now becoming my theme for the month – IT'S ALREADY PRICED IN!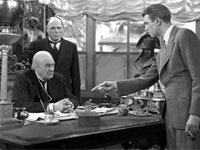 What's not priced in is Super Banker, Hank Paulson's (pictured here in his office) who is spearheading the White House line as: "The Bush administration is hardening its opposition to the chorus of Democrats, bankers, economists and consumer advocates calling for a big-money government rescue program for struggling homeowners." Mr. Paulson, citing estimates that as many as two million Americans could lose their homes to foreclosure this year, predicted that the administration's market-based approach will be enough to keep the situation under control.
In other words, his friends haven't scooped up all the good properties at auction yet so any meaningful relief will have to wait until all 2M families are homeless at which time the governement will come in and bail out the banks, who will have already taken the write-offs on the homes and will be able to book them as 2009 profits so they can tell everyone what sharp businesspeople they are again.
Jobless claims were up this morning, rising 19,000 to 373,000 with 400,000 considered recessionary and the prior week was revised up 5,000 as well. FRE had awful earnings and we'll be lucky to get out of that half covered position alive as they don't seem to expect a real turn around this year or next. Sears is having a half-price sale and it's their stock! Earnings were also down 47% on falling margins and this is another one I want to bottom fish in the low $90s as $12.5Bn is a very fair price for 5,000 retail locations that many towns in this country are built around.
Today is attack the market day as the bears do their best to wriggle out of their shorts after the last 5 days of gains caught them by surprise. Aside from PIM(P)CO getting a prime slot on CNBC this morning, the guest list is filled with attack bears so once again I will be thrilled to simply hold Tuesday's (and last Thursday's) open at 12,500 – anything better than that is progress.
Important note: With CVX added to the Dow, the index is now very succeptible to sell-offs in the energy sector, this is something to be aware of as it is more likely than ever that an oil sell-off will irrationally hurt the industrials and give us false panics.