by phil - July 16th, 2019 8:24 am
$246,000,000,000,000.
That's what we just hit in Global Debt as of Q1 and, as you can easily see by adding up all the numbers in the chart on the right, our Global GDP is just under $80Tn so we're now hitting the 320% mark on the debt to GDP scale for the first time in human history. And the US "only" has $22.5Tn of that debt so perhaps you are willing to ignore the complete inability of the US to ever pay that bill, but that still leaves $223,500,000,000,000 of debt divided by the remaining $60Tn, which means the rest of the world is getting very close to being 400% of their GDP in debt.
And what is the rest of the World doing about it? The same thing we are – they are easing their policies and they are spending money on stimulus programs because NO ONE can afford a recession – even a mild one can quickly lead to a total collapse that will ignite this global debt bomb – and no one wants to see that happen so we are Globally "extending and pretending" and waiting for the debt fairy to come and forgive us our economic sins.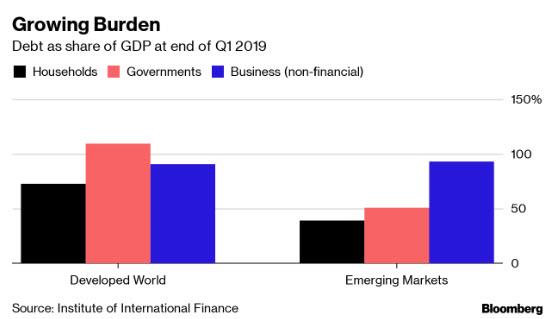 While the Chinese Government is "only" about 100% of their GDP in debt, Chinese Companies make up for it with their own $21Tn pile of debt, 155% of their current GDP. In fact, Chinese firms accounted for 42% of all Corporate Bonds issued in Emerging Markets this year and the IIF says there are now serious risks of default next year and in 2021. Sonja Gibbs the IIF's Managing Director for Global Policy Initiatives, said:
"It's almost Pavlovian. Rates go down and borrowing goes up. Once they are built up, debts are hard to pay down without diverting funds from other goals, whether that's productive investment by companies or government spending."

"This is not a group of borrowers with long experience of managing debt over economic cycles. Once you get into a downturn, a lot of firms have a lot of debts that they will have difficulty in paying."
There's been a shift to shorter-term borrowing in Emerging Markets as the yield curve widens and that leaves…

Posted in Appears on main page, Immediately available to public | Join Member's Chat - 122 Comments Here »
by ilene - July 16th, 2019 2:25 am
How tech firms make us feel like we own their apps – and how that benefits them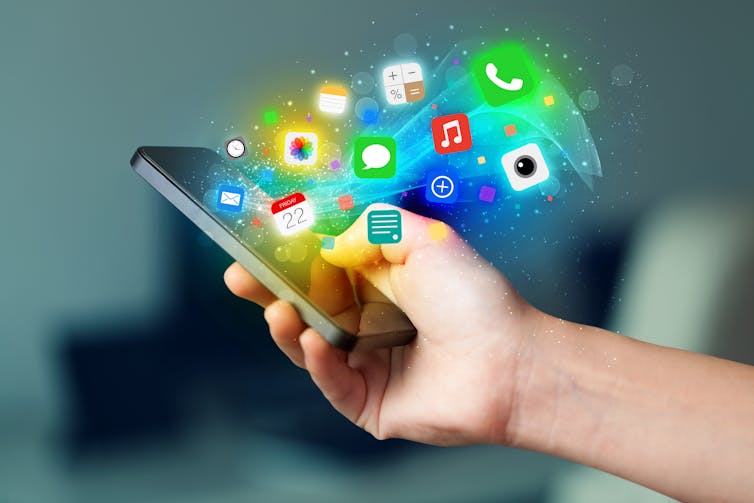 Courtesy of Melody Zou, Warwick Business School, University of Warwick
Possessions are going out of fashion. An endless stream of media reports claim millennials – that amorphous mass of people born in the 1980s and 1990s who have grown up with the internet and digital technology – are in favour of accessing rather than owning stuff.
And yet my research shows that owning possessions is still something millennials hunger for. It is just that these possessions are now digital rather than physical.
People who become heavy users of the apps they download can develop deep relationships with these services, so deep that they take on what we call "psychological ownership" of them. This means they perceive each app as something that belongs just to them and has effectively become an extension of themselves. After using it frequently and adjusting the settings to their liking, it becomes "my app", even though their rights to use the service and transfer their data are actually restricted and their accounts can be terminated at any time.
Psychological ownership can benefit the companies because it leads users to take on valuable extra roles. In the real world, companies have long pushed for shoppers to give feedback, recommend their products and help other shoppers. App "owners" are willingly doing all of this in the digital sphere and often with more expertise and commitment than traditional consumers.
My colleagues and I studied this phenomenon for users of music streaming apps such as Spotify and QQ Music and found that they went the extra mile in four ways. They provided services such as answering the queries of other users on internet forums or offering other information that would enrich the experience of users. They improved the app by giving the company feedback or taking part in the app's governance. They advocated for the app by championing it in public or defending it against critics. And they financed the service by paying a premium fee or even donating money.
By interviewing more than 200 users of these…

Posted in Appears on main page, Immediately available to public, Phil's Favorites | No Comments »
by phil - July 15th, 2019 8:34 am
And we keep going higher!
The S&P is now up 15% for the year and 25% off the December lows and 10% off the June lows, so it's been quite a year for the senior index. Citigroup (C) kicked off earnings season this morning with a decent report but tomorrow things begin to get serious and it will be a jam-packed couple of weeks as July 4th cost us a week so we're a bit behind in our reporting already.
Income at C is up 7% from last year at $4.5Bn for the quarter, which is $1.95/share vs $1.85 expected but revenues were only in-line at $18.5Bn so we're not likely to get a very enthusiastic reaction with the stock already at $72 (we are long C with a 2021 target of $75 in our LTP). There aren't many bank stocks we like but C is one of them so no surprise here. Wells Fargo (WFC) tomorrow will be much more interesing and Johnson & Johnson (JNJ) also reports in the morning and we'll see what they set aside for their talcum powder scandal.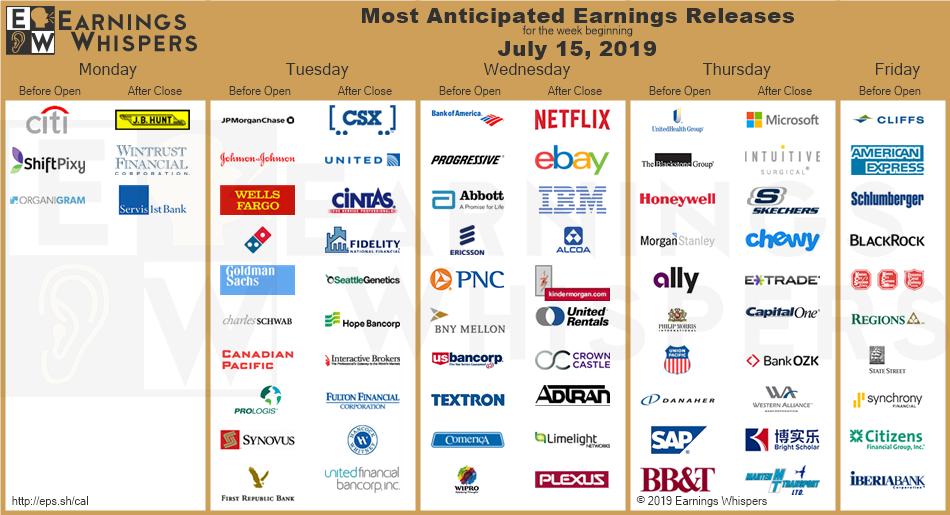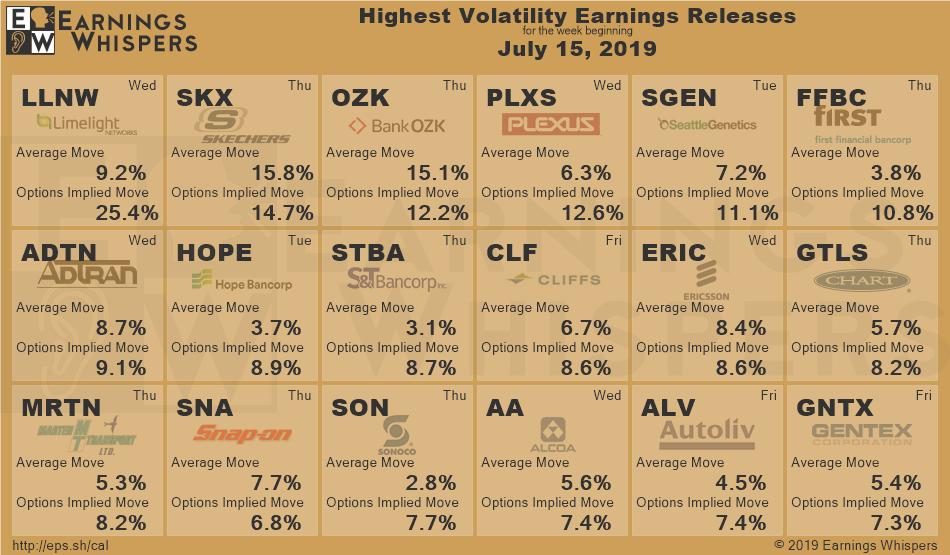 These are probably the most fun earnings to play but it's early in the season and we have little to go on though we are already long on Skechers (SKX) and Cliffs (CLF) though SKX passed our $27 target long agao and we're just waiting to get paid as the spread is netting just $11,025 out of a potential $16,000 so it still has $4,975 (45%) left to gain between now and Jan 17th, 2020 even though it's +20% in the money – aren't options fun?
SKX Short Put

2020 17-JAN 30.00 PUT [SKX @ $34.11

$0.00

]

-10
…

Posted in Appears on main page, Immediately available to public | Join Member's Chat - 68 Comments Here »
by ilene - July 14th, 2019 3:13 am
This is the final letter of the six-part series of my reply to Ray Dalio's essays. Here are some links to help you wrap it all together.
As Ray notes, the problems he describes really are existential. He and I agree more than we disagree, but our responses differ.
I think that we both agree that the wrong answers will cause much angst and pain for most of our fellow citizens (and that is a severe understatement). And given his reply to me in Forbes, I think Ray would agree with me there are no easy solutions, only very difficult choices vs. disastrous ones. The longer we wait to deal with the problems, the more painful resolving them will be.
And make no mistake, the existential problems we are talking about (and neither of us use the word "existential" lightly) will resolve themselves in a highly tumultuous manner if we as a society don't face them directly and soon. They are mostly problems of our own making, and since there are no time machines, we must deal with the reality which we created.
Today in my final reply to Ray I sum up my previous letters and describe one possible path for dealing with these problems. My idea will be controversial for most people. I am totally open to another, better solution if anybody knows one.
Ray started his letter as an invitation to a dialogue/conversation. I hope we can continue our conversation and others will join in. And with that, let's finish my open letter to Ray…
Dear Ray,
Let me see if I can summarize my writing so far and what I believe to
…

Posted in Appears on main page, Immediately available to public, Phil's Favorites | No Comments »
by ilene - July 12th, 2019 4:05 pm
The 'yield curve' is one of the most accurate predictors of a future recession – and it's flashing warning signs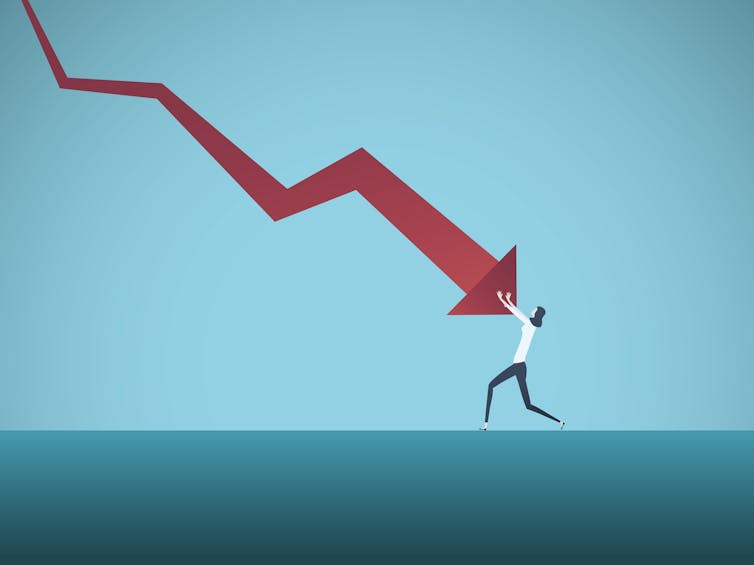 Courtesy of Julius Probst, Lund University
More than ten years on from the global financial crisis and economies around the world are still struggling to fully recover. The latest data is not promising. International institutions such as the OECD, IMF and World Bank have all recently downgraded their growth forecasts for the current and upcoming year.
Compared to just a year ago, all major economies are now expected to grow significantly slower than what was previously expected. For the US, the phasing out of Donald Trump's tax cuts will negatively affect the economy. And the global trade war is starting to weigh down on the global economy, with some major exporting countries like Germany and Japan being affected the most.
More importantly, one of the most accurate recession indicators, known as the yield curve, has recently been flashing warning signs. Every postwar recession in the US was preceded by an inversion of the yield curve, meaning that long-term interest rates had fallen below short-term interest rates, some 12 to 18 months before the outset of the economic downturn.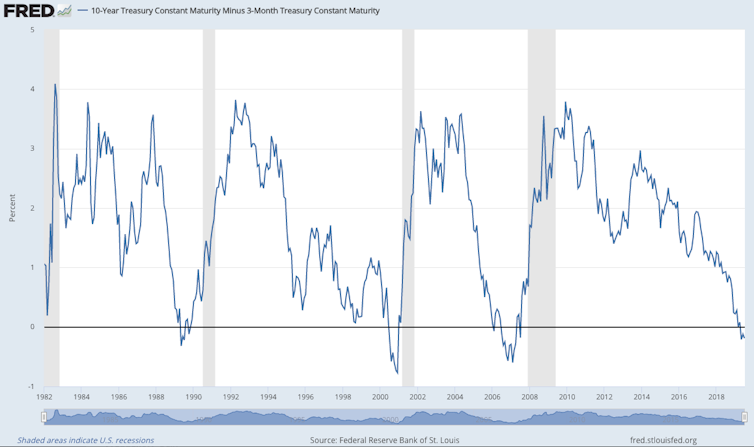 There are many different interest rates in the economy. In general, the interest rate must reflect the riskiness of the borrower and the type of investment that is carried out.
The time structure of the loan also matters. Governments issue debt with very different maturities – from short-term Treasury bills in the US that mature within one year or less to long-term bonds, which can have maturities of two years to 30 years. Some countries like France and Spain even have government bonds with a duration of 50 years.
Usually, interest rates on long-term bonds are higher than interest rates on short-term bonds, leading to an upward sloping yield curve. This is because investors need to be compensated for the extra risk they bear…

Posted in Appears on main page, Immediately available to public, Phil's Favorites | No Comments »
by phil - July 12th, 2019 8:29 am
2,999.91!
That's where the S&P 500 closed yesterday and, this morning, they've pumped it up to 3,010 because "THEY" didn't do all this work just to fall short of S&P 3,000. After all, they already made the hats… They were wearing Dow 14,000 hats back in July of 2007 – those were replaced by Dow 8,000 hats a year later so let's not get too excited by the fashion accessories worn by the MSM cheerleaders.
On Monday, Japan is supposed to start restricting key electronic components from being shipped to South Korea and this may become the most damaging battle in the Global Trade War so far as it will screw up a large amount of electronics manufacturing world-wide and the stuff they are making now is what's supposed to be going on the shelves for Christmas – so the repercussions could flow out far and wide. SoKo's Samsung and SK Hynix are the World's two largest chip-makers – key suppliers to Apple and dozens of other companies.
Even worse is that this is a preview of the kind of pressure China can exert on the United States by restricting the trade in Rare Earth materials – something we were worried about a month ago but people seem to have already forgotten all about. Though trade talks resume next week, China has put together a new trade team packed with hard-liners and Larry Kudlow stated that there is no timeline for an agreement and "He also hoped that China would not seek to "wait out" the Trump administration." So the White House is concerned that this could drag on for 18 more months!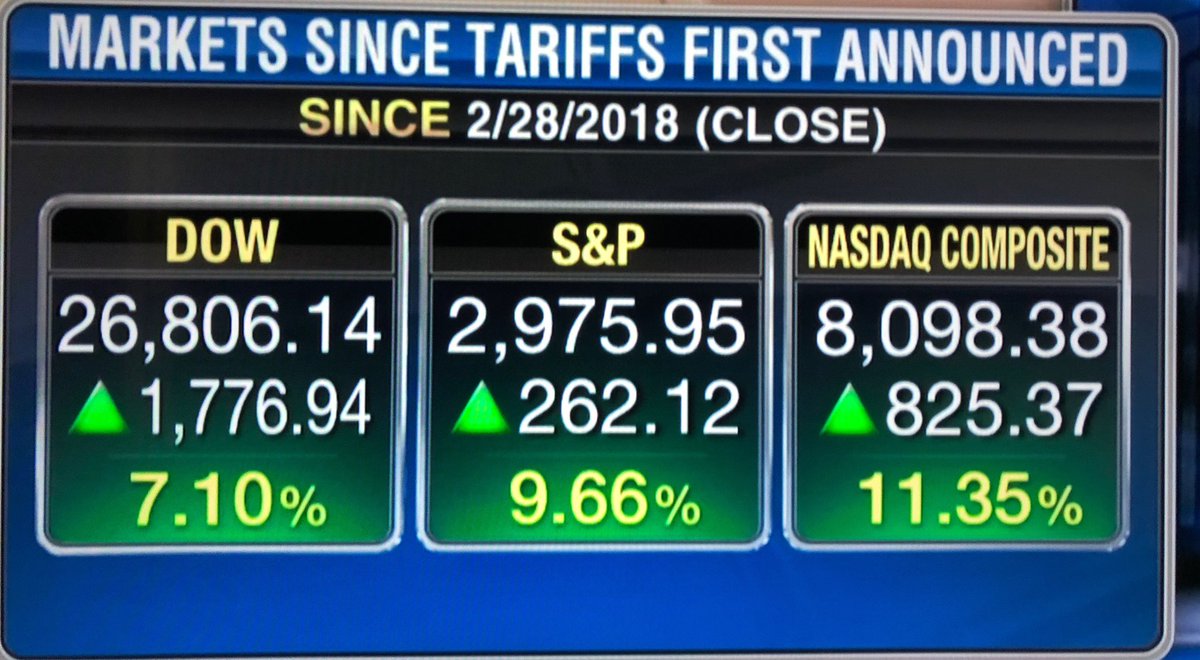 Trade discussusions collapsed in May and now it's July and we're only just getting back to the table. China has flatly stated they won't capitulate to Trump's demands and threatened to take action using Rare Earth Exports and, unlike Trump, China is not knows for making empty threats while posturing for their base. Trump, meanwhile, is still threatening to add another $300Bn worth of tariffs if China doesn't play ball with him.
As you can see from the graphic (which is already eclipsed), the indexes are up about 10% since the tariffs…

Posted in Appears on main page | Join Member's Chat - 88 Comments Here »