by phil - April 25th, 2018 8:16 am
Wow, what a day!
Yesterday, in our pre-market Morning Report, we made a call to short the Nasdaq Futures (/NQ) if they failed to hold 6,700 and fail they did as we got a massive 200-point drop which paid us $20 per point per contract for $4,000 per contract same-day gains on the Futures – you're welcome! Our oil shorts also did nicely, racking up additional $1,500 per contract gains on the day as we pulled back from $69 to $67.50. This is why we take Monday's off now – we can make plenty of money on Tuesdays!
This morning we'll be looking for bounces but failing to hold the weak bounce lines will likely signal more pain ahead and, don't forget, we were already expecting a big move down on Thursday so this may be an early start to a proper 5% correction. I ran the numbers for our Members in yesterday's Live Chat Room into the close (3:40):
2,685 to 2,620 is 65 points so 13 points is 2,633 (weak), which is right where we failed.

24,600 to 23,800 is 800 points (wow) but I'll call it 150-point bounces to 23,950 and 24,100:

6,700 failed to 6,475 so 225 gives us 45-point bounces but call them 50 so 6,525 (weak) and 6,575 (strong)
…

Posted in Appears on main page, Immediately available to public | Join Member's Chat - 8 Comments Here »
by ilene - April 24th, 2018 5:53 pm
Courtesy of Jeff Desjardins, Visual Capitalist
The idea of using modern tech to transform the multi-trillion dollar healthcare industry has been around for a long time.
In 1996, legendary Silicon Valley entrepreneur Jim Clark launched his third startup, Healtheon, which was focused on what he called the "Magic Diamond". The diamond represented the $1.5 healthcare market in the U.S. and its shape came from the doctors, providers, payers, and consumers slotted into the four outer points.
In the middle of the diamond, Clark had placed his new company Healtheon, which he expected to profit immensely from connecting the healthcare world together with the internet.
BEFORE ITS TIME?

Healtheon had a successful IPO in the middle of the Dotcom bubble, but it never was able to truly achieve its bold and original vision. As signals mounted that Dotcom stocks would implode, the fledgling company merged with WebMD in 1999.
Despite the fate of Healtheon, the dream of tech invading the healthcare market lives on – and today, big tech companies like Amazon, IBM, Alphabet, and Apple all have plans to enter the sector in a big way.
Today's infographic from Koeppel Direct shows how this is all playing out, as well as the specific initiatives that big technology companies are using to gain a foothold in a market that's ripe for change.
The story is no longer about the startups coming in to "disrupt" healthcare – unfortunately, the industry seems to have too much red tape, regulation, and bureaucracy for this to be possible in the conventional way. Instead, it's the big companies like Amazon, Apple, IBM, and Alphabet that are eyeing to invade the space.
And for technology companies focused on big data, the healthcare market is a compelling opportunity.
HEALTHCARE MARKET POTENTIAL

By the numbers, here is a snapshot of the healthcare market, and why big tech wants in:
Global healthcare spending is expected to reach $8.7 trillion by 2020
In the U.S., there will be 98.2 million people
…

Posted in Appears on main page, Immediately available to public, Phil's Favorites | No Comments »
by phil - April 24th, 2018 8:15 am
Here come those tears again.
6,750 is the 25% line on the Nasdaq and we've been here a few times and the bulls were very excited to buy the dip at 6,650, as that's where we popped in early March but, as I noted to our Members in yesterday's Live Chat Room, we're simply repeating a pattern that was supposed to give us an up and down day yesterday that ended flat and today we should be up 30 points on the S&P and tomorrow 25 more and then we crash back to where we started to finish the week.
Can the market really be that programmed? It will be interesting to see if the news and data actually matter or if we're simply doomed to repeat the behavior we observed from Feb 22nd-28th after two weeks of mirroring the behavior from Feb 5th-21st (see yesterday's morning report). There's a fine line between being locked in a range and being trapped in a market that is being driven by trading bots.
When the markets are thinly traded, the Bots do dominate the trading and, if no one has a solid reason to re-program them, then they are going to keep trading the same way, over and over again until someone breaks the cycle. According to Yahoo, the average volume of the S&P ETF (SPY) is 120M shares a day, but here's how it's been trading for the past week:
Date
Open
High
Low
Close*
Adj Close**
Volume
…

Posted in Appears on main page, Immediately available to public | Join Member's Chat - 106 Comments Here »
by ilene - April 24th, 2018 2:27 am
Courtesy of Michael Batnick
Last week Barry sat down for an amazing conversation with Joel Greenblatt, author of You Can Be a Stock Market Genius (originally titled Any Fool Can Be a Stock Market Genius).
Greenblatt tells a story about when he went to a school in Harlem to talk with kids about investing. To explain how markets work and how they influence behavior, he brought a jar of jelly beans into the class room and had the kids write down how many beans they thought were in the jar. The average guess was 1771, remarkably close to the actual number, 1776. Before he revealed the average guess, he went around the room one by one asking the kids publicly how many beans were in the jar. This time the average was 850. The second guess is the stock market.
To be a good stock picker is to be cold and calculating and not easily influenced by the crowd. Easy to say, damn hard to do. Oh yeah, and you have to be right more often than you're wrong. That's also important.
This was my favorite MIB of the year, highly recommend taking the time to listen.
Source:
Posted in Appears on main page, Chart School, Phil's Favorites | No Comments »
by phil - April 23rd, 2018 8:50 am
The Futures are up, of course.
The Futures are always up on Monday morning as it's a low-volume event and "THEY" can start the week off on a good note. Since lat night, at 6pm, the Dow was up at 24,550, down to 24,350 and now back to 24,450, which is 50-points better than Friday's crappy close so YAY!, I guess. It's all total BS, of course and I don't even work Mondays anymore (this isn't me, this is PhilBot 3000, my AI work in progress that will take all of your jobs, starting with mine) so it just doesn't matter but, for the sake of having a post – we'll pretend that it does…
Both the IMF and the World Bank had meetings this weekend in Washington, DC and the general consensus there was that the Global Economy is good but Debt and Trade Wars risk making it bad again. Since Debt and Trade Wars are Donald Trump's go-to policy moves – we're probably screwed. A communique by the IMF's main advisory committee, released Saturday, represented a ratcheting-up of pessimism since the group's last semiannual meeting in October. "I don't know where the trade dispute is going quite frankly," Budget Secretary Diokno said in an interview. "President Trump keeps changing his mind."
Central bankers sounded the alert that a trade war would leave them worrying more about the economic fallout than any boost tariffs would give to inflation. Colombia's central bank president said a trade war would be "catastrophic," his Paraguayan peer said it would be "bad for everyone," while Japan's chief described protectionism as "very undesirable." Across the board, 2019 growth forecasts are moving lower while debt is getting quickly out of control.
In particular, according to Bloomberg, the IMF is worried that markets might be underestimating the threat of an inflation shock in the U.S., where the Trump administration is increasing fiscal stimulus with the economy at or near full employment. A surge in inflation might force the Federal Reserve to raise interest rates faster than expected, a move that might cause turbulence in emerging market. The fund warned that global public and private debt has reached a record $164 trillion. A spike in interest rates would test the ability of borrowers to refinance…

Posted in Appears on main page | Join Member's Chat - 78 Comments Here »
by ilene - April 22nd, 2018 2:09 pm
2008 financial crisis still seems like only yesterday for single women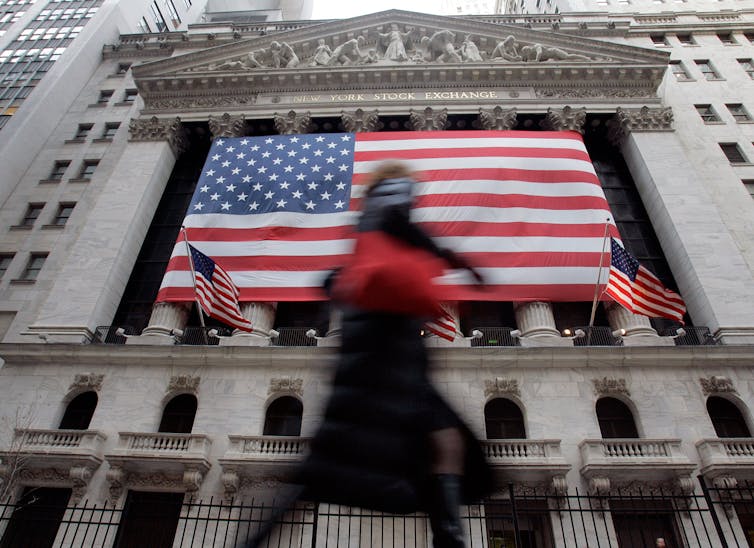 Courtesy of Melanie G. Long, Colorado State University
For many Americans, the financial crisis that plunged the global economy into recession a decade ago may seem like a distant memory.
Household net worth – the difference between assets and debts – reached a record US$98.7 trillion in the last quarter of 2017, up from $56.2 trillion in 2008.
Yet net wealth, by itself, masks a lot of information that could signal troubling trends. For example, this measure doesn't tell us which households are getting richer. It also doesn't reveal how much borrowing is fueling these ostensibly swelling balance sheets.
More specifically, it doesn't show that for households headed by women, particularly poorer ones, the financial picture is still very cloudy. That's in part because, as my soon-to-be-published research shows, low-income single women borrowed a lot more than single men in the years leading up to the crisis. And their indebtedness relative to their income and wealth remains far more elevated than is the case for pretty much everyone else.
This is especially worrying because female-headed households are vulnerable to begin with – and so are at risk again if another crisis looms on the horizon.
Why debt matters

To understand why debt is so integral to household financial health, it's helpful to look at what happened during the 2008 financial crisis.
Overall household debt grew dramatically in the early 2000s, driven in large part by the subprime mortgage boom. This borrowing eventually reached levels that proved to be unsustainable and, after interest rates began rising in 2004, forced millions into foreclosure.
While things have recovered, the significant gains in net worth are illusory, in part because they have gone disproportionately to the richest households. Moreover, they have been financed through a lot more borrowing.
Total household debt reached a record $13.15 trillion at the end of 2017, up about $2 trillion since the most recent trough in 2013. Nonhousing debt like credit cards and student loans made…

Posted in Appears on main page, Immediately available to public, Phil's Favorites | No Comments »