by ilene - December 14th, 2019 11:42 pm
Growth in data breaches shows need for government regulations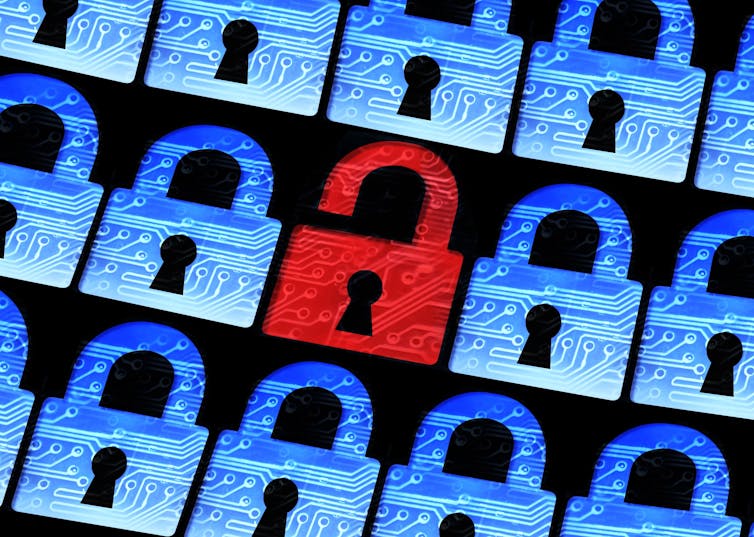 Courtesy of Michael Parent, Simon Fraser University
Do you remember when 40 million was a large number? Forty million dollars in sales, 40 million customers, 40 million Twitter followers, 40 million protesters — all once conveyed something substantial.
Were it only so for data breaches.
As an academic who has studied data governance for the past 20 years and worked with hundreds of boards of directors and thousands of directors and executives, I am appalled and concerned that the scope and severity of data breaches continue to grow unabated.
Increasing breaches

In 2011, hackers attacked RSA Security, a network security company, stole 40 million security tokens (physical devices used to log in to networks) records. Two years later, another 40 million records containing customer passwords and personal information were stolen from the software company Adobe.
At the time, consumers seemed shocked at the sizes of these breaches and — at least temporarily — lost trust in these organizations. There was a call for more stringent controls and harsher penalties.
Since then, data breaches and theft have increased in both size and frequency. Hackers breached Sony and stole 77 million records in 2011. They did the same to Target Corporation for 110 million records in 2013, eBay for 145 million records in 2014, Equifax for 143 million records in 2017, and Marriott International for 500 million records in 2018; there were many others.
These were all eclipsed by the three billion records compromised in a colossal breach of Yahoo Inc. When the company initially disclosed the breach in 2013, it said it had affected only one billion records. It revealed the true number in 2017.
This is an era of big data breaches. The general availability and collectability of data, and consumers' often passive willingness to share their personal information has led to an increase in the velocity, visibility and vastness of breaches all increasing at alarming rates.
…

Posted in Appears on main page, Immediately available to public, Phil's Favorites | No Comments »
by ilene - December 13th, 2019 5:57 pm
US-China trade deal: 3 fundamental issues remain unresolved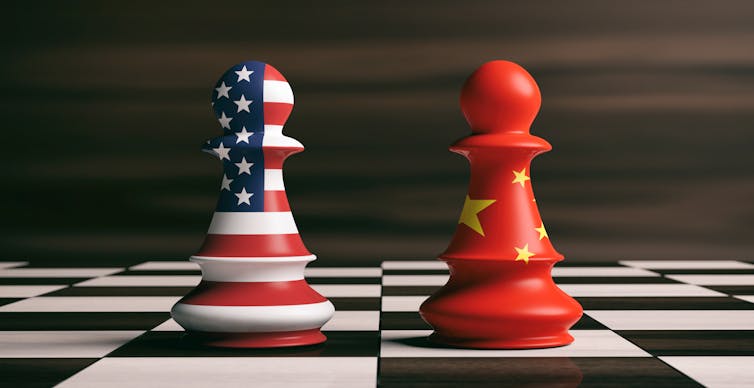 Courtesy of Penelope B. Prime, Georgia State University
The U.S. and China have reportedly reached a so-called phase one deal in their ongoing trade war.
While few details have been disclosed, the agreement principally seems to involve the U.S. calling off a new round of tariffs that were slated to take effect on Dec. 15 and removing others already in place in exchange for more Chinese purchases of U.S. farm products.
Good news, right? The end of the trade war is nigh? Don't get your hopes up.
While business leaders in both countries will be temporarily relieved, the underlying tensions between them will not end easily.
As an economist who closely studies the U.S. relationship with China, I believe there are fundamental issues that won't be resolved anytime soon.
Doing it in phases

Tariffs and other trade issues have received most of the attention during the trade war, but the more fundamental – and difficult – challenges are with lax intellectual property protection and China's industrial policy.
The U.S. is unhappy with China's use of these tools to develop its economy, and to help its companies compete – unfairly, from the U.S. perspective. And many of the Trump administration's demands challenge China's normal business and policy practices.
China's leaders can't be seen by Chinese citizens as giving into the U.S., while Trump wants to show that he is tough on China ahead of his reelection. This makes the negotiations very sensitive on both sides.
That's why American and Chinese negotiators, who have been engaged in talks for almost two years, decided to try to get to an agreement in phases.
Phase one has focused on the trade balance and tariffs. Phase two is expected to then deal more deeply with intellectual property enforcement and economic reform in China.
Given the negotiations have gone on so long with fairly little to show for it, it's fair to ask, why are these issues so difficult to resolve? I believe there are basically three…

Posted in Appears on main page, Immediately available to public, Phil's Favorites | No Comments »
by phil - December 13th, 2019 8:23 am
Dow 30,000 or 10,000?
30,000 could happen now that we have our trade deal with China though, as you can see from the 1920s wedge (100 years ago next month!), it ain't over until the Great Gatsby sings. Sure it's a stupid, pointless deal that has no teeth and is no better than what we had two years ago – before all the suffering – but, hey, it's a deal and, as President Trump noted in "The Art of the Deal":
"The final key to the way I promote is bravado. I play to people's fantasies. People may not always think big themselves, but they can still get very excited by those who do. That's why a little hyperbole never hurts.
So we can expect to hear that this is "The best Trade Deal Ever." We don't actually know what it is yet and nothing has, so far, been confirmed by China so it's possible the whole thing is nothing more than a way for Trump to distract us from today's Impeachment Vote – which he thought was going to happen late last night but was rolled over to this morning – infuriating the GOP – who worked so hard to drag yesterday's session long past bed time, so most Americans would miss it.
As to the "Trade Deal", although not fully announced, it seems that China is agreeing to purchase $50Bn worth of US Agricultural Products (they used to buy $40Bn anyway) in exchange for $50Bn worth of tariff reductions so, essentially – we are GIVING China $50Bn worth of Agricultural Products and the differenct to the Treasury will, of course, be paid by the American people – as usual. What a deal!
As you can see from this IMF chart, clearly the damage has already been done and hopefully we're in time to undo it before things get worse – like 2008 worse…
I said a very long time ago the economy was suffering from "Self-Inflicted Wounds" and could easily recover if we simply stop this Trade War nonsense and Brexit nonsense and both look like they might end soon so now we'll…

Posted in Appears on main page, Immediately available to public | Join Member's Chat - 81 Comments Here »
by phil - December 12th, 2019 8:30 am
The Future is Now!
I was posting some news on Tuesday in our Live Member Chat Room and McDonalds (MCD) was selling Artificial Beef (BYND), the Freeport LNG Terminal was coming on-line in Texas to supply Japan with Liquefied Natural Gas, Virgin Galactic (SPCE) got an upgrade based on Hypersonic Travel and Wal-Mart (WMT) is testing Autonomous Grocery Deliveries. I wasn't looking for them but that was all in one morning's news, which led me to comment to our Members:
I'm thinking we should put together a portfolio of "Future is Now" stocks like SPCE – Something that represents the leader in each Future Field like CRSP, ISRG, etc…
As I noted in yesterday's Live Trading Webinar, it's tough to pick winners this early in the game but we can pick the sectors that are likely to be important in the next 10-20 years and then, within those categories, we can find stocks we currently think are a reasonable value within a growing sector. In yesterday's Member Chat Room and during the Webinar, we came up with the following ideas:
Virgin Galactic (Space Tourism) – SPCE
Tesla (Electric, Self-Driving Cars, Battery Storage) – TSLA
Beyon Meats (Plant-Based Meat) – BYND
Sunpower (Solar Cells) – SPWR
Lockheed Martin (Fusion, Weapons) – LMT
Disney (Entertainment, Virtual Reality, Robotics) – DIS
Xylem - (Water Conservation and Treatment) – XYL
Waste Management (Recycling, Reusing) – WM
Crisper (Gene Thearapy) – CRSP
IBM (AI) – IBM
Qualcome (5G…) – QCOM
Intuitive Surgical (Robot Doctors) – ISRG
Ballard Power, Plug Power, Fuel Cell Energy (Hydrogen Fuel Cells) – BLDP, PLUG, FCEL (not sure which)
Amazon (Smart Homes, Smart Devices, Drone Delivery, On-line Shopping) – AMZN
We're very open to additional suggestions and, over the next few days, we'll be refining this list and then deciding who the actual leaders in each space is and then deciding what the best plays to make in each category are going to be and then we'll have a new portfolio. Easy peasy!
Not much going on otherwise, the Fed didn't raises rates yesterday and that dropped the Dollar back below 97, so down 1.5% for the month and the S&P is right where we started the month, at 3,150 so, in Dollar terms, your S&P stocks may now be exchanged for 1.5% weaker Dollars than they could be on Dec 2nd. Is that progress?
Posted in Appears on main page, Immediately available to public | Join Member's Chat - 153 Comments Here »
by ilene - December 11th, 2019 2:01 pm
'Robotic blacksmithing': A technology that could revive US manufacturing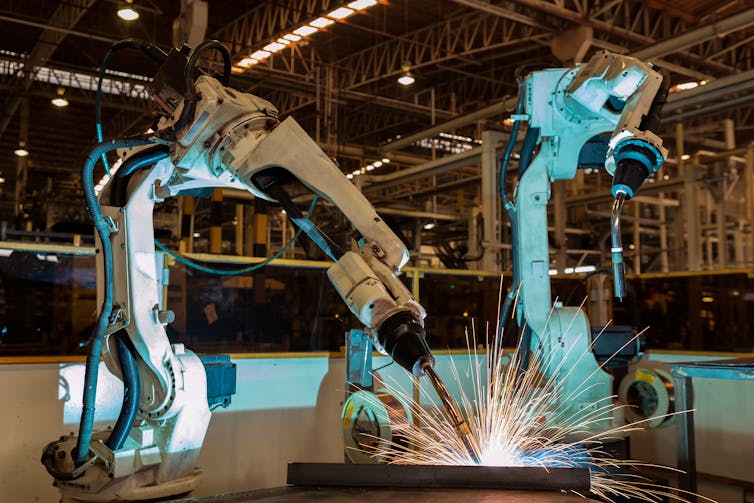 Courtesy of Glenn S. Daehn, The Ohio State University
Although it may not be obvious, there's a close link between manufacturing technology and innovation. Elon Musk often talks of the "machines that build the machines" as being the real enabler in both his space and automotive businesses.
Using less-expensive, more scalable processes allows Space X to launch missions on budgets and with speed that would be unthinkable using NASA's old-school manufacturing methods. And the new Tesla Cybertruck's unorthodox design appears to take advantage of a simplified manufacturing process that does away with "die stamping" metal in favor of bending and folding metal sheets.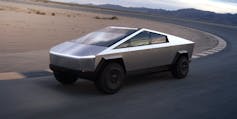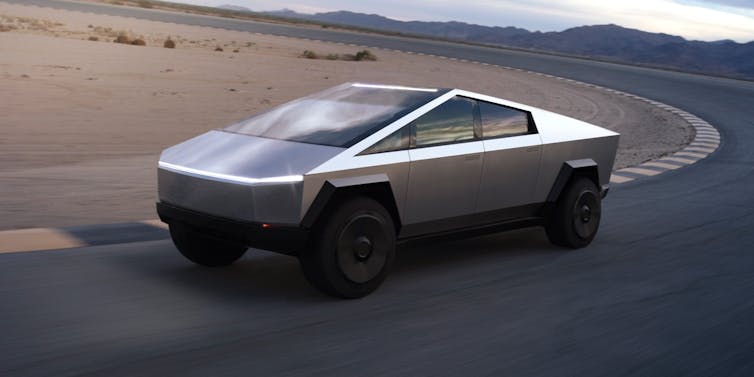 Now a new manufacturing method dubbed "robotic blacksmithing" has the potential to revolutionize the way high-quality structural parts are made, resulting in a new class of customized and optimized products. I am part of a loose coalition of engineers developing this process, a technique I believe can help revive U.S. manufacturing.
Today's technologies

Metal parts are used in all kinds of high-performance and safety-critical applications in transportation, mining, construction and power-generation equipment such as turbine engines. Most are made using one of a small number of classical manufacturing processes that haven't changed much in decades.
Machining cuts away raw material to get a desired shape; casting involves pouring molten metal into a mold; and forming or forging deforms and squeezes metal into new shapes. Casting and forging to shape usually needs custom molds or dies that can take considerable time and expense to design and manufacture, but once running are very productive; parts are inexpensive with highly reproducible properties. This is why nuts and bolts can be cheap and…

Posted in Appears on main page, Immediately available to public, Phil's Favorites | No Comments »