by phil - September 24th, 2018 7:49 am
Move along folks, nothing to see here.
Despite a run of bad news over the weekend, so far, the market indexes seem unphased by negative news reports. Of course it is the last week of the quarter and windows need to be dressed so we'll see what happens when October rolls in, along with Q3 earnings, when we may begin to see some companies begin to choke on higher wages and trade concerns. As noted in the Wall Street Journal, Industrial and Material stocks are in their own private bear market yet no one is taking it seriously at all.
"There's a number of money managers who've been hesitant to be involved with the [companies] that are going to be potentially affected by the tariffs, whether they'll be able to export fewer goods or be buying less from China," said Mark Grant, managing director and chief global strategist at B. Riley FBR Inc.
As I noted last week, China's Shanghai Composite is down 20% for the year and would likely have been down more today as China withdrew from trade negotiations over the weekend but that market is closed today for a holiday. THESE ARE THE SAME KIND OF THINGS PEOPLE IGNORED IN 2007/8!
Analysts caution that while investors have been pricing the risk of a trade war into shares of manufacturers, mining firms, home builders and others, they mostly have ignored the glaring risks associated with major tech companies, such as potential punitive measures that could affect Apple's manufacturing in China or cost increases that could hurt Amazon's e-commerce sales. That puts the S&P 500's narrow leadership at risk of a sharp pullback if trade tensions reach a boiling point, similar to the swift correction that stocks suffered in February on worries about a potential pickup in inflation.
Last night, China cancelled this week's trade negotiations with the Trump Administration and no further talks are scheduled as the US insisted on moving forward with $200Bn in additional tariffs that take effect today. That makes it very doubtful there will be any resolution before the election as China has no reason not to wait and see if they will have more a more reasonable…

Posted in Appears on main page, Immediately available to public | Join Member's Chat - 106 Comments Here »
by phil - September 24th, 2018 5:59 am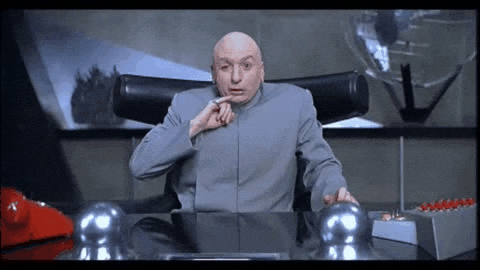 $1,140,516!
It's been two months since we did our July Portfolio Review as I was on a cruise in August and skipped that review and, in fact, we made very few changes to our portfolios over the summer but that didn't stop them from chugging along to fantastic gains. Most of the changes we made were to get more bullish as, back in June, we cashed out a lot of our winning positions in an attempt to get more defensive into the summer.
As we started the year with $500,000 in the Long-Term Portfolio and $100,000 in the Short-Term Portfolio to protect it with, we're getting very close to an overall double as we're already up $540,516 (90%) but our moves this month have once again led towards taking money off the table and adding more hedges and you may think that's being too defensive in this runaway bull market but it's the same thing we did in July, when we pressed our hedges and cashed in winners as well.
The thing about cashing in winners is, when you do it right, you also improve your losing positions and then, when they turn around, you can really turbo-charge your returns. We benefitted this summer from a rising tide that lifted most ships over the summer – even the ones we had left on the bottom. The S&P, for its part, is up just under 10% since the June dip as we keep waiting for the correction that never comes. Still, that doesn't stop us from adding hedges in the Short-Term Portfolio to lock in these ill-gotten gains in the LTP:
Short-Term Portfolio Review (STP): We added the AMZN shorts, but that's the only change since our 8/27 review, when we were at $225,802 and now we're at $232,125 which is up 132.1% for the year and up $6,323 for the month (6.3%) as our TSLA and AMZN shorts more than offset the losses from our hedges (and we cashed out AAPL too).
Now we have $173,350 in CASH!!! and, as calculated last month, about $200,000 in protection for our LTP – which we only pray is going to…

Posted in Appears on main page | Join Member's Chat - 1 Comment Here »
by ilene - September 23rd, 2018 2:42 pm
Courtesy of John Mauldin, Thoughts from the Frontline
With all the trade war talk, we all ask the obvious question: Who will win? President Trump says the US will win. Chinese business leaders say no, we will win. Free-traders on both sides say no one will win. Few stop to ask, "What does a 'win' look like?"
This makes discussion difficult. People are chasing after a condition they can't even define. Victory will remain elusive until they know what they want. Regardless, you can score me on the "no one wins" side. I believe, and I think a lot of evidence proves, that free trade between nations is the best way to maximize long-run prosperity for everyone.
However…
As Keynes famously said, we're all dead in the long run. Trade war may end with no winners, but the parties will be better and worse off at various times as it progresses. So we have to distinguish between "winning" and "holding a temporary lead."
On that basis, I think the US will have the upper hand initially, and could hold it for a year or two. This is because, for now, our economy is relatively strong and we can better withstand any Chinese retaliation. Beyond that point I think our current policies will begin to backfire, maybe spectacularly.
Remember, too, China has growing trade surpluses with much of the world. One Chinese insider told me that within four years China can replace lost US exports via increased trading with the rest of the world. I can't verify that but looking at general statistics it certainly seems plausible. That doesn't mean lost US trade won't be felt, but China is not entirely helpless.
When watching a fight, we ask metaphorically, "Who will blink first?" In this case, that's the wrong question. Neither side will blink but one may eventually fall to the floor, unconscious. So the better question might be, "Who will faint first?"
Next week we will deal with the tariff situation, as I get that question a lot. But let me state right here: I hope President Trump is engaged in a trade bluff and not a trade war. The market seems to think…

Posted in Appears on main page, Immediately available to public, Phil's Favorites | No Comments »
by ilene - September 22nd, 2018 8:46 pm
How one young woman broke down the gates of knowledge
Courtesy of George Monbiot
[Published in the Guardian 13th September 2018, Scientific publishing is a rip-off. We fund the research – it should be free]
Never underestimate the power of one determined person. What Carole Cadwalladr has done to Facebook and Big Data and Edward Snowden has done to the state security complex, the young Kazakhstani scientist Alexandra Elbakyan has done to the multi-billion dollar industry that traps knowledge behind paywalls. Her pirate webscraper service, Sci-hub, has done more than any government to tackle one of the biggest rip-offs of the modern era: the capture of research that should belong to us all.
Everyone should be free to learn; knowledge should be disseminated as widely as possible. No one would publicly disagree with these sentiments. Yet governments and universities have allowed the big academic publishers to deny these rights. Academic publishing might sound like an obscure and fusty affair, but it uses one of the most ruthless and profitable business modelsof any industry.
The model was pioneered by the notorious conman Robert Maxwell. He realised that, because scientists need to be informed about all significant developments in their field, every journal that publishes academic papers can establish a monopoly, and can charge outrageous fees for the transmission of knowledge. He called his discovery "a perpetual financing machine".
He also realised that he could capture other people's labour and resources for nothing. Governments funded the research published by his company, Pergamon, while the scientists who wrote the articles, reviewed them and edited the journals did so for free. His business model relied on the enclosure of common and public resources. Or, to use the technical term, daylight robbery.
As his other ventures ran into trouble, he sold his company to the Dutch publishing giant Elsevier. Like its major rivals, it has sustained the model to this day, and continues to make spectacular profits. Half the world's research is published by five companies: Reed-Elsevier, Springer, Taylor & Francis, Wiley-Blackwell and the American Chemical Society. Libraries must pay a fortune for their bundled journals, while those outside the university system are asked to pay $20, $30, sometimes $50 to read a single article.
While…

Posted in Appears on main page, Immediately available to public, Phil's Favorites | No Comments »
by phil - September 21st, 2018 8:33 am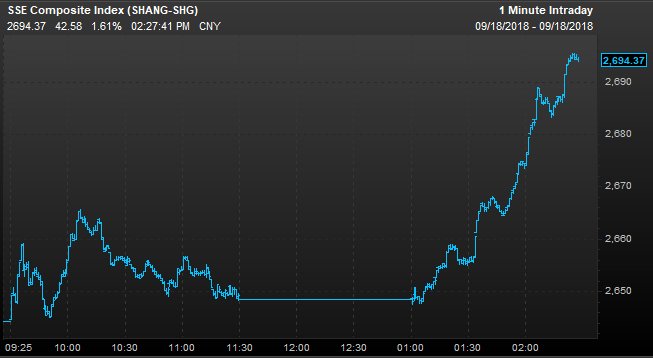 China turned around this morning.
It's funny because everyone thinks they are "winning" the trade war. The Chinese Government is planning to cut tariffs on imports to their favored trading partners, which we assume will no longer include the US. This will disadvantage US exporters to China and encourage Chinese firms and consumers to buy goods and services from other trading partners but it's also a nice tax break so it's boosting the Shanghai this morning, up 2.5% for the day at the close.
Other than that, the news has been very quiet and we're expecting to drift along into the close today as it's a Quad Witching Day in which quarterly options and futures contracts expire (there are 4 kinds), which is often punchuated by high-volume (what is that?) moves and yesterday was already a busy day on SPY as we punched in a new high at 2,945 and we would have liked to short 2,950 but we'll take a cross below 2,940 on /ES to short that with tight stops:
| Date | Open | High | Low | Close* | Adj Close** | Volume |
| --- | --- | --- | --- | --- | --- | --- |
| Sep 20, 2018 | 292.64 | 293.94 | 291.24 | 293.58 | 293.58 | 100,288,900 |
…

Posted in Appears on main page, Immediately available to public | Join Member's Chat - 139 Comments Here »