by phil - March 30th, 2020 8:14 am
The virus rages on.
US infections have jumped from 85,996 on Friday, when we had just passed China, to 143,055 as of 6:11 this morning and that's up 66% in two days. Globally, there are 735,650 infections with 34,686 deaths and 154,673 recoveries so, to date, 18.3% of the outcomes are – DEATH!!! No, I don't think it's funny – I want to emphasize that so people, HOPEFULLY, will stop risking their lives to go on a beer run or whatever other silly thing you do that you don't have to do – this is serious people and it remains serious.
On the other hand, as I have pointed out before, 7,708 people die every day in America from all sorts of things but mainly cancer or heart conditions so 2,500 dead (so far) in the US is just another manic Monday morning as far as it's effect on the economy. What matters is how soon we can get things under control as they are currently still clearly OUT of control as our hospitals are being overwhelmed (leading to more deaths) and supplies are running short.
Trump is right, this is like a war but it's a war we are clearly losing despite Trump telling us:
…

Posted in Appears on main page, Immediately available to public | Join Member's Chat - 5 Comments Here »
by ilene - March 29th, 2020 4:30 am
The world before this coronavirus and after cannot be the same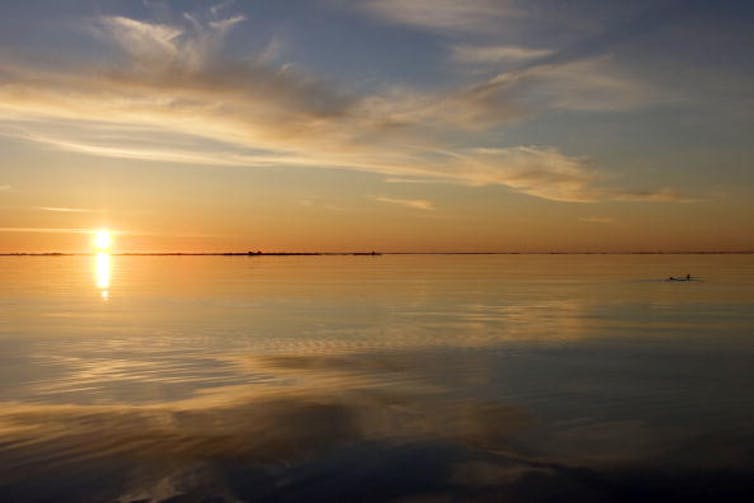 Courtesy of Ian Goldin, University of Oxford and Robert Muggah, Pontifical Catholic University of Rio de Janeiro (PUC-Rio)
With COVID-19 infections now evident in 176 countries, the pandemic is the most significant threat to humanity since the second world war. Then, as now, confidence in international cooperation and institutions plumbed new lows.
While the onset of the second world war took many people by surprise, the outbreak of the coronavirus in December 2019 was a crisis foretold. Infectious disease specialists have been raising the alarm about the accelerated pace of outbreaks for decades. Dengue, Ebola, SARS, H1N1, and Zika are just the tip of the iceberg. Since 1980, more than 12,000 documented outbreaks have infected and killed tens of millions of people around the world, many of them the poorest of the poor. In 2018, the World Health Organisation (WHO) detected outbreaks of six of its eight "priority diseases" for the very first time.
No one can say we weren't warned.
Even as we attend to the countless emergencies generated by COVID-19, we need to think deeply about why the international community was so unprepared for an outbreak that was so inevitable. This is hardly the first time we've faced global catastrophes.
The second world war reflected the catastrophic failure of leaders to learn the lessons of the 1914-1918 war. The creation of the United Nations and Bretton Woods institutions in the late 1940s and early 1950s provided some grounds for optimism, but these were overshadowed by the Cold War. Moreover, the Reagan and Thatcher revolutions of the 1980s rolled back the capacity of governments to address inequality through taxation and redistribution and governments' ability to deliver health and essential services.
The capacity of international institutions to regulate globalisation was undermined precisely at a time when they were most needed. The 1980s, 1990s and 2000s were a period of rapidly rising cross-border movements of trade, finance and people. The accelerated flow of goods, services and skills is one of the principal reasons for the most rapid reduction of global poverty in history. Since the late 1990s,…

Posted in Appears on main page, Biotech, Immediately available to public, Phil's Favorites | No Comments »
by ilene - March 29th, 2020 4:29 am
While coronavirus rages, bitcoin has made a leap towards the mainstream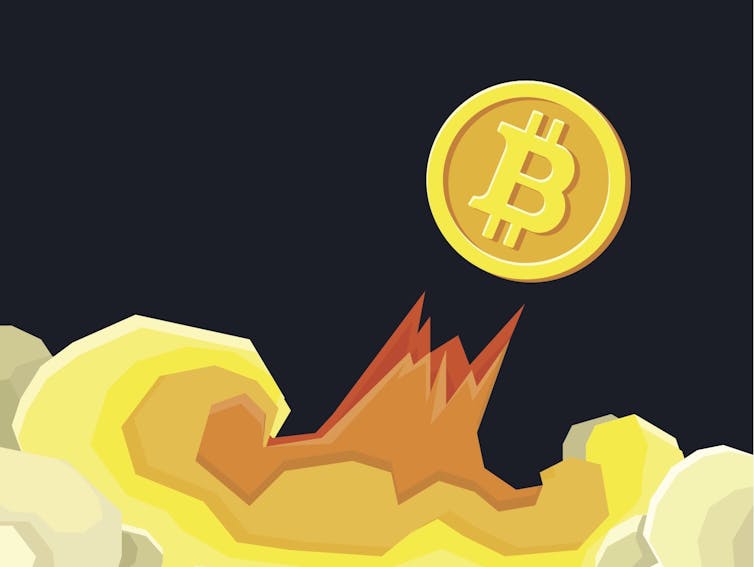 Courtesy of Iwa Salami, University of East London
Anyone holding bitcoin would have watched the market with alarm in recent weeks. The virtual currency, whose price other cryptocurrencies like ethereum and litecoin largely follow, plummeted from more than US$10,000 (£8,206) in mid-February to briefly below US$4,000 on March 13. Despite recovering to the mid-US$6,000s at the time of writing, some doomsayers have even wondered whether bitcoin will soon spiral back into three figures.
To add to the gloom, these shifts have broadly mimicked those of stock markets as investors first panicked about coronavirus only to be somewhat reassured by the US government's US$2 trillion fiscal stimulus package to reactivate the economy. This similar pattern has cast doubt on a common belief in the cryptocurrency industry that these assets would act as a "safe haven" during a downturn by moving in the opposite direction to the market as a whole. For many crypto-enthusiasts, this was one of the main attractions to buying these currencies.
Bitcoin vs S&P 500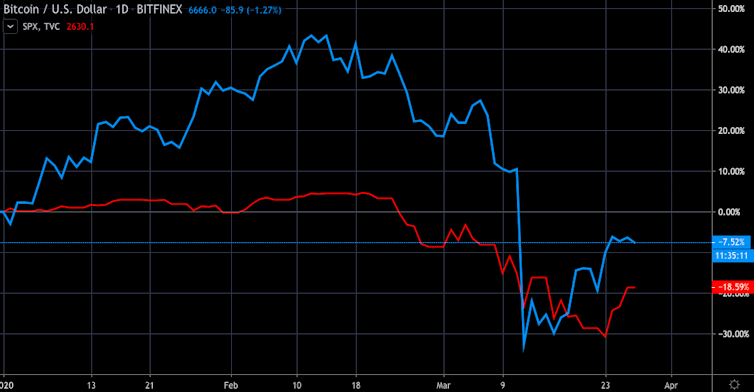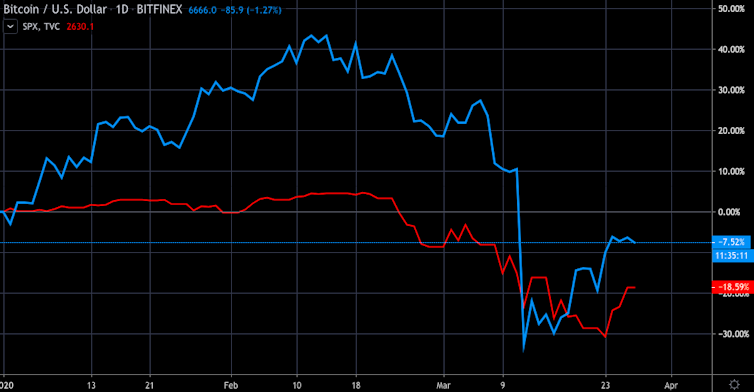 Yet while this has been unfolding, a more encouraging trend has attracted much less attention. Having banned cryptocurrencies in the past, or refused to acknowledge them as money, various countries have suddenly started recognising them in their financial laws and courts. This could well mark an important shift for these digital assets towards the mainstream.
Starting guns

The motivation for these shifts has been new global standards for anti-money laundering and counter terrorism set by global watchdog the Financial Actions Task Force (FATF). The rules provide a useful know-your-customer/anti-money laundering framework for cryptocurrency transactions which did not exist previously and were the reason why many countries did not allow them.
On February 26, a French court ruled that a loan involving bitcoin was a consumer loan. This meant placing bitcoin in the same bracket as money and other financial assets in…

Posted in Appears on main page, Crypto Corner - Bitcoin, ETC, Immediately available to public, Phil's Favorites | No Comments »
by ilene - March 27th, 2020 7:29 pm
Stimulus package will remain half-baked unless local governments get more of the dough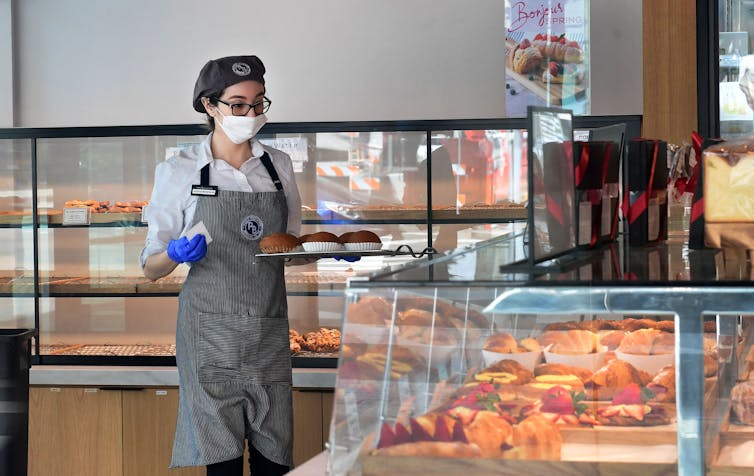 Courtesy of Stephanie Leiser, University of Michigan
Lawmakers are pinning their hopes on a US$2 trillion package to prop up the U.S. economy and provide relief to individuals and business ravaged by the coronavirus.
The stimulus is expected to pump $150 billion in aid to state and local governments. But with nearly 40,000 local governments across all 50 states, the money will be stretched thin and is likely to run out quickly. Many local officials are already bracing for severe budget shortfalls and mid-year cuts.
I study the fiscal health of local governments, and believe the federal government will need to do much more to provide relief to local governments in this crisis.
To understand why local governments are in such a vulnerable and precarious position as this pandemic-induced economic crisis begins, consider this analogy: local governments as "bakeries."
Self-rising costs?

Imagine you are a bakery owner in a small town. The coronavirus pandemic has caused everything to shut down, but you get a call from your local school principal asking if you'll give out free loaves of bread to local kids in need of meals. So you continue baking bread even as revenues from paying customers dry up.
As the weeks go by, you worry more and more about running out of cash. You consider a bridge loan but realize that's not allowed – these "bakeries" are supposed to keep their budgets balanced. If revenues fall unexpectedly, they have to cut spending, hike prices or maybe dip into their reserves – if there are any.
Increasing prices is not feasible because your customers are in no position to pay more and, in in this analogy, would certainly vote against it. And you can't cut production because you know the community depends on your bread. Reducing expenses will be tough because most of your costs are labor, and you don't want to lay off employees or cut their wages. Oh, and you still have the mortgage to pay.…

Posted in Appears on main page, Immediately available to public, Phil's Favorites | No Comments »
by phil - March 27th, 2020 8:51 am
85,996!
That's how many infections there are in the US as of 6:49 this morning and China has 81,897 so we blew right past them – even though we had 3 more months to prepare than China did and we were certainly not taken by surprise – other than our President, who asked us "Who could have seen this coming?"
It was way back on January 22nd when we had the first US case of the coronavirus. I noted it in our Morning Report saying:
One thing that's distracting everybody at the moment is the Chinese virus scare, with 50% more cases today than there were yesterday (now 470) so no, it's not at all under control. The US case that panicked our markets yesterday was from a guy who was in China recently and it does seem to be contained (so far).

In drugstores and at airports, and on the online marketplaces increasingly at the heart of Chinese commerce, fear and confusion manifested themselves in shortages or long lines for suddenly scarce products promising protection from the deadly but still largely mysterious respiratory disease. Surgical masks flew off shelves, travelers canceled plans and rumors flooded social media. Drug makers are doing well, travel stocks are doing poorly.
The very next day, we initiated our first virus hedge because that is what you are supposed to do when you come across economic uncertainty and want to protect your portfolios. What we didn't count on, however, is that two months later, the US would still be totally unprepared for its own viral epidemic or that our President would spend more time in denial than in meetings about controlling the virus. Rather than lead us through this crisis, Trump made 33 false claims about the virus in the…

Posted in Appears on main page, Immediately available to public | Join Member's Chat - 290 Comments Here »
by clarisezoleta - March 26th, 2020 4:00 pm
For LIVE access on Wednesday afternoons, join us at Phil's Stock World – click here.
Major Topics:
00:01:40 – 5% Rule
00:13:09 – COVID-19 Update
00:22:39 – S&P 500 | GDP Growth
00:30:00 – Market Collapse
00:34:42 – Trading Techniques
00:44:03 – 10 Trade Ideas
01:03:26 – STP
01:04:24 – LTP
01:09:11 – Market Crash
01:10:46 – VIAC
01:19:52 – MU
01:26:11 – AAPL
01:31:04 – PUT Sales | VIX
01:31:47 – STP
01:35:39 AAPL in Butterfly Portfolio
01:39:38 – Butterfly Portfolio
01:40:21 – LTP
Phil's Weekly Trading Webinars provide a great opportunity to learn what we do at PSW. Subscribe to our YouTube channel and view past webinars here. For LIVE access to PSW's Weekly Webinars – demonstrating trading strategies in real time – click here to join us at PSW!
Posted in Appears on main page, Immediately available to public, Phil's Favorites | No Comments »