by ilene - May 25th, 2018 7:27 pm
Courtesy of Michael Batnick
The thing about biases is that they're human, so they're seen in every walk of life. In who we choose to be friends with, in what news we read, in investing, and in sports.
In Michael Lombardi's new book Gridiron Genius, which I highly recommend, he talks about all of the biases that can infect a football organization. Lombardi says, "Confirmation bias is absolutely insidious in my field even though it breaks the first rule of scouting: Never begin with the end in mind." He also talks about what he calls "scouting blinders", which is the tendency for drafted players to stick around long after the initial evaluation proved to be wrong. Lombardi tells a story about how this affected the great Al Davis. "Like many crimes, the cover-up is even worse than the initial mistake. When it came to players Al Davis discovered, there was no like, only love, and when he loved, he loved forever."
When we buy a stock, a few biases instantly kick in. We value it more than we did before we owned it (endowment affect), we look for reasons to support our purchase (confirmation bias) and perhaps most pernicious, we anchor to the purchase price.
Let's look at Amazon as an example. If somebody bought Amazon in 2009, this is what their experience looks like. They see their gains from the initial purchase price each time they open their account.
But with stocks, there are multiple anchors. Another thing we anchor to is the all time high. So we don't just see how much we're up from out initial purchase, we see how much we're down from its highest value.
Anybody who has ever been in a drawdown knows that they're not viewed in percentage terms, but dollar terms. If you put $10,000 into Amazon in 2009, on eleven occasions, you had a decline that was larger than your initial investment.
The third and final anchor is January 1st of every year. Each time the calendar turns over, we revert to the YTD performance. As if how long it takes…

Posted in Appears on main page, Immediately available to public, Phil's Favorites | No Comments »
by phil - May 25th, 2018 8:31 am
What a waste!
It's a low-volume pre-holiday week but it looks like we could have taken the whole thing off as we're drifting back to 2,712 on the S&P, which is right where we closed last Friday and not too far off the Friday before that either. As I've been saying for the past two weeks, I don't think we're consolidating for a move over our strong bounce line at 2,728 – I think we're simply in a prolonged fail of that level and that means we'll be heading back to the S&P's 20% line at 2,640.
That's still 10% over the fair value for the S&P (we raised it 10% due to tax cuts – even though the tax cuts are ultimately bad for the broad economy). Speaking of fair value, oil is realizing a bit of its fair value and has fallen 2.5%, back below the $69 and that's going to be great for Wednesday's Live Trading Webinar play on the Ultra-Short Oil ETF (SCO) where we picked up the June $14/17 bull call spread for net $1.45.
That put our break-even at $15.45 and today SCO will be well over $16 for a 40%+ gain in 2 days - you're welcome! We didnt play the oil Futures (/CL) because it was too iffy with the holiday weekend and the Global tensions but putting, for example, $1,450 into the spread limits your loss to no more than $1,450 and it's very unlikely we wouldn't be able to stop out below $1,000 if it went the wrong way, going the right way, we will be making $1.55 (106%) in 60 days on a trade that requires no margin at all (so it's good for IRAs).
Gasoline (/RB) has fallen to $2.19 and I like those Futures long off that line (with tight stops below) as I expect a pop back to $2.20 at least today as "THEY" try to jam prices up at the pump into the holiday weekend. Natural Gas (/NG), on the other hand, is testing the $3 mark (we're long).
What's taking oil down today (aside from basic fundamentals) is a…

Posted in Appears on main page, Immediately available to public | Join Member's Chat - 46 Comments Here »
by ilene - May 24th, 2018 11:04 pm
Courtesy of Joshua M Brown
One of the most aggravating things I'm forced to listen to from time to time is people citing widely available valuation ratios as though their very existence has some sort of meaning for the future price of a particular stock. Such and such company is selling for only 15x earnings, therefore it's cheap and you should buy it.
This ignores the fact that any information available to the masses is already priced in and that markets, which are made up of hundreds of millions of participants, have settled on buying and selling a given security at its current price or valuation for a reason. Markets are very smart, which is not the same as saying they're always right.
Such and such stock sells at 15 times earnings because, at the current moment, this is the equilibrium price at which sellers and buyers have reached a tacit agreement.
Citing a PE ratio is like remarking on the fact that it's cold in Antarctica and hot in Africa.
What investors are really doing is attempting to divine the future prospects of a company and what they think it could someday be worth, and then placing their bets accordingly. Current valuations are useful in this endeavor only insofar as they present buyers and sellers with a an approximate baseline or a starting point.
And then from there, literally anything can happen.
Netflix has just become the largest publicly traded media company in the country today, surpassing both content giant Disney and distribution giant Comcast in one shot. These securities are not being traded at their current levels because of ratio of price to current earnings. Rather investors and traders in both securities are making a bet on what the future looks like, incorporating possible risks to their forward-looking assessments and then either buying or selling depending on how far away prevailing prices are from their own individual guesses.
And then there are some other tangential considerations that go into this stew – optics (do I want to show my fund's shareholders that I am in this name?), benchmarks (should…

Posted in Appears on main page, Immediately available to public, Phil's Favorites | No Comments »
by clarisezoleta - May 24th, 2018 1:02 pm
The PhilStockWorld.com Weekly Webinar – 05-23-18

For LIVE access on Wednesday afternoons, join us at Phil's Stock World – click here
Major Topics:
00:02:09 Checking on the Markets
00:05:59 SCO
00:11:49 NYCB
00:29:13 Long Term May Portfolio Review
00:40:41 LB
01:00:38 IRM
01:03:46 Active Trader
01:08:03 Trade Ideas
01:19:36 GE
01:22:11 FTR
01:23:33 More Trade Ideas
01:43:15 NYSE on the Big Chart
01:50:28 GE
01:51:27 Active Trader
02:00:59 Market News
02:07:11 More Trade Ideas
Phil's Weekly Trading Webinars provide a great opportunity to learn what we do at PSW. Subscribe to our YouTube channel and view past webinars, here. For LIVE access to PSW's Weekly Webinars – demonstrating trading strategies in real time – join us at PSW — click here!
Posted in Appears on main page, Immediately available to public, Phil's Favorites | No Comments »
by phil - May 24th, 2018 8:30 am
"Down in the pleasure centre,
hell bent or heaven sent,
listen to the propaganda,
listen to the latest slander.

Pump it up until you can feel it.
Pump it up when you don't really need it." – Elvis
S&P 2,728 again – they can't keep us over it but they won't let us go under it either.
Today marks two weeks at the strong bounce line and an optimist would say we're consolidating for a move up but a pragmatist would say this is all being done on low-volume BS pump jobs that are faking market highs by holding up the headline stocks while the broad market sells off – leaving the retail suckers holding the bag when the bottom ultimately falls out.
Notice how, nearly every day, we hit a high early in the day and then sell off? That's how you catch big game fish, you give them a little line and then you reel them in and then give them a little line and reel them in again – over and over until they are exhaused and you can haul them onto the boat and gut them and have them for dinner. That's what's happening to Retail Investors at the moment and the Top 1% are baiting the hooks.
Yesterday the market blasted higher on the release of the Fed Minutes, which didn't really say much other than the addition of the word "symmetric" but it was used in regards to INFLATION, not rates. Here's the context of the statement that got the market "so excited" yesterday afternoon:
"Participants generally expected that further gradual increases in the target range for the federal funds rate would be consistent with solid expansion of economic activity, strong labor market conditions, and inflation near the Committee's symmetric 2 percent objective over the medium term. Participants generally viewed the risks to the economic outlook to be roughly balanced."
Now, keep in mind this a 5-minute chart so it took less than 5 minutes of reading the minutes for traders (bots) to decide that the minutes were doveish and blast…

Posted in Appears on main page, Immediately available to public | Join Member's Chat - 107 Comments Here »
by ilene - May 23rd, 2018 11:38 am
America's graying population in 3 maps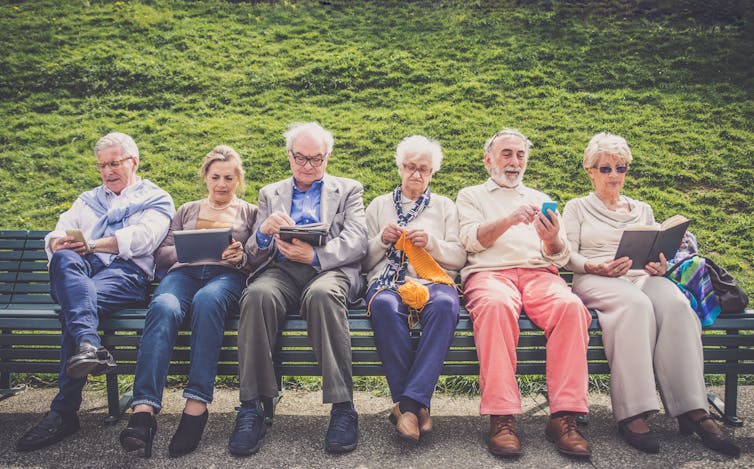 Courtesy of Peter Rogerson, University at Buffalo, The State University of New York
The U.S. population has changed substantially in the last half century, growing by nearly 63 percent.
Perhaps the two most prominent demographic changes over the past 50 years relate to age. In 1968, the baby boom had just ended, and the oldest members of its cohort were only 22 years old.
As baby boomers age, the nation has substantially aged as well. In 1970, the median age in the U.S. was 28.1. In 2016, it was 37.9.
Demographers and geographers like myself have watched as this aging cohort transformed the U.S., from young children in the 1950s and 1960s to senior citizens today. This graying of America has left a distinctive geographical fingerprint.
Where older Americans live

Unsurprisingly, popular retirement states like Florida and Arizona have high concentrations of older Americans.
What may be more of a surprise is the broad swaths of elderly running through the Midwest and the Appalachians. These regions have aged significantly, as many younger residents headed toward the coasts.
Younger people have also moved out of New England, primarily in search of jobs. Maine, New Hampshire, Vermont and Connecticut are among the seven states with a median age of over 40 in 2010; Pennsylvania, West Virginia and Florida are the others.
Not only is the U.S. aging, but the number of deaths is rising. This trend will accelerate over the next few decades.
Meanwhile, the number of births has declined since 2007. In fact, in 2013, over 30 percent of all U.S. counties experienced a phenomenon known as "natural decrease," due the greater number of deaths than births. Natural decrease is now most prominent in Maine, the Appalachian region, the Great Plains and the Midwest.
Demographers expect this phenomenon to expand geographically over the coming years, as the general population continues to age.
Movement around the
…

Posted in Appears on main page, Immediately available to public, Phil's Favorites | No Comments »