by ilene - January 17th, 2022 5:32 pm
Remembering Martin Luther King Jr.: 5 things I've learned curating the MLK Collection at Morehouse College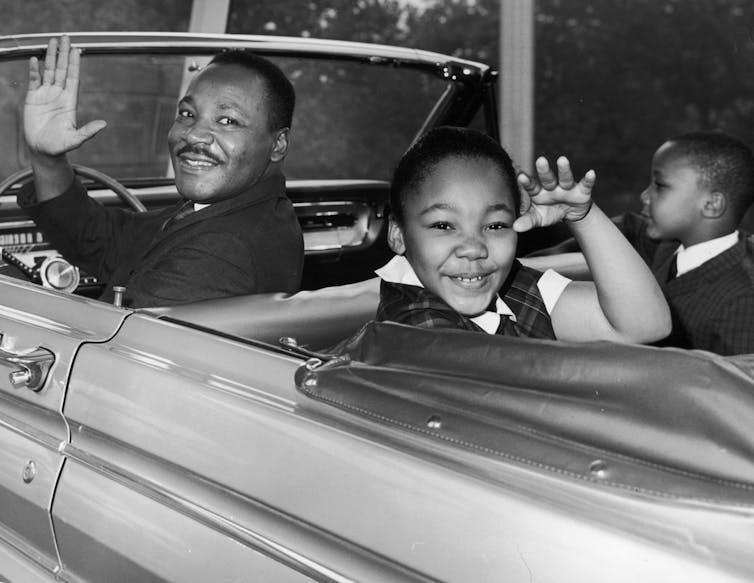 Courtesy of Vicki Crawford, Morehouse College
For the past 11 years, civil rights historian Vicki Crawford has worked as the director of the Morehouse College Martin Luther King Jr. Collection, where she oversees the archive consisting of iconic sermons, speeches, writings and other materials belonging to King.
Few archives of historical papers compare with the importance of the Morehouse King Collection. Aside from King's life, the collection chronicles many of the major events that occurred during the civil rights movement.
Since joining Morehouse, Crawford says she especially enjoys introducing younger generations to King and helping them understand the powerful lessons of the struggle for social justice, particularly how everyday people organized and worked for social change.
Of the countless things she has seen, read and learned about King's theology and civil rights activism, Crawford details five of the countless aspects of his life that stand out.
An avid reader

King read voraciously across a wide range of topics, everything from the "The Diary of Anne Frank" to "Candide." Of course, he also read about theology and religion and philosophy and politics. But he especially enjoyed literature and the works of Leo Tolstoy.
The Morehouse College Martin Luther King Jr. Collection includes approximately 1,100 books from King's personal library, many with his handwritten notes throughout.
Some of the titles: "Collected Works of Mahatma Gandhi," "Complete Poems of Paul Laurence Dunbar," "Deep River: Reflections on the Religious Insight of Certain of the Negro Spirituals" by Howard Thurman, "Invisible Man" by Ralph Ellison, "Kinfolk" by Pearl S. Buck and "Moral Man and Immoral Society: A Study in Ethics and Politics" by Reinhold Niebuhr.
Others include "Frederick Douglass, My Bondage and My Freedom," "Silent Spring" by Rachel Carson, "Prison Notes" by Barbara Deming, "Killers of the Dream" by Lillian Smith and "Here and Beyond…

Posted in Appears on main page, Immediately available to public, Phil's Favorites | No Comments »
by ilene - January 17th, 2022 3:30 pm
What Supreme Court's block of vaccine mandate for large businesses will mean for public health: 4 questions answered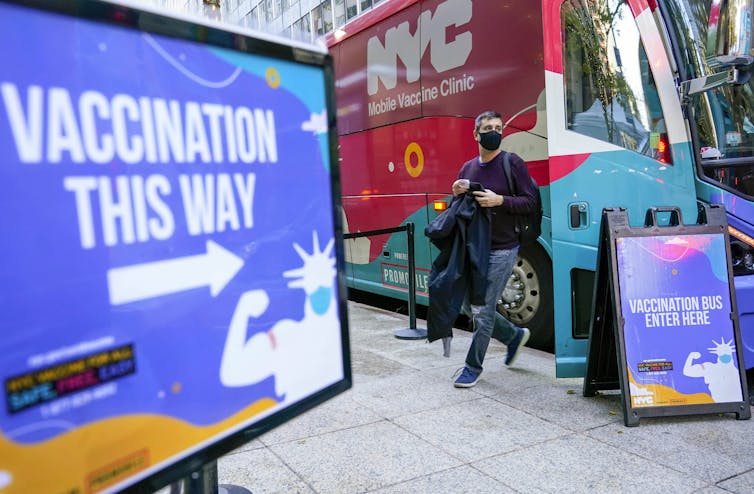 Courtesy of Debbie Kaminer, Baruch College, CUNY
The U.S. Supreme Court on Jan. 13, 2022, blocked the Biden administration's vaccine-or-test mandate, which applied to virtually all private companies with 100 of more employees. But it left in place a narrower mandate that requires health care workers at facilities receiving federal funds to get vaccinated. The ruling comes at a time when the number of COVID-19 cases and hospitalization rates continues to soar throughout the United States as a result of the omicron variant.
We asked Debbie Kaminer, a professor of law at Baruch College, CUNY, to explain the ruling's impact.
1. What did the Supreme Court decide?

The court's six conservative justices held that the Occupational Safety and Health Administration exceeded its power in issuing the mandate on private companies, which would have covered about 80 million workers.
The majority opinion distinguished between workplace safety and occupational health, determining that "although COVID-19 is a risk that occurs in many workplaces, it is not an occupational hazard in most," as it can spread wherever people gather. The majority also expressed concern that the mandate was a "blunt instrument" and did not distinguish "based on industry or risk of exposure to COVID-19."
The three liberal judges dissented, arguing that "COVID-19 poses special risks in most workplaces, across the country and across industries."
At the same time, by a narrower 5-4 vote, the Supreme Court allowed continued enforcement of a mandate requiring health care workers at facilities that receive government funding through Medicare or Medicaid to be vaccinated. According to the court, this mandate by the Department of Health and Human Services "fits neatly" within the congressional power given to the agency because of the increased risk associated with health care workers becoming ill with COVID-19 and infecting their patients.
2. How does this affect other worker mandates?

Despite this Supreme Court ruling, many types of COVID-19 vaccine mandates remain legally…

Posted in Appears on main page, Immediately available to public, Members' Corner, Phil's Favorites | No Comments »
by ilene - January 15th, 2022 10:14 pm
Ocean heat is at record levels, with major consequences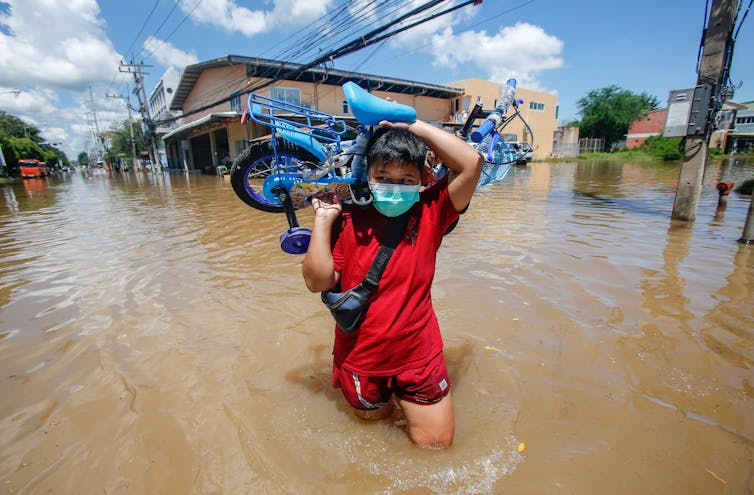 By Kevin Trenberth, University of Auckland
The world witnessed record-breaking climate and weather disasters in 2021, from destructive flash floods that swept through mountain towns in Europe and inundated subway systems in China and the U.S., to heat waves and wildfires. Typhoon Rai killed over 400 people in the Philippines; Hurricane Ida caused an estimated US$74 billion in damage in the U.S.
Globally, it was the sixth hottest year on record for surface temperatures, according to data released by NASA and the National Oceanic and Atmospheric Administration in their annual global climate report on Jan. 13, 2022. But under the surface, ocean temperatures set new heat records in 2021.
As climate scientist Kevin Trenberth explains, while the temperature at Earth's surface is what people experience day to day, the temperature in the upper part of the ocean is a better indicator of how excess heat is accumulating on the planet.
The Conversation spoke with Trenberth, coauthor of a study published on Jan. 11, 2022, by 23 researchers at 14 institutes that tracked warming in the world's oceans.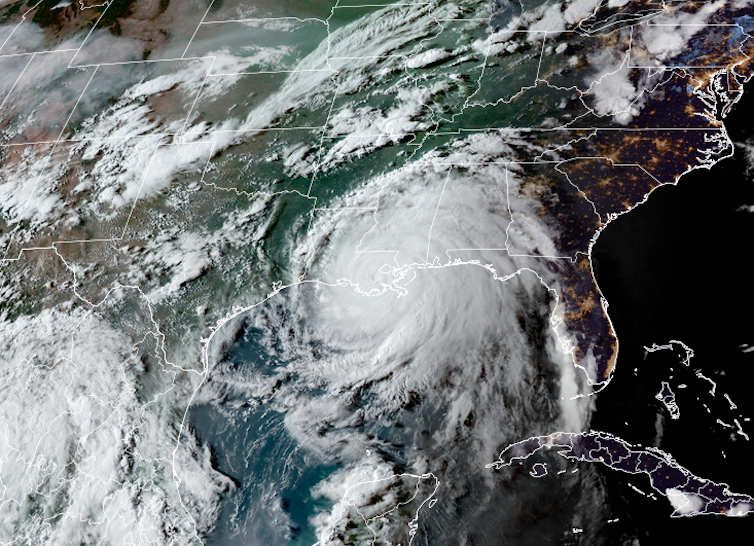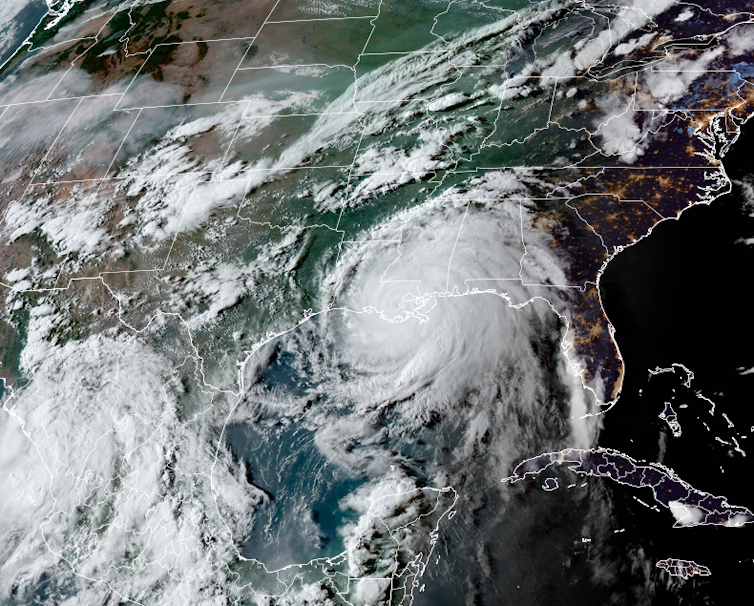 Your latest research shows ocean heat is at record highs. What does that tell us about global warming?

The world's oceans are hotter than ever recorded, and their heat has increased each decade since the 1960s. This relentless increase is a primary indicator of human-induced climate change.
As oceans warm, their heat supercharges weather systems, creating more powerful storms and hurricanes, and more intense rainfall. That threatens human lives and livelihoods as well as marine life.
The oceans take up about 93% of the extra energy trapped by the increasing greenhouse gases from human activities, particularly burning fossil fuels. Because water holds more heat than land does…

Posted in Appears on main page, Immediately available to public, Phil's Favorites | No Comments »
by ilene - January 15th, 2022 5:58 pm
Courtesy of Scott Galloway, NoMercy/NoMalice, @profgalloway
I didn't anticipate how much I'd appreciate a @Jack of fewer trades. Key to progress is class traitors: Generals warning of a military-industrial complex, product managers who narc on mendacious management, and tech leaders who violate the Silicon Valley code of the white guy — never criticize each other or your noble missions to save the world. Jack Dorsey has drawn his sword and taken aim at colleagues attempting to centralize control and gain from the promise of decentralization. Specifically, "web3."
What is web3? It's a hazy/vague term describing a crypto-powered internet, and a font of yogababble. Its promoters would say something akin to:
Web3 is a decentralized version of the internet where platforms and apps are built and owned by users. Unlike web2 (the current web), which is dominated by centralized platforms such as Google, Apple, and Facebook, web3 will use blockchain, crypto, and NFTs to transfer power back to the internet community.
Sounds good. Most of us buy the down-with-Facebook-and-Google narrative. Cut out the middleman, and we all win — especially the little guys. The dispersion of theaters, doctors offices, and bank branches to our homes, smart speakers, and phones offers enormous potential to provide elemental services with reduced friction. Smart contracts could, among other things, reduce agency costs and iron systemic biases out of the process. That's the promise of decentralization. But does the music match the words?
Reality Bites

The advertised decentralization of power out of the hands of a few has, in fact, been a re-centralization of power into the hands of fewer. The top 9% of accounts hold 80% of the $41B market value of NFTs on the Ethereum blockchain. The practice of "whitelisting" keeps the bulk of NFT profits within a tight circle of insiders. Bitcoin is even more centralized: The top 2% of accounts own 95% of the $800 billion supply of Bitcoin, and 0.1% of Bitcoin miners are responsible for half of all mining output. If it were a country, Bitcoin would…

Posted in Appears on main page, Immediately available to public, Phil's Favorites | No Comments »
by ilene - January 14th, 2022 6:17 pm
The metaverse is money and crypto is king – why you'll be on a blockchain when you're
virtual-world

hopping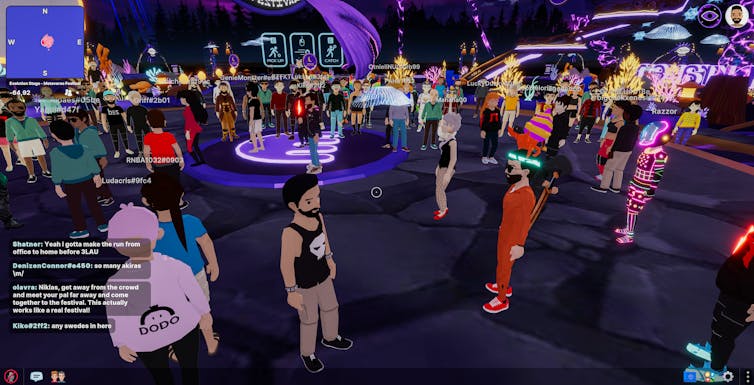 Courtesy of Rabindra Ratan, Michigan State University and Dar Meshi, Michigan State University
You may think the metaverse will be a bunch of interconnected virtual spaces – the world wide web but accessed through virtual reality. This is largely correct, but there is also a fundamental but slightly more cryptic side to the metaverse that will set it apart from today's internet: the blockchain.
In the beginning, Web 1.0 was the information superhighway of connected computers and servers that you could search, explore and inhabit, usually through a centralized company's platform – for example, AOL, Yahoo, Microsoft and Google. Around the turn of the millennium, Web 2.0 came to be characterized by social networking sites, blogging and the monetization of user data for advertising by the centralized gatekeepers to "free" social media platforms, including Facebook, SnapChat, Twitter and TikTok.
Web 3.0 will be the foundation for the metaverse. It will consist of blockchain-enabled decentralized applications that support an economy of user-owned crypto assets and data.
Blockchain? Decentralized? Crypto-assets? As researchers who study social media and media technology, we can explain the technology that will make the metaverse possible.
Owning bits

Blockchain is a technology that permanently records transactions, typically in a decentralized and public database called a ledger. Bitcoin is the most well-known blockchain-based cryptocurrency. Every time you buy some bitcoin, for example, that transaction gets recorded to the Bitcoin blockchain, which means the record is distributed to thousands of individual computers around the world.
This decentralized recording system is very difficult to fool or control. Public blockchains, like Bitcoin and Ethereum, are also transparent – all transactions are available for anyone on the internet to see, in contrast to traditional banking books.
Ethereum is a blockchain like Bitcoin, but Ethereum is also programmable through smart contracts, which are essentially blockchain-based software routines that run automatically…

Posted in Appears on main page, Crypto Corner - Bitcoin, ETC, Immediately available to public, Phil's Favorites | No Comments »
by phil - January 14th, 2022 10:05 am
I thought it was Saturday!
Don't ask how, that's the most senile thing I've ever done and I'll be 59 in March – in case you are keeping track. I had a nice, relaxing morning, woke up at 6 and did some reading and then caught up on some late-night talk shows (I just watch the monologs) and, in my defense, Seth Meyer's said he'd be back in the studio on Monday and I didn't realize he doesn't do Friday shows so I think that's where I got the impression it was Saturday.
Anyway, I got some washing done and then I went out for breakfast and, on the TV, the stock tickers were going by and we were down about as much as yesterday so I thought it was just showing yesterday's finish but then I saw the Nas below 15,500 and I realized something was wrong and I raced back home. First time I've ever done that.
So, it's 10:10 now and the indexes are down a bit more this morning but nothing tragic. Looking at our bounce chart, which we've had since Dec 21st, the only change since Wednesday's rally is the Weak Bounce line on the Russell, which has turned black (too close to call) – also, we have a new bottom for the Nasdaq, better reflecting our expectations:
Dow 36,000 to 34,200 has bounce lines of

34,560

(weak) and

34,920

(strong)
S&P 4,700 to 4,465 has bounce lines of

4,512

(weak) and

4,559

(strong)
Nasdaq 16,500 to 15,000 has bounce lines of 15,300 (weak) and
…

Posted in Appears on main page | Join Member's Chat - 96 Comments Here »