by phil - November 16th, 2018 8:27 am
Well, you can't say we didn't see this coming.
On the right is where we closed last Friday, just shy of 26,000 on the Dow, just shy of 2,800 on the S&P, 7,039 on the Nasdaq, 12,573 on the NYSe and 1,550 on the Russell. It may have seemed like we were recovering but this is why we have to ignore our instincts (bullish or bearish) and just watch the bounce lines according to our 5% Rule™ before making drastic changes to our portfolios.
I had warned about being fooled by the bounces in Friday's Morning Report and on Monday we laid out our game plan for the week and I don't go over them to show how right we were but it's good to reveiw what we said then in retrospect so the next time we tell you what is likely to happen, you have better context for how our predictions play out.
We went long on Gold (/YG) and Silver (/SI) Futures on Monday and that was BRILLIANT but we were way too early getting bullish on Oil (/CL) and Gasoline (/RB) though, fortunately, we did have a plan to lose "just" $420 at each nickel stop on the way down ($1.65, $1.60 and $1.55) as we played for the eventual turn.
As it stands now, we're long 4 /RB contracts at $1.55 after losing $420 on the first penny at $1.64 and then $840 (2 contracts) at $1.60 but now 4 contracts at $1.55 seem to be working and we're back to $1.585 with a $1,470 gain and, of course, we are taking 3 off the table, leaving us with just the original one long contract at the much better price of $1.55 while we're up net $210 overall on the closed contracts.
We were wrong on SLW on earnings, they went $1 lower but we still love them long-term and our warning for the week played out as I said on Monday:
We're still playing the markets very cautiously and very skeptically but we also have PLENTY of (well-hedged) bullish positions and our portfolios seem very well-balanced so we'll just
…

Posted in Appears on main page | Join Member's Chat - 81 Comments Here »
by Zero Hedge - November 16th, 2018 2:45 am
Courtesy of Zero Hedge
The outlook for the global automobile market has been increasingly dire lately, especially after a third quarter that saw sales drop in many major markets across the globe, including China. Now, the latest data from Europe suggests that the difficulties may be nowhere close to over despite optimistic fourth quarter guidance by companies like Volkswagen and Daimler AG.
Deliveries of new passenger cars were down 7.4% in the EU and the European Free Trade Association in October from the year prior. This adds to a 23% drop that occurred during September according to data from the European Automobile Manufacturers Association, and which was so acute it led to the first negative GDP print for Germany since 2015.
Despite the ongoing sales weakness, which many attribute to one-time events, some analysts – like those at EY Consultancy - still expect the market to turn around in the fourth quarter. They argue that new emissions testing cited by many companies as the reason for disappointing sales, will only have a temporary effect.
At the same time, Citigroup analyst Angus Tweedie thinks the downside is not over for companies like BMW and Daimler AG, according to Bloomberg. In a note titled "The Golden Age Ends With a Crash", Tweedie wrote that "Heading into 2019 we see few remaining avenues of maneuver, and with volume growth slowing in most markets believe the scale of pressures will become obvious."
Meanwhile, ongoing challenges like the slowdown in China have been exacerbated by trade wars, casting a cloud over the industry. However, one of the main potential threats, tariffs on imports from the EU, has been alleviated for now, as we wrote yesterday. Following the data release, European automakers like Daimler, VM, and BMW were all trading lower between 1% and 2%.
The new emissions standards (dubbed "WLTP"), a remnant of German automakers' emissions test cheating days, continue to be a cause for profit warnings for companies like Daimler and BMW. The rush to get cars ready for new regulations has put pressure on auto sales this quarter. And while BMW made the deadline, it reportedly couldn't escape pricing pressure from competitors entering the market at the same time.
…

Posted in Appears on main page, Immediately available to public, Phil's Favorites | No Comments »
by phil - November 15th, 2018 8:31 am
We're still painting the bounce lines red.
As I warned you on Tuesday, there's blood on the streets and we have now picked up 4 red boxes as each index has been taken down a notch this week and, with the Nasdaq (/NQ) failing it's 10% correction AGAIN at 6,870 and the Russell (/RTY) right on the -10% line at 1,495 – will the Dow (/YM) and S&P (/ES) be far behind? For the Dow, that's a 700-point drop to 24,300 and the Dow (/YM) futures pay $5 per point per contract so I love shorting /YM below the 25,000 line with tight stops above.
Dow

24,300

with a weak bounce at

24,800

and a strong bounce at

25,300

S&P 2,640 with a weak bounce at

2,710

and a strong bounce at

2,780

Nasdaq

6,870

with a weak bounce at

7,080

and a strong bounce at

7,230

Russell 1,485 with a weak bounce at

1,530

and a strong bounce at

1,575
For the S&P (/ES) we're at 2,696 this morning so another 56 point-drop and we're all red on that index too. On the other hand, if /ES can get…

Posted in Appears on main page, Immediately available to public | Join Member's Chat - 112 Comments Here »
by ilene - November 14th, 2018 4:47 pm
Posted in Appears on main page, Immediately available to public, Phil's Favorites | No Comments »
by phil - November 14th, 2018 8:29 am
I think we're heading lower.
Probably about 10% lower and yesterday's 8% drop in oil is a good indicator of how fast the "value" can come out of the markets – or any other asset you think is "stable" these days. There are still MANY signs of Global Economic Weakness, including Japan's negative GDP, which we noted yesterday. Even worse, Japan's Central Bank owns $5Tn worth of assets – the entire GDP of the country, including 45% of all Government bonds paying near 0% interest that will quickly become worthless if rates rise.
"The Bank of Japan's policy is clearly not sustainable. The BOJ would suffer losses if it would have to raise interest rates to, say, two percent," said Hidenori Suezawa, a fiscal analyst at SMBC Nikko Securities. "Also, in case of emergencies, such as a natural disaster or a war, the BOJ won't be able to finance government bonds any longer."
The BOJ has also been a very aggressive buyer of Japanese stocks and is now the largest holder of most of the Nikkei 225 stocks – over 10% on average. This buying spree pushed the Nikkei up from 16,000 when Abe and Koroda unleashed this mad shceme in order to reverse that 20% correction.
Well, what if the 20% correction was correct and Japanese stocks, in an aging population with Government debts that exceed 250% of their GDP, are really only worth Nikke 16,000. That means that, at 24,000, 33% of the money the BOJ spent to prop up the market was wasted and that's very likely the case as the BOJ shouldn't have to be a buyer and their actions created a false sense of demand for Japanese stocks and artificially raised the prices and those prices, in turn, encouraged other Global markets to move higher and now the whole World is a good 10% (still) too expensive but Japan has barely corrected 10% and easily has another 10% to go (19,500) before anything like real buyers begin to show up.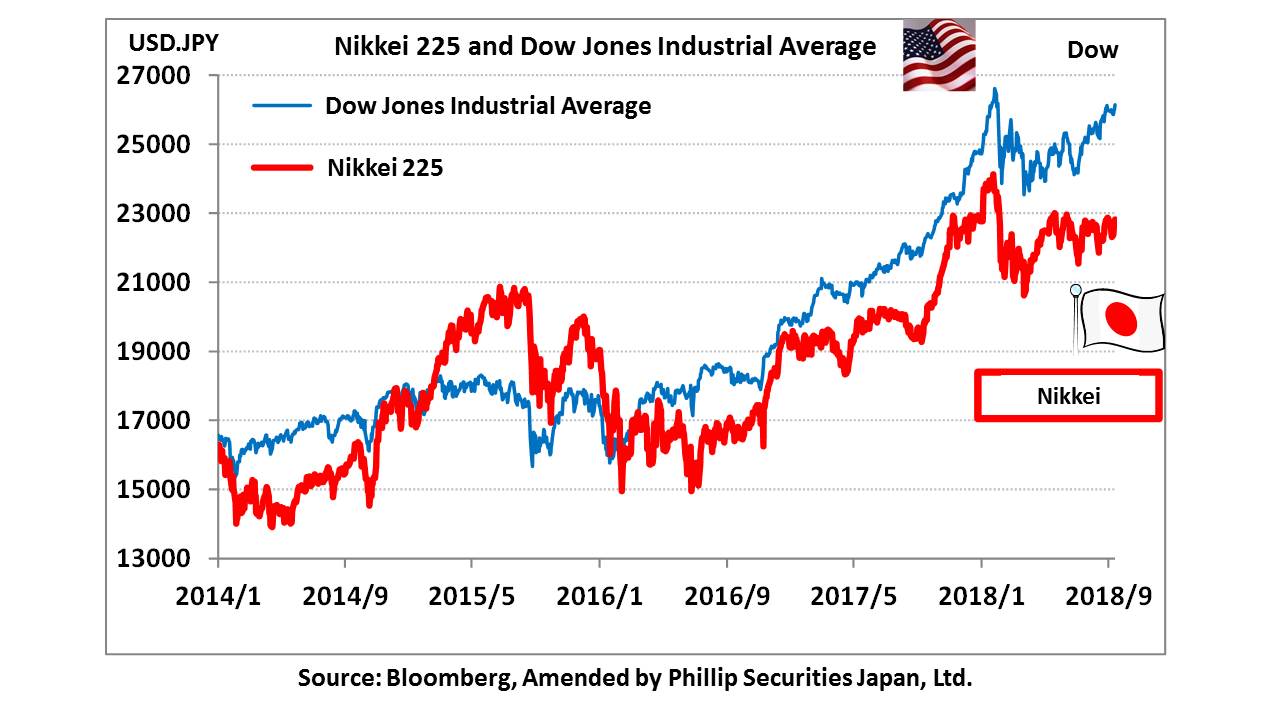 It's not even possible for the BOJ to…

Posted in Appears on main page | Join Member's Chat - 91 Comments Here »
by Zero Hedge - November 13th, 2018 1:30 pm
Courtesy of Zero Hedge
One day after Bank of America released its latest, and quite bearish Credit Investor Survey, on Tuesday, the bank has published its latest, and far broader, Fund Managers Survey (FMS) which polled a total of 225 panellists with $641bn AUM during the period of November 2-8. According to the survey administrator, BofA CIO Michael Hartnett, there were three key takeaways:
Investors forecast the S&P500 to peak at 3056 (give or take) and are waiting for the 10-Year yield to reach 3.7% before rotating from stocks into bonds
Cash levels fell in Nov… To BofA this suggests that positioning is not bearish enough for Big Low (which will likely take place in Q2 2019 at the earliest)
Perhaps most notable is that the allocation to tech plunged to the lowest since Feb'09 even though investors still see "Long FANG-BAT" as the most crowded trade; Meanwhile, investors are long US$ & not yet long global recession
Some more detailed observations together with charts:
On when the market finally tops, investors think the S&P 500 will peak at 3056 (a weighted average of the responses) suggesting 12% upside from today's level, even though – like the market – this level appears to be rolling over …
…but as BofA notes, 1 in 3 FMS investors (30%) now think US stocks have already peaked, double last month's reading (16%). This likely also means that there are quite a few who see the S&P rising as high as 3500 or more.
Next, when looking at the big risk cited by credit investors, namely rising rates, Wall Street investors said they don't expect a rotation from equities to bonds until 3.7% on the 10-year Treasury (also the averaged weighted response); This is about 20bp higher than the response back in April 18.
Contrary to reports of asset liquidations, survey respondents said that their cash level actually fell to 4.7% from 5.1% (just above the avg of the past 10 years of 4.5%) and hovering just above neutral even as investors reportedly stay bearish. To BofA this means that the Cash Rule has been in…

Posted in Appears on main page, Immediately available to public, Phil's Favorites | No Comments »