by phil - September 21st, 2018 8:33 am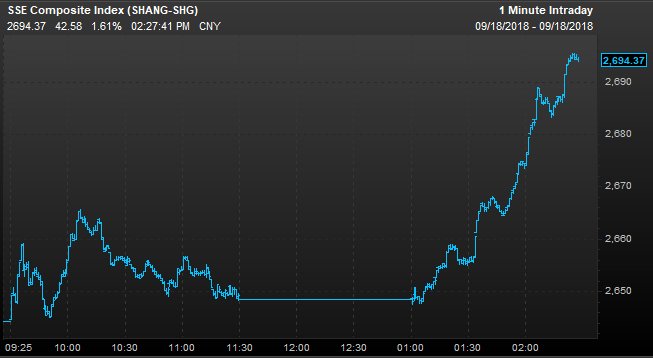 China turned around this morning.
It's funny because everyone thinks they are "winning" the trade war. The Chinese Government is planning to cut tariffs on imports to their favored trading partners, which we assume will no longer include the US. This will disadvantage US exporters to China and encourage Chinese firms and consumers to buy goods and services from other trading partners but it's also a nice tax break so it's boosting the Shanghai this morning, up 2.5% for the day at the close.
Other than that, the news has been very quiet and we're expecting to drift along into the close today as it's a Quad Witching Day in which quarterly options and futures contracts expire (there are 4 kinds), which is often punchuated by high-volume (what is that?) moves and yesterday was already a busy day on SPY as we punched in a new high at 2,945 and we would have liked to short 2,950 but we'll take a cross below 2,940 on /ES to short that with tight stops:
| Date | Open | High | Low | Close* | Adj Close** | Volume |
| --- | --- | --- | --- | --- | --- | --- |
| Sep 20, 2018 | 292.64 | 293.94 | 291.24 | 293.58 | 293.58 | 100,288,900 |
…

Posted in Appears on main page, Immediately available to public | Join Member's Chat - 106 Comments Here »
by ilene - September 21st, 2018 1:44 am
Why do so many people fall for fake profiles online?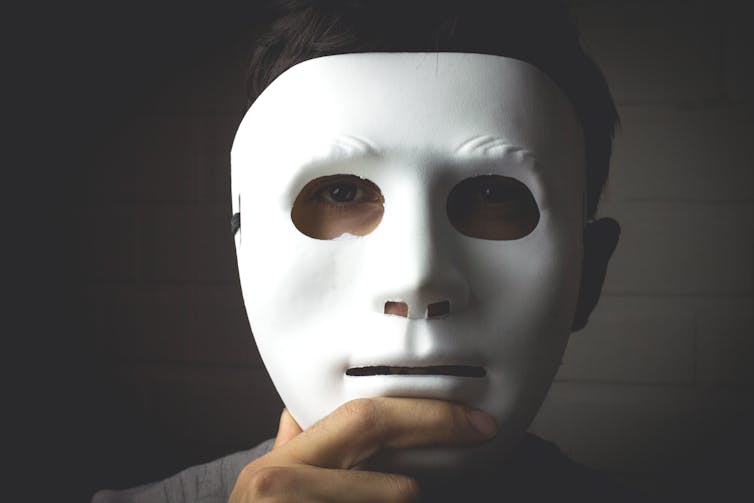 Courtesy of Arun Vishwanath, University at Buffalo, The State University of New York
The first step in conducting online propaganda efforts and misinformation campaigns is almost always a fake social media profile. Phony profiles for nonexistent people worm their way into the social networks of real people, where they can spread their falsehoods. But neither social media companies nor technological innovations offer reliable ways to identify and remove social media profiles that don't represent actual authentic people.
It might sound positive that over six months in late 2017 and early 2018, Facebook detected and suspended some 1.3 billion fake accounts. But an estimated 3 to 4 percent of accounts that remain, or approximately 66 million to 88 million profiles, are also fake but haven't yet been detected. Likewise, estimates are that 9 to 15 percent of Twitter's 336 million accounts are fake.
Fake profiles aren't just on Facebook and Twitter, and they're not only targeting people in the U.S. In December 2017, German intelligence officials warned that Chinese agents using fake LinkedIn profiles were targeting more than 10,000 German government employees. And in mid-August, the Israeli military reported that Hamas was using fake profiles on Facebook, Instagram and WhatsApp to entrap Israeli soldiers into downloading malicious software.
Although social media companies have begun hiring more people and using artificial intelligence to detect fake profiles, that won't be enough to review every profile in time to stop their misuse. As my research explores, the problem isn't actually that people – and algorithms – create fake profiles online. What's really wrong is that other people fall for them.
My research into why so many users have trouble spotting fake profiles has identified some ways people could get better at identifying phony accounts – and highlights some places technology companies could help.
People fall for fake profiles

To understand social media users' thought processes, I created fake profiles on Facebook and sent out friend requests to 141 students in a large university.…

Posted in Appears on main page, Immediately available to public, Phil's Favorites | No Comments »
by phil - September 20th, 2018 8:13 am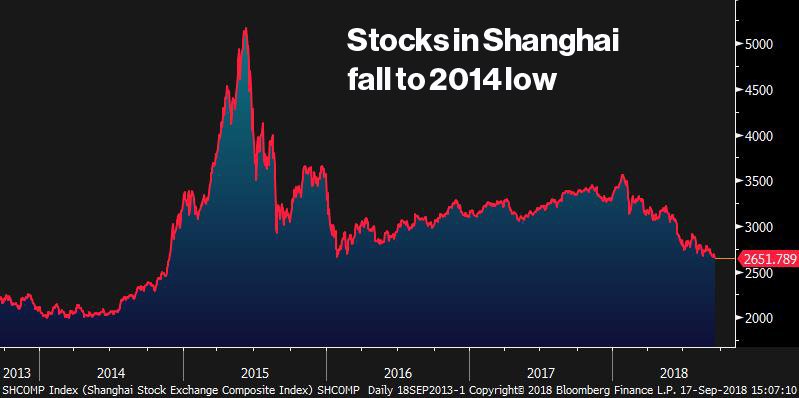 Harmless trade war?
That's how the Conservatives are spinning it and many are drinking the Kool Aid and ignoring the stress and strain we are putting on the rest of the World – especially China, where the Shanghai Composite is officially a bear market, down 20% for the year and almost 50% off it's 2015 highs. 2015 was another crisis we ignored in China – until we had a "flash crash" in August and a proper 10% correction in the beginning of 2016 – even as China was "recovering" a bit.
When people tell you that what happens to the second largest economy in the World doesn't effect the largest economy in the World, those people are idiots and you should never listen to anything they say to you – ever again. Jamie Dimon of JP Morgan, for his part, is doing his best to minimize the concerns of retail investors so he can keep dumping stocks on them:
"If you look at tariffs on $200 billion (worth of Chinese goods), and this may all get passed on to American consumers and they have to pay another $20 billion (on Chinese imports), it's a $20 trillion economy, so the actual economic effect is not dramatic," Dimon said.

"We can add tariffs to more things and the Chinese can retaliate in other ways and I don't think all that's good. It's not a devastating thing, it's not a war, it's a trade skirmish that can have negative economic effects."
Dimon is not going to say what happens in China has no effect but he's mimizing the impact and misleading traders by using the 10% figure that costs $20Bn but that 10% tariff escalates to 25% at the end of the year ($50Bn) and then Trump plans to double the number of goods that are taxed ($100Bn) so a smart reporter would ask Dimon – does $100Bn matter then?
You can nod your head and agree with Dimon (after all, he's a rich guy, so he must know stuff and he would never lie…

Posted in Appears on main page, Immediately available to public | Join Member's Chat - 71 Comments Here »
by ilene - September 20th, 2018 2:12 am
Courtesy of Michael Batnick
On this week's Animal Spirits, we discuss:
Dalio could lose 1% a day for a year and still be worth $400 million
Don't take asset allocation advice from billionaires
It's hard to pinpoint how many assets are really indexed
Using the lottery to spur savings
J.P. Morgan going after affluent millenials
The incredible shrinking hedge fund
In the matter of Cadaret, Gran & Co. (UWTI)
Listen here
Charts Mentioned
Tweets Mentioned
Recommendations
Posted in Appears on main page, Immediately available to public, Phil's Favorites | No Comments »
by phil - September 19th, 2018 8:34 am
"Here come those tears again

Just when I was getting over you

Just when I was going to make it through

Baby here we stand again

Like we've been so many times before

Even though you looked so sure" – J Browne
While it's been fun watching the Dow 30 blast higher, the S&P 500 has been struggling to get back to where we were at the end of August when I warned on "Toppy Tuesday – S&P 2,900 so it's 3,000 or Bust!" as well as "Will We Hold It Wednesday – Record Highs Edition" and we were shorting the S&P (/ES) Futures at 2,915 and we got another entry yesterday as we topped out at 2,917 just before 3pm.
At the time, we were shorting Gasoline (/RB) at $2.10 and now it's $2, which was good for gains of $4,200 per contract if you rode it out all the way (we were in and out several times since) and we shorted Oil (/CL) at $70 (and we're short again now) and went long on Coffee (/KCN9) as it tested $100, which worked at the time but now it's down to $94 so a lot of things are not improving – including the Nasdaq, which is down from 7,700 to 7,500 (2.5%) while the S&P has bounced back.
As the song asks – what's different this time? Aren't we just setting ourselves up for more heartache as we're teased yet again by the record highs? I believe there's a better chance in profiting from a re-test of 2,860 (our 30% Line on the Big Chart) than there is of seeing 2,920 so it's a very nice risk/reward play as stopping out at 2,921 is a $300 per contract loss while 2,870 (which we hit last time) is a $2,500 per contract gain. Futures trading is all about looking for risk/reward scenarios that are massively in your favor and then trying not to be wrong more than 80% of…

Posted in Appears on main page, Immediately available to public | Join Member's Chat - 80 Comments Here »