by phil - July 17th, 2018 8:26 am
Wheeeee!
That's the way to play earnings! In yesterday's Morning Report we called for shorting the Nasdaq (/NQ) Futures at the 7,400 line in hopes that Netflix (NFLX) would disappoint and take down the index and that's exactly what happened. Nasdaq Futures contracts pay $20 per point so the 100-point drop paid $2,000 for each short contract – not bad for a day's work and, of course, our other index contracts were also winners:
S&P (

/ES

) short at 2,800 fell to 2,792 is just 8 points at $50 per point for

gains of $400 per contract

.
Dow (

/YM

) short at 25,000 fell to 24,960 and 40 points at $5 per contract

gained $200 per contract

Russell (

/RTY

) short at 1,690 fell to 1,675 and 15 points at $50 per point was a gain of $750 per contract.
And, of course, our Netflix (NFLX) short play will be doing very well this morning as that stock dropped $50 (12.5%) on disappointing subscriber growth and we could see that coming a mile away as no stock is likely to justify 250x earnings – even in the best conditions and we simply didn't see the current economic conditions (rising oil prices, economic slowdown, political turmoil) as a good recipe for continued super-bullishness on NFLX.
There is, however, still time to initiate our bullish earnings trade on Sketchers (SKX) as detailed in yesterday's Report. That stock finished right at $31.07, down 0.22 for the day despite our bullish pick – but what do we know? Speaking of what we know, my comments were featured in Investing.com's weekly commodity outlook and that led to yet another $2,000 per contract day's gain on Oil (/CL) Futures shorts at the $70 line – which is a follow-through from our $5,000 per contract gain from our original call to short oil at $75 on July 3rd (nailed it!).
Though we have a longer-term target of $65, we're now using our Ultra-Short Oil ETF (SCO) play to cover that, not the Futures. Our goal in the futures, as noted…

Posted in Appears on main page, Immediately available to public | Join Member's Chat - 43 Comments Here »
by ilene - July 17th, 2018 2:57 am
Courtesy of Joshua M Brown
The S&P 500 is up 2.6% year to date through the first half and technology stocks have contributed approximately all 2.6% of it.
Just a few large tech stocks in particular.
Savita's equity and quant group relays the following:
Only three sectors outperformed in the first half On a total return basis, Discretionary +11.5%, Tech +10.9% and Energy +6.8% beat the market. Energy was 2Q's best-performing sector (+13.5%) after turning amongst the worst returns in 1Q. Tech was the single-biggest contributor to the S&P 500's 1H gain, contributing 98% of the S&P 500's total return. Excluding FAANG, the total return would have been negative (-0.7%) in the 1H. Staples (-8.6%) and Telco (-8.4%) were the worst.
and a pair of charts illustrating this:
Josh here – Now, of course, every bull market has its leadership stocks. This one is no different, albeit the concentration at the top is fairly high because of the sheer size of the companies' market caps we're talking about.
But another leadership area thus far has been the small caps – the Russell has made new highs repeatedly, owing to an investor preference in US-focused domestic stories and the continued strength of the dollar this year.
So there's more going on here, it's just been tremendously overshadowed.
Source:
1H18: good micro, bad macro
Bank of America Merrill Lynch – July 16th, 2018
Posted in Appears on main page, Chart School, Immediately available to public, Phil's Favorites | No Comments »
by phil - July 16th, 2018 7:57 am
President Trump is meeting his handler this morning.
It's a private meeting, of course, and whatever goes on from there we will only know from what Trump and Putin say about it but, fortunately, both men are well-known for giving the public faithful accounts of their actions behind closed doors, right? According to protocols, however, Putin at least should have a report and maybe one day we'll get to see it.
Futile though it's been, we're taking another whack at shorting the Futures this morning as noted in my 7:21 note to our Members:
On the whole, I still like the short side and we'll be looking to cash a lot of positions in our portfolio reviews. /NQ below 7,400 (tight stops above for all) is good as is, /YM 25,000, /ES 2,800 and /RTY 1,690 – 3 below and short the laggard is the safest way to play but I'm hoping NFLX disappoints and hurts the Nasdaq and, of course, it's time for negative AAPL rumors!
Powell testifies before Congress for the first time tomorrow – that's a biggie. June Retail Sales this morning, Industrial Production tomorrow, Housing Wednesday and the Beige Book and NY and Philly Feds this week too! So plenty of data to chew over.
TIME (ET)
REPORT
PERIOD
ACTUAL
FORECAST
PREVIOUS
MONDAY, JULY 16
8:30 am
Retail sales
June
0.5%
0.8%
8:30 am
Retail sales ex-autos
June
0.3%
0.9%
8:30 am
Empire state index
July
--
25.0
10 am
Business inventories
May
--
0.3%
TUESDAY, JULY 17
9:15 am
Industrial production
June
0.6%
-0.1%
9:15 am
Capacity utilization
June
78.3%
77.9%
…

Posted in Appears on main page | Join Member's Chat - 136 Comments Here »
by ilene - July 16th, 2018 3:05 am
Courtesy of John Mauldin, Mauldin Economics
We are approaching the end of the debt Train Wreck series. I've spent several weeks explaining why I think excessive debt is dragging the world economy toward an epic crash. The tracks ahead are clear for now but will not remain so. The end probably won't be pretty. But there's good news, too: we have time to get our portfolios, our businesses, and our families prepared.
Today, we'll look at some new numbers on just how big the problem is, then I'll recap the various angles we've discussed. This problem is so big that we easily overlook key points. I hope that listing them all in one place will help you grasp their enormity. Next week, and possibly a few after that, I'll describe some possible strategies to protect your assets and family.
Before we go on, let me give a quick plug for Over My Shoulder. We rejuvenated this service a few months ago and it's working even better than expected. Having Patrick Watson co-edit with me has been a big help. We've worked together, on and off, for 30 years now so he knows how I think. Between us, we have sent subscribers tons of fascinating economic analysis from my best sources—most of which you would never see otherwise. You get both the original item and our quick-read summary.
At just $9.95/month, Over My Shoulder may be the best financial research bargain out there, if I do say so myself. Click here to learn how you can join us.
Now on with the end of the train.
Talking about global debt requires that we consider almost incomprehensibly large numbers. Our minds can't process their enormity. How much is a trillion dollars, really? But understanding this peril forces us to try.
Earlier in this series, I shared a 2015 McKinsey chart that summed up global debt totals. They pegged it at $199 trillion as of Q2 2014. Note that the debt grew faster than global GDP. Everything I see suggests it will go higher at an ever-increasing rate.
Posted in Appears on main page, Immediately available to public, Phil's Favorites | No Comments »
by ilene - July 16th, 2018 1:43 am
Why trade wars can be perilous: 5 essential reads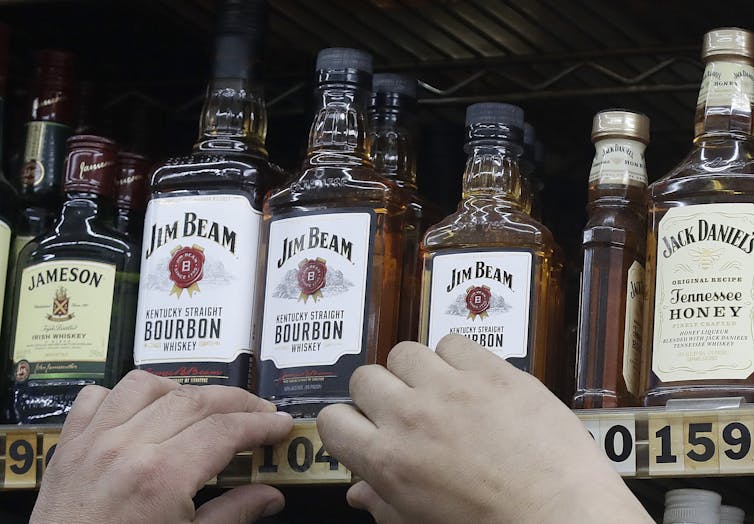 Courtesy of Bryan Keogh, The Conversation and Nicole Zelniker, The Conversation
Depending on whom you ask, the odds of the United States winning its trade war with China and the rest of the world is either probable, possible, unlikely, out of the question or irrelevant.
Economists generally agree, however, that American consumers and most companies will be hurt, particularly if it continues much longer.
One early estimate, based on the tariffs so far, suggests that President Donald Trump's trade dispute will cost the U.S. approximately 250,000 jobs and $210 per family. And the companies whose products are now more expensive to export to Europe, China or elsewhere – such as soybean farmers and motorcycle makers – are feeling badly squeezed.
Amid the escalating threats and retaliations by a host of countries across the world, it's easy to get lost. To better understand the issues at stake in a trade war, we turned to articles from our archive.
1. What is a tariff?

A tariff, according to Amitrajeet A. Batabyal, a professor of economics at the Rochester Institute of Technology, is simply a tax levied on an imported good. By making that good more expensive for American consumers – whether individuals or companies – it hurts the foreign manufacturer, while benefiting domestic producers of the same product.
Historically, tariffs were used to raise revenue, he writes. That's how the U.S. raised most of its revenue until formally creating the income tax in 1913. "The main purpose of a tariff these days tends to be about protecting particular domestic industries from foreign competition, alongside raising revenue," he explains.
The problem is they usually make a country worse off than before. Small countries always suffer as a result of imposing tariffs. Larger nations, like the United States, can make gains in the short run, but their tariffs ultimately push other countries to impose their own, as we see today, and everyone is worse off than before.
…

Posted in Appears on main page, Immediately available to public, Phil's Favorites | No Comments »
by ilene - July 14th, 2018 4:22 am
John Rubino, former eurodollar trader, equity analyst and junk bond analyst and current freelance writer discusses his thoughts on debt, investing and the future with Ilene at Phil's Stock World. John is the author of Clean Money: Picking Winners in the Green Tech Boom, How to Profit from the Coming Real Estate Bust, and Main Street, Not Wall Street, and co-author with James Turk of The Collapse Of The Dollar and The Money Bubble. Stay up-to-date with John's timely, insightful articles on the markets and the economy at DollarCollapse.com.
Ilene: In that you see a financial meltdown in our future, how far away do you think it is?
John: This is a "when" rather than "if" crisis so timing is really the big question. But I might not be the best person to ask because I've been expecting the end of the fiat currency/fractional reserve banking world for over a decade. James Turk, with whom I co-wrote "The Collapse Of The Dollar" back in 2004, likes to tell the story of how we rushed to finish the book because we were afraid the system would implode before we got to print. And here we are, a decade-and-a-half later, with the world still taking on insane amounts of debt and financing it with a tsunami of new currency.
Still, a lot of accumulating signs do seem to imply that we're near the end of this cycle, if not the credit super-cycle that began after WWII. Debts in every sector of every major society have risen beyond what history and common sense would view as sustainable levels. Capacity constraints are starting to emerge in at least the US economy, meaning that wage inflation is going to force the Fed to raise rates a few more times, even as past rate increases are causing emerging markets like Argentina, Venezuela, Brazil, and maybe even China to descend into credit-driven crises.
So it could be soon. Watch those emerging markets, along with developed world bonds and stocks. When turmoil becomes wide-spread we'll discover that there are huge air pockets under the prices of many high-flying stocks and bonds. When they tank they'll take the rest of the global…

Posted in Appears on main page, Immediately available to public, Phil's Favorites | No Comments »