by Zero Hedge - November 13th, 2019 10:33 pm
Courtesy of ZeroHedge
Somewhere Netflix and Amazon video are sweating.
Disney announced today that Disney+ has reached a stunning 10 million plus subscribers just 24 hours after its launch yesterday in the U.S., Canada, and Netherlands; the figure surprised analysts who had expected a much slower rollout for Disney to reach that level, although let's just ignore that most of the new "subs" are only there thanks to one of the various free streaming offers (perhaps someone should launch WeStream).
Separately, Apptopia reported 3.2 million mobile app downloads in the first 24 hours, with an estimated 89% of mobile downloads in the U.S., 9% in Canada, and 2% in the Netherlands. In just one day, users spent 1.3 million hours watching it, Apptopia said, more than Amazon.com Inc.'s Prime Video, but far less than the 6 million hours watched on Netflix.
"Disney should silence naysayers who expressed reservations about a pivot to streaming," said Geetha Ranganathan, a media analyst for Bloomberg Intelligence. "It took HBO Now about four years to reach about 10 million streaming subscribers."
That's just the beginning: on Nov. 19, Disney+ will launch in Australia, New Zealand, and Puerto Rico (Puerto Rico's launch was delayed one week) and will launch in Western Europe on March 31, 2020. While the service experienced first day technical glitches, this was likely due to high consumer demand which was ahead of management's expectations and not structural issues with the app.
At this fervent adoption rate, Disney could hit its target of 60 million to 90 million worldwide subscribers in just months, if not weeks, and certainly well before the company's original 2024 goal, according to Wedbush Securities analyst Dan Ives. This, of course is bad news for legacy streamers such as Netflix, which could see as many as 10% of its customers lured away to rival services such as Disney+ and one from Apple that launched earlier this month.
Commenting on Disney's stunning disclosure, JPM said that the steep ramp reflects a philosophy of "initial subscribers now; pricing later." Disney's willingness to debut its content-rich service at an attractive price point is leading to massive subscriber growth which will likely lead to pricing power later. To be sure, JPM noted questions arise regarding the ARPU despite
…

Posted in Appears on main page, Immediately available to public, Phil's Favorites | No Comments »
by phil - November 13th, 2019 8:21 am
Where do I begin?
The Index Futures are down about 0.5% as Trump once again puts a Trade Deal into doubt. Europe and Asia are down more like 1% so we might be just getting started or Trump could send out one of those "I was joking" tweets after he threatened China with more tariffs yesterday. "In the short term the market's been too optimistic. The best interpretation of the trade situation is that almost everything that can be tariffed has been tariffed," said Christopher Mahon, director of asset allocation research at Barings.
How come when he says it on Nov 12th, he's quoted in the WSJ but when I've been saying it for two months – no one notices? I have to get a better publicist – or A publicist….
Speaking of which, I guess I will have a better publicist as we move some of our Member Portfolios over to TheStreet.com starting with our Money Talk Portfolio, which kicks off this evening on BNN (Bloomberg Canada) at 7pm this evening. Through the end of this quarter, the Money Talk tab usually found on PSW will ALSO be found on TheStreet but, over time, they will get the exclusive on that and a couple of other portfolios as well as some PSW content (also a subscription).
We closed the old Money Talk Portfolio after two years with a 148.1% gain on Sept 18th as I didn't trust the upcoming quarter enough to risk the gains. Turned out I was premature in my worries (as I often am because I'm a worrier) but I'm still worried so we're going to start with a couple of conservative trade ideas and see how things go. The rule of the Money Talk Portfolio is we only do trades we announce on the show, once each quarter so it's a very low-touch portfolio using our options strategies to hedge the risk and lever our returns.
When closing down the MTP, I did make the following suggestion for a good use of our $124,042 of cash:
Our 2019 Stock of the Year is IBM (IBM) and
…

Posted in Appears on main page, Immediately available to public | Join Member's Chat - 108 Comments Here »
by Zero Hedge - November 12th, 2019 11:05 pm
Courtesy of ZeroHedge
It's time to finally put the entire "buyback blackout" myth to pasture.
Commenting on its client flows during the past week in which the S&P 500 closed up 0.9%, Bank of America clients were net buyers of US equities after a week of net selling. Both single stocks and ETFs saw inflows, marking the ninth straight week of ETF inflows.
Looking at the breakdown of client activity that crossed its trading desk, BofA writes that hedge funds were net sellers after buying for six weeks, while in a mirror image of activity, institutional clients bought for the first time after selling for six weeks. Meanwhile, retail clients remained net sellers for the sixth consecutive week.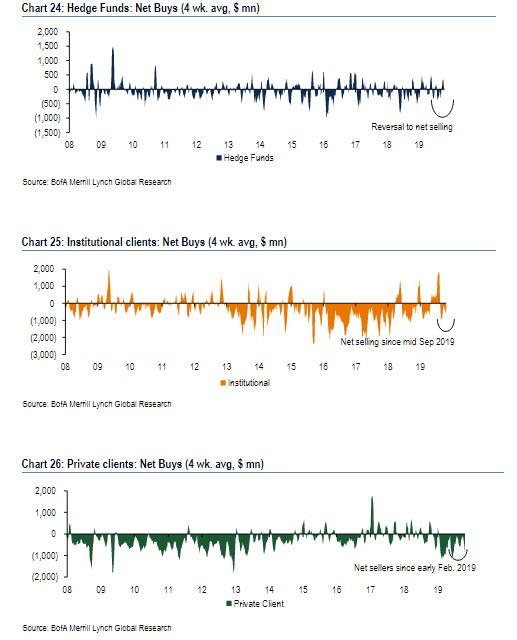 But what may come as a big surprise to those that still believe buybacks are mostly barred during earnings season is BofA's disclosure that corporate buybacks surged last week (last major week of reporting season) to their sixth-highest weekly level in BofA history. YTD, buybacks are +26% from the comparable period last year.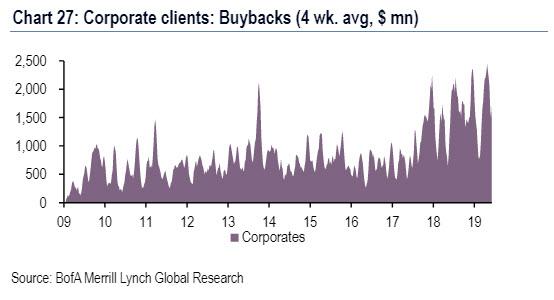 The bulk of buybacks in the past week was focused on large cap companies, with nearly $3 billion in large cap buybacks executed by BofA's desk.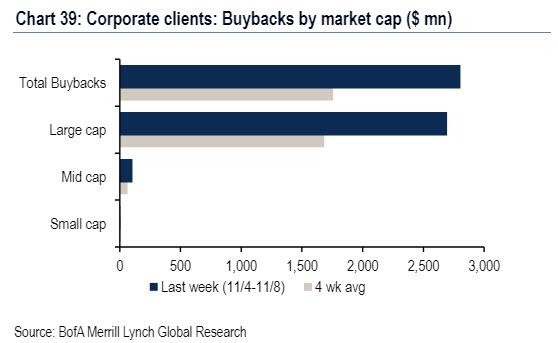 As for the industry that once again led the surge in buybacks, no surprise there: as has been the case for much of 2019, it was almost all tech, which engaged in the fourth-largest ever weekly stock repurchase on record, with a few banks thrown in for good measure.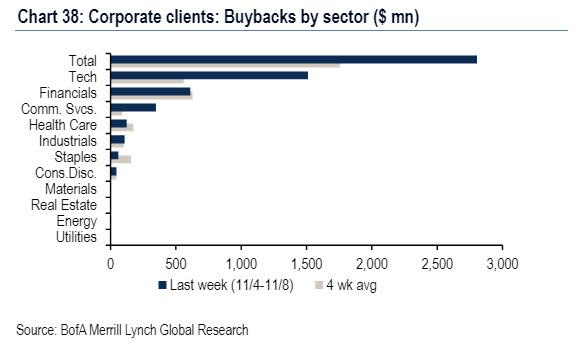 Last week's repurchase activity is merely a continuation of the buybacks announced over the past three months, which were also led by infotech and financial companies.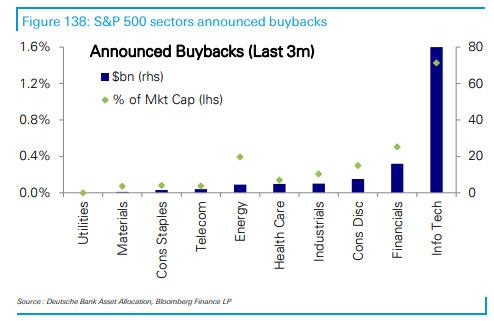 Yet as executed buybacks soared, buybacks announcements (which can take place at any time in the near future) dipped, although there was still a plethora of companies announcing they will buy back their shares.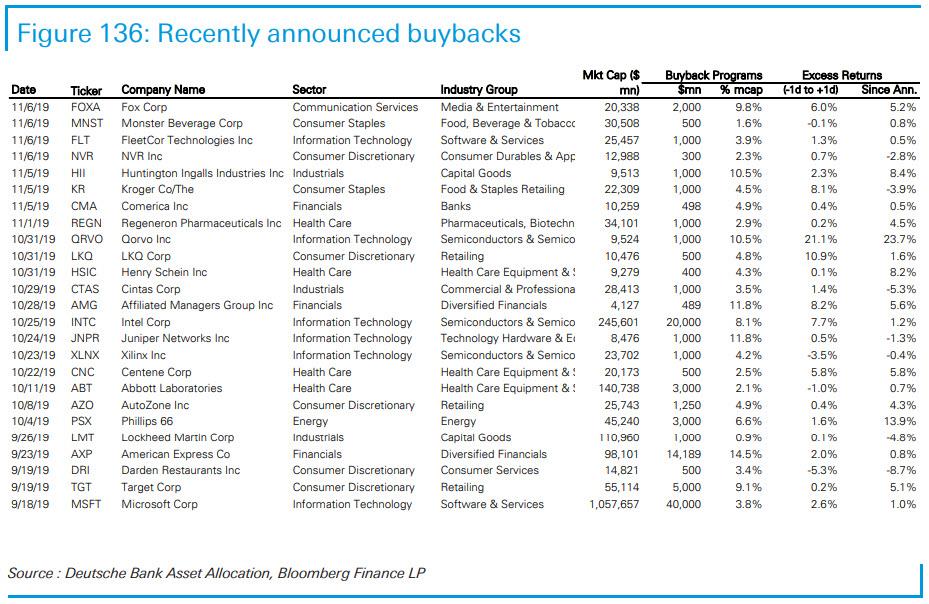 More importantly, while it is now clear that companies deploy buybacks even more aggressively during "blackout" period, the recent surge in stock repurchases probably explains why buyback-linked ETFs have been trouncing dividend ETFs.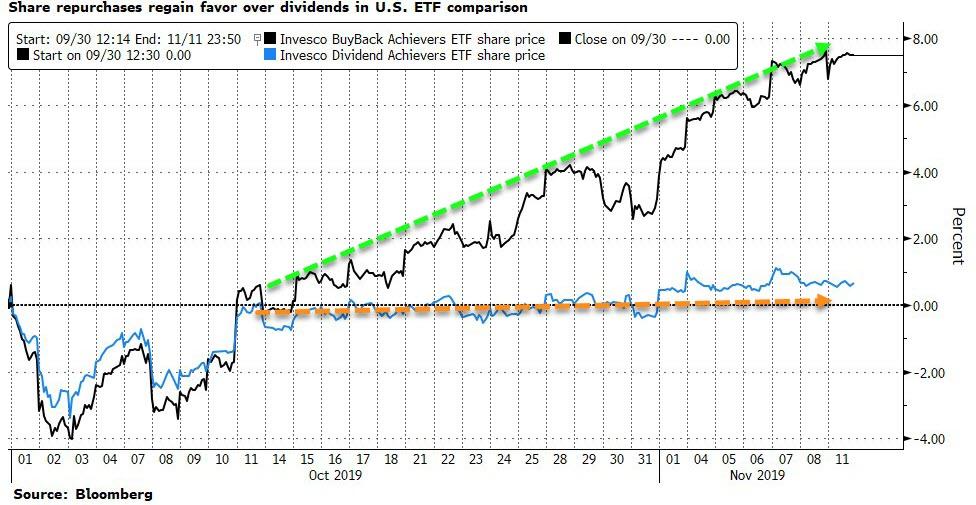 In fact the surge in stock repurchases may explain not just the impressive outperformance of buyback-linked ETFs, but why the market has continued to levitate despite the latest bout of violent momentum/value reversal, which any other time would have been sufficient to know the S&P500 several percent lower, but not this time.
Posted in Appears on main page, Immediately available to public, Phil's Favorites | No Comments »
by phil - November 12th, 2019 8:34 am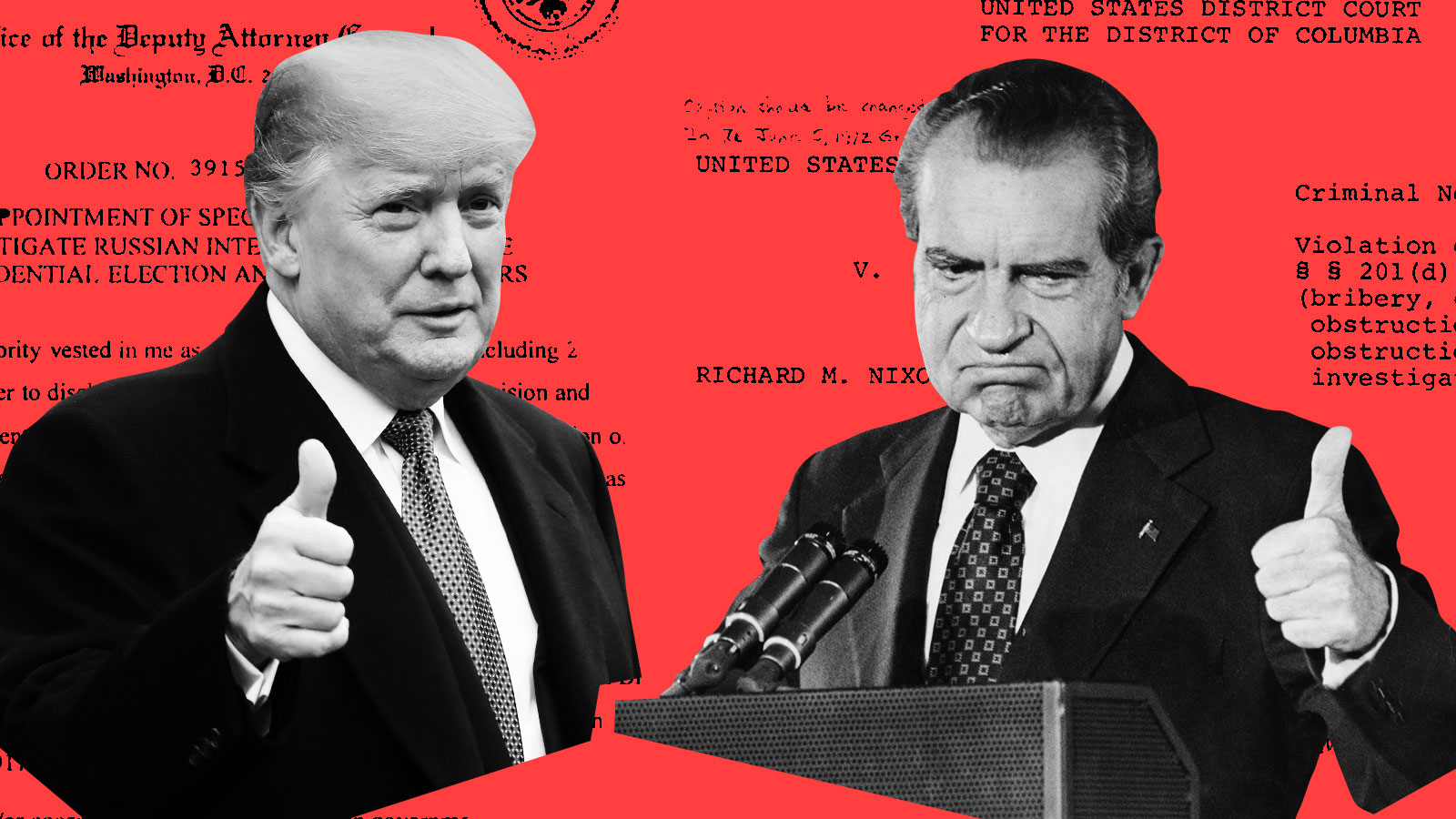 Here we go!
After months of nonsense, the public Impeachment Hearings finally begin next week and, just to be clear, this is just a show for the public because the witnesses have, for the most part, already testified in closed-door meetings and will now be asked to repeat the highlights of their testimony for public consumption. That's not a knock on the Democrats – that's just how these things work.
Later on, there will be fresh testimony from people closer to the top of the Trump Food Chain – as well as from people who are, even now, attempting to block being forced to testify so they can (hopefully) avoid being charged as co-conspiritors, enablers or traitors. During Nixon's impeachment, we had testimony from:
James McCord: One of the Watergate burglers who used to be in the CIA and the FBI. Security officer for the Committe to RE-Elect the President (CREEP). McCord wrote a letter to Judge Sirica claiming the defendents had pled guilty under pressrue and committed purjury. In January 1973, WH Security Liaison Caulfield had told McCord the White House would grant him clemency, money and a job if he accepted his prison sentence and didn't testify against members of the administration. When McCord relayed he had been offered clemency "from the highest levels of the White House" before the Senate Watergate committee on May 18, 1973, Nixon's ties to the efforts of the White House to break into Democratic National Committee Headquarters finally surfaced.
John Dean: Former WH Counsel pled guilty to obstruction of justice in Oct, 1973. Spent 4 months in jail. Barred from practicing law (as Guilianni will be), Dean became an author and does well as a guest and speaker post-Watergate.
HR Halerman: Nixon's Chief of Staff. A tape revealed the President discussing with Haldeman a plan to have the CIA divert the FBI from the probe because it involved national security. Haldeman resigned in April 1973 and was jailed for 18 months. Halderman went to work for David Murdock's Real Estate Company.
Alexander Butterfield: Nixon's Deputy Chief of Staff who revealed the existence of the taping system in the first place saying "When Don Sanders, the deputy…

Posted in Appears on main page, Immediately available to public | Join Member's Chat - 48 Comments Here »
by Zero Hedge - November 11th, 2019 7:05 pm
Courtesy of Mike Shedlock, MishTalk
As cars become more expensive, and trade-ins worth less and less, buyers go deeper in debt on new cars.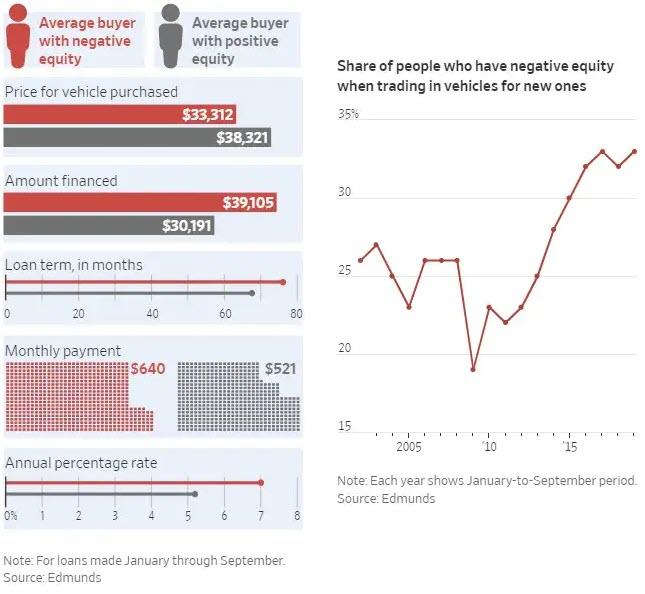 Please consider taking a $45,000 Loan for a $27,000 Ride.
Consumers, salespeople and lenders are treating cars a lot like houses during the last financial crisis: by piling on debt to such a degree that it often exceeds the car's value. This phenomenon—referred to as negative equity, or being underwater—can leave car owners trapped.

Some 33% of people who traded in cars to buy new ones in the first nine months of 2019 had negative equity, compared with 28% five years ago and 19% a decade ago, according to car-shopping site Edmunds.

Easy lending standards are perpetuating the cycle, with lenders routinely making car loans with low or no down payments that can last seven years or longer.

Borrowers are responsible for paying their remaining debt even after they get rid of the vehicle tied to it. When subsequently buying another car, they can roll this old debt into a new loan. The lender that originates the new loan typically pays off the old lender, and the consumer then owes the balance from both cars to the new lender. The transactions are often encouraged by dealerships, which now make more money on arranging financing than on selling cars.

"These aren't Rolls-Royces," said David Goldsmith, a lawyer who defends consumers in auto cases. "They're Ford Escapes."

Some 5.2% of outstanding securitized subprime auto-loan balances were at least 60 days past due on a rolling 12-month average during the period ending in June, up from 4.8% the year before and 4.9% two years before, according to Fitch Ratings.
Examples to Consider

The Journal cited the case of Mr. John Schricker who kept rolling over loans to the point that it took a $45,000 loan from Ally Financial Inc. to buy a $27,000 Jeep Cherokee.
Also consider the case of Yolanda Finley. She bought a bought a used 2011 Chevy Traverse with a loan of $25,585 from Santander Consumer USA Holdings Inc. in 2014. Finley could not afford the payment. Her car was
…

Posted in Appears on main page, Immediately available to public, Phil's Favorites | No Comments »
by phil - November 11th, 2019 8:33 am
Trade off!
Over the weekend we had a little setback in the trade negotiations as Trump said he has NOT agreed to remove tariffs on Chinese goods and that news came after Chinese markets had closed on Friday so this morning, the Shanghai Composite wwas down 1.8% and Hong Kong's Hang Seng dropped 2.6%.
Also in Hong Kong, tensions escalated even further this morning as the police opened fire on protesters while Hong Kong's Governor said the Govevernment won't "yield to violence." A man was also "set on fire" – apparently by the protesters. Around midday, crowds of office workers were seen fleeing clouds of tear gas filling the streets. Some rushed into the lobbies of buildings to seek shelter and poured water over their eyes to relieve the pain. Police made a number of arrests as people chanted abuse at them.
Combine that level of chaos in a densely packed city AND have the market start to collapse – that's a recipe for disaster and one of the main reasons we've been leary about re-committing our capital to the market. Chinese protests, however, also gave us our shorting premise on Booking.com (BKNG), as we discussed last week in our Short-Term Portfolio Review. We felt the earnings would be impacted by the protests – which have been going on all quarter and we got a nice dip in BKNG on earnings, leading to a massive $18,872 (19%) portfolio gain in just two days – your welcome!
Our BKNG spread is now up $34,600 out of $40,000 potential in just two months but the way we've set it up is to generate quarterly premium income selling puts and calls – and it's right on track to make us $40,490 this quarter alone so no, we're not going to be cashing in this one early – despite the massive gains. This is why I started Phil's Stock WORLD 15 years ago – Global Events matter, Politics matter – and most investing sites ignore them or only pay them lip service at best and ignore them at worst, while we find ways to profit from them instead!
We will be starting a brand new…

Posted in Appears on main page | Join Member's Chat - 52 Comments Here »