by phil - August 16th, 2018 9:31 am
Nice reversal!
The Dow is actually 100 points higher this morning than it was yesterday after falling 300 points at yesterday's lows. Kudos to Doug, our Hedge Fund trader at Capital Ideas, who actually said to me yesterday morning that "this whole thing can end the day with the Dow higher" – he was only off by 12 hours…
Our first attempt at going long, from the Morning Report, was a failure as we blasted through all those levels but what fantastic entries we got during the day, as noted in our Live Member Chat Room:
August 15th, 2018 at 10:37 am | (Unlocked) | Permalink

Indexes getting worse, not even going to attempt to go long again. Gold and silver way off too. /SI at $14.50, WPM getting killed so good time to sell the 2020 $20 puts for $3+.

/SI $14.40? Wow! /NQ just hit 7,340, that's down 120 for the day, about 1.5% so look for 25-point bounces to 7,365 (weak) and 7,405 (strong) but OUCH!

August 15th, 2018 at 11:18 am | (Unlocked) | Permalink

Huge 10MB build is very, very bad but note /RB had a draw so best bet to play at $1.99 but VERY DANGEROUS TRADE as the market is crazy at the moment and it's still more than two weeks to the holiday and we have a rollover in between.

We really want to play /RBV8, long which is Oct at $1.884 at the moment!

August 15th, 2018 at 11:32 am | (Unlocked) | Permalink

/KC/Palotay – Ugh, I forgot I have 3 long /KCN9 that are getting clobbered. Same as /SI though – great chance to get in at a cheap price ($114), if you can stand the pain.
…

Posted in Appears on main page | Join Member's Chat - 52 Comments Here »
by ilene - August 15th, 2018 7:48 pm
Apple's $1 trillion value doesn't mean it's the 'biggest' company

Courtesy of Jerry Davis, University of Michigan
On Aug. 2, Apple became the first U.S. public corporation to achieve a US$1 trillion valuation, making it the largest company in the world – by one measure at least.
A New York Times article proclaimed that this milestone "reflects the rise of powerful megacompanies" that control a large and growing share of all corporate profits. It also warned that this phenomenon might be contributing to stagnant wages, a shrinking middle class and rising income inequality, suggesting regulators may need to rein them in or break them up.
But what exactly defines a "megacompany"? And what would make it so powerful that it needs dismantling, like "Ma Bell" back in the 1980s?
As a scholar of corporations, I believe that if we want to understand – and regulate – big companies, it's important to be clear on the very different meanings of "big."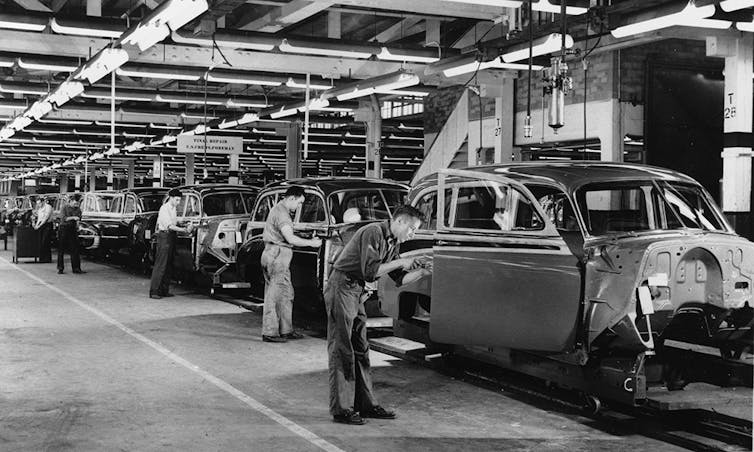 Yesterday's 'big'

When Fortune magazine first wanted to create a roster of America's 500 biggest corporations in 1955, revenue was the obvious way to think about size.
A "major corporation" was one that sold a lot of products. With almost $10 billion in annual sales, thanks to its 54 percent share of the U.S. auto market, General Motors topped Fortune's list that year.
But GM was also big in most every other way, including its stock market valuation or "market cap" (where it was No. 1), assets (No. 2, after AT&T) and employment (also just behind AT&T at 624,000). Indeed, for much of the post-war era the biggest corporations were big in every way, and market cap was very highly correlated with revenues, employment and assets.
Not anymore. The post-industrial corporation of today is often heavy on market cap but, like Apple, light on employment and hard assets.
Let's look
…

Posted in Appears on main page, Immediately available to public, Phil's Favorites | No Comments »
by phil - August 15th, 2018 8:21 am
Does our economy have a glass jaw?
We like to punch others but it doesn't look like we can take one as the Futures where KO'd with one punch as Turkey announced they would raise tariffs on US goods and boycott other goods like, gasp, iPhones which are, I think, 90% of the US economy. "For the sake of a pastor, they have come to the point of breaking relations with Turkey," Erdogan's spokesman Ibrahim Kalin told reporters in Ankara on Wednesday. It's not so much Turkey as the realization that ALL the other countries we are in a Trade War with (ie. ALL the other countries) may stop rolling over and start going on the attack against Trump and his bullying tactics.
Turkey is already benefiting from standing up to Trump with a 7% pop in the Lira this morning but it's still down over 30% against the Dollar this year, so nothing for them to celebrate over at the moment. The decree signed by Erdogan doubled Turkish tariffs on passenger cars to 120%, on alcoholic drinks to 140% and on tobacco to 60%. Tariffs were also doubled on goods such as cosmetics, rice and coal.
The United States was the fourth largest source of imports to Turkey last year, accounting for $12Bn of imports and, as noted yesterday, Turkey's GDP is $850Bn – so they really don't have that much to lose cutting off relations with the US while we desperately need their strategic location for NATO defense. In other words, it's another victory Trump has handed to Putin and Russia as we push Turkey out of NATO's arms and back to Russia – something that was competely unthinkable before Trump got "elected".
Hey, but at least there are no tapes (remaining) of Trump saying the "N" word over and over again on his Apprentice set because THAT would be bad, right? Not that it would matter, Trump would just spin it the way he's spinning the Russia investigation – relentlessly until people aren't sure what to believe anymore. Trump comes down on Omarosa for "changing her tune" about him after he's no longer paying her to say nice things, saying she has…

Posted in Appears on main page | Join Member's Chat - 131 Comments Here »
by ilene - August 14th, 2018 7:31 pm
We are guinea pigs in a worldwide experiment on microplastics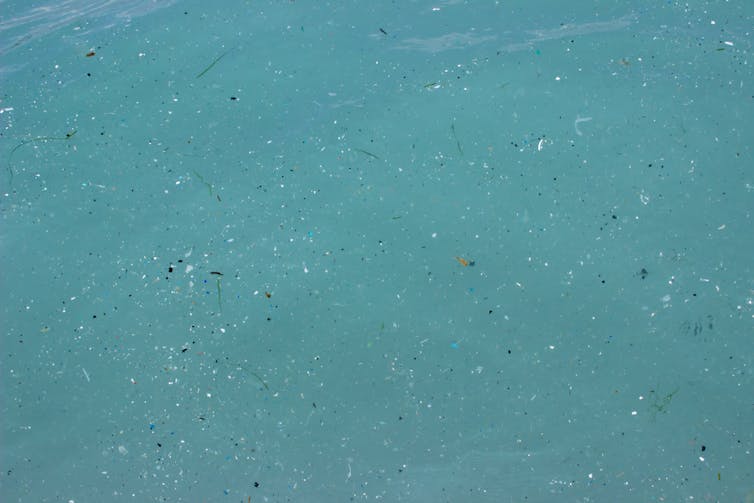 Courtesy of John Meeker, University of Michigan
One of the main problems with plastics is that although we may only need them fleetingly – seconds in the case of microbeads in personal care products, or minutes as in plastic grocery bags – they stick around for hundreds of years. Unfortunately, much of this plastic ends up as environmental pollution. We've all seen the gruesome images of a sea turtle killed by a plastic bag, or the array of bottle caps, toothbrush fragments, and other plastic items found in the stomach of an albatross carcass. But what about the tiny microplastics that aren't as readily visible?
Much of the hundreds of millions of tons of plastic waste in our oceans is made up of microplastics. These are defined as plastic beads, fibers or fragments with a diameter of less than five thousand micrometers (μm), equal to one-half centimeter. Nanoplastics are thousands of times tinier, with a diameter of less than 0.1 μm, and are also likely to be widely present. By comparison, a human hair ranges from about 15 to 180 μm across. Some of these microplastics are deliberately engineered like microbeads in a facial scrub. Others result from the break down of larger plastic items.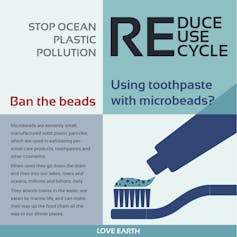 I'm an environmental epidemiologist with a research group that studies exposure to chemicals commonly found in consumer products, including plastics, and…

Posted in Appears on main page, Immediately available to public, Phil's Favorites | No Comments »
by phil - August 14th, 2018 8:21 am
Yet another meaningless Monday erased from history.
After all of yesterday's excitement, the Futures have taken us right back to where we finished on Friday, 2,832 on the S&P 500 and 25,300 on the Dow – as if yesterday never happened. I'm not sure it will last as Europe is flat, not up and China was down yet again this morning so there's nothing really to get too excited about and 25,300 is a good shorting line on the Dow Futures (/YM) with tight stops above – if you feel like playing.
We felt like playing yesterday as Gasoline (/RB) dipped down to the $2 line and Oil (/CL) fell to $66 and I said to our Members at 1:48 in our Live Chat Room:
Wow, Oil etc went down hard and fast, good chance to get back in for the bounce off $66 on /CL and $1.99 on /RB (tight stops below).
I know, so complicated, right? How will you ever learn the jargon? Well, I would think our results would motivated you as those Gasoline contracts made a quick $1,000 each at $2.02 (and back to $2.05 this morning for another $1,260 per contract since) while Oil Futures (/CL) blasted back over $68 for a $2,000 per contract gain ($67.50 in yesterday's close was $1,500 per contract – also very nice!
Futures trading is the only kind of day trading I like to do as it's a nice quick way to take advantage of market stupidity without incurring a lot of trading fees and, more importantly, without consuming your attention. As Fundamental Investors, we KNEW $2 was too low for /RB (that did not stop it from hitting $1.98, of course) and we KNEW $66 was too low for oil with 2 weeks until a holiday weekend so it made good sense to take a chance at those levels and notice we waited until AFTER it bottomed – you don't get rich trying to call exact bottoms or tops in the Futures!
As I was saying in last week's webinar,…

Posted in Appears on main page, Immediately available to public | Join Member's Chat - 121 Comments Here »
by ilene - August 13th, 2018 9:08 pm
Cheri Jacobus talks about the GOP, Russia, the media and taking back Congress.
Interview with Ilene at Phil's Stock World
Cheri Jacobus is a widely known political consultant, pundit, writer and outspoken former Republican. She has been a guest on CNN, MSNBC, FOX News, CBS.com, CNBC and C-Span. After many years working with the GOP, she has a unique view of the party and politics. Cheri shares her insights on today's political environment with us.
Ilene: What are the main factors that have transformed the Republican Party into what it is today?
Cheri: Right-wing media and evangelicals softened the GOP, making it quick to sell out to Trump. I witnessed the change in FOX as it morphed from being a fresh, scrappy effort with what was then a needed voice in a sea of liberal media, to a completely dishonest, manipulative, corrupt enterprise both on and off the air. And right-wing evangelicals (not to be confused with legitimate Christians) drowning in Trump-backing hypocrisy stems from ignoring the line between church and state, spouting propaganda from the pulpit.
Ilene: What do you mean by "softened"?
Cheri: Methodically dumbing down, requiring little fact-checking or thoughtful debate, so that the Machiavellian establishment was quick to sell out – no questions asked. It was made easy for them.
Ilene: It seems to me that Trump supporters and Trump critics live in different worlds. How did this happen?
Cheri. While Trump supporters know about some of Trump's tweets, they learn about them through the filter of right-wing Trumpian media, and never hear the fact-checking or push-back. Trump supporters live in an information vacuum but don't know it. They are not on Twitter, by and large (although we know there are millions of fake Trumpkins on Twitter as trolls and bots). The "fix" is having real media be consistent, clear, repetitive and never let up reporting the truth about Trump.
Ilene: What are the Democrats' odds of winning the House and/or Senate in 2018?
Cheri: Very good, but not the slam dunk many believe, unless Mueller comes down heavy before that. And, given the media blackout of all negative news on Trump in some corners, many voters will not get the full picture. A daily diet of FOX, Trump right-wing radio and disinformation from the pro-Putin Breitbart, Daily Caller and the mysteriously-funded…

Posted in Appears on main page, Immediately available to public, Phil's Favorites | No Comments »