I almost slipped and bought into the SPAC Renaissance. Almost.
Draftkings looks legit. But Draftkings could have been a true IPO. The SPAC wrapper was beside the point. Chamath and Ackman will probably do something legit, those guys usually find a way to win. Maybe a few others. The rest are / will be garbage. My first impression was right.
Nikola's stock has now fallen from near 100 down into the 20's as the guy's whole story has unraveled. Then the guy stepped down and ran away. None of this had to happen. But Nikola arrived on the markets as the quarry of a Special Purpose Acquisition Vehicle and the hype drowned out the diligence.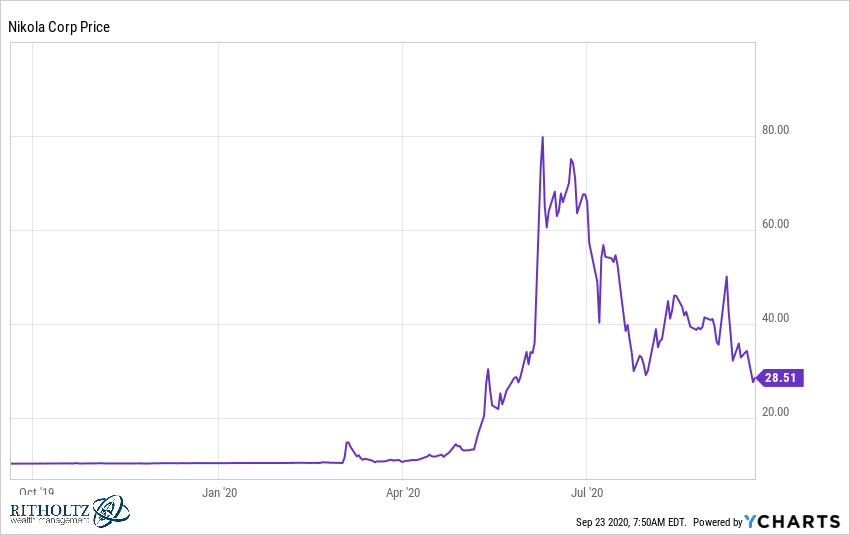 In a traditional IPO, you go public by crisscrossing North America (and sometimes Europe and Asia) sitting in front of investment bankers, syndicate personnel, pension fund managers, mutual fund portfolio managers, investment committees, NYSE and Nasdaq exchange officials, family office CIOs and hundreds (sometimes thousands) of other intelligent, skeptical, well-trained professional investors to explain your business. It's called a roadshow and it's f***ing grueling. It should be grueling. That's the point. It's called vetting.
By selling your company to a SPAC and then taking over an empty shell that's already public, you skip most of this experience. You only need to convince one investor instead of thousands of investors to fund you. And that one investor – the guy who raised capital in the SPAC – he wants to believe! It's the opposite of vetting.
The vetting takes place post-deal, when the stock market has its chance to tell you what you really are. It can be a very violent public bloodletting. For Nikola it certainly was.
I wonder if NKLA would have made it through a traditional IPO roadshow. Maybe, but as a small cap IPO from a third-tier brokerage firm. It reminds me of some of the deals I've seen placed in my bucket shop days. But in the Big SPAC Era they got the red carpet treatment right away. Never paid any dues. Never had to convince more than a few people that they were legit.