by phil - June 18th, 2019 8:30 am
More free money!
This is why Goldman Sachs put Mario Draghi in charge of the European Central Bank (ECB) – exactly for a moment like this when they need to boost the US markets and this statement couldn't have been timed better – just ahead of the start of the Federal Reserve's 2-day meeting that will lead to a policy announcement tomorrow at 2pm. Draghi said the ECB is "ready to launch another round of stimulus" as inflation remains below targets.
That target is, of course, 2% and if we were over 2%, they would be raising rates to fight it so the entire process is ridiculous but the most ridiculous thing is basing your entire monetary policy on a singly, unreliable data-point. Of course, the inflation target is just an excuse because, over or under, we've seen Central Banksters call it "transitory" – meaning they will totally ingnore it when it suits them. In this case – the Masters want to see all-time highs in the markets – so low inflation is our #1 excuse to jack up the markets.
Low rates aren't free – taxpayers subsidize the wealthy by artificially reducting rates through Government Debt (where the wealthy lend the Government money to subsidize their rate cuts) and we are being forced to do this (year 10) in order to force the prices that we pay to go unnaturally higher (in order to increase Corporate Profits so the wealthy can have more money). Are you beginning to see a pattern here? It didn't take long for the Oligarch-In-Chief to weigh in on the subject:
…

Posted in Appears on main page, Immediately available to public | Join Member's Chat - 70 Comments Here »
by ilene - June 17th, 2019 3:34 pm
Inducing consumer paralysis: how retailers bury customers in an avalanche of choice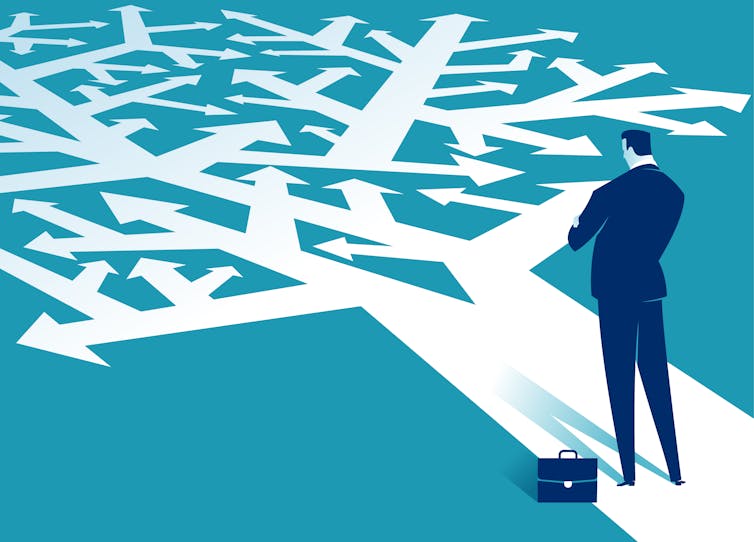 Courtesy of Robert Slonim, University of Sydney
Do you think you are paying more than you should for energy, banking, insurance, internet and phone services? You are not alone, and you are probably right.
Companies offer a growing number of deals that supposedly enable you to choose what is best for you. Every basic economics textbook tells us greater choice should deliver cheaper prices. But in reality this isn't necessarily the case.
So what's going on?
A big part of the answer is that businesses are taking advantage of the behavioural phenomenon of "consumer paralysis" to maximise profits.
They provide us with many plans and deals to make us feel like we are in control, but too many choices actually leads most of us to make a bad (or no) choice.
Energy pricing

Let's consider how this works in the context of Australia's electricity market.
In most areas of the country, residential customers have at least half a dozen retailers to choose from.
---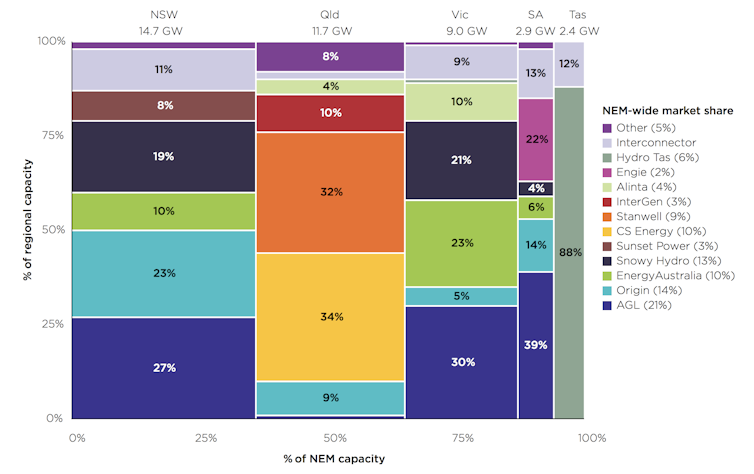 ---
Nonetheless, according to the Australian Consumer and Competition Commission, electricity prices and profit margins are among the highest in the world, and rising. The consumer watchdog calculates that in the decade to 2018 the average residential electricity bill increased by 55% (or 35% in real terms) – and only a very small part of that had to do with alleged culprits such as renewable energy.
Australia's biggest electricity company, AGL, made a net profit of A$1.6 billion in 2018 – 194% more than the year before.
---
---
Depending on where you live, AGL offers up to 11 energy plans to residential customers.…

Posted in Appears on main page, Immediately available to public, Phil's Favorites | No Comments »
by phil - June 17th, 2019 8:35 am
We're wating on the Fed.
We have "the greatest stock market in history" and "the greatest economy in history" with "record employment" but, if the Federal Reserve doesn't lower rates below the current 2.5% they have set – it will be "a disaster". Clearly, to any rational person, something must wrong with those statements existing at the same time but they all come from our President's lips and far be it for me to call Donald Trump a liar – so I guess we just have to accept that it's all true.
30-Year Fixed Mortgages are still 3.5-4.0% yet Home Sales are still trending lower and that's impacting a lot of high-paying construction jobs which, in turn, impacts the materials industry and even banking, as less people look for loans to buy homes and then the Durable Goods crowd can't sell washing machines, refrigerators, couches and TVs and there's less hardware and paint sales, etc., etc.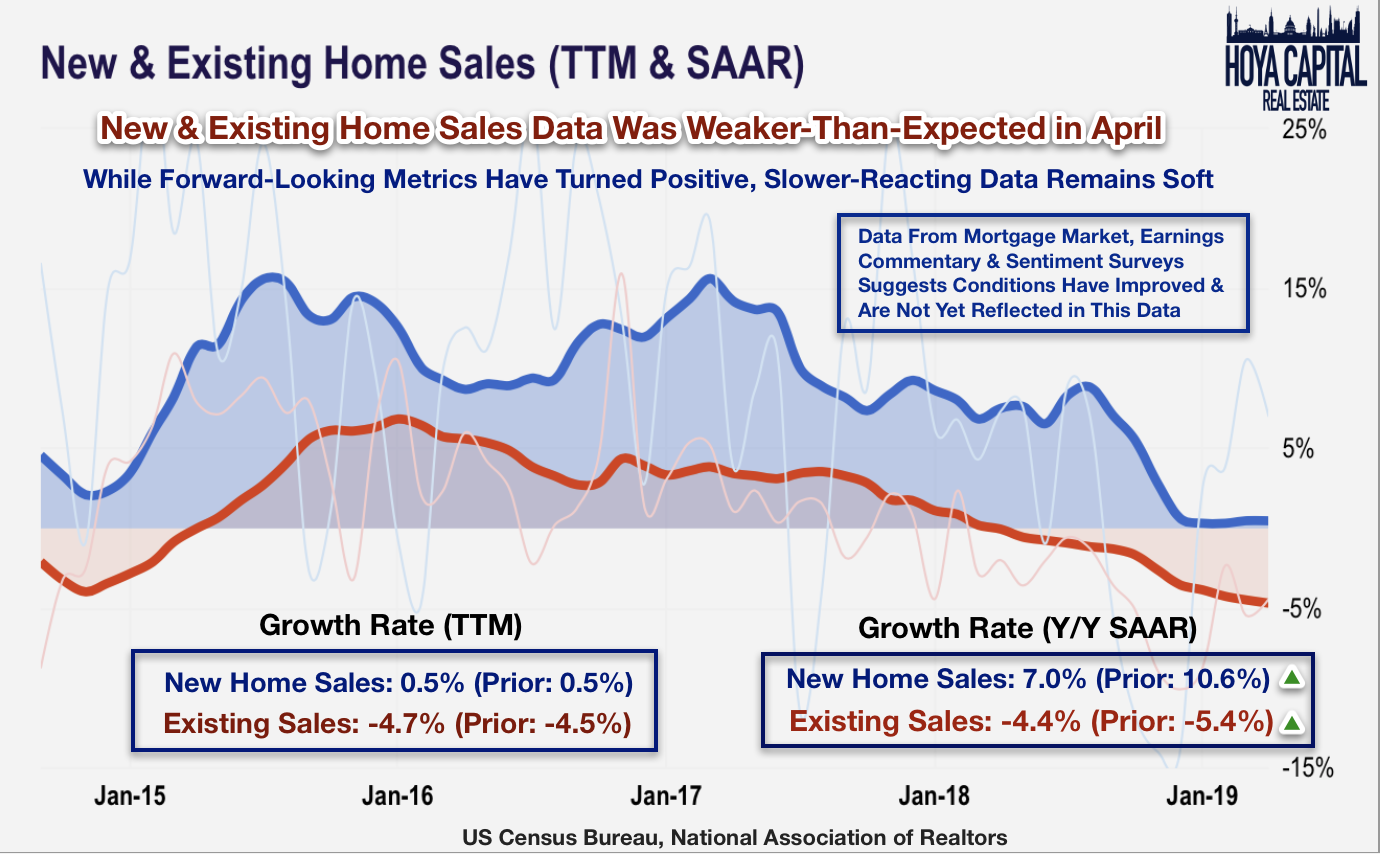 Housing, as always, is a major driver of the economy and it's kind of hard to ignore it when it begins to falter – but that's exactly what the market is doing at the moment. This is where the panic is coming from as even a 1% rise in rates last year has caused a 10% decline in housing activity and we NEVER came close to getting back to our pre-2008 levels in the first place.
What Trump doesn't understand is that, for the average American, low rates aren't enough to get them to invest in real estate. You can't "take advantage" of low rates on homes you can't afford and very few Americans have $50,000 to plunk down on a $250,000 home – not that there are many $250,000 homes left anymore anyway. Not only that but Property Taxes have risen out of control and Trump has limited their deductability – making the rises much harsher and not many people in the bottom 90% have tax lawyers to get them out of paying their share.
As you can see from this fairly typical example from King…

Posted in Appears on main page, Immediately available to public | Join Member's Chat - 71 Comments Here »
by ilene - June 17th, 2019 3:45 am
Courtesy of John Mauldin, Thoughts from the Frontline
Last week we started a mini-series in the form of an open letter responding to a series of essays by Ray Dalio, the founder of Bridgewater Associates. I wrote that he was kinda, sorta wrong in Why and How Capitalism Needs to Be Reformed, Parts 1 and 2 but really, really wrong in It's Time to Look More Carefully at 'Monetary Policy 3 (MP3)' and 'Modern Monetary Theory,' in which he basically endorsed MMT. Today I continue my response.
As I noted, Ray has done us all a service by pointing out some rarely-mentioned elephants in the room (some tinged with pink). We discuss various parts but seldom the entire creature. By that, I mean the rapidly growing potential for "progressive" control of both Congress and the White House. This stems from frustration over differences between haves and have nots, between the protected and unprotected, combined with a fascination for government solutions to our society's perceived ills.
Last week, I basically agreed with Ray's analysis of US income and wealth disparity. It obviously exists. The question is what, if anything, can we do about it? I think this is an important conversation, not just between two people but throughout the entire nation. The answers will make a huge difference to both our society and our children's futures. Not to mention our own futures.
And if the response from my readers is any indication, you are also passionate about this conversation. Last week's letter generated many long, thoughtful reader comments. Clearly, it is not just Ray and I who are worried about the country's future direction. I find that encouraging. A national conversation is precisely what we need in these serious times.
So let's pick up where we left off last week.
…As you can see, I really agreed with almost all of Part 1of your essay. In Part 2, I begin to see things a little differently, especially your suggested actions.
I am going to quote somewhat liberally from Part 2, primarily some portions you put in bold thus highlighting those points. They…

Posted in Appears on main page, Immediately available to public, Phil's Favorites | No Comments »
by Zero Hedge - June 15th, 2019 11:00 pm
Courtesy of ZeroHedge
Colorado has passed another major marijuana milestone, surpassing $1 billion in state revenue since it legalized the drug in 2014.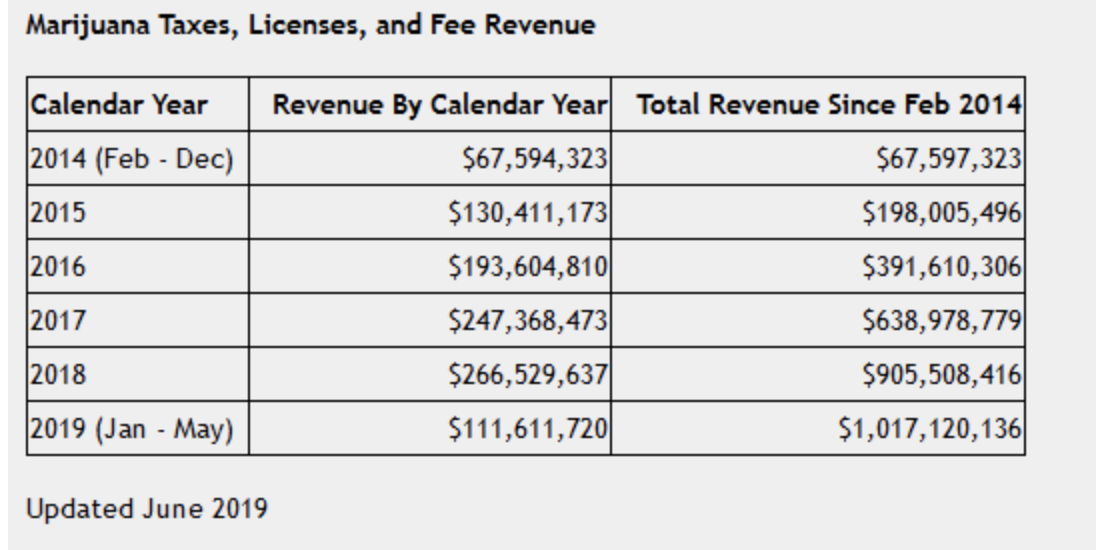 Source: Colorado.gov
Up to May of this year, Statista's Niall McCarthy notes that the state has seen more than $6 billion in total marijuana sales since the industry was given the green light.
You will find more infographics at Statista
According to CNBC, Colorado now has 2,917 licensed marijuana businesses and 41,076 people licensed to work in the industry.
As SafeHaven.com's Alex Kimani notes, marijuana companies face a pretty hostile tax environment.
First off, they are not allowed any tax deductions or credits for business expenses which can mean effective federal tax rates of as high as 90 percent. Hemp producers are luckier since recent changes to the law now allows them to deduct ordinary business expenses for tax purposes on condition that their products contain no more than 0.3 percent THC.

Second, most banks and financial institutions will not touch them with a 10-foot pole, meaning they have to pay their taxes in cash and not through checks or electronic means.
Yet, they continue to tough it out, making an important mark where they are officially recognized. According to the Tax Policy Center, states with marijuana taxes are obligated to put a portion of their funds toward important social programs ranging from education programs in Colorado and Nevada to administrative costs in California and crime reduction in Alaska.
Luckily, the IRS is trying to get a handle on the situation and hopefully, cannabis companies will soon be able to enjoy the same benefits that other industries take for granted.
Posted in Appears on main page, Immediately available to public, Phil's Favorites | No Comments »
by ilene - June 14th, 2019 8:48 pm
Scientist, technology consultant and best-selling author, David Brin explores the topic of conspiracies theories and how to avoid being sucked into them. He shares his "coping mechanism" and the questions he asks himself when evaluating stories to see where they fall on the continuum betwen total garbage, half-truths, and plausible accounts of actual events.
For David's latest posts, visit the Contrary Brin Blog. For his books and short stories, visit his website.
Courtesy of David Brin, Contrary Brin
Travel anywhere in the world, visit a bar, pub, barbecue or someone's home or hut for dinner, and you'll find one topic easy to spark: conspiracies. No matter what the nation, tribe or ethnicity, people will quickly and gladly rail about some group grudge and how "people like me" are being put upon by conniving adversaries who are simultaneously evil and almost-supernaturally clever.
And always: "The world may be filled with fools who believe the cover story. But not me and my brave, insightful and savvy folk. We can see right through to the truth!" And naturally, those foes flatter themselves in exactly the same way, viewing everyone else – including you – as either patsies or diabolical plotters.
Ah, humans. Should we be known as Homo credens (one of you suggested), the credulous ape?
Read texts from olden times and see the same pattern across time. No wonder the age of science seems threatening to many, whose favorite fantasies might shrivel under the light of evidence. I wrote The Transparent Society in hope that more open and reciprocal accountability might show us what is true, rather than what feels so-satisfying to believe.
Alas, there truly are conspirators in this world! Moreover, they have developed a great technique to distract from their nefarious plots — by helping spread a stinging miasma of paranoid ravings – made up or inflated stories that genuine schemes can hide behind.
(See it illustrated in this stand-alone scene from Existence.)
Indeed, while you'll admit that this seems true, the last thing you will contemplate is that your favorite conspiracy might be part of that disinformation-distraction fog.
Posted in Appears on main page, Immediately available to public, Phil's Favorites | No Comments »