by ilene - January 17th, 2020 10:05 pm
Courtesy of Michael Batnick
Josh and I spoke recently about the slow grind higher, the lack of volatility, and all the recent stock market records. The very first response in the comment section was, "market overdue for a pullback."
This seems to be the prevailing narrative and I gotta be honest, I agree. I'm just as surprised as anyone that the market keeps grinding higher.
Here are a few data points, by way of the S&P 500.
The index has closed within 2% of the all-time high for 68 straight days
The index has gone 70 days without a 1% decline, the sixth longest streak over the last 20 years.
87% of stocks are above their 200-day moving average
The S&P 500 is currently 11% above its 200-day moving average.
Rather than relying on our collective intuition that we're due for a pullback, I wanted to look at what the data said. For this analysis, as a measurement of stocks being over extended, we looked at the S&P 500 when it was 10% above its 200-day moving average.
Before we go any further, there is nothing particularly special about the 200-day. We (Nick) also looked at the 50 and 100-day and they all told the same story. The chart below shows when the S&P 500 has been more than 10% above its 200-day moving average.
You'll notice a few things right off the bat. This sort of thing, when stocks are extended, tends to happen at all-time highs and in deep drawdowns. The latter might be counter intuitive but think about huge bounces off the lows, like the GFC for example. By September 2009, the S&P 500 was 20% above its 200-day moving average even as it was sat 32% below all-time highs.
Since 1950, when the S&P 500 is at least 10% above its 200-day moving average, 59% of the time it was within 2% of its all-time high, and 13% of the time it was in a greater than 20% drawdown.
You can…

Posted in Appears on main page, Chart School, Immediately available to public, Phil's Favorites | No Comments »
by phil - January 17th, 2020 8:30 am
Will this rally ever stop – or even pause?
We've already added 400 points this week and, as you can see from the chart, almost the entire move came at the open yesterday and Wednesday and this morning the Dow (/YM) Futures are up another 66.6 points (0.25%), capping off a 1.5% move higher for the week (if we hold it). It's a bold move into earnings season, as it will be very hard to justify these price increases for the average component but we'll just have to wait and see as this rally shows no signs of slowing – despite all logic.
I know no one wants to hear about boring old macros but, while we were sleeping, China announced that their economy was growing at a 30-year low 6.1% as Trade, Investment, Consumer Spending and Business Confidence all come under pressure. The country also faces longer-term stresses like an aging population, which was highlighted by Friday data showing births had fallen to their lowest level since 1961. Nomura economists calculate the trade war, coupled with slower global growth, shaved one percentage point off China's 2019 GDP figure.
Nontrade factors, too, weighed on sentiment, including mass protests that roiled next-door Hong Kong for more than half a year, clouding the business outlook and drawing global attention to the risk of social unrest in the authoritarian nation. Shenzhen's celebrated technology sector, including hometown companies like telecommunications equipment maker Huawei Technologies Co. and drone maker SZ DJI Technology Co., is facing new scrutiny from the U.S. and elsewhere.
Despite the slowing growth, trade issues and 6 months of protests in Hong Kong, the Shanghai Composite Index rose 22% last year because – why not? – everyone else is ignoring the macros, why shouldn't Chinese Traders too?
Increasingly, Chinese industrial prices have also headed downhill in a sign of weak demand, and producer prices overall last year fell 0.3%. Car sales slumped 8.2% in 2019, while consumers – whose incomes expanded slower than the economy at 5.8% – were squeezed by pricey pork and an upward creep in crude oil. In cities like Shenzhen and Shanghai, office vacancy rates are solidly in the double-digit percentage points as companies quietly downsize. Property is a…

Posted in Appears on main page, Immediately available to public | Join Member's Chat - 115 Comments Here »
by clarisezoleta - January 16th, 2020 3:03 pm
For LIVE access on Wednesday afternoons, join us at Phil's Stock World – click here.
Major Topics:
00:01:54 – Checking on the Market
00:03:22 – Petroleum Status Report
00:10:40 – Trading Techniques
00:13:18 – XLE | OIH
00:15:11 – Butterfly Portfolio Review
00:28:34 – AAPL | Yahoo Finance
00:45:59 – IMAX
00:55:01 – More Trading Techniques
00:57:21 – GM | F | HMC | TM | NSANY | DDAIF
00:58:33 – TSLA
01:04:35 – More Trading Techniques
01:05:17 – TM
01:10:40 – Northern Dynasty
01:19:59 – FED Beige Book
01:28:32 – AAPL Premiums
01:34:44 – Portfolio Reviews
Phil's Weekly Trading Webinars provide a great opportunity to learn what we do at PSW. Subscribe to our YouTube channel and view past webinars here. For LIVE access to PSW's Weekly Webinars – demonstrating trading strategies in real time – click here to join us at PSW!
Posted in Appears on main page, Immediately available to public, Phil's Favorites | No Comments »
by phil - January 16th, 2020 8:25 am
Wheee, what a ride!
Tesla stock hit peak stupidity Tuesday at $550 per share in mid-day action but it finished the day at $530 and, this morning, we're down to $500 after I ranted about it in our Weekly Webinar (we are short TSLA). No, I don't think I caused it – I think Tesla, having kissed a $100Bn market cap, had a run-in with reality two weeks ahead of an earnings report that will theoretically show them making $150M for the Quarter (though I think they miss), which is still a run rate of $600M for 2020 or 1/166.6 of $100Bn.
Even if you assume amazing growth on the top and bottom line, it will be 2025 before you could concievably be close to justifying $100Bn – even if every Musk fanboy's wildest fantasies come true. I REALITY though, there ARE real, live other car companies and real, live other battery companies and real, live other solar panel makers who run real, live businesses with real, live profits and NONE of them come close to the kind of valuations given to TSLA who, so far, have proven to LOSE money in all 3 of those ventures.
See – I'm still ranting. These guys just annoy me!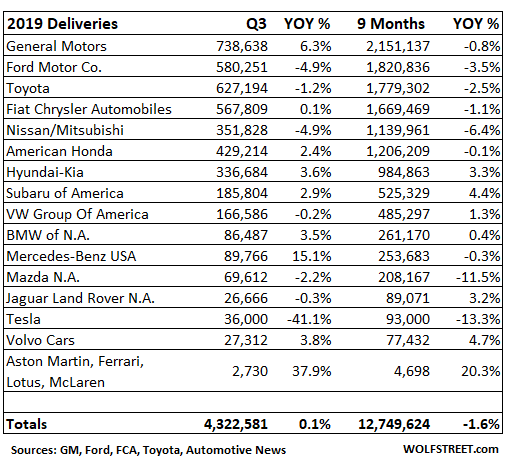 I mean, seriously, TSLA is delivering about 100,000 cars in Q4 and about 350,000 cars for the year while Nissan delivers 350,000 cares PER QUARTER – and they are in 5th place in US Sales (where Tesla only sold 36,000 cars as the rest are global sales). This is part of the problem traders have as they don't differentiate numbers when they hear about Tesla's "amazing" market share. It's not amazing at all – it's only slightly better than Volvo in the US and, internationally, Volvo kicks their ass!
Yet TSLA is now valued twice as high as all of them, except Toyota (TM) at $200Bn, perhaps because they sell more than 50 TIMES more cars than TSLA in the US and 100 TIMES more cars than TSLA world-wide or maybe it's because TM MAKES $20Bn a year while TSLA loses $1Bn. JUST the Prius sold 500,00 units in 2019 – mostly to Uber drivers...
Nonetheless, TSLA is just our poster…

Posted in Appears on main page | Join Member's Chat - 92 Comments Here »
by ilene - January 15th, 2020 11:13 pm
Apple's share price has doubled, but there is a crunch coming – investors should watch out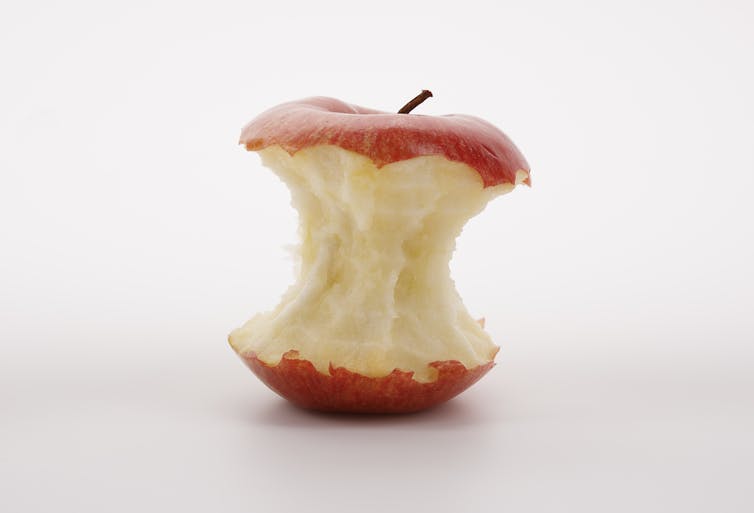 Courtesy of Arturo Bris, International Institute for Management Development (IMD)
Apple shareholders must be extremely happy with the company's performance in the past 12 months. The stock price is up 111% since the end of 2018, not to mention the US$3 (£2.31) per share that the company has paid in dividends over the period. While Apple's full-year 2019 results will not be released until later in January, it generated operating income of US$15.6 billion in the third quarter of the year. That translates to about US$60 billion a year, or about the same size as the economy of Luxembourg.
If you had invested US$100 in Apple at the beginning of 2019, you would have more than doubled your money in just one year. But we also need to look at this from the other side of the market. New investors must now pay over double the price they would have paid for Apple shares one year ago.
This depends on what I call the stupid investor theory. This states that for a short-term investor to profit from buying these shares at the start of 2019, they must be able to sell their shares to a "stupid" investor now that they have appreciated in value. This buyer will be forward-looking, probably short-termist as well, trading on the expectation that they will find a third "stupid" investor later willing to pay an even higher price.
The important thing to take away is that this cannot go on indefinitely. And as we shall see, there is a reason why it probably can't go on for much longer at all.
Shooting stock, profits plunging

To see how long this pattern can hold, we need to assess whether Apple's performance is sustainable. When you compare the last four quarters' operating income – from fourth quarter 2018 to third quarter 2019 – with the previous four, you're looking at a fall of 10%. Over the same period, the company's revenues dropped by more than 5%. The main culprits were falling sales of iPhones, in a…

Posted in Appears on main page, Immediately available to public, Phil's Favorites | No Comments »
by phil - January 15th, 2020 8:37 am
Today is the day!
Trump will sign a deal today (11:30) with China that puts off the new tariffs he threatened them with until "after the election" and China agrees to buy $200Bn in US Goods and Services over 2 years, which is double their normal pace so, in theory, it could add 0.5% ($100Bn) to our GDP, assuming we actually produce more Goods and Services and don't just end up selling China things we would have sold to someone else. Boeing (BA) has several hundred grounded 737s China can have – that's a good start!
It's onlly a start though as the deal does not address Cybersecurity or China's tight controls over how companies handle data and Cloud Computing. China rejected American demands to include promises to refrain from hacking American firms in the text, insisting it was not a trade issue. The Chinese have also rebuffed requests for broader changes to the structure of their economy. That includes a pattern of subsidizing and supporting key industries, like solar and steel, that American firms say have allowed China to dump cheap products it makes into the United States.
In the interim, the remaining tariffs will continue to inflict financial pain on American businesses that rely on Chinese imports and the consumers who buy their products. Is that going to be good enough to continue to boost the market or will the reality of the trade deal's mediocrity begin to weigh on forward-looking sentiment. Pay close attention to Corporate Guidance, now that they are taking the signed deal into account.
Earnings have been going well so far but Goldman Sachs (GS) missed this morning by almost 20% – that was a surprise. BAC, BLK, PNC, USB and UNH all beat along with WAFD last night and only WFC screwed up yesterday so it's so good, so far in the Financial Sector but, of course, shouldn't it be with the market up about 30% in 2019 and up another 2% in the first two weeks of 2020?
The Producer Price Index came in weak this morning at 0.1%, half of what was expected and that indicates that, despite "strong" retail sales, the Consumers are unwilling…

Posted in Appears on main page | Join Member's Chat - 118 Comments Here »