by phil - March 5th, 2021 8:32 am
10M jobs.
That's how many jobs we need to make up just to get back to where we were, which still wasn't full employment. Let's say those 10M people made an average of $50,000 per year so that's $500Bn in wages lost and wages are generally less than 1/3 of revenus so that's $1.5Tn (7.5%) of our $20Tn economy still lost in the pandemic, reflected JUST in those 10M wageless people. Add that to the overall slowdown in the rest of the economy and you can see why "maximizing employment" is what the Fed is all about. The economy is all about putting people to work and I know you are trained to think PRODUCTIVITY will save us but Q4 productivity was DOWN 4.2% – the worst drop in 39 years (1981).
Hours Worked for those who still have jobs were down 10.1% from Q4 2019 but Unit Labor Cost was UP 6%, meaning it was costing more money to get the same amount of productivity from the workers. Why is that? Working at home is slightly less efficient and the supply chain is a total disaster, which causes parts and material shortages so, if you show up at the factory to make a car but there are no tires…. well, you are not going to be as productive, are you?
Of course, it doesn't have to be a whole tire that stops you from making a car, just missing a lug nut or that little thing where you put the air in can stop you from making the whole car. Right now it's chips that are causing the biggest problems across many industries – you can't make most products without microchips these days. So the whole World has to be healthy in order for our economy to be healthy – just putting America First doesn't get you into first place.
Looking at the Boeing plane, for example,…

Posted in Appears on main page | Join Member's Chat - 71 Comments Here »
by clarisezoleta - March 5th, 2021 2:27 am
For LIVE access on Wednesday afternoons, join us at PSW!
Phil's Stock World's Weekly Webinar – March 03, 2021

Major Topics:

00:00:01 – Checking on the Market
00:01:27 – Crude Oil WTI
00:04:52 – Nasdaq 100
00:06:13 – STP
00:08:01 – TZA
00:10:41 -LTP
00:11:49 – SKT | INTC
00:14;15 – LTP | STP
00:14:27 – Butterfly Portfolio
00:14:38 – Dividend Portfolio
00:14:43 – Earnings Portfolio
00:14:49 – Future is Now Portfolio
00:14:54 – Money Talk Portfolio
00:18:09 – Ty Cobb
00:27:08 – NRG
00:38:26 – Money Talk Portfolio
00:42:50 – GNRC
00:46:53 – DIS
00:47:33 – RCL
00:53:40 – Comic-Con 2021
01:00:20 – Beige Book
01:13:43 – Trading Techniques
01:25:24 – Indices
01:25:54 – Nasdaq 100
01:27:17 – Russell 200
01:27:29 – DJIA
01:27:37 – VIX
01:28:12 – Bonds
01:30:53 – Energy
01:32:00 – 6 Dr. Seuss Books Cancelled
Phil's Weekly Trading Webinars provide a great opportunity to learn what we do at PSW. For LIVE access to PSW's Weekly Webinars – demonstrating trading strategies in real time – join us at PSW!
You can also subscribe to our YouTube channel and view past webinars here.
Posted in Appears on main page, Immediately available to public, Phil's Favorites | No Comments »
by phil - March 4th, 2021 8:32 am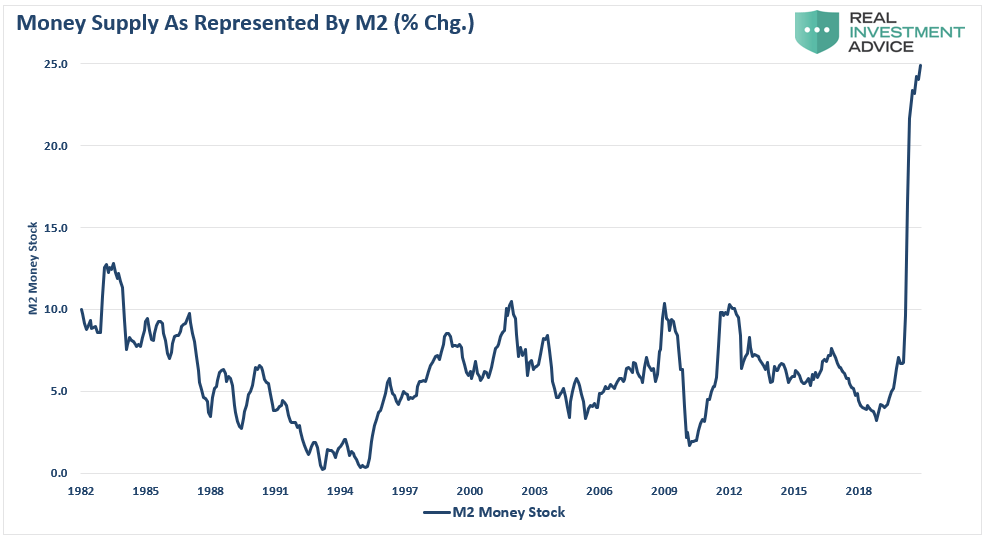 What inflation?
That's been the Fed's consistent message as they like to pretend they can print $9Tn in a single year – adding 25% to the money supply – and it will have no effect on inflation (so we should keep pretending that less than 1.5% for a 10-year note is a fair rate of return). Any child who's played Monopoly knows that, as more money is put into the game by the banker – more money is spent on things like properties and hotels. This is toddler economics.
President Toddler owns a lot of hotels and he was well aware that if, we pumped $9Tn into the economy, some of it would trickle down into his organization. President T's pals also did very well, with America's 660 Billionaires getting over 1,000 Billion Dollars (1Tn) richer during the pandemic. A 38.6% gain in their fortunes since March of 2020. In fact, before the pandemic there were only 614 Billionaries – 46 people became Billionaires in the past year!
The chasm between those at the very top of America's economic ladder and those in the middle and at the bottom was immense before the damage inflicted by the pandemic on the U.S. economy. That divide has widened. According to a study released Monday by economists Bruce Meyer from the University of Chicago and James Sullivan of the University of Notre Dame, America's poverty rate increased by 2.4 percentage points over the final six months of 2020. That's the largest increase since the 1960s and is nearly double the largest annual increase in poverty over the last 50 years. We truly are Great Again for the 666 that are taking in all the wealth. All hail the ruling class!
An additional 8 million people nationwide are now considered poor – and that makes sense because you have to take $5,000 away from 8M people in order to give $1Bn to 40 people – that's just math, folks! Black Americans (5.4% increase) representing a disproportionate share of those thrust into poverty. More than 70 million individuals (or roughly 40% of the labor force) have filed unemployment claims in the U.S. since the start of the pandemic. 10M more people are still unemployed…

Posted in Appears on main page | Join Member's Chat - 101 Comments Here »
by Zero Hedge - March 3rd, 2021 7:25 pm
Courtesy of ZeroHedge
While we have duly noted the soaring prices in the recent manufacturing and services ISM surveys, which earlier today rose to the highest level since 2008…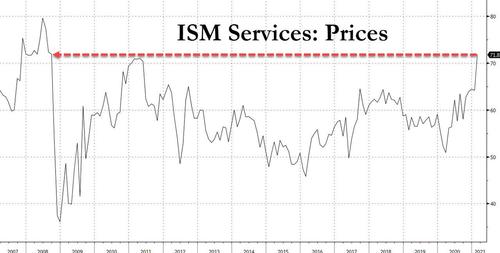 … the reality is that these indexes don't do justice to the price panic on the ground. For that we check in on what some of the respondents were saying in the latest Mfg ISM, which were in a word – shocking:
"Things are now out of control. Everything is a mess, and we are seeing wide-scale shortages." (Electrical Equipment, Appliances & Components)
"Prices are rising so rapidly that many are wondering if [the situation] is sustainable. Shortages have the industry concerned for supply going forward, at least deep into the second quarter." (Wood Products)
"Prices are going up, and lead times are growing longer by the day. While business and backlog remain strong, the supply chain is going to be stretched very [thin] to keep up." (Machinery)
"Supply chains are depleted; inventories up and down the supply chain are empty. Lead times increasing, prices increasing, [and] demand increasing. Deep freeze in the Gulf Coast expected to extend duration of shortages." (Chemical Products)
"We have seen our new-order log increase by 40 percent over the last two months. We are overloaded with orders and do not have the personnel to get product out the door on schedule." (Primary Metals)
Yet while executives at virtually all businesses are now openly panicking about soaring input prices, the Fed is not perhaps because the central planners hope that the burst in prices will be temporary (a function of trillions in stimulus) as wages once again fail to rebound along with costs.
But is the Fed's complacent optimism justified? For the answer we go to a report published overnight by Goldman economists which sees to "size inflation rises in a reopening boom" that is now set to take place in the next few months as covid is finally defeated.
Admitting that price pressures have surged in recent weeks, in its base case, the bank forecasts core PCE inflation peaking at just 2.4% in April—bolstered by the year-on-year comparison to the April 2020 lockdowns — and then end
…

Posted in Appears on main page, Immediately available to public, Phil's Favorites | No Comments »
by phil - March 3rd, 2021 9:09 am
Still not enough?
As I pointed out last week, these things don't happen in a vacuum and the vacuum at the center of the US economy really sucks. The stimulus package is being passed, Biden has stepped up the pace of vaccination so that we all should have our shots by Memorial Day and, just this morning, the Governor of Texas announced the state will be "100% open as of March 10th" and sure, he's an idiot and not listening to Health Experts but neither is MIssissippi Governor, Tate Reeves, who will open up his state on the 9th.
"Our hospitalizations and case numbers have plummeted, and the vaccine is being rapidly distributed. It is time!," Reeves tweeted Tuesday. In the last year, Texans have "mastered the daily habits to avoid getting Covid," Abbott said. As of Monday, 6.57% of Texans have been fully vaccinated, according to Johns Hopkins University. "Now is not the time to reverse the gains we've worked so hard to achieve," Harris County Judge Lina Hidago said in a written objection: "At best, today's decision is wishful thinking. At worst, it is a cynical attempt to distract Texans from the failures of state oversight of our power grid."
Even Jason Brewer, of the Retail Industry Leaders Association, thinks this is a bad idea – saying:
"Relaxing common-sense safety protocols like wearing masks is a mistake.

Going backwards on safety measures will unfairly put retail employees back in the role of enforcing guidelines still recommended by the CDC and other public health advocates. It could also jeopardize the safety of pharmacies and grocers that are gearing up as vaccination centers."
Houston Mayor Sylvester Turner said Abbott's announcement "
really undermines all of the sacrifices that have been made by medical professionals, doctors, nurses, EMS workers, firefighters, police officers, municipal workers, people in the community
." Austin Mayor Steve Adler told CNN's Anderson Cooper on Tuesday night
…

Posted in Appears on main page, Immediately available to public | Join Member's Chat - 39 Comments Here »
by ilene - March 2nd, 2021 9:17 pm
Courtesy of Michael Batnick
If you want to listen to me read this blog post, you can do so below. Otherwise, jump to the text.
There are three main stories in the housing market.*
People are moving out of apartments and into houses.
People who are already in houses are staying put.
People who haven't already bought a house are getting priced out.
Interwoven into all three of these are demographics. The largest segment of the U.S. population is people in their late 20s and early 30s. These are the people most likely to be first-time home buyers.
When Covid hit, people who were planning to move out of the city and into the suburbs did so in a hurry. This drove rents down…
…And home prices way up, as you can see in this chart from Len Kiefer. The median sale for an existing home rose 14% in January.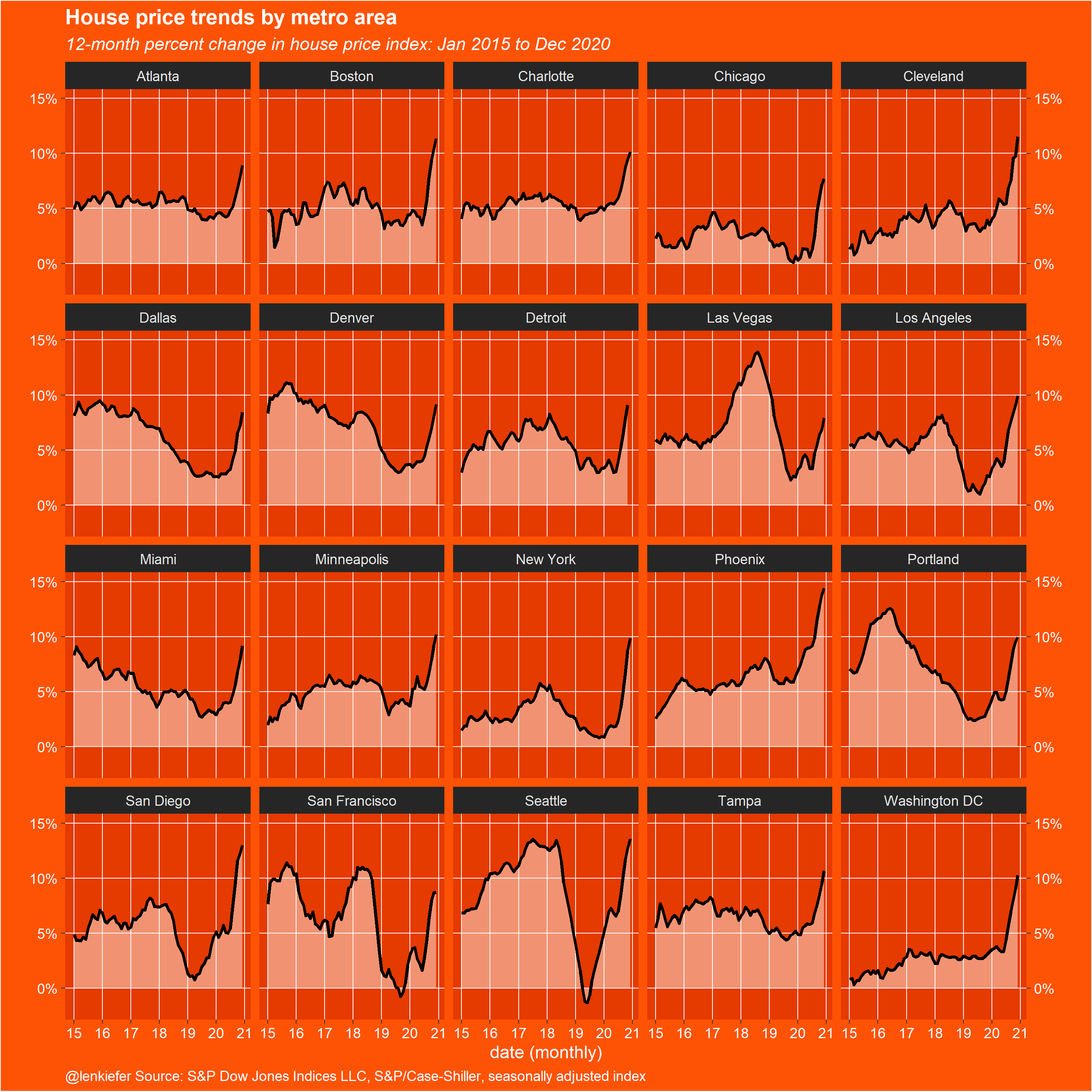 Demand is not the only factor that's driving prices higher. As you can see in the chart below, a lack of supply is the oxygen for this fire, and low-interest rates are the jet fuel.
The…

Posted in Appears on main page, Immediately available to public, Phil's Favorites | No Comments »