by phil - May 13th, 2021 8:33 am
"Transitory" Inflation is still here – month 5.
While the Fed tries to convince us it won't last, inflation is soaring higher and higher and bonds are dropping as that market doesn't believe a word the Fed is saying – especially after yesterday's decade-high 0.8% jump in Consumer Prices – double the projections by the usual crew of leading Economorons. How long inflation readings persist on the high side has implications for when the Fed decides to start withdrawing monetary stimulus by paring back bond-buying and raising interest rates from near zero.
"Transient does not mean one month. As supply shortages run up against aftershocks from fiscal stimulus, and the base for comparison remains low, the CPI will continue to run hot into the summer. The impact of the Colonial pipeline shutdown on fuel prices will also have to be monitored closely." — Andrew Husby and Yelena Shulyatyeva, U.S. economists
"Transitory pandemic influences clearly contributed to the surprise but there's residual firmness in core inflation that's hard to ignore," said Michael Gapen, chief U.S. economist at Barclays Plc. Aside from the reopening effect, "there was still some residual firmness that suggests risks around inflation in the near term are still skewed to the upside." Wages have shown signs of picking up, and supply chain challenges have elongated delivery times and driven materials prices higher.
Tranportation Services have not jumped 5.8% since 1975, when the Fed Funds Rate was at 7%. More Federal Spending means more inflation, not even Powell can pretend that it doesn't and Biden still has proposals to spend $4Tn more on Infrastructure along with the Fed's ongoing $2Tn giveaway program and, of course, 0% borrowing rates. If either the stimulus bill is dropped or the Fed allows rates to rise to contain inflation – the blowback on the market could be tremendous.
It's not just the $28Tn National Debt we need to be concerned about but the $10.5Tn of Corporate debt that is 100% higher than the last time the market crashed – as companies have been on a low-rate binge ever since. And what is the main thing corporations spend all that borrowed money on? Buying back their own stocks to make their static earnings look like they are making more…

Posted in Appears on main page | Join Member's Chat - 28 Comments Here »
by ilene - May 13th, 2021 2:22 am
Courtesy of Joshua M Brown
We don't have the same economy as we had in the 1970's. Thinking about inflation through the lens of the 70's is incorrect. We have an economy built around intangibles and consumer spending, not metals, mining, heavy industry and manufacturing. Technology will remain a disinflationary force, perhaps the most important force in the economy.
Please listen to this very important explanation for why inflation will indeed be transitory from Viktor Shvets, a Managing Director at Macquarie, on the Odd Lots podcast with my friends Tracy and Joe. I am telling you that this is must-listen…
Posted in Appears on main page, Immediately available to public, Phil's Favorites | No Comments »
by phil - May 12th, 2021 8:32 am
Here we are again.
After testing 33,900 last night, the Dow is back to 34,100 pre-market and we did spend April building a base at 34,000 so it should, at least, be bouncy. If we look at this as being rejected at 35,000, it's a 1,000-point run so the weak bounce takes us to 34,200 and the strong bounce would be 34,400 – nothing less than that is going to impress us today and I don't think we'll even get to the weak bounce as sentiment seems to be shifting a little.
Like Bitcoin or Dogecoin, it doesn't take much of a dip for the bullish investors to start to wonder if maybe they overpaid for their positions after stupidly chasing the price up 35% from the November lows. Were the people who valued stocks in November all crazy? Did none of them understand how awesome the earnings potential of these companies are?
Well, we're in the middle of earnings season now and it's not that stocks are not hitting their estimates – it's more like they are disappointing the bulls who have bought into fantasies that are impossible to realize. We are re-opening this year but it's already mid-May and things are certainly not "normal" by any stretch of the imagination so why would the market be worth 30% more than the 2019 average of 26,500 on the Dow?
Did the economy grow 30%? No, it did not. Then where would these magic beans have come from that made this valuation beanstalk grow up to the clouds? We all know the answer – it's stimulus. There are not 30% more people in the World spending 30% more money with 30% more jobs – the opposite is closer to the truth after losing 3.3M people – roughly the population of Los Angeles. Another 160M people in the World have been infected and the jury is still out on the long-term effects of covid and the long-term drain on our our heath system for people with chronic conditions.
Out of 160M cases in the World, 64M of them are actively infected. The World has never had more active cases at one time. 817,345 people caught covid Saturday and we are partying like…

Posted in Appears on main page, Immediately available to public | Join Member's Chat - 54 Comments Here »
by ilene - May 12th, 2021 1:12 am
US approves its first big offshore wind farm, near Martha's Vineyard – it's a breakthrough for the industry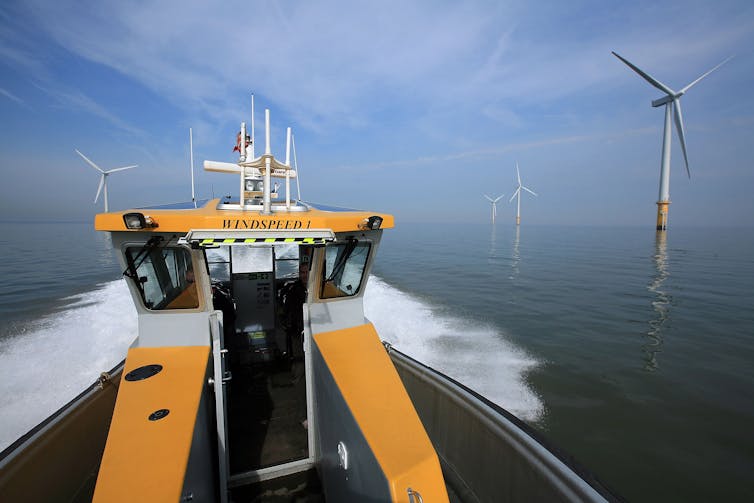 Courtesy of Erin Baker, University of Massachusetts Amherst and Matthew Lackner, University of Massachusetts Amherst
The United States' offshore wind industry is tiny, with just seven wind turbines operating off Rhode Island and Virginia. The few attempts to build large-scale wind farms like Europe's have run into long delays, but that may be about to change.
On May 11, 2021, the U.S. government issued the final federal approval for the Vineyard Wind project, a utility-scale wind farm that has been over a decade in the planning. The wind farm's developers plan to install 62 giant turbines in the Atlantic Ocean about 15 miles off Martha's Vineyard, Massachusetts, with enough capacity to power 400,000 homes with clean energy.
The project is the first approved since the Biden administration announced a goal in March to develop 30,000 megawatts of offshore wind capacity this decade and promised to accelerate the federal review process. To put that goal in perspective, the U.S. has just 42 megawatts today. Vineyard Wind expects to add 800 megawatts in 2023.
So, are we finally seeing the launch of a thriving offshore wind industry in the North America?
Several wind farm developers already hold leases in prime locations off the Eastern Seaboard, suggesting plenty of interest.
As engineering professors leading the Energy Transition Initiative and Wind Energy Center at the University of Massachusetts Amherst, we have been closely watching the industry's challenges and progress. The process could move quickly once permitting and approvals are on track, but there are still obstacles.
Why offshore wind plans stalled under Trump

Vineyard Wind had planned to begin construction in 2019, but a ruling by the federal Bureau of Ocean Energy Management under the Trump administration stalled it. The ruling cast a shadow over other wind farm plans and hopes for an U.S. offshore wind industry.
…

Posted in Appears on main page, Immediately available to public, Phil's Favorites | No Comments »
by ilene - May 11th, 2021 5:56 pm
How Uber drivers avoided — and contributed to — the fate of taxi drivers


Courtesy of Kam Phung, York University, Canada; Luciana Turchick Hakak, University of The Fraser Valley; Madeline Toubiana, University of Alberta; Sean Buchanan, University of Manitoba, and Trish Ruebottom, McMaster University
Countries around the world are wrestling with whether to classify Uber drivers and other gig economy workers as independent contractors or employees.
But when Uber first came on the scene, the primary subject of debate was whether its drivers were, in fact, taxi drivers. Why was this ride-sharing or ride-hailing app run by a tech firm also applying to be a taxi company? Was Uber truly "the same as a taxi, but different?"
We've studied how Uber and taxi drivers have been affected by Uber's categorization as a technology company. As organizational and management researchers at business schools from across Canada studying stigma, marginalization and inequality as well as entrepreneurship, innovation and technology, we became very interested in Uber's entry into the taxi industry as we watched it unfold.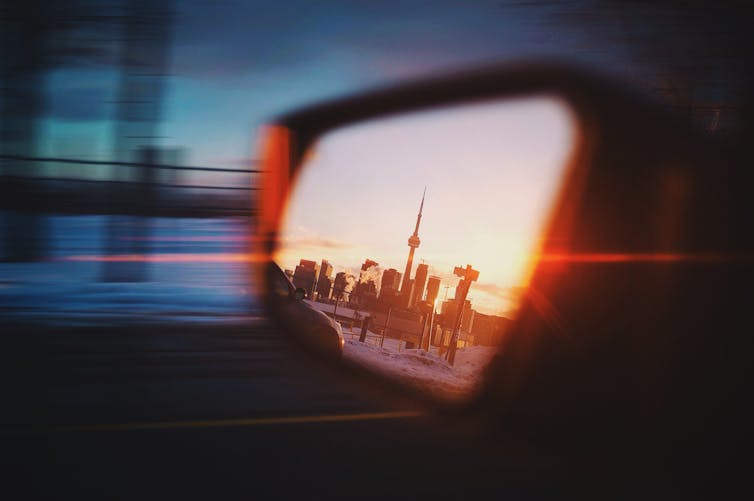 In Toronto, Uber was eventually legalized in 2016 after "months of protest and turmoil" and years of debate while it operated illegally.
But when we began studying Uber's entry into Toronto, we noticed something concerning. There was increasing praise in the media for Uber and Uber drivers, but criticism and near-contempt for taxis and taxi drivers.
How were two groups of people doing the same work every day — driving other people to their desired destinations — being perceived so differently? As one Uber driver told us in an interview: "I don't see the difference…

Posted in Appears on main page, Immediately available to public, Phil's Favorites | No Comments »
by phil - May 11th, 2021 8:34 am
Down we go!
As you can see from the chart, the Russell 2000 is almost back to where we were in March, which is only a bit above where we were in January, which may mean that all this rallying on nothing at all has been a huge mistake and people may be waking up and realizing that it's not just Dogecoin that's a hustle but the entire stock market bubble. Are people beginning to realize that a truly good investment is one that returns profits that stay ahead of inflation over time and not just empty promises of an uncertain future? Nah….
I must apologize to Elon Musk for pointing out yesterday that Tesla (TSLA) is also a scam – that stock hasn't stopped selling since and it's dropping like Dogecoin, back at the March lows in pre-market trading. Aside from Mush admiting Dogecoin is "a hustle" on Saturday Night Live (see yesterday's report for full coverage), the catalyst for the sell-off is Tesla's very poor April performance in China (which accounts for 1/3 of TSLA's sales) with only 25,854 cars sold, down 27% from March AND they abandoned plans to expand the Shanghai plant – a sign TSLA doesn't see their sales bouncing back as electric car competition heats up in China (and globally).
At a recent Chinese Auto show, an unhappy customer clambered atop a Tesla to protest the company's handling of her complaints about malfunctioning brakes. Videos that went viral showed a woman wearing a T-shirt emblazoned with the words "The brakes don't work" and shouting similar accusations while staff and security struggled to restore calm. Police in Texas are investigating a fatal crash involving a Tesla Model S that hit a tree and burst into flames. Rescuers found victims in the passenger and rear seat, not the driver's seat but TSLA claims the car was not on auto-pilot. Federal regulators are investigating the crash, and have a total of 24 probes underway of accidents involving Teslas operating on Autopilot.
All these were known issues with TSLA but that hasn't stopped people from buying the stock for as much at $900, close to $1Tn in market…

Posted in Appears on main page, Immediately available to public | Join Member's Chat - 56 Comments Here »