by ilene - November 27th, 2020 5:02 pm
Five ways Black Friday shopping will be different in 2020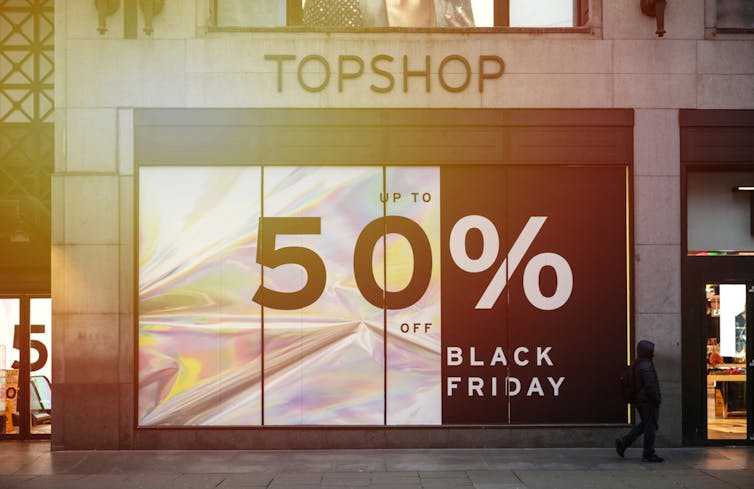 Courtesy of Amna Khan, Manchester Metropolitan University
Friday November 27 marks a key date in the UK's retail calendar as consumers head online to take advantage of thousands of so-called "Black Friday" discounts. Although the name was traditionally used in the US for the Friday following Thanksgiving, in recent years the shopping event has risen to prominence in the UK as the biggest sales day of the year. The event has now also expanded over the weekend to include "Cyber Monday".
In 2020, people in the UK will spend an estimated £6 billion on Black Friday and Cyber Monday sales, compared to around £5.6 billion in 2019. However, with restrictions in place due to the COVID-19 pandemic there are many ways that 2020 will look very different to both retailers and consumers.
It has been an extremely tough year for UK retail. COVID-19 lockdown restrictions have hit traditional high street stores hard and this set to be compounded by the prediction that in the six weeks before Christmas, footfall across all UK retail destinations will be reduced by 62%.
With consumers moving online to purchase what they need, many retailers have been offering discounts and sales throughout the year in an effort to attract customers in an extremely competitive market.
Some retailers such as Marks & Spencer and Next will not be taking part in Black Friday at all. Perhaps more surprisingly, other retailers will be bucking the trend by raising their prices or actively campaigning against the need for discounting.
A smaller Christmas bottleneck

Retailers are trying to manage the shift from shopping in-store to online that has increased during the pandemic. By flattening the curve of the peak of online orders on Black Friday and at the beginning of December for Christmas, retailers are trying to encourage consumers start buying earlier and throughout this period.
This is the reason why retailers have been offering discounts over a longer period rather than focusing their efforts on online promotions dedicated to a single date. Retailers are ultimately…

Posted in Appears on main page, Immediately available to public, Phil's Favorites | No Comments »
by clarisezoleta - November 27th, 2020 4:17 pm
For LIVE access on Wednesday afternoons, join us at PSW!
Major Topics:
00:00:24 – Checking on the Market
00:03:10 – S&P 500 | VIX
00:05:44 – Trading Techniques
00:08:35 – TSLA | DDD
00:34:06 – TM | Global Automotive Market Share | F
00:47:07 – NAK
00:51:04 – FSLR
00:56:09 – SPWR
01:01:39 – Alaska Unemployment Rate
01:03:34 – Trading Techniques
01:04:22 – Futures
01:04:58 – TLT
01:07:53 – COVID-19 Update
Phil's Weekly Trading Webinars provide a great opportunity to learn what we do at PSW. For LIVE access to PSW's Weekly Webinars – demonstrating trading strategies in real time – join us at PSW!
You can also subscribe to our YouTube channel and view past webinars here.
Posted in Appears on main page, Immediately available to public, Phil's Favorites | No Comments »
by phil - November 27th, 2020 8:26 am
Here we go again.
The S&P 500 is at 3,636 in the Futures (/ES) and, when we tested 3,640 earlier this month, we were harshly rejected with a 120-point (3.3%) drop but we quickly recovered – and then we quickly dropped again – but now we've quickly recovered, so let's all enjoy the pundits telling us how this rally is sustainable (this time).
Apple (AAPL) is down from $137 to $116 since early September and that's down 15% so it's actually very impressive that the Dow, S&P and Nasdaq have all held up well while their leader declined. It means people are putting money into relatively "bargain" stocks and that can put an underlying floor on the market we can build off.
Nonetheless, we went a lot deeper into CASH!!! in our Member Portfolios because it simply isn't worth the risk since we still don't know if Trump will willingly leave the White House and we don't know if there will be stimulus and we don't know if the virus will stop peaking (we are averaging almost 150,000 per day now) and we don't know if Black Friday will be a bust – too many unknowns to risk an overvalued market….
The US now has 90,000 people actively in the hospital with Covid-19 and 110,000 new cases were reported yesterday so there's no end in site as we approach the limits of our medical capacity to treat people. Thanksgiving itself could become a super-spreader event as 50M Americans (20% of the population) ignored the CDC and traveled for the holidays and 1,200 people are no longer thankful as the death toll climbs to 263,000 since March.
As you can see, we've had only 8M outcomes out of 12.5M infections in the US as more people are actively infected today than any other time in the outbreak – and they all just got together for Thanksgiving. This disease is 3% fatal folks! Typically, it takes 2-3 weeks to start seeing case counts rise after spreader events and by then we'll all be getting together for Christmas – have a merry one!
…

Posted in Appears on main page, Immediately available to public | Join Member's Chat - 27 Comments Here »
by ilene - November 26th, 2020 3:06 pm
How George Washington used his first Thanksgiving as president to unite a new country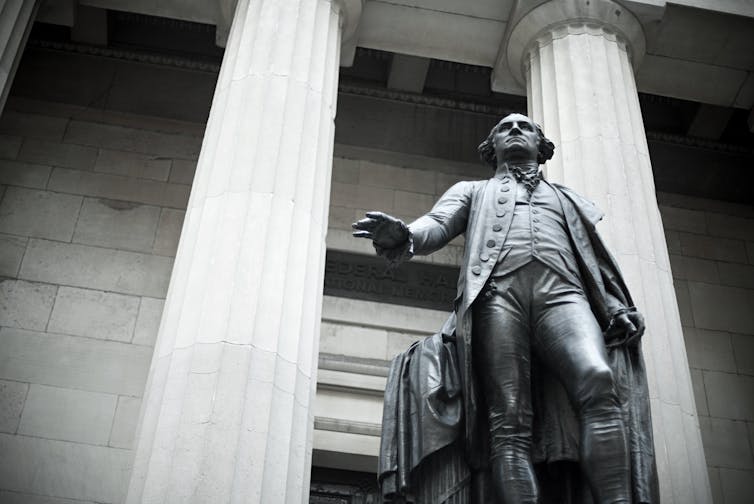 Courtesy of Maurizio Valsania, Università di Torino
On Thursday, Nov. 26, 1789, George Washington woke early. Assisted by his enslaved valets – William "Billy" Lee and the young Christopher Sheels – he powdered his hair, put on his favorite black velvet suit, tied his white neckwear and donned his yellow gloves.
Finally ready, he set out to travel the short distance from the President's House, at what used to be 3 Cherry Street, New York, and St. Paul's Chapel, which still stands at 209 Broadway.
He had an important aim that day: to celebrate Thanksgiving. Washington had thought carefully about this Thanksgiving, the first of his presidency. On Oct. 3, 1789, following the recommendation of a joint committee of the Senate and House of Representatives, Washington had issued a proclamation. He urged the people of the United States to celebrate "a day of public thanksgiving and prayer."
But Washington believed that particular Thanksgiving in 1789 was a crucial occasion. He would use it to call on the people he now led to hold their new country together in the face of forces that he knew could pull it apart.
Devotion in the service of unity

It was not the first Thanksgiving Americans celebrated. The first took place at Plymouth colony in the autumn of 1621 – Pilgrims held a feast to thank God for their first harvest and invited members of the neighboring Wampanoag tribe.
It was not even the first national Thanksgiving – which was held on Dec. 18, 1777, at then-General Washington's behest. Nor was Thanksgiving yet a federal holiday to be observed every last Thursday of November – it became so with the 1863 proclamation of President Abraham Lincoln.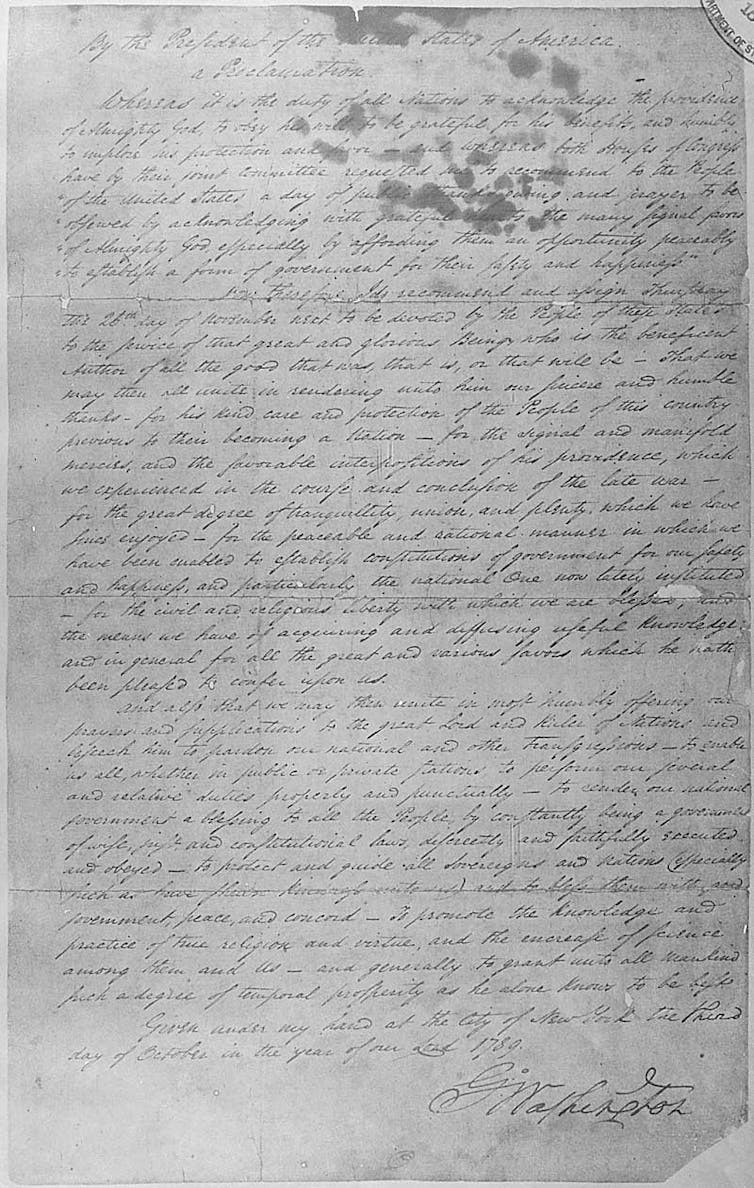 November 26, 1789, was a Thursday, and the weather…

Posted in Appears on main page, Immediately available to public, Phil's Favorites | No Comments »
by ilene - November 26th, 2020 2:39 pm
Courtesy of Scott Galloway, No Mercy/No Malice
This is not the first holiday season shrouded in tragedy. When Americans sat down to a peaceful Thanksgiving dinner in 1940, my mother went to sleep in a London Tube station while the Luftwaffe terrorized her city. I'm thankful for those who came before us, finding their way through plagues, wars, and starvation on an unimaginable scale.
I am thankful for the 1.3 million men and women who serve in uniform today and the 55 million essential workers who put on PPE for another shift at the hospital or ensure we have food.
Science is moving us forward. Three almost-ready vaccines appear to be effective. The second announced, from Moderna, is the most promising, because of its stability. It can be stored in a standard refrigerator for up to 30 days, and left at room temperature for 12 hours. It's easier to distribute than milk.
Most/all have people who love us. That's meaningful. What is profound, however, is having people in your life who know you love them … immensely. My Thanksgiving wish is that you be blessed with people who know you love them immensely.
My dad is 90. His home health aid's roommate tested positive, so he's stuck in his facility. My sons ignore or roll their eyes at most everything I say — a healthy reaction. The rest of my family tolerate my book, my pods, my ambition and ego. They remind me how important it is to be in the moment, and I'm usually not. But they all know I love them immensely and, this Thanksgiving, that's enough. Freddie Mercury (Queen), who died today in 1991, said, "The most important thing is to live a fabulous life. As long as it's fabulous, I don't care how long it is." This Thanksgiving is more complicated and less fabulous. But I hope/trust that you are with people — or that you aren't with people — who know you love them immensely.
Life is so rich,
…

Posted in Appears on main page, Immediately available to public, Phil's Favorites | No Comments »
by ilene - November 26th, 2020 4:02 am
Courtesy of Joshua Brown at The Reformed Broker
On an all-new episode of What Are Your Thoughts, Michael Batnick and Josh Brown discuss the biggest topics on Wall Street this week, including:
All the ingredients seem to be in place for a market melt-up into year end – or did that already happen?
The Armageddonists – JP Morgan's Michael Cembalest returns to his chart of the growliest bears in finance. Hopefully they're not actually investing this way.
The return of Janet Yellen as President Elect Joe Biden appoints the former Fed Chair to be our next Treasury Secretary
Dividend stocks have underperformed the S&P 500 going back to 1990, should it matter? Are there big opportunities in dividend stocks today?
Thinking about the 2021 economy and the potential to swing back to experiences over durable goods
The Comeback Trade: Stocks most heavily in need of the reopening are outperforming as all the vaccine news hits the tape…
Are there financial advisors who are interested in taking on younger clients?
Which of the large cap technology giants are most susceptible to falling from grace?
Subscribe to The Compound's Videos here!
Thanks for playing along in the comments below! If you want to submit a topic for next week's show, be sure to send us an email to askthecompoundshow@gmail.com
Posted in Appears on main page, Immediately available to public, Phil's Favorites | No Comments »