Our Democracy has been corrupted.
I mentioned in weekend Member Chat that, on Politically Incorrect, Bill Maher had made an excellent point about how the Senate now grossly misrepresents the will of the American people as we need 60 votes to get anything done (with juvenile GOP filibustering on every bill) and that those votes come from Senators like the ones in Wyoming that represent 100,000 people who carry as much weight as the ones in California, who represent 8M people (who voted for them).
His point was that the original 13 colonies had SLIGHT discrepancies in population and the House/Senate thing was meant to address that but surely they didn't envision one state having 100 times more people than another. Nor did the Founding Fathers intend the 3 branches of Government to be overwhelmed by the Senate – who could grind the whole process to a halt, even though both the House and the President agreed on legislation. It's a perversion of the Constitution and we do, as a nation, need to change the constitution to put an end to this abuse.
StJeanLuc pointed out this weekend that Slate had an article where they ran the numbers on the recent gun bill, which was almost a complete split between Democratic and Republican Senators and, as it turns out, the 54 Senators who backed the Manchin-Toomey bill represented 198.4 Million people while the Senators who successfully blocked the bill with 46 Senate votes represented just 114.9M people.
Even in the House of Representatives, where the will of the people is supposed to rule, Democratic Reps got 54.3M votes while Republicans got 53.8M votes yet the GOP's severe gerrymandering of districts gave them a tremendous edge in the outcome – 234 to 201 Congressmen – more than enough to thwart the will of the President and the majority of the American people for another 2 years.
I think, if we are going to do anything about this the Democrats have to first get angry about this and, to get angry about it they need to be aware about it so this is my first mission – to make sure people are talking about this into the next election cycle. Even if you are a Conservative – if you truly care about the Constitution's INTENT and not just the way it's interpreted, you should be outraged by this perversion of Democracy. This is how dictators take power, often through a democratic process that the pervert to their own means. Are we all just going to sit by and let this happen?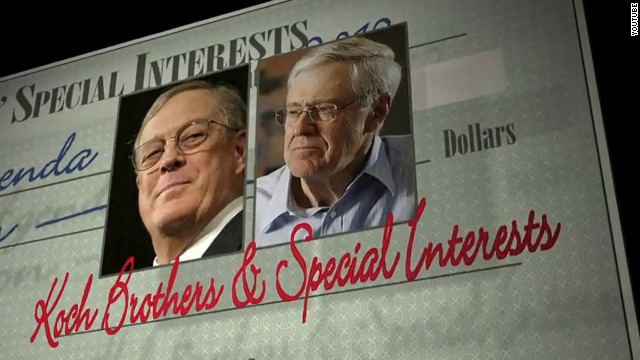 Normally, I'd be done ranting by now and moving on to the markets but – screw the markets – I have something even worse to rant about. The Koch Brothers are now looking into buying the Tribune Company, owners of the Los Angeles Times, Chicago Tribune, Baltimore Sun, Hartford Courant and the Orlando Sentinel "to make sure that [the liberatarian] voice is heard." As noted by Business Insider:
Buying the papers is expected to cost only about $625 million, which would be a rounding error for the gigantic Koch Industries, which generates a staggering $115 billion of revenue per year.

The focus of the Koch's recent Aspen seminar, Chozick reports, was to put together a 10-year plan for achieving a goal of lower taxes and less regulation.

The seminar produced a three-point plan:

educating grass-roots activists
influencing politics, and…
media

The acquisition of the Tribune papers would obviously go a ways toward supporting the latter tactic.
While Conservatives may applaud this tactic, it's essentially the same one Hitler employed in 1933 when his first act as Chancellor (not a position of power – it was given to appease him and his radical right group BY the Conservatives, who thought they could control him and use his voting block) was to create a Ministry for Public Enlightenment and Propaganda. This ministry was lead by Joseph Goebbels whose "cynical understanding of mass psychology" made him a formidable figure. The aim of the ministry was to control and censor all the sources of mass media and use them to work for the Nazis. In this way the Nazis eradicated freedom of speech on a wide scale legally.
I'm sure if Hitler had $60Bn like the Kochs, he would have just bought the newspapers too – it's faster and cleaner and you get to use the same writers and just put in a few editors to get them under control.
The Nazi party was not the Conservative Party of Germany, they were a radically right organization that "fell under" the Conservative umbrella because they sure weren't going to be accepted by the left and the Conservatives found them "useful" because they were able to give them control of Parliament, even though most people in the Conservative party found their tactics and platforms over the top and distasteful. Sound familiar?
I am not saying right-wing extremism is Nazism, I am simply pointing out how, at a time in recent history, similar tactics were used in a similar situation and it's not just the Democrats I am warning about this but the Conservative Centrists who already don't recognize their own party and are already ashamed by the kind of people who are being elected to "represent" them. This situation is getting worse, not better, and the thought of the Koch brothers making a putsch on the press is simply frightening.
NOW we can talk about the markets:
It's going to be an exciting week with tons of earnings and our Members were already prepared for bad earnings by CAT and a miss on the Chicago Fed Activity Index this morning (-.23) because, er, we know how to read economic data and both of those were extemely obvious.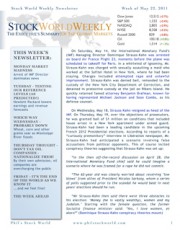 What's not obvious is how housing data will go this week and, at 10 am, we get Existing Home Sales, which will give us a good view of things and, as noted in the full Economic Calendar in Stock World Weekly (thanks StJ), we have Home Prices, Home Sales, Durable Goods, more Fed Data and, on Friday, we get the Q1 GDP report along with Personal Consumption and Consumer Confidence.
CAT earnings are bumming out the Futures, which were up nicely and, of course, nothing really matters but AAPL earnings tomorrow night but it's earningspalooza this week with this huge list of participants including:
CAT, CHKP, HAS, LCC, NFLX, RCII, and TXN on Monday; AAPL, BRCM, IR, JNPR, LMT, SAH, T, and VMW on Tuesday; ABX, AFL, BA, CAJ, CLF, DPS, EMC, F, GD, GSK, HES, LLY, MSI, NDAQ, NS, NVS, OC, PG, QCOM, RJF, S, SLG, SO, SVU, SYK, TER, TEX, TMO, WDC, WHR, WLP, WM, WYN, and ZNGA on Wednesday; ALK, ALU, AMZN, AZN, BCO, BMY, BSX, CL, COP, CSTR, D, DOW, EME, EMN, HOG, HSY, JBLU, LUV, MMM, MO, NLSN, POT, RRD, RTN, SBUX, SWK, SWY, TWC, UPS, and XOM on Thursday; B, CVX, DTE, GT, TYC, and VFC on Friday.
The Dollar is very strong, just testing 83 this morning and that's keeping a lid on equities and commodities but I still don't believe the Yen is ready to go over 100 as that's going to require the Euro to fail $1.30 to the Dollar and that starts the Swiss back buying Euros to keep themselves weaker so the printing presses will be cranking this week and the market manipulation will continue and we'll just have to stay flexible as we re-test our range, once again.
Be careful out there!
Do you know someone who would benefit from this information? We can send your friend a strictly confidential, one-time email telling them about this information. Your privacy and your friend's privacy is your business... no spam!
Click here and tell a friend!