Is Trump a crook or an idiot?
If you go by what he promised to do for America, he's a crook but if you think he's trying to do what's best for America, then he's just an idiot. The reason Ireland charges only a 15% Corporate Tax rate is because they are an otherwise unattractive place to do business so they compensate for that by offering incredibly low taxes as an incentive to get businesses to move there.
When Ireland dropped their Corporate Tax Rate to 15% in 2015, their economy was $180Bn and they attracted $300Bn worth of corporate assets, which grew their GDP by 26% but it did not grow revenues because it wasn't enough to cover the overall low rates and employment barely changed because companies simply moved their "official" address to Ireland, and kept their actual offices elsewhere.
Much of that untaxed $300Bn came from the US and it could easily fixed by telling companies they aren't allowed to do that but, instead, Trump is "fixing" the problem by cutting our own Corporate Tax Rate down to 15%. The problem with this is – WE ALREADY HAVE MOST OF THE CORPORATIONS – so all this does is give them a MASSIVE tax cut that will cost the US $400Bn a year (see yesterday's post for math) and, even if the $300Bn comes back from Ireland, 15% of that is just $45Bn a year. So maybe Trump is an idiot?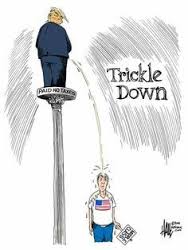 Or, maybe he's a crook. As Trump has often said, he runs a "tremendously successful" business and he's worth Billions. Even if "tremendous" only means 10% profits and even if Billions only means $2Bn – that's still $200M in annual profits, so $70M in taxes at 35% and $30M at 15% means a 60% tax cut will put another $40M PER YEAR in Donald's pocket. No wonder he can afford to donate his $400,000 Presidential salary!
Unfortunately for America, in order for Trump to steal $40M (per year!) from you and your children, he has to enable the entire Top 1% to take $399.96Bn under the same rule. It would be way better for America if we simply cut Donald a check and told him to go away – before he bankrupts the country.
The market has rallied 2% in two days on "news" of this massive tax cut for our corporate citizens and, of course, rich people like me will run right out and incorporate to take full advantage and I'm sure the average Trump supporter will as well. Or maybe they think their Corporate Masters will spread that $400Bn a year around? That's what Art Laffer thinks, but he hasn't been right since the early 80s.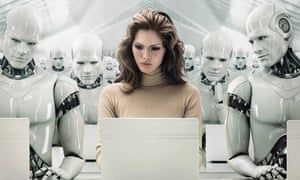 Ask yourself if the company you work for is going to hire more workers or build more automation so they won't need anymore workers – or, eventually, the ones they have. It's not Mexicans that are stealing your jobs – that's just a distraction while you train a machine to do your job – the way a cow shows a butcher which of his parts are going to taste the best.
Even as we speak, H&R Block (HRB) is having their staff teach IBM's Watson how to do the jobs of 70,000 accountants. Just like any human, it will take Watson a year or two to learn how to do the job well but, once he learns it, he'll be able to do it for everyone in America instantly at a cost of 10% of what HRB is paying now for those pesky employees. This is great for HRB, great for the customers, but terrible for 70,000 people with accounting degrees and years of now-useless experience.
Now, we can say "well that's Capitalism" but it's not Capitalism because the idea in Capitalism is that another PERSON gets a job when they dislocate the less-efficient workers. If all the money 70,000 people made (x $40,000/yr = $2.8Bn) turns into a $280M check to IBM/Watson and a 50% discount to taxpayers and another $1Bn in profit for HRB – who really benefits? While it's nice to pay $200 instead of $400 to have your taxes done, it's a very uneven distribution of wealth that drives a much bigger wedge between the upper and lower classes.
Now, imagine these charts but we're only going to charge the top 1% 15% taxes from now on. That is truly insane, isn't it? Since the cost of these tax cuts drives up the deficit (if you ignore the Republican fantasy that our economy will double to make up for it and, even if it did, 97% of that doubling would go to the Top 1%) it then falls on the bottom 99% to make sacrifices (like the Greeks) to balance the budget and, like the Greeks, we will have to give up our health care, our pensions, our Government services.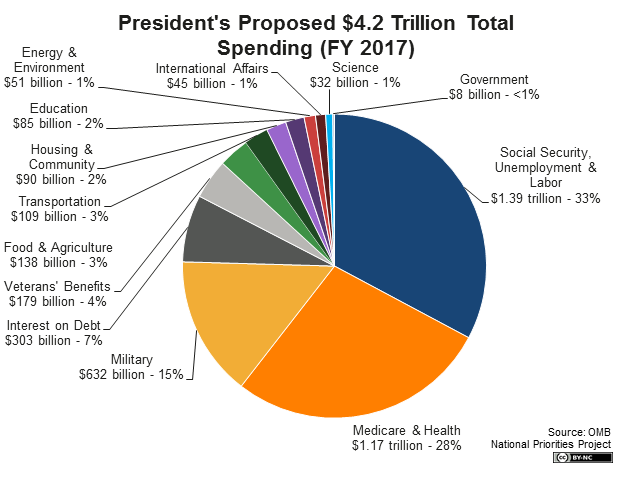 Where are you going to get $400Bn? And forget $400Bn, Q1 Government spending shows the Trump Administration is on the way to putting us $1 TRILLION in debt this year – and that's without the tax cuts. Our National Debt is passing the $20Tn mark and, every 1% rise in interest rates means we need another $200Bn just to pay the interest on that debt. Currently, we're only paying about 1.5% but that's because we have converted to mainly short-term notes, which are more subject to rate shocks on the way up.
We're certainly not going to cut the Military, we just boosted that by 10% and $85Bn spent on education is only $1,328 per child in school in America – about 1/3 of what other developed nations spend on education. Trump says he's building more Transportation and he's promised the Farmers more so the FDA can't be cut but housing is on the chopping block with Dr. Carson ready to cut away on that department and the EPA and Energy Departments are being dismantled (because who needs the environment or energy?) but that still leaves over a $1Tn gap so, obviously, we'll have to cut 1/3 of your Social Security and Medicare.
Not only will it have to be cut, but it will have to be frozen where it is and that means 50%, 60% and 70% less benefits as the boomers retire and draw from the pool. Meanwhile, those of us who still work will have to contribute the same amount – even though it's likely we'll never collect a dime.
Regardless of what Trump promised you – that's the Future he is delivering and it starts today, when he announces how he and his family will make an extra $120M a year from now on. Soon after that, he will tell you how terrible it would be to tax his estate when he dies – how unfair that is to hard-working farmers like him and Melania…
And you'll fall for it, won't you?