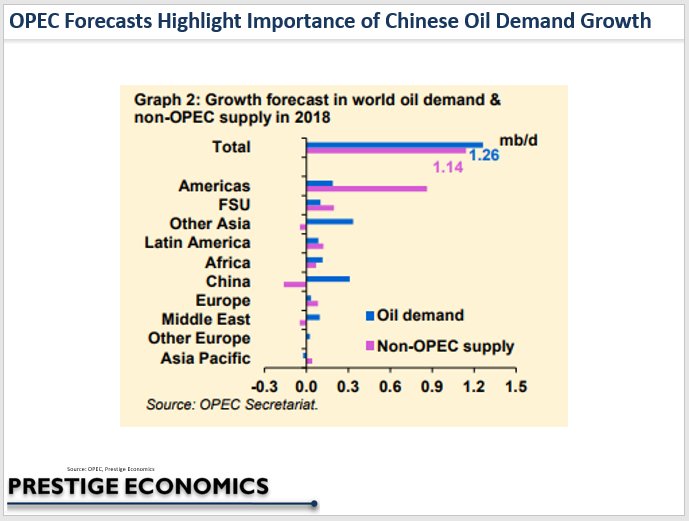 As we predicted on Friday, the Saudis have unilaterally cut production.
It was less than we recommended, however – 600,000 barrels vs. 1Mb needed to make enough impact to get Brent Crude back to $50 so we'll be back to shorting oil once the bulls get done reacting to the headline. At the moment (8am), US Oil (/CL) is trading at $46.06 and hopefully we can short it at $46.50 but we'll take a short under $46 with tight stops above as they may not get there on this half-assed effort.
The Saudis have to act in loco parentis at these meetings but it was hoped by oil bulls that holding the OPEC meeting in St. Petersburgh meant Russia would be joining in with more cuts. Not only didn't that happen but both Nigeria and Lybia have room to INCREASE their production under today's agreement, which offsets most of the Saudis' new cuts. The success of this deal rests on the rest of OPEC complying with November's production cut – something they are notoriously bad at.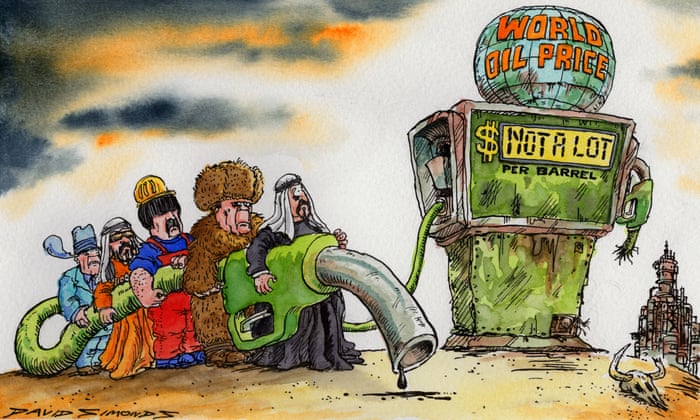 Long-Term, the OPEC nations face a disaster of biblical proportions as their oil-dependent economies are running headlong into the end of the oil era. According to a new book. Burn Out: The Endgame for Fossil Fuels takes the view that oil prices will not just be "lower for longer", as BP chief Bob Dudley predicted, but lower forever. The evidence for author Dieter Helm's case rests on plentiful supply unlocked largely by the US shale revolution, "unstoppable" global action on climate change, and technological advances.
"My view is that oil prices will probably carry on falling forever, and $50 is a high price for oil, not low," the University of Oxford professor told an audience in London.
Helm described his book as "very bleak" about the fate of the Middle East's oil producers, who he warns face challenges "at best uncomfortable and at worst close to existential". Of Opec, he writes: "The popular narrative … assumes that these countries still have the power to move the price, and hence assumes that, eventually, Opec will restore order and return to the good days of ever-higher prices. This narrative is profoundly wrong."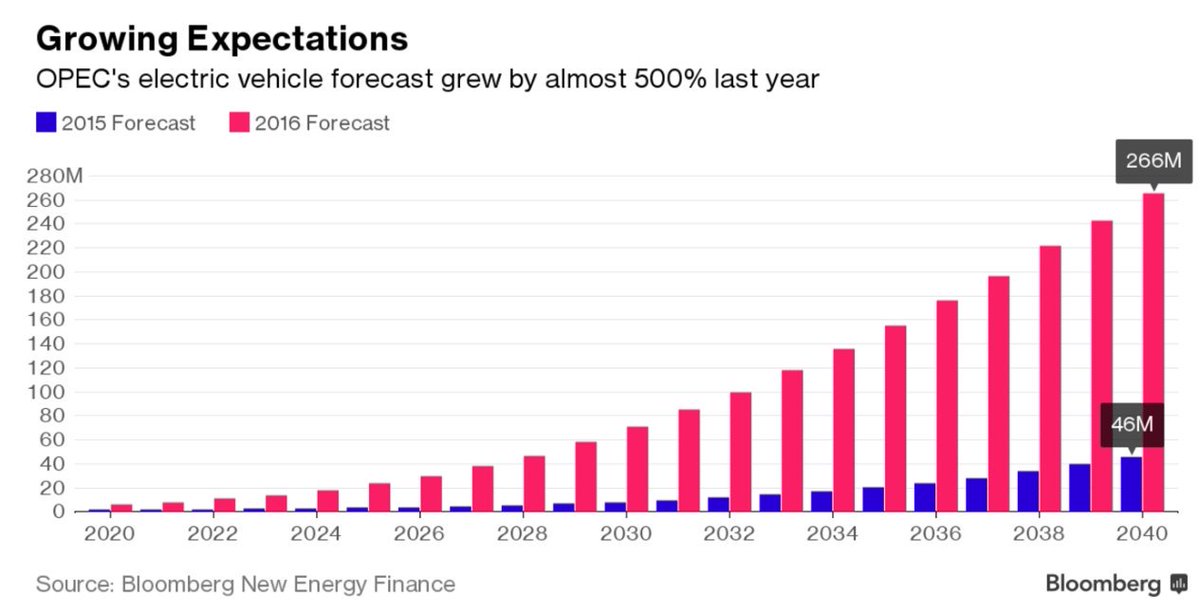 This does not bode well for long-term tensions in the Middle East as many of the oil-producing nations face very rough economic times ahead and even Saudi Arabia, who have been the richest from oil production – may not have time to execute their planned pivot to a broader-based economy before sustained low prices unbalance their budget. In a desperation move, the Saudis are IPO'ing their state-run Aramco Oil Company but, with oil hovering around $45 a barrel in the US – who's going to want to buy a $2Tn oil IPO?
Speaking of economies, the EU has been growing at a much slower pace this past Quarter so maybe Draghi was not crazy last week when he said he felt it was too early to withdraw stimulus. The Regional PMI dropped to 55.8 for July from 56.3 in June indicating GDP is growing at a 2.4% annual pace – not very exciting and those same low oil prices are keeping inflation under the target 2% rate the Central Banksters like to see.
Over in Japan, the BOJ is still worried about deflation and their new projection have cut CPI estimates this year, next year and for 2019 as well. 8 of the Governors see risks "tilted to downside" for their price forecast for fiscal 2019 — the year when the BOJ currently hopes to reach its inflation goal. Put another way, the chances of prices dropping below forecast are way higher than beating it.
The chart on the left shows you what's happening with Japanese Household Spending and it's NOT pretty. Frankly, US and European spending isn't that different but the numbers tend to get propped up by the spending of the Top 1%, making us look healthier than we are.
In fact, one trend I'm noticing now that didn't even happen in the recession is nursing homes in Florida are emptying out as people can no longer afford them and parents are moving back near their kids (who can help them out) or even into the homes of their children – which is a dream for some and a nightmare for others! Either way, it doesn't bode well for the nursing home industry nor for the overall economy as we are shrinking the number of households yet again.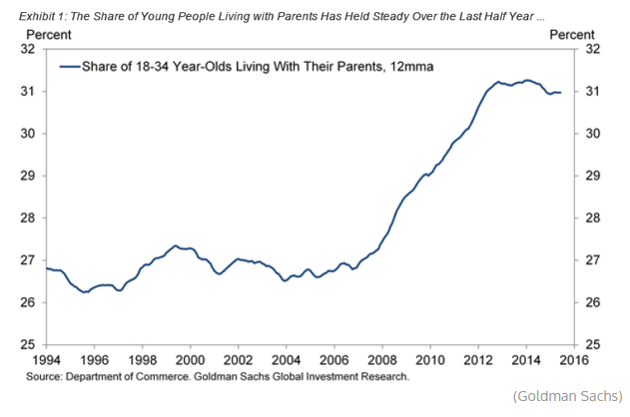 It's coming at us from both ends as new households are not forming with a 5% increase in 18-34 year-olds living with their parents as well. That's why home sales are still generally on the low end of the scale and also why consumer goods are not doing so well – without household formation, a lot of things fall apart.
Once upon a time we would have expected immigants to fill that gap and come to this country and form households but the Trump Administration has put a stop to that as well, so it's all on our shoulders to fix the economy and get things in gear – I'm sure they have a great plan to do that…
Well, maybe I'm not sure but the markets sure are sure as we maintain that record-high pace into the end of July. People are willing to buy Amazon (AMZN) stock at 200 times earnings and Netflix (NFLX) for 250 times earnings so why shouldn't the market keep going up? We've been defensively bullish recently but we just added money to our hedges last week – just in case we get an August collapse (as predicted by Hussman and others).
We're getting into the heart of earnings season so we'll see what's what as about 20% of the S&P 500 report this week (see last week's analysis of the S&Ps Top 10 for more details):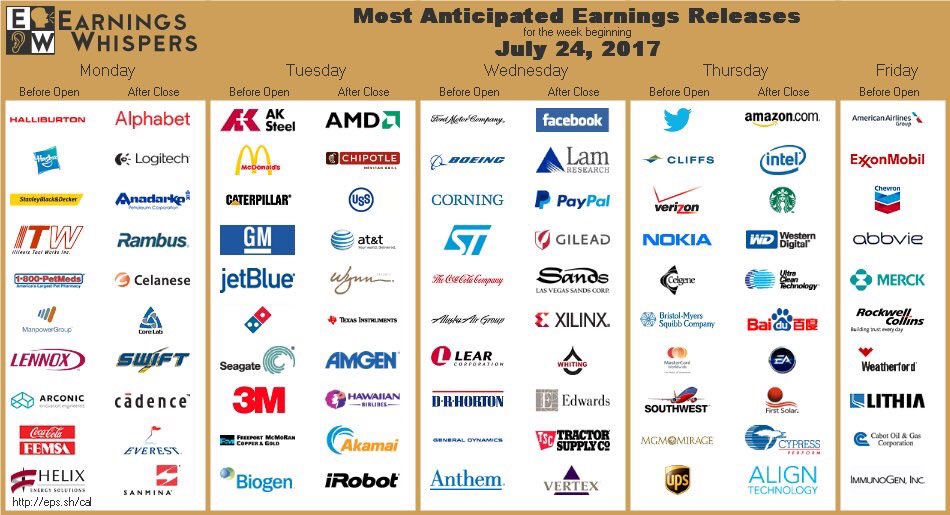 It's a low data week but that doesn't matter as we have a Fed Meeting on Wednesday and another look at GDP on Friday, so the week is all about those two data-points. Germany's Business Climate will be out tomorrow, followed by our own Consumer and Investor Confidence Reports. UK GDP is on Wednesday morning and we have Durable Goods on Thursday ahead of our own GDP report Friday morning.
Be careful out there,
– Phil