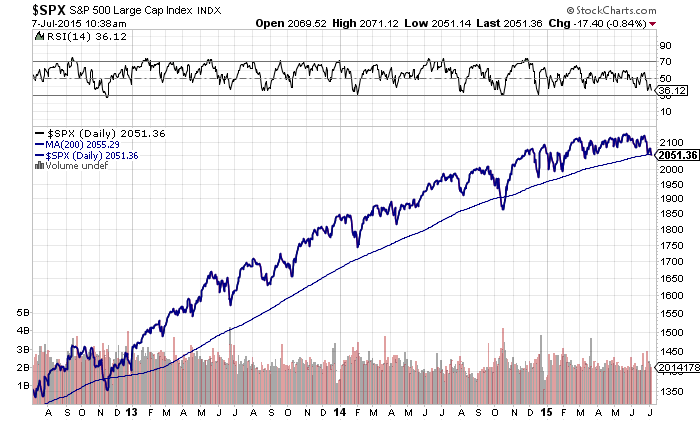 The S&P 500 has taken out its 200-day moving average to the downside on an intra-day basis as of this writing. The index finished out last month just above this key level of supply/demand by pennies, but we've been flirting with it all year as stocks have gone nowhere and the trendlines have flattened. As you can see in my above chart, RSI is "confirming" which means momentum is dropping right in line with price itself.
You can also see that this descent below the 200-day is not a frequent occurrence in today's stock market.
This matters and it doesn't matter. Let me explain.
It doesn't matter because you could just pick another trend line and say we're above it arbitrarily – say, the 250-day for example. Show me, in the holy papyrus scrolls, where it indicates God prefers the 200-day to all other moving averages? Also, anything as closely watched – by both traders and the financial media – as the 200-day simple moving average (SMA) couldn't possibly represent a truly actionable signal, almost by definition. When have you ever made money by paying attention to a metric that a child could follow? Could you do it twice? Thrice?
It does matter, however, because a lot of other people believe it matters – the Keynesian Beauty Contest. If the other judges, whose money flows move the market, begin to behave differently as a result of something like a 200-day crossover, then it de facto does matter – to the degree that others believe it does.
Further, the research we've done in-house indicates that a majority of nasty market events have taken place whilst the stock market was below this trendline when you look back through history. As my firm's director of research, Michael Batnick, showed last