It's kind of silly that we're even calling what went on Friday and over the weekend a "sell-off", but that's just indicative of how spoiled we've gotten by the absence of normal volatility this summer.
But summer is gone, like the headphone jack, and September is getting underway in a manner quite true to its volatile reputation.
So anyway, what's do we make of this sell-off, shallow though it's been so far? I turn to some of my favorite technicians this morning…
First, Ari Wald at Oppenheimer, who sees it as a buying opportunity. Ari notes that yields could back up on the 10-year to 1.8, 1.9% and still not present a problem for the equity market. The Taper Tantrum in 2013 is a good analog for this – stock volatility after Bernanke's hawkish warning presented a fantastic chance to get long. He also notes that the Put/Call ratio is flashing a tactical buy signal, as well as the Vix spike.
Here's Ari on what a Vix spike in the context of an uptrending stock market portends:
The recent spike in the VIX has also reached a buyable threshold, by our analysis. We define a VIX spike as a reading that is 50% higher than its 63-day low; this helps normalize for different volatility environments, and we consider the S&P 500 in an uptrend when the index is above its 200-day m.a. Spikes in the VIX typically occur around short-term market lows, and we've found it's a more compelling signal when trend is positive. Since 1990, the S&P 500 has averaged an 8.4% gain in the next six months when this signal of selling exhaustion is triggered vs. a 4.2% gain during any six-month period.
You may click to embiggen his chart: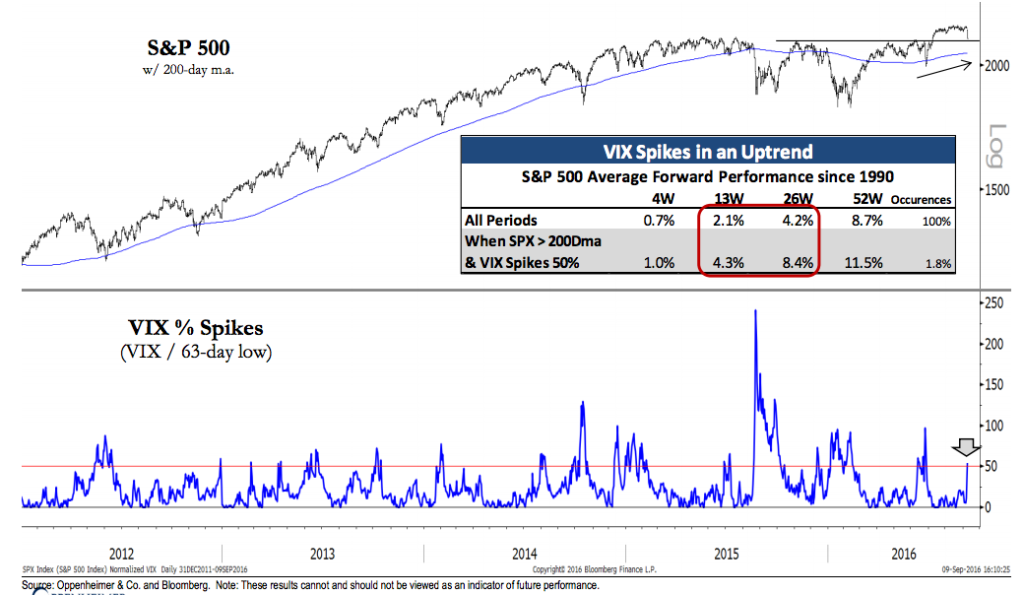 Next, Jon Krinsky at MKM, no stranger to regular readers here. Jon sees Friday's action as a fumble in the proverbial red zone. Just when the bulls thought they had it all sewn up for 2016…
The Bulls were driving down the field, looking to close