Archive for 2007
by phil - April 22nd, 2007 7:14 pm
Crossing Wall Street has a very interesting set of data for how were're doing this Century (as of the 17th):
| | |
| --- | --- |
| Here's a rundown of some major indexes since December 31, 1999: | Here's how the 10 S&P 500 Industry Sectors have fared: |
| | |
| S&P 600 Small-Cap Value…………129.84% | Energy……………………………………..128.23% |
| S&P 600 Small-Cap………………….115.01% | Financials…………………………………..52.87% |
| S&P 400 Mid-Cap Value……………109.02% | Materials……………………………………50.94% |
| S&P 600 Small-Cap Growth……….98.15% | Utilities……………………………………..46.96% |
| S&P 400 Mid-Cap………………………97.07% | Staples……………………………………..34.99% |
| S&P 400 Mid-Cap Growth…………..84.92% | Healthcare…………………………………27.57% |
| Dow Utilities……………………………..82.35% | Industrials…………………………………20.99% |
| Dow Transports…………………………70.70% | Discretionary……………………………….3.97% |
| Morgan Stanley Cyclical……………..68.33% | Telecom……………………………………-48.75% |
| Russell 2000……………………………..64.23% | Tech………………………………………..-54.70% |
| Morgan Stanley Consumer………….36.02% | |
| S&P 500 Value………………………….29.95% | |
| Dow………………………………………….11.10% (29.03% w/divs) | |
| Russell 3000………………………………8.19% | |
…

by phil - April 22nd, 2007 9:29 am
It was a very hectic couple of days so I'm doing a special update to keep us all on the same page on these Google plays and to discuss strategies so we can see what worked well and what didn't.
Setting stops and controlling greed was key here and "Always sell into the initial excitement" is a rule that you may as well just etch onto your monitor – as Friday's action makes painfully clear.
Safe(ish):
Sorry but when I wrote these up Thursday I did not adjust entries on B and C.
A) Buy the stock for $466 and sell the outrageously expensive May $470s for $16.35. This reduces your basis to $450. You can roll the calls if the stock trades down, or take advantage of dips to buy out the caller and resell as it moves up (this is what the big boys are doing to you!).
This is a very tedious way to make money but will likely net a 4% profit in 30 days on pretty much as much money as you would have wanted to commit. While not totally safe, you could always sell the next level down for another $10 so, outside of a plunge, you don't get hurt too badly. For example, the stock is at $482 now and you can sell the $480s for $15.20 while the $500s are $6.55 so you can pick up about $4.50 for every $10 the stock drops. Since you started with $16.35 it would have taken a $30 drop below your position ($466) before you took any real damage. As it ties up a lot of money, I would just stop out even on this one.
B) Play for the comeback of volatility ($40) by taking a spread of the May $510s for $2.30 and the May $410 puts for $2.18. Either one should be at least $8 if we get a $40 move within 30 days. If we get a fizzle, they should be 50% recoverable and we can also flip and sell Apr calls against them (risky but fun).
This trade did not go off for me because the May $510s shot up to $4.75 on Monday's open. I took them, made 23% and killed the trade on Thursday as I decided the math no longer worked as I expected to have problems at $500 (remember my target was $490 with a possible spike to $510 so
…

by phil - April 21st, 2007 11:52 pm
What an amazing week that was!
Happy and I were talking and we are both very pleased with the charts – more on that tomorrow…
Last weekend I told you that the market could indeed exist in a metaphysical bullish or bearish state indefinitely and it would be up to the observers to decide which it was going to be. You don't have to believe in Santa Clause to sit on a fat guy's lap and we were like kids in a candy store this week, grabbing up calls and making hay while the sun shines (while keeping our trusty umbrellas under the mattress!).
Our mattress plays seemed almost silly this week but they sure made us feel good on Thursday morning and we still haven't gotten past stage one as the market posted gain after gain all week. There was little economic news of note and earnings have been coming in better than expected with 66% of the reporting companies beating expectations and only 17% missing so far. Of course Google was the beat of the week but there was plenty of cheer to spread around with C (got WM), KO (got 'em), INTC (got 'em), JNJ (got 'em), JPM (not int.), MOT (got 'em), GOOG (got a gaggle) and NOK (got MOT) all getting lots of good attention.
GE (got 'em) was great too but pinned at $35 while IBM (got 'em) got beaten down (maybe pinned) despite a pretty good report. EBAY (got 'em) also seemed to go the wrong way, finishing right in between the $32.50 and $35 options. BAC was iffy but shook it off while MRK (had puts 8-() and PFE took off despite aging pipelines. In short, things looked pretty good with the majors and things were so good that we're going to need to update our chart levels as our old ones are pretty much all green now:
…

by phil - April 20th, 2007 7:57 pm
I was just catching up on the old post. I don't think they'll break $500 but we'll have to see. At this point I've been picking up $490 puts at $2.25, now $3.50 with 20% of my profits as my calls are May and later and can stand a $5 drop.
GOOG spread – May $480s are surprisingly cheap right now at $20, we'll have to keep our eye on this but would be best if it drops to lower $480s. If that doesn't happen we've got the choice of buying out Apr $470s and holding in-the-money calls for about a $13 premium or cutting back 90% of the position and leaving the one call open (more realistic for $10KP players) or rolling the caller to the May $490s for $14, which puts us in for $3 (the $2 we collected yesterday plus the $14 we get today less the $19 we have to give the caller) and we make anythign over $483 up to $490. The last is my move for the $10KP if we don't get a pullback but not everyone is allowed to make that kind of trade.
Of course I will attempt to time it but I'm waiting for the $485 to hit – if it does.
IBM is another good example, someone is selling this thing like it's life or death to flush out the calls and I'm moving to the May $95s for $1.20 if I can.
Check out MCD – that's a shocker, also opening up an opportunity for the May $47.50s at $1.45 (.80 premium)
DIA – rolling up EOD to $129s – for .30, so far the insurance was well worth it…
…

by phil - April 20th, 2007 9:28 am
No TGIF today, how can they stop the week just when we're getting into such a good groove?
Thank you Google – we are in full-blown recovery mode with the Dow just blowing through 12,900 in the pre-market.
I think I've said quite enough about Google in the previous post so let's pretend something else is happening for a few minutes… Asia had a nice rebound with the Hang Seng regaining 266 points and the Nikkei posting a more cautious 80-point gain. Our TM calls should be rockin' and rollin' today as they were one of the leaders in Japan's rebound.
"The rest of the world didn't take too much of a notice [to the Asian selloff]," said Andrew Clarke, a sales trader with Societe Generale in Hong Kong. "The U.S was pretty calm, Europe was pretty calm, it was perceived more of a local panic rather than anything else, and here we are bouncing again."
The dollar is dead and blah, blah, blah – if no one else cares why should we? We have now entered into a very funny/complacent phase of the market where a drop in Asian markets don't bother us and a collapsing US economy doesn't bother Asia – it's a big world out there and we are moving from first to third in style!
SNE/ERIC's net more than doubled (again) as high-end phones continued to make them a fortune. Anyone who doubts that Apple is right on target with the IPhone needs to read their release which shows an incredible demand for top of the line phones. Average phone sales dropped however, and worried analysts. Hitachi put plans for a new flat-panel display plant on hold so today will be a good day to sell the TXN May $32.50s for a buck as a cover on our leaps.
Europe actually had a good close yesterday and is posting 1% gains across the board this morning but a lot of it was a commodity rebound (boo!) as the general attitude about China's attempt to reign in growth is "so what are they going to do, slow down to 8.5%?" MT is making a huge comeback as the Arcelor deal moves forward.
We should get leadership from MCD, who posted a 22% jump in profits,…

by phil - April 19th, 2007 11:43 pm
The markets did some stuff today blah blah blah…
Who cares? Google earned ONE BILLION DOLLARS! Muhahaha…
Oh Google, how do we love thee, let us count your earnings:
$1,002,000,000 in earnings on $3.66B in revenues, this is up from $592M (+69%) in earnings on $2.25 (62%) in revenues last year.
That works out to $3.68 per share, significantly higher than the $3.30 projected by the 40 analysts who follow the stock for a living (3 holds, 2 sells). The highest analyst estimate was $3.52 per share and the net (of traffic acquisition costs) revenues came in at $2.53Bn, above the average estimate of $2.49Bn. This was Google's 10th earnings beat out of 11 reports since they went public in Sept. 2004.
Google's only miss was caused by a higher than expected tax bill as they dealt with complex foreign tax structures but, great company that they are, they hired the best and this report cut their effective tax rate down to 25.9%, well below the 30% target rate and saving .04 per share. That's right, you have to drill down to taxes to find a flaw in this company's execution and they've fixed that too!
Far from cutting back, the company is firing on all cylinders as they push forward with $596M in infrastructure investments, up from "just" $366M in Q4. Google hired 1,600 additional staff bringing the population up to 12,238 employees who each generate over $1M in annual sales on average – this beats MSFT by 66% on the top-line per employee and embarrasses Microsoft by generating 322% more profit ($500K) per employee per year.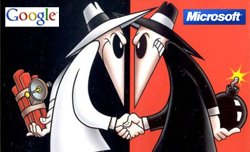 If this is an arms race it is more like the one between the US and Mexico than the one between the US and Russia! Microsoft (notice we now ignore Yahoo) is fighting this battle with conventional forces and studying battle plans from the War of 1812 while Google is literally taking satellite images of their offices and devising strategies for battlefields that haven't been invented yet.
Google handled 55.8% of U.S. Web search queries in February, compared with 20.7% for Yahoo and 9.6% for Microsoft, NetRatings Inc. said. Google's 40% growth rate in the number of queries handled compared with a year earlier far outpaced…

by phil - April 19th, 2007 6:12 pm
IBM $95s for $1 as a mo play! I'm taking 10 for the $10KP, stop at .80 – lots more than that in stp!
CAT – I really need to finish my LTP review today, just in case we need to sell calls (I'm hoping not) . I'd sell the $65s right now for $3.90.
…

by phil - April 19th, 2007 8:26 am
Are we looking at another China Syndrome today?
A meltdown in the Asian markets caused our markets to collapse on Feb 27th and a 477-point drop on the Hang Seng is no way to start a Thursday and 295 Nikkei points is nothing to sneeze at but we are sitting pretty on our DIA mattress play and we are certainly not ready to throw in the towel just yet.
That dip (for you recent history buffs) was brought on by our man Greenspan uttering the word recession at a speaking engagement and this time it's EXPANSION that has Asian traders concerned . China's GDP jumped 11.1% in Q1, doing better than 85% of the S&P 500 but inflation rears it's ugly head as economists are shocked to discover that Chinese people eat food and consume energy (unlike our government's measure of Americans).
Today the Shanghai composite "only" fell 4.5%, better than the 9% dive it took back on 2/27 and this drop, although ugly, only returned the Hang Seng to last Friday's close. Feb 27th we ran into limit-down trading curbs in Asia but today we have a commodity led sell-off as China may be poised to prick that bubble before 10% of their population gets upset. If 10% of your population was 120M people, you'd try to keep them happy too! The Shanghai is still up 29% for the year AFTER this pullback and 7% a month is pretty good growth for any market so let's not freak out over a less than 20% pullback of the recent move up.
I would be more concerned about commodity inflation if it were based on reality but this is, almost across the board, a cartel issue where supply is being artificially constrained to drive up prices. While some commodities, like nickel, may be "hard to get" at times, the fact is that there is plenty of everything and we are simply being ripped off and what we have going on in China is a buyer who is about to put their foot down and demand lower prices. As I often say, if the global citizens were to conserve just 5% of the energy we use every day, that would flood 5M more daily barrels of crude onto the markets. How can we do it? Turn off…

by phil - April 19th, 2007 7:51 am
The Phil's World Universe is expanding and ZMan, Options Sage, Jared and I a thrilled to welcome our new resident chartist Andy (HappyTrading) Wang to our little family!
This is so hot off the presses that the link isn't on the main page yet but you can reach him HERE and we will be featuring HappyTrading(tm) charts to highlight major market moves and breaking stocks.
While Andy tends to be a little more bullish than me, we find we balance each other well. Back on 4/11 he brought me around on the S&P with this observation:
His Biotech call of 4/7 was right on the money:
And a nice play on the SOX the at the beginning of that week (4/4):
Having Andy on our site will give us the ability to post bigger, clearer charts and, when you've got a guy who knows his stuff – a picture really can be worth a thousand words so thanks a million HappyTrading and welcome to the family!
- Phil
by Greg - April 18th, 2007 11:59 pm
I've just updated our affiliate program. Here's the deal: refer someone, and get $25 when they subscribe. To participate, just login to your Member Page and go to the Affiliates area. There, you can get code for text links or banners, which you can put on your blog, website, or on the side of your car.
We'd honestly rather have new members who are referred by current members, because you are smart people and you are probably friends with other smart people. So if you signup 4 new members, we'll throw another $50 your way, and will keep doing so for every fourth paid referral. Again, this last perk is only for current members.