Is our economy really improving?
At 2pm we get the Fed's latest Beige book, an anecdotal view of the economy gathered through roughly the end of August. Most of the good data we've been "celebrating" in the markets has been June data with a lot of disappointments in July and next week we get our first look at August statistics where we'll see just how well Q3 is really going but yesterday's data on Consumer Credit, which dropped $21.6Bn last month (a 10% annual rate) turned us bearish into yesterday's close.
Not that we were all that bullish anyway but this was a last straw for us as the Dow was jammed up 50 points in the afternoon on very little volume, right up until the last 5 minutes when 45M shares were exchanged (1/4 of the day's volume) as Mr. Stick ran headlong into a seller that took full advantage of an opportunity to get out near 9,500. Consumer credit is actually worse than it seems as the drops are accelerating RAPIDLY. The drops began in March at 0.5% but April was down 1.6%, May -2.2%, June – 3.1% and July -4.2%. Compare that to last July, when consumer credit was UP 4.9% and you can see how far and how fast we are falling. And that figure, by the way was BOOSTED significantly by July's "Cash for Clunkers" program. Were were expert economists on this issue? They expected a $4Bn drop in July, a miss of 440% by 31 economists polled by Bloomberg – the same ones who expect a turnaround for the economy.
Out of 31 Economists who are paid to watch numbers like this for a living, just one had predicted a $12Bn decline with the rest missing by miles. Perhaps we can forgive them as the Fed missed too with their original report listing Consumer Credit as declining by "just" $10.3Bn in June. That number was revised up 50%, to a loss of $15.5Bn yesterday.
Ooops…. As we noted in last week's Fed minutes examination, the actual data is MUCH worse than the Fed's outlook would have a rational person believing. So the Beige book will be interesting this afternoon and we're not expecting a good report. The Fed gets a bad report tomorrow too, with the release of Ron Paul's new book "End the Fed." This is going to be fun and a few weeks later we get Michael Moore's latest film: "Capitalism, A Love Story" in which Moore goes Ron Paul one better and calls for a tear-down of the entire system.
Speaking of torn-down systems. Check out this 30-min documentary on China that Kustomz posted yesterday. Whole cities of millions are shut down and it makes you realize what nonsense it is to depend on China to pull us out of this crisis when they have close to 50M "officially" unemployed workers who can't find jobs that pay $4 a day. Tens of millions of China's migrant workforce have already returned to their family farms, where the whole family's income is generally less than $2,000 a year. Still, in a country with 1.3Bn people, that is 1/2 of the nation's GDP – just don't expect them to be buying a lot of $100 sneakers in time for Christmas…
After a significant downturn this morning the futures markets came on strong once Asia closed and we are once again riding the low-volume, pre-market pump for all it's worth. Today's spin came from Gang of 12 member Lloyd Blanfein of Goldman Sachs, who said at a conference in Frankfurt that "the worst of this crisis is off the table" – meaning, I'm sure, that his bonus is intact and there is no possibliity of any of his destroyed rivals coming back from the dead, leaving Goldman with their pick of tens of thousands of unemployed financial workers willing to enrich the GS partners as they are lucky to be getting jobs at all now, so there's no need to promise them a share. In a brilliant stroke of "luck", bonuses are also out of favor (and, in fact, restricted at most GS competitors) so GS doesn't have to offer them to their junior work-force, laying the foundation for the most profitable decade in GS history over the next 10 years. GE also boosted the market today by re-raising their outlook on GE and other industrials, which CNBC (GE's network) is gleefully reporting every 15 minutes..
We're having a wild ride on the S&P and it ain't over yet as the index is at the 1,030 line, which is 55% off the bottom and 35% off the top. So it will just take another 55% run to get us back to 1,600. It only took us 6 months to get this far – who knows what the next 6 months may bring? Since breaking the 40% (off the top) level at 1,000 on the S&P on August 3rd, we have done a pretty good job of holding it. The Dow's 40% line was 8,413 and we left that in the dust as well and even the SOX are now near the 40% mark at 330, so we'll be watching that with great interest along with the Transports, which closed RIGHT ON THE LINE yesterday at 1,867, just one point under the 40% mark.
Getting our two lagging indices over the 40% line leads us to a proper test at 33%, just 1/3 off those crazy market highs of late 2007. I know that every single one of you out there feels that we certainly are no worse off than we thought we were (but it turned out we weren't) in late 2007, when oil was $90 (now $71), gold was $800 (now $1,000), copper was $3.50 a pound (now $300) and unemployment was 4.6% (now 9.5%) – so I won't go into a whole thing pointing out that that's just silly. Instead we'll put up our next major break-out levels of Dow 9,394 (past it), S&P 1,056, Nas 1,917 (way past), NYSE 6,959 and Russell 574 (right there). We stayed out of trouble yesterday morning by watching that 577 line on the Russell as planned in the morning post.
That helped us make good short plays at the open but, as I mentioned above, we didn't expect it to last and we played for the afternoon stick, even though it came in weak on low volume. We did short gold again at our $1,007 top target and we picked up a few longs as we wait patiently for the market to give us some real direction but, as I said, that Consumer Spending data turned us bearish into the close and that's how we stand this morning. We got Redbook Retail Sales this morning and they were "only" down 2.4% last week with discount stores still leading the way. The real news is the Beige Book and I am very worried about that as Fed Governor Fisher is scheduled to speak at 1:55 and I can't imagine they would have stepped on the release of the book if it contained good news that didn't need spinning.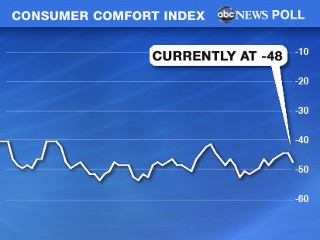 In more news you won't hear on CNBC or read in the WSJ unless you look REALLY hard: Last night the Consumer Comfort Index fell another 6.7% to -48 from -45 last month with just 45% of Americans rating their own financial outlook positively and only 8% of the American people have a positive outlook on the national economy. Only 27% of the people surveyed thought it was a good time to buy things, despite the retail discounts and "clunker" programs.
Manpower Employment trends are, not surprisingly, off 18.5% from last year with hiring plans at the lowest point in the history of the survey. Also in fun news – kiss $81Bn given to Auto companies goodbye according to a new report by the Congressional Oversight Panel who say the Auto Task Force "failed to disclose to the public both the factors and criteria it used in its viability assessments, the scope of outside involvement in its evaluations, and its basis and reasoning for selecting particular benchmarks and taxpayers are unlikely to recover their $81B investment."
So plenty of reasons to be skeptical about our "V-shaped" recovery as the only people calling for it are the same idiots who were off 400% in their assessment of consumer spending and, last I heard, consumer spending is 70% of the US economy, which is 1/4 of the global economy – that's quite a big 400% to miss on don't you think?
We'll see what the Beige Book has to say this afternoon and, as we often like to do, we'll be looking to strangle the Dow ahead of the Fed. That means we're likely to pick up the DIA $94 puts at the open, hopefully for about .75 and, if we get a good dip, we'll try to balance out with some $96 calls, trying to keep the combo as close to $1.20 as we can.
Be careful out there – it's going to be a wild one!