Posts Tagged 'automotive index'
by ilene - August 14th, 2010 1:15 am
Courtesy of Rick Davis at Consumer Metrics Institute
We have mentioned before that our year-over-year indexes are effected by both the current level of consumer activities and the year-ago levels of that same activity. Even if current levels remain dead flat, changing levels from the prior year can impact the year-over-year numbers. The bottom line, however, is that almost all economic measures ultimately use prior levels as reference points, and it is the annualized growth rates that we actually remember from the GDP reports.
Nothing demonstrates this phenomenon more clearly than our Automotive Index, which experienced a tremendous upward spike at this time last year from the 'cash for clunkers' stimulus package. Looking back at the chart for that index from a couple of months ago the spike is glaringly obvious:
Now fast forward to the current chart, where the upward 'blip' from the consumer oriented stimulus has inexorably shifted to the left and is half off the chart: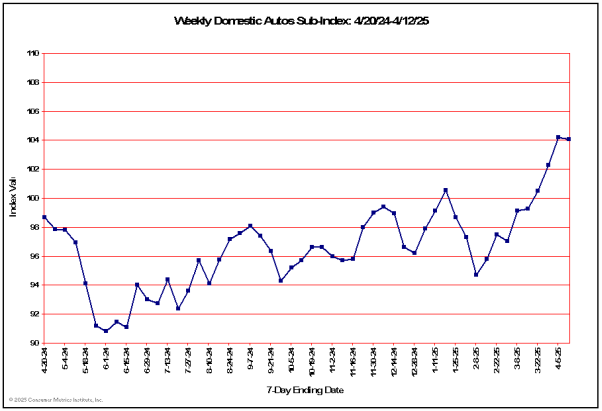 There are several conclusions that can be drawn from the above chart:
Some portion of the recent drop in our Domestic Autos Sub-Index is the result of current consumer demand comparing poorly year-over-year to the level of stimulated demand during the year-ago period.
The historical portions of the chart clearly show that a consumer oriented stimulus can have a measurable effect on select sectors of the economy.
But, at least for domestic autos during this recovery:
Without stimulus, significantly increased consumer demand has not been sustained. We see no signs of 'organic' or structural recovery yet in the either of two key durable goods sectors: Automotive and Housing: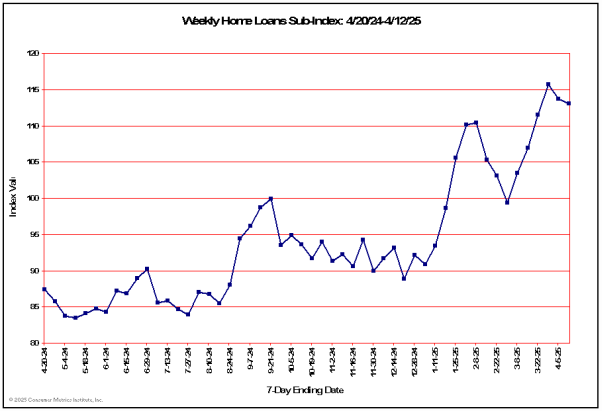 The above chart is for the demand for new loans for newly acquired residential property (i.e., it excludes refinancing activities — which have remained strong). Again the impact of consumer oriented stimuli can be seen in the historical left side of the chart, but the right side tells us a great deal about whether the stimuli actually primed the Housing pump, or merely moved sales forward several quarters. If Housing is to become a real engine of economic growth again, this chart would have to move back into substantially positive territory and stay there without benefit of congressional give-aways.
Our year-over-year 'Daily Growth Index' continues…