Posts Tagged 'BCRX'
by phil - October 27th, 2009 6:17 am
Today's tickers: AMZN, MU, ETH, AMR, WYN, TBT, BAC, PCS, DE, ING, RSH & BCRX
AMZN – Amazon.com, Inc. – Shares of the online retailer surged to an all-time high of $125.44 during the trading session. Investors exchanged approximately 241,000 option contracts on AMZN by 3:00 pm (EDT), which represents about 41% of the total existing open interest on the stock of 591,993 lots. Bullish investors expecting Amazon to rally even higher purchased 7,000 calls at the November 135 strike for an average premium of 1.84 apiece. Optimism spread to the higher November 140 strike where 2,800 calls were picked up for 1.05 each. Super bullish traders looked to the highest available strike price in the front month – the November 150 strike – to purchase 1,000 calls for an average premium of 31 cents per contract. Shares of Amazon.com rallied 36% to reach today's intraday high of $125.44, climbing up from an intra-week low of $91.98 on Thursday October 22, 2009. Investors holding calls at the November 135 strike will profit by expiration if shares of AMZN gain 9% over the high of $125.44 to breach the breakeven price of $136.84. Finally, near-term put options were also in demand by investors looking to lock in gains enjoyed during Amazon's recent run-up. Traders shelled out an average of 6.92 per contract to buy 3,100 puts at the November 125 strike.
MU – Micron Technology, Inc. – Option traders invested in April contract call options on the semiconductor manufacturer despite the 0.5% decline in shares to $7.41. It appears some 9,200 calls were purchased by MU-optimists at the April 8.0 strike for an average premium of 1.08 per contract. Call-buyers apparently expect shares to rally significantly within the next six months. Investors holding the call options will profit by expiration if shares of MU rally at least 22.5% to the breakeven point at $9.08.
ETH – Ethan Allen Interiors, Inc. – Home-furnishings retailer, Ethan Allen, experienced a more than 14% decline in shares today to $14.30 after the firm forecast a wider-than-expected loss of 21-23 cents for the first quarter. Analysts predicted an 8 cents per share loss before the firm lowered guidance last week. Long-term downside protection is in demand as traders picked up some 5,500 puts at the May 12.5 strike for an average premium of 1.76 apiece. Investors holding long positions in the underlying stock will find protection…

by phil - September 27th, 2009 8:23 am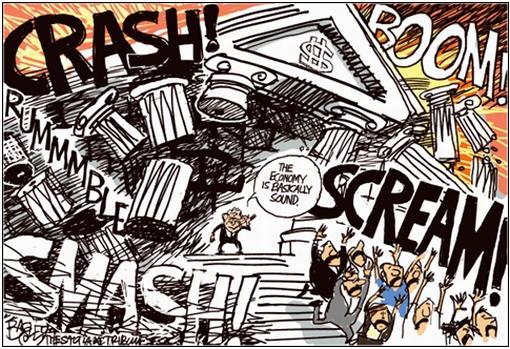 Fundamentals don't matter, until they do – then they matter a lot…
We had a fantastic week because we stuck to the fundamentals and stayed short – even though it was a very painful path to follow. In last week's wrap-up, facing the never-ending market climb on low volume I had said "I am trying to get bullish, really I am," and I was trying to find bullish plays for members - but we still ended up bearish for the week with a lot of bearish plays being added and thank goodness as it gave us a fantastic week this week!
Just following the plays I mentioned in last week's wrap-up would have been great as we had SKF bullish at $21 (now $26), DIA bearish at $98 (now $96.74), FAZ bullish at $16 (now $22.12), OIH bearish at $120 (now $114.75), SRS bullish at $8.50 (now $9.93) – and those were just from Thursday and Friday, last week was very active and very successful. I had been quoting Samuel Jackson to highlight my difficulty joining the bullish analysts and I closed last week's comments by saying: "It really is hard to be the shepherd in this market as I see wolves everywhere, waiting to pounce on the flock as the mainstream media leads them off to slaughter. Or maybe (hopefully) I'm just being paranoid and everything's fine…"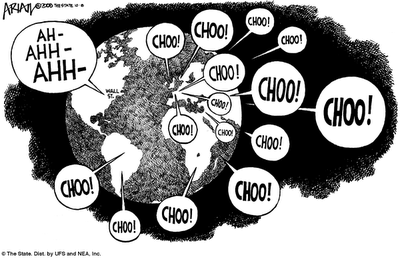 Monday I led off the week with my concerns about the spread of the flu, as the season is upon us. That gave us 4 bullish (but hedged) plays on SVA, BCRX and CAH (2), none of which are performing so far so all of which are still good entries, especially CAH who got whacked by a DB downgrade on Thursday yet paid back $1Bn in debt on Friday and still look very good long-term.
I had an early look at the G20s "Framework for Sustainable and Balanced Growth," and our conclusion was that, although a good plan, it sure wasn't something the markets should be all pumped up about as stability was not going to grow us into the bullish valuations that our stocks had already risen to. I warned members that the media was misinterpreting/misrepresenting this report saying: "You can bet though, that "THEY" are acting on this information and they will be SELLSELLSELLING, as they did on Friday…

by phil - September 21st, 2009 8:29 am
Just when you thought it was safe to invest in Asia!
Today's shocker came out of a World Health Organization meeting yesterday where officials estimate 20% to 30% of Asia's population - or between 448 million and 672 million people will be infected by swine flu H1N1 this season. Hong Kong had their 15th death this weekend and eight more people are in critical condition. 492 new cases were confirmed over the weekend, bringing the official count in Hong Kong alone up to 22,054 infections. According to the WHO: "China may not be in a situation of what we call extensive local transmission, which Hong Kong is in now." Once it does happen, we can see a lot of severe cases."
It's ironic that the G20s efforts to put lipstick on this pig of a global economy may all be derailed by a pig's disease. Despite skipping testing and relaxing safety regulations (which will, of course lead to other problems) in order to get tens of millions of doses of vaccines out for mass-inoculation programs, the WHO estimates that China, at best, will be able to inoculate just 5% of the population (65M people). We went through our last major swine flu scare last April and, here at PSW, we turned it into a half-dozen very successful picks – so let's look at a few more who should do well in this next round of the crisis:
SVA is the primary vaccine maker in China and you can buy that stock for $8.88 and sell the Jan $7.50 puts and calls for $4.50, which is net $4.38 with a call away at $7.50 (up 71%) if they hold that level through Jan 15th and the break-even to the downside (where you would be assigned the puts) is $5.94, 33% lower than today's price. I'm not one to jump on disaster plays usually but this one has pretty good odds.
BCRX has Perimavir in late-stage trials and the FDA is considering a "pre-emergency use authorization review," of the drug, which would be great for BCRX if it goes through and bad if it doesn't. As BCRX is already up a lot, the way I would play this one is buying the 2011 $10 calls for $4.10 and selling the 2011 $12.50 calls for $3.60, which is a net .50 entry with a 500% return if BCRX hits $12.50 in 15 months (now $10) and it shouldn't cause too
…