Posts Tagged 'climate scientists'
by ilene - January 8th, 2010 11:34 pm
Courtesy of Washington's Blog
The following sample of stories from the past year show that much of the world has been experiencing a cold spell:
…

by ilene - November 22nd, 2009 6:03 am
Excellent post, ep's take on "climate-gate," and the corruption of science by politics. - Ilene
Courtesy of ep at finem respice/reflection on consequences
The Really Big News™ is actually that there is no really big news. Much is being made of the recent hack of the Hadley Climatic Research Center (the "CRU") whereby over a thousand emails along with documents as well as data and code were lifted and published to an FTP site before being linked to by "The Air Vent" blog and then… the world.
The leak appears to show climate scientists shaping results, strategizing on how best to conceal data and analysis from the public, planning public relations to get their message out irrespective of the most recent data setbacks, debating the best way to influence the "man on the street," discussing means to deal with critics via the press and otherwise, and reacting with barely contained glee to the news of an opponent's untimely death. While the general consensus is that the most damaging emails appear to reference the now semi-famous "hockey graph" illustration that has been a favorite of the United Nations (and everyone else pushing radical climate change policy) for a decade, I think something much more insidious (and actually quite ordinary) emerges from between the many subject lines. Rank corruption.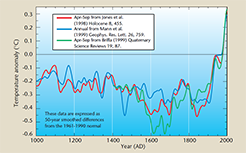 Shock and surprise at the conduct of particular individuals within the CRU seem the order of the day. I'm not quite sure why. If, indeed, the disclosures are genuine (and it certainly appears on first blush that they are) how is it news that "scientists" embroiled in what long ago ceased to be scientific research and now amounts to a political campaign would cut corners, sabotage critics, conceal or even destroy data and analysis, massage results and graphics and otherwise act exactly like politicians, particularly where their careers, the body of their life's work and their continuing income stream were at risk?
It isn't of course. They are politicians.
The surprise should be that something like this wasn't revealed earlier. (Well it was, but no one seems to count the glaring errors in Al Gore's public presentation as relevant for some reason- polish always
…