Posts Tagged 'CNX'
by phil - November 22nd, 2011 7:43 am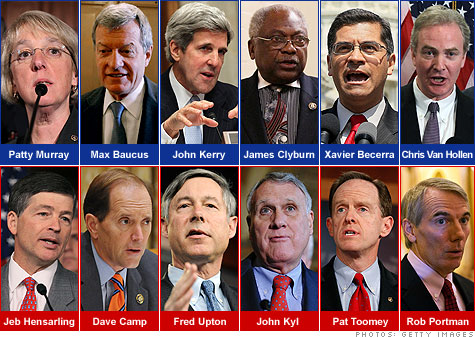 The Super-Committee is dead.
Long live the Debt! In case you are voting in the next election – here are 12 people to get rid of. Much as I may blame one party over another for this failure, they all deserve what's coming to them for A) Pretending they were going to accomplish something and B) For not now getting up and making very strong statements denouncing the corruption in politics that make it impossible for Congress to do the Nation's business anymore.
In case you happen to be a Fox News viewer, I will try to keep this VERY simple because, as it turns out, we now have definitive studies that prove Fox News MAKES YOU STUPID. Of course, it is possible that only stupid people watch Fox News but I know many people who think they are smart and watch Fox News so I have to blame Fox News here as do researchers at Farleigh Dickenson University who found "The results show us that there is something about watching Fox News that leads people to do worse on these questions than those who don't watch any news at all." As I can tell you from raising my own children to be good citizens:
The biggest aid to answering correctly is The Daily Show with Jon Stewart, which leads to a 6-point decrease in identifying the protesters as Republicans, and a 12-point increase in the likelihood of giving the correct answer. "Jon Stewart has not spent a lot of time on some of these issues," said Cassino. "But the results show that when he does talk about something, his viewers pick up a lot more information than they would from other news sources."
Watching Fox News, by the way, led to an 18-point disadvantage (out of 53% of all respondents) in being able to answer questions like "Were Egyptians successful in overthrowing Hosni Mubarak" or "Has the Syrian uprising been successful" but that was a Fox viewer's area of expertise compared to having a clue of what is going on in American politics other than "Obama sucks." Tied with Daily show viewers for best informed were NPR supporters but, sadly, only…

by Option Review - April 12th, 2010 5:05 pm
Today's tickers: CRM, CPB, VALE, GDX, CNX, SLV, OSIP, BONT, UA & XRT
CRM – Salesforce.com, Inc. – A large-volume ratio call spread on the provider of customer relationship management services this afternoon implies one options investor expects CRM shares to rally significantly by August expiration. Salesforce.com's shares increased as much as 1.83% today to reach a new 52-week high of $81.23 during the current session. According to a Reuters report this weekend, analysts at Deutsche Bank maintain their 'buy' rating on the stock and raised their share price target on CRM to $110 from $100. The optimistic options trader populating the stock this afternoon purchased 13,000 calls at the August $85 strike for a premium of $5.00 apiece, and sold 26,000 calls at the higher August $100 strike for $1.05 each. Net premium paid by the investor for the transaction amounts to $2.90 per contract. Maximum available profits of $12.10 per contract accumulate for the trader if shares of the underlying stock surge at least 23% from the new 52-week high of $81.23 to reach $100.00 by August expiration. The investor starts to make money as long as CRM's shares trade above the effective breakeven point at $87.90 ahead of expiration day.
CPB – Campbell Soup Co. – Options traders anticipating a sharp increase in the price of Campbell Soup Co.'s shares by November expiration scooped up record numbers of call options on the global manufacturer and marketer of branded convenience food products today. CPB's shares traded 0.25% higher in late afternoon trading to $35.45, which is just off their current 52-week high of $35.80 (attained back on December 2, 2009). Campbell-bulls purchased approximately 5,200 calls at the November $40 strike for an average premium of $0.55 per contract. Investors holding these contracts are prepared to profit should Campbell's share price jump 14.4% from the current price to exceed the average breakeven point to the upside at $40.55. Investors exchanged roughly 5,925 option contracts on CPB during the trading session, which represents 56% of the total existing open interest on the stock of 10,567 lots.
VALE – Vale S.A. – Diverse bullish options strategies employed on Brazilian metals and mining company, Vale S.A., today indicates investors are expecting the price of the iron-ore maker's shares to appreciate in the next few months. Vale's shares rallied 1.20% at the start of the session to an intraday high – and new…

by Option Review - April 6th, 2010 4:05 pm
Today's tickers: EEM, CNX, GDX, EK, IYR, CMC, SYNA, RF, BP & IGT
EEM – iShares MSCI Emerging Markets Index ETF – Shares of the emerging markets fund, which tracks the price and yield performance of the MSCI Emerging Markets Index, rallied 0.40% to touch a new 52-week high of $43.79 during the trading session. Options players have exchanged more than 315,000 option contracts on the fund with less than two hours remaining the trading day. A number of options players appear to be bracing for a potential pullback in the price per share of the emerging markets fund, while other investors may be positioning to benefit from greater options implied volatility on the fund during the next several months. One trader enacted a three-legged bearish options combination play in the May contract. The options investor sold 10,000 calls at the May $47 strike for a premium of $0.26 apiece in order to partially finance the purchase of a debit put spread. On the put side, the trader picked up 10,000 lots at the May $41 strike for a premium of $0.60 each, and sold the same number of puts at the lower May $37 strike for $0.16 apiece. The net cost of the bearish transaction amounts to $0.18 per contract. Therefore, the investor is prepared to accrue maximum potential profits of $3.82 per contract if shares of the EEM plummet 15.4% from the new high of $43.74 to reach the lower strike price of $37.00 by May expiration. Further along in the June contract, another options player appears to have invested in a long straddle on the fund. The trader responsible for the straddle purchased 10,000 calls at the June $44 strike for a premium of $1.75 apiece in combination with the purchase of 10,000 in-the-money puts at the same strike for a premium of $2.06 each. Net premium paid by the investor amounts to $3.81 per contract. The nature of the straddle strategy indicates the trader expects the price of the underlying fund to shift dramatically in either direction ahead of June expiration. The investor makes money if shares surge at least 9.3% to exceed the upper breakeven point at $47.81, or if shares decline at least 8.1% to breach the lower breakeven price of $40.19, by expiration day in June.
CNX – Consol Energy Inc. – Multi-fuel energy producer and energy services provider, Consol Energy, Inc., attracted…