Posts Tagged 'consumer durable goods'
by ilene - November 3rd, 2010 11:52 am
Courtesy of Charles Hugh Smith, Of Two Minds
Given that the economy faces $15 trillion in writedowns in collateral and credit, the Fed's $2 trillion dollars in new credit/liquidity is insufficient to trigger either inflation or another speculative bubble.
"Don't fight the Fed" is supposed to be a strong argument for being bullish on the U.S. economy and stocks. We all know the Federal Reserve is about to unleash a torrent of money into the financial markets via its QE2 (quantitative easing) campaign of buying Treasury bonds directly and pulling various other monetary levers to open the liquidity gates.
But before we succumb to the excitement that accompanies the unleashing of the Fed's supernatural powers, perhaps we should look at some numbers first.
Size of U.S. economy: $14 trillion. Probable size of QE2: $1 trillion. That means QE2 is perhaps 7% of GDP. Even a whopping $2 trillion QE would equal about 14% of GDP.
In contrast, by some measures China opened the floodgates of credit to the tune of fully 35% of their GDP to combat the contraction caused by the global financial meltdown in late 2008: China's Creative Accounting.
How much collateral and credit will be destroyed as the U.S. economy rolls over into recession/depression in 2011-14? Based on the latest (September 17, 2010) Fed Flow of Funds, here is my back-of-the-envelope estimates of losses yet to be booked in assets (collateral) and credit (debt):
1. Residential real estate: current value, $18.8 trillion. Estimated value in 2014: $13.8 trillion, i.e. a decline of $5 trillion or 26%. If all impaired mortgages are written down or sold for fair market value, I am guessing the full $5 trillion will need to be written off by somebody, somewhere.
My 26% estimate is conservative; according to the Case-Shiller Index chart, a decline of 40% would be required to return the index to the year-2000 level.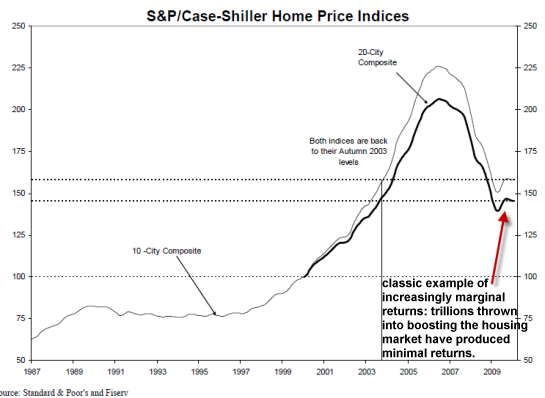 2. Commercial real estate (CRE): The Flow of Funds only reports "nonfarm nonfinancial corporate business" so the CRE number of $6.5 trillion is a few trillion light (that is, we need to add in CRE owned by financial corporations). I am estimating writedowns of $3 trillion--a number others have also guesstimated.
Empty malls, empty office parks, empty warehouses, empty retail: they're all worth essentially zero. The cost of bulldozing them is higher than their auction value.…