Posts Tagged 'crony capitalists'
by ilene - August 21st, 2010 3:56 pm
Courtesy of DAVID STOCKMAN, courtesy of Minyanville
Some raids on the US Treasury by America's crony capitalists are so egregious as to provoke a rant — even if you aren't Rick Santelli. One such rant-worthy provocation is Pimco's latest scheme to loot Uncle Sam's depleted exchequer.
According to Bill Gross, who heads what appears to be the firm's squad of public policy front runners, the American economy can be saved only through "full nationalization" of the mortgage finance system and a massive "jubilee" of debt forgiveness for millions of underwater homeowners. If nothing else, these blatantly self-serving recommendations demonstrate that Matt Taibbi was slightly off the mark in his famed Rolling Stone diatribe. It turns out that the real vampire squid wrapped around the face of the American taxpayer isn't Goldman Sachs (GS) after all. Instead, it's surely the Pacific Investment Management Co.
As overlord of the fixed-income finance market, the latter generates billions annually in effort-free profits from its trove of essentially riskless US Treasury securities and federally guaranteed housing paper. Now Pimco wants to swell Uncle Sam's supply of this no-brainer paper even further — adding upward of $2 trillion per year of what would be "government-issue" mortgages on top of the existing $1.5 trillion in general fund deficits.
This final transformation of American taxpayers into indentured servants of HIDC (the Housing Investment & Debt Complex) has been underway for a long time, and is now unstoppable because all principled political opposition to Pimco-style crony capitalism has been extinguished. Indeed, the magnitude of the burden already created is staggering. Before Richard Nixon initiated the era of Republican "me-too" Big Government in the early 1970s — including his massive expansion of subsidized housing programs — there was about $475 billion of real estate mortgage debt outstanding, representing a little more than 47% of GDP.
Had sound risk management and financial rectitude, as it had come to be defined under the relatively relaxed standards of post-war America, remained in tact, mortgage debt today would be about $7 trillion at the pre-Nixon GDP ratio. In fact, at $14 trillion or 100% of GDP the current figure is double that, implying that American real estate owners have been induced to shoulder an incremental mortgage burden that amounts to nearly half the nation's current economic output.
There's no mystery as to how America got hooked on this…

by ilene - August 15th, 2010 5:29 pm
Courtesy of Jim Quinn of The Burning Platform
"Men, it has been well said, think in herds; it will be seen that they go mad in herds, while they only recover their senses slowly, and one by one." – Charles Mackay - Extraordinary Popular Delusions and The Madness of Crowds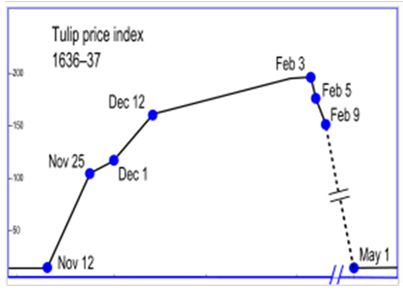 The American public thinks they are rugged individualists, who come to conclusions based upon sound reason and a rational thought process. The truth is that the vast majority of Americans act like a herd of cattle or a horde of lemmings. Throughout history there have been many instances of mass delusion. They include the South Sea Company bubble, Mississippi Company bubble, Dutch Tulip bubble, and Salem witch trials. It appears that mass delusion has replaced baseball as the national past-time in America. In the space of the last 15 years the American public have fallen for the three whopper delusions:
Buy stocks for the long run
Homes are always a great investment
Globalization will benefit all Americans
Bill Bonner and Lila Rajiva ponder why people have always acted in a herd like manner in their outstanding book Mobs, Messiahs, and Markets: Surviving the Public Spectacle in Finance and Politics
:
"Of course, we doubt if many public prescriptions are really intended to solve problems. People certainly believe they are when they propose them. But, like so much of what goes on in a public spectacle, its favorite slogans, too, are delusional – more in the nature of placebos than propositions. People repeat them like Hail Marys because it makes them feel better. Most of our beliefs about the economy – and everything else – are of this nature. They are forms of self medication, superstitious lip service we pay to the powers of the dark, like touching wood….or throwing salt over your shoulder. "Stocks for the long run," "Globalization is good." We repeat slogans to ourselves, because everyone else does. It is not so much bad luck we want to avoid as being on our own. Why it is that losing your life savings should be less painful if you have lost it in the company of one million other losers, we don't know. But mankind is first of all a herd animal and fears nothing more than not being part of the herd."
Stocks for the
…